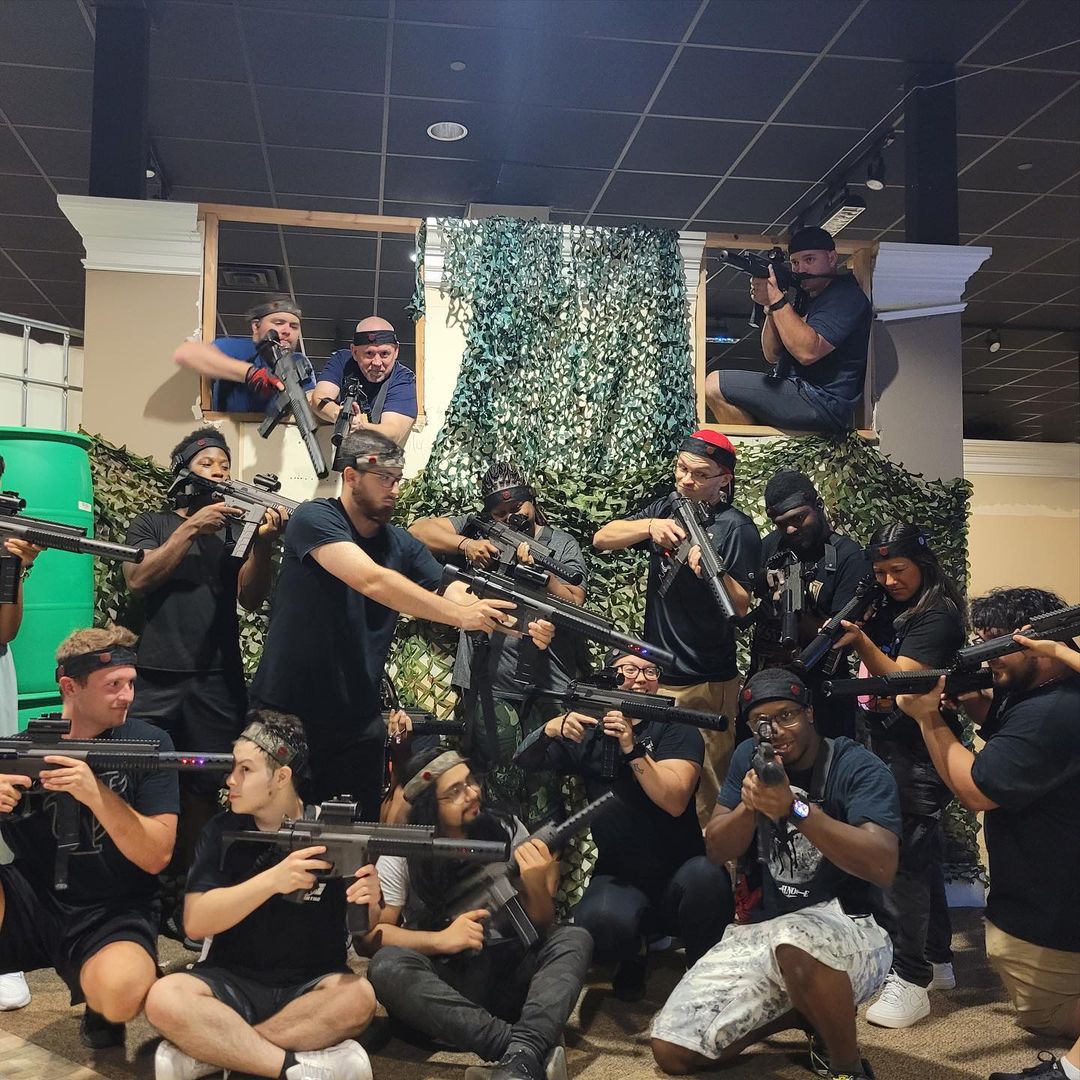 FROM 95% PHONE BOOKINGS TO 90% OF ALL PUBLIC BOOKINGS HAPPENING ON THEIR WEBSITE
Key Takeaways
From almost all phone bookings to direct bookings 

How Xola helps them streamline daily operations

Xola as a growth partner
Vic Pellegrini enjoys providing immersive laser tag experiences for kids and adults alike that they can't find anywhere else. 
He is the owner of Bullseye Laser Tag, which now has two locations in Edison and Livingston, New Jersey. However, before he switched to Xola, he wasn't able to spend much time improving guest experience as the majority of his time was spent on the phone. In fact, 95% of all bookings were made on the phone. 
After switching to Xola, now over 90% of public session bookings and around 50% of all birthday parties / large events are booked through his website.

He is able to use Xola's add-on features to make more money from these bookings too.
"One of the nice things are add-ons," says Vic. "We just bought some upgraded equipment that you can pay extra to get.  People tend to purchase more when it's easy. There are all those things that we don't have to touch with the customer that they get to just see and do. Booking through Xola just makes their life easier, which always, in turn, has them spending more money."
These days, when he does have to sell on the phone, it is for large birthday parties or other big private events where the average order value is $600+.
"So I'm only (getting on the phone) booking the high ticket party business, and I can upsell," says Vic. "I can make a lot more money on those than I can for, 'Can I get two spots for Friday?' Those don't happen. They just go and book them online."
This is important because Bullseye is only open to the public from Thursday – to Sunday. Then, they do all of these kids' parties and private events anytime. 
STREAMLINING DAILY OPERATIONS
It is not just about getting new bookings. Xola also makes it easy for him and his staff to stay organized and deliver an exceptional customer experience.
"The job for our front desk, who is our check-in person, is as soon as they open up the store is to hop on Xola and take a look at our day, which is nice since we can distinguish adults versus kids because we know, okay, 'Do we have five, ten-person parties or do we have five, 25 person parties?' These are two very different days for the team, and they're able to see that with Xola, and Xola is part of their opening to see what's going on for the day."
They also rely on Xola's text message / SMS templates to communicate with customers who book public sessions before they arrive.
"That was a game-changer for us," says Vic. "So we have scheduled sessions. Every 90 minutes, we run. If people show up late, it jams us up.
The second you guys implemented that, we noticed a considerable change in our on-time public session. So when we have 20 people coming, there could be 10 different groups coming. Ten groups of two is a real thing that happens. We send that text out an hour before that says, 'Hey, make sure you're here 20 or 30 minutes before.' The on-time numbers are phenomenal."
He has even gotten features that he didn't even realize he needed, like better financial and business intelligence reports, which gives him more clarity around his numbers. Not to mention, his accountants love it!
"So every single thing that's done, whether it's a coupon, a free pass, is tracked where they're paying," says Vic. "We take Venmo, Zelle, Cash App, cash. I take checks. Everything is tracked. I can find out exactly what was booked, how we came in, who did it, and where the money went. And as we got much, much busier, that was way more important than I thought."
For instance, he was able to use the reports in Xola to do market research when he opened his second location. He was able to get super specific information around party sizes and revenue numbers so that he could make a data-driven decision.
XOLA AS A GROWTH PARTNER
One of the things that really stands out for Vic is Xola's exceptional customer support.
"I've never had a bad interaction with Xola's customer support team," he said. "I've asked for a phone call once because I had a long-winded issue, and the guy called me in five minutes."
In fact, he didn't hesitate to refer others to Xola.
"If you're looking for something that is very intuitive for the customer to book by themselves and you want to stop getting all the phone calls, Xola is a key."