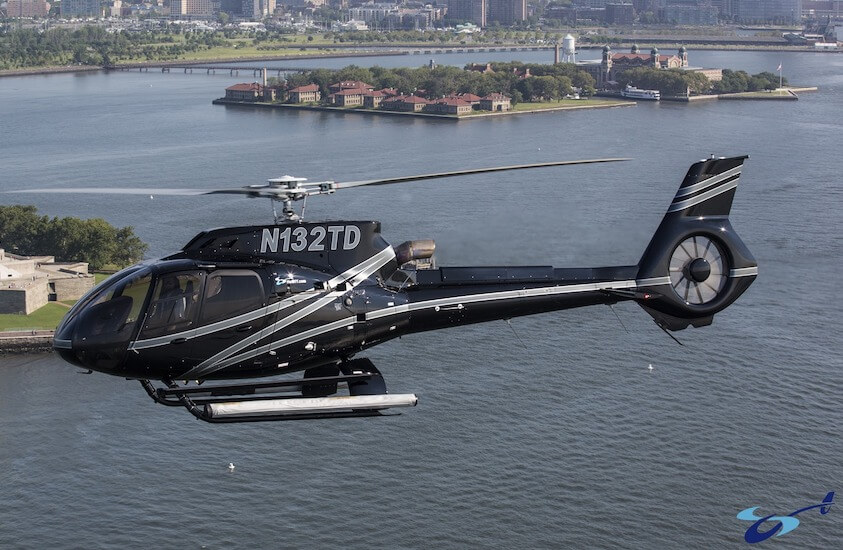 HOW HELINY ADAPTED TO THE CHALLENGES BROUGHT ABOUT BY THE PANDEMIC
KEY TAKEAWAYS
Why HeliNY switched to Xola from a custom-built solution
Adapting to the challenges brought about by the pandemic
How they streamlined operations
Xola as a growth partner
As the Reservations and Marketing Manager for HeliNY, Bronwyn Ziegler is juggling a ton of responsibilities and no two days are alike, especially since the pandemic started.
I'm managing a team of people," says Ziegler. "I'm making sure we're maximizing what equipment and availability we have. I'm handling and coordinating all the different marketing efforts."
This wasn't always the case. Ziegler started working at HeliNY, which offers sightseeing helicopter tours and charter flights from their two heliports in downtown Manhattan and in Linden, New Jersey, as a reservations agent in pre-pandemic times. Back then, her focus was purely on making sure they were getting bookings and making sure to maximize their equipment for each helicopter ride. Since COVID-19, she got more involved with marketing out of necessity.
"The demand has shifted," says Ziegler. "The way people engage with the business has shifted. We had to look for new ways to engage the customer and communicate with them. So, we expanded into social media and live chat. And, in my role, I'm always looking to see what could be there to improve what we're doing."
SWITCHING TO XOLA
That's actually what prompted Ziegler to start looking for new booking software.
"Before we used Xola, we were using a custom-built system built on Salesforce," says Ziegler. "It was all built on Salesforce specifically for our needs at the time."
This custom-built solution worked great for them in pre-pandemic times. It became a bottleneck – both in time and money – to make any of the changes that they desperately needed to adapt to during the pandemic.
She adds, "It was going to be a big challenge to move forward, to have live availability, for instance, on our website. It just did not have that capability (among other things). And so that's why we were looking for something else."
On top of dealing with extremely low booking volume due to the lack of international and domestic tourists in NYC, the company was still feeling the effects of helicopter restrictions that the city put in place back in 2016.
"Back in 2016, the city reduced the number of flights that we could do, stunting the growth of the business," says Ziegler. "That was a huge challenge with trying to meet the right price point for supply and demand, and how to manage that to ensure that we weren't overbooking, and making sure that we were getting everybody flown."
So, they needed a more flexible booking system that could handle both the pricing and capacity challenges they had, alongside being able to adapt quickly for post-pandemic tourism.
During the summer of 2020, they started evaluating a ton of different booking software and ultimately chose Xola.
"We obviously wanted to have live availability as well as an API connection with some of the OTAs, just to save time and staffing costs," says Ziegler.
However, it was the ability to have complete flexibility over their booking capacity that really won the team over.
"We are in complete control (in Xola) of how many open slots there are for events. So, we can control how many we have available to not go beyond that capacity."
Also, it is very easy in Xola to change a price on a listing.
The fact that the commission on the affiliates is set as a percentage that can automatically apply. That's a huge time saver for us. Because previously it was all set up by product, by operator on each profile. And it would be a huge task to change that if the pricing was to change.
And then even there's a functionality in Xola where you can choose to honor existing pricing or change it. So that gives us the flexibility to say this person booked in 2021 for 2022, but even if they reschedule or change their booking, it can maintain that pricing structure."
It also means that HeliNY could accept last-minute bookings for the first time ever, which became a significant revenue driver and a better experience for guests.
"The benefit has been that we can have people booking onto our helicopters up to three hours before the flight takes off. Before that, our website closed off at midnight, two days before. So last-minute online reservations just didn't happen.

The rush of phone calls in the morning for people trying to get a booking. People were confused about what they had available and when they had to be there. And now for everybody to just be able to go online and see what time is there, and book it so last minute, that's just been such a huge benefit for us."
In addition, HeliNY is also using Xola's Lightning Deal feature to fill any last-minute slots on upcoming helicopter tours that otherwise would have gone unsold. So, they can collect additional revenue, save on fuel costs, and get the maximum use of each helicopter.
STREAMLINING OPERATIONS
"Xola is where I get all of my information from," says Ziegler. "So it's where I put all my information, it's where I get all of my information. It is where I'm monitoring availability. I'm always looking at the Xola dashboard. I'm always running reports to get insights into the sales and the booking windows and things like that."
Compared to their previous custom solution, Ziegler now spends less time on back-office tasks.
In fact, she spends less time on administrative tasks today, despite the fact that they drastically increased communication volume since the pandemic.
"We drastically increased our communication levels with customers since the pandemic,' says Ziegler. "So a lot more pre-arrival communication to ensure that they knew exactly what to expect.
For example, pre-pandemic, it was not a good experience when we had customers arriving and assume they purchased a private tour. But during the pandemic, if somebody thought they had purchased a private tour (and didn't), that could be a huge issue because they do not feel safe."
Not to mention, you can't run helicopter tours on bad weather days.
"Before we switched to Xola, if we had to cancel the day of tours due to weather, we might have a lot of reservations on the schedule, and we would need to call them individually and email them individually," says Ziegler. "It would take so much time that sometimes it would take us a couple of hours to get to the end of the day. Now we can just send a mass text to everybody right in Xola. So it just saves us a lot of time."
XOLA AS A GROWTH PARTNER
While Ziegler is the first to admit that Xola is very easy to use, whenever she has any questions, she is blown away by how fast, responsive, and helpful Xola's support team is.
"It's Xola support team," says Ziegler. "It's like the fact that they're always available and will look into an issue right away."
She adds, "Xola is such an easy system to use. Everything is very clear on what you're doing to find what you're looking for. And the team at Xola is so phenomenal. They always will listen to any issues you might have or pain points that you might find and try to find a way to work with you to resolve them.