Xola Universe:

App Store.
Over 80 apps and growing across every business category. Integrations that help you streamline operations, drive growth, automate processes, expand reach, optimize revenue, and more.

Revenue growth
Sky's the
Limit.
Expand reach. Optimize revenue
Marketing Integrations - Connect with top marketing tools and platforms, streamline your marketing efforts, and skyrocket bookings & revenue.
Distribution Channels - Extend your market presence, boost bookings, and optimize profitability across major channels & OTAs.
Beyond

Efficiency.
Streamlines operations, automates processes. Integrations with zapier, payment processors, employee scheduling, waiver solutions, and more help streamline your company operations.
Ignite

Insights.
Gain insights, understand customer behavior, optimize marketing strategies, and make data-driven decisions. Data Integrations with Google Analytics (GA4, GTM) and proprietary tracking codes.

Infinite Integration

Possibilities.
Unleash limitless potential with our robust APIs, offering a wide array of functionalities for customers with diverse needs to create tailored integrations and applications on top of the Xola platform.
24/7
Customer

Support.
Our industry-leading customer
support team is available every hour
of every day of the year. Email.
Chat. Phone. We have your back.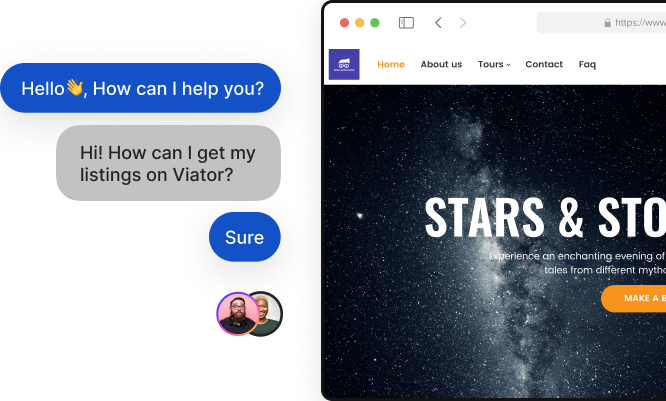 Free Demo
Transform your
business now.
Powerful
Intuitive
Innovative
Free Demo