Streamlined Self-Service with
Xola Kiosk
Empower guests with easy ticketing, digital
waivers, and quick check-ins, enhancing on-site
operations and guest satisfaction.
Free Demo
Kiosk
SeamlessSelf-Service.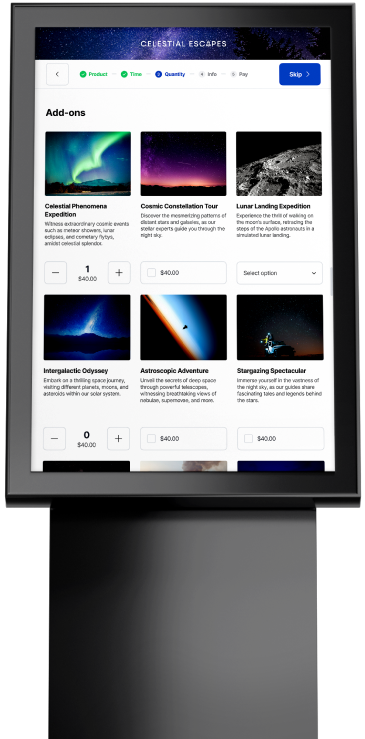 Elevate guest satisfaction with the Xola Kiosk – a self-service ticketing solution.
Purchase tickets for diverse experiences, print custom-designed tickets, or have them sent to your mobile device.
Enjoy a seamless user experience, reduced wait times, and enhance your venue with the potential for automated gated entry integration.
Kiosk
Kiosk check-in
and Purchases
Simplify guest check-ins using Xola's Kiosk App, allowing walk-up guests to book, pay, and sign digital waivers swiftly for a seamless on-site experience.
Kiosk
E-
Waivers
Walk-up digital waivers
---
Enable walk-up guests and last-minute visitors to conveniently complete on-site waivers with Xola's Kiosk App.
Effortless arrival, no queues
---
Streamline on-site check-ins when guests review and sign digital waivers immediately after booking, eliminate paper forms and long lines.
Gated Entry.
Effortless access awaits! With Xola's Gated Entry feature, visitors can redeem Xola tickets or QR codes for automatic entry through gates, doors or turnstyles. Enjoy self-serve convenience or let attendants assist you for a smooth entry process.
Learn More
Virtual Queuing.
Elevate Guest Experience with Xola's Virtual Queuing: Say goodbye to long lines and delight your customers with a seamless check-in process.
Learn More
24/7
Customer

Support.
Our industry-leading customer
support team is available every hour
of every day of the year. Email.
Chat. Phone. We have your back.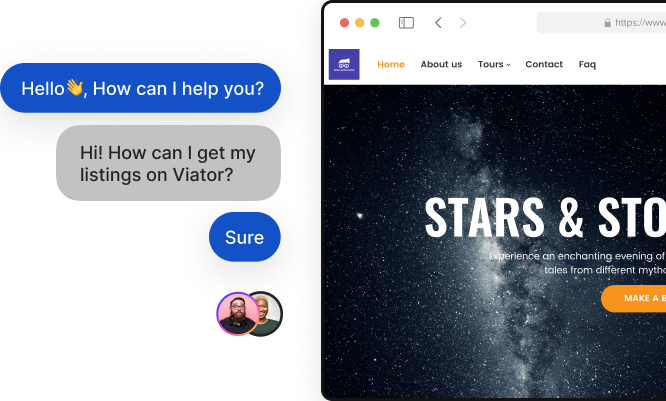 Free Demo
Transform your
business now.
Powerful
Intuitive
Innovative
Free Demo