Unparalleled

Guest Experience.
Get real-time insights and control with everything you need
to grow and run your business at your fingertips in Xola's
dashboard. View weekly bookings, customer check-ins,
staff, and equipment within Xola's dashboard in seconds,
ensuring you never miss a beat, no matter where you are.
Free Demo
Operations

Made Easy.
Manage everything in seconds.
Experience lightning-fast and seamless check-ins. Efficiently manage guest arrivals, streamline the process, and focus on creating memorable experiences.
---
Effortlessly view, create, and edit bookings while managing guests with Xola's user-friendly dashboard in just seconds.
---
Efficiently handle waitlists, manage availability, and provide exceptional customer service.
---
Instantly create beautiful listings with high conversion rates.
---
Get a comprehensive view of your entire week's bookings at a glance. Effortlessly manage your schedule and stay organized.
---
Create and tailor coupons campaigns. Set advanced redemption restrictions based on purchase window, event window, and listings with just a few clicks.
---
Optimize operations with resource management - automated tour schedules and staff email alerts. Avoid shortages with equipment assignment, ensuring no unfulfilled reservations.
---
Crystal Clear Communication
Unified customer communications.
Synchronized and efficient customer messaging through Xola's centralized communication platform, empowering you with group and individual emails and texts for a seamless customer experience.
Xola Phone
Mobile
Command Center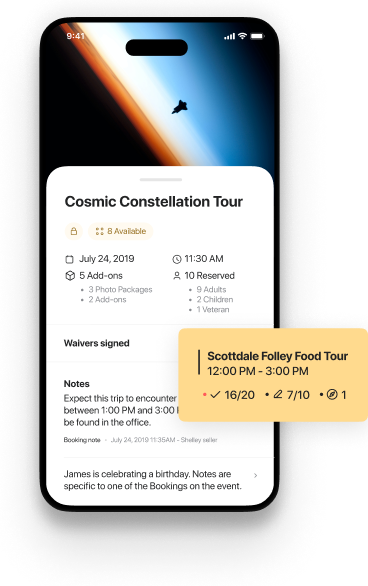 Take your tour and attraction business on the go with the Xola Phone App. Manage bookings, streamline operations, and delight customers.
Loved

by
hundreds
of
companies.
"If you're looking for something that is very intuitive for the customer to book by themselves and you want to stop getting all the phone calls, Xola is a key."
Vic Pellegrini
Bullseye Laser Tag
"The Xola system offers an all-in-one online solution to all my marketing and booking needs. My clients are happy, information is sent in a timely manner, and it is all automated!"
Scott G
Bullseye Laser Tag
"Xola has a ton of features that make it easy to use and flexible enough to fit our business needs. The support team is always responsive and helpful. The software is user-friendly and the booking process is seamless for our customers."
Jennifer P.
Bullseye Laser Tag
24/7
Customer

Support.
Our industry-leading customer
support team is available every hour
of every day of the year. Email.
Chat. Phone. We have your back.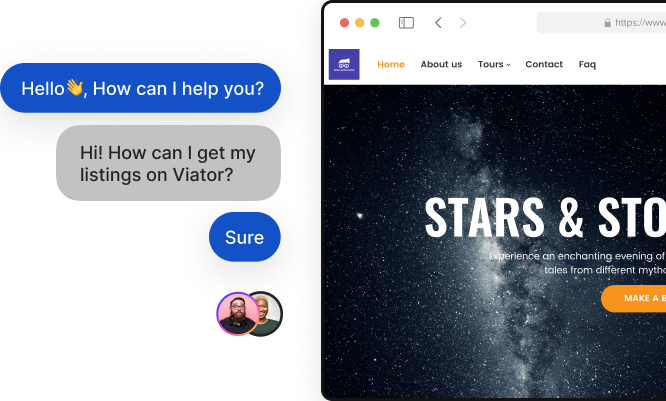 Free Demo
Transform your
business now.
Powerful
Intuitive
Innovative
Free Demo