Online

Booking


Software
Product Tour.
OVERVIEW
Powerful Booking Software
Made Simple
24 / 7 World-class Support
Our friendly customer support team responds within minutes via phone, email, or chat whenever you need help, no matter what hour it is. 97% customer satisfaction rate over the trailing year.
Award-Winning User Experience
Complete any task in just a few clicks with software that saves your staff time so they can focus on your customers.
Revenue Growth
25% average year-over-year revenue growth for businesses using Xola
ONLINE BOOKING
Online Reservation Software
See how Xola can help you grow faster and capture more bookings.
More Direct Bookings
---
Xola has the highest conversion rates in the industry. Customers can book in less than 30 seconds. No URL redirects, fewer form fields, no required registration, and a better customer experience.
More Mobile Phone Bookings
---
Deliver a frictionless checkout experience with Xola's mobile-optimized checkout across every device.
Get Started in Minutes
---
Embed Xola checkout widgets on any website in just a few lines of code. No developer required.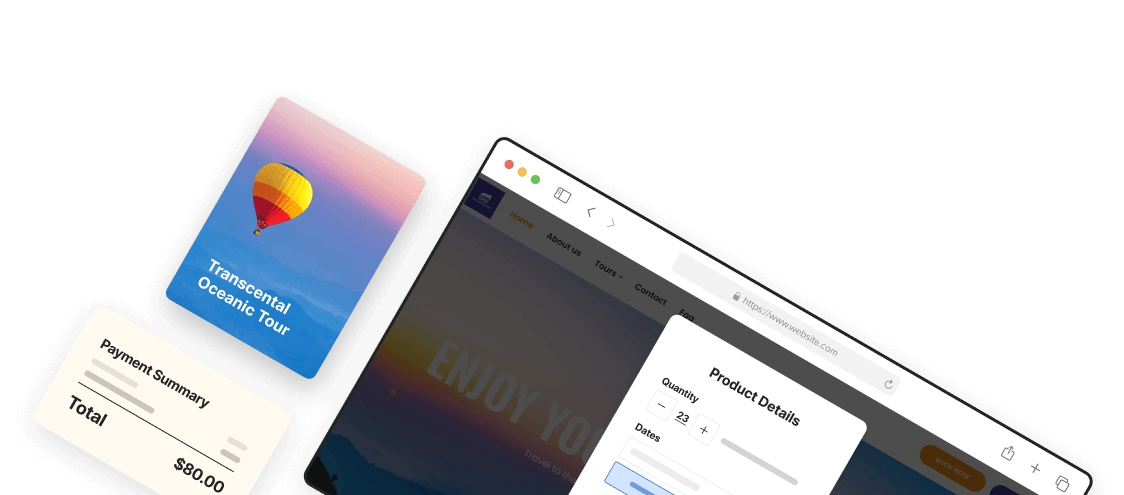 42%
of Tour & Activity
Booking Revenue
Comes in Online.
Providing your guests with an option to book online is a must. Xola's online booking software was built based on checkout conversion science with the goal of increasing website bookings and diminishing phone reservations. We do this by only collecting crucial booking information during the checkout process, and following up with fully customizable post-checkout questionnaires to collect everything else.
Free Demo
IN PERSON / PHONE
In-Person and Phone
Reservation System
Take any and all reservations with Xola's Point-of-Sale Integration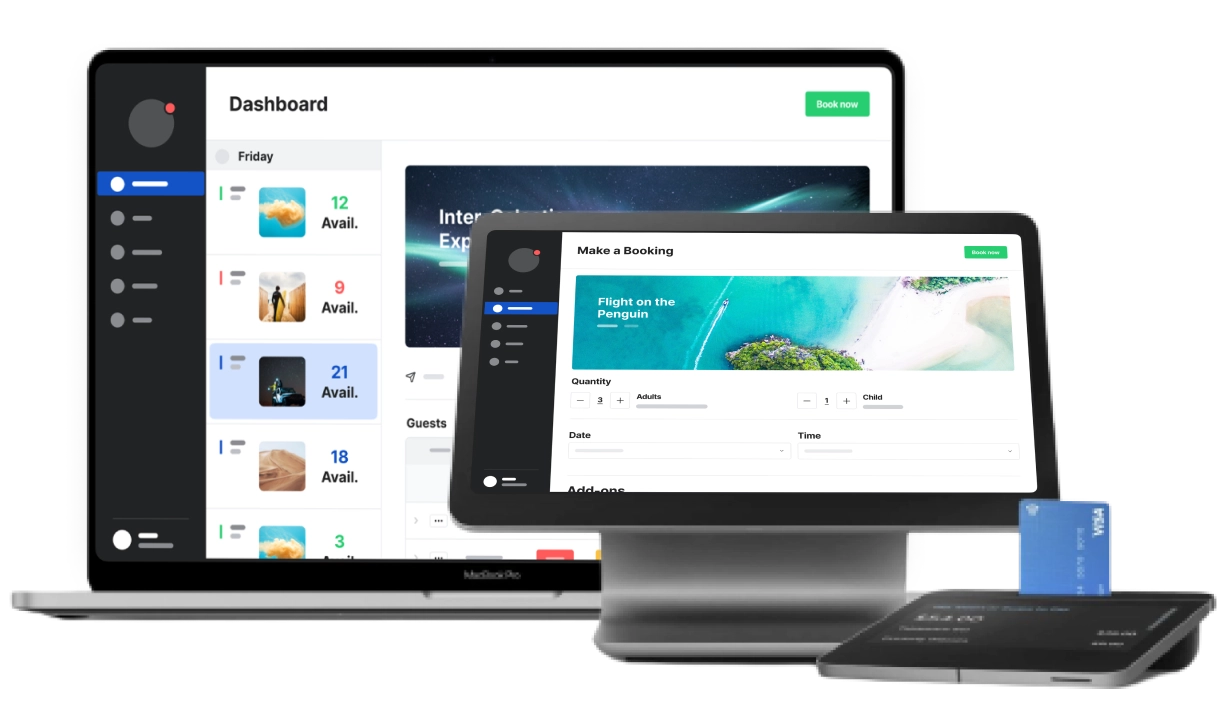 Less Than a Few Clicks
---
Manage purchases and guests in just a few clicks with software that saves your staff time so they can focus on your customers.
Walk-up & Point-of-Sale
---
Process high-volumes of in-person bookings and payments with Xola's Point-of-Sale integration, which supports EMV terminals, Apple/Google pay, cash drawer, and receipt printers. Accept cash, check, credit card, vouchers, gift certificates, store credit, and more.
PAYMENTS
Activity Payment System
Choose our plug and play payment processor, or we'll work with your.
Industry low
*For qualified accounts. Rates vary outside of the United States
Accept All Payment Methods
---
Provide your guest with the flexibility to pay with cash, check, credit card, coupons, gift certificates, or store credit. Easily collect deposits or split payments.
MOBILE
Online Booking App
Run your business anywhere with Xola's online booking app for tablet or mobile.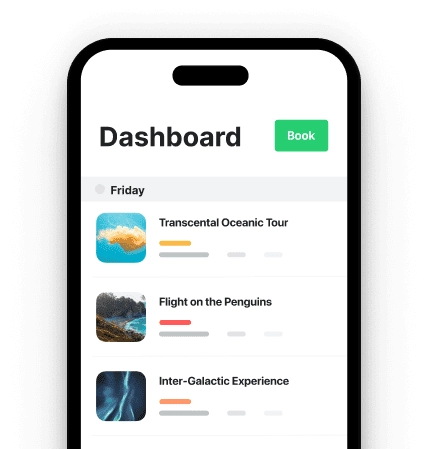 APP STORE
Xola App Store
Choose our plug and play payment processor, or we'll work with your.
Everything you need to grow and manage your business.
---
Connect Xola to the leading business software out there and enjoy the best of both worlds. Easily share booking and guest information with your accounting software, mailer, advertising tools, analytics services, and more
MARKETING
Activity Marketing Tools
Attract new customers and keep the old ones coming back
Advanced conversion tracking
---
Determine marketing ROI and analyze site performance by tieing booking revenue to marketing campaigns. Track Facebook Ads, AdWord campaigns, and custom codes with Xola's integrations with Google Analytics Ecommerce and Facebook Pixel with Advanced Matching.
Customizable customer review emails
---
97% of people read customer reviews prior to purchase. Turn your guests into your strongest promoters by sending review requests for the leading customer review sites, including TripAdvisor and Yelp. Customize your email once and Xola will automatically send review requests after every tour.
Coupons, tour discounts & gifts
---
Generate a discount code, or gift offer in seconds. Customize your discounts with advanced restriction based on activity, seasonality, day of the week, or even the exact time of day of a specific tour. Choose between fixed dollar amounts, or relative discounts on order value.
Automatic abandoned cart remarking
---
More than half of your website visitors who begin to book will leave without completing their purchase. Xola increases the odds that those visitors will come back and book with you, by automatically re-engaging customers that abandon your checkout.
If you're looking for something that is very intuitive for the customer to book by themselves and you want to stop getting all the phone calls, Xola is a key
James Doe
VP of Marketing, The Fork
If you're looking for something that is very intuitive for the customer to book by themselves and you want to stop getting all the phone calls, Xola is a key
James Doe
VP of Marketing, The Fork
OPERATIONS
Tour Management Software
Get a snapshot of your day and quickly adapt to demand, weather, or anything else.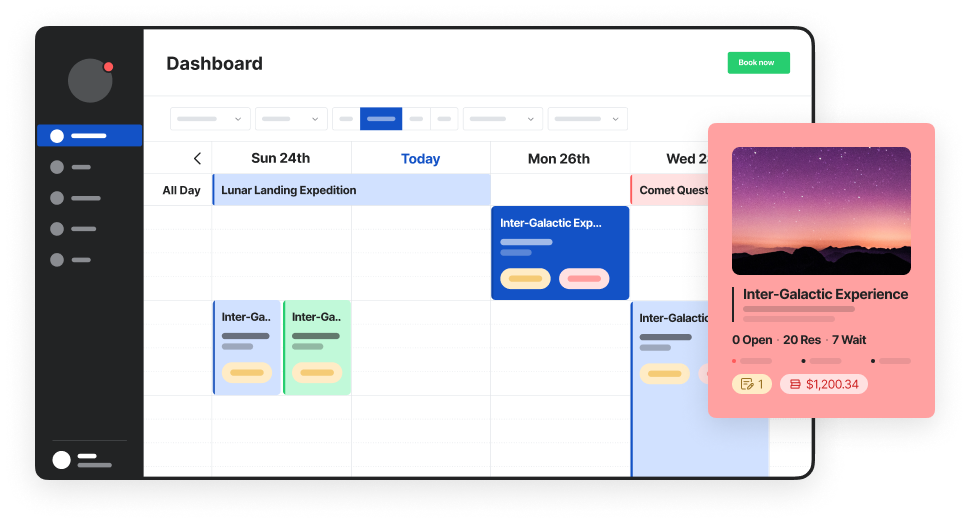 Activity Scheduling Software
---
Set up as many custom schedules and pricing variations as you need per tour, and edit them to your heart's content. Easily set exceptions to your usual tour schedule, like blacking out dates you know you will not operate your tours on, or setting a cut-off time for booking one, some, or all of the experiences you offer.
Tour Staff Management Software
---
Keep your guides in the loop at every stage by assigning them to outings and automatically emailing trip rosters. Let guides choose how they stay up-to-date with their assigned tour schedule: calendar sync with their prefered online calendar service, or through a limited access user on your Xola account.
Tour Booking Software
---
Create or modify a booking in 3 clicks or less. Xola's intuitive interface means you spend less time managing bookings and less time training your staff on Xola's tour booking software. And you'll never send another booking confirmation, update, or reminder email again with Xola's automated customer communication.
Multi-User Account Access
---
With seven different types of users accounts, there's an access level for every role, including guides, reservationists, accountant, admin, and more. Xola's cloud-based booking system lets multiple users log in at once and make edits in real time. Every booking modifications is tied to the user that performed it, so you are never left guessing who did what.
TICKETING
Event Ticketing System
Delight your guests while optimizing front desk operations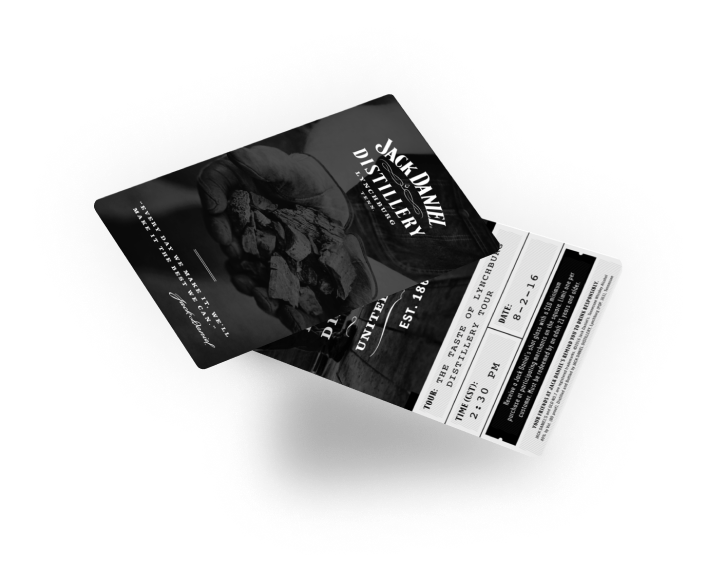 Create custom tickets
---
Create lasting memories with beautiful event tickets printed on-site. Xola's tickets are fully customizable, so you can easily match them to your brand identify, specific location, or special events
Steamling guest check-ins
---
Cut down check-in times with Xola's front desk management capabilities, including ticket printing, check-in kiosks, lobby display, and more.
ONLINE BOOKING
Tour Resource Management
Never overbook a tour again.
Minimum & maximum capacities
---
Easily set thresholds when needed. Xola will automatically notify your guests if the minimum required per outing isn't reached, and won't let you overbook a tour if you've hit the maximum capacity per timeslot.
Share resources between tours
---
Xola intelligently allocates shared tour resources based on the number of people that have reserved each tour. You'll never squander extra seats you wish you would've sold, or offer fewer seats than based on demand.
Collect & share crucial customer information
---
Ask custom questions, from age to allergies, with Xola's post-purchase questionnaires. See questionnaire answers, guest contact info, booking history, and more all in the tour roster. Easily export the roster, or email it to your guides to keep them in the know.

CRM
Event Customer Management
Delight guests before, during, and after the tour.
Detailed customer accounts
---
Xola automatically creates customer accounts from the information captured during the booking process. Easily rebook repeat customers, review a customer's booking history, or access their content info from one place
Automated guest communication
---
Build relationships with personalized customer communication. Automatically send guests pre-tour booking information, updates, and post-tour review requests via email or text message (SMS).
Keep the conversation going
---
Easily export customer data for further engagement via 3rd-party marketing and advertising platforms. Create email campaigns, Facebook Lookalike Audiences, AdWords Similar Audiences, and more.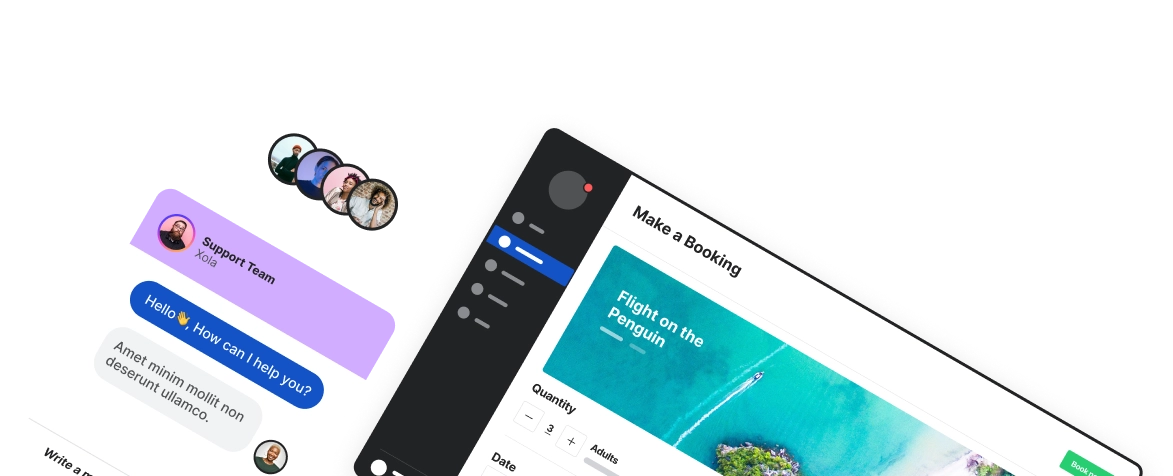 ANALYTICS
Activity analytics & Business
Intelligence
See the fruits of your labor and plan for what's next.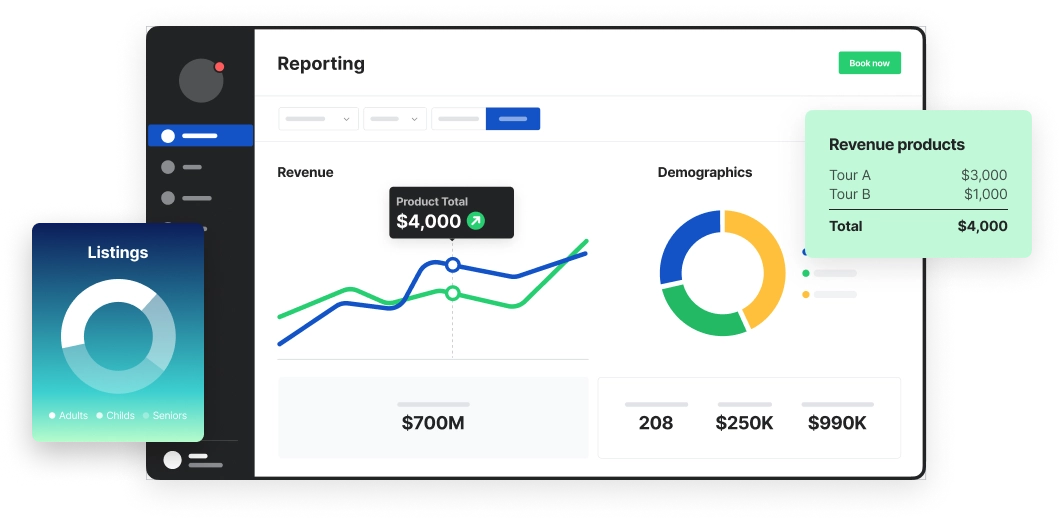 Always on, always tracking
---
We track every transaction made for each of your offerings, so you can analyze performance over time, across offerings and booking channels. Breakdown transactions, refunds, taxes & fees, income, and more by week, month, year, or anywhere in between.
Create custom reports
---
The sky's the limit with Xola's report builder. Easily customize your activity analytics reports to match your specific business and needs. Slice and dice the data based activity, timeslot, booking value, source, taxes & fees, and more.
Ad conversion tracking
---
Connect the dots between marketing spend and revenue with Xola's conversion tracking integrations for the leading ad platforms, including Facebook and AdWords. Make informed decisions and optimize marketing ROI based on the booking revenue each campaign drives.
APP STORE
Distribution Networks & Local
Partner
Sell more tours. And more. And more.



Manage bookings from OTAs &
distribution networks
Manage bookings generated by Expedia, Viator,
and distribution networks within Xola. Ensure
bookings made on 3rd-party networks are as
streamlined as those made on your site with
Xola's real-time monitoring of tour resources and
reservations made through every channels.
Leverage local
business connections
Easily partner with concierges, tourist
information centers, and other resellers. Track
the business they send your way, and pay
commissions all in Xola.
API
API Connectivity
Robust booking & reservation API with endless possibilities.
Marketing Integrations
---
Connect Xola with email marketing software, ad platforms, deal site, tour distribution networks, and more. Manage all of your bookings in one place, and use the information to remarket to customers and target new ones too.
Data Integrations
---
Send booking data from Xola to 3rd-party analytics tools, ad platforms, accounting softwares, and any tools you may use. Display booking revenue in Google Analytics, send booking data to QuickBooks, add revenue data to Facebook Ads Manager, and much more.
Custom Integrations
---
Connect Xola with any external application or set up custom WebHooks that fire whenever any action specify happens using Xola's robust and neatly architected API.
FREE DEMO
Transform your
business now
Powerful
Intuitive
Insightful
Free Demo