Extend your reach and boost
revenue with Xola's seamless OTA
integrations, managing all your
bookings in one place.
Free Demo
Distribution Networks
Expand Earnings

Amplify Visibility
---
Seamlessly integrate with Expedia, Viator, TripAdvisor, GYG, and Google Things To Do.
Maximize Bookings
---
Increase bookings by leveraging OTA marketing and selling capabilities.
Powerful Brand Association
---
Build strong brand associations by partnering with well-known travel brands to maximize your potential.
Boost
Efficiency.
Streamline. Expand. Profit.
---
Your all-in-one solution for unified distribution, simplified tracking and real-time listing accuracy across channels.
Never overbook
---
Eliminate overbooking while enhancing efficiency and control over your entire booking process.
Loved

by
hundreds
of
companies.
"If you're looking for something that is very intuitive for the customer to book by themselves and you want to stop getting all the phone calls, Xola is a key."
Vic Pellegrini
Bullseye Laser Tag
"The Xola system offers an all-in-one online solution to all my marketing and booking needs. My clients are happy, information is sent in a timely manner, and it is all automated!"
Scott G
Bullseye Laser Tag
"Xola has a ton of features that make it easy to use and flexible enough to fit our business needs. The support team is always responsive and helpful. The software is user-friendly and the booking process is seamless for our customers."
Jennifer P.
Bullseye Laser Tag
24/7
Customer

Support.
Our industry-leading customer
support team is available every hour
of every day of the year. Email.
Chat. Phone. We have your back.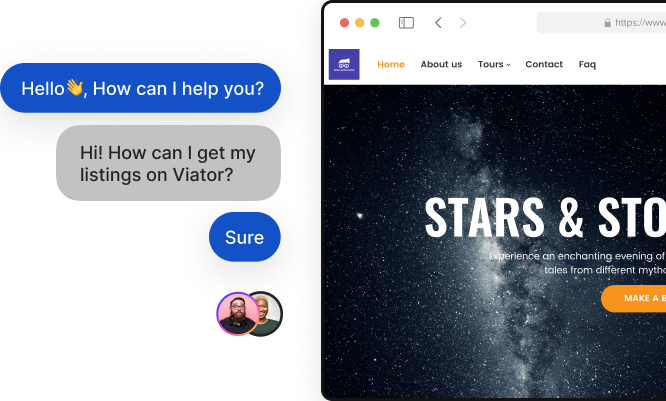 Free Demo
Transform your
business now.
Powerful
Intuitive
Innovative
Free Demo