Xola's All-In-One Solution for Tours & Experiences
offers a seamless booking experience, powerful
marketing tools, and simplified operations to attract
customers, and recover lost bookings.
Free Demo
Online checkout
Book in

Seconds.
Convert More Bookings
---
Industry-leading checkout conversion rates. Minimal form fields, no URL redirects, and lightning-fast bookings.
Mobile-friendly Checkout
---
Frictionless checkout experience across any device with Xola's mobile-optimized checkout.
Coupons. Vouchers. Gifts. Store Credit.
---
Customize marketing coupons with advanced restrictions -- based on activity, seasonality, day of the week, or even the exact time of day -- no matter how complex your requirements.
Add-Ons and Packages
---
One click addition of add-ons and package selection. Upgrade to a higher-tier offering with our upsell functionality, and create bundled tours or experiences with our Packages functionality.
Get Started in Minutes
---
Go live in seconds with just a few lines of code. Start taking bookings immediately.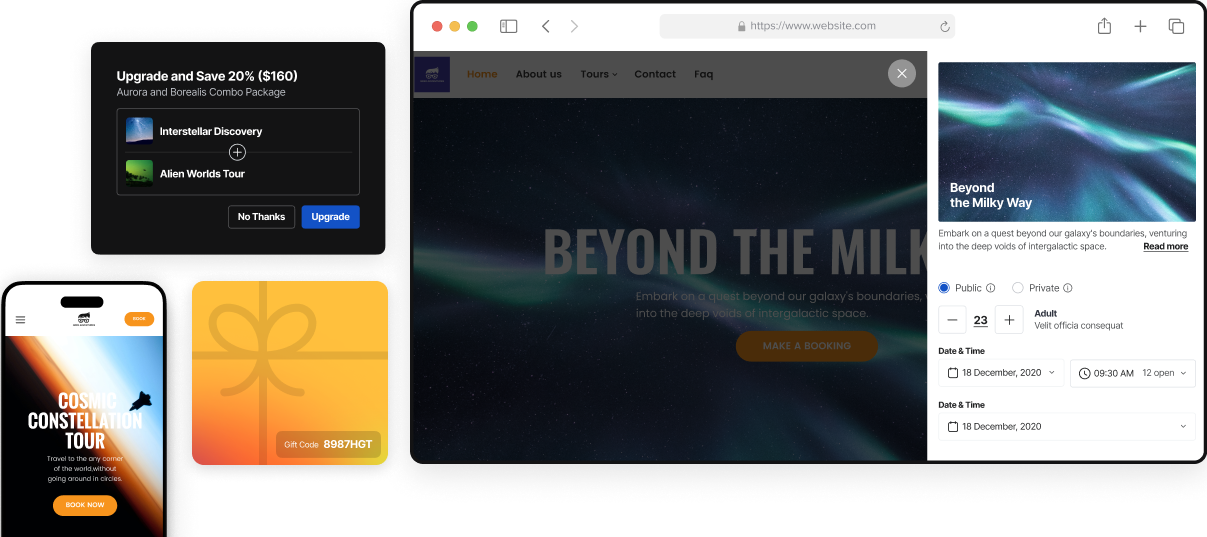 Online Checkout
Automated E-Commerce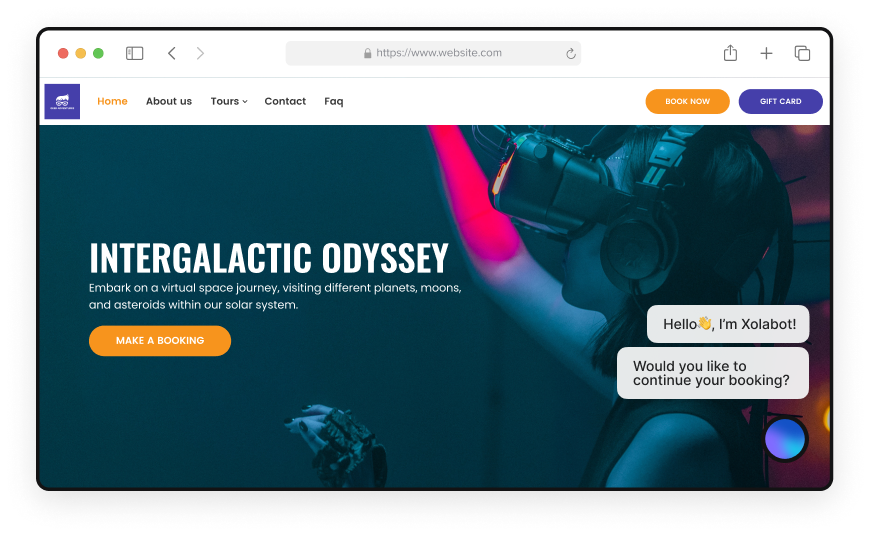 Revive Lost Opportunities with Resume Booking
---
Re-engage website visitors who abandoned bookings during checkout, so they can pick up where they left off in their saved cart.
Boost Revenue by 20% with Abandoned Booking Recovery
---
Recover lost bookings with Xola's customizable Abandoned Booking Recovery Emails. Engage customers who initiated bookings but didn't complete the purchase, ensuring higher conversion rates and revenue growth.
Make money while you sleep with Xolabot Automated E-Commerce
---
Xolabot engages customers according to rules you set to draw customers into the purchase workflow, expand checkout values with upsells, enhancing their experience while expanding your revenue.
More Integrated Partners. More Bookings.
Distribute. Resell.
Grow.
Get real time bookings through Expedia,
Viator, GetYourGuide and other integrated
distribution channels. More bookings.
More revenue. Never overbook again.
Online Checkout
Flawless-Guest-Experience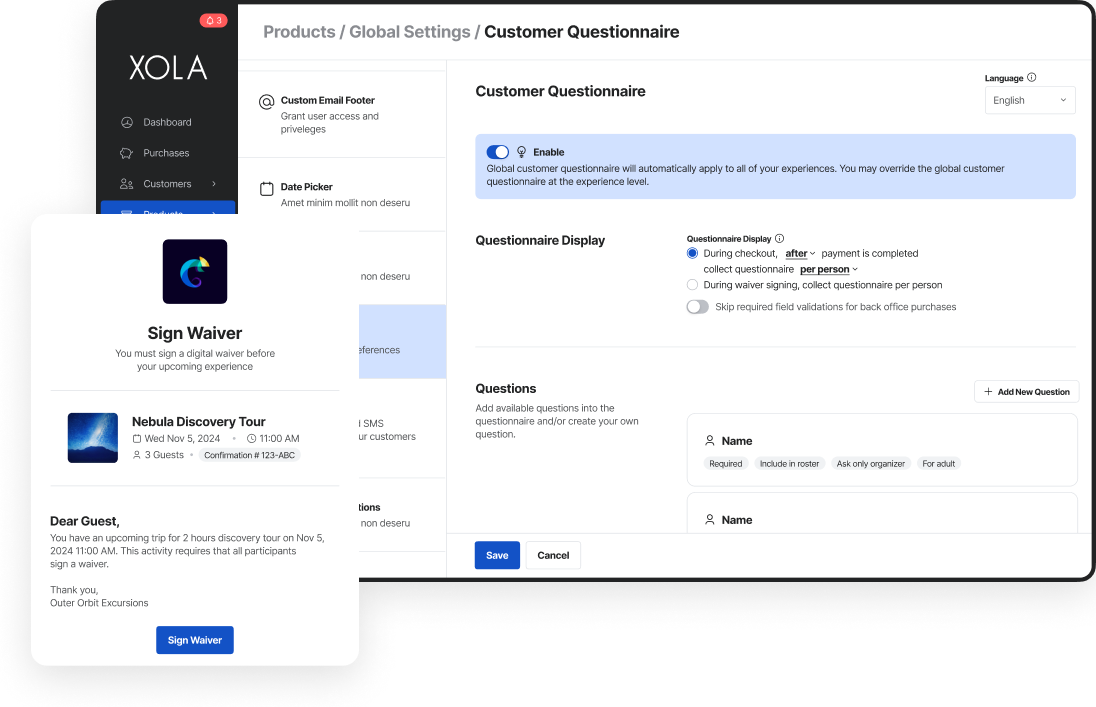 Group Bookings, Invoicing, and Split Payments
---
Flexible payment options like Group Bookings, Invoicing, and Split Payments, drive revenue generation while delivering an exceptional customer experience.
Custom Questionnaires and Digital Waivers
---
Gain more than signatures with Xola's digital waiver management, offering free & unlimited signed waiver storage, automated sending, and personalized questionnaires to collect valuable data for targeted marketing.
Positive Customer Reviews
---
Boost your positive reviews with automated customizable review emails, reaching every customer associated with the booking, including non-organizer contacts from digital waivers and split payment.
Loved

by
hundreds
of
companies.
"If you're looking for something that is very intuitive for the customer to book by themselves and you want to stop getting all the phone calls, Xola is a key."
Vic Pellegrini
Bullseye Laser Tag
"The Xola system offers an all-in-one online solution to all my marketing and booking needs. My clients are happy, information is sent in a timely manner, and it is all automated!"
Scott G
Bullseye Laser Tag
"Xola has a ton of features that make it easy to use and flexible enough to fit our business needs. The support team is always responsive and helpful. The software is user-friendly and the booking process is seamless for our customers."
Jennifer P.
Bullseye Laser Tag
24/7
Customer

Support.
Our industry-leading customer
support team is available every hour
of every day of the year. Email.
Chat. Phone. We have your back.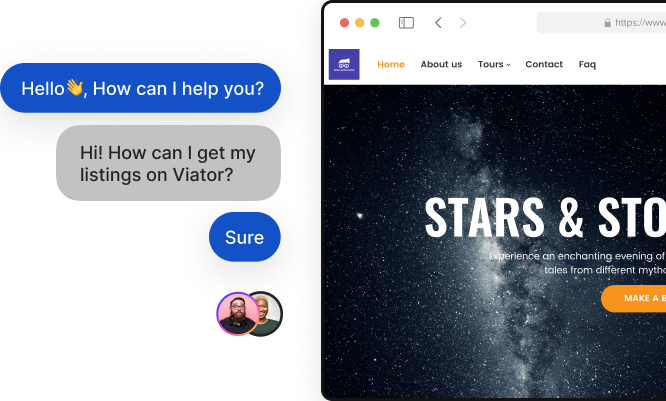 Free Demo
Transform your
business now.
Powerful
Intuitive
Innovative
Free Demo