Xola Universe
Introducing

100+ upgrades


across
our entire service.
Xola Dashboard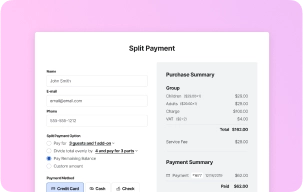 Split-Pay & Partial Payments
Handle big groups and complex split payments and partial payments in just a few clicks.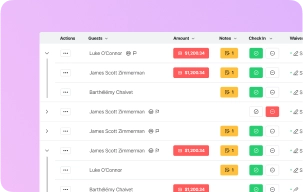 Customize Roster
Customize whatever data points you want to appear in your roster for easier guest check-in management.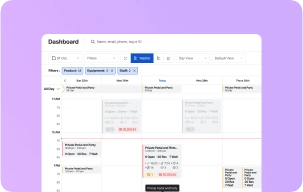 Calendar View Enhancements
Streamlined design for the day, week, and monthly calendar views, so that it is easier to see all of your bookings in the context that make most sense.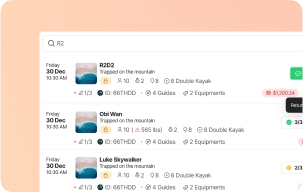 Improved Quick Search
Additional search filters to manage your guests more quickly. This includes the ability to search by waivers signed, balance due, check-in status, and booking source.
Faster Guest Check In
See check-in status in the dashboard and part of real-time updates
Booking Modification Error Prevention
More guest and booking data points and verifications woven into the booking modification workflows to prevent human error in booking and customer management.
Equipment Management Refinements
See what equipment is in use, what time it was added, along with the ability to add guide notes.
Guide Dashboards
Customize and filter dashboards by guides to know when and where each guide is assigned
Roster Enhancements
Improved usability to make more functions accessible within the roster to view and manage groups and individuals.
Enhanced Roster Data Exports
Ability to customize export fields so that your staff can easily get all the information they need to prepare for their guests and trips.
Standardized Guest Summaries
See the total number of guests reserved alongside availability for events on list, day, week and month views on the dashboard.
Roster Sorting & Filtering
Additional enhancements to make viewing and checking-in guests faster, including sorting and filtering for a faster guest check-in process.
Key Guest Check-In Requirements Data
Never miss a beat on guest check in. Items critical or required to complete guest check in are now displayed across important check-in workflows in Quick Search and dashboard views.
Improved Custom View Management
Manage your custom saved dashboard configurations easier. Specify default view and the order in which saved views are displayed in the Xola dashboard.
Expanded Guide Management Tools
Prevent guide no-shows. See whether a guide has seen and acknowledged their event assignment right from the dashboard.
Pending Waiver Management
Never leave your company legally exposed. Quick references to waiver statuses for all members of a group. Staff warning messages to prevent check-ins for groups with unsigned waivers.
Blackout Schedules & Custom Messaging
Additional filters and messaging are available to indicate when a blackout schedule is applied to a given date and why.
Global Add-Ons
Manage all of your add-ons in one place across all your offerings. This now makes it much easier and faster to configure add-on products purchased across many of your offerings.
Affiliates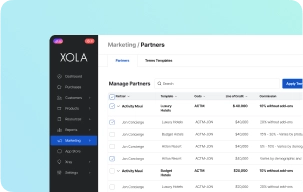 Bulk Partner Management
Create and manage partner profiles in mass. Create custom pricing structures per partner or apply a pricing structure to multiple partners.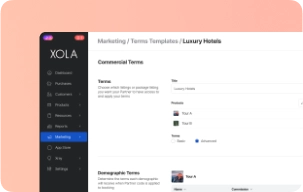 Advanced Partner Pricing & Commissions
Create advanced pricing structures for Partners, including fixed and percentage based markups or mark downs from rack rates. Create demographic-specific pricing.
Faster Partner Selection & Management
Quick search, sort and filter partner profiles to more easily identify and manage a given partner.
Digital Partner Payment Collections
Collect payments automatically from partners online through their login panel.
Advanced Partner Management
Invite reseller partners to have limited login access to your account with specified privileges to make bookings and payments on their time. Control available offerings, commercial terms, commission, payment structure, and much more.
Enhanced Partner Reporting
See a detailed breakdown of all information about what has been booked, including demographics, refunds, voucher number, and amount.
Easier Partner Deposit Rules & Restrictions
More control over Partner voucher and deposit rules, and more control over default deposit amounts attributed to voucher application.
Partner Pricing Templates
Streamline pricing structure management across all partners. Set up pricing and commission structure variations as saved templates and easily assign a template to the appropriate partners.
Improved Partner Archiving
Ensure no past partner data is lost. Archiving partners individually or en bulk is fast and easy.
Line of Credit
Assign Partners a line of credit and mechanism for paying down credit line. Assign your terms and conditions. Save time for all valuable partners reselling your tours.
Control Product Access for Partners
Limit which products your partners have access to see and book, in addition to customized product pricing and commission structures.
Checkout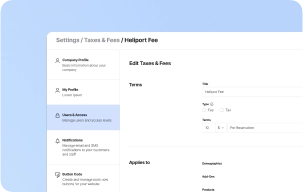 Customizable Taxes & Fees
Specify if taxes and fees apply to both front-end and back-office checkout. Apply taxes to specified channels, products, and add-ons. Set up add-on specific taxes.
Improved Credit Card Field Layout
Credit card expiration date is now before the security code in the checkout purchase flow to ensure more streamlined purchase guest experience.
Improved Fraud Prevention Measures
Tighten credit card security checks and lower chargebacks by requiring a billing address for every credit card transaction on both front-end and back-office checkout.
More Visible Checkout Incentives
Display special discounts on checkout.
Checkout Workflows & Groups (coming soon)
Create custom checkout workflows by clustering groups or categories of products for a more streamlined booking experience.
Localized Time Zones
Display checkout time slots in military time
Coupons & Discounts
Apply Coupons Faster
More complex back office checkouts are faster. Now it's even easier to apply codes to individual items or to all items in the checkout.
Additional Coupon Parameters
Restrict validity of coupons to both public and/or private product offerings.
Enhanced Online Gift Purchase Workflows
Add the option for gift cards and gift offering purchases within custom multi-item checkouts. Guest can also now buy multiple gifts easily as well.
Guest Count Minimums for Coupons
Require a specific number of guests at booking in order to receive a discount. For instance, a coupon is only valid if 4 or more people are added to a booking.
Improved Campaign Tagging
Add a tag field within the coupon campaign that will automatically append to the purchase when used & allow for multiple tags.
Customer Journey Timeline
See each customer's entire history and journey with your company through a new customer event timeline.
Customers / CRM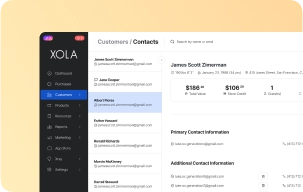 Repeat Customer Tracking
We make it easier to track your repeat customers by tagging guests who book more than once. See your repeat customers more visibly in customer reporting.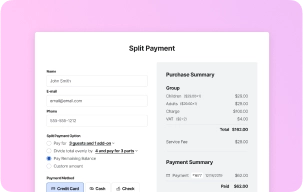 Improved Split Payment Workflows
Dedicated emails are now sent to split-pay guests to collect and confirm their split payment.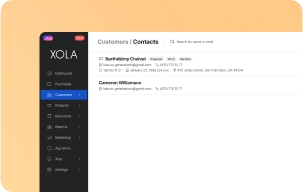 Cleaned Up Customer Records
Removed unnecessary or extraneous data points and UI components to clean up the customer record view.
Questionnaire Response Management
Modify and / or remove questionnaire answers from both the purchases tab or enable your customers to do so through self-service.
Enhanced Customer Record Modification
Quickly edit more details pertaining to the customer from various entry points including customer records, booking creation workflows, and purchase details page.
Streamlined Mobile App Questionnaires
Make faster bookings on your mobile app by overriding and skipping guest questionnaire requirements.
Expanded Customer Rebooking
Now it's even easier to rebook customers from Customer records and within the back office purchase workflow.
Simplified Merge Records
Merging duplicate records is now even easier. Our new merge-record interface prevents accidental merges and allows flexibility in overriding data to commit to the final merged record.
Key Critical Customer Data Points Visible
Customer quick search interface now displays key customer data points gathered in questionnaires along the way such as email, phone, height, weight, birthday, address, and more.
Multiple Contact Data per Record
Store, reference, and remove multiple emails and contact information associated with a customer record. You can also easily reference and remove multiple credit cards on file.
Purchases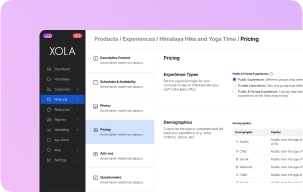 Demographic pricing changes
Set specific pricing changes based on certain demographics, like senior citizens or students, so they get a specific discount only on certain days of the week without requiring a coupon code to be used.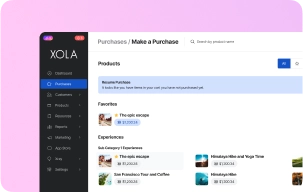 Faster Product Selection
Search, filter, find your product of interest to make a purchase. Filter by category: experiences, packages, memberships, gifts, and more. Ensuring the booking workflow is lightning fast.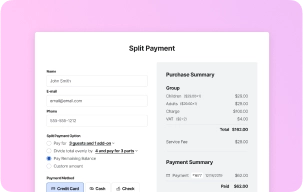 Improved Split-pay Controls
Indicate that split pay cutoff time setting applies to both cutoff and auto-charge. Never miss an outstanding balance due on account of a residual balance from a large group split pay scenario.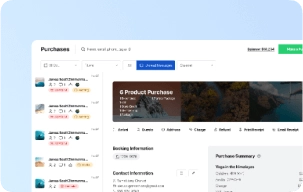 Purchase Record Filtering
Sort purchases by paused, canceled or confirmed. You can also filter by listing, date, and time of booking.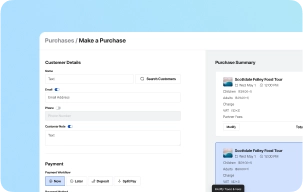 Back Office Checkout Cart
Clean interface that now lays out items in the back office checkout cart. This makes it much clearer and cleaner to see, manage, and modify complex, multi-item orders, while keeping simple orders just as easy as they were before.
Virtual Experiences & Time Zone Empathy
Define the customer time zone during the booking process and toggle between your time zone and that of your guest to confirm dates and times with zero confusion.
Custom Capacity for Custom Time Slots
Set a custom time slot on the fly and also define a custom capacity / guest limit as you do it. This enables you to easily book a custom time for a specific group and not risk other guests booking into the same group.
Deposit Workflow Enhancements
For checkout bookings, the ability to customize when the remaining deposit amount is due.
Improved Refund Usability
When looking at Purchase details easily see what card has been refunded, by showing the last four of the credit card in the summery.
Back-office deposit workflow enhancements
The Xola back-office workflow now looks the same as the checkout deposit workflow.
Refund Mismatch Warning
Display a warning message on the refund screen if the refund method is different from the original form of payment.
Add-On Organization and Selection
Cleaned up selection of add-ons makes upsells straight forward.
In-Purchase Questionnaire Enhancements
Fully integrated customer questionnaire forms embedded within the back office booking workflow allows you to require completed information prior to the purchase or optionally override to facilitate faster purchase workflows.
Rebook Existing Customers
Cleaner rebook workflows to make booking repeat customers even faster.
Simplified Payment Workflow
Re-organized and streamlined payment methods, workflows, and permutations in complex combinations of the two including deposits, invoices various payment methods and split pay, pay later, and more.
Expired Credit Card Notification
Never chase down why a card will not go through again. Get notified by an alert if a stored credit card for a booking is expired.
Collect Taxes and Fees for Specific Add-ons
Accounting nightmares begone! Create a tax option that can be applied only to add-on charges.
New Split Payment Helper Calculator
Massively improved split payment helper tool to help calculate amounts owed by each member of the party, based on their choice of booking in equal parts, a percentage of the booking, for a given number of people, remaining balance, etc.
Guest Quantity Increment & Override
Updated user interface allows you to easily increment guest and demographic counts in click or override and manually enter a much larger number to avoid the torcher of a click storm to get to the number.
1-Step or 2-Step Booking Preference
You a scroller or clicker? Configure your account to have a single page or two-step booking process depending on the operational needs of your business or personal preference. Either way you'll love the fastest cleanest checkout in the industry.
Gift Purchase Workflow Revamped
Purchase gifts and gift offers have their own unique complexity. Now that's seamless accomplished in a completely new gift checkout environment on the back office. Clear display of terms, conditions, custom message, personalization, and more.
Notifications & Emails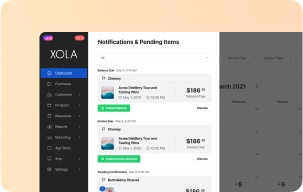 Pending Booking Confirmation Notifications
Never sleep on a pending booking that requires your manual acceptance. A in-app notification appears in your dashboard when a booking is waiting for confirmation.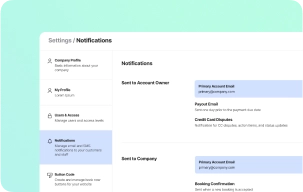 SMS & Email for All Notification Types
Enable SMS and / or email as the mode of communication for all instances of user notifications.
Custom Timing of Notifications
Change the timing for review emails.
Customer Review Email Preview
When customizing the review email, you can see a sample email for what it will look like to the customer.
Gorgeous Email Redesign
We redesigned our entire inventory of over 30 automated emails. Your staff and customers now have the cleanest and most easy to understand emails in the industry.
Automated Balance Due Collection
Never miss balances over due again. Configure automated emails to be sent to customers with outstanding balances due. Customers can easily make full payment of the remaining balance before arrival.
Guide Management
Guide Assignment Confirmation
Display a confirm button before assigning guides. This prevents accidentally assigning guides and triggering accidental assignment email notifications.
Guide Assignment Confirmation
Prevent guide no-shows. See whether a guide has seen and acknowledged their event assignment right from the dashboard.
Guide Access to Waivers
Guides can now access waiver statuses to ensure all guests in a group have signed their waivers before initiating an experience.
Products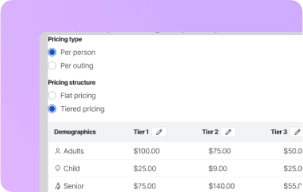 Tiered Pricing Improvements
Take pricing to a whole new level with tiered pricing. Within tiered pricing you can increase or decrease a price according to rules you set based on group sizes.
Improved Product Filters in Dashboard
Save time by quickly organizing and searching products in Xola's dashboard.
Enhanced Schedule Management
Improved customization for schedules including the ability to specify different start times for a product schedule for multiple date ranges and more.
Streamlined Product Creation Workflow
Product data points are now organized better to make creating a product even easier.
Schedule-Based Pricing Variations
Easier than ever create schedules with pricing variations for each demographic. Pricing variations now also support fixed and percentage based markups and markdowns.
Demographic Pricing Updates
Now you can easily mark up or down a demographic price for each and every demographic.
Better Product Creation Experience
Never miss not saving a product creation again. Now you will get a warning message anytime unsaved changes are made for a product
Improved Demographic Management
Easily move demographics to the order you want displayed on checkout.
Faster Product Creation
Save time by quickly organizing and searching products in Xola's dashboard.
Streamline Demographic Creation
Easily manage global demographics and add new individual and/or global demographic to products in fewer clicks.
Product Icons
Quickly identify the types of Products you created by referencing images, not words. This includes unique icons for, experiences, membership, gifts, private bookings, packages, and more.
Pricing Templates
Create custom pricing templates that you can easily apply to products and schedules as they are created.
Questionnaire Settings (coming soon)
Set up if a global or product questionnaire should be filled out while a reservation is made, after a reservation is made, or in a Xola waiver.
Improved Workflow for Creating Add-ons
Easier and faster way to add add ons to your products. With a few clicks you can now sell additional items in your product. A list of all add-ons will be shown for you to choose from.
Equipment Duration Warnings
Never set your equipment duration to 20 days instead of 20 hours. We will now display a message asking if you meant to set the duration to something outside the norm.
Gift Demographic Pricing
Now give the gift of an experience with a total value based on demographic pricing, plus or minus taxes and fees.
Improved Customization of Taxes & Fees
Complete control over taxes and fees and how they are applied. Specify tax or fee as a category. Apply tax or fee to a specific demographic, add-on, product, partner channel, or purchase source such as checkout, back office, kiosk, or integrated apps.
Easy Hardware Set Up & Management
Consolidated device setup and management makes it fast and easy to get devices up and running. Everything hardware related is in one spot.