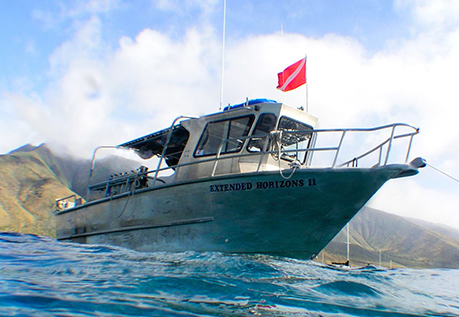 SCUBA OPERATOR DIVES TO GREAT LENGTHS WITH XOLA
At first glance, you'd probably think that Erik Stein's job is paradise. Running a scuba company in Maui does sound pretty amazing, but it comes with its fair share of hard work.
Erik has aimed for his dive company, Extended Horizons, to be a cut above the competition from the outset.
"I wanted to provide a level of service that wasn't seen in the industry," Erik says, "and I also wanted to start a business where I could identify what doesn't work and identify a better way to make it work.  I've never liked the 'we've always done it this way' mentality, and I've always enjoyed trying and striving to improve."
CHALLENGES
Despite his resistance toward traditionalism, Erik still found himself tied to an analog booking system in 2013. The pen and paper booking strategy generated a host of issues. Work began at 5 a.m. Erik would go into the office and check his messages for bookings that had come overnight. He'd spend a considerable chunk of the morning coordinating the dive schedule and copying customer information: heights, weights, and names, down into the book.
The scheduling had to be spaced out with plenty of leeway on paper in case of mistakes, and foreign names with difficult spellings brought their own challenges as they were copied from paper to paper. This sort of system also meant that Erik was tied to the office. If he needed to deal with reservations, the only place he could do that was in his office.
It could be an unreliable process, he says, because "I wasn't able to completely see at my fingertips exactly what I had in terms of availability.  I had to shuffle papers and sometimes things got lost."
At the end of a hectic summer in 2013, Erik says, "I was just thinking this is ridiculous, something has to change. If I have to go another summer like this, I'm leaving money on the table." It made his desk the hub of Extended Horizons' operations, so much so that his guides were constantly peering over his shoulder to check on scheduling.
"Having Xola up there on the cloud allows me not to be tied to a book on my desk."
THE BIGGER PICTURE
Across the board, the inefficiency of the paper manifest had serious effects on Erik's business. "I wasn't fully able to capitalize on my guides' availability to maximize my revenue and profits," he says.
Because he worried about errors in the book, he always left himself a buffer between tours. It was a sacrifice in efficiency for the sake of peace of mind, but the cost of that sacrifice was too dear to be sustainable.
Customer service was strained by his dependency on paper as well.  He says, "it's really important that if you're walking around with a manifest that their name is spelled right," and sometimes that could be an issue when he was diving with international tourists.
From a personal standpoint, being the sole reference point of the business just put Erik under far more stress than necessary. He wasn't able to focus on his other work or the growth of the business because he was constantly interfacing with his guides or managing his paper trail.
     
     
A NEW WAY
"I was looking for a solution," Erik tells us, "and I think Xola is that solution in a lot of ways." His guides no longer spend their mornings craning over Erik for a look at their rosters, they can look it up. "If people want all the drilled down information, I have them log into Xola."
That bit of progress matters for Erik too, he says, "having Xola up there on the cloud allows me to not be tied to a book on my desk." He told us smugly that one morning he didn't have to go into the office until 10 o'clock because he had slept in and then managed his reservations from home.
Erik's been able to say goodbye to copying information from paper to paper – that's been automated for him.  For a dive company like Extended Horizons, he says "the export roster button is worth the price of admission."
SUCCESS WITH XOLA
"In five years I'd like to be sitting on a beach sipping a pina colada," Erik says.  While he's not there yet, Extended Horizons has seen impressive growth over the past year by recapturing business from inefficiencies and refocusing efforts from administration to innovation.
"We got a 20% increase year over year using Xola since we first started to use the platform," Erik says,  "and the clarity Xola provides has directly increased our total number of trips and increases the efficiency of my staff, resources, and guides.  Maybe it's even more than 20%."
His footprint online has grown as well.  "It took us from late 2010 to fall of 2013 to get to 100 reviews on TripAdvisor [before Xola].  We've been with Xola for less than a year, and we now have 300 reviews.  It took me three years to get the first hundred, and 8 months to get the next two hundred."
In Hawaii, where the competition is fierce, that kind of publicity can make a huge difference.  The switch to Xola, Erik says, seem like a no-brainer after the fact.  "It's like when I went from dial-up to broadband, and I thought, 'What was I doing there for so long?'