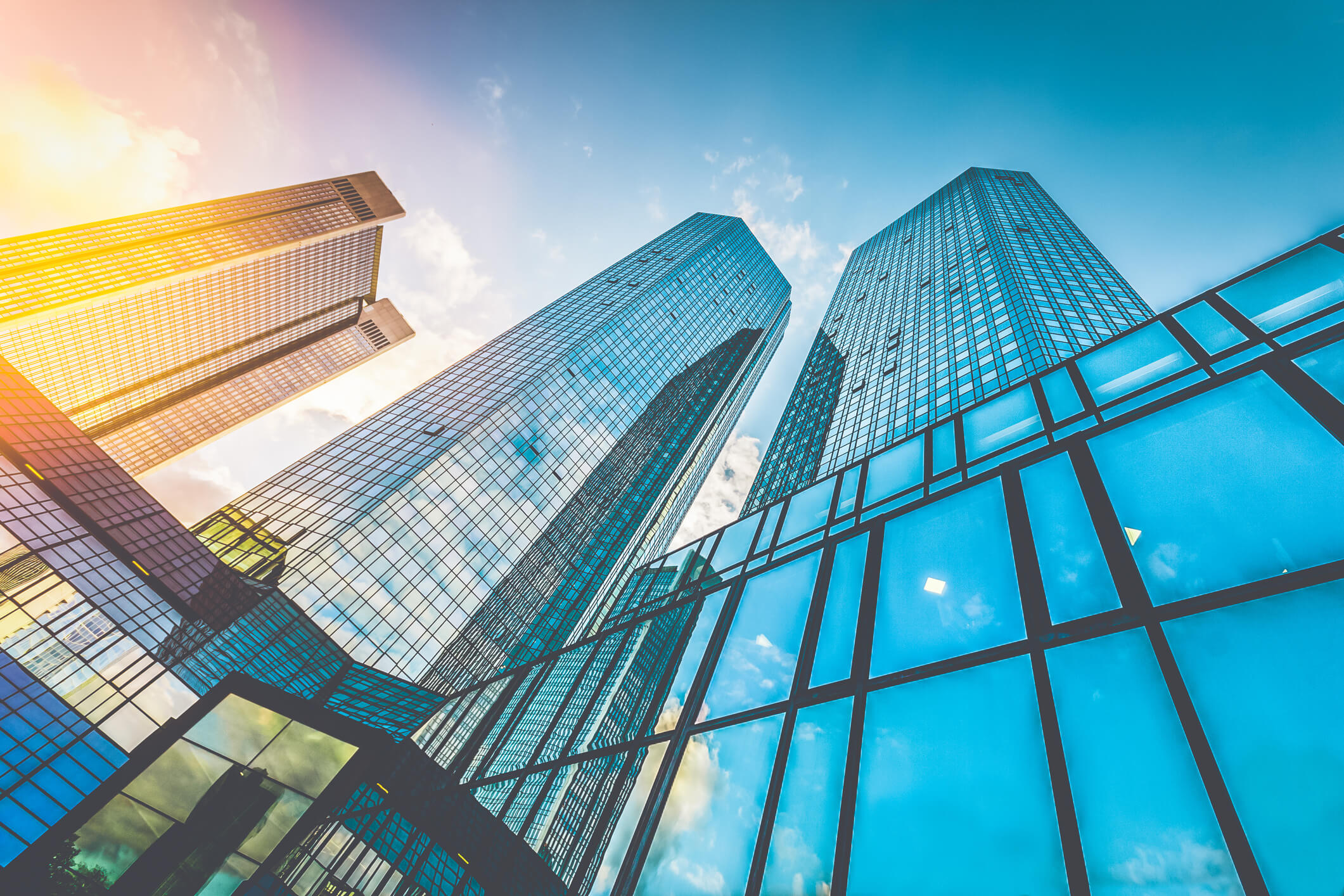 Corporate bookings are a great way to fill your escape room during off hours, especially during weekday business hours.
But corporate customers can be hard to come by. In many areas, escape rooms are still a relatively new concept. How do you sell an escape room team building program to someone who has never heard of an escape room before?
Even if you enter an established market, you will likely run into trouble. The corporate groups who are familiar with escape room team building programs will have already partnered with your competitors. In many cases, your best route is to target the corporate groups who are less familiar with the concept. Which brings us back to the same problem: how do you find and sell to corporate groups who are unfamiliar with escape rooms?
Josh Brickey of Escape Plan Columbia wrestled with this problem at a time when escape rooms weren't a well known concept. But over time, he cracked the code.
We interviewed Brickey to understand how he built his corporate team building program from the ground up.
How to Sell Escape Room Team Building Experiences to New Corporate Groups
"We do tons of corporate," Brickey explains. "Corporate groups are the lifeblood for our escape room and are key for our longevity."
But that wasn't always true for Brickey. Escape Plan Columbia opened their doors in 2015 as the second escape room in the entire state of South Carolina, before the escape room industry's big boom.
For Brickey, this posed a unique problem. In 2015, most people still didn't know what an escape room was. Brickey had to find a way to reach corporate customers and sell them something they had never heard of before. It wasn't going to be easy.
Thankfully, Brickey has a knack for networking.
Identify Your Audience
Effective outbound escape room marketing is all about figuring out where the corporate customers are, and going to them.
To do this, Brickey focused on promoting his escape room team building program at events and in local business networks.
"It was a mixture of events that I spoke at, or sponsored to be able to have a table there, that I knew had a lot of corporate people," he explains."And I also reached out to influencers I knew and had them spread the word by talking about us and sharing with others."
More specifically, Brickey focused on networking events.
"Networking events are great for our business," he explains, "because they are there to meet people. They're usually talkers, so they will tell others about you."
He also found success partnering with his local Chamber of Commerce.
"A chamber of commerce can work in some areas," Brickey explains. "I will say [that] a Chamber of Commerce works for escape rooms in ways that it never would work for a lot of businesses…"
Brickey had past experience working with the Chamber of Commerce for his other businesses, and that didn't go so well. But for escape rooms, he explains, it's a no-brainer.
"..People pay for entertainment. People pay for fun. And so people will spend their last penny on fun and entertainment," Brickey explains. "Chamber events are easy pickings for us. In every other business I had, that was not the case, but escape rooms are an easy sell."
Practice Your Pitch
Once Brickey had identified the most effective place to reach his audience, it was time to sell. But there's an art to promoting an escape room to corporate customers, especially if they've never seen a room before.
The most important thing, Brickey explains, is to practice your elevator pitch.
"I think that with any successful business, you have to be able to do an elevator pitch, because you're going to meet people all the time and you're not going to have a lot of time to convince them to come."
A good pitch, Brickey explains, is short and concise. "You want to keep it simple to where you can say it in 10 seconds," he explains.
A good elevator pitch answers two questions:
What Is an Escape Room?
For customers who are unfamiliar with the concept, it's important that they understand what they're in for. The description should be concise but intriguing.
"When we opened," Brickey explains, "a lot of people didn't even know what they [escape rooms] were. For us it was a conversation starter and I think that's fine… I think a lot of people try to put too much information in their pitch, but intrigue is fine. You just want to spark their interest…"
Why Should They Book with You?
Once you've sparked their interest, you need to give them a reason to book.
In other words, why should they book an escape room instead of some other team building activity that they're more familiar with? If you're in a more competitive environment: why should they book your room over the competition?
For corporate customers, Brickey's answer to the "why" question is simple but enticing.
"I tell them that escape rooms are great, because it's 'team building that doesn't feel like team building.' It's not forced…"
It's a simple idea, but it cuts to the core of what makes an escape room team building great for corporate groups. Traditionally, team building exercises are lame. They often feel staged, and most of the time they aren't a whole lot of fun.
But escape rooms break the mold. They're great team building exercises, and a lot of fun!
Sell the Experience
The pitch is only the first part of the sales process. Corporate customers don't make decisions without doing some research first. And the first place they'll go is your website.
"I think that's the key is making sure you sell them on the experience. That you're a professional," Brickey explains.
Your website is often the first and only impression corporate groups will have of your business. So Brickey designed a new page on his website to promote his team building program. He gave it professional look, including beautiful photos of the space and other large groups who had tried his rooms.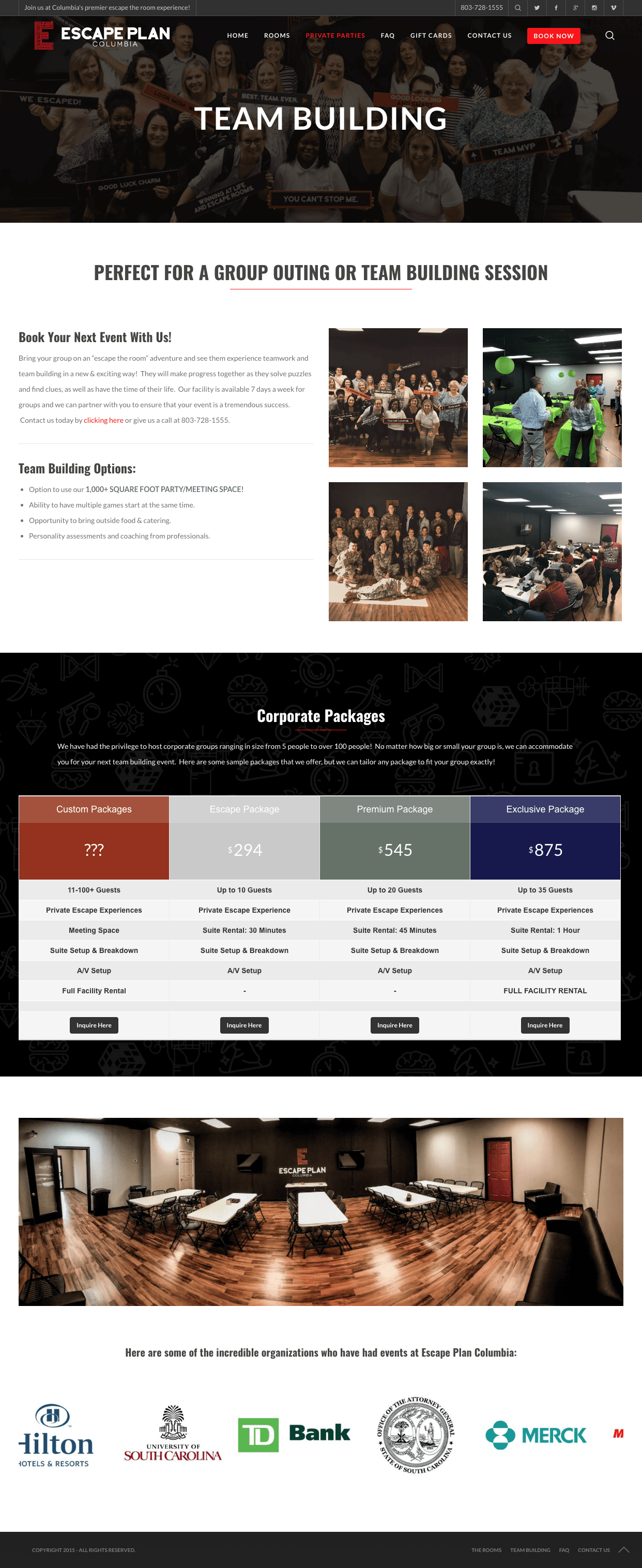 "Your web presence is going to be really important," Brickey explains. "If you have a good looking website that's your first impression to people. If your website is ugly, then you've got two strikes against you before they've even considered."
For detailed tips on how to design your website pages, go here.
Follow Through
Brickey worked hard to find his audience, pitch them on the new escape room team building concept, and sell them through his website.
But, as he reminds us, the job isn't over after they make an inquiry.
"A lot of times businesses get busy and they forget about it," he explains. "You need to track who calls and when they're coming and how many people they're bringing, [and] find out when they're making a decision on that, so that way we can make sure we're staying at the forefront of their mind."
In other words, it isn't over until they're standing in your lobby. It's important to go the extra mile to make sure they come through the front door happy, prepared, and excited for a great gaming experience.
Play to Your Strengths
How you find and promote your escape room team building program to new corporate groups may not follow the same storyline as Brickey. At the end of the day, it's all about understanding your strengths and using them to your advantage.
"I mean that's one of my strengths – networking with people," Brickey remembers. And he used that strength to his advantage, allowing him to build an impressive reputation and serve a wide variety of corporate clients.
Play to your strengths. If you're good at networking and selling customers in-person, Brickey's strategy is a great way to win new corporate customers. But it isn't for everybody. Alternatively, you might consider the inbound method, which focuses on building a great website that attracts and converts corporate groups.
Conclusion
No matter how you approach selling your corporate team building program, there are a few things anyone can take away from Brickey's story.
First, you need to find your audience. Ask yourself, where do corporate customers go to chat? How can I have a presence there?
Second, you need to practice your pitch. You're going to meet people all the time, and you'll only have a few seconds to explain what an escape room is, and why it's a great team building exercise.
Third, your website should reflect the quality of your games. Corporate groups do their homework before booking. It's important that your website creates a strong first impression.
Finally, the sale isn't final until they walk through the door. In fact, many would argue that the sale isn't over until they've left your room happy and willing to recommend your business to other people. Never underestimate the power of a great customer experience.
Finding your first corporate customer can be hard work, but it's worth it. People like Brickey have built the foundation of their business on corporate customers. And more often than not, all it takes is one customer to get you rolling.