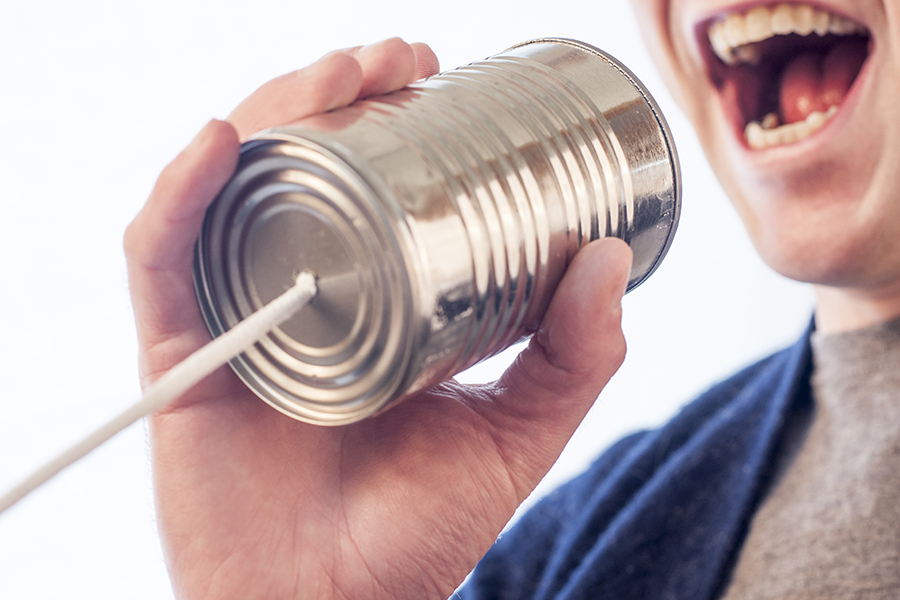 How to leverage free channels to the fullest
This June marked Escape Room Niagara Falls's 1-year anniversary. In the previous twelve months, the live puzzle attraction has gone from a brand new company to an Ontario staple. All the while, owner Sarah Fenn Thomas has maintained a lean approach to advertising, budgeting no more than a few hundred dollars per month for radio spots and boosted Facebook posts.
Instead, Escape Room NF's has largely focused on its TripAdvisor profile to build publicity, and it's working. Its #1 out of 36 in Niagara Falls #2 out of 540 "Fun & Games" listings in Ontario. People routinely tell Thomas that they either discovered Escape Room NF on TripAdvisor, or that they consulted the profile before booking their experience.
Thomas spends almost nothing to broaden her publicity through TripAdvisor and, in exchange, her business earns massive returns. Plenty of other tour and activity companies have placed as much emphasis on their TripAdvisor profiles, but few have ascended so quickly to prominence as Escape Room NF.
So, what's the secret?
The key to the company's success has been its commitment to strategy. If there's one thing I've learned, it's that marketing is nothing if not strategic. Willy-nilly plans seldom make an impact and almost always leave a big hole in your pocket where your wallet used to sit.
The other part to this winning initiative, of course, is the sway held by TripAdvisor reviews. Before getting into Escape Room's marketing strategy, then, let's take a closer look at why online reviews are so influential to your customers.
Peer-to-peer recommendations

Customer referrals are the holy grail of marketing these days. There's nothing more powerful than the buzz created by customers.
While some studies cite that as much as 90% of customers say their buying decisions are influenced by reviews, one thing's for sure: online reviews outperform traditional forms of advertising.
This survey from Nielsen says that online consumer opinions are the third-most trusted form of advertising behind in-person recommendations and branded websites. From 2007 to 2013, consumers' trust in online reviews grew 7%. They beat out all print ads, digital ads, email blasts–even newspaper editorials cause more skepticism than online reviews.
Imagine words sitting upon a diamond-, sapphire-, and ruby-encrusted pedestal that was dipped in gold and then wrapped in dollar bills. That's approximately the value of your glowing customer reviews published on a public platform like TripAdvisor.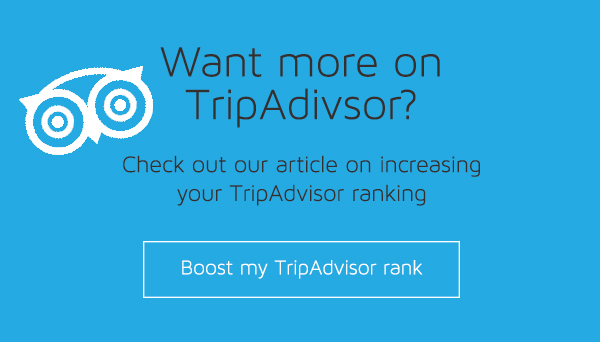 Something this valuable deserves some strategy, don't you think?
Read on, you're only three steps away from bringing Thomas's winning marketing strategy to your business.
Step 1: Delight your guests with a unique activity and memorable customer service
How can you boost your marketing if you don't give your customers something to write home about?
That means first differentiating yourself from your competitors, and, just as importantly, executing your tour at a level that wows your customers.
As far as standing out, Escape Room NF had its work cut out for it. According to TripAdvisor, currently 40 escape rooms call Ontario home. While most escape rooms feature dark, mature, and scary content, Thomas set her business apart by offering an activity that's guaranteed to be family- and HR-friendly. The game also has a more "indie" feel, Thomas adds, which appeals to Ontario's trendy market.
Wowing its customers is just as critical of a component in Escape Room NF's marketing strategy. So much so, in fact, that it's baked right into the activity.
"With every group that comes in, we take time before and after their experience chatting and taking pictures," Thomas explains. "We don't hurry them through. They want to know about us and what we're doing."
This personal touch not only earns Escape Room NF customer brownie points, but it also sets Thomas and her staff up for Step 2 of their marketing plan.
Step 2: Ask and you shall receive
Sincerity is the keystone of review cultivation. Especially if reviews are some of the few marketing assets your tour has, don't be shy about soliciting them. So long as you do it honestly and humbly, you could be generating more reviews with each tour by requesting a helping hand from your guests.
As ecstatic groups exit the activity, pose for pictures, and recount moments from the challenge with Escape Room NF's staff, asking for a review comes naturally. "We aren't too proud to say [our customers] hold our reputation in their hands," Thomas notes, "It's just dropped in as part of our pitch and people do end up reviewing."
Escape Room NF's booking software provides a crucial assist as well. One day after the outing, it automatically sends out a customizable request for a TripAdvisor review. That, coupled with the staff's earnest review cultivation during the tour, increases Escape Room NF's success on TripAdvisor.
To succeed, you have to measure. You can't evaluate the fruits of all this labor without this final stage in your marketing strategy.

Step 3: Does it move the needle?
Even free marketing with TripAdvisor reviews involves an investment of your time. Therefore, it's paramount that you calculate the return on that investment (ROI). Whether you collect data anecdotally or quantitatively, your marketing won't matter if you can't measure its impacts.
Measuring impact, of course, involves knowing your baseline. Even though this is Step 3 in this process, you could also think of it as Step 0. You need to know before you embark on a marketing initiative what you're working with. In this case, that means having an idea of the role that TripAdvisor plays on your tour's sales.
So for both your baseline measurements and your follow-up measurements, here are ways to evaluate your TripAdvisor marketing efforts.
How'd you hear about us?
The most common way Thomas gathers intel on the effect of TripAdvisor is by asking customers how they discovered Escape Room NF. She and her team do so both informally during conversations before and after the activity, and also at the time of booking.
With her booking software, Thomas set up an automatic questionnaire that guests fill out after completing their online reservation. With that, she can gather intel on whether TripAdvisor generates a meaningful flow of Escape Room NF customers.
Google Analytics
If you have your booking software synced with Google Analytics, you can also see exactly when your customers visited TripAdvisor prior to purchasing a tour. This helps you make informed decisions about how to leverage other assets like your website or your social media pages to drive more sales.
In the Conversions report, click on Multi-Channel Funnels and start by going to Top Conversion Paths. Change the default view from MCF Channel Grouping Path to Source Path. With this report, you can see where TripAdvisor factors in the buying cycle. Is it the first step of the customer's research, the last step, or somewhere in between?
Here's an example from another company: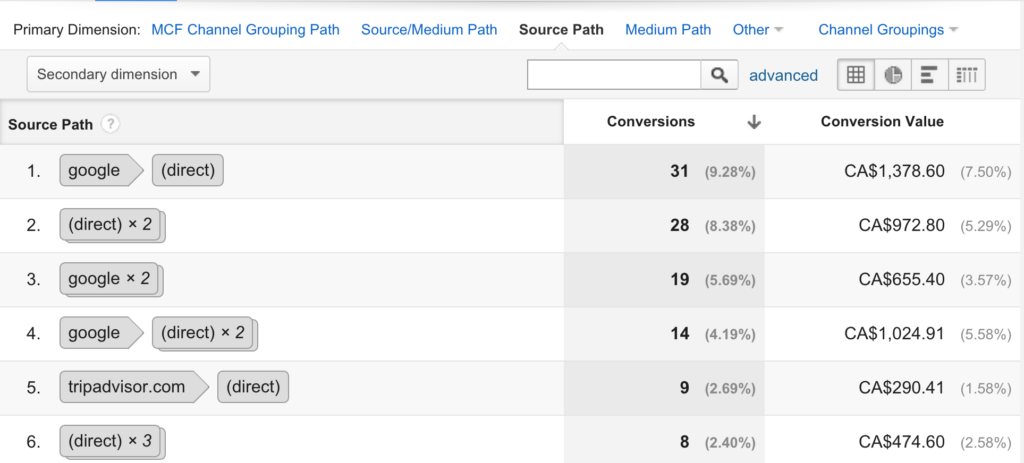 Source path definitions:
Google: your customer searched something on Google
Direct: your customer typed your site's URL in directly or used a bookmark to get to your site without the help of a search engine
Tripadvisor.com: your customer visited TripAdvisor's site
… x 2: your customer visited this source twice (x 3 means they visited three times, etc.)
On the right of this chart, you'll notice the number of conversions that have resulted from the given path alongside the cumulative value of these transactions. You'll look to these columns to calculate your ROI.=
The results are in
If you've invested a lot of time in growing your TripAdvisor profile, you'll hope to see paths that include TripAdvisor contributing to conversions or value.
Customers that did find Escape Room NF on TripAdvisor eagerly share that information with Thomas and her staff.
"When the staff mention TripAdvisor reviews, we'll get a lot of qualitative reinforcements from people saying they saw us on TripAdvisor themselves," she says.
Thomas has also taken a deep-dive into her business analytics to see the impact of TripAdvisor on the customer's online buying cycle.
"While locals depend a lot more on word of mouth and Facebook to learn more about us, everybody stops at TripAdvisor at some point," she explains. "It's an assist in the booking."
Tourists, on the other hand, almost exclusively use TripAdvisor. That's good news for Escape Room NF at this time of year. In the summer, her out-of-town customer volume swells to 70% of her business. Thus, TripAdvisor not only represents an important source in her customers' buying cycle, but it also reaches the vast majority of her customers right now.
With those numbers, Thomas can sleep easy knowing she's focusing her marketing almost exclusively on TripAdvisor.
Conclusion: Your Free Marketing Strategy in 3 Steps
Every year, your customers trust online reviews even more. Now that summer is in full swing, your tour business is the busiest it's ever been. That means it's the perfect time of year to put Thomas's marketing strategy into practice. Channel your summer volume to capitalize on a free marketing opportunity: online reviews.
With an all-star activity, a little request, and some before-and-after measurements, you can transform reviews from an afterthought to a pillar of your marketing strategy.