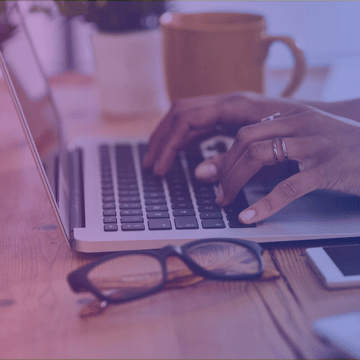 A welcome email is a powerful way to build a relationship with your email subscribers and eventually turn them into paying customers.
It helps to think of your email list as an engaged audience , rather than a bunch of email addresses. Each new subscriber is a new addition to that community. Your welcome email is a chance to greet them, tell them about yourself or your company, and set their expectations for future emails.
Every contact on your email list has the potential to become a new or repeat customer. Tour companies and attractions that foster customer relationships via email will see more conversion than those that don't — and it all starts with a welcome email.
In this post, you'll find 10 excellent examples of "thank you for subscribing" emails to help you create your own.
1. Hipcamp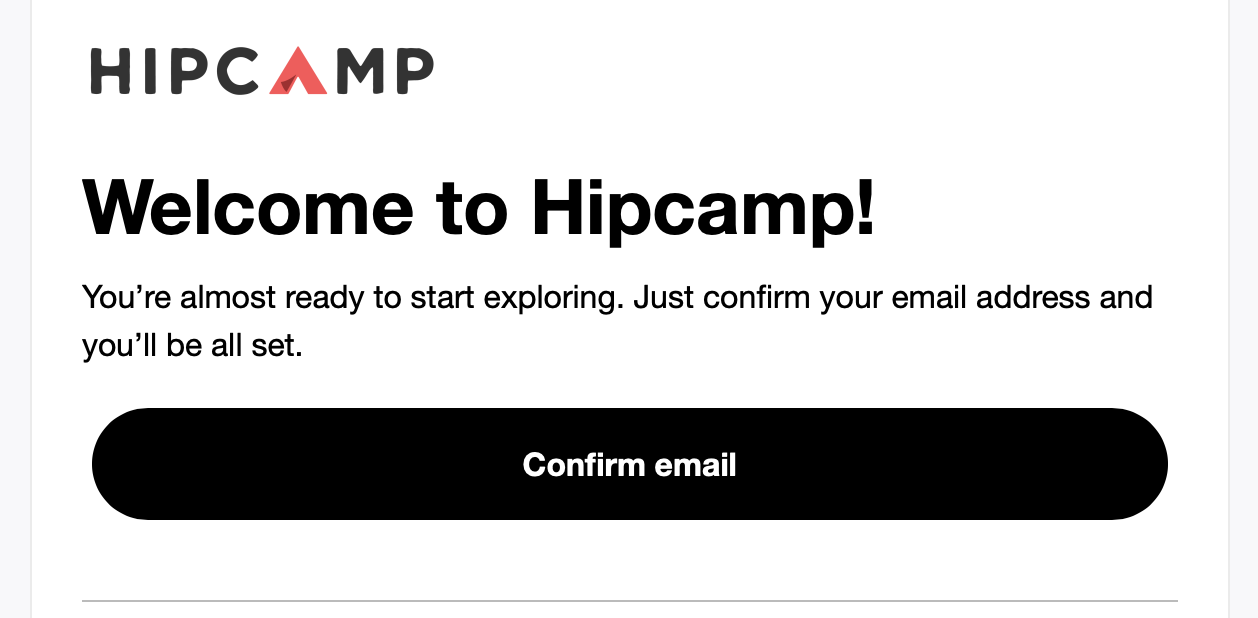 The first example on this list is Hipcamp, a booking platform for unique outdoor accommodations. Hipcamp's email list has a double opt-in, which means subscribers must confirm their subscription before receiving their first marketing email.
The screenshot above shows the confirmation email. The greeting is written in big, bold letters, making it easy for the subscriber to recognize who sent the email. The "confirm email" button is also prominently placed right under the greeting.

Once subscribers confirm their emails, they'll receive a welcome email. Above you'll see that Hipcamp has created an engaging subject line: "Your Hipcamp starter kit is here." Curious subscribers will likely open the email to see what the "starter kit" is all about. The subject does a great job of making the user want to open the email.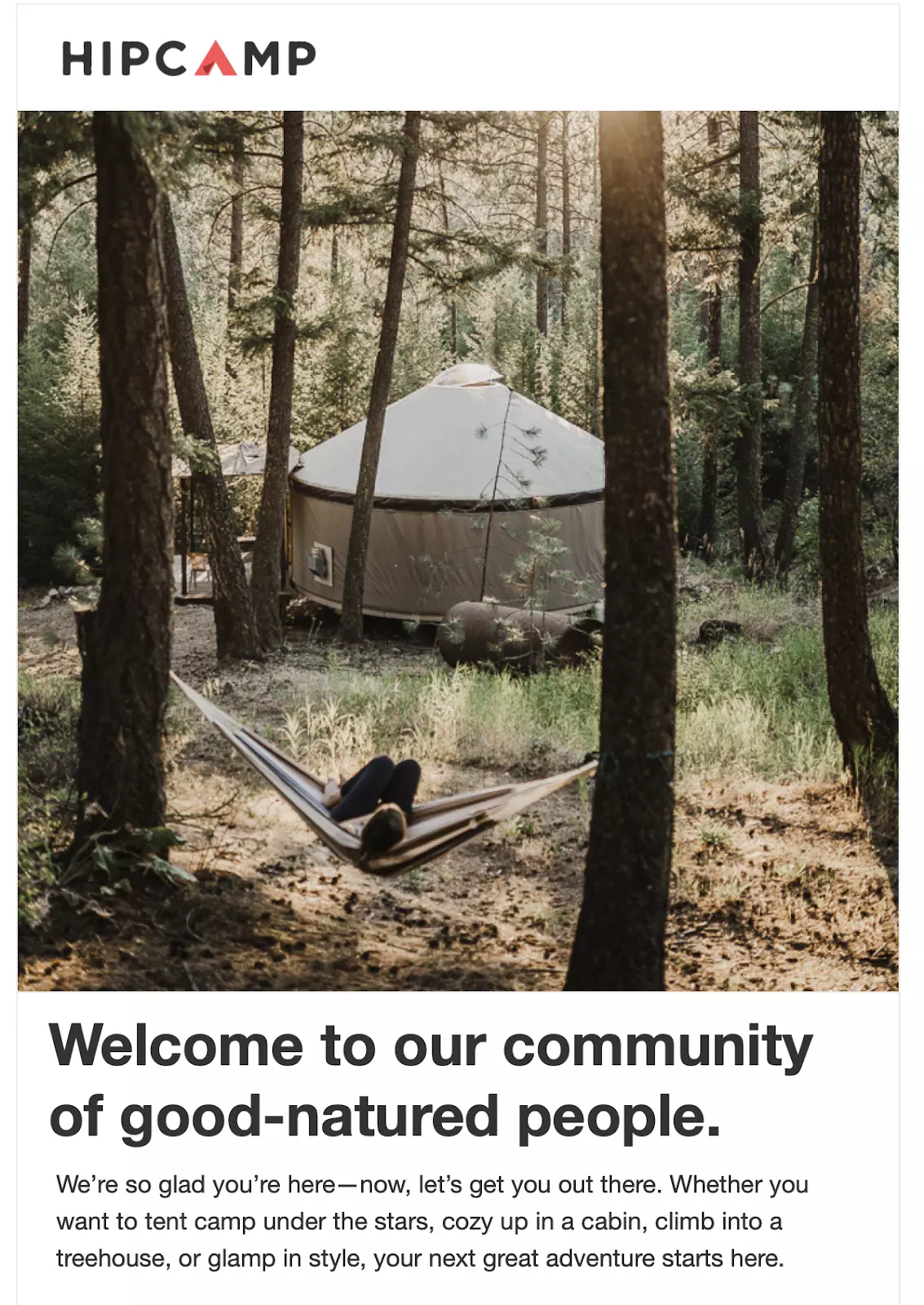 Finally, the welcome email is beautifully designed and captures the essence of the company's brand. Hipcamp leads with an eye-catching photo and greeting that will appeal to its nature-loving audience.
2. Trivago
The online travel agency Trivago does a great job welcoming subscribers into its list and setting expectations for future communications. Trivago first tells the customer what they can get out of using the platform, such as comparing accommodation options and finding great deals.
Then, the company explains what type of emails the subscriber can expect to receive — trip inspiration, travel deals, and platform benefits.
3. TourRadar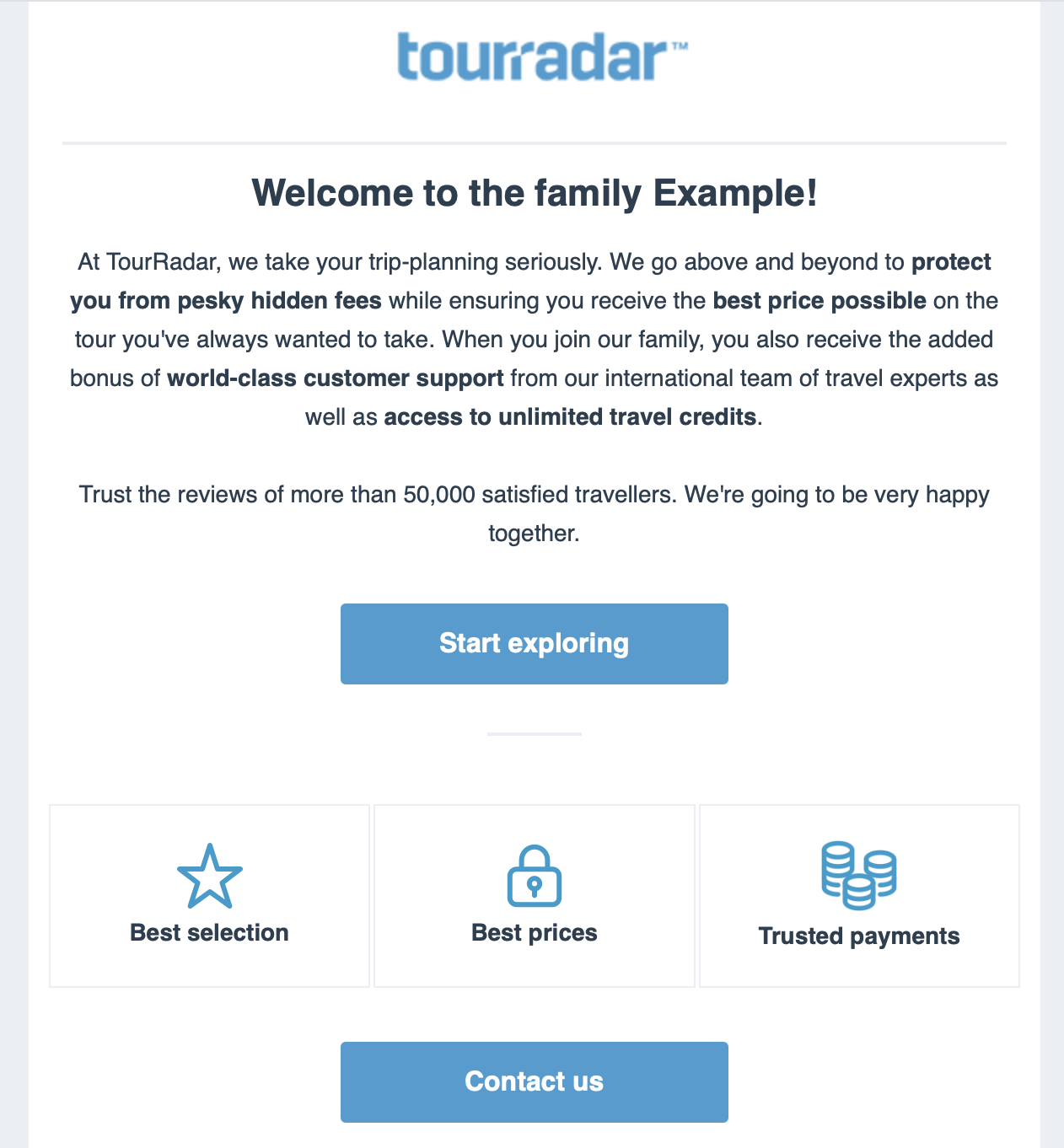 TourRadar's "thank you for subscribing" email describes the mission and values behind the brand. The company does a great job at highlighting the main points that will appeal most to its audience in bold. These features include protecting customers from hidden fees, finding the best price possible, customer support, and unlimited travel credits.
The email makes it easy for the subscriber to start using the platform right away. Users can venture over to the TourRadar website by clicking the "start exploring" button or any of the additional options beneath it.
There's also a prominently placed "contact us" button, which helps customers feel more comfortable contacting the brand.
4. Travelzoo

The subject line of your "thank you for subscribing" emails is just as important as the content of the email itself. A good subject line will entice your contacts to click open the email, while a poorly written one will do just the opposite.
That brings us to Travelzoo's subject line: "A big welcome from Travelzoo."
This is a simple yet effective subject line because it clearly states the purpose behind the email. The company name ensures the contact knows who the email is coming from, and the word "welcome" lets them know why they're receiving it.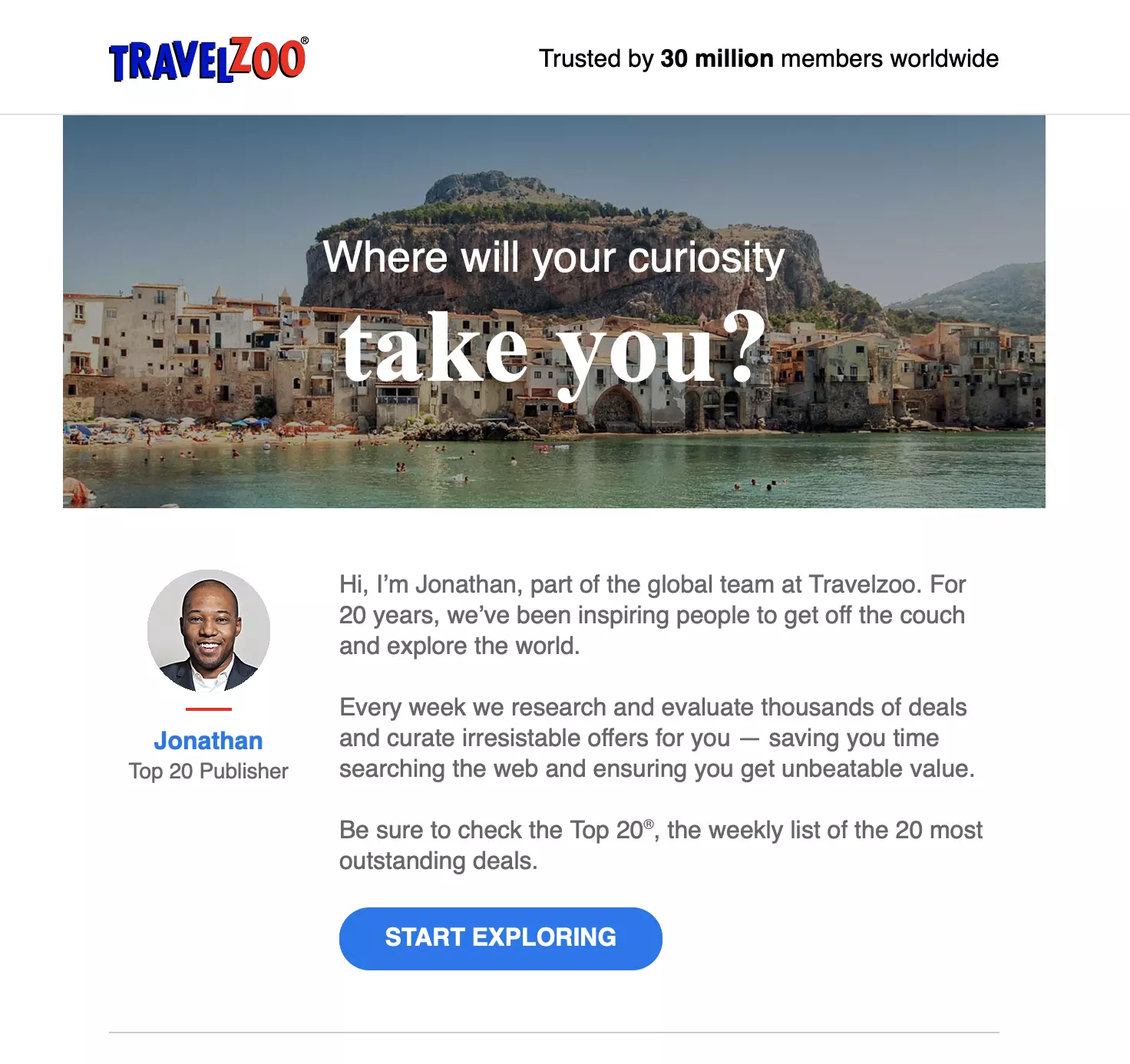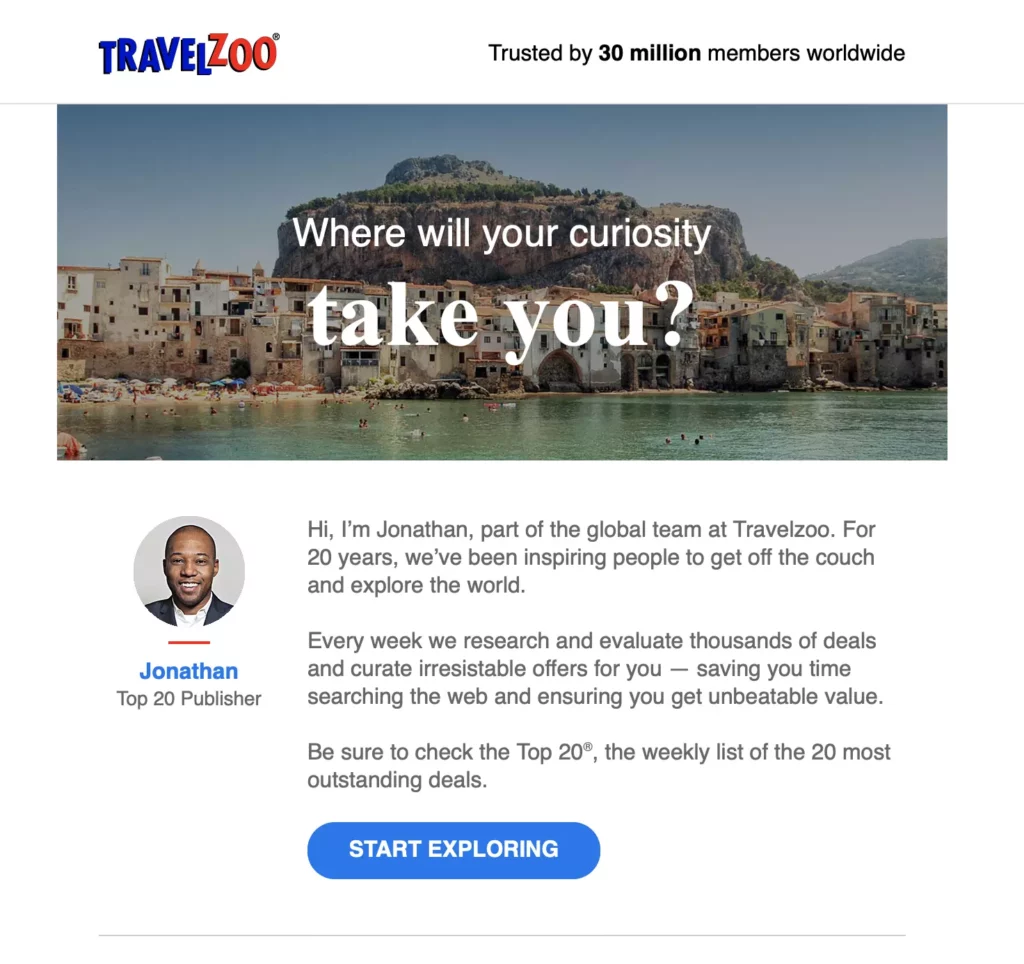 The email itself is a personalized message from one of TravelZoo's team members. An email that comes from an employee can feel like an even warmer welcome than a generic message. TravelZoo even adds a photo of Jonathan, which makes the email feel even more personal. This is a great way to show that there are real people behind a brand and the emails it sends.
5. Hilton Honors

When a subscriber joins Hilton Honors, the hotel chain's loyalty program, they receive a welcome email full of helpful information.
The email first provides the subscriber with an incentive to make a new booking. Then, the email delves into tips that will help the subscriber navigate the program.
There are two things tour companies and attractions can take away from this email:
You can offer new subscribers a discount to incentivize them to make a booking.
You can add a section called "Next Steps" with a call to action encouraging them to follow you on social media or download your app.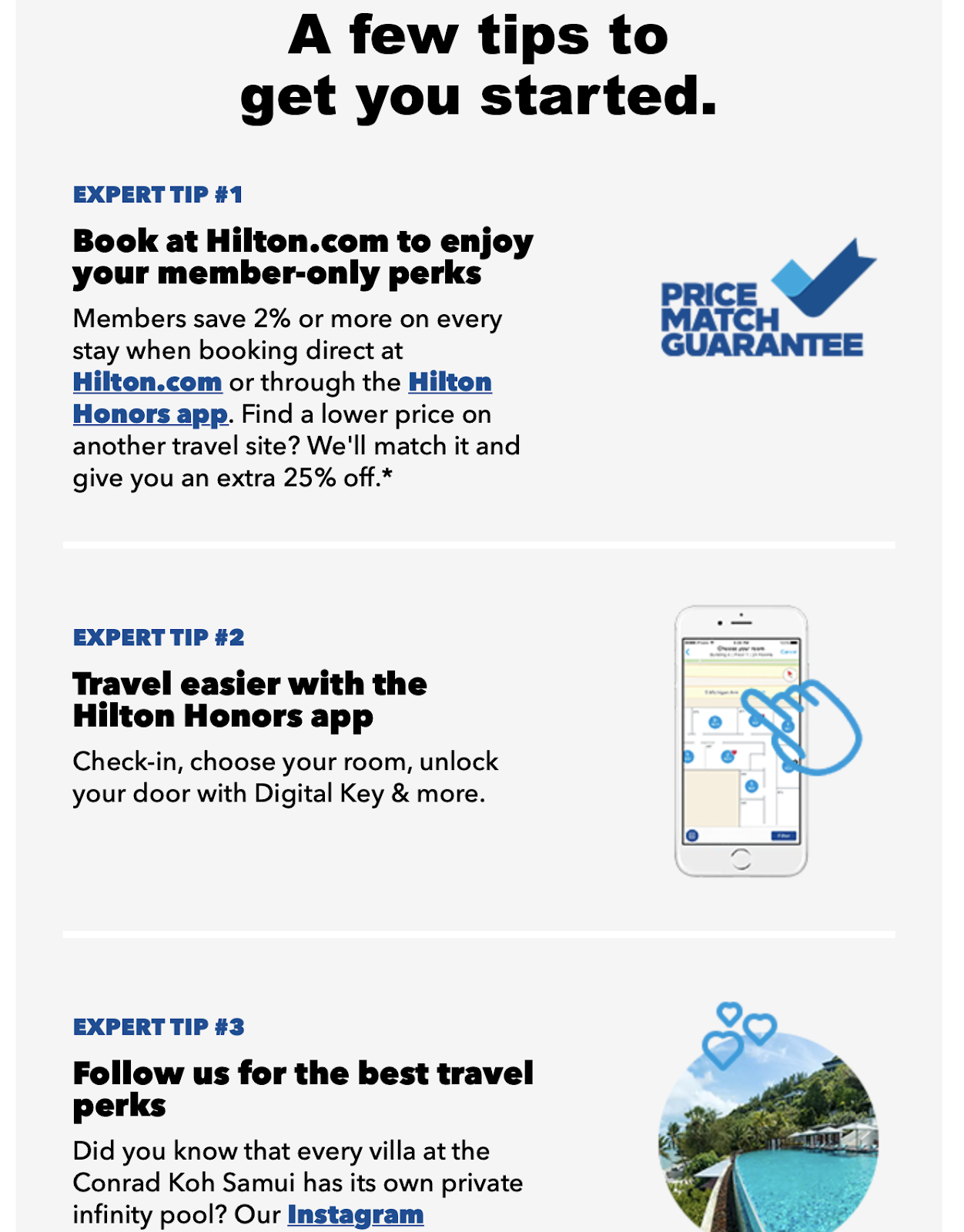 6. Expedia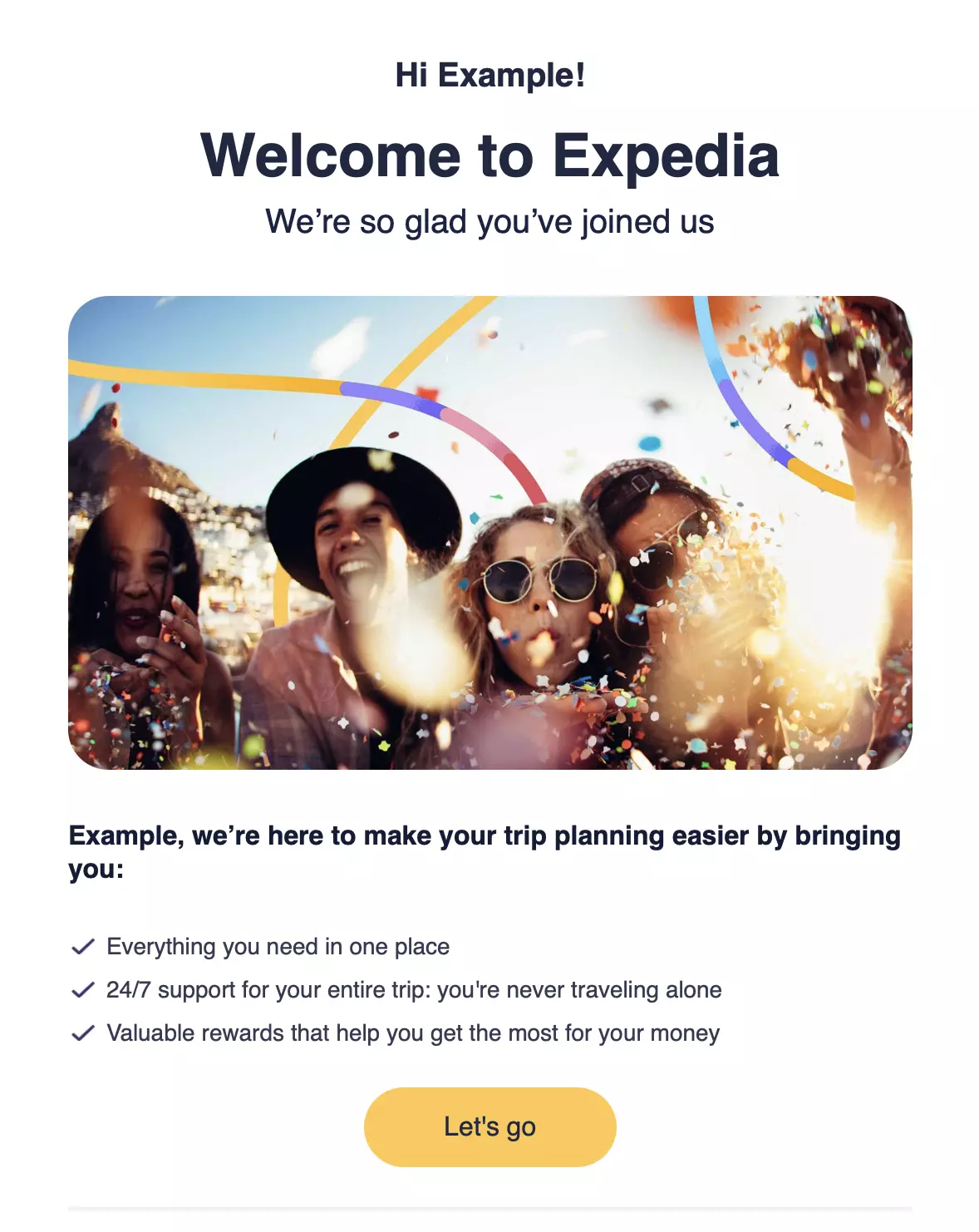 Expedia's welcome email uses bright and fun visuals to create a sense of excitement among its subscribers. After quickly listing the benefits of using the platform, Expedia's welcome email offers additional links — which it calls "top tips for smart travel" — to content that may appeal to their subscribers.
This includes a link to the platform's mobile app, member-only travel deals, and reward information.
Expedia does a good job providing strategic links that will bring people back to its website or app, and hopefully lead to more bookings.
7. Kayak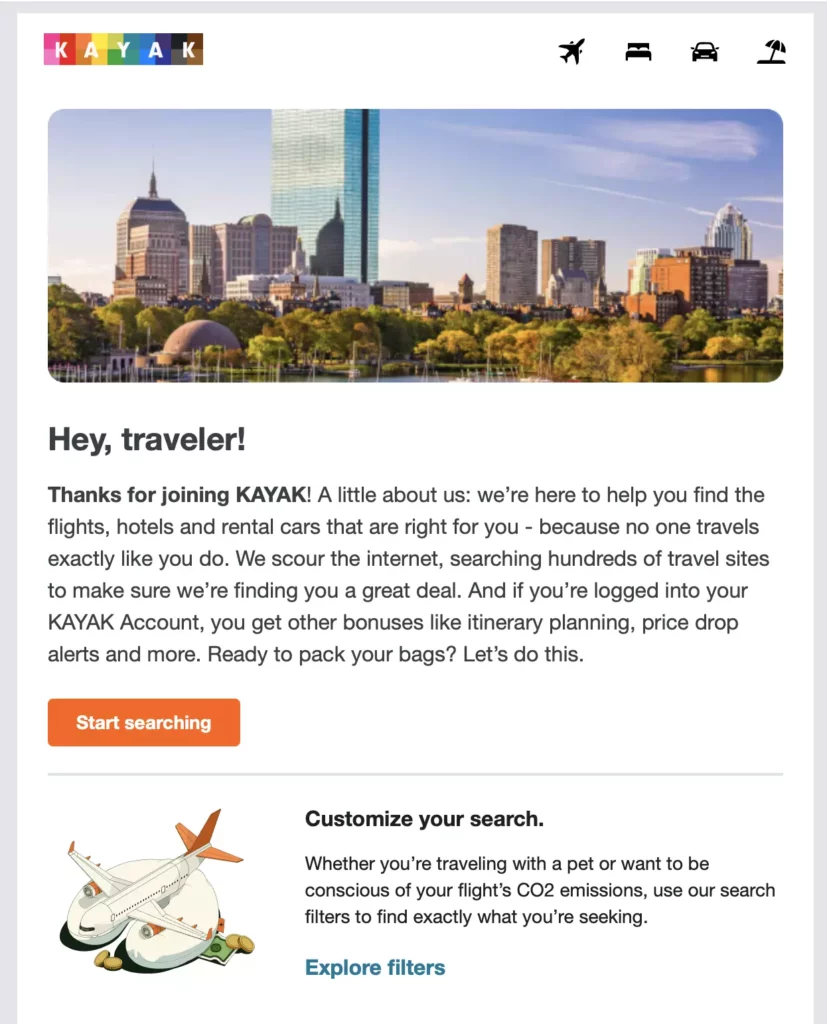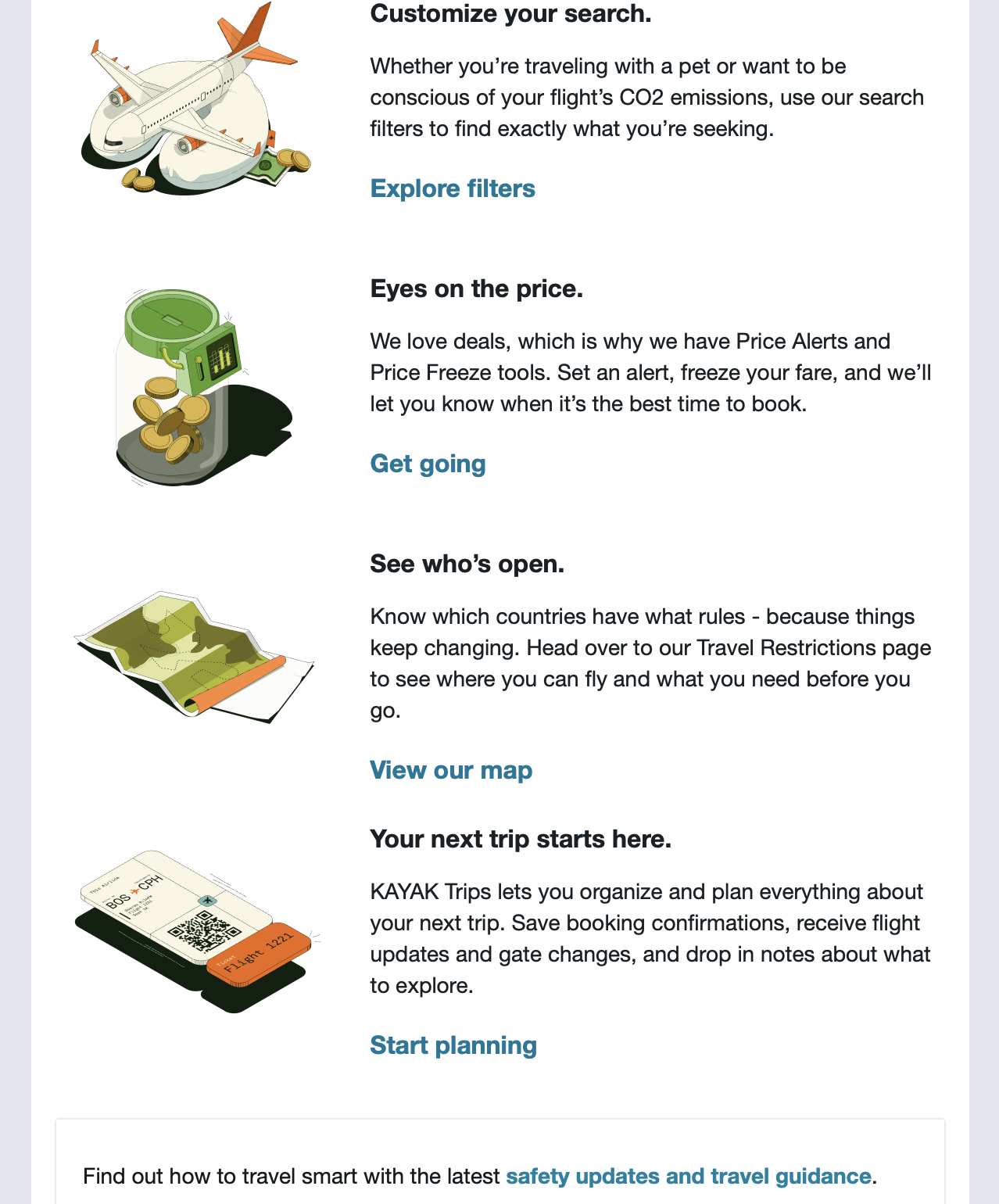 Kayak starts its welcome email by introducing the subscriber to the brand. It explains how the platform can help subscribers in their travel planning, specifically by helping them find great deals for flights, hotels, and rental cars.
Then, the OTA uses fun illustrations to further highlight its services. The subscriber may not have known that Kayak offers price alerts and allows them to freeze a fare before buying, for instance. Once reading through the welcome email, the subscriber has a much better idea about all the different features available through the platform.
8. Skyscanner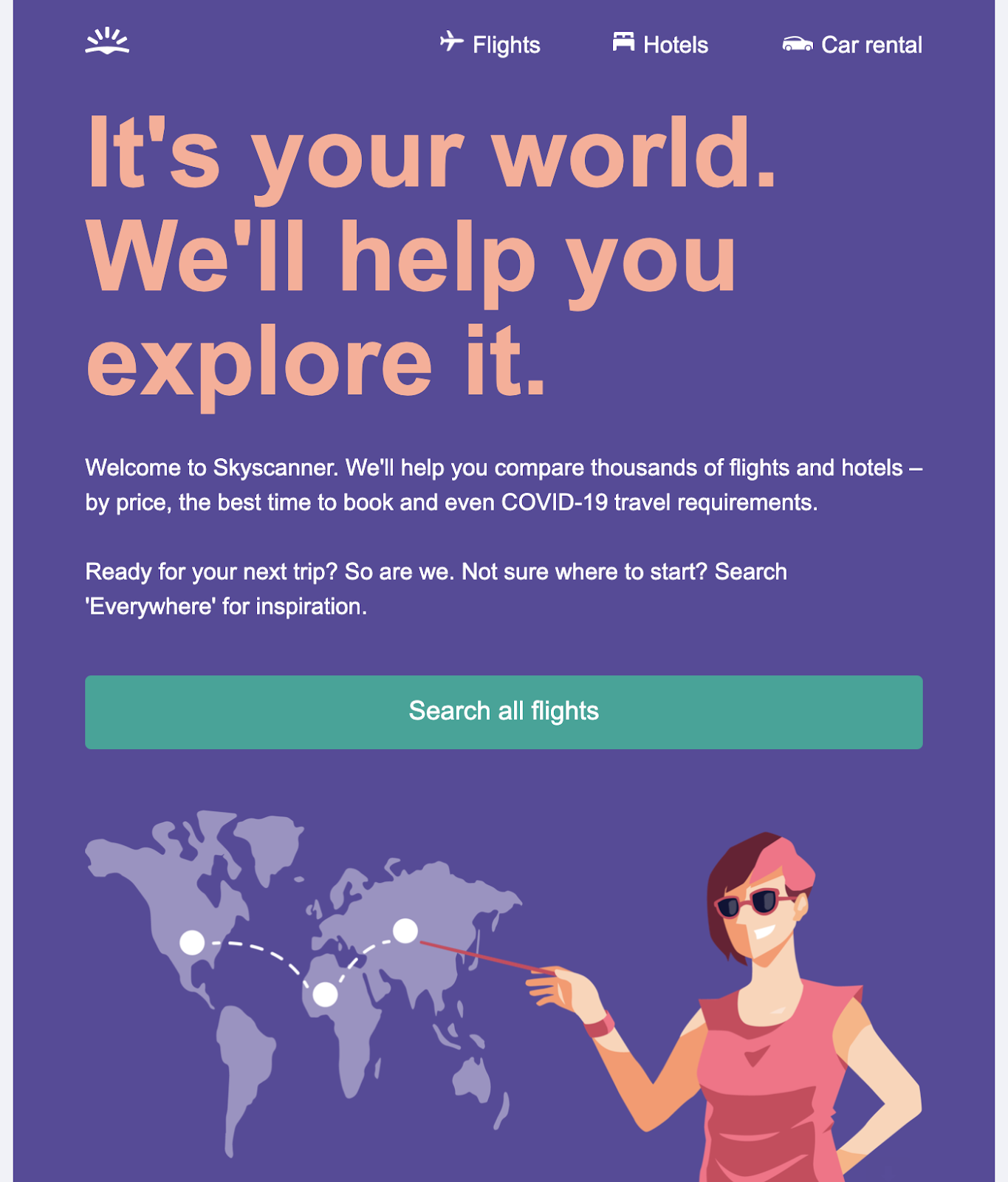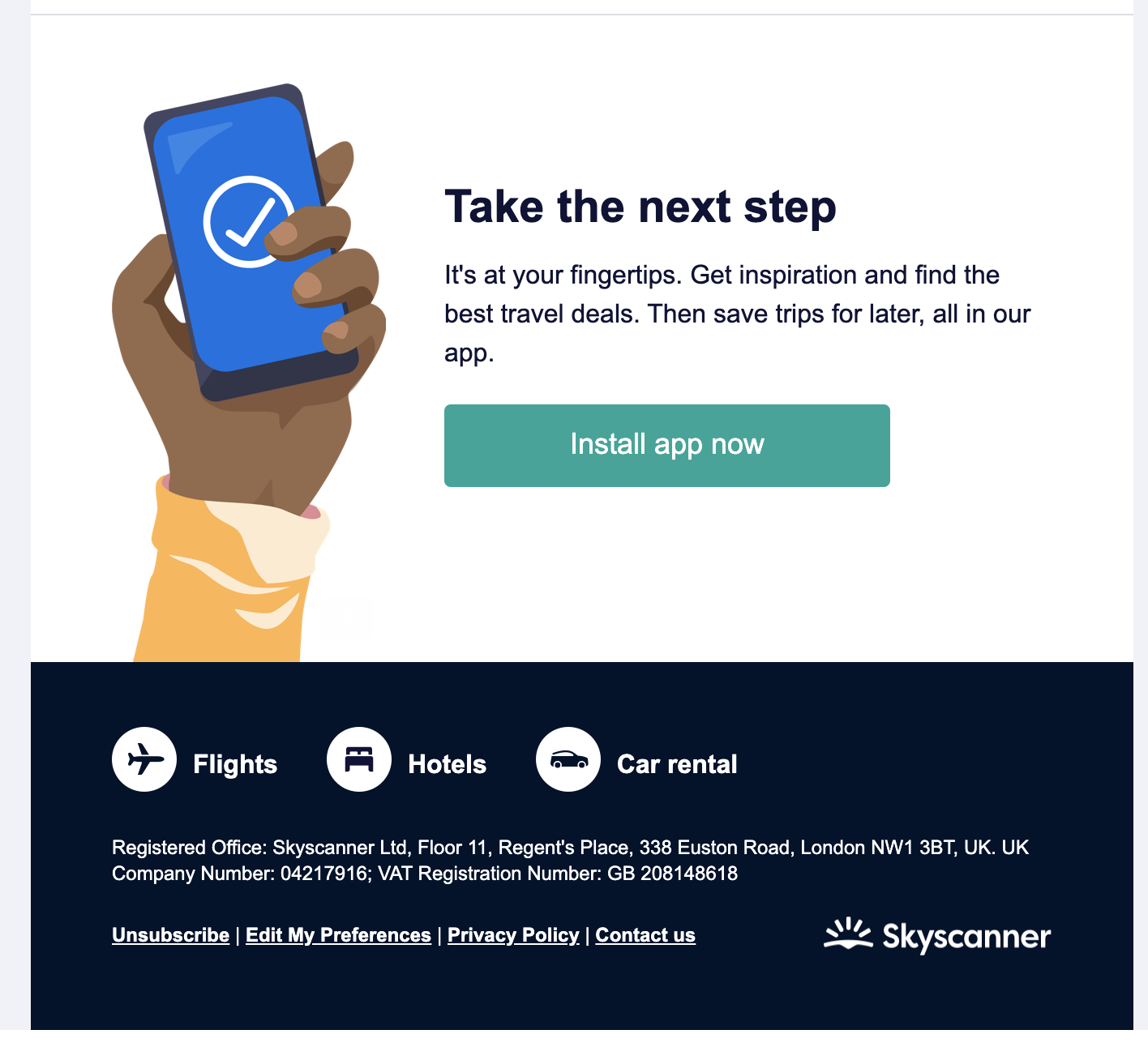 Flight booking platform Skyscanner does a wonderful job sticking to its brand identity in its welcome email. The email mirrors the website's navigation, which tells subscribers exactly what they can search for: flights, hotels, and car rentals. The company has also updated its introduction to include information about the pandemic. Covid-19 restrictions are something every traveler must face today, and Skyscanner takes that into consideration in its welcome email.
It also makes sure to include one of its most unique features: the ability to search "everywhere" for inspiration, rather than having to choose a specific destination.
The email ends with a strong call to action that prompts the subscriber to "take the next step." In this case, Skyscanner wants subscribers to install its mobile app.
9. Intrepid Travel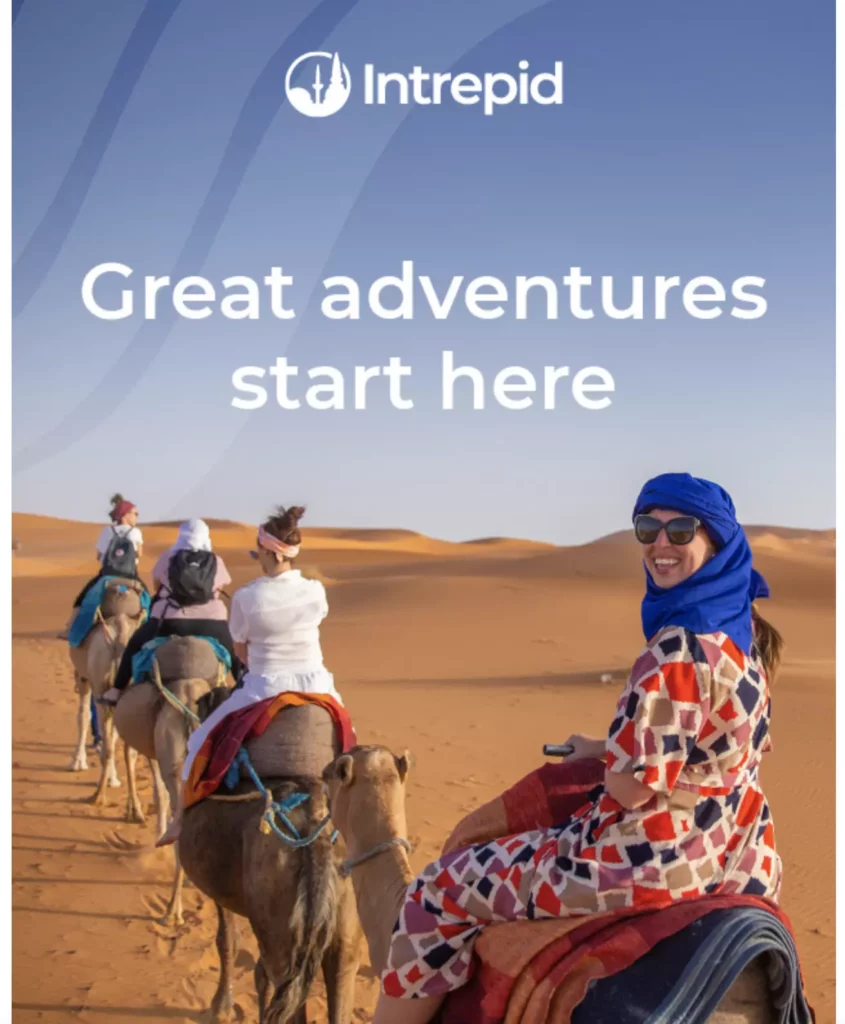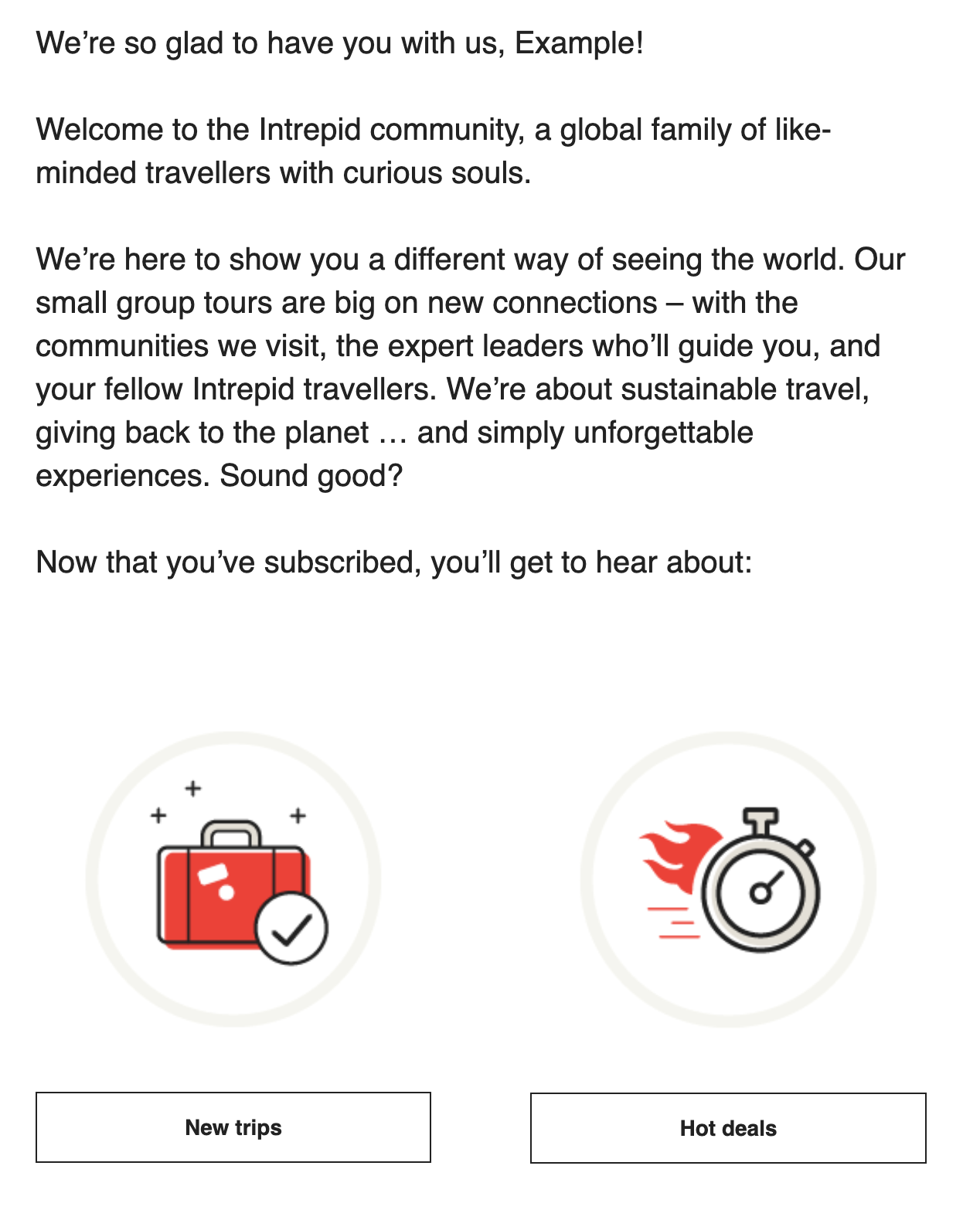 Intrepid Travel understands that its customers love adventure travel. They also know that travel photography is a great vehicle for inspiration, which is why they lead their welcome email with a vibrant photo depicting a one-of-a-kind travel experience.
The tour company goes on to welcome its audience to a "global family of like-minded travelers with curious souls," a greeting that makes its customers feel like they joined something much greater than an email list.
Understanding your audience is key to writing a good welcome email, and in Intrepid's case, they know exactly how to make their subscribers feel like they're already a part of its community.
10. Vrbo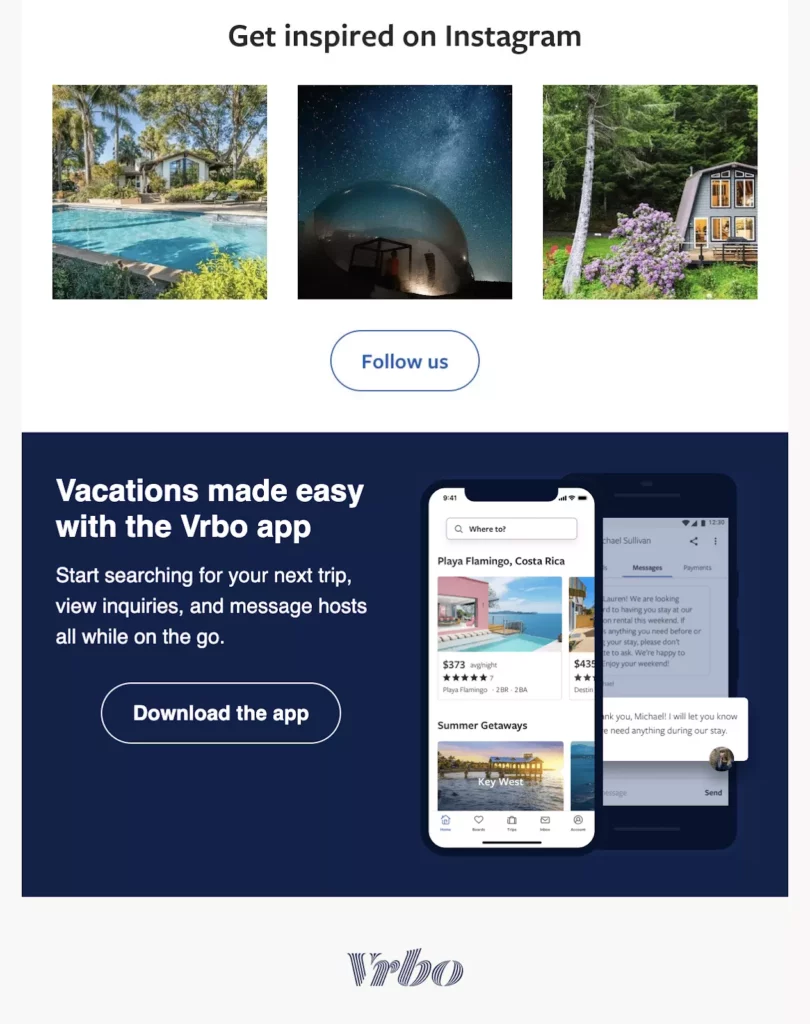 Vacation rental company Vrbo starts its welcome email by telling customers about the benefit of joining. Now, their searches will be personalized based on previous searches and saved properties on the platform.
At the end of the email, Vrbo does a great job with its calls to action. First, the platform includes three Instagram photos to entice subscribers to follow it on Instagram. It then promotes its mobile app right underneath it.
Ending your email with a call-to-action is always a good idea. If your customers have gone as far as opening your welcome email, they're likely interested in taking the next step. Make sure you give them that opportunity.
***
Each of these travel companies has created a welcome email that appeals to their specific audience. Understanding your customers and what motivates them to book is key to creating a successful welcome email.