Every year, we see gift card sales spike in November and December.
According to our anonymized customer data, here is a chart showing gift card volume increasing each year in Q4 from 2015 through 2018.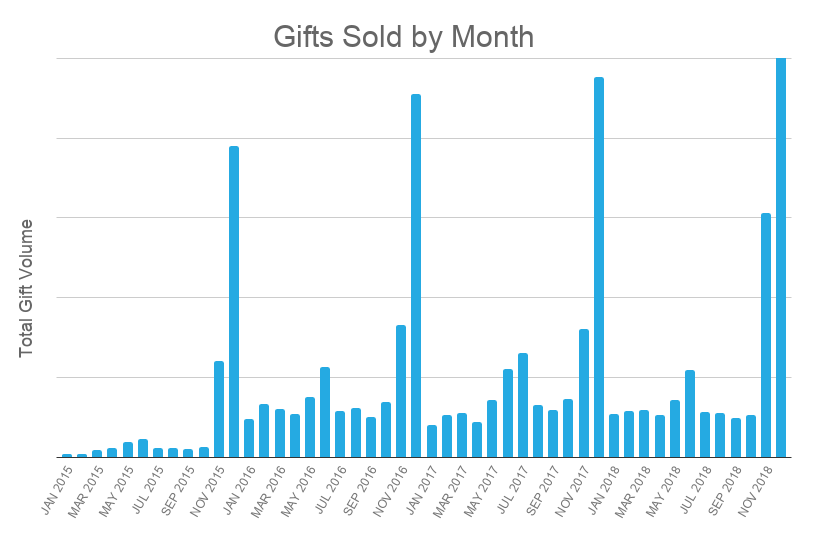 As more consumers prefer to spend money on experiences over things, this trend is only going to continue to benefit tour and activity operators.

In addition, based on our own data, only 25.9% of the money spent on gifts is redeemed within six months, and another 11.7% is redeemed over the following six months.

In this post, we are going to share 12 tactics for how to sell more gift cards this holiday season.
Make it easy to buy a gift card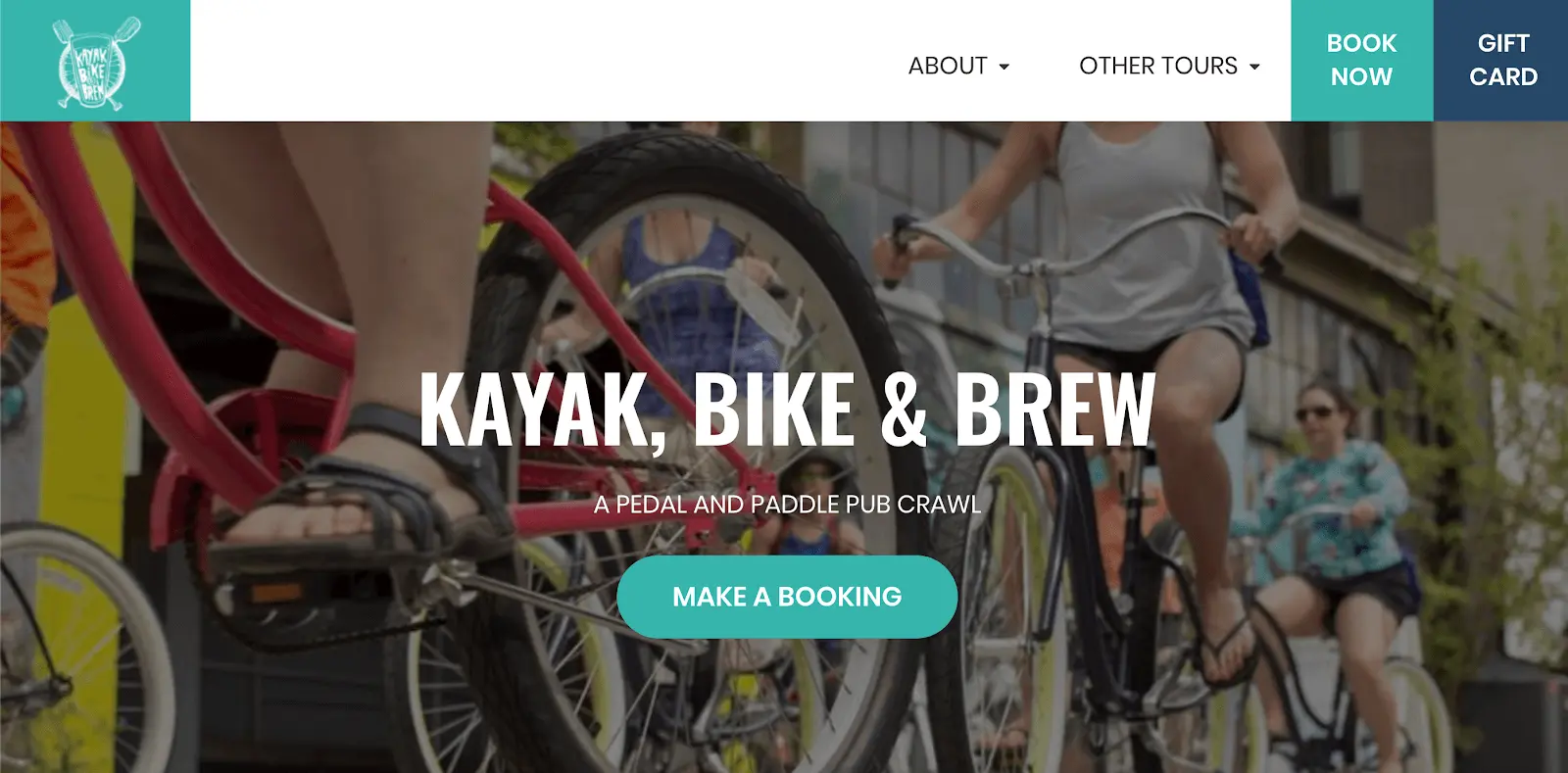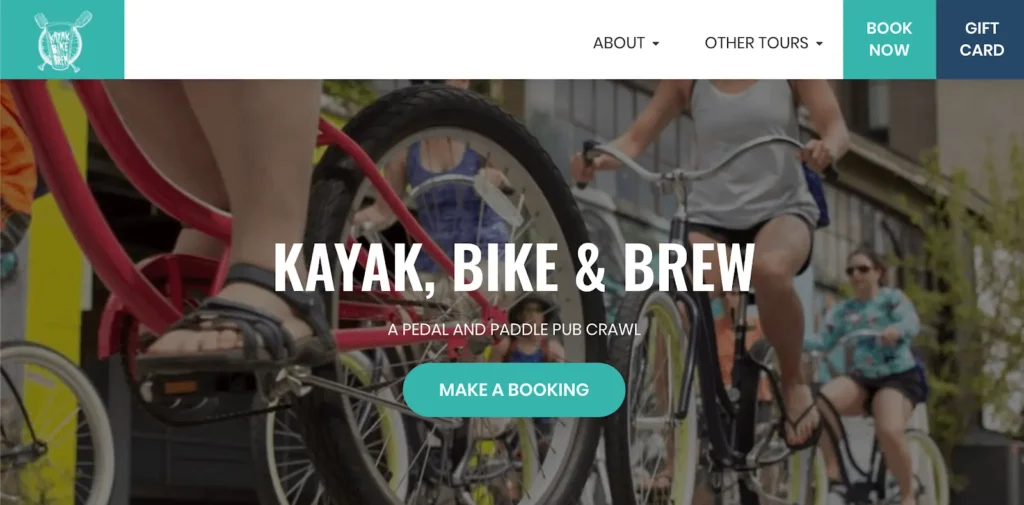 This may seem obvious, but it should be easy to find and buy a gift card from anywhere on your site. Ideally, it is at the top of your site or in your navigation menu, like in the example above.
Create a holiday gift guide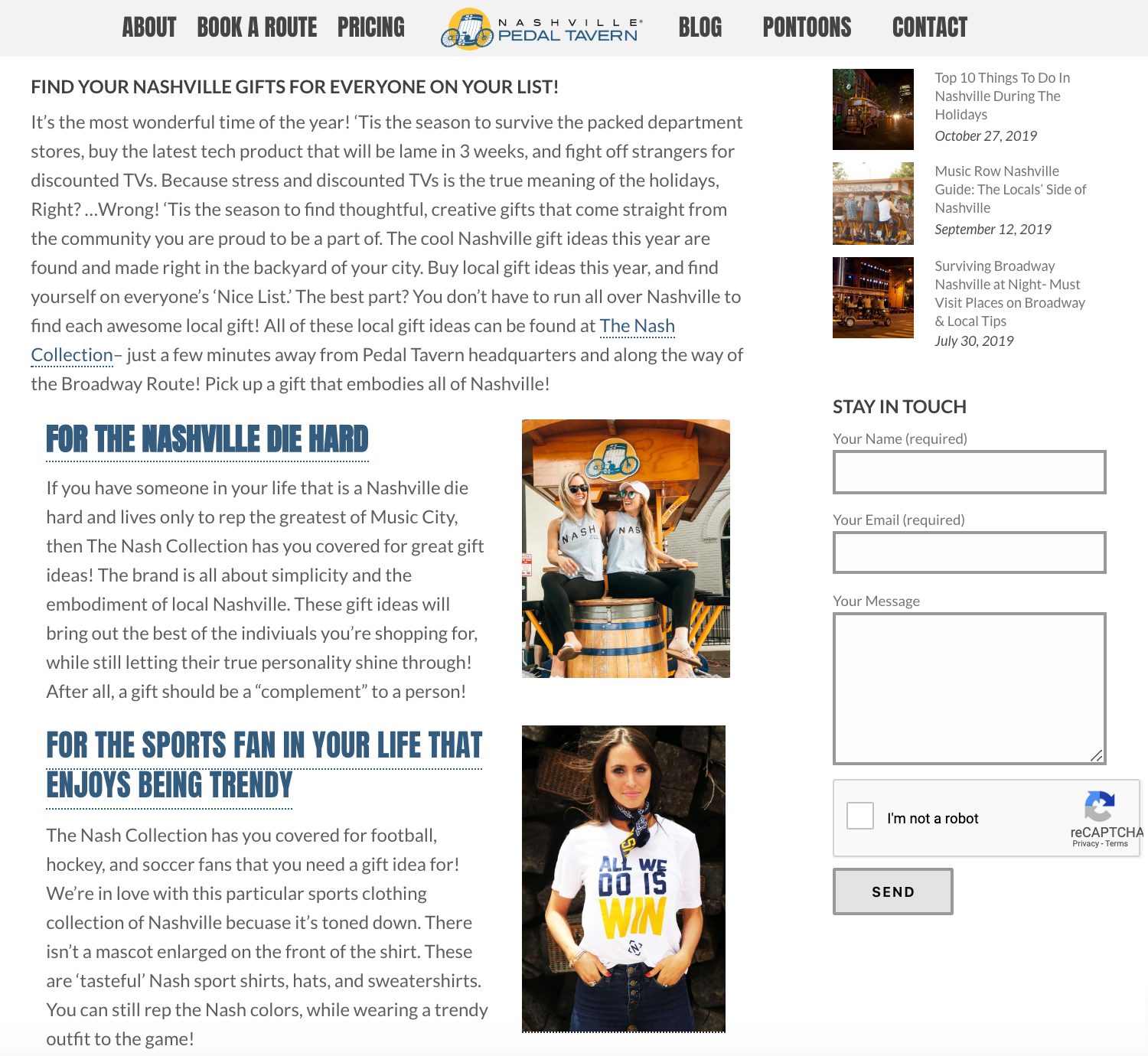 Whether it is a blog post like this example above, a gated asset (such as a nicely-designed PDF), or a printed brochure, create something that shows off your top tours, activities, and experiences. One of your options to showcase is gift cards. This will not only help you sell more gift cards, but is also a marketing asset that you can use all year round to sell more tours.
Focus on the gift card design and messaging
Make the experience of buying a gift card just as fun and exciting as someone booking a tour. The messaging should be fun, on-brand, and guide people to specific options. For example, if your most popular tour is $25, you can suggest that people purchase a $25 gift card that can be used on an X tour. Or, suggest a $50 gift card so that they can bring a significant other, family member or friend along with them.

The actual e-card design and email delivery should also be on brand with messaging that gets the recipient excited to go on your tour or activity.
Personalize the experience of buying a gift card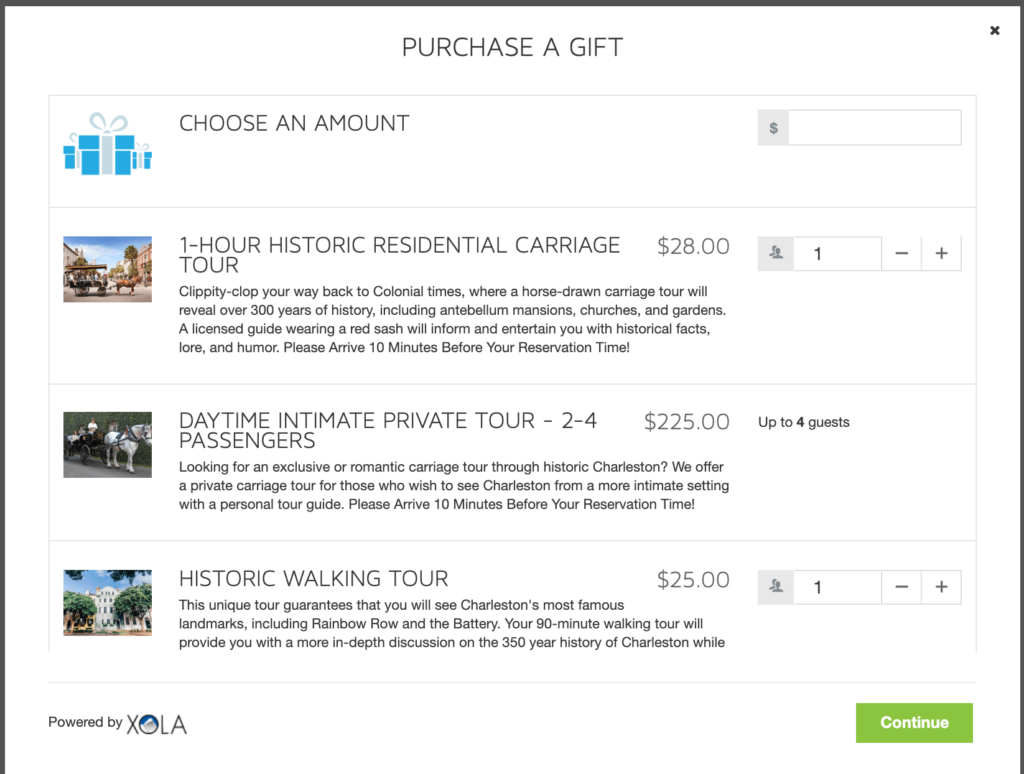 Many people buy gift cards because they don't know what else to get someone. One way to make people feel less guilty about buying someone a gift card is to personalize the gift-buying experience. Simple things like adding the recipient's name and the option to add a short description in the gift card delivery email can go a long way.

Another thing you can do is suggest specific tours on the gift card page, like the example above.
Run special gift discounts and promotions
This could include running a gift card special offer on Black Friday and Cyber Monday. For example, buy a $50 gift card for only $40.

Running Black Friday deals is what most businesses will do, and this means it will be harder to stand out in people's inboxes on that day.

One way to stand out and sell more gifts to offer a discount based on the hundreds of national "themed" days. For example, December 5th is International Ninja Day. If you have a ninja or spy-themed tour, you could offer 10% off if they buy a gift card for $25 or more on that day.

Or if International Ninja Day not your cup of tea, here are just a handful of additional fun national days in the month of December:
December 4 – National Cookie Day
December 8 – Pretend to be a time traveler day
December 20 – National Ugly Sweater Day
Add gift cards to upsell campaigns
This is a promotion that started in retail clothing stores to increase average order value (AOV), and since been adopted by many other industries including tours and attractions. For example, if someone buys a tour worth $100 or more, add a $10 gift offer, which customers can be redeemed as a rebate.

Use FOMO marketing tactics to increase demand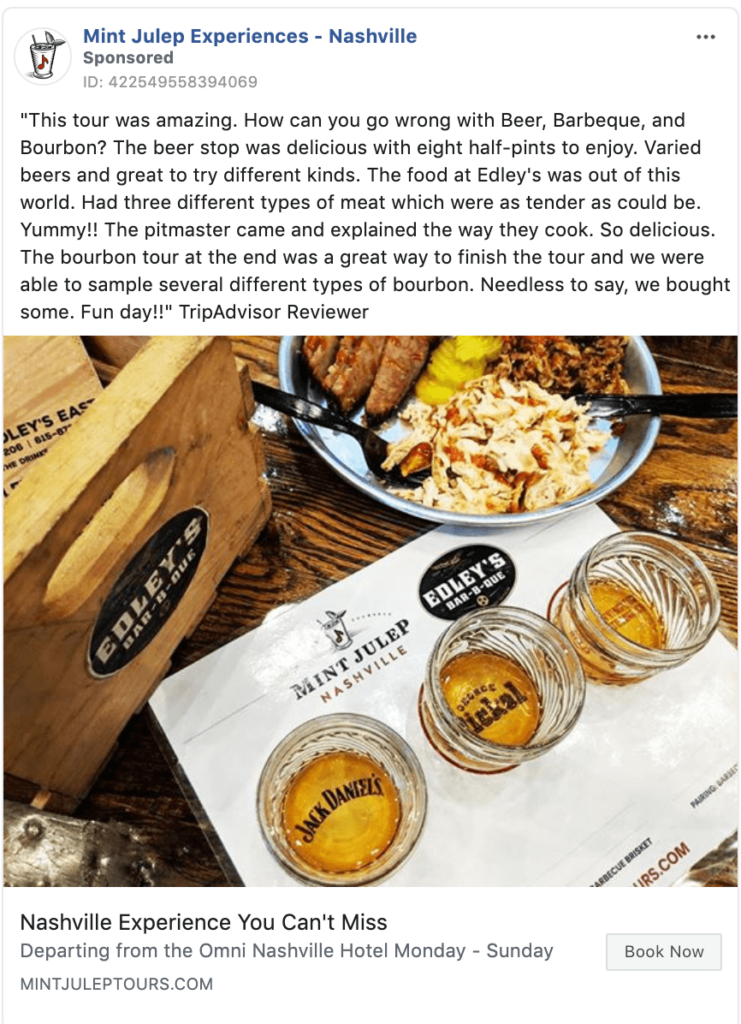 Our emotions are the real drivers behind our purchasing decisions. Savvy marketers have learned how to harness the power of FOMO to get more sales.

Whether you sell zipline tours across a canyon in the Pacific Northwest, run VR attractions in Orlando, or offer behind-the-scenes tours for major breweries and distilleries, you are in the business of selling experiences. To take it a step further, you are selling the emotions behind the experience. (i.e., excitement, having a fun afternoon with friends, etc.).

This is why FOMO marketing tactics can be so effective. It is because you are directly tapping into people's emotions. No one likes feeling left out or like they are out of the know. In fact, we are biologically wired to be social creatures who do not want to be left out or miss out on anything.

There are dozens of ways that you can use this to drive more gift sales, but one effective way is to leverage social proof to show off how much fun your tours and experiences are and invite people to purchase a gift card.

Run retargeting ad campaigns
When people browse your website but don't buy, you can retarget them across the web with Google, Facebook, and Instagram ads. So, they see your gift ads show up in their Facebook newsfeed, Gmail inbox, and while browsing their friends' Instagram stories.

Promote on social media
In addition to paid ads, you should also leverage your organic social media reach. Some quick wins you can do –

Create a handful of posts talking about gift cards on Facebook.
Share some tweets
Create simple graphics for Instagram and Pinterest using a free tool such as Canva
Make your Facebook cover photo a promo for your gift sales from Thanksgiving through Christmas
Create TikTok videos showing how much fun your tours are.

Pro Tip – If you aren't a great designer, you can hire someone- oftentimes for cheap – using services like Fiverr or UpWork.

Share it with your email list
Create an email blast specifically about gift cards or add them to an upcoming newsletter. You'll likely be surprised by how many people from your list will buy gift cards even if you don't offer a special deal. This makes sense since if your customers had fun on your last tour, they would likely want to share it with others.

Pro Tip: One way to take this a step further is to segment your email list by customers with the highest LTV, and then send them an exclusive, discounted gift card offer.

Use gift cards as surprise and delight initiatives for happy customers
While you can't offer gift cards as a way to get more customer reviews (i.e. this goes against TripAdvisor's terms of service), there is nothing wrong with randomly giving out a $5 or $10 gift card to a loyal customer or two after they made another purchase. Based on the reciprocity principle, they'll likely go to talk about it with their friends, who will also be more likely to book tours with you. So that $5 gift card can easily turn into hundreds – if not thousands of dollars – in new revenue.

Promote gift cards in-person
It can be easy to forget about selling gift cards in person. Here are some simple things you can do to sell more gifts.

Encourage your employees to talk about gift cards with customers.
Create a sign (or a full flyer) talking about gift cards at the front entrance.
Create a friendly competition to see which team member can sell the most gift cards this month and offer the winner a $25 Starbucks gift card or similar.
***
In sum, selling more gift cards can be a great way to increase revenue this holiday season. From email and social media promotions to package deals and in-person sales efforts, these are a handful of tactics that you can use to drive more gift card sales.