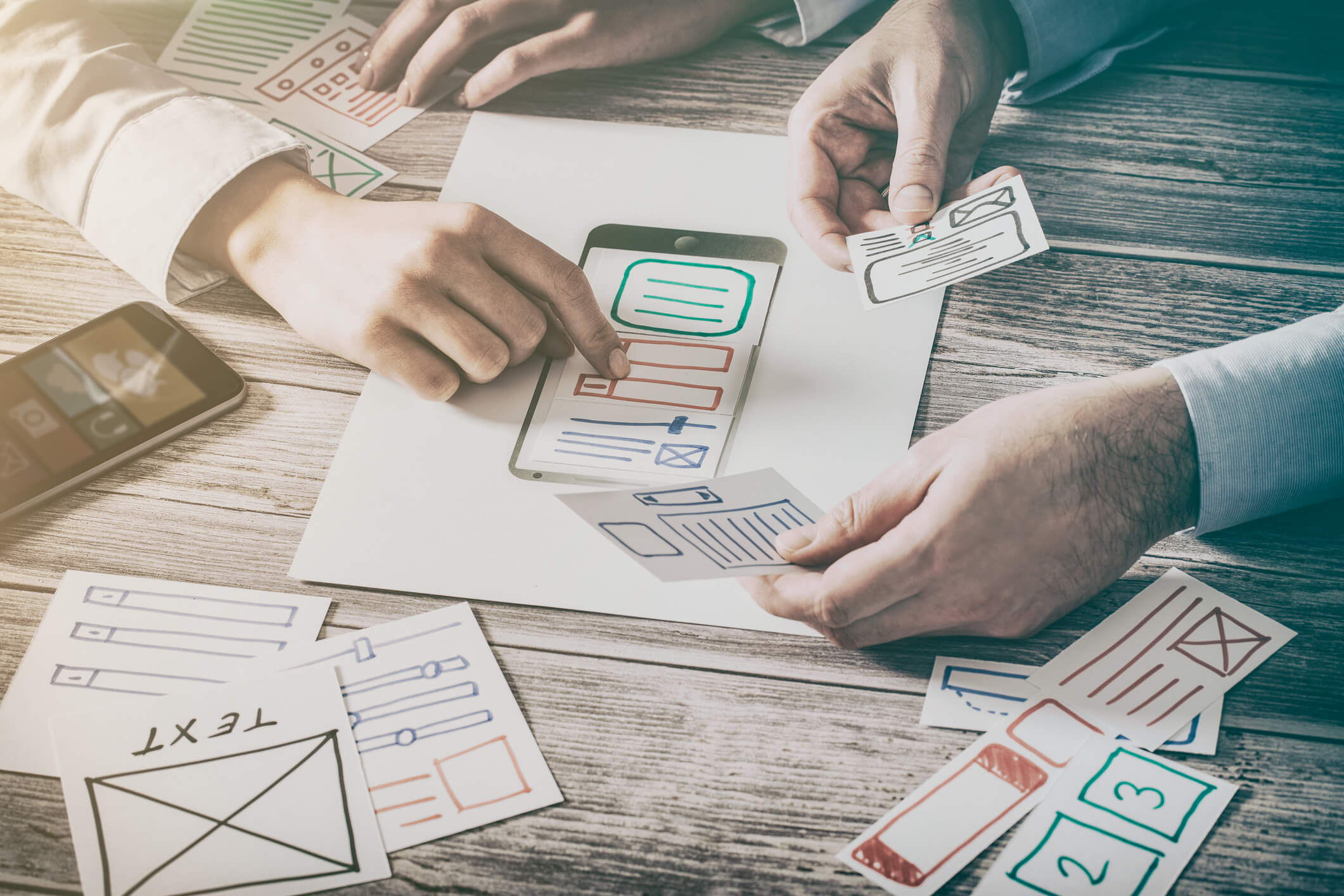 Making group plans is stressful.
You have to find a date and time that works for everyone, get everyone to pay, and make sure everyone shows up. It doesn't take much for something to go wrong…
But every day, as tour and activity operators, you ask your customers to go through the difficult process of planning and booking for a group.
It's crucial that your online checkout experience doesn't add to that stress. A bad checkout experience makes planning harder and more frustrating, which drives many potential customers away.
The Group Booking Scenario
Imagine this scenario…
A local group of five friends wants to book one of your offerings on a Saturday.
They're flexible about which day they book, as long as it happens this month. So there are four Saturdays they will look at.
At the same time, they all have prior commitments. John's daughter has a piano recital one weekend. Lisa has dinner plans on another. And so on. This means that they need to compare dates and times to find an opening when everybody can attend.
On top of all of that, weekends are busy. Availability is limited, so nothing is guaranteed.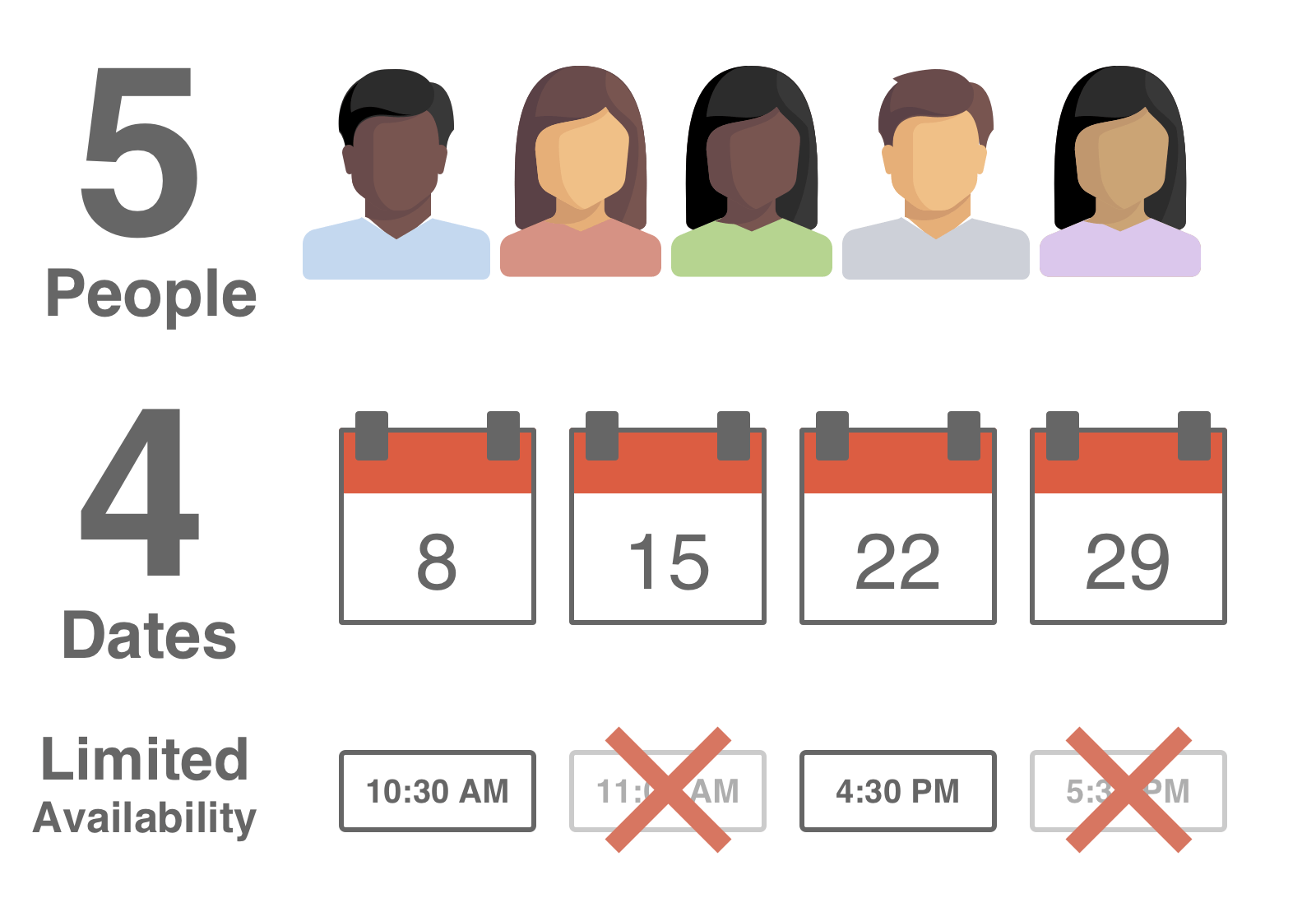 This is a hard problem to solve. But it's also very common.
In fact, we've probably all been in a similar situation before (it's part of what makes planning for a group so difficult).
To make things worse… if the checkout process is too difficult on its own, then the group will give up. They will abandon their booking and either book with a competitor (who makes the process easier) or simply skip out on their weekend of fun.
The Challenge
Your job is to make finding the perfect time slot for these five friends both fast and easy.
A slow and over complicated booking process will aggravate the group (and they're already frustrated, trying to coordinate between their busy lives). In fact, it will aggravate them so much that they will abandon their booking, and never finish their purchase.
It's not crazy to assume that the group will abandon a stressful checkout process. The data backs it up.
A well-known study, conducted by the Baymard Institute, found that of all abandoned bookings, 27% don't make a purchase because the checkout process was "too long" or "too complicated".

What makes group bookings so difficult, is that there are so many factors at play.
You have a pre-set schedule. Your offering has capacity limits. And your resources (i.e. inventory and staff) are limited.
Luckily, a smart booking platform, like Xola, can solve these problems. Smart scheduling tools make it easy to modify availability on-the-fly and maintain capacity limits. Advanced inventory management ensures that you don't overbook or run out of equipment. And guide management makes it easy to coordinate your staff.
At the same time, the people trying to book your activity have their own problems: they are only available on certain days, they have competing schedules, and they won't make a booking unless the rest of the group can attend.
An optimized online checkout process will create a better booking experience that helps you avoid losing customers and increases your online revenue.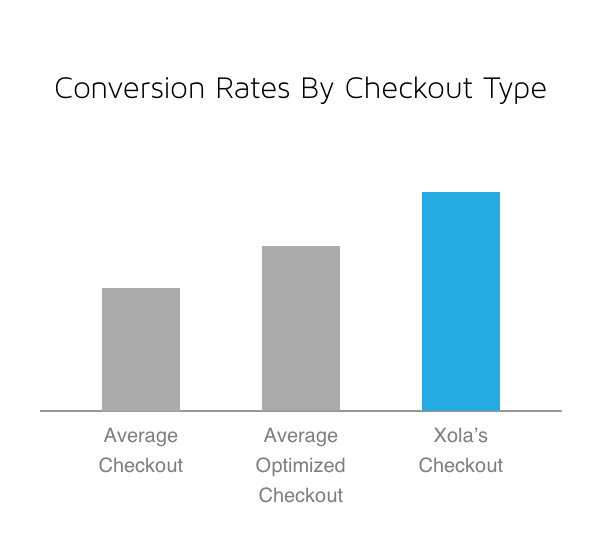 The Solution
The checkout process determines whether the group will abandon their booking, or complete their purchase. If the checkout process is fast and easy, they will become a customer. If it's slow and stressful, they will abandon their booking.
And the key to a fast and easy checkout process is to understand the booking loop.
The Booking Loop
"The booking loop" referrers to the three factors that every website visitor considers when checking for availability: Quantity, Date, and Time.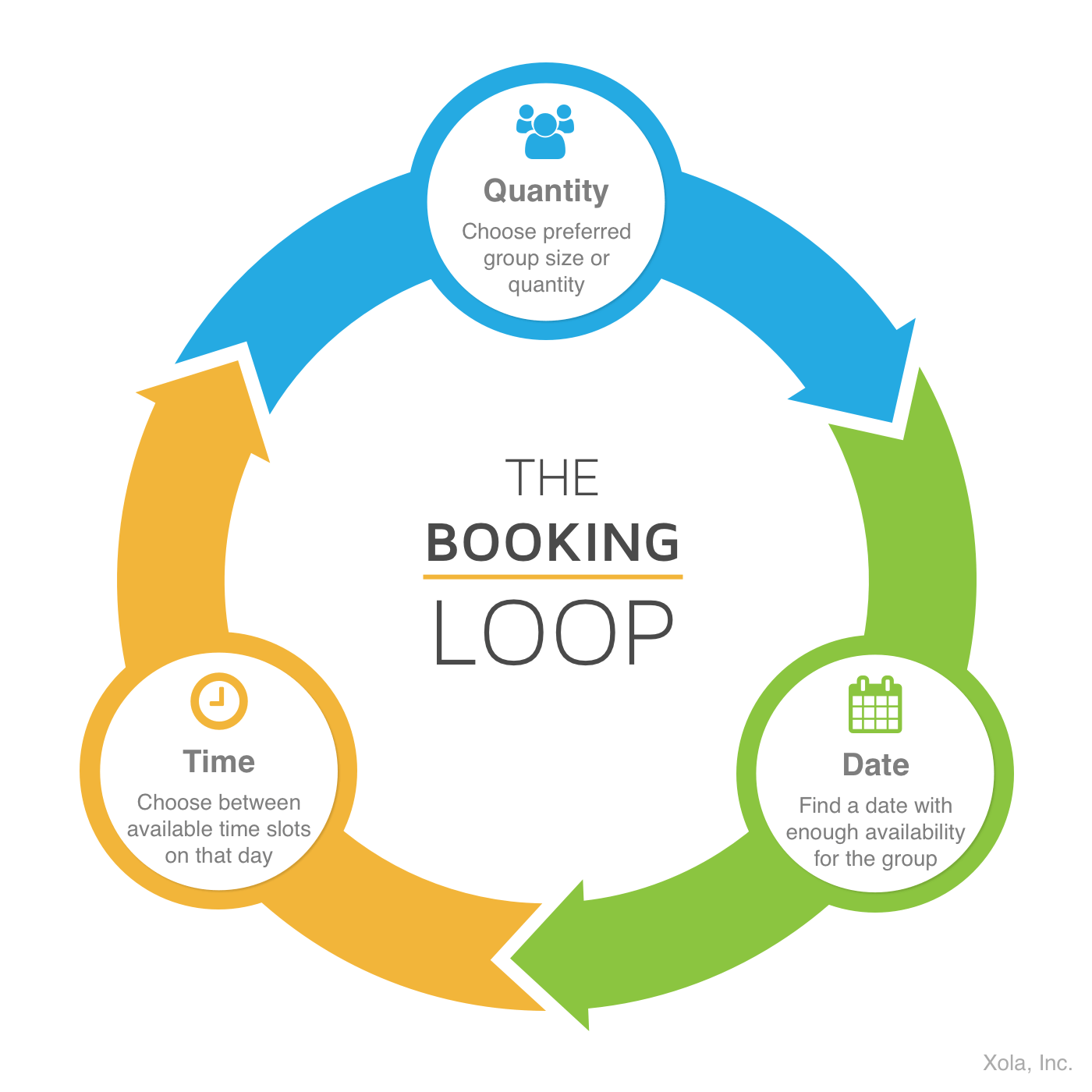 Because of restrictions on capacity and inventory, these three factors create a "dependency loop": when one of these factors changes (e.g. the date of the booking), the other factors change too (e.g. the available time slots).
When a group is in the planning stages, they need a way to quickly cycle through the booking loop. They need to be able to adjust the quantity and dates quickly and easily, so they can find the best available time slot.
That means one thing: don't break the booking loop.
Here are the three simple rules you need to follow to avoid breaking the booking loop, and give your customers a fast and easy checkout experience that encourages more bookings, not less.
Rule #1: Keep It on the Same Page
Poorly designed checkouts separate the booking loop (quantity, date, and time) across multiple pages.
In this example, you have to pick a calendar date on one page, then quantity and time on the next.
Imagine trying to compare availability across four different Saturdays:
You select the first Saturday on the calendar and go to the next page
On the second page, you pick your quantity
You take a mental note of what time slots are available (if you can remember what date you're looking at)
Then, you go back a page to pick a new date
You pick the next Saturday on the calendar
Now you have to

re-select

the same quantity
Take another mental note
Try repeating that four times.
It's hard. It's slow. Most of all, it's frustrating.
But in this scenario, that's exactly what the five person group is forced to do.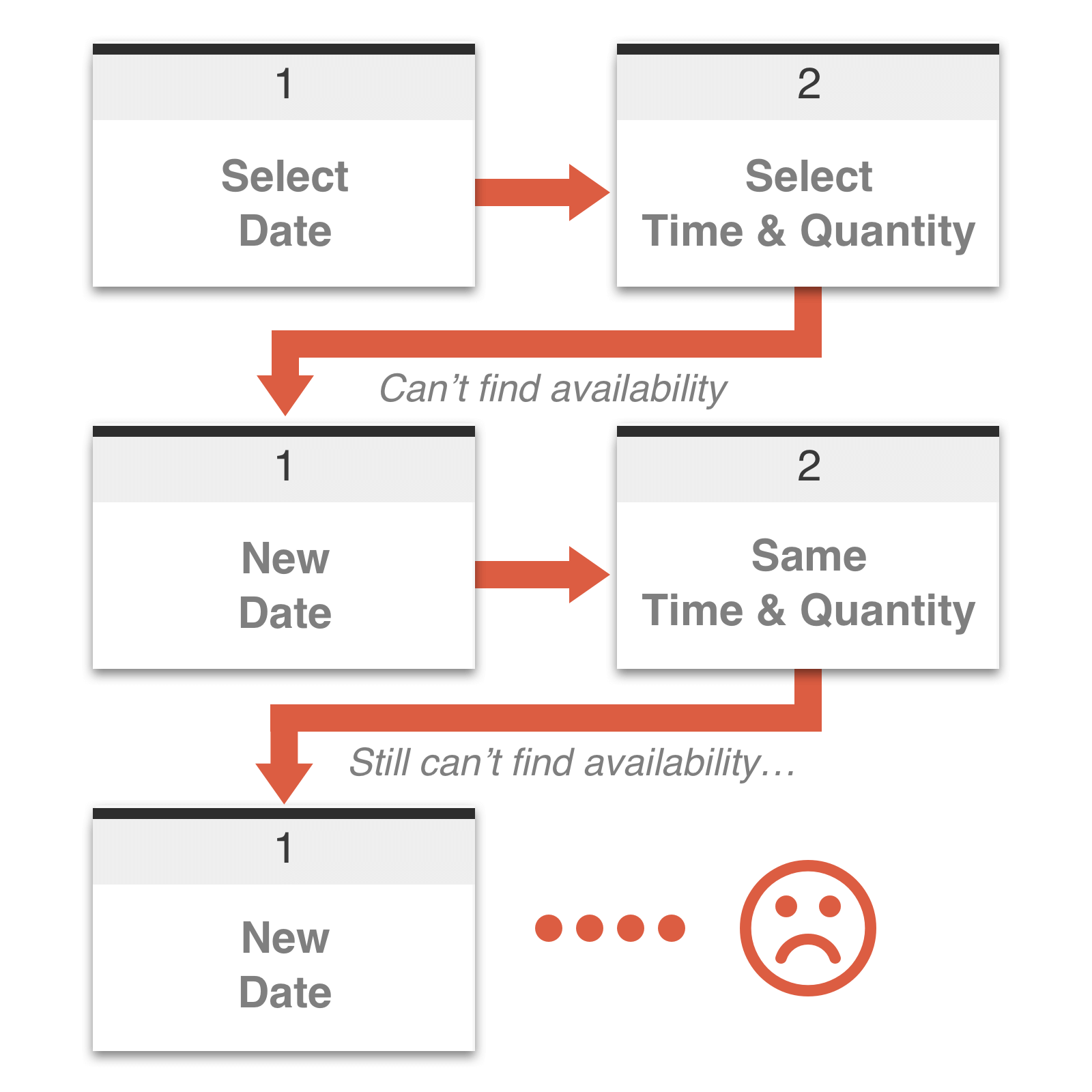 When you break the booking loop across pages, finding availability is difficult and frustrating.
Keeping the booking loop on the same page makes the process incredibly simple:
You select your quantity
You select the first Saturday
You take a mental note of the time slots available
You select the next Saturday
You take another mental note
Repeat
Fast, easy, and frustration free!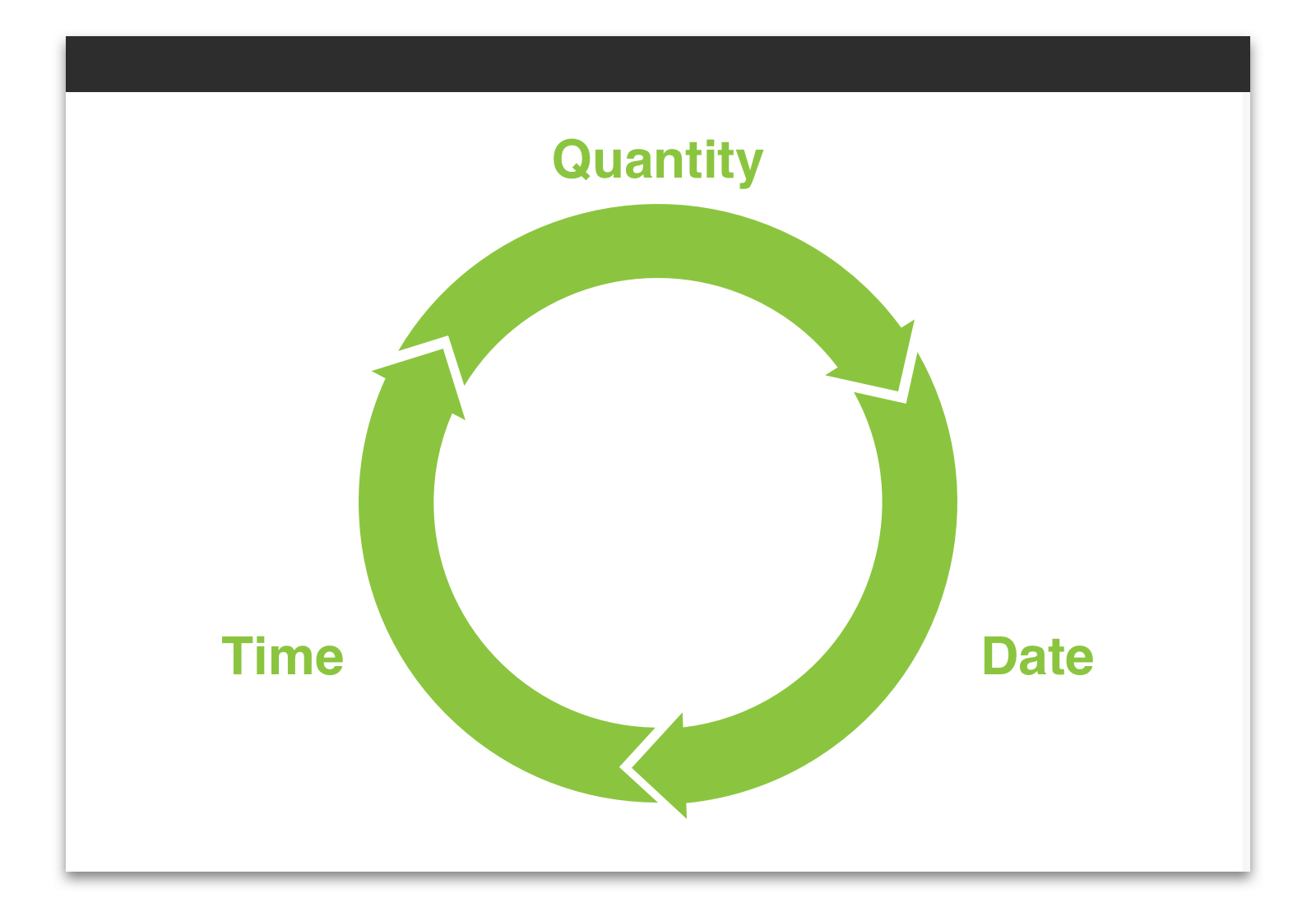 By keeping the booking loop on the same page, site visitors can easily cycle through different variations of quantity, date, and time with minimal effort.
Rule #2: Don't Ditch the Group
If availability is full, most customers would rather change their time slot than drop friends or family from the group. But many checkout designs don't recognize this. They prioritize date and time preferences over happy friends and family.
Always ask for quantity first. Dates and times can be adjusted to accommodate the group.
After all, experiences are meant to be shared.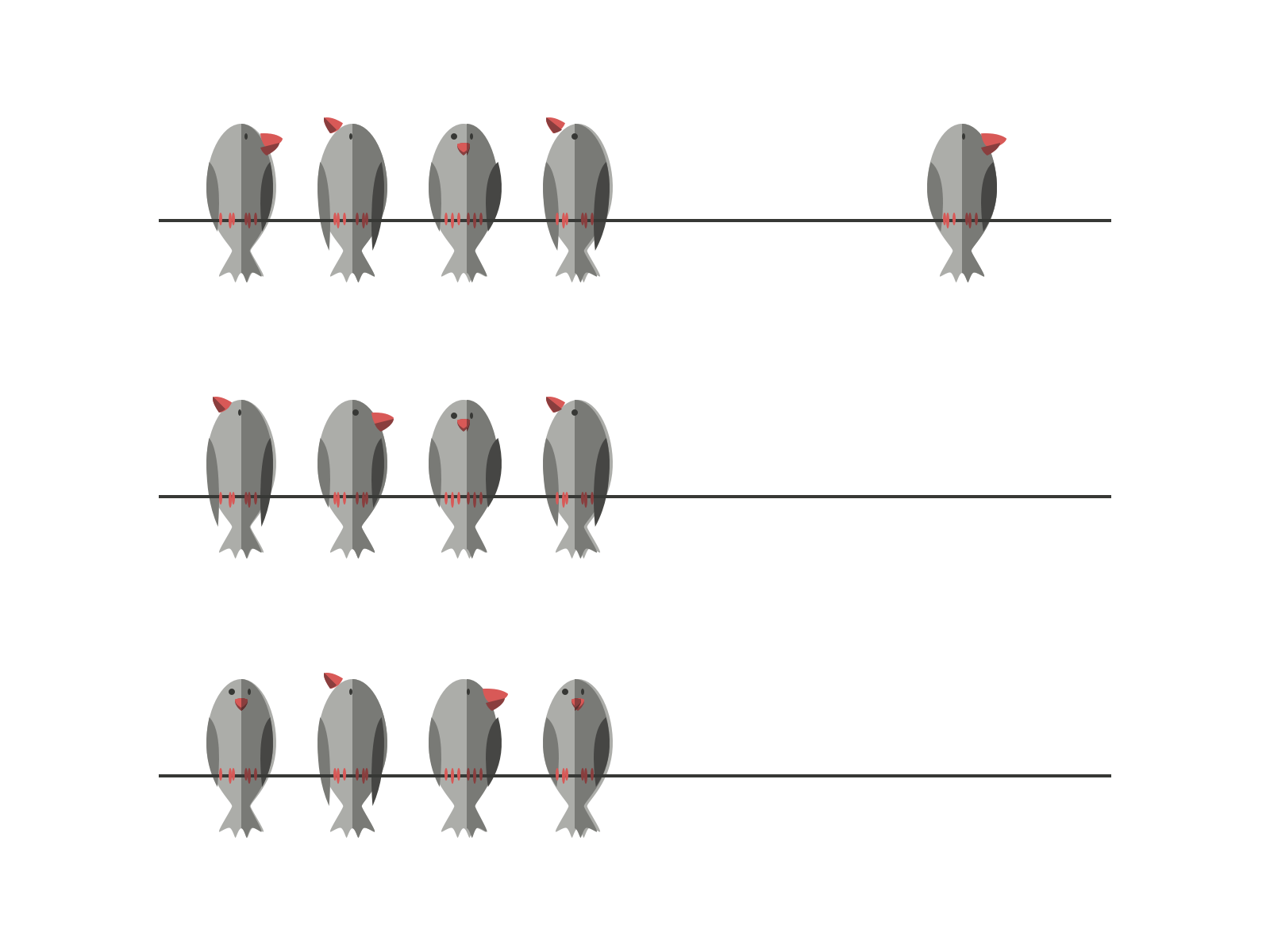 If you're planning for a group, and the time slot you want isn't available, do you pick a different time? Or ditch a friend?
Rule #3: Separate the Steps
One possible solution (that keeps the booking loop on one page) is the "full-page calendar."
In short, the full-page calendar allows prospective customers to look at a whole calendar month at once. Inside each calendar square are blocks that show the available time slots and open capacity for each day.
It seems straightforward.
People are used to using calendars. They make sense, and they're intuitive.
But there are a few problems…
First, cramming too much information into a small space overwhelms and frustrates visitors. People don't like information overload and will be more likely to abandon their booking when confronted by it.
Even then, if you're looking for time slots with a particular quantity available, it feels a lot like playing Where's Waldo. Full-page calendars rarely work if you offer more than two or three time slots per day.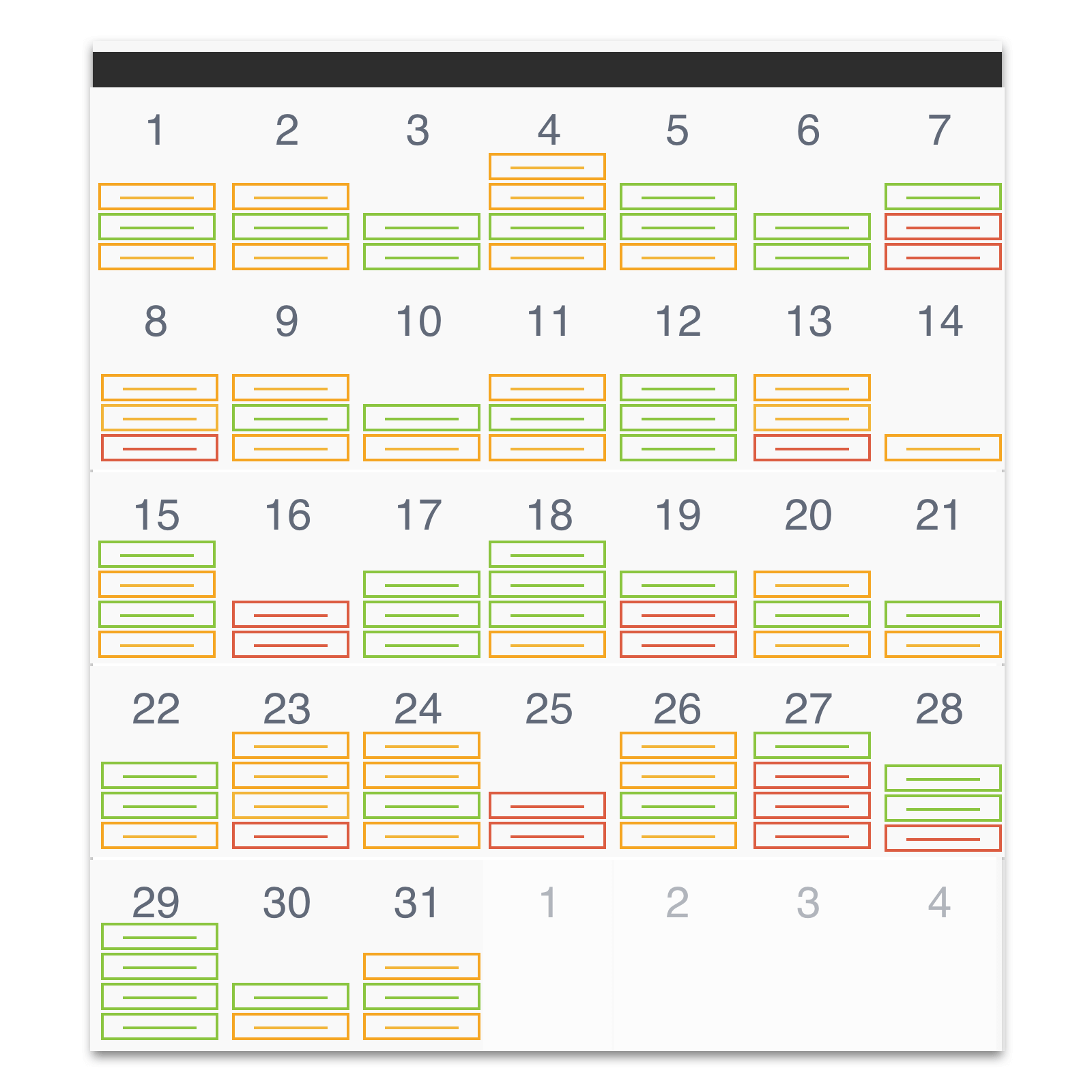 Finding the right activity, date, and time with enough capacity on a full-page calendar feels a lot like a game of Where's Waldo.
Second, calendar views don't work well on mobile devices. You simply can't look at more than one date at a time on a smaller screen.
That's no small issue. According to our own research, when we sampled nearly 2,000,000 online booking sessions across industries, 60% of them happened on mobile devices. A poor mobile experience can drive away more than half of your online bookings.

Instead, display quantity, dates, and times as distinct steps in the booking process. Use a number selector for quantity, a calendar for dates, and display time options side by side.
This way you still get a calendar, but without all the mess.
The Ideal Checkout Design
There are a number of different ways to design the online checkout experience. But only a few that make the process fast and easy, which prevents booking abandonment and increases your online bookings.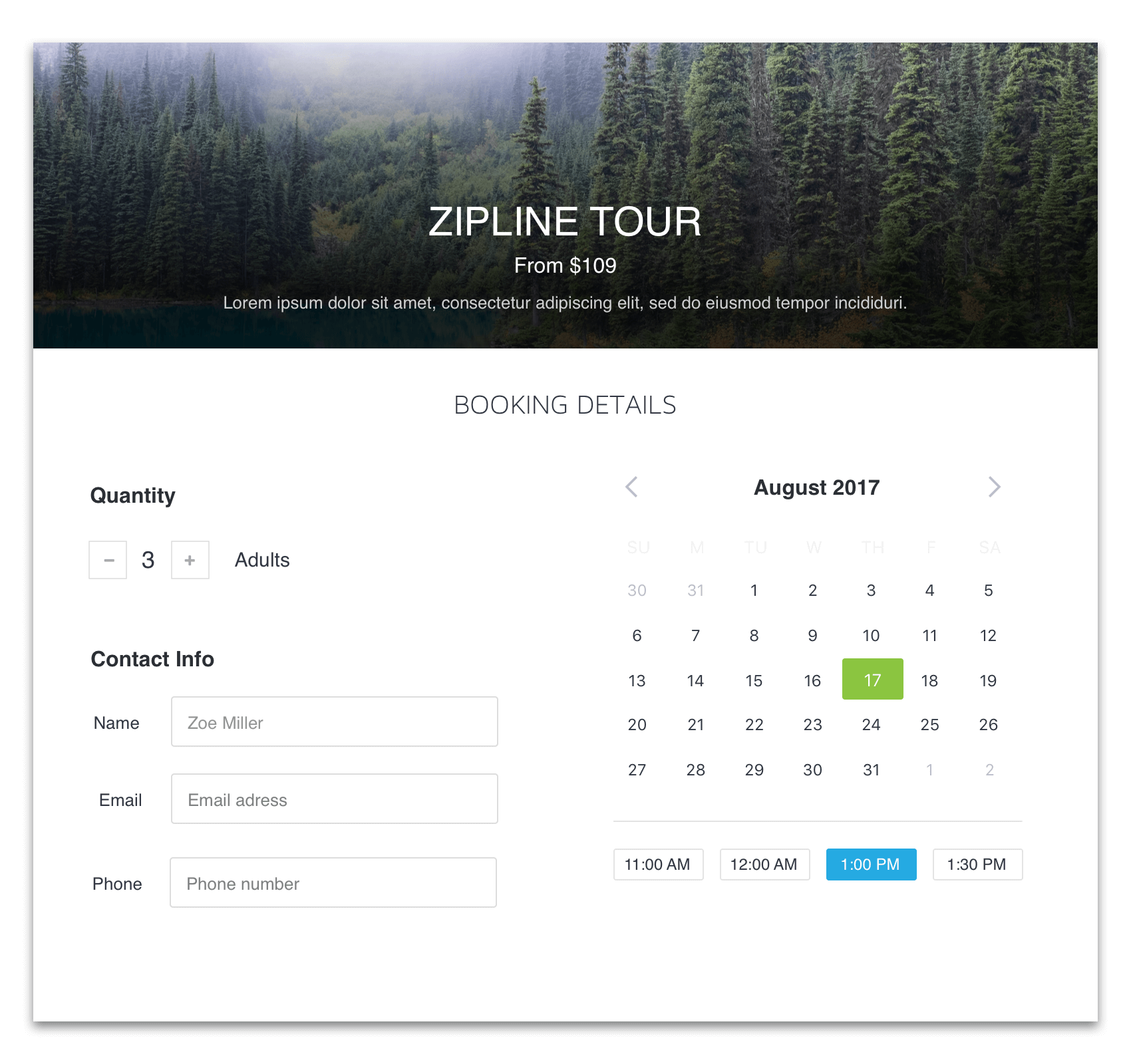 Xola's optimized checkout makes finding and booking an activity quick and easy. Everything is done on one page, quantity takes priority, and you get a beautiful calendar without all the mess.
If you have questions about how you can improve your website booking experience, decrease booking abandonment, and increase online revenue, contact us at join@xola.com, call us at +1 (855) 909-9652, or request a demo online. We would love to help!