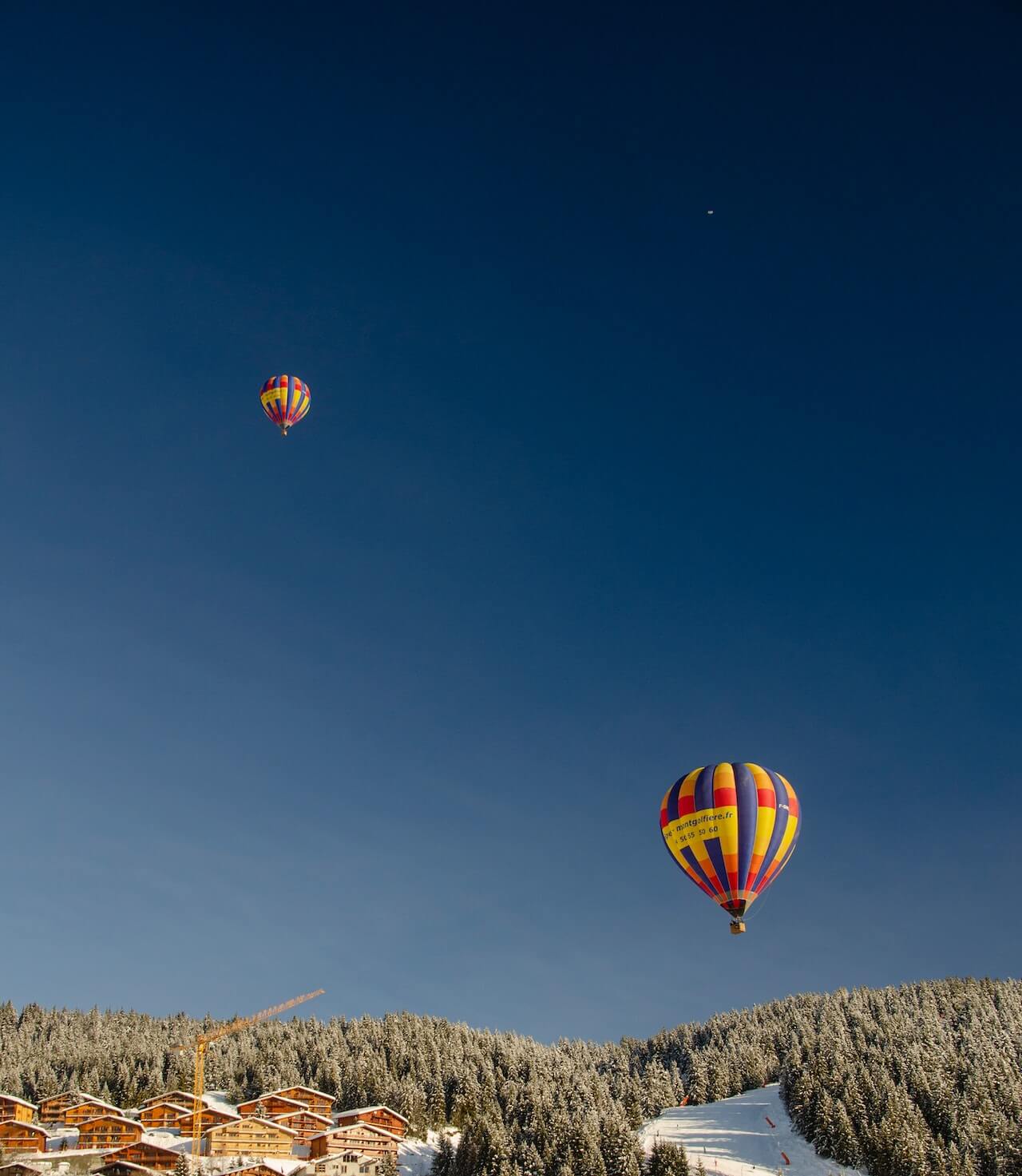 Whether you run an escape room or a duck boat tour, there's likely at least one competitor offering a similar experience in your town.
It's your job to make your company stand out from them.
There are dozens of strategies that can help you accomplish that — but in this post, we're focusing on 12 specific actions that will instantly attract more customers.
1. Get clear on who your ideal customer is
Every marketing campaign you create should target your ideal customer — but do you know who that is?
A great way to narrow down your audience is to create a buyer persona. A buyer persona is someone that has all of the characteristics of your ideal customer and that motivates them to make a purchase or booking. You can kickstart this by surveying your customers for feedback. Ask them where they first learned about your brand, if this is their first time booking with you, and what ultimately inspired them to book.
Once you've mapped out a buyer persona, you can speak to them in your social media content, ad campaigns, emails, and more. This ensures you're attracting your ideal customer to your website.
For example, if you find out that your target customers are couples looking for a romantic experience, you'll know that the weeks before Valentine's Day deserve extra attention. You may send an email campaign in January announcing a special Valentine's Day sale. Moreso, your website content — from your home page to your tour descriptions — would also align with this, using phrases like "romantic tour for two" to appeal to couples looking for that particular type of experience.
2. Partner with local businesses that are not competitors
Your customers are visiting cafes, restaurants, stores, museums, and more during their stay. Why not partner with one of these establishments to introduce your brand to more visitors?
Partnering with a local business that isn't a direct competitor can be mutually beneficial for both parties. On the one hand, the local cafe or museum can recommend your tour or attraction to their customers, which can help boost your credibility. Meanwhile, you do the same for the local business. Your customers will appreciate the recommendations, especially if it helps them build their itineraries before and after your tour.
You can start by introducing yourself and your company to local businesses nearby. Step into your local care or book store and ask to speak with the owner. Hand them a pamphlet about your business, or even invite them to experience your tours or attractions for themselves. As you build a relationship with local business owners, they'll be more inclined to refer their customers to you.
3. Run targeted Facebook and Instagram ads
Of all the ways you can use social media to promote your tour company, Facebook and Instagram ads are among the most effective. This is because Facebook allows businesses to create targeted ads that can reach travelers at the right point in their buying journey.
For example, you can target people who are specifically traveling in your location or narrow down your audience by interests and behaviors, such as "frequent travelers" or people who "like" a particular activity like hiking.
Retargeting is another effective strategy. Retargeting ads allow you to promote your brand to past customers or people who have previously interacted with your brand, such as visiting your website or signing up for your email list. You can, for instance, upload your email list on Facebook to have your ads shown to your subscribers.
When you're promoting your tours to a warm audience — or one that's already familiar with your brand — you're likelier to see conversions than when promoting to someone who's never heard of it.
Before running a new Facebook or Instagram ad, clearly spell out your objectives. Follow the SMART system to create goals that are Specific, Measurable, Achievable, Relevant, and Time Sensitive. Then, brainstorm campaign ideas for how to achieve that goal, as well as a timeline for when you expect to achieve it.
Add next steps around getting started with FB and IG ads
4. Run targeted Google Ads
Google Ads, also known as paid search ads, increase your tour company's visibility on the most popular search engine in the world. With Google Ads, your website can appear on the first page of relevant Google searches. For example, if you're a helicopter tour operator in New York City, you can make your website appear as one of the first results for the search query, "NYC helicopter tours."
The advantage of Google Ads is that you gain visibility to customers who are actively searching for the exact experiences you're offering. This increases the chances that travelers will click on your website and convert.
The first step in creating a search ad is to create a Google Ads account. You'll then be able to create search ads, display ads, video ads, and discovery ads. The next step is to narrow down your audience by location, interests, recent interactions, etc. You'll then define a budget and the keywords you want to rank for. Soon, your website will appear at the top of that page.
5. Run targeted TikTok ads
TikTok ads can help tour operators tap into a new market of travelers. While most people scroll through the app for entertainment, they're often discovering new brands, products, and travel activities that they pursue outside of the platform.
Short-form videos can be the perfect vessel to inspire and inform users about your tours or destination. The San Diego Zoo, for example, has amassed a sizable following by sharing behind-the-scenes content like staff getting a blood sample from a rhino or the recuperation of an injured giraffe. The zoo uses TikTok to humanize the brand, making it easier for customers to build a personal connection with the brand.
If you're company doesn't have a TikTok account yet, it's time to create one. Make sure you create a Business account. From there, a TikTok rep will review your account and get back to you once your business is approved to run ads. Similar to Facebook and Instagram advertising, you'll start your TikTok ads by defining your campaign objective and a lifetime or daily budget.
Then, it's time to get created with short-form video content. Explore TikTok's Creator Tools for inspiration.
6. Go back to the fundamentals
Make sure your Google My Business and social media profiles are up to date. You should also double check the OTAs you're business is listed on. Guests should be able to find your location, hours of operation, and reviews when they search for your business on Google, Facebook, or Tripadvisor.
If you haven't claimed your business on Google yet, you can start by typing the name into the search bar on this page. If the business doesn't exist on Google yet, you'll be prompted to start building your business profile. Now, you can ensure the information about your business is correct and control how your business appears in Google searches, including on Google Maps.
As for Tripadvisor, visit TripAdvisor.com/Owners to claim your business listing and begin receiving bookings and reviews on the platform.
When auditing each platform, make sure your logo, company description, and URL are consistent and accurate on each.
7. Optimize your website
Review your website copy to ensure it's making a great first impression. Does your homepage clearly depict your services? Is your menu easy to navigate? Are your photos engaging?
Here are a few ways you can optimize your site to drive more bookings:
Your "Book Now" button — the most important one — should be prominently displayed on your homepage, tour descriptions, and checkout. This button should clearly stand out from the rest of your website so that it's one of the first things guests see. That way, you're already encouraging your website visitors to take action as soon as they land on your site.
Write an engaging headline that catches your customer's attention.
Use high-quality, beautiful photos to highlight your experience and give customers a sense of what to expect.
Promote your most popular activities on your homepage.
Add social proof in the form of testimonials, reviews, and security badges throughout.
Also, add next steps for what someone should do next.
8. Create an editorial calendar for your social media content
Social media platforms provide an opportunity to reach a wider range of people and build a relationship with your audience outside of your website. Many guests turn to social media to find inspiration for upcoming vacations, including where to go and what to do when they're there. If your brand has a strong presence on the right platforms — i.e. the platforms your guests are using daily — you can reach an endless number of potential customers.
Brands can also show a more casual side of themselves on social media. They can engage with guests on a personal level through humorous posts and user-generated content. This makes it easier for guests to build a relationship with your company, even before they decide they book with you.
It helps to create a social media content calendar that will help you post consistently throughout the year. Start by choosing your content pillars, or the topics you'll be posting about. Then, set a realistic posting schedule that you can stick to. The final step is to brainstorm post idea for each of those topics and schedule them out on your calendar.
9. Use social proof to convert more customers on your site
Social proof comes in many different forms. User-generated content, for instance, is one of the best ways to persuade guests to book through your site. This can come in the form of photos or past guest reviews displayed on your homepage or tour pages.
Photos of past guests having a good time can give potential guests an idea of what to look forward to. Positive reviews, then, can play a big role in persuading visitors to book your tours because people tend to trust operators that showcase their positive feedback.
Other forms of social proof include trust symbols like TripAdvisor badges and rating widgets. Anything that demonstrates a strong and positive online presence can have a psychological impact on the viewer, further encouraging them to book.
Many customers won't go out of their way to leave you a review — that is, until you ask them. A recent survey found that 12% of consumers left a review every time a business asked them to. Remind guests to leave a review as they exit your tour or attraction. If you're sending an email asking for reviews, include a clear call-to-action in the message with a link to your preferred review site.
You can also offer guests an incentive to leave you a review. Don't bribe them — that's unethical — but you can offer them a discount on a future experience.
As you collect positive reviews, don't hold back from displaying the best ones across your website and social profiles.
10. Make your website mobile friendly
Nearly half of all experience bookings are made once a traveler arrives at their destination. The majority of those in-destination searches are happening on a mobile phone.
Make sure you're working with a responsive website design that offers the same user experience across all devices. For instance, your call-to-action buttons should be easy to spot and click on a small mobile screen.
Consider revisiting your Core Website Vitals, which is how Google judges your page's user-friendliness. Your Core Vitals are based on page load speed, responsiveness, and visual stability. While you're at it, do a site speed test and make sure your popups aren't displaying on your cart or checkout pages.
Finally, make sure you have Google Analytics 4 (GA4) set up correctly, the newest version of Google data tool.
11. Invest in the right booking software
The right booking software can help you drive more direct bookings by meeting your guests' expectations. There are dozens of booking software available, but not all were made with operators like yourself in mind.
Xola, for example, makes it easy to show the real-time availability of your tours, giving customers the information they need to choose the right date and time for their experience. Without this feature, potential customers might get to the checkout page only to find out that their tour isn't available. Or worse: They'll book an overbooked tour.
Here are a few things to look for when choosing your booking software:
Is it quick and easy to set up? Also consider whether it'll be difficult to train your staff to use the new platform.
Ensure that the software provides a smooth and secure checkout across all devices.
What kind of automation features does the software provide? Automated email and text notifications help keep guests informed before, during, and after their experience.
Ensure the software integrates well with your existing tools.
Look for software with 24/7 support. If your website ever goes down, you want to get it back up and running as soon as possible, no matter the time of day.
12. Build an email list
Email marketing is an effective way to reach your past, present, and future customers directly. You can send them tour updates and special offers encouraging new customers to make a booking and previous guests to return.
When you run a seasonal promotion, for example, your email list can be the first to hear about it. These customers expressed interest in receiving news and promotions from your company when they signed up for your newsletter. This means at least a portion of them are interested in booking with you, making it easier to drive conversions.
The best way to build your email list is to offer website visitors an incentive for joining. For example, you might offer a 5% discount for anyone that signs up for your newsletter.
***
Tour operators can take advantage of a range of strategies to attract more customers and increase bookings — including paid ads, partnering with local businesses, and establishing a strong social media presence.