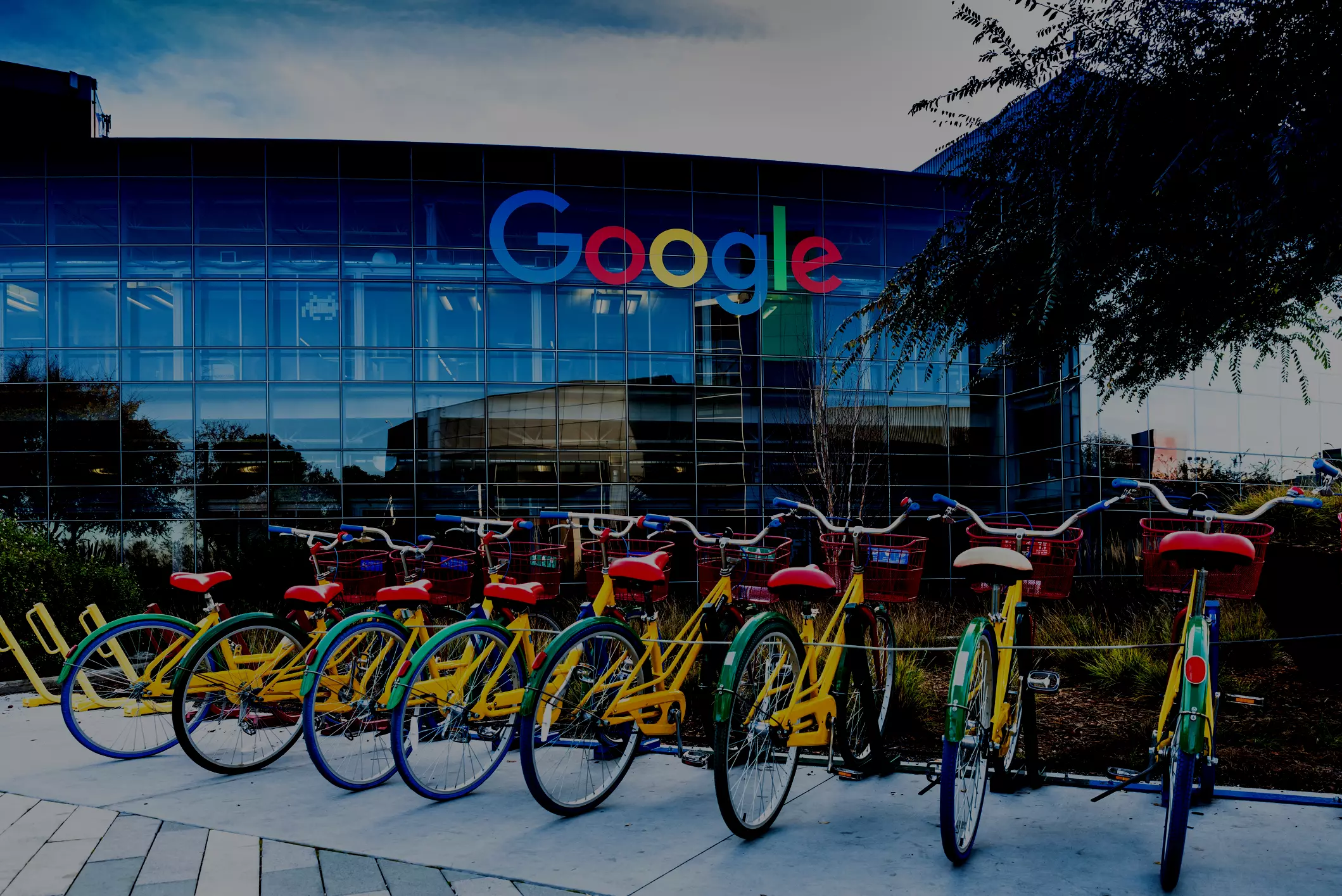 Getting your website to rank on Google Search is an important part of any challenge course or zipline marketing plan. And it gets more and more important every year.
Just look at the numbers…
The peak number of worldwide Google searches for the term "zipline" has increased by 74.55% over the last four years.
At the same time, peak search volume for the term "ropes course" has increased by 35.14% worldwide.
Even with the peaks and troughs in search volume (caused by seasonality) the trend is clear: more and more visitors are searching for and finding challenge course and zipline websites online.
And with 40.7% of challenge course and zipline revenue coming from online bookings in the last 2 years, your Google results have a large impact on your bottom line.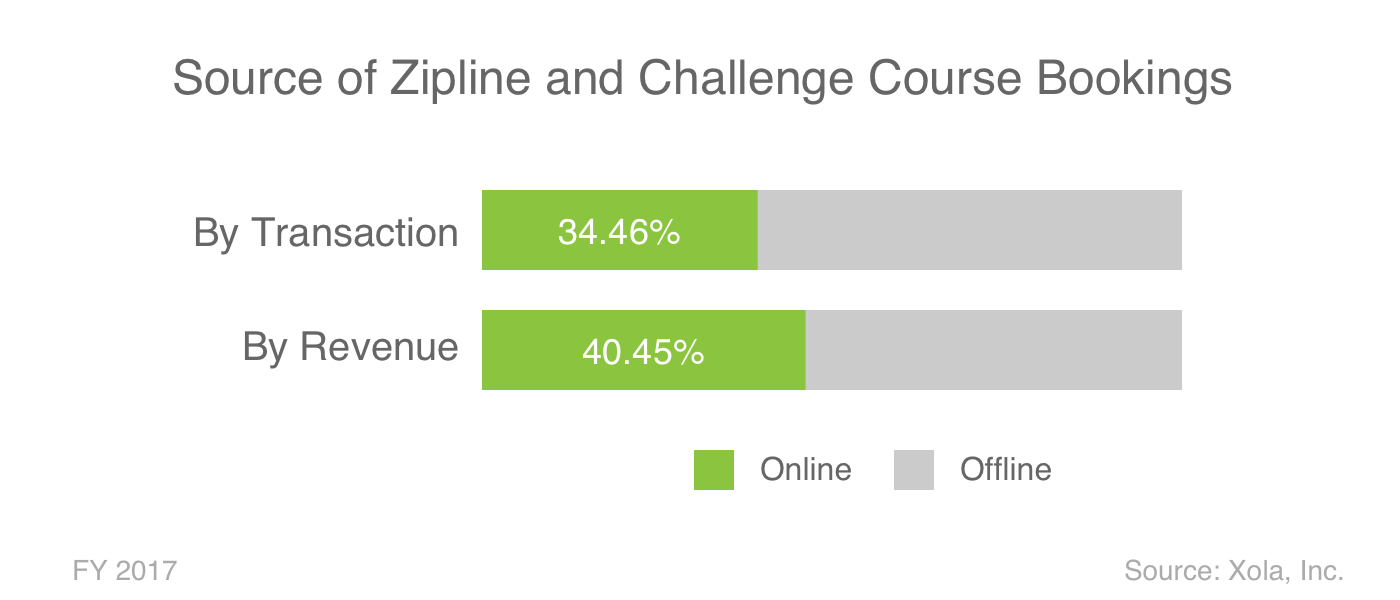 Here are five quick and simple ways to get your challenge course or zipline website to appear on the first page of Google's search results.
1. Add Your Business Information to Google Maps
The majority of searches for ziplines, challenge courses, and other local attractions have "local intent."
In other words, when a local or tourist is in California, they don't want search results for businesses in New York. To fix this, the searcher will often add a geographic modifier. Instead of searching for "best ziplines" they will search for "best ziplines in northern california."
The first thing you need to do if you want to appear in these local searches is to tell Google where your business is located by adding it to Google Maps.
According to the 2017 Local Search Ranking Factors, the two most important factors that determine whether or not your business will show up when consumers search for local business on Google are:
Proximity of Address to the Point of Search (Searcher-Business Distance)

Physical Address in City of Search
In other words, if your business address is wrong, or doesn't appear on Google Maps, people will not be able to find you!
Some online searchers might skip normal search altogether and go straight to Google Maps. New Google Maps search functionality like the "search nearby" feature makes your Google Maps results an important part of your challenge course and zipline marketing plan.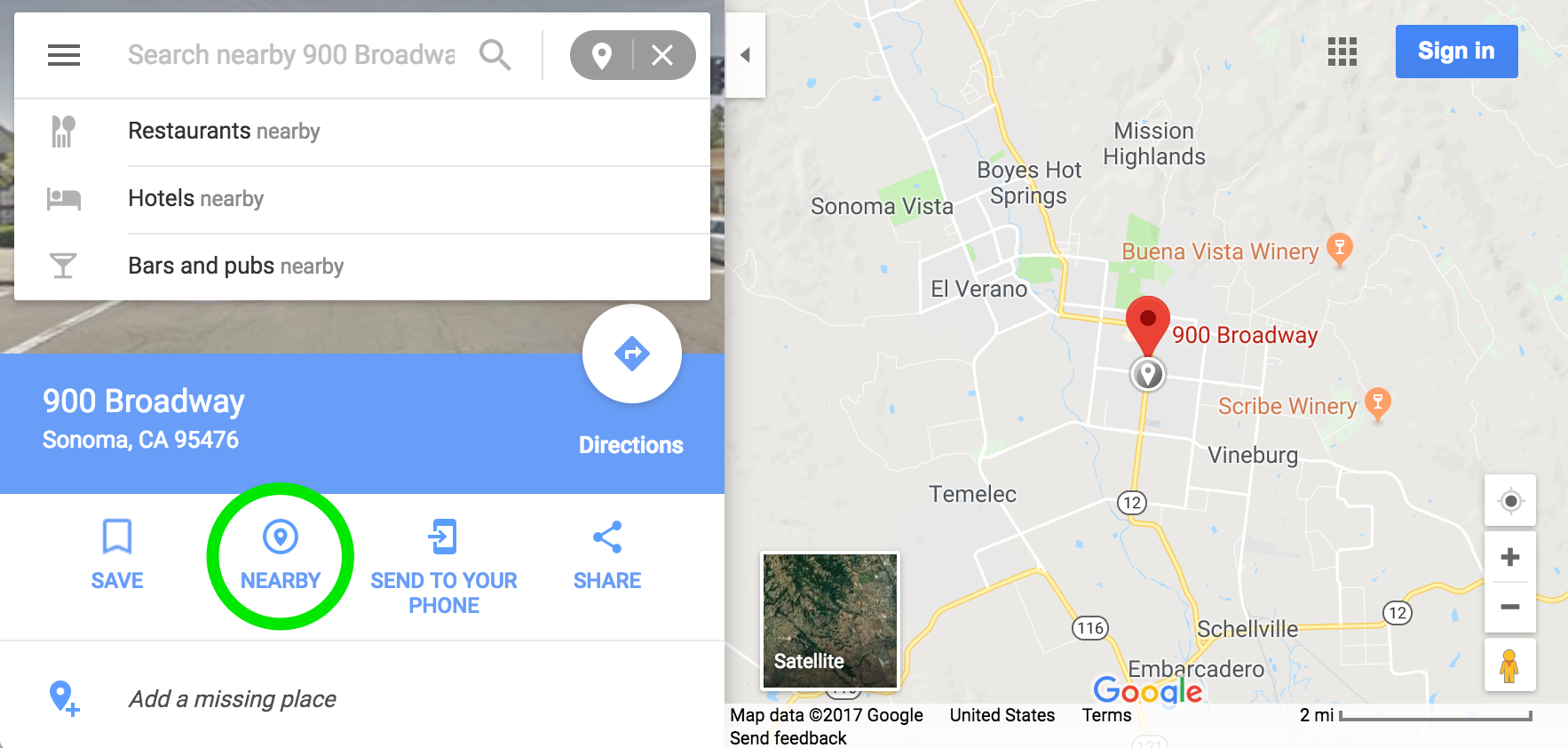 If your business does not currently show up on Google Maps, follow these instructions to add your challenge course or zipline business:
Open Google Maps and sign in with your Google account. If you do not have a Google account, you will need to create one.

Find the location on the map where you want to add your business and zoom in.

In the bottom right, click Send Feedback (the link can appear very small, so look closely).

Click Add a Missing Place.

Drag the marker where you business is located, and add any relevant information.

Click Submit.
Adding your challenge course or zipline business to Google Maps is the first step to getting recognized in search results with "local intent", which means more people can find you and make a booking.
2. Claim and Verify Your Business on Google
Claiming your company on Google My Business is the next important step you if you want to appear on the first page of Google's local search results.
Google My Business is a free to use tool that gives business owners control over how their business is displayed to consumers searching on Google Search or Google Maps. Information about the business, along with pictures are reviews, are displayed in prime location above the fold on the search engine results page or on the map.
When someone searches for your business, your business card will appear along with useful information like address, hours of operations, phone number, reviews, and more.
When someone searches for broader local attractions, like "ziplines in northern california," Google will automatically display a list of three businesses that best match the criteria. This list is commonly known as a Local Pack – a list of three businesses that Google thinks best matches what the searcher is looking for.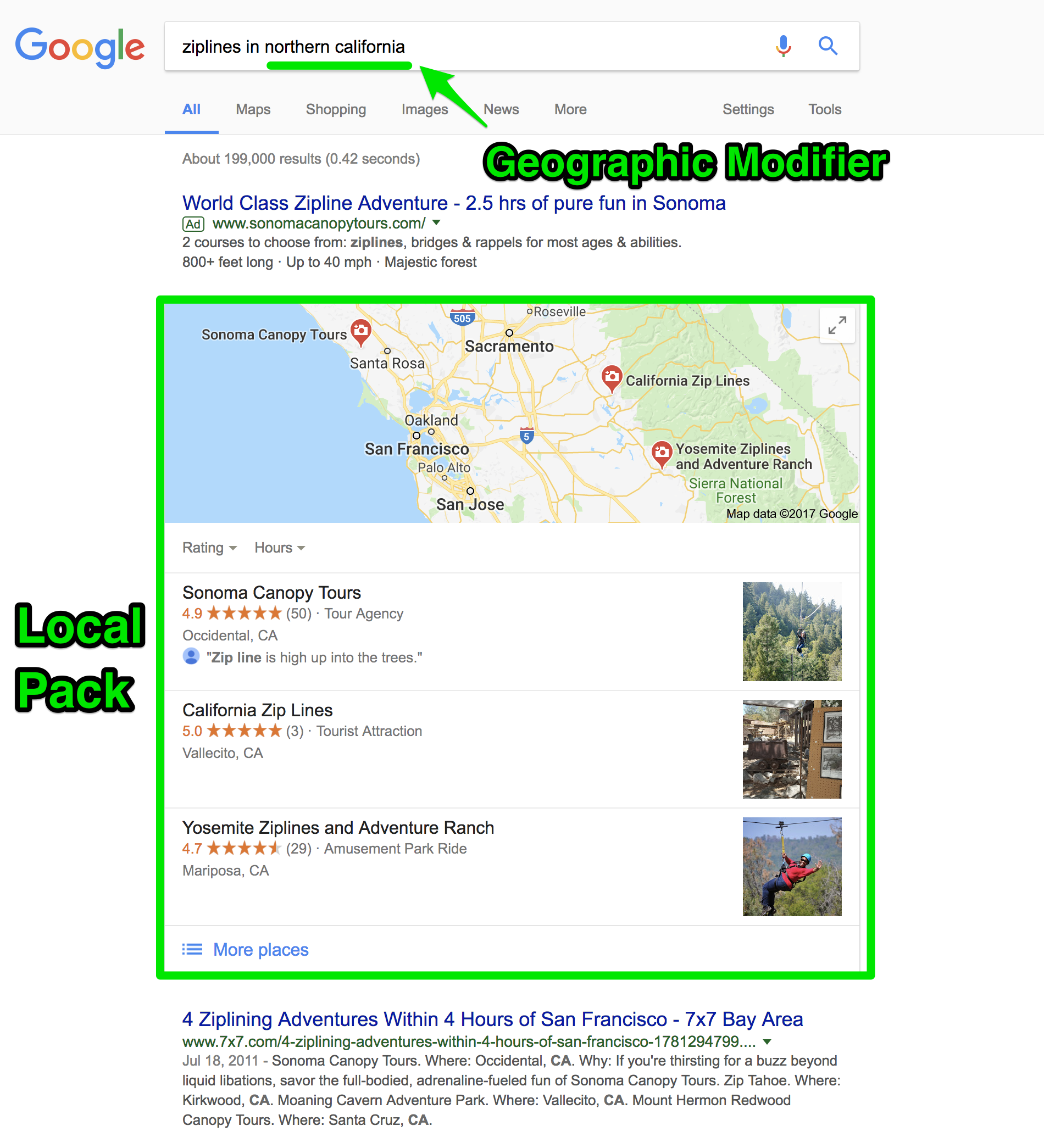 Notice the way that Google's Search Engine Results Pages (SERPs) are structured… The top of the page is dominated by AdWords results and the all-important Local Pack. It isn't until you get halfway down the page that you see the additional 10 organic search results.
To claim and verify your business on Google My Business:
Find your business on

Google My Business

.

Click continue.

You will either see a notification that your business has already been claimed (and by who), or you will be asked to verify your business information.

To verify your business information, accept the terms of service and confirm that you are authorized to manage your business profile on Google My Business
There are several ways you can claim and verify your business details (learn more here). However, the most common way for Google to verify that you are the business owner is by sending a postcard to your business address that includes a unique verification code. Once you receive the postcard and enter the code, you will be granted full access to your Google My Business profile.
3. Make Geo-Targeted Bids on AdWords
Getting to the top of search results takes time and effort (even getting Google to verify your business can take weeks).
During those low times you can still secure a top spot if you're willing to shell out the cash.
Google's paid search ads (AdWords) are a great way to get early exposure, even if you rank poorly in local search results.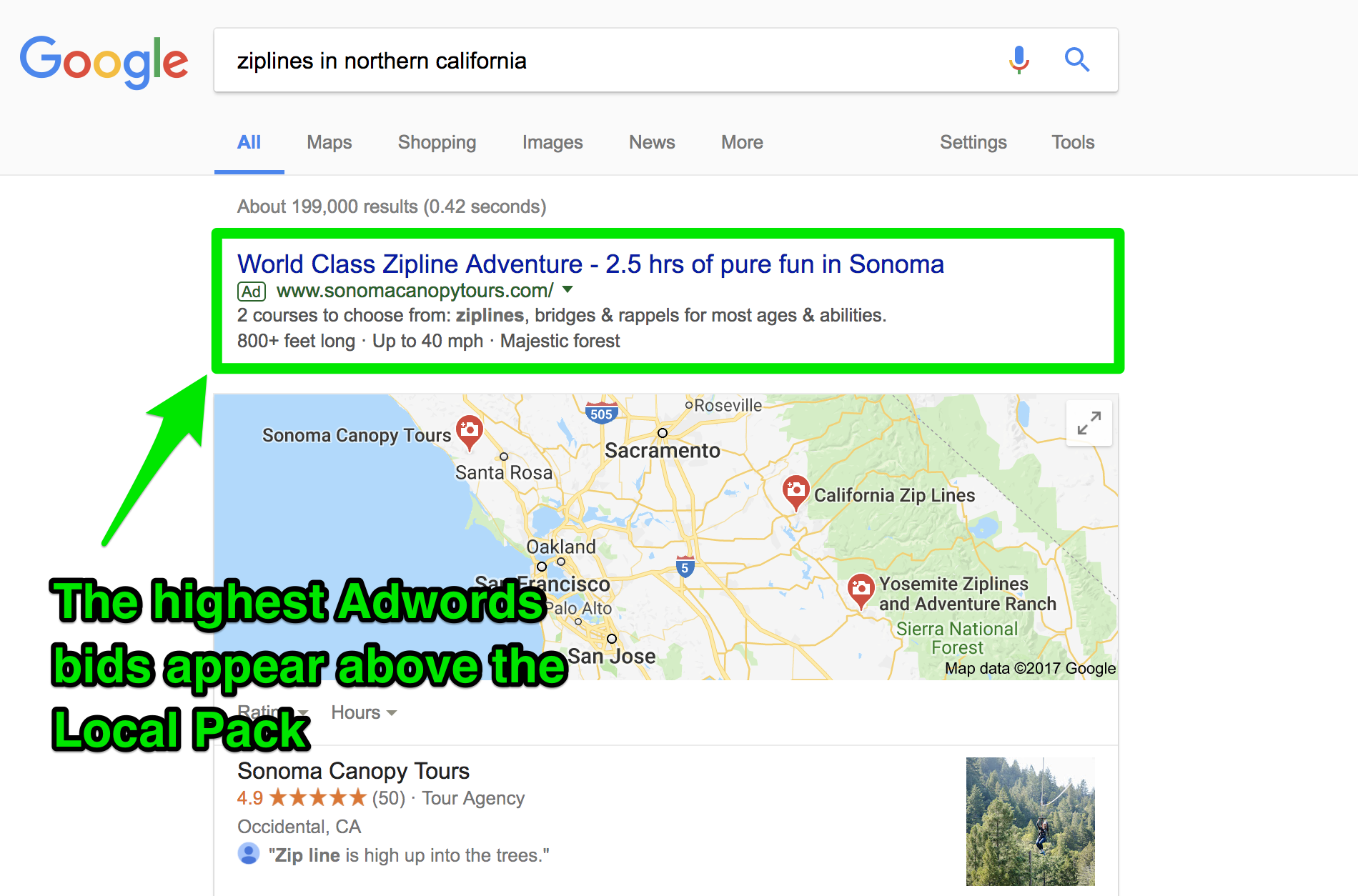 To get started, set up a Google AdWords account and start bidding for the same keywords you are trying to rank for in organic search.
(Check out Neil Patel's Guide to Google AdWords to learn more about targeting and spending)
But keep in mind Google AdWords charges you every time someone clicks on
your ads. So if the wrong people click on your ad, you waste money.
It's easy to flush a lot of money down the drain if you don't target the right people. One way to improve your targeting is to use location filters. This filter lets you serve ads based on the consumer's location or place of interest (based on past searches).
If you cater to locals, or serve tourists who book only after they arrive, run a geo-targeted campaign that delivers ads only to searchers in your area.
If you serve a lot of tourists who book before they travel, show your ads when people use your location in the search term (e.g. "ziplines in california," or better yet "best ziplines in northern california").
4. Get More Reviews on TripAdvisor
Review sites like TripAdvisor and Yelp have an enormous amount of clout in search results.
Often times, even if your SEO is nearly perfect, customer review sites like TripAdvisor will appear first in the organic search results. This is because TripAdvisor is well trusted, and a popular place for consumers to go when they are looking to compare different local attractions.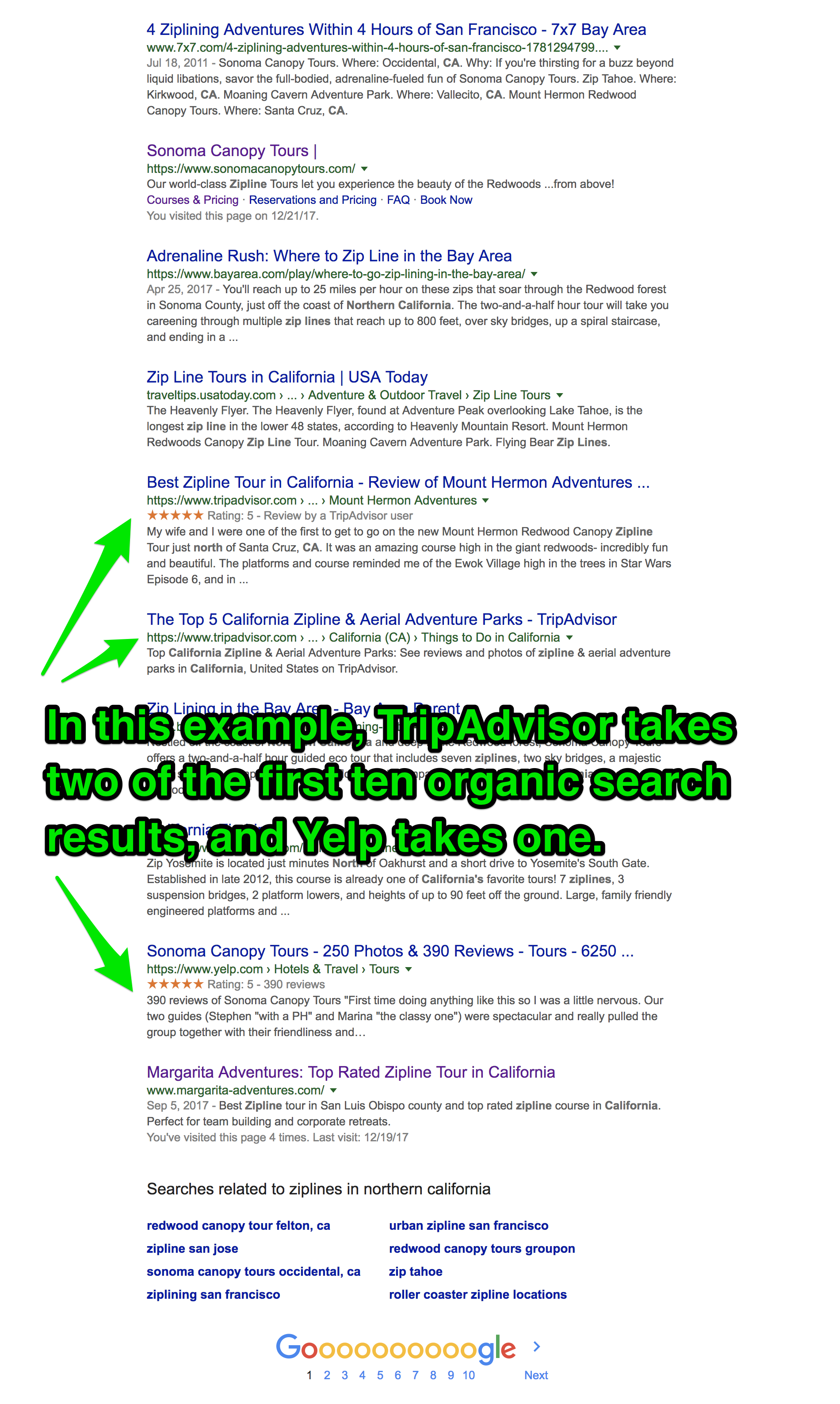 TripAdvisor will even develop curated lists like "The Top 5 California Zipline & Aerial Adventure Parks". These lists are built based on TripAdvisor's Popularity Ranking Algorithm. The algorithm determines who does, and does not, make their ever-popular "Top 5" lists.
In short, the algorithm works like this:
In summary:
More reviews are better than fewer reviews;

Good reviews are better than poor reviews; and

Recent reviews are better than older reviews.
One of the most effective ways to grow your review count is to integrate your challenge course or zipline software with your waiver system to collect more reviews. For the average challenge course or zipline, digital waivers allow you collect as much as three times as many reviews!
5. Improve Your Zipline and Challenge Course SEO
Search Engine Optimization (SEO) takes a little more time to master. SEO is the art of getting your website pages to the top of the organic search results page, i.e. increase your organic search ranking.
On local search engine results pages, the organic search results appear directly below the Local Pack. Although the organic search results appear further down the page, they are still one of the best sources of new website visitors and online bookings.
But becoming an SEO expert can take years. People make careers out of it.
Luckily, you don't need to be an expert to start seeing results now. Here are three basic steps you can take to improve your organic search ranking:
Fix What's Broken on Your Website

– Google penalizes websites that don't follow their rules. Get a free audit with a tool like

SEO Site Checkup

and learn what you need to do to improve your sites SEO

Add the Right Keywords to Your Site – Identify what your target audience is searching for and use those keywords on your site. Start by using Google Trends for direction, and when



you're ready to become an expert try reading

Moz's guide to keyword research

.
Pro Tip: Remember to focus on the keywords that your customers use, not the ones you want them to use! For example, the term "ropes course" is searched for more than three times as often as "challenge course" in the United States (see the trend comparison here). Consider modifying your content to include words like these, and get access to a much higher volume of searchers.
Build Links to Your Site

– Increase the number of links on other websites that send people your way. Links from other sites tell Google that your site is relevant and popular and improves your search ranking.

Pro Tip: Find new link opportunities by browsing the search results you are targeting and identifying high-ranking lists and blog posts. Reach out to the writer and ask to be added to the page. Getting your business added to a blog post like "4 Ziplining Adventures Within 4 Hours of San Francisco" adds extra "link juice" that will boost your website in the search results.
These are, of course, only the first steps to mastering organic search ranking. SEO is a never ending battle, that can potentially make or break your business.
Check out Moz's full guide to SEO to learn how to master the fundamentals of search engine optimization.
Conclusion
It is more important than ever that you challenge course or zipline marketing plan focuses on getting you more exposure in Google's search results.
While there are many different tactics and tools you can use, these are five of the simplest but most effective places to start.
Adding your business to Google Maps, and claiming your business profile, will give you free, immediate exposure to thousands of new potential customers. Geo-targeted bids on AdWords cost money, but is a great way to get found, especially when you have a lot of competitors in your area.
At the same time, you cannot neglect the long term. As you build your business to last, think about investing in your challenge course or ziplines SEO. Don't neglect your reviews either. Sites like TripAdvisor take an enormous amount of search results, and potential customers are heavily influenced by the reviews. It might not be your site, but it will affect your bookings.
More Zipline and Challenge Course Blog Posts