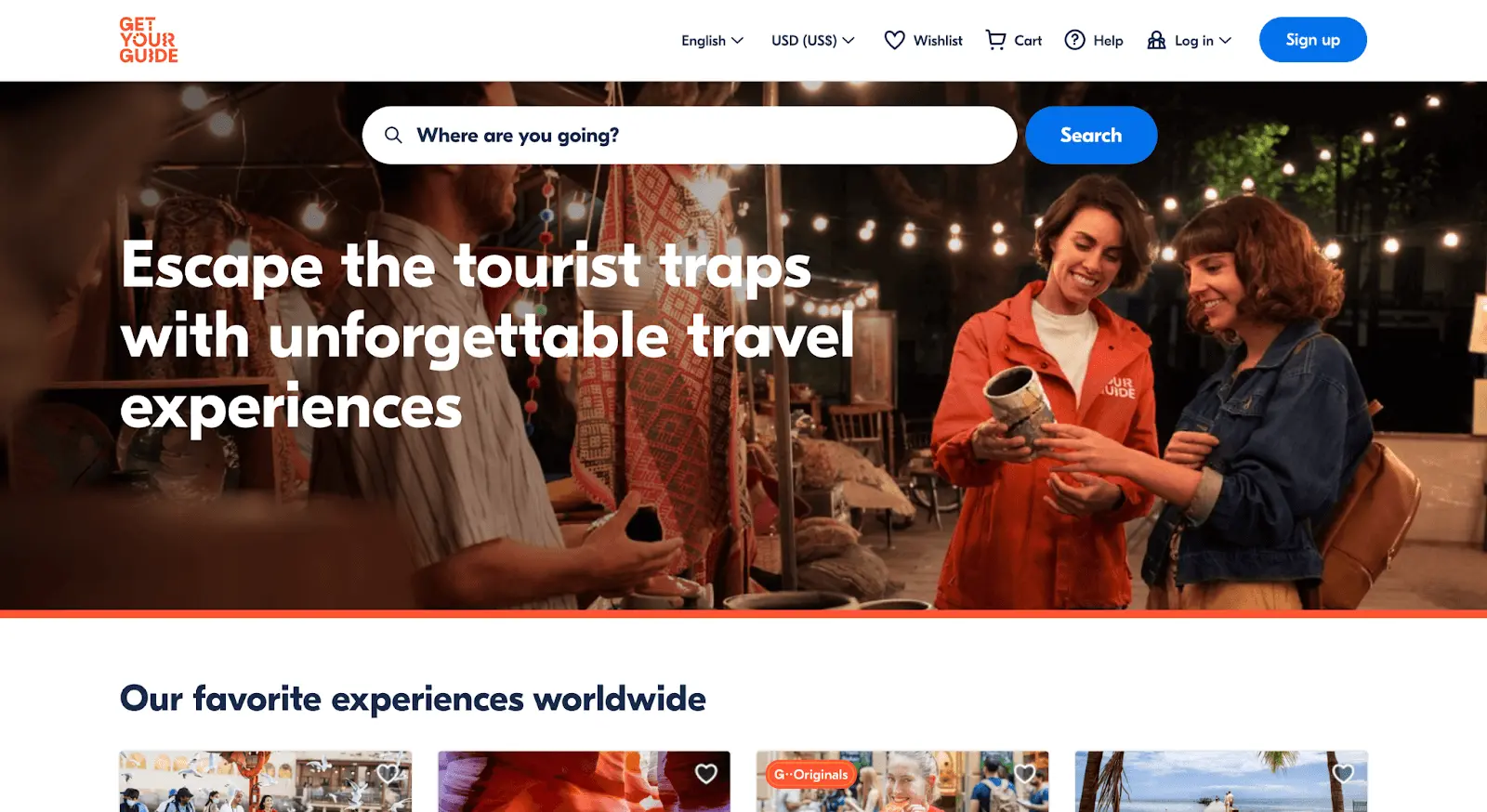 Online Travel Agencies (OTA) are a key component for tour and attraction operators — but with so many of them available, how do you know which one to choose?
Even as travel suppliers start to move away from OTAs to focus on direct bookings, these massive online marketplaces can still help your company reach tons of new customers. This is particularly true for newer tour businesses.
In this post, we'll explain exactly what is an Online Travel Agency and which ones your company might consider joining.
What are online travel agencies?
Online Travel Agencies (OTAs) are online marketplaces where travelers can research and book their trips. These marketplaces are a key distribution channel for tour and attraction operators because they help expose their products to a wide network of internet browsers.
There are over 400 OTAs today, including all global OTAs, metasearch engines, hostel websites, vacation home rentals, and tour and activity resellers. This includes companies like Expedia, Priceline, and Booking.com that sell everything from flights and hotel stays to local tours and attraction tickets online.
These platforms are very common within the hotel industry; potential guests will often check OTA websites to find the best deal before booking directly with the hotel. Yet many of them also have a robust tours and activities section, where travelers can sift through hundreds of options from different companies in the cities they're visiting.
That being said, OTAs have become the most preferred medium for travel bookings in the world. It's never been easier for travelers to find things to do in a destination, read reviews, and compare prices. Research shows that price is, in fact, one of the biggest motivators. Notably, 45% of U.S. travelers who purchased an attraction ticket through an OTA did so because they thought that the platform offered the best ticket price available.
In the tours and activities space, the most well-known OTAs are Viator, Expedia, Google Things to Do, GetYourGuide, and Airbnb Experiences. Tour companies and attractions often list their offerings with one of these OTAs to increase their exposure and bring in more bookings.
Meanwhile, the hospitality industry — as well as smaller travel brands like tours and attractions — are investing in marketing campaigns to drive more direct bookings. While listing your experiences is free, you'll pay a commission fee for every booking made through the platform.
How do OTAs work?
There are dozens of different OTAs, from niche platforms like Adrenaline — which caters to adventure travel activities — to massive agencies like Expedia.
The first step is to choose the one that best fits your company's needs.
Then, you'll need to go through an application process to become a supplier of that OTA. Signing up is typically free. The process consists of an online questionnaire where you'll describe your tour offerings and prices. You'll also upload photos to visually showcase your experience and come up with a catchy title and description for your experience(s).
Then, a representative should reach out to negotiate commission fees, unless a standard fee is already in place.
Your tours or attraction will then be listed on the platform. Every time a guest searches for a related activity on the platform, your company will be among the search results.
Every OTA has a search algorithm that determines where your listings will appear in search results. It's up to you to familiarize yourself with that algorithm and make the necessary improvements to your listing so that it reaches more people.
Once your listing is up, guests can book experiences or purchase tickets through the platform. Here's the catch: You'll need to pay the OTA a commission fee for every booking.
What's the difference between offline and online travel agencies?
Offline travel agencies were the go-to source for travel booking two to three decades ago. These agencies often had brick-and-mortar locations helmed by physical travel agents.
These agents would book hotels, flights, and more on behalf of the traveler.
Most travel agents had years of experience and many brand partners in the travel industry. This allowed them to find and negotiate the best possible deals for their customers. Many times, travel agents could put together trip packages that included accommodation, transportation, and activities for a discounted rate.
At a time when online booking wasn't available, travelers would turn to these agents to do the work for them.
Offline travel agencies still exist today, though they're now focused more on luxury trips or special itineraries like honeymoons.
Most modern-day travelers have taken a do-it-yourself approach to travel planning. They prefer to book their trips themselves usually with the help of OTAs, where they can browse through hotel, flight, and activity deals themselves.
Is it worth it to list your tours and experiences on OTAs?
There debate between direct bookings vs. OTA bookings will always exist. There's no denying that your brand can increase its visibility by working with an OTA, but it'll come at a cost.
For example, if you list your experience on an OTA like Viator — which is part of the Tripadvisor distribution network that receives over 455 million monthly visitors — your tours will likely reach a lot of travelers.
OTAs have massive marketing budgets to bring in as many eyes to their listings as possible. Since they only make a commission on actual purchases, it's in their best interest to drive as many bookings as possible.
They market their tours on an international scale and many translate their listings into several languages.
Yet the number of travelers that actually see your tours or attractions depends on your ranking within the platform. Every OTA uses an algorithm to rank tour and activity listings in search results. As a supplier, you need to familiarize yourself with that algorithm so that you know how to improve your ranking.
OTAs can also help you collect customer reviews. These agencies know that travelers are drawn to their platforms to compare activity options, and reviews / social proof play a big role in that. There are often tools that encourage guests to leave reviews after their experience.
How do OTA commission rates work?
Relying on OTAs does come at a cost. Most OTAs make money off of each completed booking, including every flight, hotel room, rental car, tour, or event ticket purchased through the website.
Average commission rates range from 20% to 25% — but can be even higher on some platforms. You'll likely have a chance to negotiate a rate with the platform before signing up.
Many of these platforms also insist that you list your tours for the same price or lower than what's listed on your website. This is because they don't want your website to compete with their platform by offering a discounted rate.
While OTAs can help you reach more people, you shouldn't rely on them for 100% of your online bookings.
How will ChatGPT impact OTAs?
The travel industry is carefully paying attention to ChatGPT, a free artificial intelligence chatbot that can perform an outstanding number of tasks, like holding human-like conversations, writing code, and — most notably – planning trip itineraries.
There's no denying that the chatbot can assist travelers with itinerary planning. One travel writer already tested it for a familymoon trip to Denmark.
Meanwhile, large OTAs like Expedia and Booking.com have leveraged AI technology to streamline their online booking services for some time now. Expedia's chatbots, for example, have supported 29 million virtual conversations in recent years, saving over 8 million hours of agent time. And they plan to use ChatGPT to get further ahead in the online booking space.
Now, Expedia hopes to tap into ChatGPT's advanced technology to help travelers narrow down their hotel search. The company has created a plugin that can research travel costs and suggest resorts and local activities based on traveler preferences.
Meanwhile, Hopper, a platform for finding cheap flights, aims to use the chatbot for concierge-like services, hoping to further personalize the customer booking experience.
Top 22 OTAs
Many travel companies see OTAs as a necessary component of their digital marketing, distribution strategy, and overall business model.
Yet there are hundreds of small OTAs that cater to specific regions, travel niches, and activity types. There's a total of 10 companies that dominate most of the market. The top two — Expedia Group and Booking Holdings — control the largest portion.
If you're not sure which OTA to work with, here's a list of the top 22 OTAs on the travel market.
1. GetYourGuide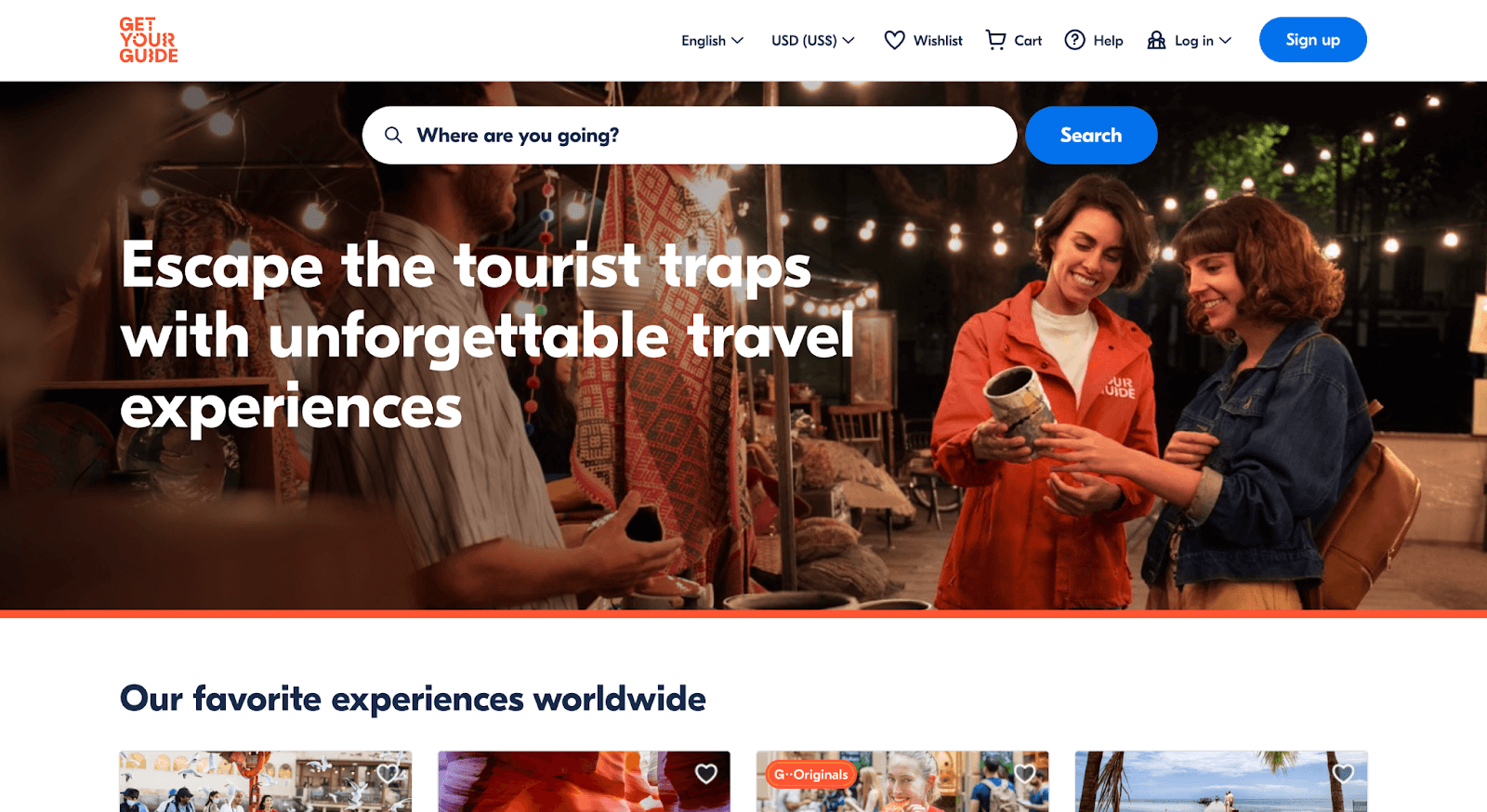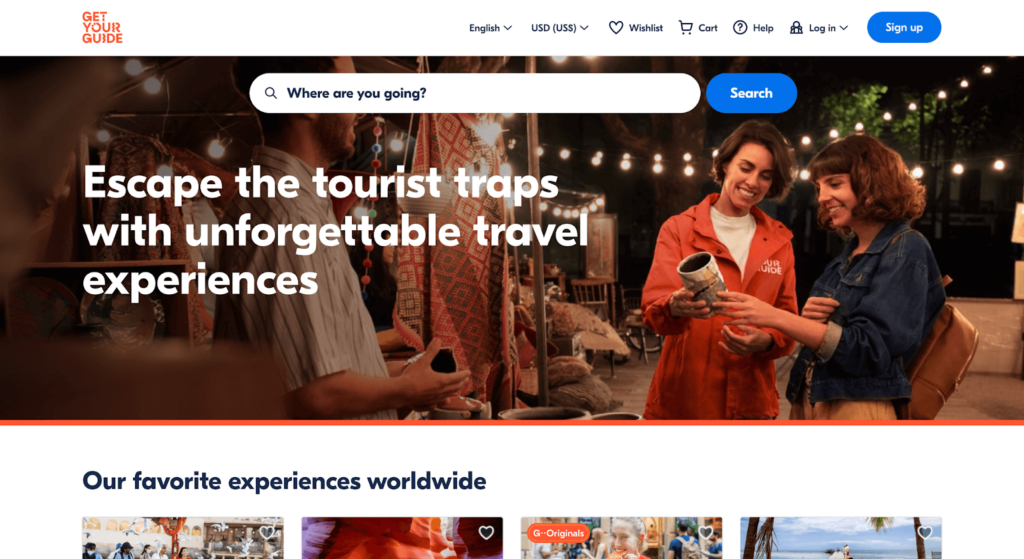 GetYourGuide launched in 2009 as an OTA specializing in travel activities and experiences. The platform sells tours, attraction tickets, city cards, cooking classes, transfers, multi-day tours, and special travel items like Wi-Fi sticks or experiences like wearing traditional costumes. The platform today has over 60,000 bookable activities.
2. Touriosity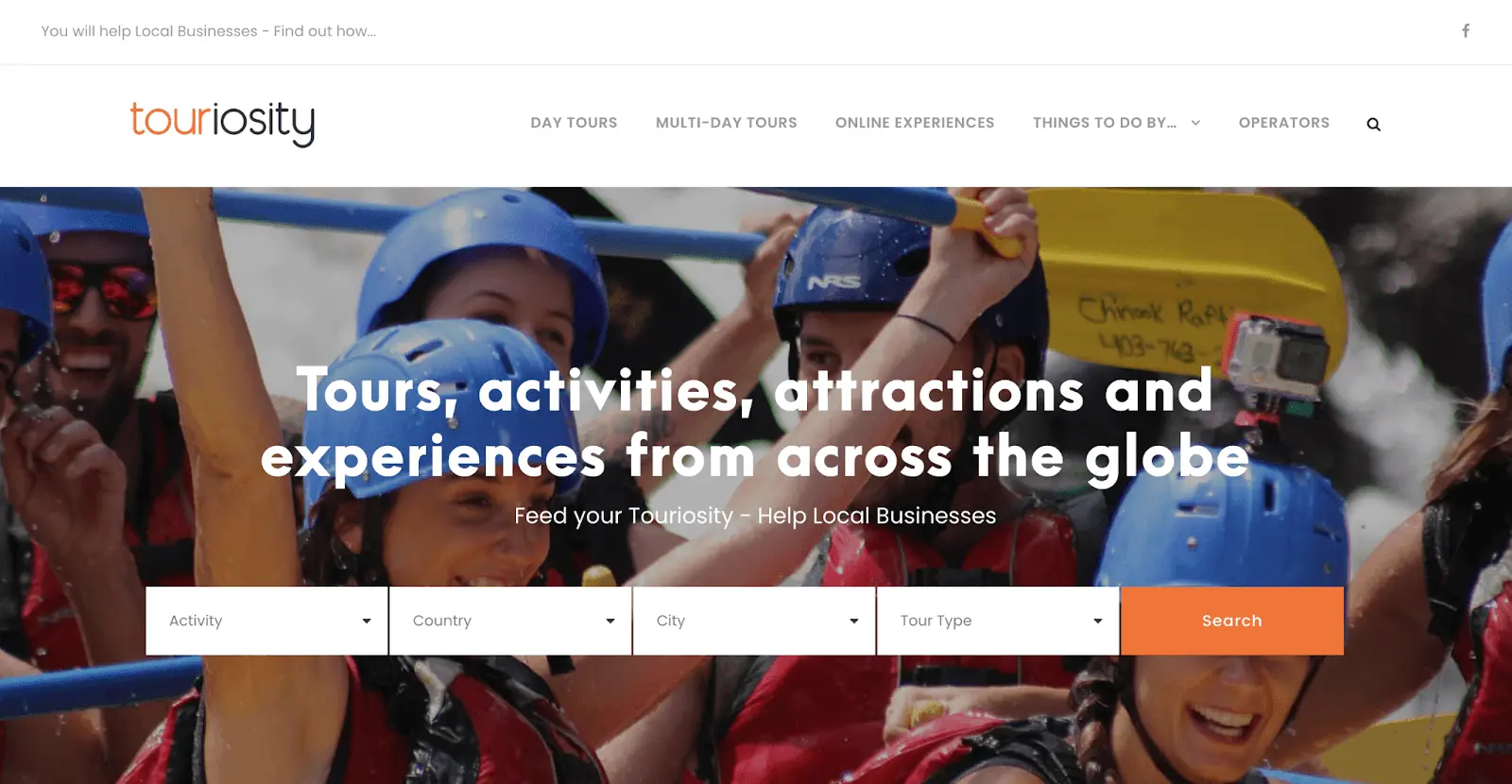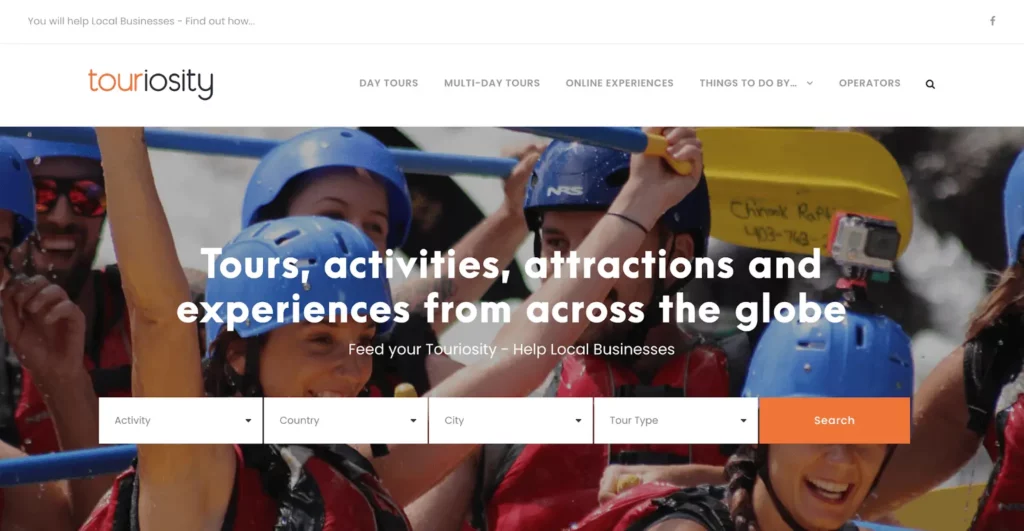 Touriosity is a Scottish nonprofit that takes zero commission from suppliers. Instead, it charges an upfront fee to list your offerings on the platform. The idea is to help suppliers grow their direct bookings while complimenting their own digital marketing efforts, according to the platform. To join, tour and attraction operators who want to join the project must have their business rated at least 4 stars on TripAdvisor, Google, and Facebook, and also register on the website.
3. Viator

Tripadvisor purchased Viator in 2014 to offer its users an easy way to book tours and activities. Today, Viator is one of the leading OTAs in the tours and attractions space, with more than 140,000 bookable activities. The website receives over 450 million unique monthly visitors through Tripadvisor's expansive distribution network.
4. Klook

Klook is a travel experience booking platform based in Hong Kong. The website and app are popular with solo and independent travelers making their way through Mainland China, Hong Kong, Taiwan, Korea, and Southeast Asia. The OTA now has a growing audience in parts of Europe and the U.S., too.
5. Musement

Musement allows travelers to book local tours and attractions, including temporary, exclusive, hidden gem, and free activities. The company was founded in Milan in 2013 and has since expanded to 1,000 destinations in 80 countries.
6. Expedia Local Expert

Expedia is mostly known as a booking engine for hotels and flights, but it also sells tours and activities. The Expedia website has a "things to do" section where travelers can discover local experiences at their destination of choice. The Expedia Group owns several OTAs, including Expedia.com, Vrbo, Hotels.com, Hotwire.com, Orbitz, Travelocity, Trivago, and CarRentals.com.
7. Airbnb Experiences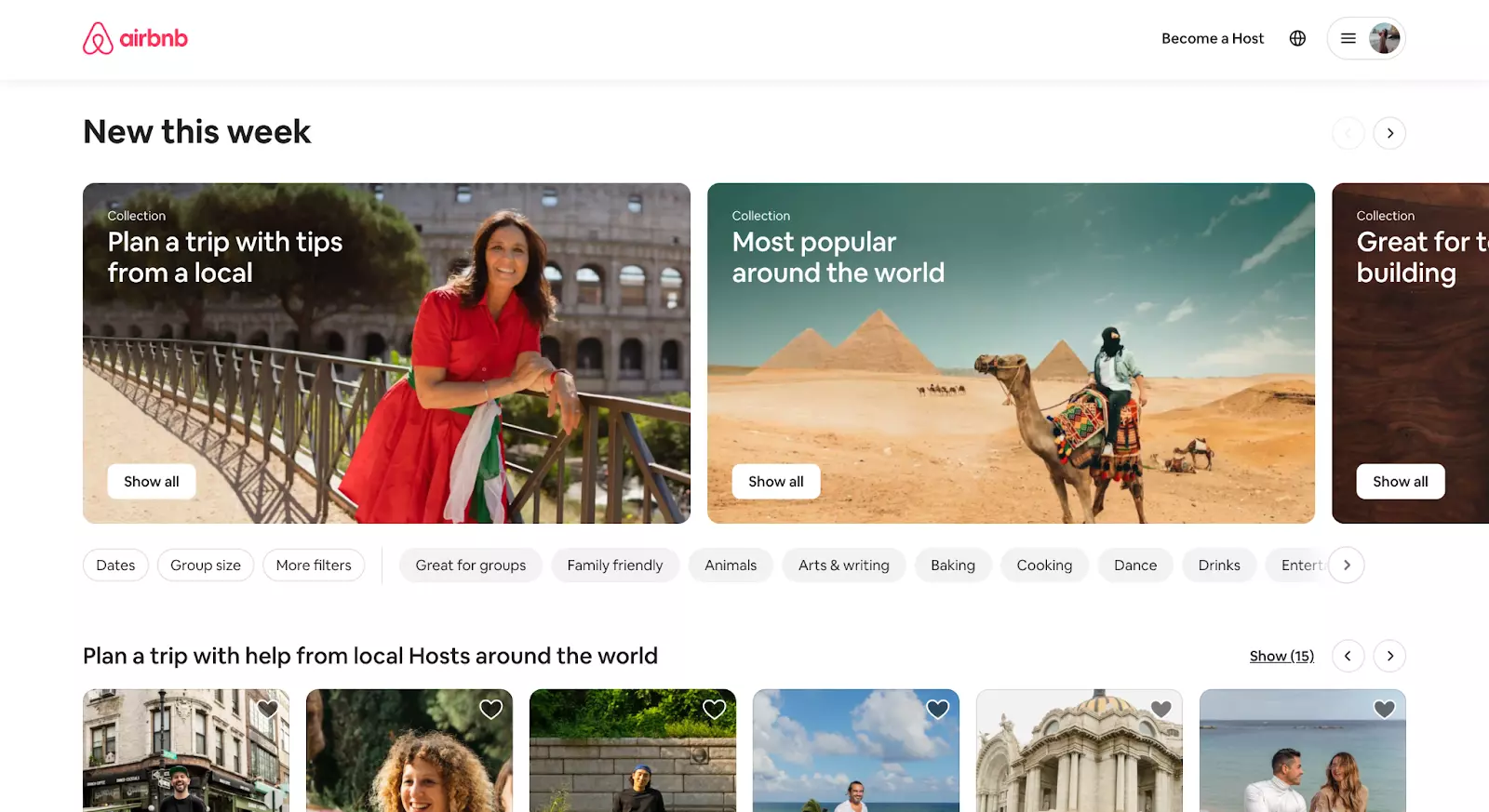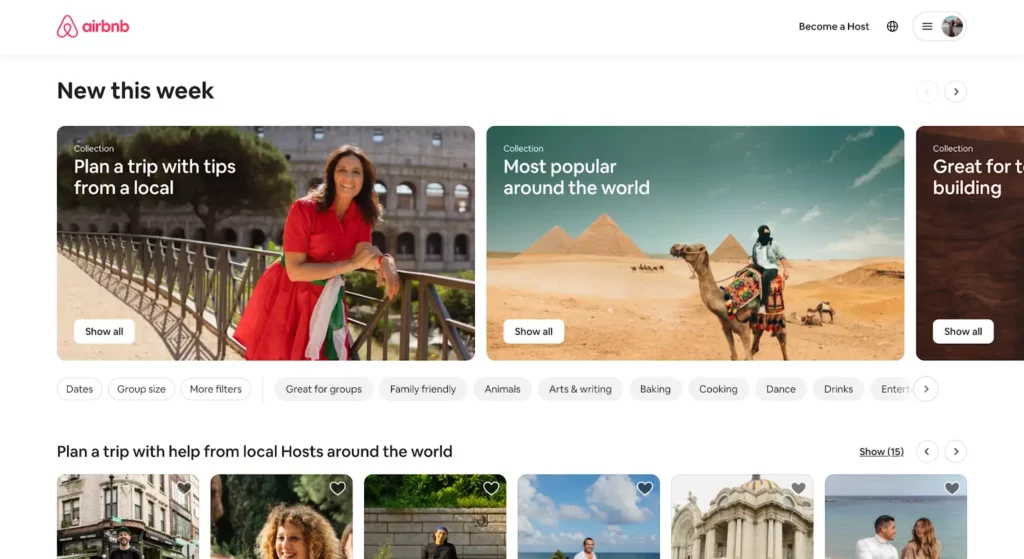 Airbnb is the leading marketplace for home-sharing and vacation rentals. The Airbnb website welcomes over 75 million website visitors every month. Many of these travelers are booking not only stays but also experiences. In 2016, Airbnb jumped into the tours and activities market with its signature tour brand called "Airbnb Experiences," which included immersive tours and activities led by local hosts. The company also launched a slew of virtual experiences in response to the pandemic in 2020.
8. Google Things to do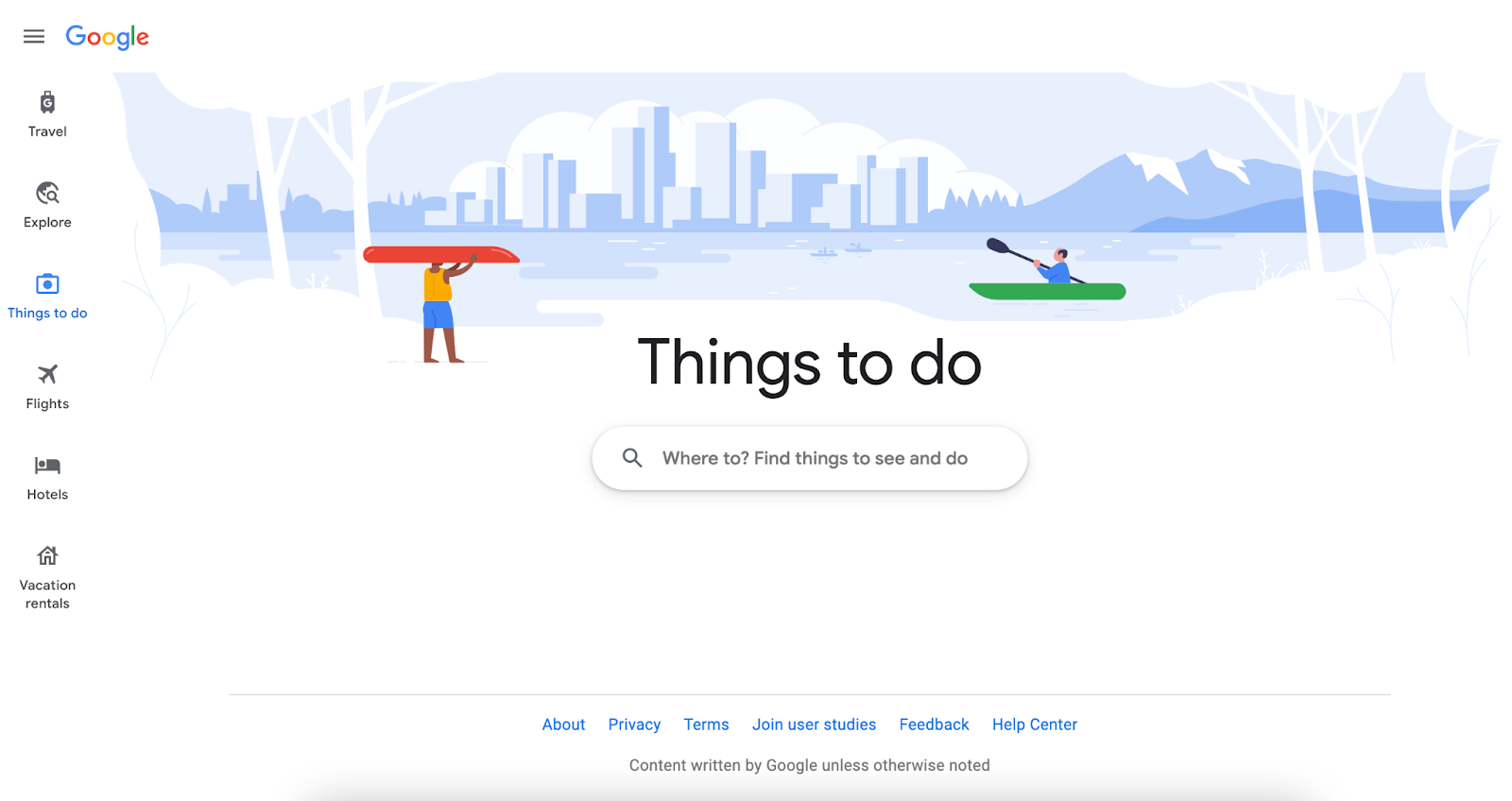 Google Things to do is a search experience that connects travelers to attractions, tours, and activities through their Google searches. When users search for a specific attraction, point of interest, or activity, they'll be shown general information as well as booking links. They can book directly on the operator's website or the various OTAs that sell the experience.
9. TourRadar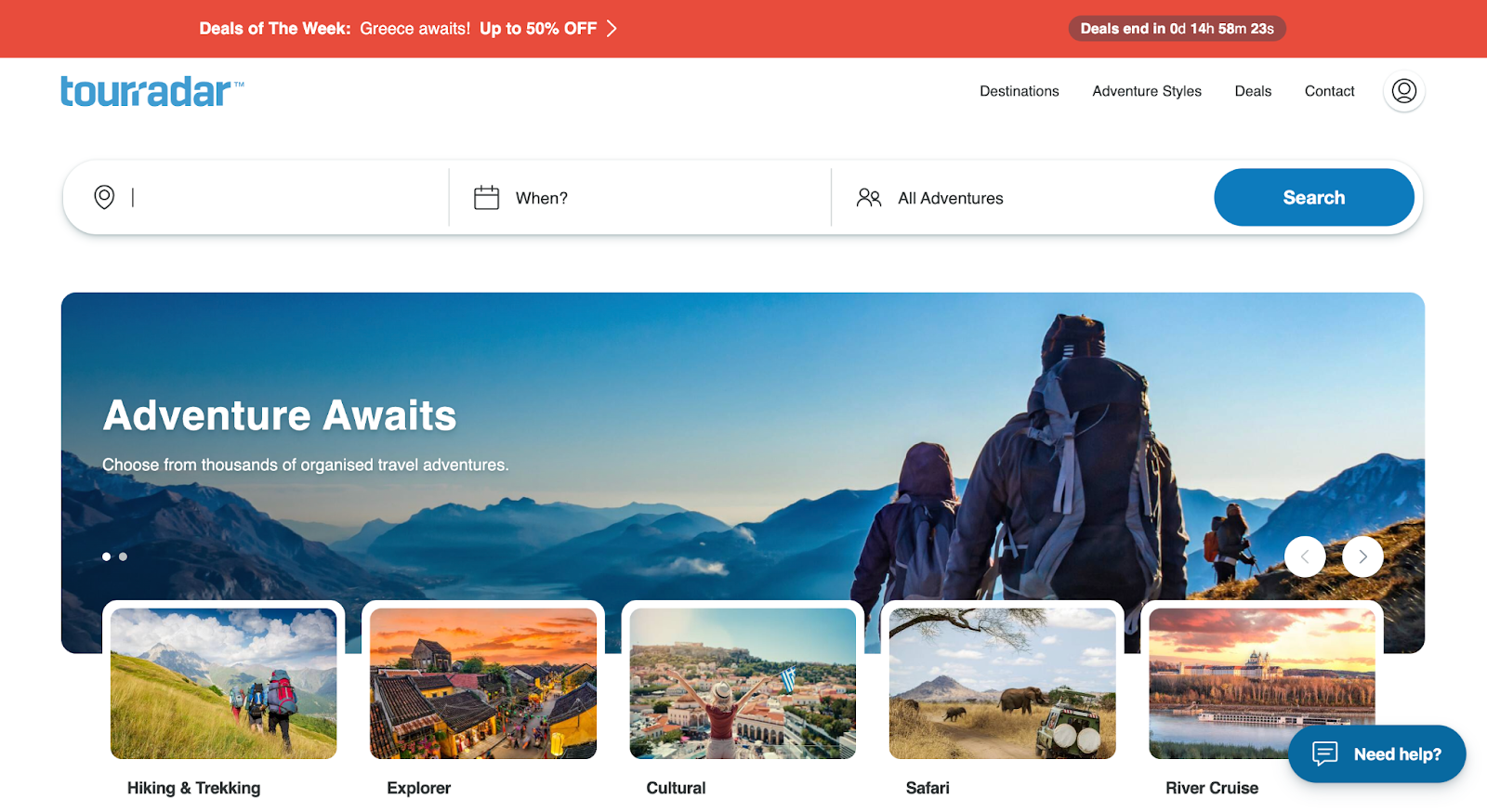 TourRadar is an OTA that focuses specifically on multi-day tours. The platform offers more than 50,000 tours in 160 countries around the world. TourRadar was founded in 2010 as one of the first OTAs to offer private and group tours that span multiple days.
10. Travelzoo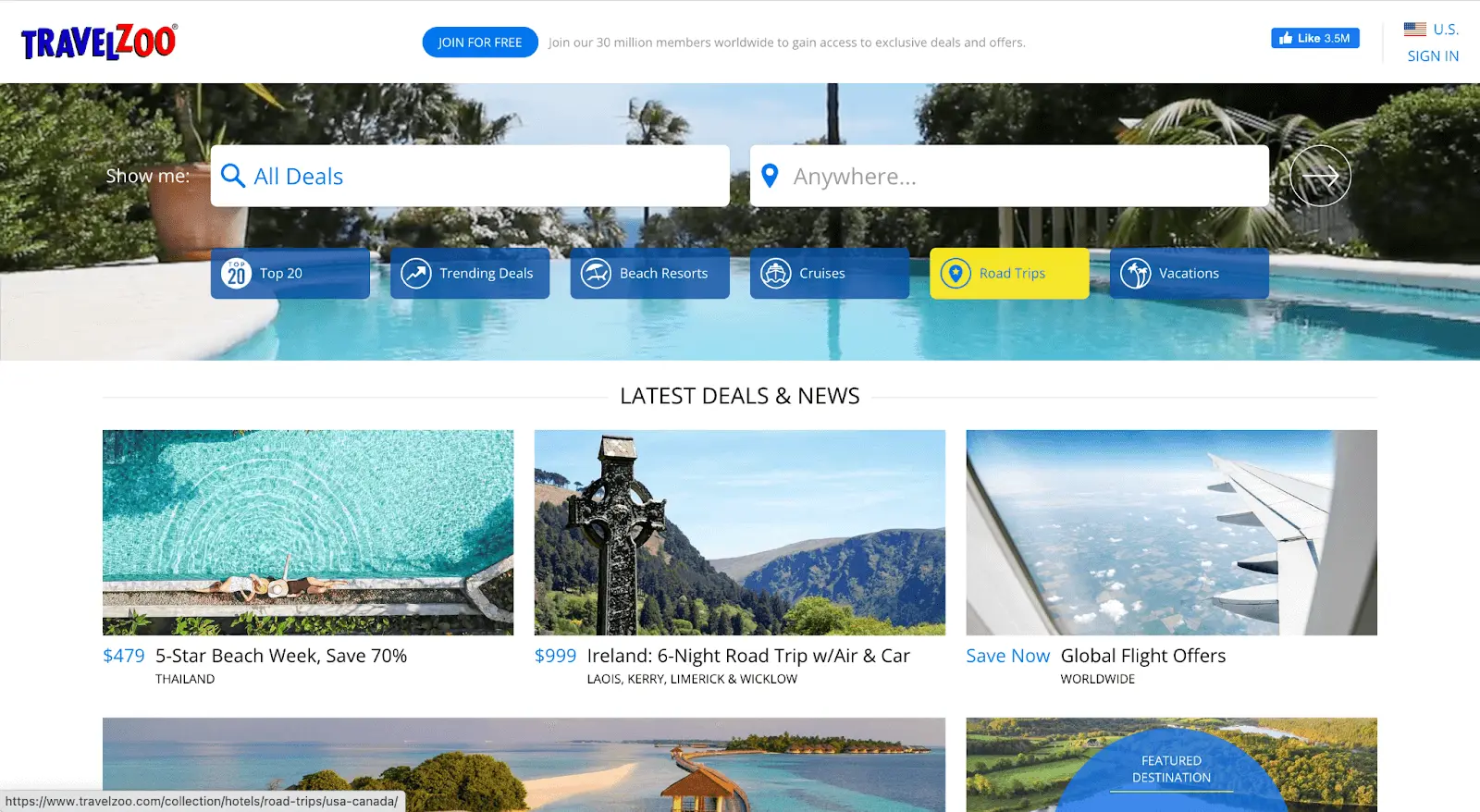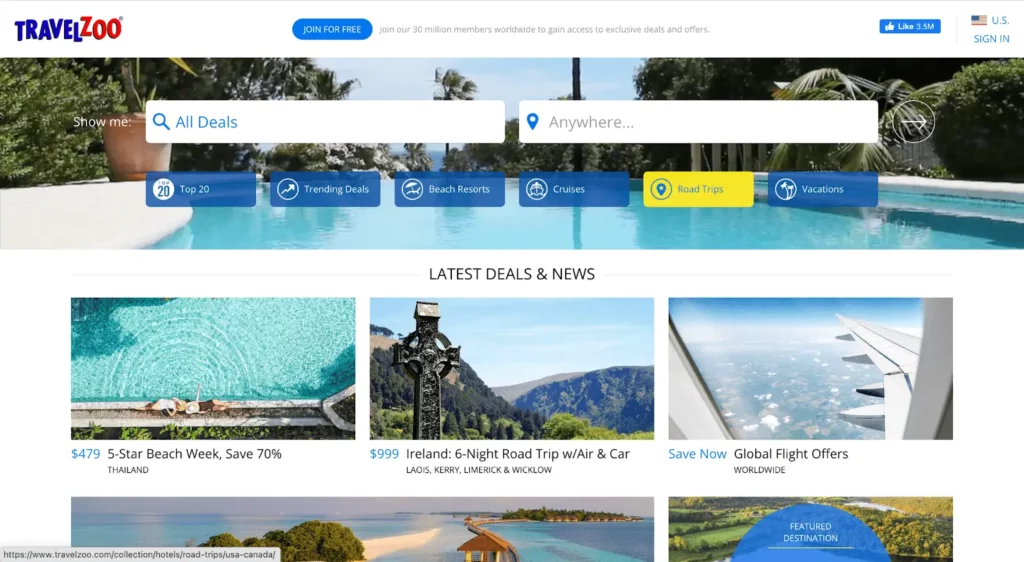 Travelzoo works with over 5,000 suppliers to offer travel, entertainment, and lifestyle experiences to over 6 million visitors every month. The platform also aggregates the best travel deals for hotels, flights, vacation packages, cruises.
11. Thrillophilia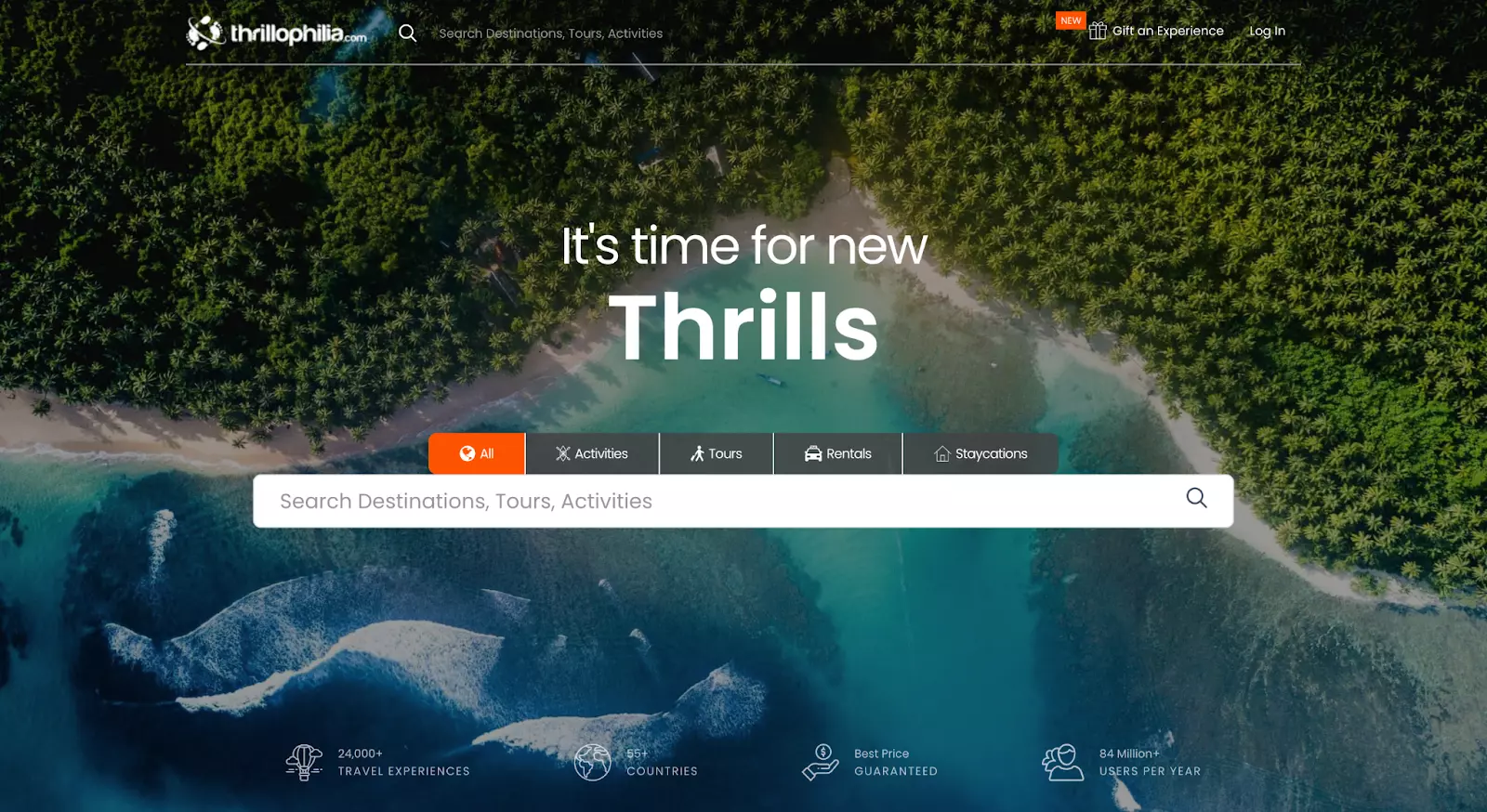 The Thrillophilia marketplace has over bookable 12,000 activities across 125 destinations. The company started with experiences in Bangalore, and today sells experiences in 15 Asian countries with Dubai, Thailand, Singapore, and Bali leading the charts after India. There are more than 5,000 suppliers selling tours and tickets on the platform.
12. Manawa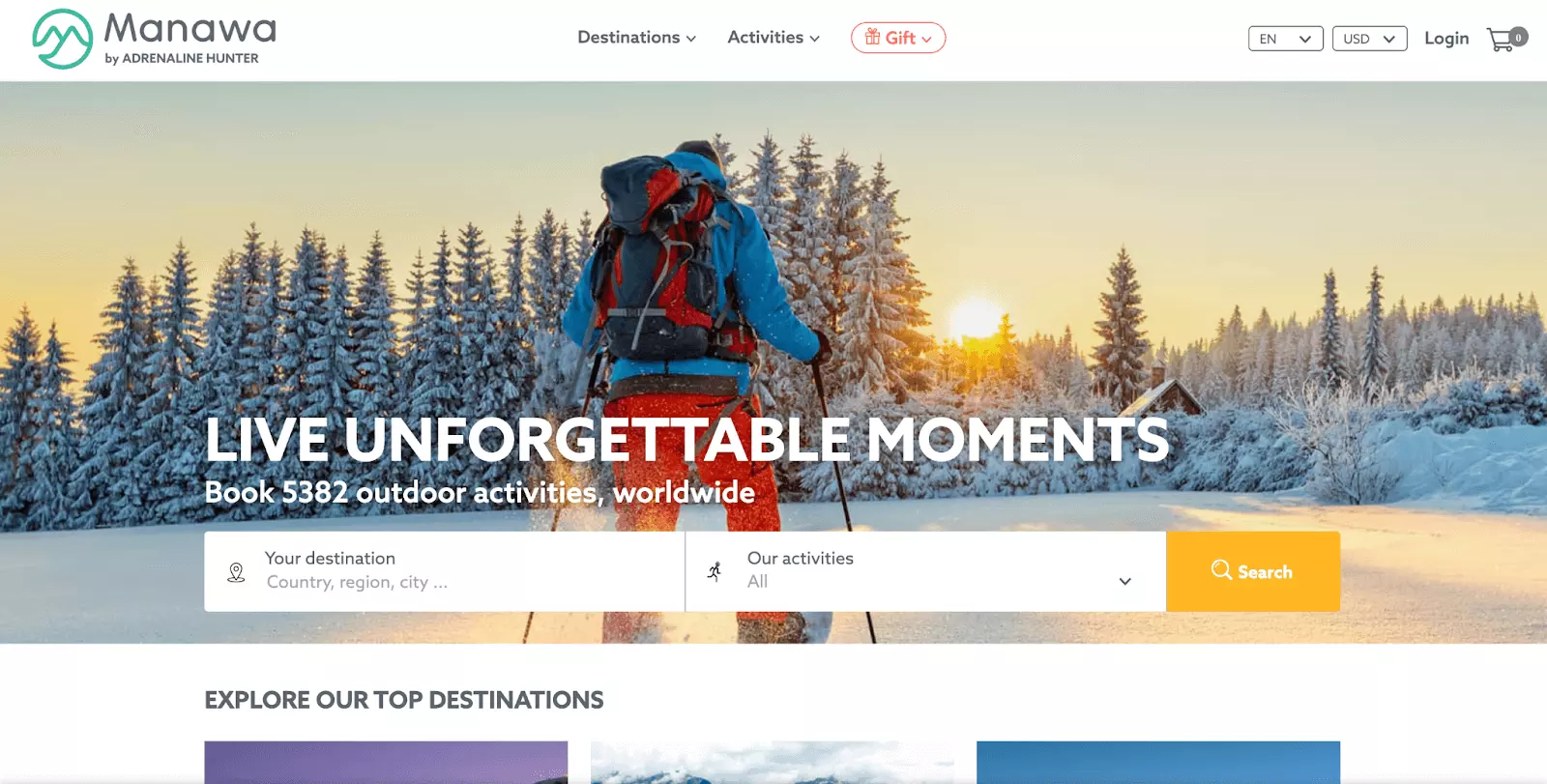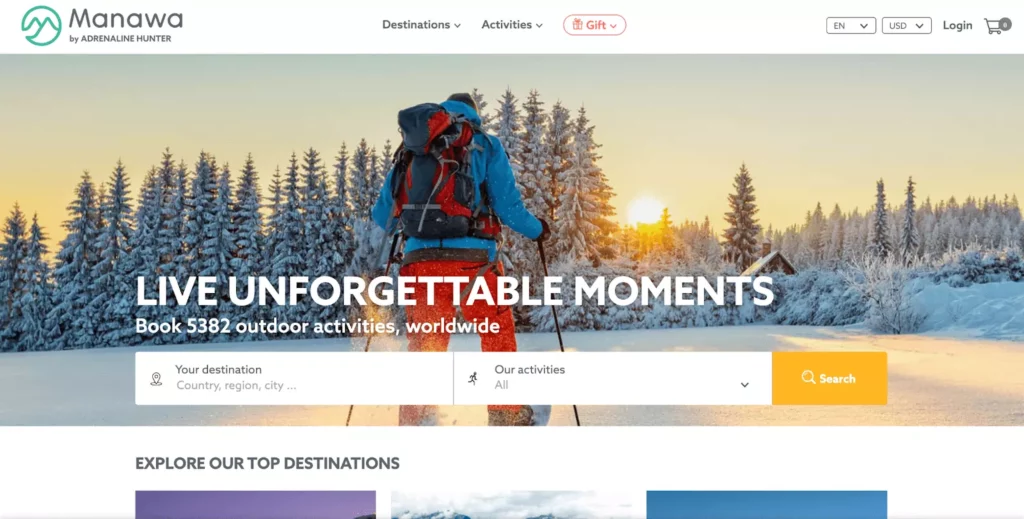 Manawa is a booking platform focused on outdoor activities like scuba diving, hiking, and helicopter tours. It currently has over 5,000 activities listed across 59 countries. Experiences are divided into six categories, including the "crazy" category where you'll find crocodile diving, survival training, and other wildlife experiences.
13. Booking.com

Booking.com is the leading OTA in the hospitality industry. The company owns several big-name brands, including Booking.com, Priceline, Agoda, Rentalcars.com, KAYAK, and OpenTable. It also counts with a number of smaller OTAs like Rocketmiles, HotelsCombined, Cheapflights, and Momondo as part of its network.
14. Agoda

Agoda is a popular OTA based in Singapore. The Agoda website offers hotels, vacation rentals, and flights in 39 different languages. It's one of the many brands owned by Booking Holdings.
15. Trip.com

Trip.com is a full-service travel agency offering hotels, flights, cars, as well as tours and attraction tickets online. The website is owned by Trip.com Group, one of the largest OTAs in the world with over 400 million users worldwide. The Singapore-based company also owns Skyscanner.
16. Hostelworld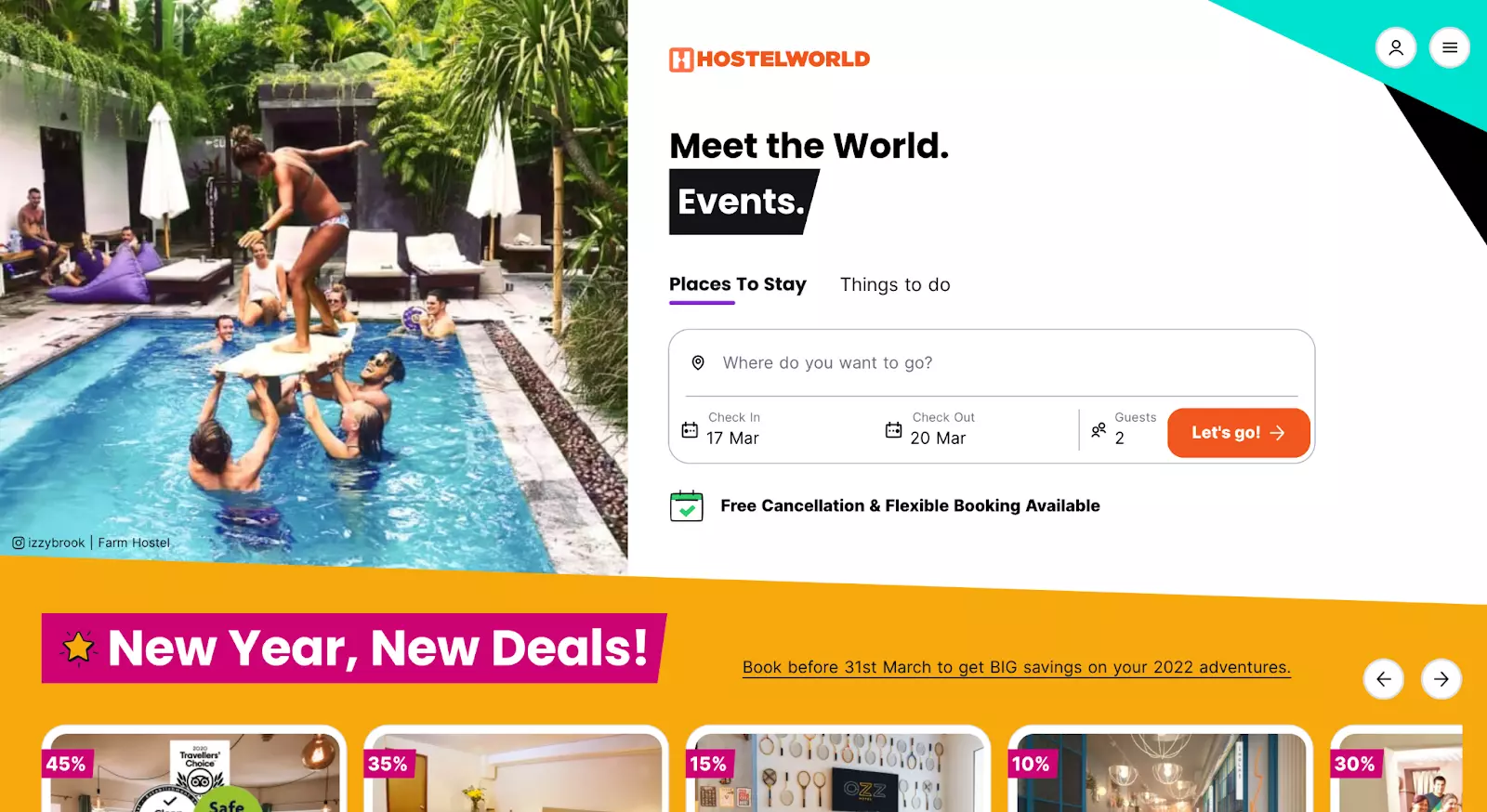 Hostelworld is the leasing OTA for hostel accommodations. The platform has more than 17,000 hostels listed across 179 countries. It has amassed over 13 million reviews since it was founded in 1999.
17. eDreams

eDreams is a Barcelona, Spain-based OTA offering flights, hotels, car rentals, holiday packages, and travel insurance. The company currently operates in 40 countries, including Spain, Italy, France, Portugal, the UK, and the U.S. In 2011, eDreams became the first international OTA to expand into Turkey.
18. Despegar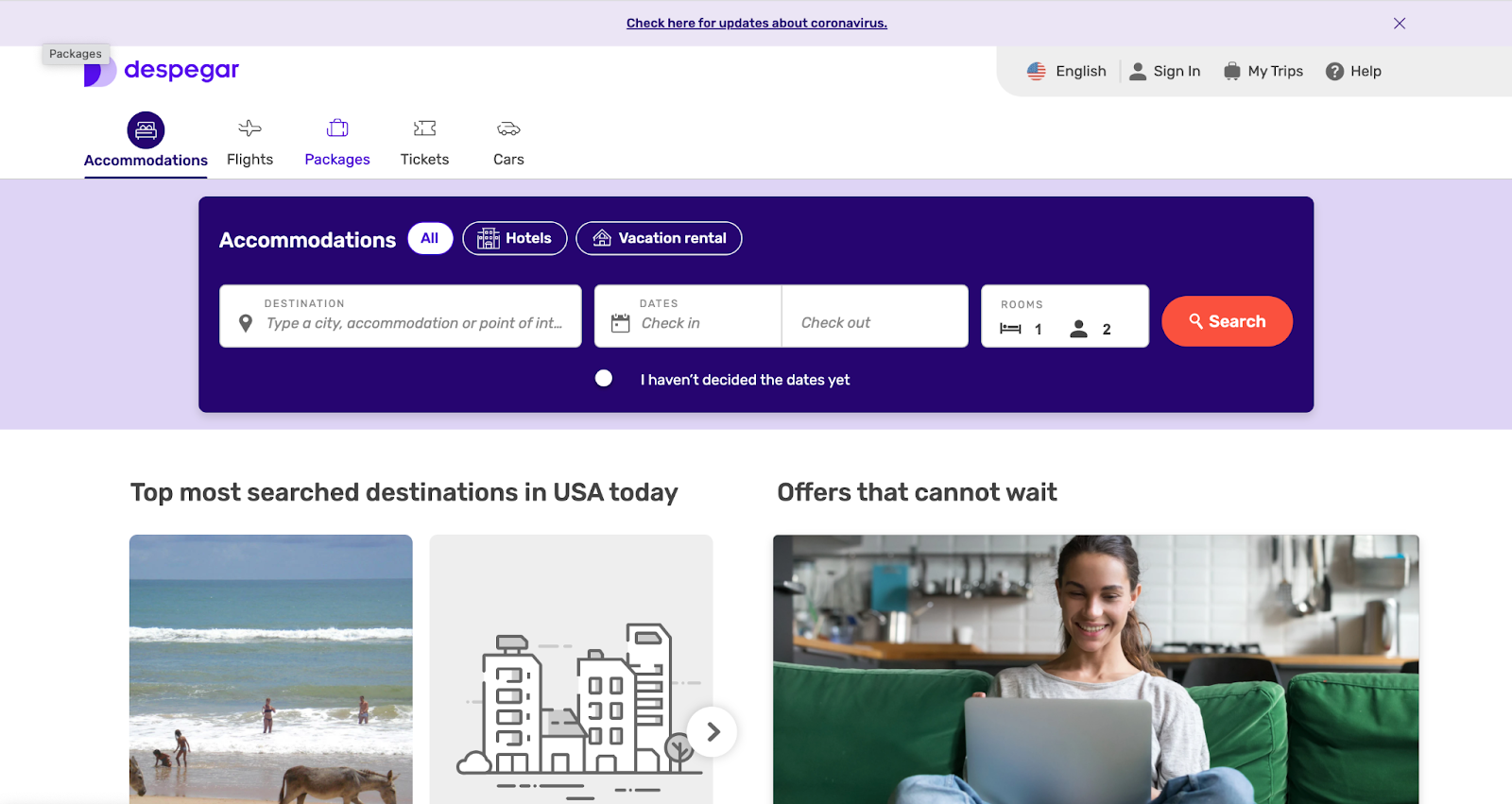 Despegar is the leading OTA in Latin America. The company owns two brands: The global brand Despegar and the Brazilian brand Decolar. The OTA offers airfare, hotel bookings, travel packages, and other travel products.
19. TripWays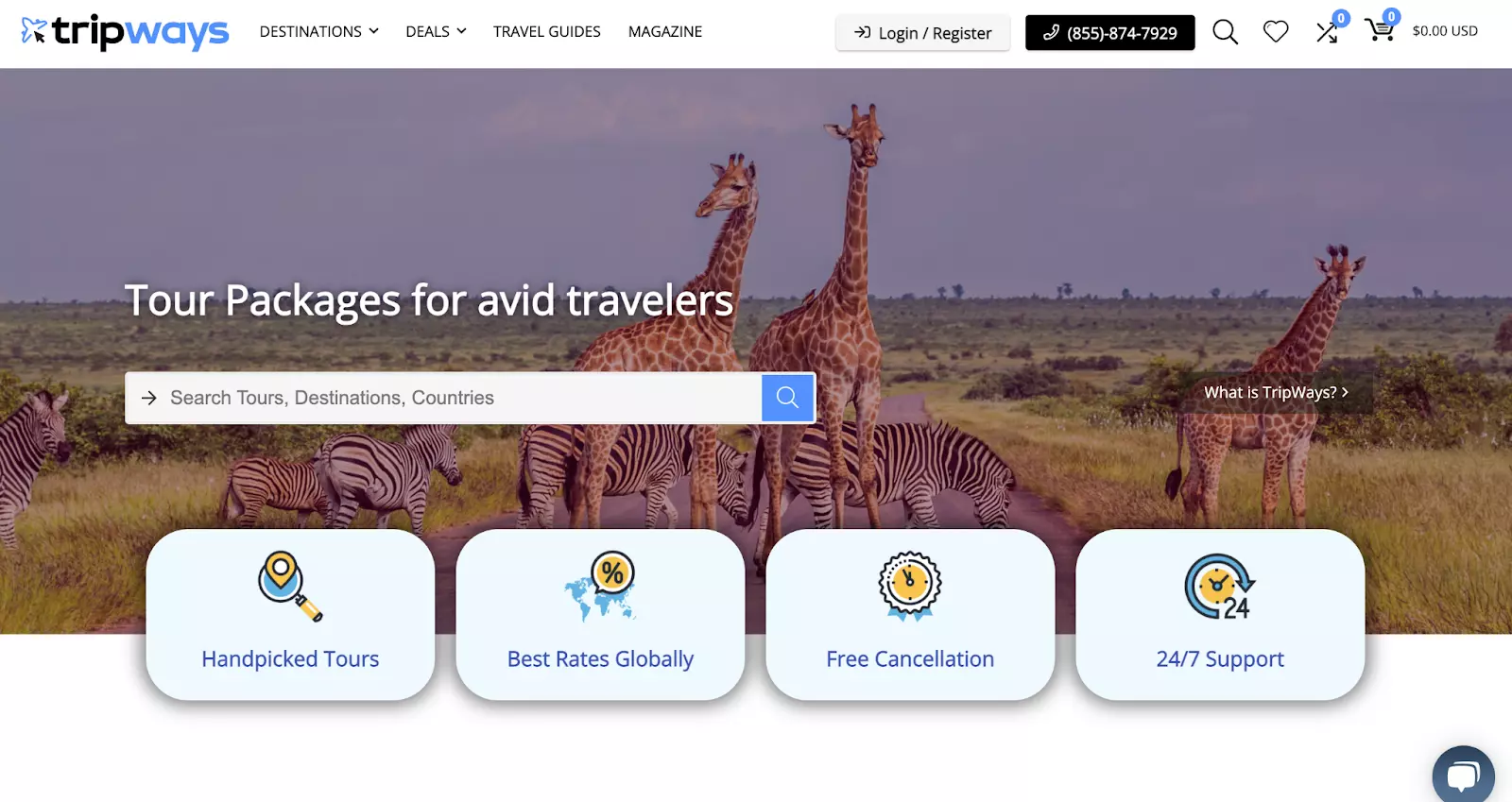 TripWays connects travelers to local tour companies and guides around the world. The OTA focuses on cheap flights, cheap hotels, tour packages, travel insurance policies, and visa services. It works with a limited number of tour operators for each destination, with a focus on multi-day and all-inclusive tours.
20. Veltra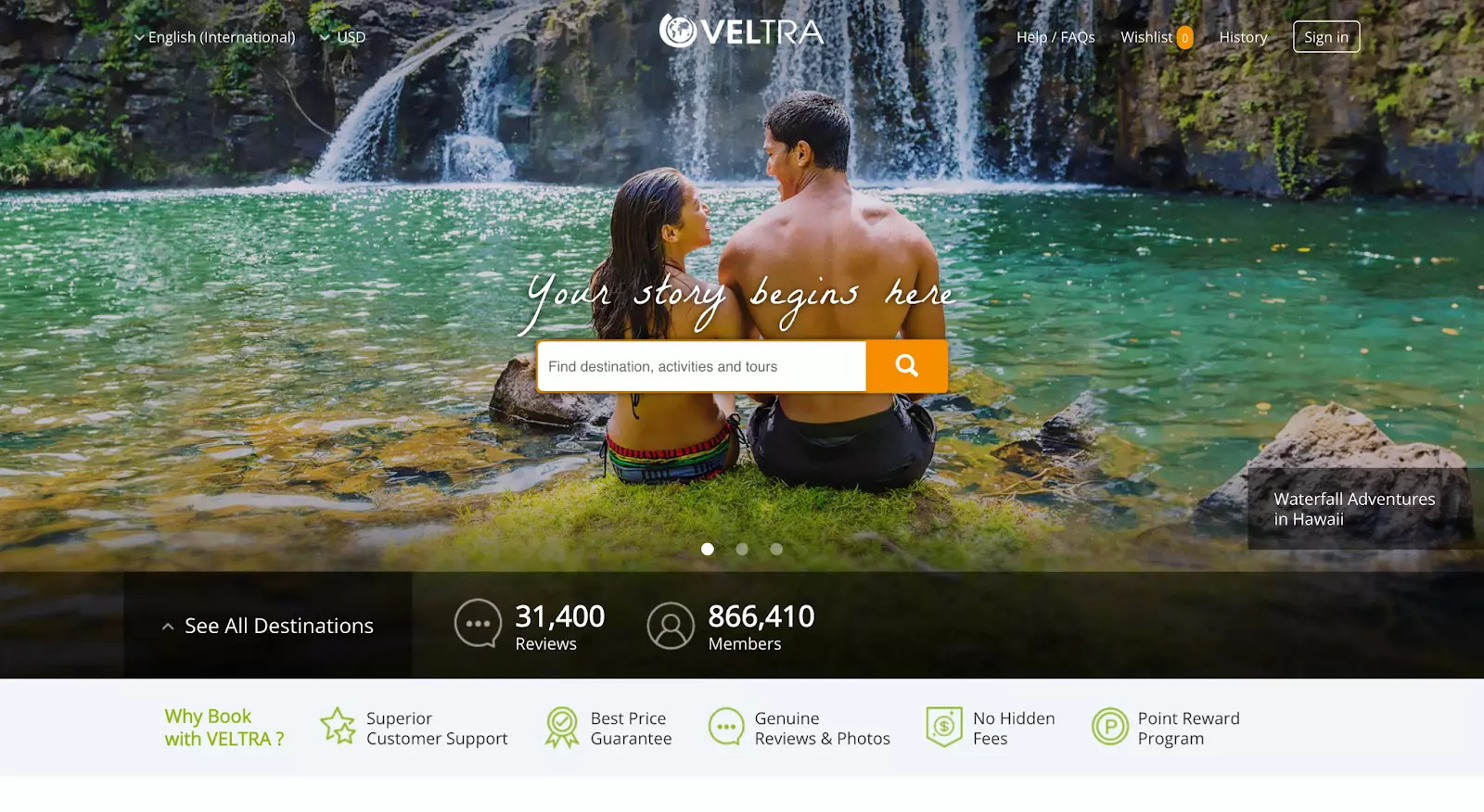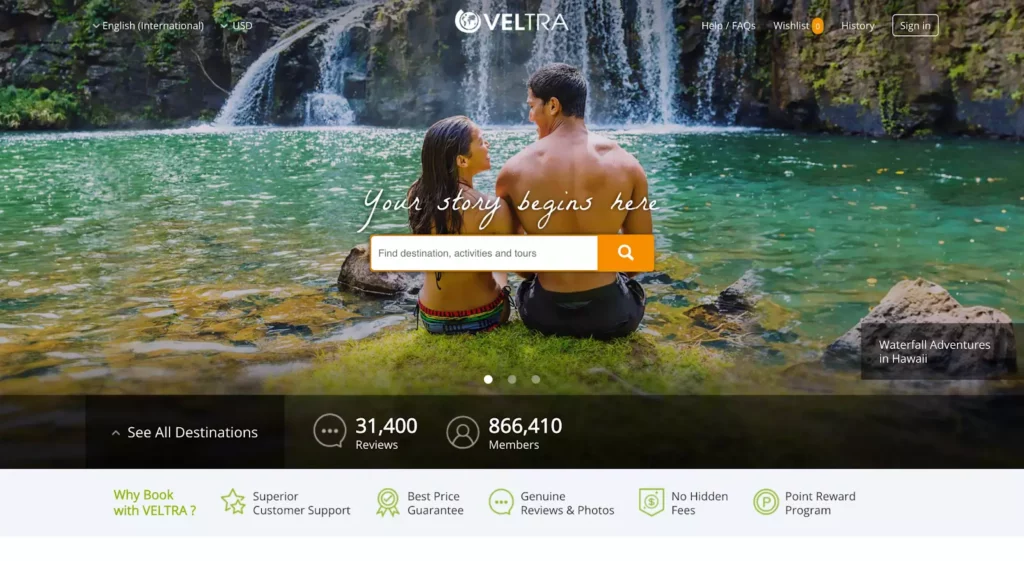 Veltra is Japan's leading experience-focused OTA. It offers tours and activities across 150 countries. Founded in 1991, it was one of the first OTAs to offer bookable tours and activities online.
21. TripShock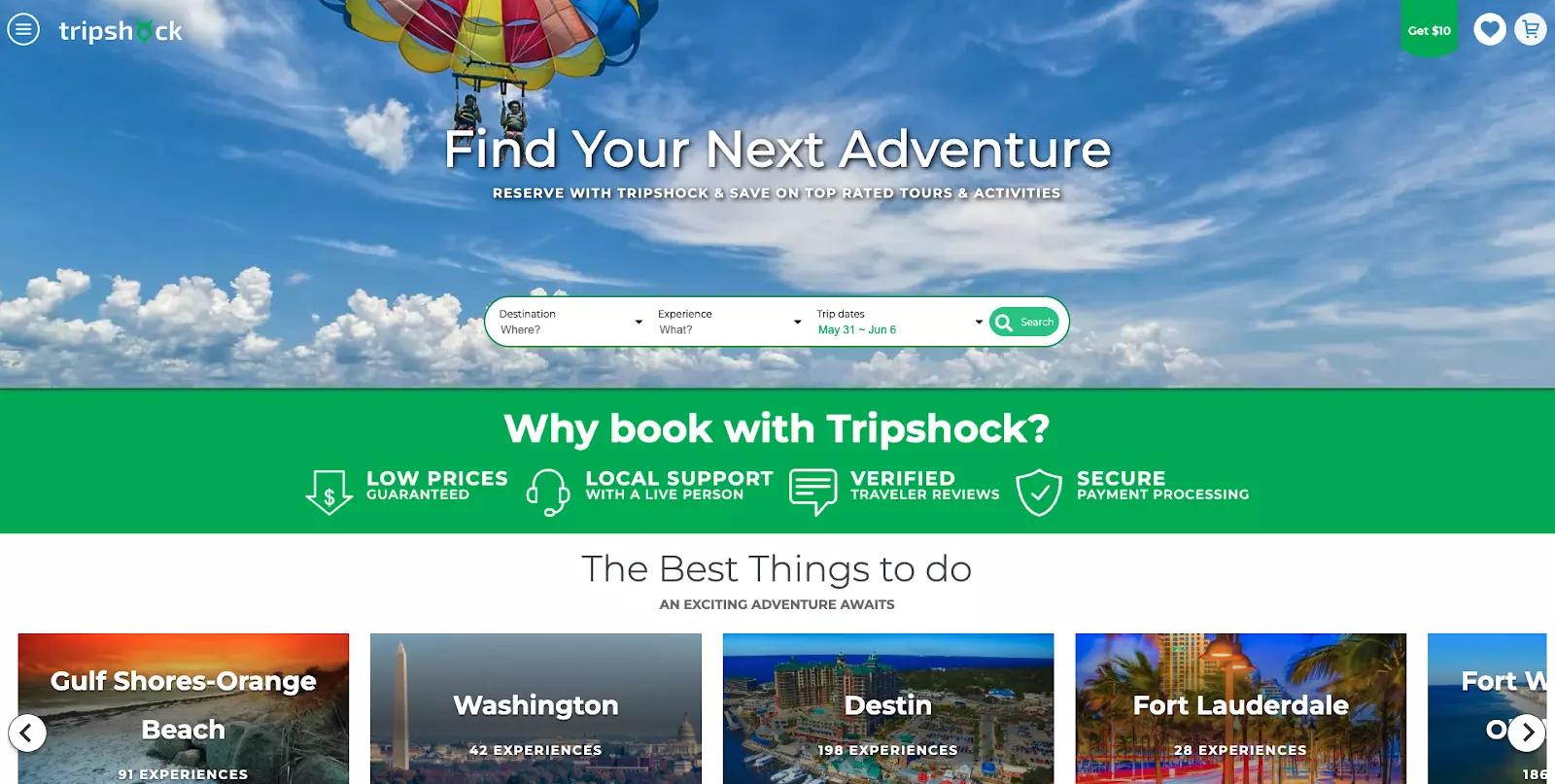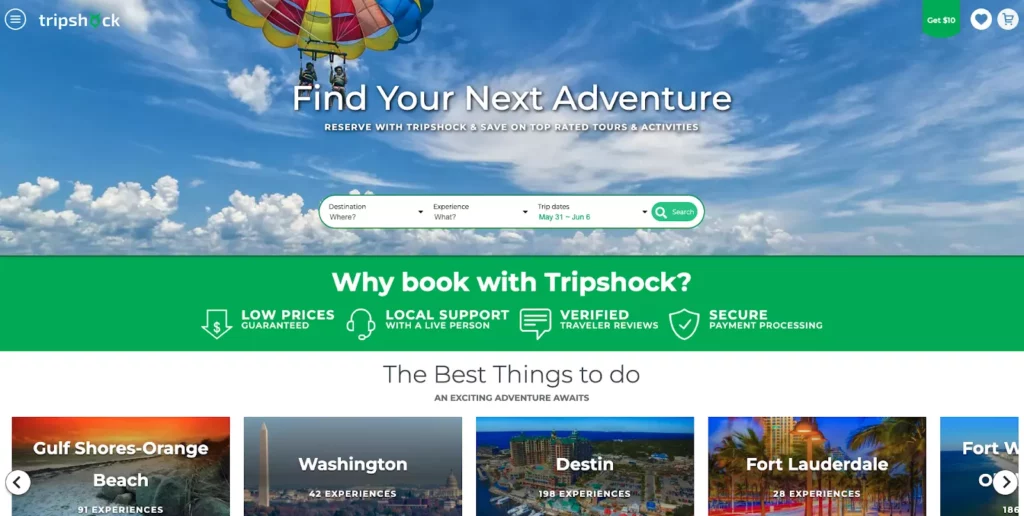 TripShock is a niche OTA focused on tourism excursions in and around the Gulf of Mexico and the Southeast. The Florida-based OTA offers activities in over 40 destinations spanning the region, including 1,000 tours, tourist attractions, and outdoor activities mostly suitable for individuals, couples, or families. The OTA was recently added to the many integratrations offered in Xola.
22. Adrenaline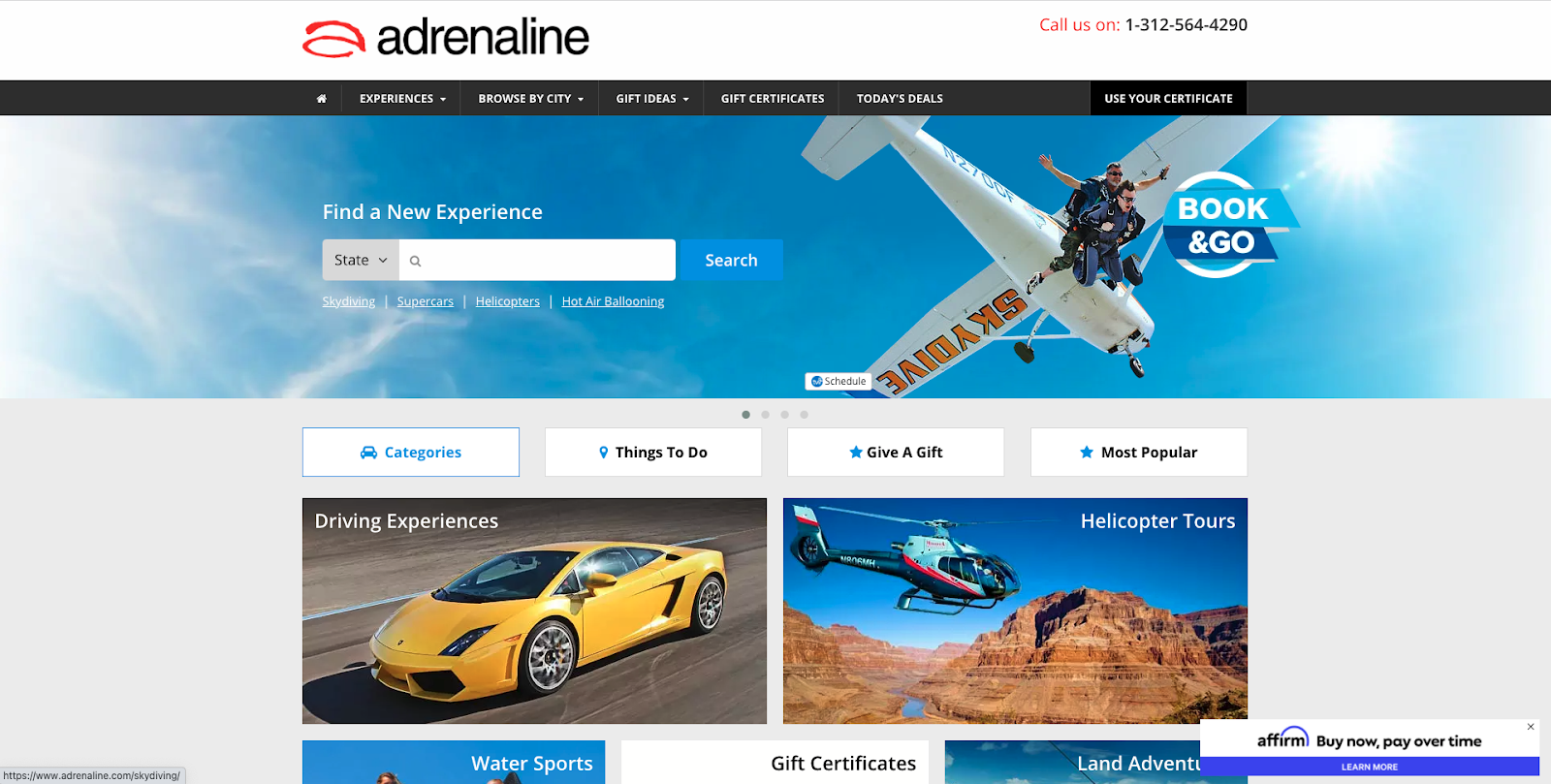 Adrenaline is an adventure-focused OTA offering 1,400 different travel excursions ranging from skydiving and helicopter tours to whitewarer rafting and zipline tours. It's one of many OTAs that can be easily connected with Xola.
***
There are dozens of smaller OTAs on the market, but understanding how they work will help your business choose the best one.
It's important to weigh the pros and cons of selling your experiences through an online marketplace — and try not to rely on them for all of your online bookings.