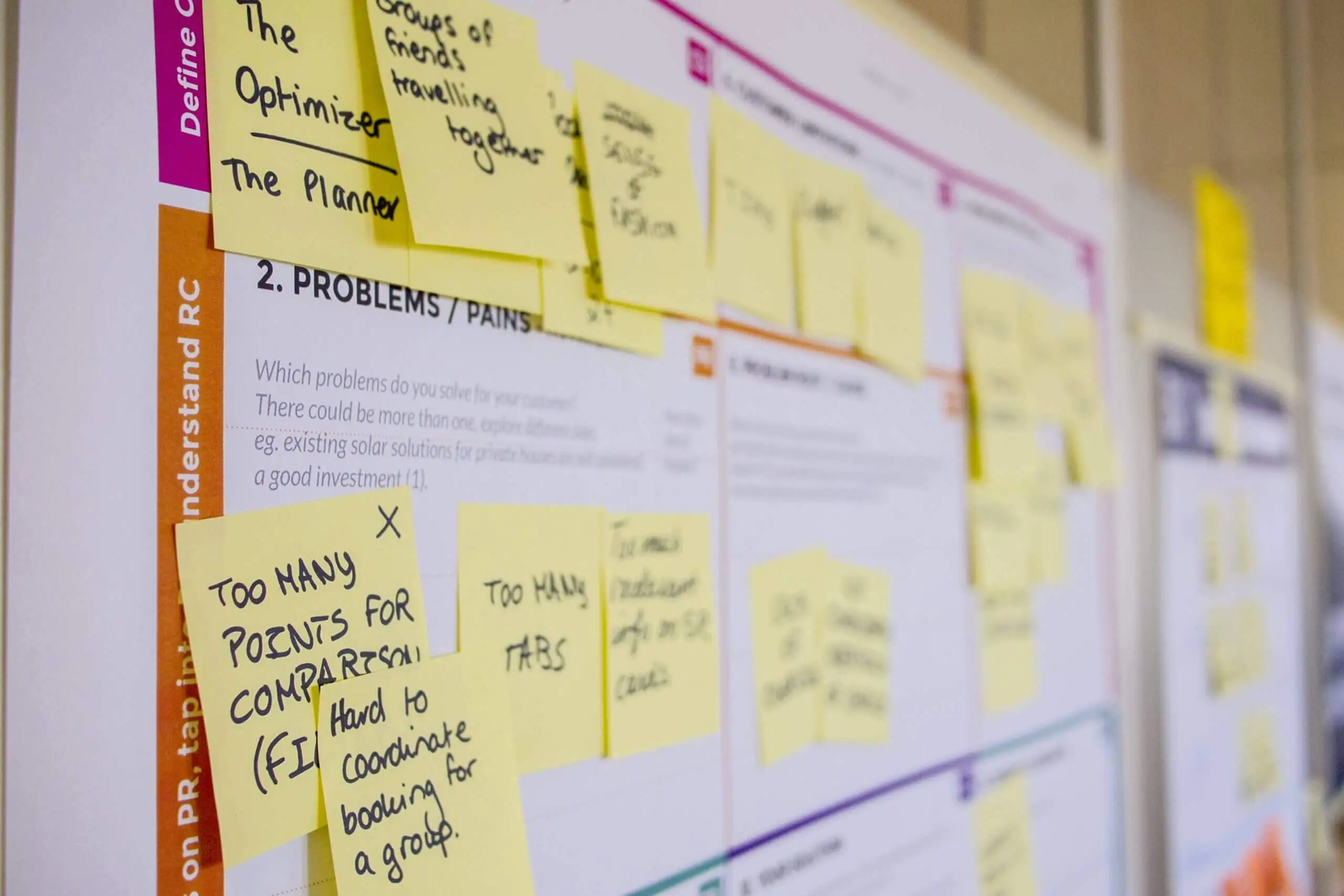 Wondering how you can make your adventure tours and experiences stand out from the rest?
Create great content.
While this is easier said than done, content marketing allows you to reach the right customers at the right time: Leads generated from online marketing have a 14.6% conversion rate, which is significantly higher than the 1.7% rate for outbound leads or leads from cold calling or direct mail.
How can tour and activity operators leverage content marketing? You can create blogs, podcasts, newsletters, and videos to reach your audience in the places they're already hanging out.
To give you a better idea of how it works, here are 9 examples of content marketing from brands of all sizes.
1. Airbnb's content kingdom
Airbnb is a content marketing machine pumping out blog posts, guidebooks, videos, and up until recently, a print magazine. Regardless of the medium, Airbnb uses creative content to promote its brand as a travel company for culturally curious, active travelers.
Its blog is geared toward hosts in particular. It shares high-value content like "tips for hosting a safe camping experience" that would appeal directly to hosts searching the web for that information.
Guidebooks, on the other hand, are composed of insider travel tips for travelers staying in Airbnb destinations around the world. Anyone staying in an Airbnb in L.A., for example, would have access to a database of things to do in the city.
The best kind of content marketing answers your customers' questions, which is exactly what Airbnb does.
On YouTube, Airbnb uses storytelling techniques focused on real people, many times the hosts behind properties, to inspire travelers to choose Airbnb over traditional hotel stays.
The takeaway: Your content can come in several forms, but it should always align with your brand. Your content can use storytelling techniques to inspire travelers, but it should also bring value to your customers. Great content anticipates and answers customers' questions.
2. TripAdvisor's reviews

TripAdvisor's content marketing strategy is unique in that it's based on user-generated content.
TripAdvisor reviewers answer specific traveler questions, which in turn creates a self-sustained content hub that functions similar to a travel blog. Reviews include valuable information that helps travelers make decisions, which is why TripAdvisor is often at the top of Google search results for destination-specific questions.
In the example above, TripAdvisor holds the No. 2 spot on Google for the search "what are the best restaurants in Rio de Janeiro."
The takeaway: While it's tough to replicate the company's review-powered SEO strategy, tour operators can create their own content hubs with a blog or resource library dedicated to travel topics in their niche.
3. World Nomads Podcast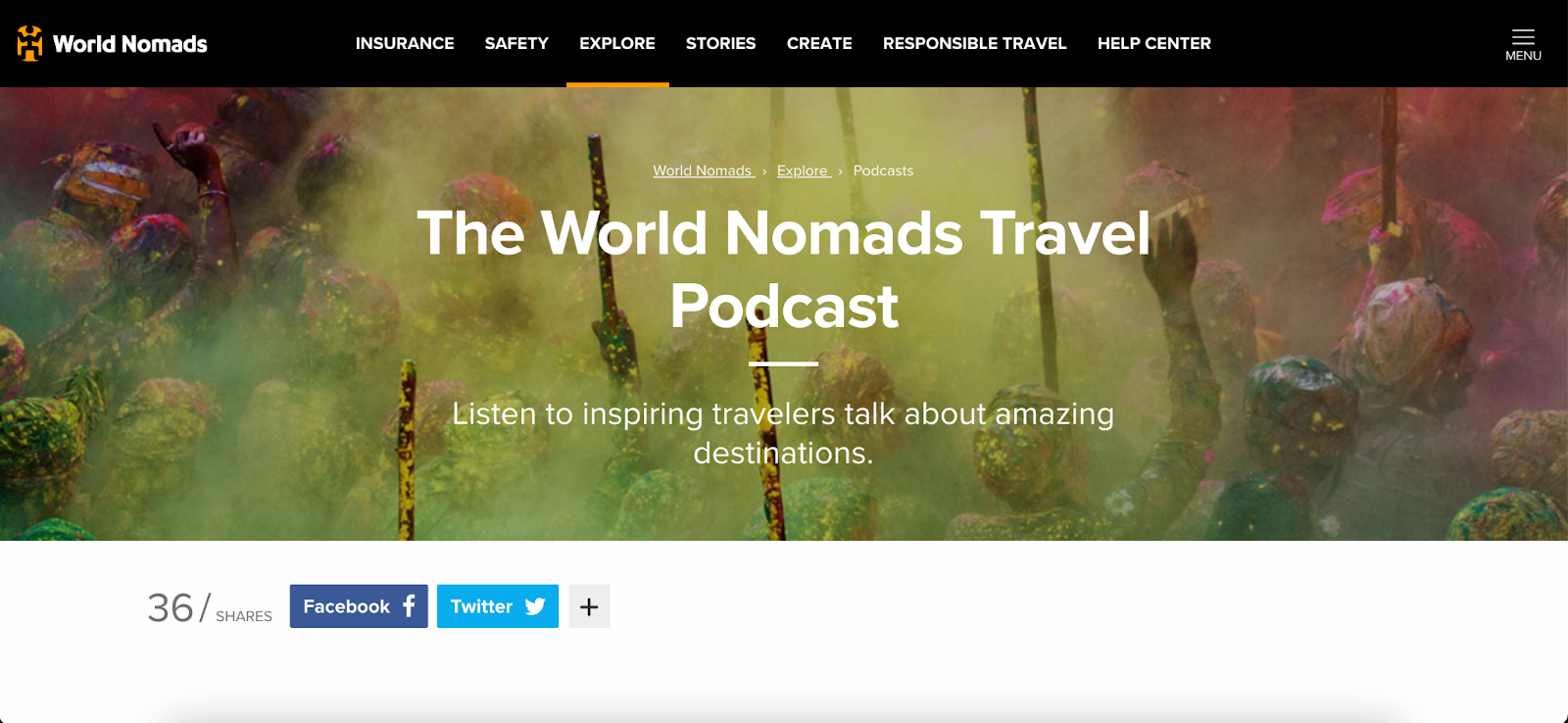 Adventure travel insurance provider World Nomads features a podcast in its content marketing strategy. The podcast explores topics relevant to the brand's target audience of independent adventure travelers.
The intention behind each podcast is clear. It's to inspire travelers to see and experience more around the world, including episodes on how to responsibly travel during the pandemic. The podcast also profiles inspiring nomads around the world.
World Nomads knows that each of these stories will appeal to its target customers, and while listeners may not be needing travel insurance right away, they'll know who to turn to for their next trip.
The takeaway: Tour operators could similarly start a podcast about their destination, or topics that relate to their target audience. A hiking tour operator in Colorado could start a podcast about the outdoors, for example, with episodes featuring traveler stories in national parks across the state or the U.S.
4. Intrepid Travel's The Journal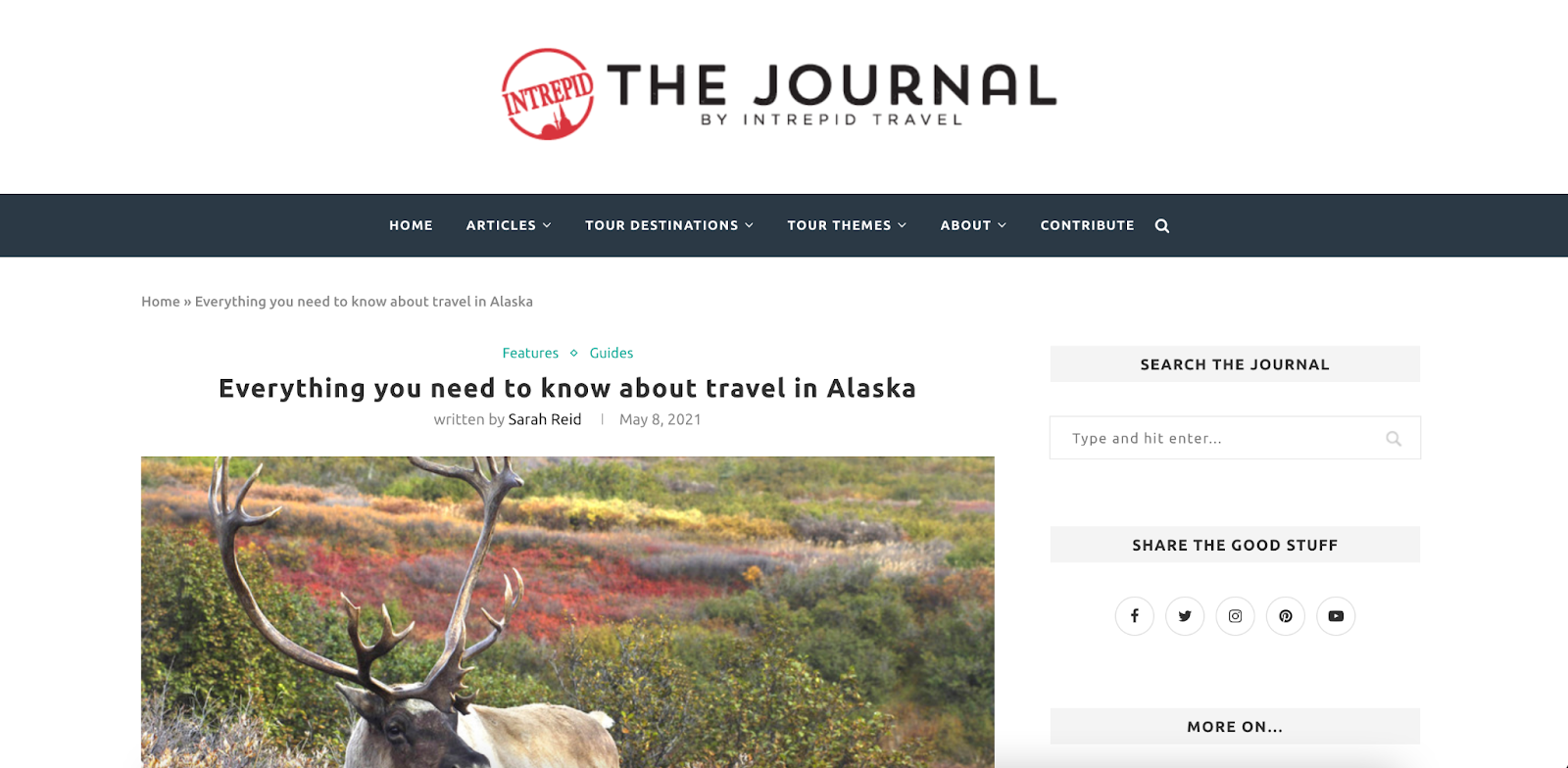 Adventure trip operator Intrepid has a blog called The Journal, where it publishes travel guides to the destinations the company leads trips to. Intrepid publishes new articles consistently that always reflect the adventure tourism brand.
The articles often answer questions travelers would have if planning a trip to that particular destination, such as "everything you need to know about travel in Alaska."
The takeaway: Tour operators could also create a content hub on their websites dedicated to their destination. A scuba diving tour operator in Hawaii, for example, could start a blog featuring valuable articles about scuba diving that would appeal to their target audience.
5. Extended Horizons Dive Blog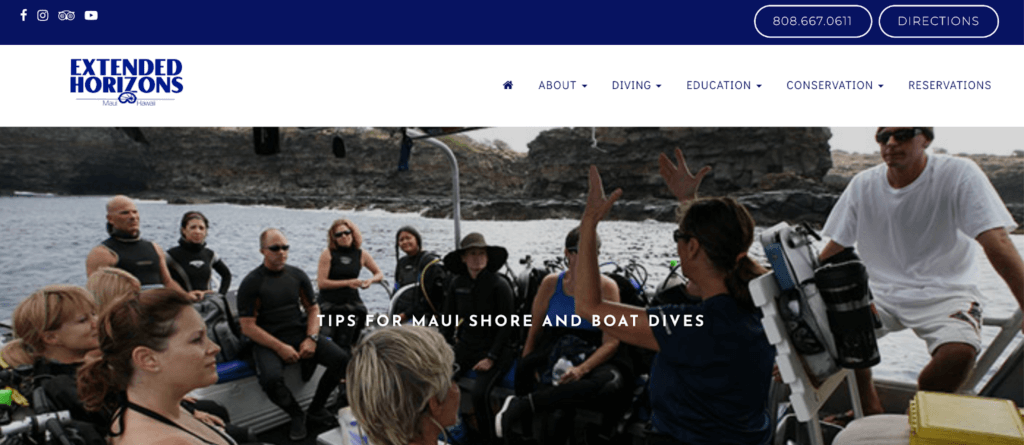 That brings us to Extended Horizons' blog. The diving tour operator in Maui publishes destination-specific blog posts that would interest their customer, such as tips for Maui boat dives.
Extended Horizons also hones in on topics that are important to the diving community, specifically sustainability. An example would be this blog post about coral bleaching and what divers can do to help.
The takeaway: When you start a blog, think about the topics that interest your customers. What are they searching for on Google? Target those keywords in your posts.
6. JetBlue's Video Marketing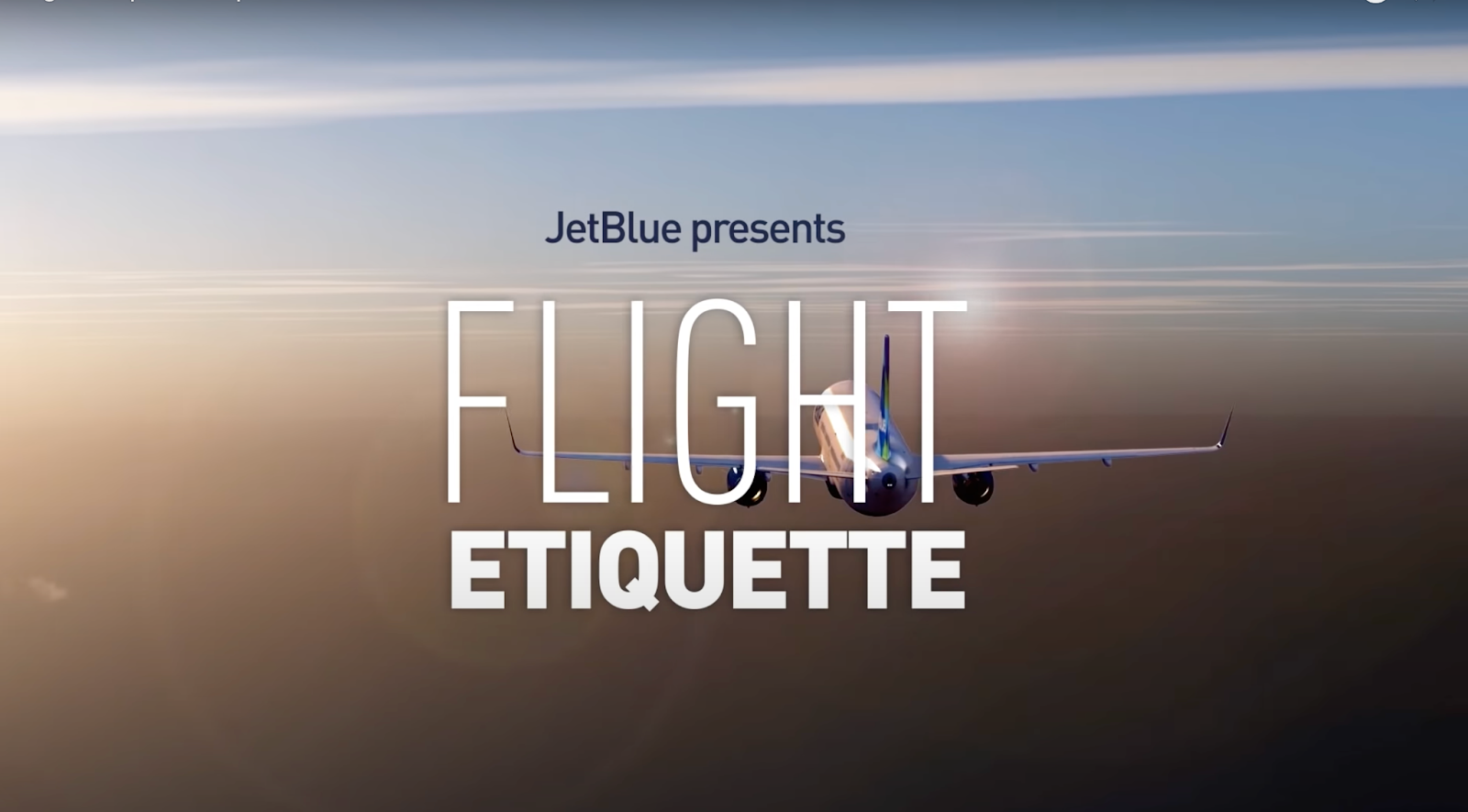 JetBlue uses video marketing to connect with its customers and build a loyal fanbase. The airline has several channels on its YouTube account dedicated to different topics, including its new "Mint" suite, educational content, and a playful series on flight etiquette.
The airline creates humorous videos like "How to nap on a plane" to show that the airline has a personality. This helps set it apart from others in the industry.
The takeaway: You can use video content to show off your personality and better connect with your guests.
7. G Adventures Blog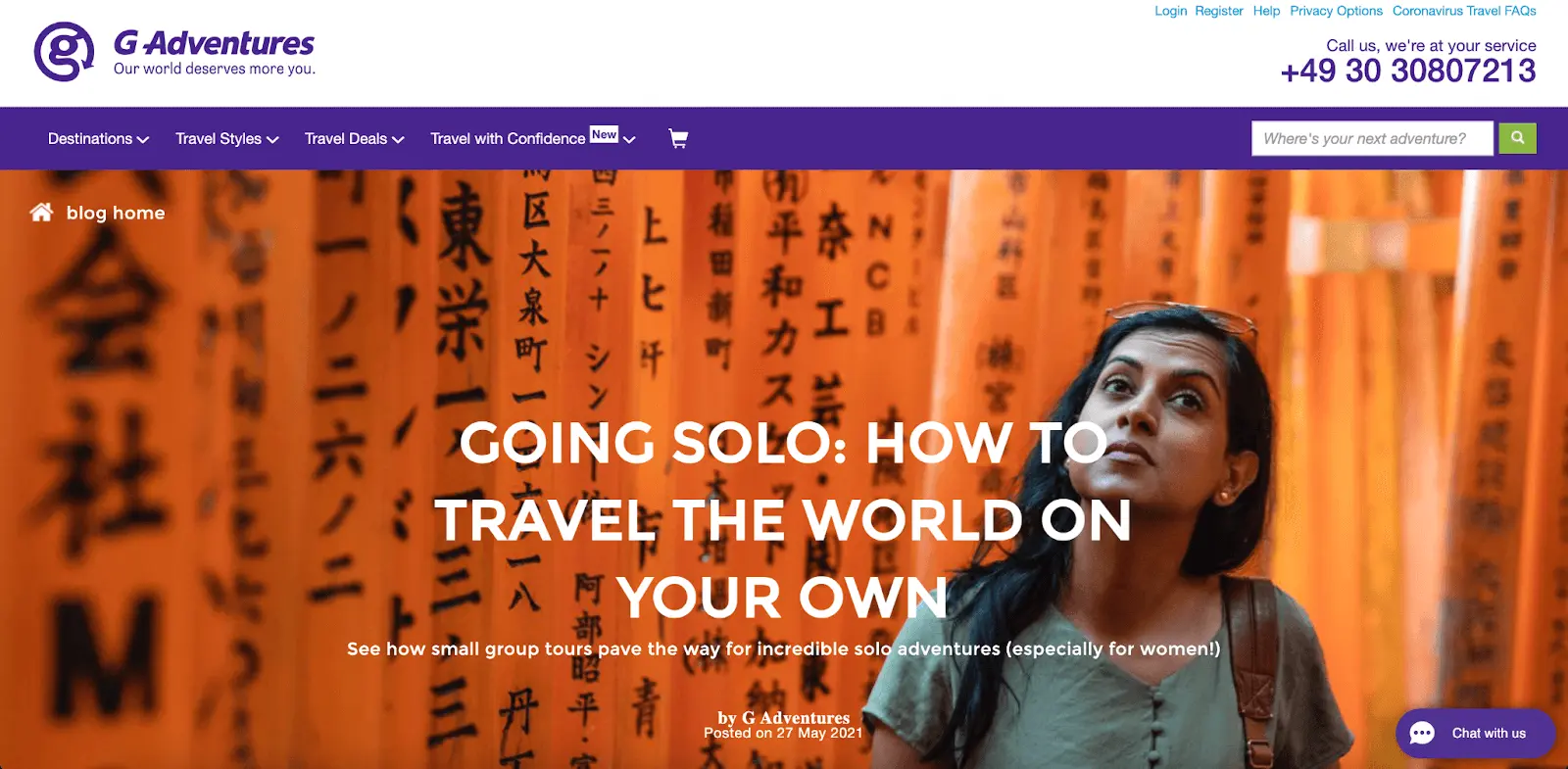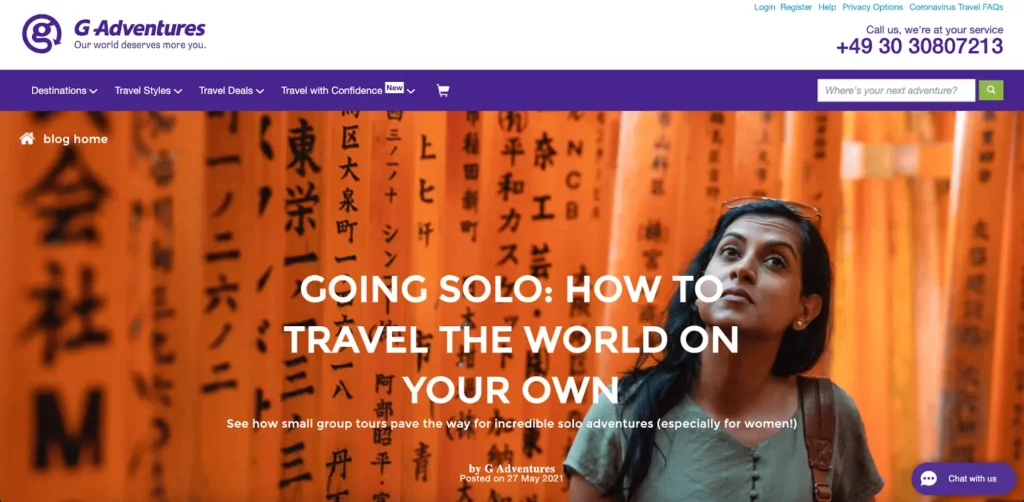 Adventure tour operator G Adventures has a blog dedicated to travel stories that appeal to active, solo, and adventurous travelers.
Blog posts like "How to travel the world on your own" target a specific audience — adventurous travelers looking for ways to explore on their own. G Adventures then highlights several of its small-group trips in the blog, positioning the company as a solo traveler's ticket to explore the world without feeling too lonely.
This SEO strategy brings people in who are searching for those keywords, then presents the company as a solution. It's an effective way to grow brand awareness and inspire solo travelers to join their trips.
The takeaway: Blogging is the go-to content marketing strategy for most travel brands. A blog gives tour operators space to work on their SEO strategy and bring in a targeted audience.
8. Trapped RGV is using virtual experiences
Texas escape room operator Trapped RGV is experimenting with virtual experiences to keep customers engaged at a time when they might not feel comfortable participating in person. The operator now sells fully digital escape rooms that can be played at home.
This is a smart way to introduce escape rooms to people who may have never tried one and aren't sure if they'd like it. After playing a digital escape room at home, the customers could be convinced to try out the real thing in person with Trapped RGV.
The takeaway: Tour operators can experiment with virtual reality to keep guests engaged with the brand while in-person bookings are low.
9. Trivago's Digital Magazine

Hotel booking platform Trivago launched a digital magazine to build authority in the hotel space. The magazine is centered on uncovering incredible hotels all over the world, with stories featuring the romantic castle hotels in Ireland or all-inclusive hotels in Jamaica.
The Trivago content marketing team wants to show guests that the site is more than just a search engine. With the magazine, Trivago is proving that there are writers, researchers, and editors who personally understand and vet hotels for their articles.
As you can see in the example above, the digital magazine works as an SEO strategy. The Irland article comes up on the first page of Google for the search "luxury castle hotels in Ireland."
The takeaway: Adventure tourism brands can use content marketing to establish authority in their niche or destination.
---
There you have it: 9 examples of travel brands using content marketing to reach their customers through creative and valuable content.
Adventure tour operators can similarly increase their website traffic and bookings by doubling down on their inbound marketing.
Before launching a new blog, podcast, or YouTube channel, think about where your audience is going for travel research and how your content can help them plan their trip.