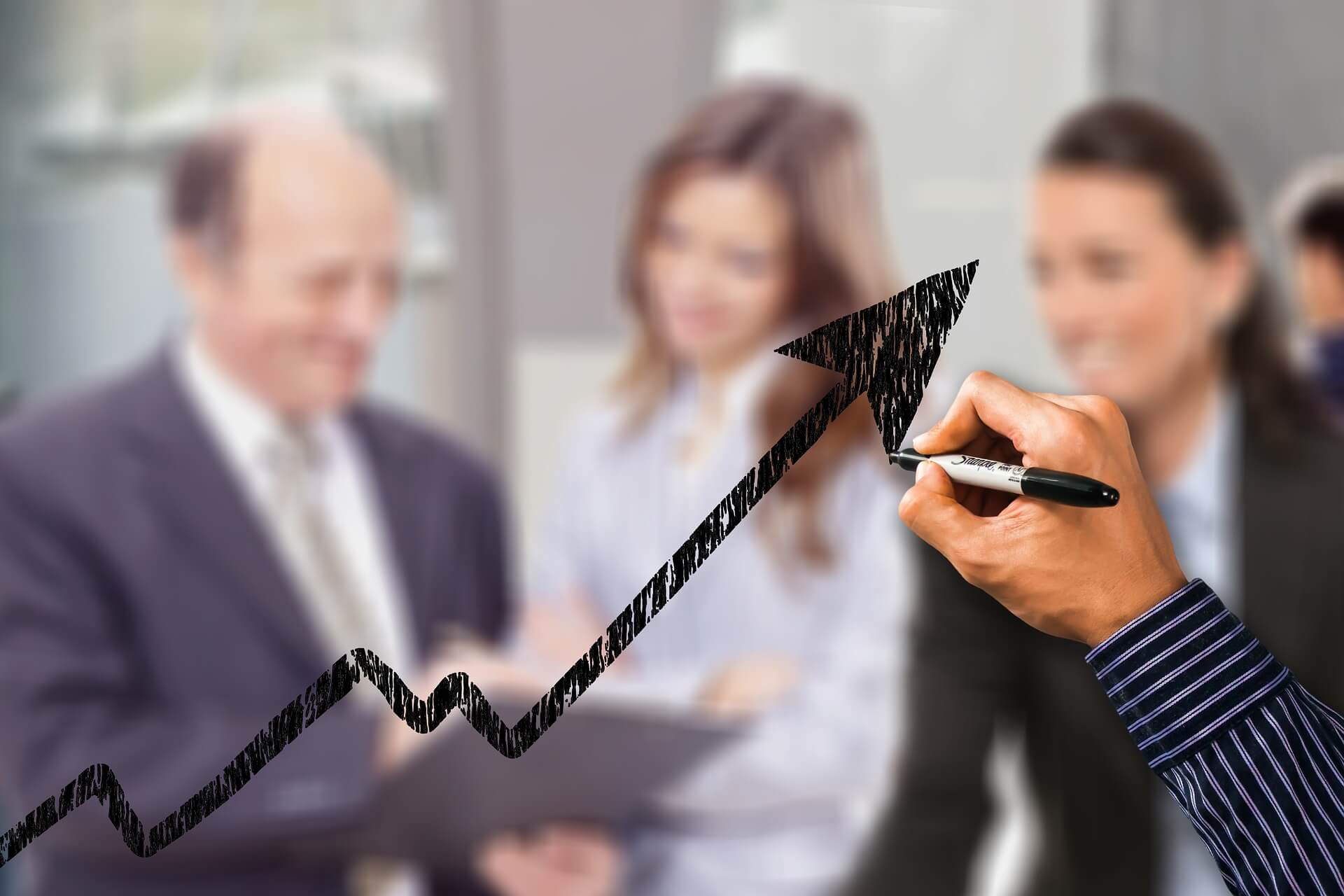 What if you had a built-in salesforce promoting your tours and packages year-round on their website, email list, and social media channels?

This isn't just a pipe dream.

Savvy business owners and marketers have been creating affiliate programs and mutually beneficial partnerships for decades.

In fact, affiliate marketing, a.k.a. partnership marketing is set to grow to $6.8 billion within the next few years.This isn't just for random knick-knacks, info products, and questionable nutritional supplements.

Affiliate partnerships can be a great marketing channel for tour and activity businesses especially ones that tend to be seasonal such as river cruise companies or water sports businesses. This allows you to grow your reach and maximize sales without having to rely on large, internal sales teams and big advertising budgets.

The best part – anyone from a small mom and pop escape room business to a 100+ franchise water sports activity business – can leverage affiliates and partnerships as a marketing channel. It is easy to get started and takes little upfront capital.

In this post, we'll walk you through what makes a good affiliate partnership, how to set commission structures, empowering your newly brought on partners and some common mistakes to avoid.
What makes a good affiliate partnership?
Did you know that 81% of brands are using affiliate marketing in some capacity? This includes tiny mom and pop shops to giant corporations like Amazon, which was one of the first, major affiliate programs.

These partnerships can come in many forms from niche review sites and blogs to social media influencers, complementary businesses, and even your own customers.

The one constant in the most successful ones is it all boils down to relationships.

Here is an example. Say you run a successful river cruise franchise that operates tours in several historic Southern cities like Savannah, Charleston, and St. Augustine. One way to market your business could be to get to know the managers of all of the local tourism bureaus and major attractions in each city. Once you have a relationship established, ask them to join your affiliate program. Every time, they sell a river cruise package to a tourist, you both make money.
Establish your affiliate commission structure
There are two different approaches you can choose from. You can use one of the large affiliate networks like Conversant, SharesASale, or LinkShare. Or, you can build your own program from scratch. Both have their pros and cons.

With affiliate networks, it is easier to recruit a large pool of people, but this comes with sacrifices including less control over the messaging and commission structure, giving up some of your earnings to the network and generally more transactional relationships with partners.

If you create and manage your own affiliate program, you have the advantage of managing the relationship, owning all of the messaging and having full control of commission structures.

Commission structures vary wildly based on the product and industry from 3% of each sale to almost 100% for some digital products. The average commission structure is in the 25% – 50% range.

Here are some tips for setting your commission structure.

Keep it simple.

If you can't explain it within a minute on the back of a napkin, then it is too complicated. You'll struggle to sell enough partners.

Do competitor research before you get started.

Do any of your competitors have an affiliate program in place? If so, what's their commission structure look like?
What about adjacent businesses?
Is your commission structure going to be competitive?

Know your numbers and think about your profit margins for each type of tour or package.
It is easier to raise your commission rate than decrease an existing rate.
It is not all about the money. Think about the added benefits that you can offer partners.

Going back to the river cruise franchise example, you can partner with a large travel blogger. Instead of paying them a commission for each sale, you could arrange to pay via an all-expense paid media trip. They experience all of your tours and then write about their experience to their audience.
Build trust with your first affiliate partners
There is nothing that will sabotage your affiliate program faster than treating each new affiliate as a simple transaction.

The key to scaling an affiliate program is to get to know each of your partners. This means going above and beyond and doing things that don't scale at the beginning.

If you are curious about this approach, I recommend reading this famous essay from Paul Graham, the founder of Y Combinator, about how this approach can work not just for scaling your affiliate program but also for your business as a whole.

Here are some tactics that you can use to build rapport and help your first few partners succeed.

Vet new partners carefully.

This may sound counterintuitive. Not everyone who applies to your affiliate program is going to be the right fit. They might not share your brand's values, have unrealistic expectations, engage in sketchy lead generation tactics or even a simple personality mismatch.
Remember, these partners are going to be associated with your brand. Choose wisely. It is much better to have fewer partners that are sold on your vision.

Empower your partners by creating and sharing marketing assets with them regularly. This can include everything from brand vision docs to suggested website copy, social media copy snippets, imagery, etc.
Run promotions to help your affiliates make their first sale.
The Pareto principle is real. Expect that 80% of sales will come from 20% of your affiliates.

The problem is you won't know who belongs in the 20% group for some time. So, it is essential to treat all affiliates in the early days like they are VIPs.
Use Xola to streamline your affiliate program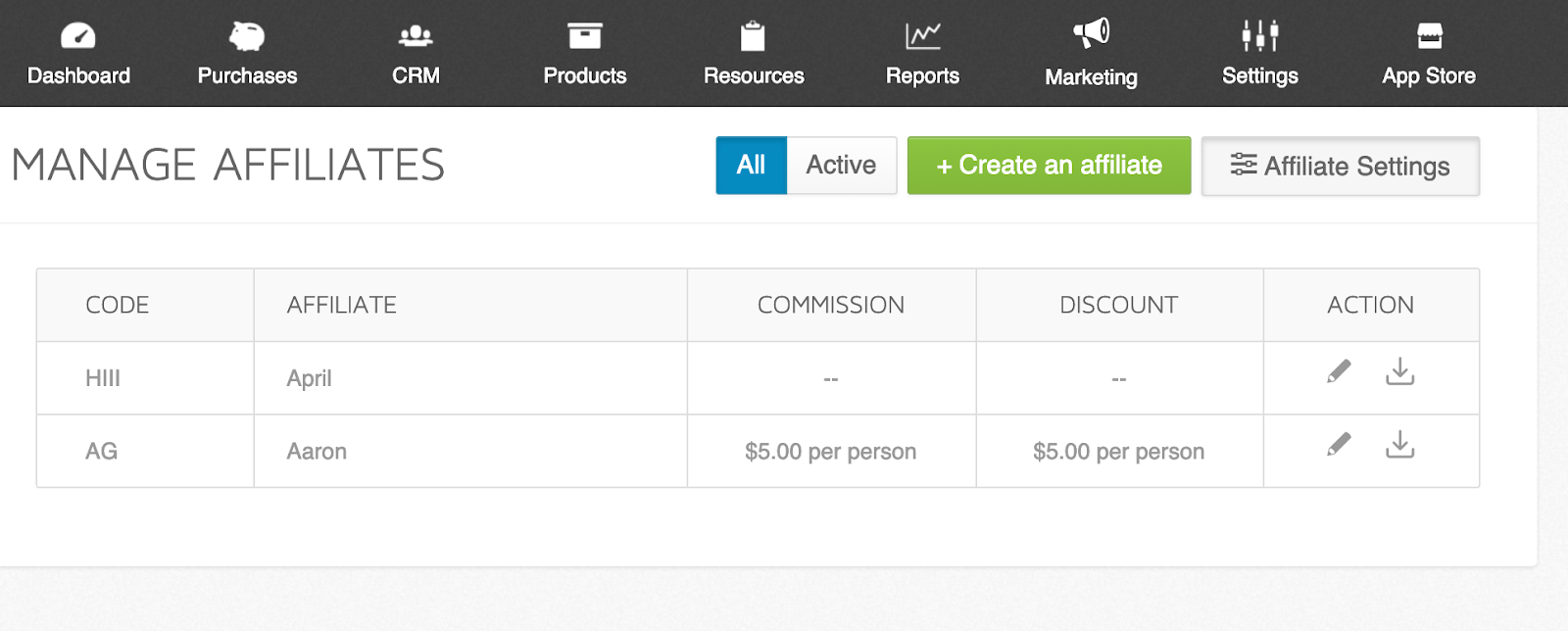 As you bring on new affiliates, this comes with added administrative and relationship management tasks. In our App Store, we created a partnership/affiliate management app designed to help you keep track of all your current and past affiliates.

When adding new affiliates, you can track their sales based on either a per person or per booking rate.

You can even distribute your listings and establish partnerships with other Xola customers right within the dashboard.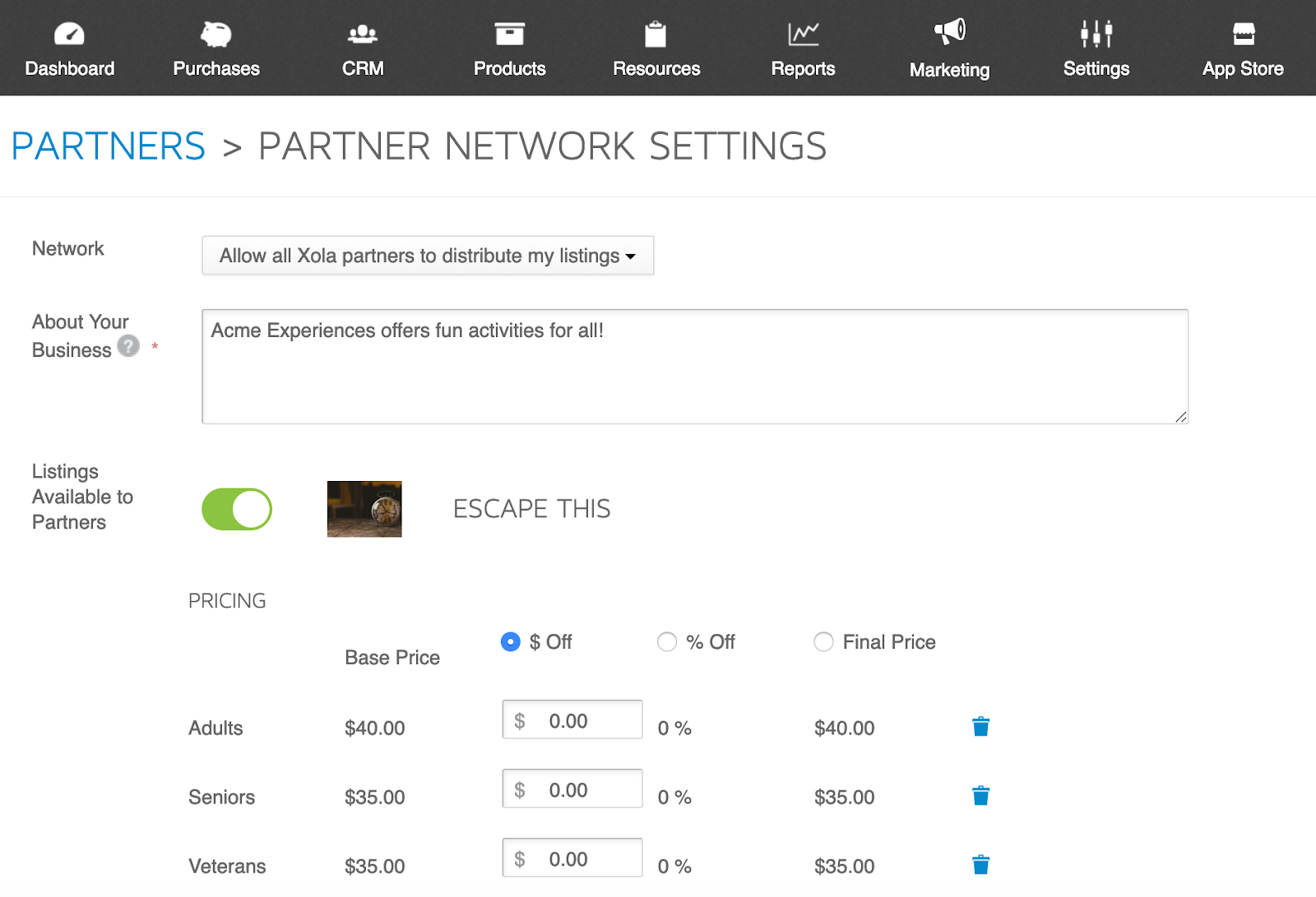 For example, going back to the river cruise tours, you can choose to partner with other Xola customers that have complementary businesses in Savannah, such as a Savannah-based escape room business. You could team up and create a package deal to attract more tourists to both of your businesses. If a tourist buys the deal, you both profit.

This is just one example of how this can work in a specific city. There are endless ways to create lucrative partnership deals.

ProTip: Want to learn more about how you can use this feature? Click here to schedule a demo with one of our product specialists.
Avoid these common mistakes
Here are some pitfalls that even experienced affiliate marketers make regularly.

Bigger followings aren't always better.

When in doubt, partner with niche influencers who have amassed a loyal following. This is especially true when partnering with social media influencers where following/follower counts can be easily inflated or manipulated.

Play defense.

It is your affiliate program. You set the rules so make sure you are acting in your own best interests, protecting against the downside and minimizing risks. This includes making sure your commission structure is not only profitable but sustainable longterm.

Always pay based on sales NOT clicks or impressions.
Don't optimize or bid on the same keywords or traffic as your affiliates or you'll drive up costs for both of you.
Know your numbers especially customer acquisition costs (CAC) and lifetime value (LTV) and how it relates to every marketing channel.

Ideally, run affiliate reports on a weekly or a monthly basis.
Note: You can pull affiliate commission reports at any time by logging into your dashboard and clicking on the "Reports tab."
Conclusion
From zipline tours and escape rooms to charter boats and seasonal water sports businesses, affiliate partnerships can be a lucrative marketing channel.  

In the next post, we'll share specific tips to help you recruit new affiliates.

In the meantime, to learn more about Xola and how the affiliate/partner management app can help you grow your business, click here to schedule a demo with one of our product specialists.