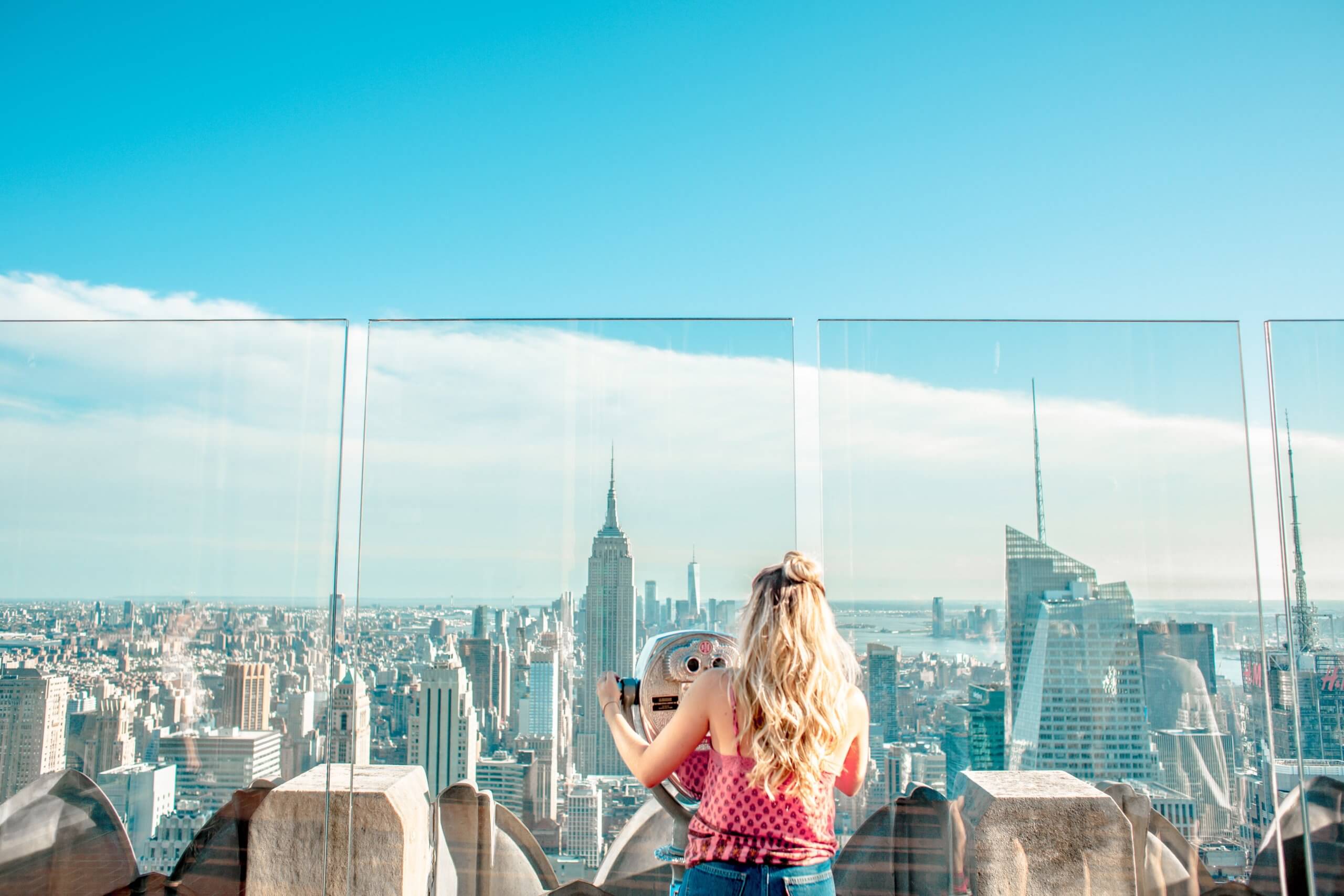 Ready to learn how to market your company as a can't-miss attraction for tourists visiting your city?
Domestic and international tourists can provide your company with a steady stream of bookings — and be the difference between breaking even and making a profit.
Let's dig into the three main strategies tour operators can use to drive more bookings from tourists.
What are the 3 main strategies for attracting tourists?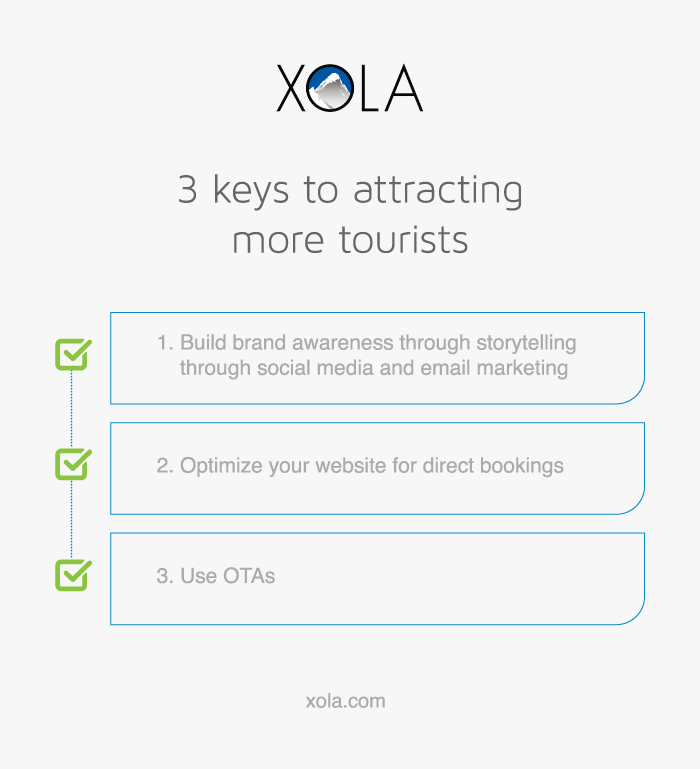 Learning how to attract more tourists starts with building a solid foundation for your online marketing. This includes building brand awareness, encouraging direct bookings on your website, and extending your reach through Online Travel Agents (OTAs).
Build brand awareness through storytelling, social media, and email marketing
The best way to set your company apart from others in your area is to get serious about your branding and positioning.
The first step in building brand awareness is identifying your target customers and how your services best suit them.
The next step is to position your brand in a way that gets that specific message across.
The clearer you are about your brand and your ideal customers, the easier it'll be to market your tours and activities. And when your target customers visit your city, your company will be top-of-mind.
Social media is one of the top branding tools for tour operators.
You can use photos, captions, and color schemes to build out your brand on visual platforms like Facebook and Instagram. Storytelling techniques can go a long way on Instagram and TikTok, where you can share videos about your tours and experiences.
Airbnb uses this technique to promote its virtual experiences. The company recently shared an Instagram Reel featuring short video clips from one of its online cooking classes, giving people an idea of what to expect if they participate.
Email marketing is another solid way to get customers more familiar with your brand. Encourage visitors to join your email list to stay up to date on company news, including new tours and special offers.
Optimize your website for direct bookings
Most customers prefer to book their tours and activities online, even when there are other booking methods available.
An online booking system makes it possible for guests to book tours and activities directly on your website instead of having to book in person or over the phone. The right online booking software can act like a 24/7 online reservationist, allowing you to accept bookings at any hour of the day and save your team a lot of time on manual, operational tasks.
Your website should be designed to persuade your target audience to make a booking.
One of our top recommendations is to add social proof to your homepage and tour listings. The concept of social proof says that guests will feel more inclined to book with a tour company that has positive reviews, customer testimonials and company awards displayed on their website.
Another key way to drive direct bookings is to write engaging tour descriptions.
You want your guests to feel excited when they read your tour descriptions. Try to hook them in right off the bat with a compelling explanation of what to expect on your tours. Is there anything particularly unique about your tours? Make sure to highlight that in the description.
Try to anticipate your guest's questions, too. They'll want to know what's included in the tour, how long it lasts and what they should bring. Answer those questions directly in your tour descriptions.
Finally, you want to make it easy for guests to contact you with any questions they have. When guests do reach out, try to answer in a timely fashion. Guests will prefer a responsive company over one that doesn't care to answer their questions.
Use OTAs like TripAdvisor and Expedia
Tourists are now used to booking everything from hotels to tours through online travel agents (OTAs).
OTAs like TripAdvisor and Expedia have a major presence in dozens of countries around the world. When you list your tours on an OTA, you're now able to reach both domestic and international travelers on platforms they're likely using to book their flights and hotels.
Guests often have to sift through a variety of tour options on OTAs, so you want to make sure your company stands out. Only include your best photos in a tour listing, write a compelling description that captures visitors' attention, and ask guests to leave reviews.
Finally, guest reviews can be the tipping point for visitors booking through OTAs.
Tourists will likely read through dozens of reviews before booking a tour. Encouraging your guests to leave you positive reviews about their experience can make a big impact on future bookings through OTAs.
Here are five tips to generate more high-quality reviews on TripAdvisor:
Just ask: The fastest and simplest way to increase your number of reviews is to ask for them.
Make it personal: When you ask your guests to leave a review, make it about helping your tour guides, not your business.
Incentivize your staff: Offer a reward for the employee with the highest number of reviews.
Remind your guests: Guests might simply forget to leave reviews after their trips. You can use TripAdvisor's free tools like custom reminder cards to remind them.
Use TripAdvisor Review Express: Automated review request emails will be sent to your guests.
How can I attract more tourists?
Branding. SEO. OTAs. It can all be a bit overwhelming at first. That's why we're breaking it down further for you. Here are 10 actional steps you can take to begin attracting more tourists today.
Identify your target customer
It's difficult to begin marketing your tours and activities if you don't know who to market them to.
Your online marketing strategy — including everything from the content on your website to your posts on social media — should be tailored to your ideal customer.
Once you've identified your target audience, you can create successful marketing campaigns that appeal to that exact group of people.
Write high-quality content and optimize your website for SEO
SEO is one of the most efficient ways to drive more bookings on your website.
Optimizing your website for SEO means creating content focused on keywords your target customer is likely searching for. The goal is to rank for these keywords or phrases on Google.
An example would be to create high-quality blog posts about activities in your destination so that when your customers search for that, your company appears in the top 10 results.
Experiment with TikTok videos
TikTok is a video-sharing app that grew incredibly popular during the pandemic.
It's a great place to experiment with light and fun video content promoting your tours and activities. All you need is a mobile phone with a decent camera to begin capturing content on your tours.
Pro Tip: An easy way to start on TikTok is to adopt trending sounds and challenges to your own niche.
Use Instagram Reels to reach new audiences
Instagram recently launched a new feature called Reels that also focuses on short-form video content.
Similar to TikTok, the new feature allows companies to build brand awareness and better connect with customers through lighthearted videos.
Since it's a new feature, Instagram is making Reels visible to a larger audience on the app, meaning your content can reach new people that don't already follow you.
Work with influencers
Travel companies are increasingly turning to influencer marketing to generate exposure for their brands.
Tourists often look to influencers as people they can relate to, and this makes them more likely to trust their recommendations.
When you invite an influencer on your tours, you'll make your brand visible to their followers, who will likely trust their endorsement of your company.
Use data to improve your sales and marketing campaigns
Your booking software can provide you with loads of valuable data that can help you create better marketing campaigns.
Let's say you created an ad campaign on Instagram, and it led to a 25% increase in new bookings on your site. That's a good indicator to increase your ad spend on the campaign or create additional campaigns like it.
Double-down on email marketing
When someone joins your email list, they're giving you permission to send them promotional offers directly to their inbox.
Plus, you can also send out a weekly or monthly newsletter, which is a great way to build a relationship with your customers and keep them updated about new tours and activities.
Invest in Facebook ads
You can use Facebook ads to get your company in front of specific groups of people anywhere in the world.
If you provide boat tours in San Francisco, for example, you can create an ad that targets anyone between ages 25 and 55 who lives in San Francisco and lists "boats" as an interest. You can get even more specific, such as targeting people who are celebrating an anniversary or recently started a new job.
If you want to do more than just generate brand awareness, you can offer a discount code in exchange for someone's basic contact information. Once they enter your email list, you can follow up with them via email if they don't book right away.
Pro Tip: If you are brand new to Facebook ads, start slow and bid $5-10 per day max. Then as you start to see results, ramp up your ad budget from there.
Offer virtual experiences
When the pandemic first started, tour operators around the world began offering virtual experiences to keep their companies top of mind.
If you're based in a city that's still facing lockdown measures, virtual tours can be used to stay relevant and continue building brand awareness until the travel industry returns to normal.
Even as places start to open up again, you can continue to leverage virtual tours as a marketing strategy.
Promote your safety measures
As tours and activities begin to become available again, guests will want to know how operators are keeping their safe.
You can work with your booking software to ensure you're following social distancing and other safety measures required in your city.
When you share the steps you're taking to keep your guests safe, they'll feel more comfortable booking with you.
Are you ready to watch those visitor bookings roll in?
In sum, tour operators who want to appeal to visiting tourists should work on their branding, optimize their websites, and expand their reach via OTAs.
Make sure to identify your target customer before using a combination of the marketing tactics outlined in this post, whether it's investing Facebook ads, working with influencers, creating Instagram reels and so on.
We know these tips will help you market your company as the top attraction for visitors in your city.