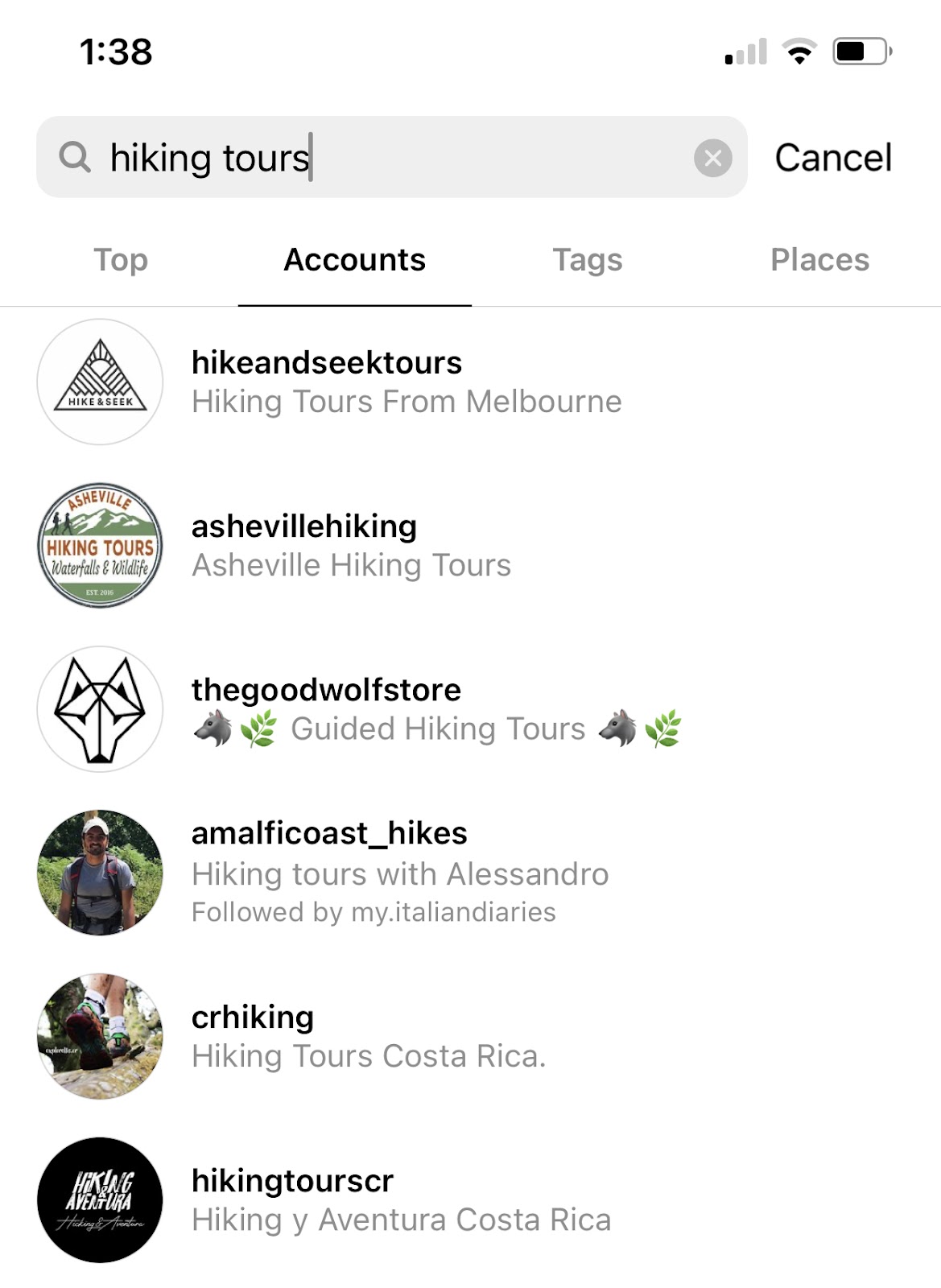 Did you know that 36% of people use social media to find inspiration or ideas on where to travel?
Airlines, hotels, and tour operators alike can hugely benefit from a social media presence — which is why it's one of the most heavily invested in marketing channels today.
If you don't know what platforms to join or how to use the right hashtags, read on to find out. In this post, you'll learn everything you need to know about how to use social media for tours.
Top benefits of using social media for tours and activity operators
A solid social media presence can help travel brands generate awareness, engage with customers, and increase website bookings. Here are eight ways your tour business can benefit from social media marketing.
Build brand awareness: Your social profiles should match the visuals, colors, and tone of voice seen across your website. This consistency makes it easier for customers to find and recognize you on other platforms.
Engage with customers: Guests can follow you, comment on your posts, ask you questions, and tag your company in their photos. With each of these interactions, you build stronger relationships with your customers.
Another outlet for guest communication: Guests can come to your social profiles for questions about your tours. In fact, 33% of users prefer to contact brands through social media instead of making a phone call.
Attract new customers: When you share engaging, relevant content that appeals to travelers in your niche, you'll start to attract that audience.
Increase website bookings: Social media helps you build a relationship with guests and increases your company's visibility to new customers — two factors that can directly benefit your bottom line. As consumers have positive interactions with your brand online, they'll be likelier to purchase and recommend your tours to friends and family.
Connect with leading influencers: Working with influencers is another option; 49% of consumers claim that they depend on influencer recommendations.
User-generated content: User-generated content is content that has been shared by your customers. You can also create a specific hashtag unique to your brand — like Intrepid Travel's #BeIntrepid — and encourage your guests to share photos with it.
Build destination authority: You can position yourself as a destination expert when you consistently post about your region and the things to do there.
Give your brand a unique personality: Customers have an easier time relating to the people behind a company than the company itself. With social media, you're able to humanize your brand to make that happen.
How to set up a social media marketing strategy
After learning about all the benefits of using social media, we're sure you're ready to set up your profiles. Follow these steps to create an effective social media marketing strategy for your tour business.
Step 1: Choose your social media platforms
The first step is to decide what platforms your company should have a presence in. Contrary to what you may have heard, you don't have to be active on every single social platform. You should only focus on the ones that your customers are currently using.
For tour operators, this could mean Facebook, Instagram, TikTok, and YouTube. If you don't know which platforms your guests are on, you can do a deep dive into your competitors to see what platforms they're most successful on.
If you're a hiking tour operator, for example, a quick search on Instagram would show that similar businesses have a profile on the platform.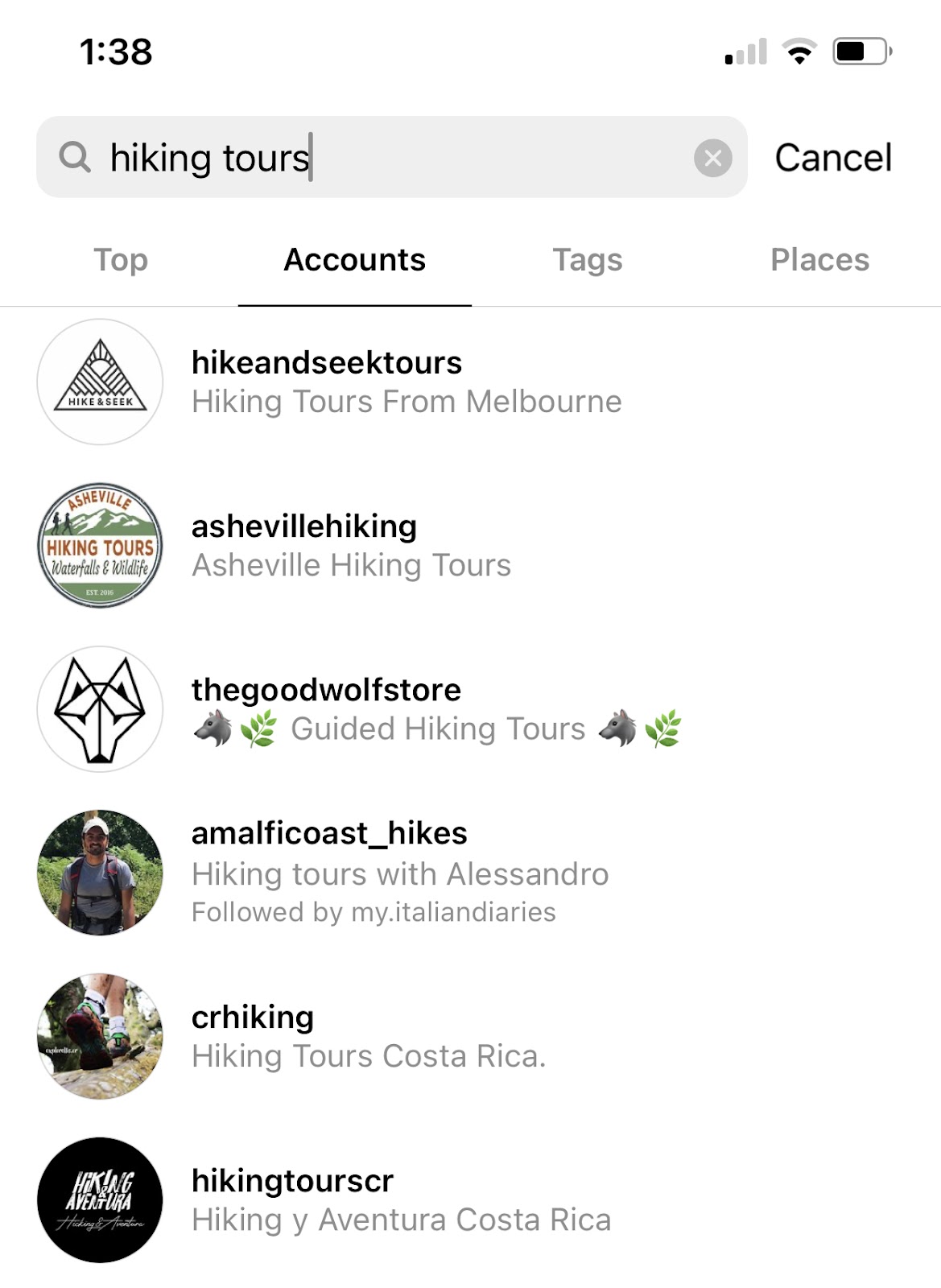 Tip: Make sure you set up your profiles with a well-written bio that includes your company name, description, location, and contact information.
If you already have social profiles, conduct an audit
Take a discerning look at your existing social profiles: Where is there room for improvement?
Track down all your social media accounts so that you know what platforms you're already on. Make sure each of your accounts is complete with a company name, business bio, and contact information. Each should also align with your brand.
Then take a look at your engagement. Are your customers engaging with your company? Are they commenting or liking your posts?
Identify which platforms are bringing the best engagement. Perhaps you'll find that more people are interacting with your brand on Instagram than on Twitter, for example.
If your customers aren't engaging with your company at all, they may be having a difficult time finding your profiles — or you could be on the wrong platforms.
Step 2: Define your audience
Knowing your audience is key to promoting your brand successfully on social media. Your audience will determine the kind of content you share, your tone of voice, and your ad campaigns.
Tour operators should create a buyer persona outlining their target customer's age, location, average income, job, and interests. This information will help you paint a complete picture of who your social profiles should appeal to. In turn, you'll have a clearer idea of what to post.
Step 3: Set goals
Think about all the ways social media can benefit your company. Then determine your company's main goals before you start sharing new content. Do you want to be seen as a destination expert? Attract new customers? Drive more traffic to your website? Your goals will help you create a content plan to help you achieve them.
Step 4: Track your goals
Make sure you're setting measurable goals and that you're tracking the right metrics. If you're trying to increase your website visibility, for example, you'd track the number of clicks through to your site from your social profiles.
On Instagram, for example, you can check your overall stats on the "Insights" tab. Here you'll find information on how people are interacting with your posts and your follower growth rate.
You can also see how well your content is performing by clicking on "Insights" for individual posts. Instagram tracks how many people have visited your website or your profile after looking at a post, for example.
Overall, it's better to focus on valuable metrics like engagement, click-through rates, and conversions instead of follower or like counts — which can vary widely due to changing algorithms.
Step 5: Study your competition
Not sure if you're on the right track? Take a look at your competition. This can help you get a sense of what travelers expect from tour operators on social media. Find out what other tour operators are sharing, and what people are saying about them.
Facebook's Ad Library is a great resource to study competing operators in your region. Simply type in your competitor's company name and you can scroll through their recent ad campaigns.
Step 6: Plan out your content
The No. 1 rule on social media: Be consistent.
You should plan out your content on a social media calendar and set a realistic posting schedule. You don't have to post every day, but make sure you're consistent with the days you are posting.
The first step is to determine your content pillars. These will be the topics you'll be sharing about. If you're just getting started, try the 80/20 rule: 80% of your content should inform or educate, and only 20% should directly promote your brand.
Next, decide where you want to bring followers. This can include your website, newsletter, mobile app, booking page, etc.
Now brainstorm post ideas about the topics you chose as your content pillars. If you're a kayak tour operator in Arizona, you might have chosen to share tips about kayaking, outdoor things to do in your region, and promotional content about your tours.
Follow the 80/20 rule and schedule your posts accordingly.
Step 7: Adjust as needed
Social media platforms and their algorithms are also constantly evolving — which is why you can't just launch an ad and forget about it.
As you track your social media campaigns, be open to changing your strategy as needed. You may find that a particular platform is outperforming another and shift your focus to there.
You should also stay on top of new features. Instagram recently launched a short-form video feature called Reels, for example, and most brands are now incorporating this into their social media strategy.
Actionable social media marketing tips
You've set your profiles up but aren't seeing any new customers or growth. That's because social media success requires a bit more legwork.
Here are eight high-level social media marketing tips for tour and activity operators.
1. Use relevant hashtags
Hashtags can make your posts visible to people outside your current audience. When you click on a hashtag on Instagram, you'll find a collection of posts that were tagged with that hashtag. Anyone searching Instagram for that topic will come across all those posts.
You should research hashtags relevant to your niche and use them on all your posts. You can include hashtags in the body of your caption on Instagram or in the comments; in the body of your text on Facebook; in your tweet on Twitter; and in your caption on TikTok.
Hashtags for Tour Operators
What are hashtags and how do they work? Hashtags help social platforms like Instagram and TikTok organize posts by topic. They also make it easier for users to search for specific topics they're interested in.
Let's take a look at how tour operators should use hashtags across Twitter, Instagram, and TikTok.
Twitter
Twitter hashtags categorize tweets and allow people to follow specific topics they're interested in. Anyone searching for a specific topic can immediately find tweets with that hashtag.
As you can see in the example above, when you search for "tour operator," a series of relevant tweets with the hashtag #TourOperator come up.
You should also use hashtags relevant to your company's location so that your tweets are associated with tours in your city. Hashtags help increase engagement, such as clicks and retweets.
Instagram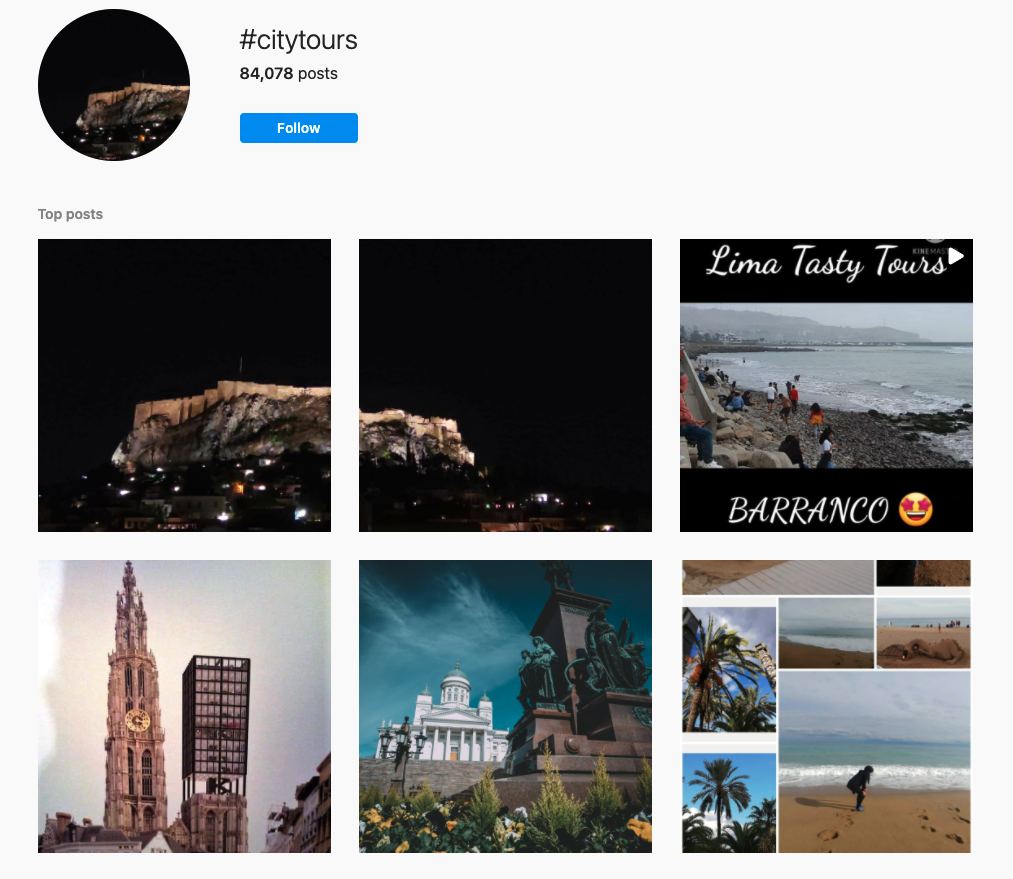 Instagram hashtags help increase your post's visibility. A post with a single hashtag has an average of 12.6% more engagement than posts that lack one. That's because using relevant and specific hashtags makes your post visible to everyone searching for those topics. In other words, it's a great way to reach potential new followers and customers.
Take a look at the #CityTours hashtag above. When you add a hashtag to your Instagram post — either in the caption or in the comments — your post will show up under that hashtag, as long as your profile is set to public. Anyone that lands on this hashtag collection could come across your post.
You can use up to 30 hashtags on a post, and you should consider using all of them.
TikTok
TikTok, like Twitter and Instagram, also uses hashtags to organize content. The right hashtag can help you reach the right audience, so it's important to use ones that are relevant to your niche.
You could add "#adventuretravel" to your post, for example, and it would show up under the page shown above. As more people watch your video, your post climbs up the hashtag page.
TikTok also has trending hashtags that are garnering a lot of attention at the time. Ideally, you'd use a mix of popular hashtags with less competitive ones. You'll have a better chance of climbing up the page on less competitive ones, but the popular ones could reach more people.
2. Leverage user-generated content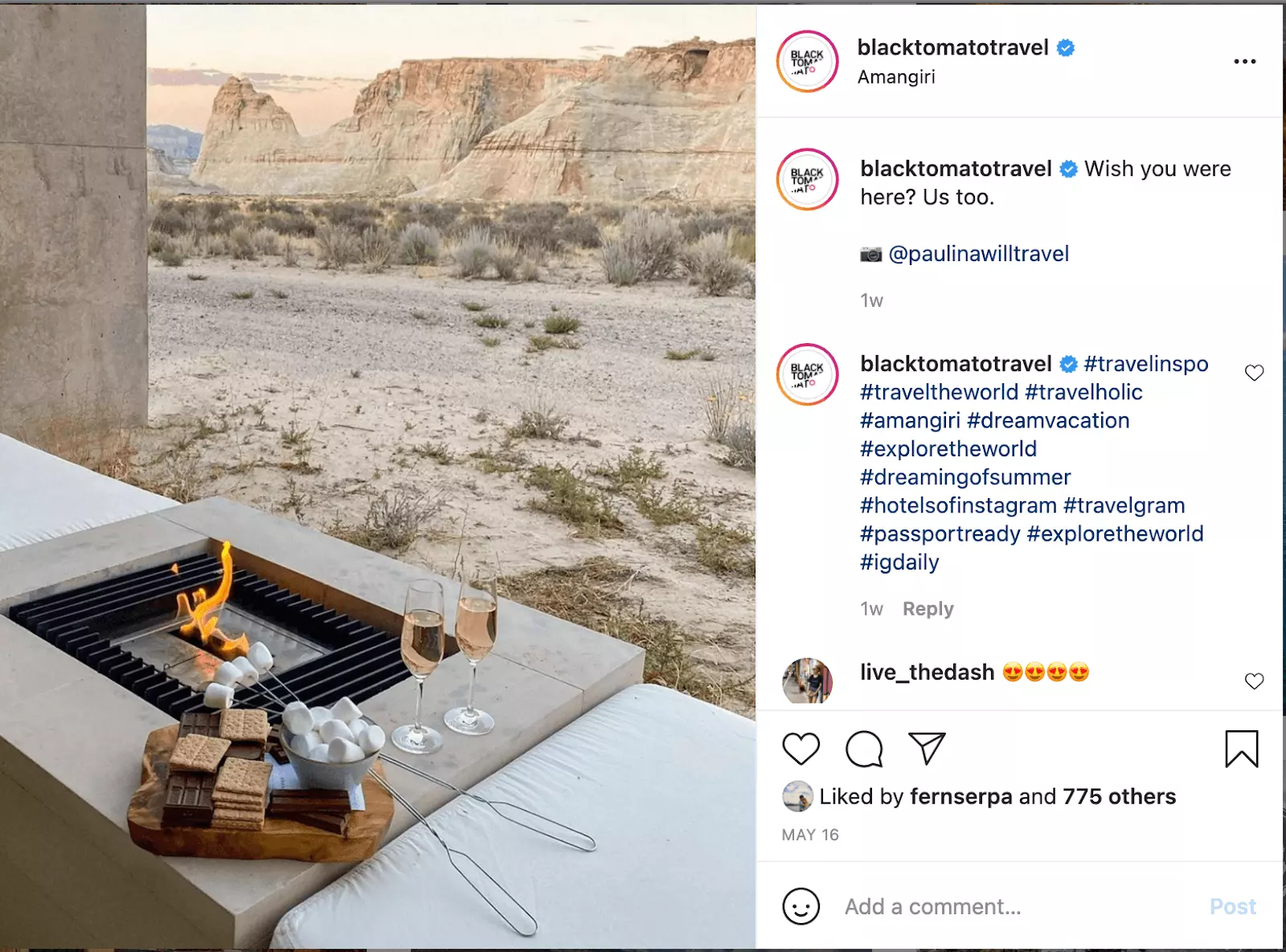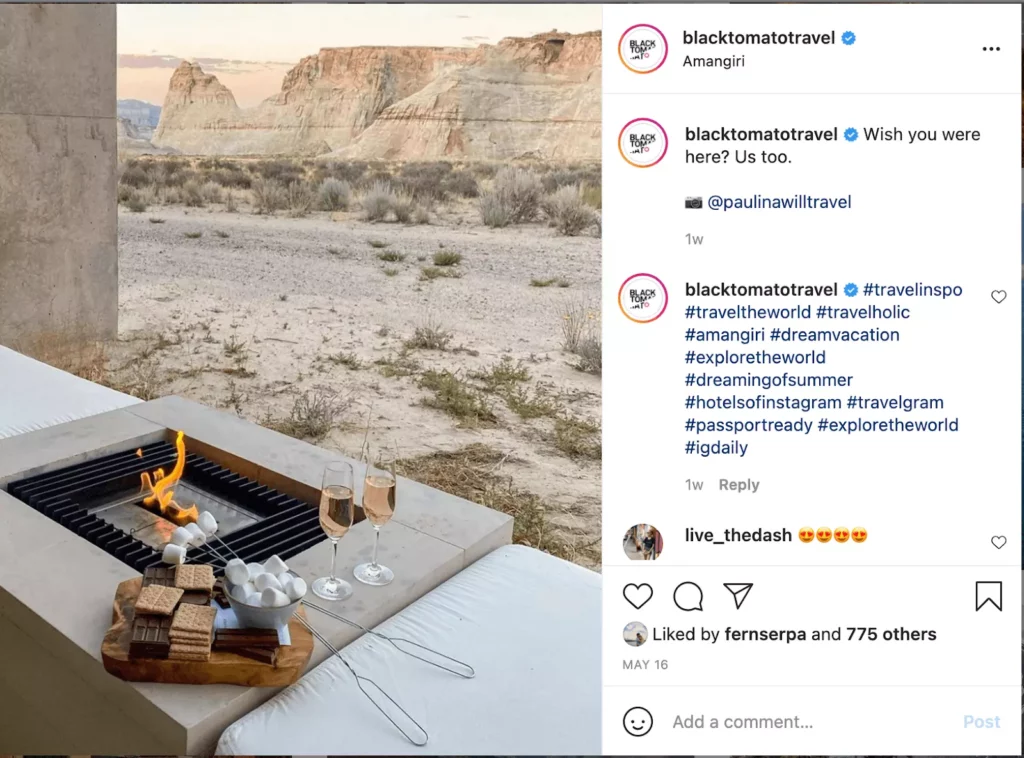 Tour operators should always encourage guests to share photos from their tours and tag them on social media. This is called user-generated content, and brands use this content to drive engagement on social media.
If you get the customer's permission, you can repost their content on your accounts. This will prompt them to like, comment, and even share the post with their own followers.
Luxury tour operator Black Tomato re-shares user-generated content on its profile in the example above. As you can see, the company tags the original photographer in the caption to give her credit for the photo.
3. Showcase the people behind your brand (a.k.a. you!)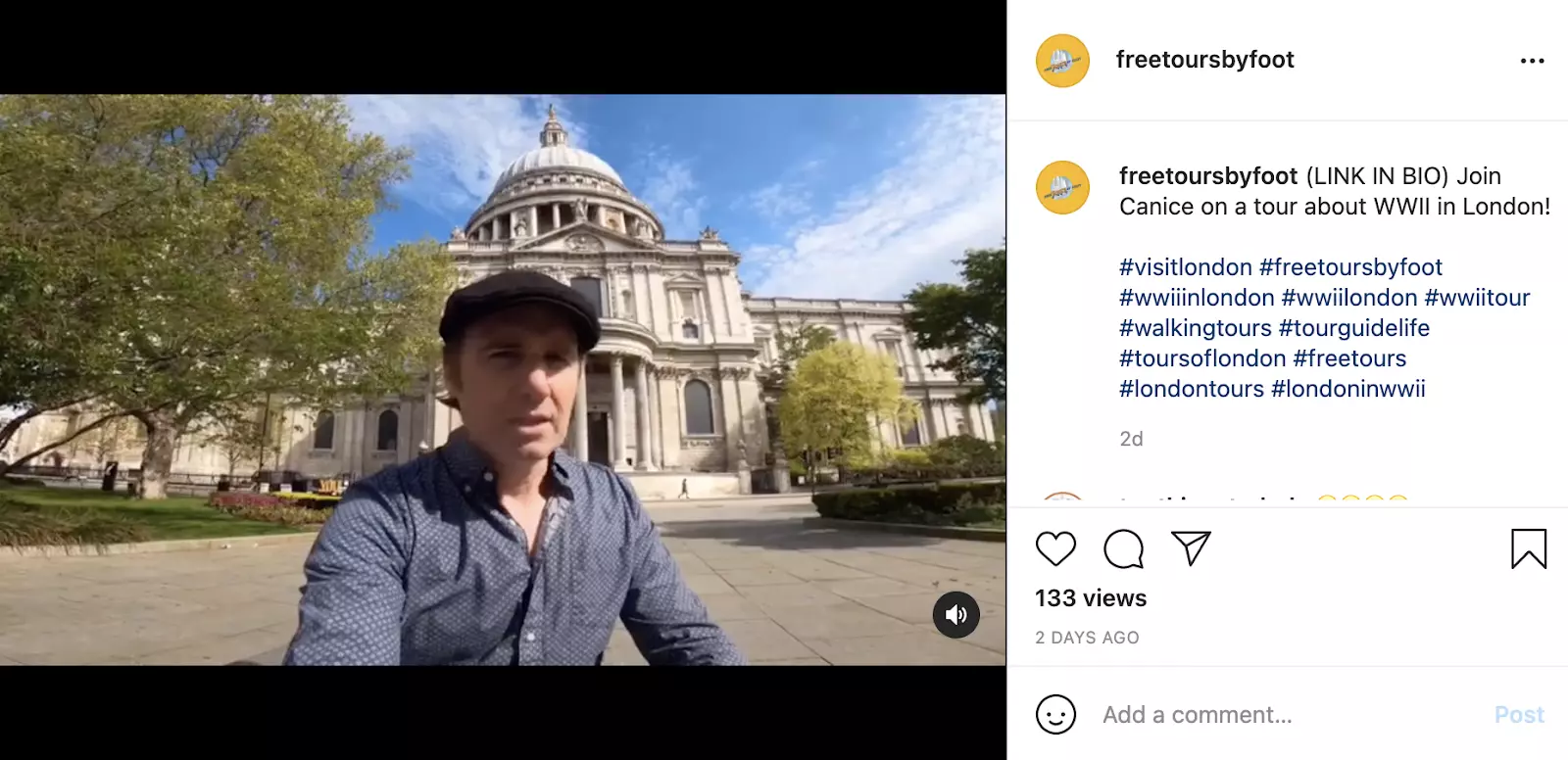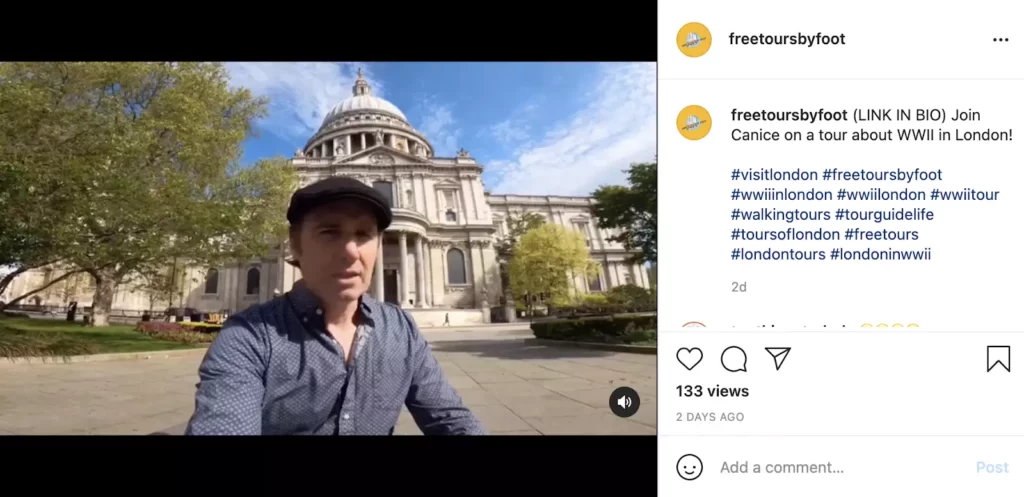 Your guests will connect more to the people behind a brand rather than a faceless company. Social media allows you to give your brand personality and show the faces behind all the hard work.
By featuring your employees, guides, and even yourself on social media you can connect with your followers in a more relatable, personal way.
Free Tours by Foot does this by showcasing their walking tour guides around the world, as seen in the video above.
4. Engage with your community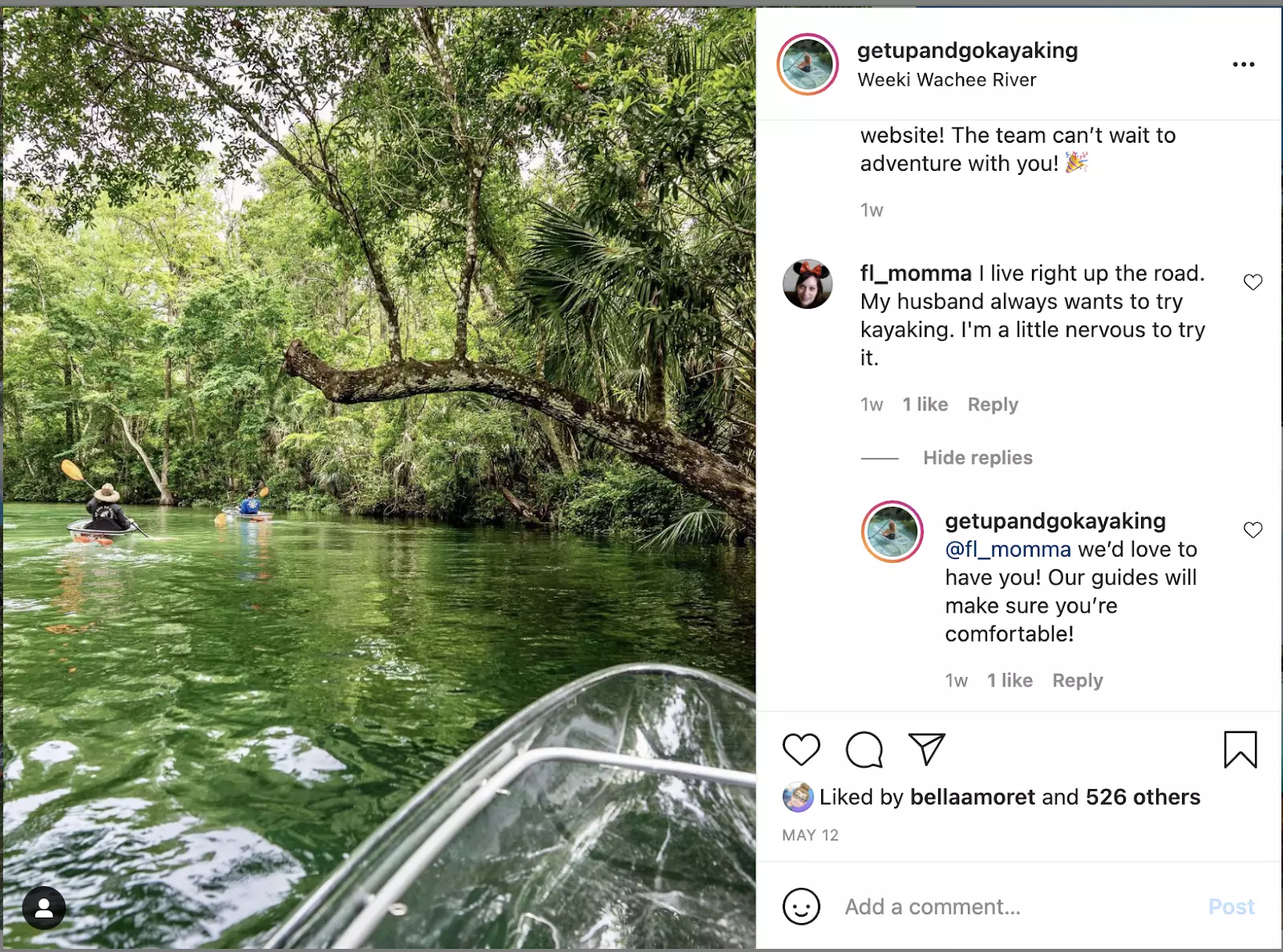 Social media is all about engagement. You should look at your followers as your community.
Make sure to engage with the users that interact with your posts, especially answering their comments and messages. In the post example above, the Florida kayaking tour operator responds to a comment from a potential customer reassuring her that their tours are safe.
You should also set aside some time each week to engage with new users. This means commenting and liking potential followers' posts to increase your company's visibility.
How to measure your social media strategy
Follower engagement, website traffic, and conversions are a few of the metrics used to measure your social media performance. You should continuously track your KPIs to pinpoint any necessary areas of improvement.
The metrics you focus on will depend on the goals you set for your social strategy, but here are a few of the most common ones:
Audience Engagement: Engagement is a metric that tells you how well your audience is responding to your social media posts. Follower engagement includes all interactions like commenting, liking, and sharing your posts. You can find your engagement rate by adding the number of comments and likes on a post, then dividing by the number of followers. Then, multiply by 100 to get the percentage. An average engagement rate lies between 1% and 3.5%.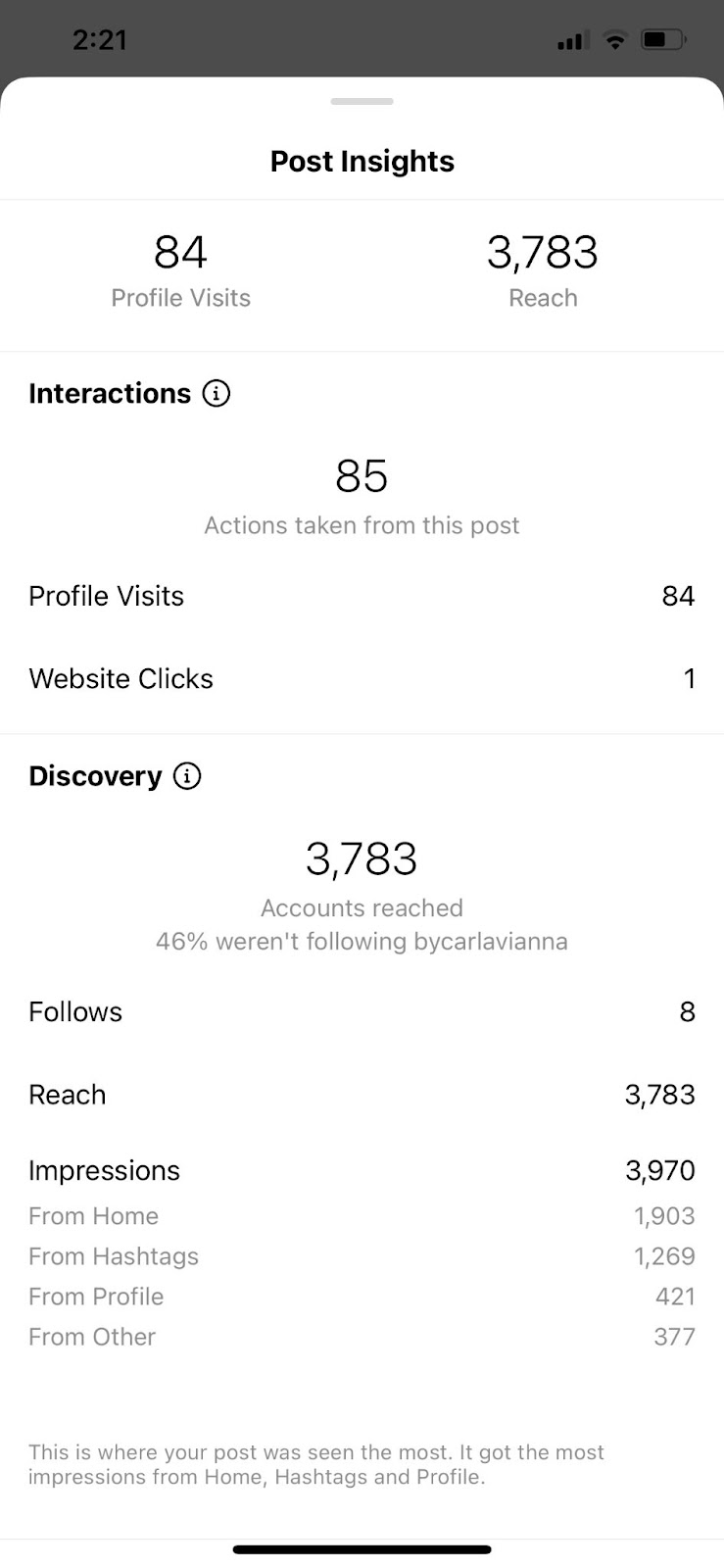 Total Impressions: Impressions are the number of times your content has been shown to people, regardless if it was clicked on or not. You can find your impressions by checking the stats for a particular post. On Instagram, for example, you'd click on "Insights" and look at the number next to "Impressions."
Web Traffic: You can check Google Analytics to see how much traffic you're getting from social media. Go to your Google Analytics dashboard, click on "All Traffic," and choose "Channels." Here you'll see how many users are coming to your website through organic search, social, email, etc.
Conversions: Conversions refer to the percentage of your social media traffic that books a tour with you. You can check this in your booking software insights.
Sales: What percentage of your sales comes directly or indirectly from social media? This is another metric you can check with your booking software.
Click-through-Rates: To find out how many users are clicking on your post when you share it on social media, you'll consult your individual post insights. On Instagram, for example, you'll be able to see how many people clicked on your website after seeing your post. For an ad, you'll look at the ad results for that information.
---
In sum, you should continuously track and revisit your social media strategies to ensure you're bringing in the best results.
From building brand awareness to driving more bookings, a good social media marketing strategy can take your business to new levels. But it's important to know your audience and choose the right platforms before diving in.
Use this guide to help you create a solid social media strategy for your tour business.