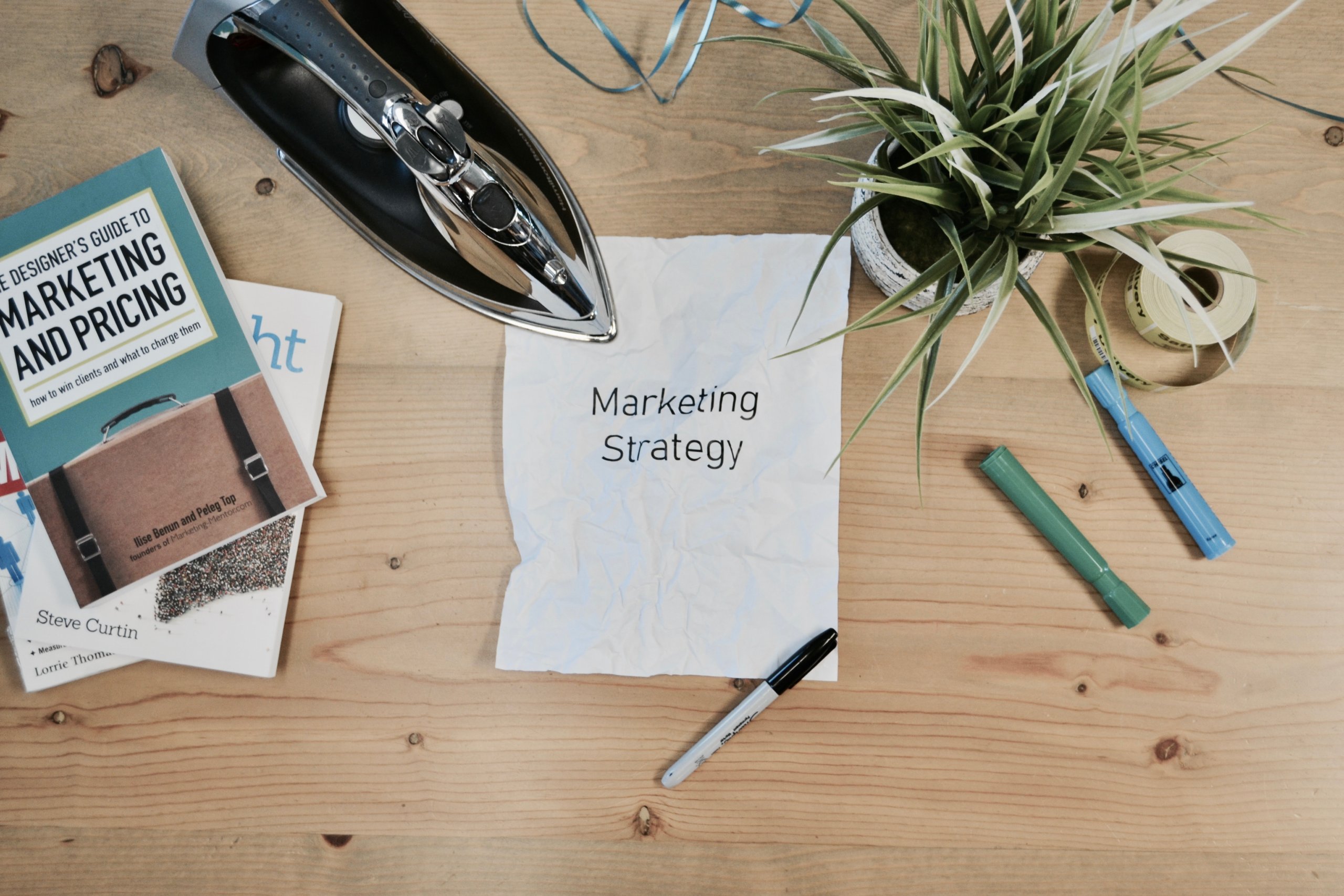 Content marketing can generate your tour business three times as many leads as traditional marketing efforts.
That's because the foundation of content marketing is valuable content that helps inform your audience's travel decisions like blog posts, videos, and podcasts. When you focus on content marketing for tours, you can reach guests in the places they're searching for experiences like the ones you're offering.
In this post, you'll learn how to create an effective content marketing strategy for your business.
What is content marketing?
Content marketing is a strategy involving the creation of valuable online content — think blog posts, YouTube videos, infographics — that'll attract potential guests to your website.
The idea behind content marketing is that your blog posts or YouTube videos will make your company easily discoverable on search engines through strategic keyword research and search engine optimization (SEO).
This very blog post, for example, is a piece of content marketing. Blogging is the most traditional form of content marketing because written articles can rank on Google and direct customers to your website.
What is the difference between content and content marketing?
Content is everywhere, so you might be wondering what exactly makes it content marketing.
The answer lies in the ultimate goal behind content marketing: To drive website traffic and conversions.
Content generated with that key objective in mind falls under content marketing. In other words, you're using specific types of content like blog posts and videos to appeal to your target audience. Your content shouldn't just inform or inspire them, but gear them to your tour booking pages.
Another key component to content marketing is that you're doing all of this on your own channels, such as your blog or your YouTube channel.
Should tours and activity operators do content marketing?
Content marketing —like SEO — is a long-term strategy in the sense that it takes time and effort to get a good strategy up and running. But one of the main reasons that content marketing is so valuable for tours and activity operators is that it also brings long-term value.
Travel companies can invest in Google Ads to appear on the first page of Google to get quick results, but as soon as they stop paying for ads, they lose that traffic.
Meanwhile, your high-performing blog posts will continue bringing you web traffic for as long as they're ranking well. And this isn't random traffic. It's high-value, targeted traffic made up of internet browsers interested in the experiences you're offering.
Aside from providing tour and activity operators with a steady stream of valuable website traffic, content marketing can also help build brand awareness. The more eyes on your company, the more familiar people will be with your brand.
If every time someone searches for "hiking in Washington," a blog from your website comes up, your brand will become associated with that very topic.
This also creates room to build credibility in your niche. Creating a database of valuable blog content about topics in your niche impressed your customers — and Google. How so? A website with 25 articles related to "hiking in Washington" will likely outrank one with a single blog post about it.
What are some content marketing ideas and opportunities?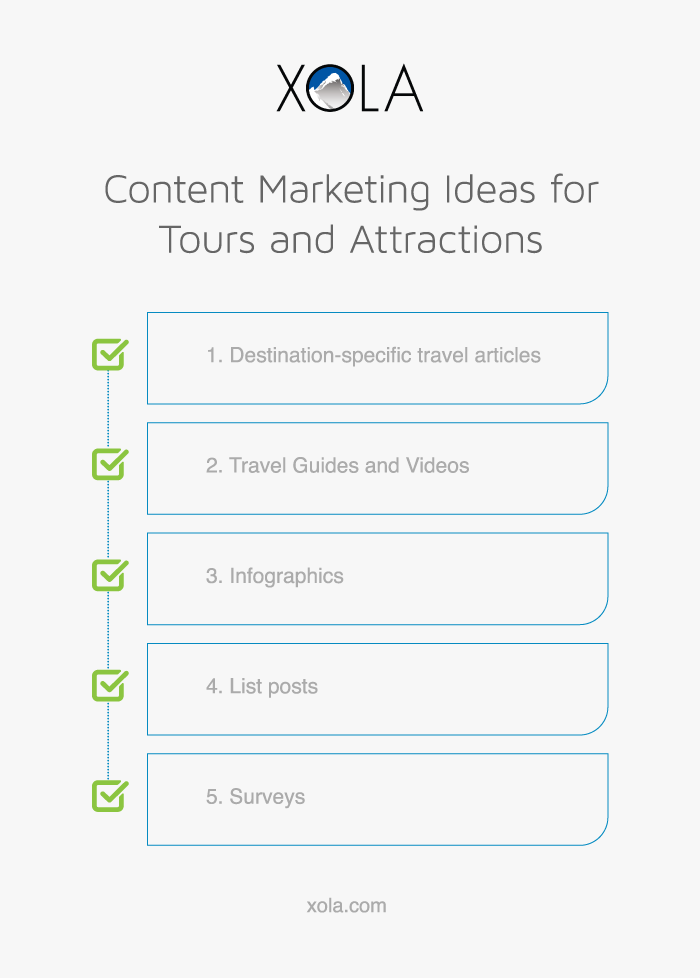 Many tour operators struggle to come up with content marketing ideas. To help solve that problem, we've come up with five ways you can get started:
1. Destination-specific travel articles
Destination-specific articles are a great way to populate your blog with valuable travel content. These articles can include travel guides like how to best visit your city and what attractions tourists can't miss. Try to tailor the article to your niche, and include your company in the article.
If you offer boat tours in Portland, Maine, for example, you could write:
What to do in Portland, Maine (include your boat tours in the list)
Best cities to visit in Maine (include your city on the list)
X-day Maine itinerary (include your tour on the itinerary)
2. Listicles
Listicles are a popular type of travel article that can feature a list of destinations or things to do in a particular destination. Using the same example as above, a Maine boat tour operator could create the following listicles:
Top 10 things to do in Portland (include your tour)
Top 10 sightseeing tours in Maine (include your tour)
Top summer destinations in the U.S. (include your city)
3. Travel guide videos
You could take the travel guides you created for your blog and turn them into videos. Videos are discoverable on YouTube as well as Google search, so you have the chance to reach travelers on both platforms.
4. Infographics
Gather information into a simple and sharable graphic that's valuable to your audience. This could be a graphic explaining the different natural landscapes and wildlife travelers can expect to find in Maine. Again, you would then highlight the things you'll see on your boat tours.
5. Surveys
Survey your customers, employees, or business partners about topics in your niche and compile results into an information-rich article. A Portland business owner could for example survey other small travel operators in the city to see how they're feeling about the upcoming travel season and compile the answers into an insightful post.
5 content marketing tips for tour operators
Before you start creating new content, keep the following tips in mind.
1. Know your audience
Have you created a buyer persona? A buyer persona maps out the characteristics of your ideal guest, including their demographics and interests. Your content should be relevant to what your guests are searching for on the web, so the better you know your audience, the stronger your content will be.
2. Answer questions
Knowing your audience allows you to answer their questions. If you're targeting outdoor adventure travelers going to Maine, you can assume they'll be looking for the best hikes, camping, or nature sightseeing in the state. You can then write an article or record a video answering that.
3. Focus on your SEO
Your blog posts should always be optimized for specific keywords you're trying to rank for. You should use a keyword tool like KeySearch or SEMrush to find keywords that aren't too competitive to rank for. You should target long-tail keywords — "best sightseeing in Maine" — rather than general terms like "Maine travel," which are harder to rank for.
4. Create a blog
Create a separate section on your website where all of your blog posts will be published. Some businesses even give this section a different name: Xola's blog is called Xola University, for example. Your content should live on your website so that every time users click on one of your blog posts, they'll be taken to your site.
5. Cross-promote your content
Every time you publish a blog post, you can promote it across your other digital channels. You can turn a travel guide into an Instagram post, a video, or an email newsletter, for example.
In sum, tour and activity operators can use content marketing to drive website traffic and bookings.
Content marketing can take many forms, including destination-specific blog posts, videos, and even podcasts.
Whatever medium you're working with, your content should always be tailored to your audience and the questions they're asking while planning a trip. Know your audience, anticipate their questions, and start creating content that they'll love to find.