From groceries and gas to airfare and entertainment, if it feels like everything is more expensive than it used to be, that's because it is.
In fact, in the U.S., inflation rose to a record-breaking 11.2% in March, according to the Bureau of Labor Statistics. The steep rise in inflation isn't just hitting consumers at home. It is also being felt by businesses across all sectors like Amazon FBA businesses, which now have a 5% inflation/fuel surcharge.
Coupled with an ongoing labor shortage and increased employee wages, that means you are effectively giving your tour business a pay cut if you haven't raised your prices in the last year.
Or put another way, $100 in January 2020 (pre-pandemic) has the same buying power as $111.45 today.
In this post, we're taking a closer look at what inflation means for the travel and tourism industry, along with how some businesses are responding.
Why is inflation a problem for tours and attractions?
While most savvy big brands from Amazon and Netflix to Uber, Lyft, and large grocery store chains have raised their prices in recent months, businesses in the travel and tourism industry have an added reason to do the same.

In addition to inflationary pressure, you also have two years' worth of pent-up demand. Ample data shows that people are spending more this spring despite high inflation to make up for lost time and postponed vacations from the last two years.
In fact, Carnival just saw a record number of cruise bookings during the last week of March.

If you are like most of the businesses we're seeing that have seen an uptick in bookings over the last year and you haven't raised prices, it is likely that you are leaving money on the table.
4 examples of how the travel and tourism industry is responding
​​While logically raising prices makes sense for *most businesses* right now, emotionally, this can be scary.
In our experience, most minor price increases (say anything under 10-15%) for direct bookings tend to go over without any major issues. In fact, there is a very good chance your booking volume won't change at all, and you'll get no complaints.
However, we're sharing how a few well-known travel and tourism brands have approached recent price increases. Most were done without any big pricing communication campaigns.
Walt Disney World
Walt Disney World made some significant price changes in February 2022 after two years of minimal to no changes at all.
However, instead of raising their base prices across the board, they made some clever price adjustments that disguise a lot of the price increases and will end up netting them a lot more money down the line.
In fact, their 1-3 day base ticket price remained the same price. The base ticket price range started to increase by roughly 3%, starting with their 4-day base tickets, which went from $434.83 – $596.74 to $447.70 to $596.74. They followed the same price increase model with their park hopper passes.
A 3% price increase is hardly worth mentioning. However, this came right around the same time they discounted the free FastPass+ and introduced the paid Genie+ and Lightning Lanes. This brings in a lot more revenue for Walt Disney World and is a clever way to disguise a major price increase. So, if you want to get a similar experience to what you had before, you now need to pay an extra $15 per person per day for Genie+.

Key Takeaway: You don't need to be a massive brand like Disney to benefit from this pricing strategy. If you can't increase your base price, one of the simplest ways to still add to your bottom line is through add-ons. You can either take something out of your base price (like what Disney did) and make it an add-on or launch a new, premium experience.
Dollywood
In addition to reviewing Disney's price structure, we wanted to see how regional theme parks were faring. Most have raised their prices over the last two years and used a more straightforward approach.
For example, Dollywood has increased its prices by an average of $5 or roughly 6% since 2020. In fact, in January 2020, the base price for a one-day ticket was $79, and a 2-day flex ticket was $99, according to archive.org.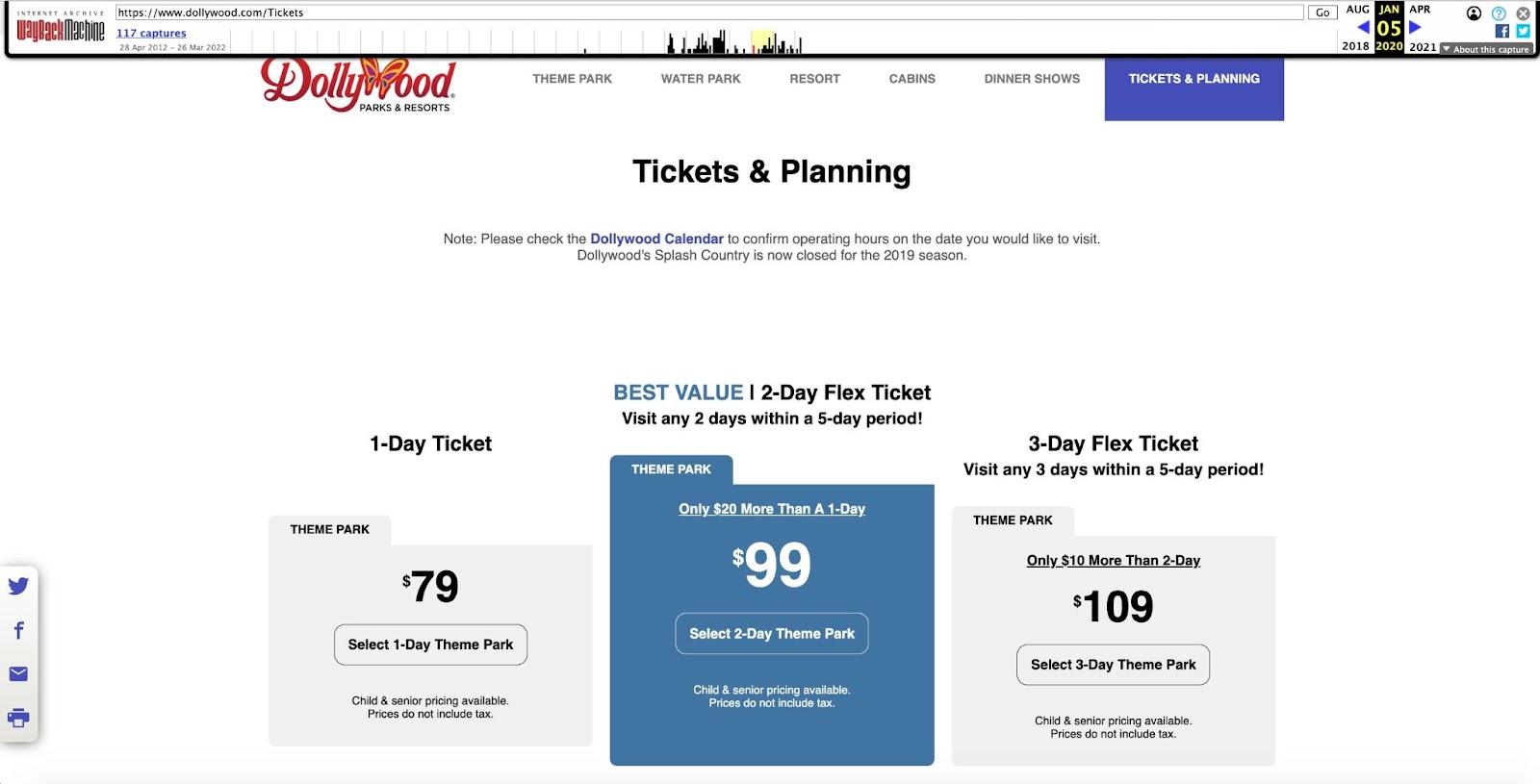 Today, the base price for a 1-day ticket is $84, and the 2-day ticket is $104. They are also emphasizing upsells too, which increase the average order value.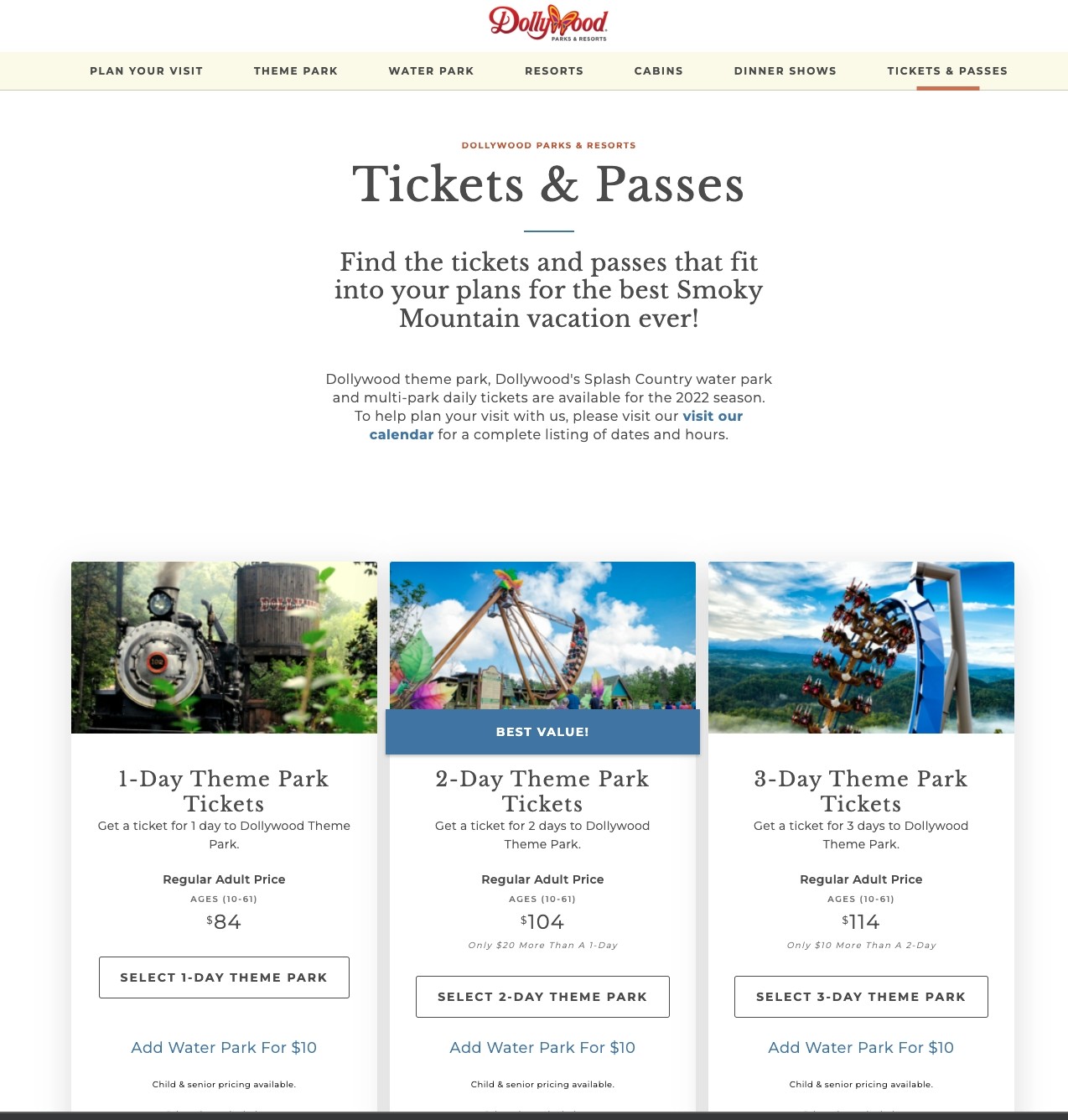 Madame Tussauds New York City
Madame Tussauds is one of the most popular and famous museum brands around the world. We analyzed how their pricing structure has changed since 2020.
In fact, their New York wax museum had two main pricing plans in October 2020 at $36.99 and $49.99, respectively.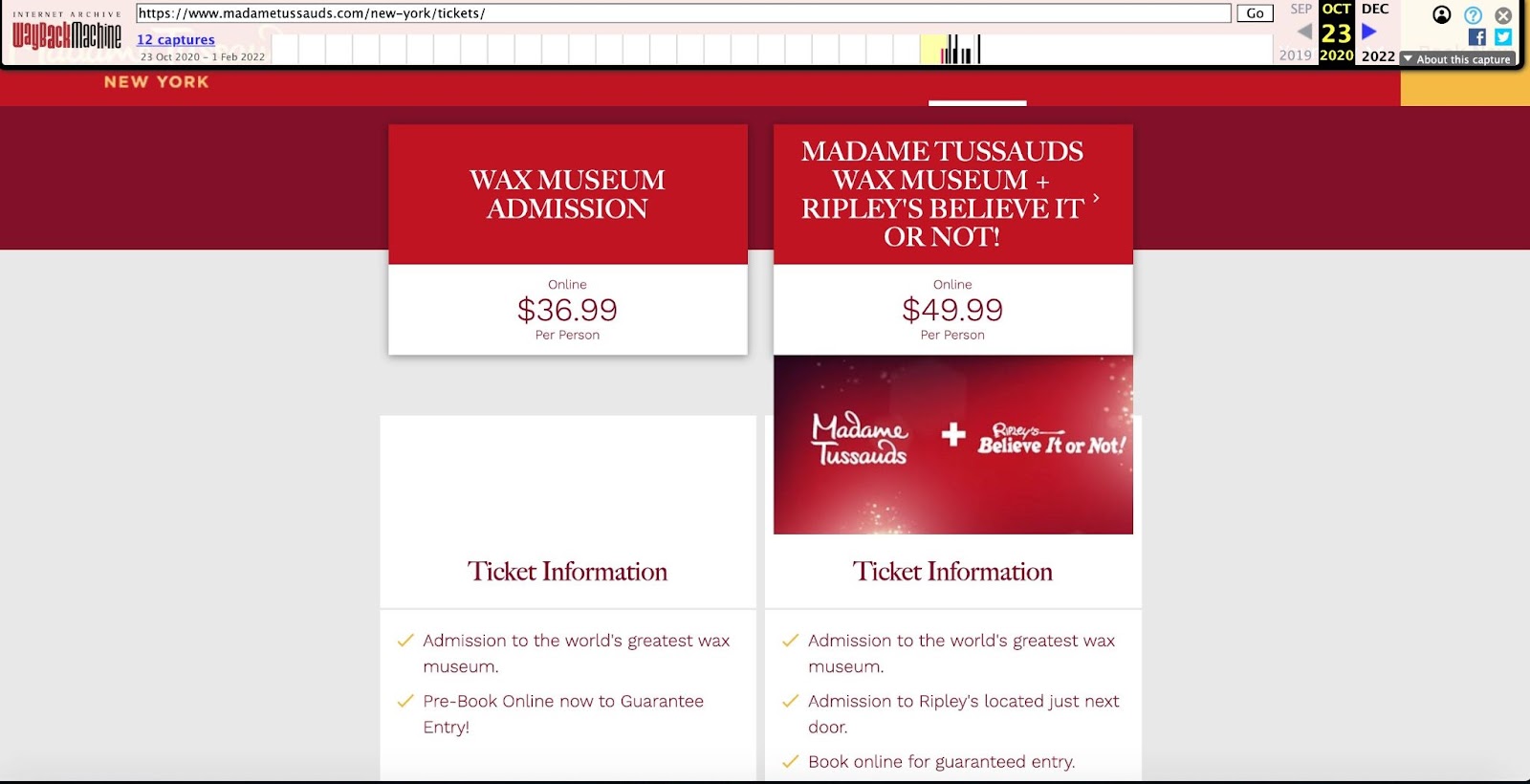 Today, they have doubled the number of pricing plans at 4. Their lowest base price is now $39.99, with additional price plans ranging from $43.99 all the way up to $69.99.
They not only increased their base plan by $3 or roughly 8% in the last 2 years. They also have two new premium plans at $51.99 and $69.99, respectively. On their highest tier, they are making $20 more per ticket.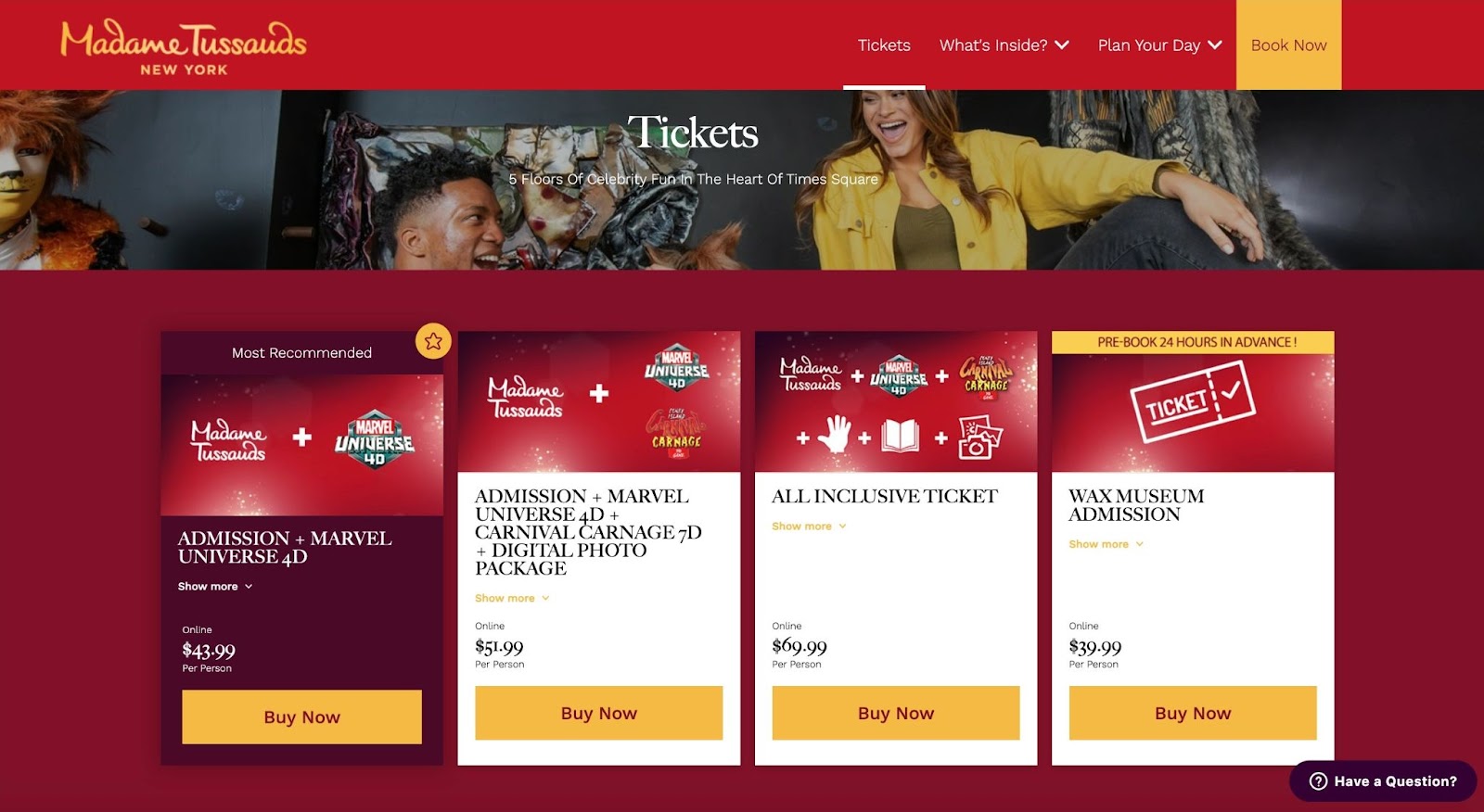 Georgia Aquarium
Georgia Aquarium in Atlanta is the most well-known aquarium in the south. They've raised their base price by $13 since February 2020. That's a 48% price increase.
According to Archive.org, their base price for adult admission tickets in February 2020 was $26.95.

Today, this same ticket will run you $39.95.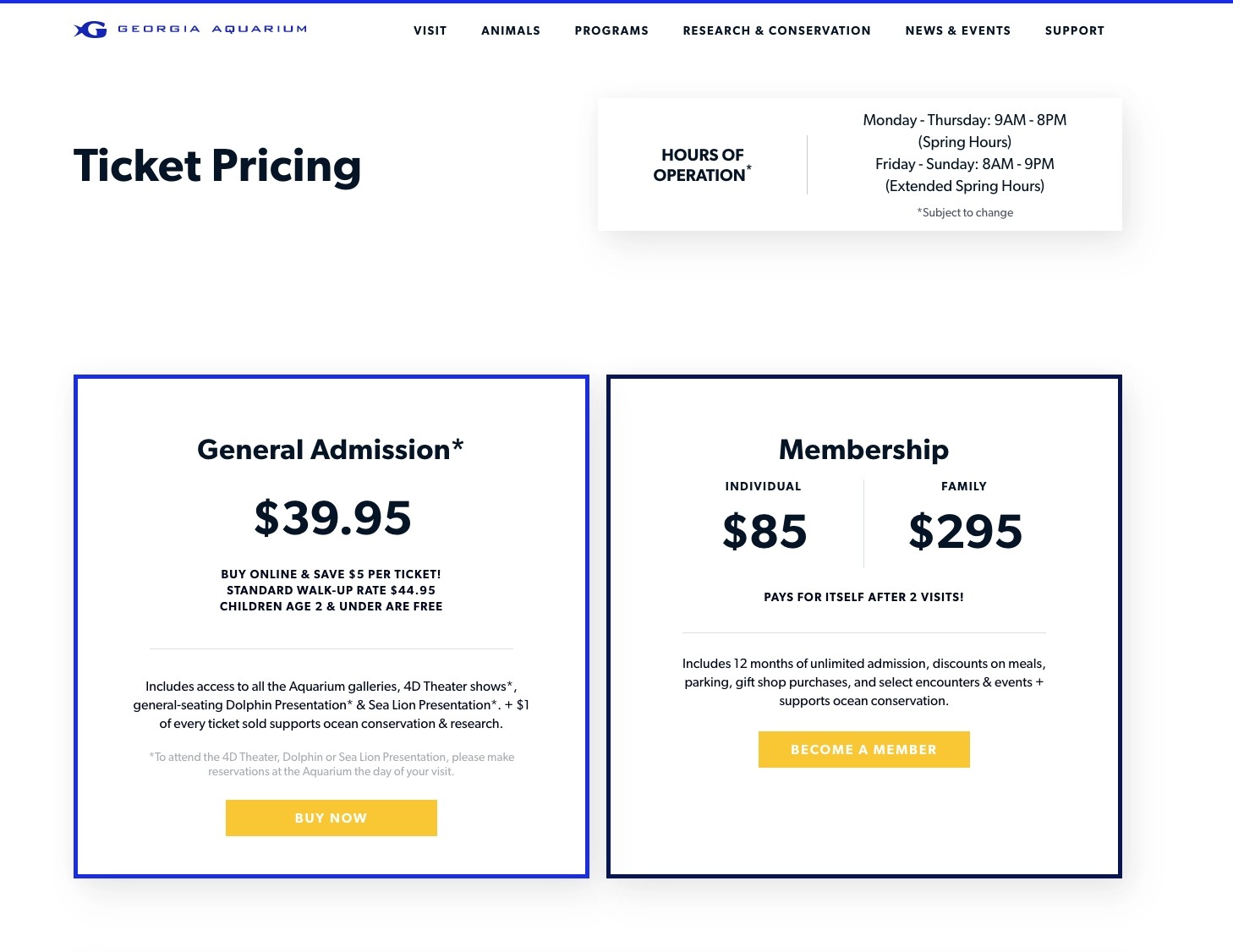 How to raise your prices in Xola
If you haven't raised your prices in the last two years, you are likely leaving money on the table, especially if you've seen an uptick in bookings. In fact, by doing nothing, you are actually losing money due to high inflation.
You can easily modify your pricing on Xola and your website so that it is active immediately. In most cases, there is no need to notify anyone.
Pro Tip: If you have any active coupons and discounts, make sure to also adjust these at the same time when you raise prices.
The one caveat – if you have any resellers, affiliates, vendors/partners, you can—and still should raise your prices—but you need to communicate the pricing changes with them in advance and put more thought into how you do it. Given high inflation, there is a strong chance that your resellers are in the same position and are also contemplating raising prices to adjust to market conditions.
It is generally in good form to let them know in writing at least 30 days in advance. Most will take it at face value. However, with high-value partnerships, it is in your best interest to be more flexible and willing to negotiate.

Either way, modest pricing changes happen all the time and commercial relationships you have will adjust, as everyone else in the world is also adjusting to fluctuating gas and food prices."
Also, any price increases in Xola do not affect bookings already made. (That's where if you were to get pushback, it would mostly be from a customer who already made a booking.)
***
In sum, increasing your prices is one of the simplest things you can do to keep pace with inflation and even add to your bottom line, especially if you get a large percentage of direct bookings. You don't need to drive more traffic, run a big marketing campaign, or anything. All you need to do is spend a few minutes bumping up those prices in your Xola dashboard.