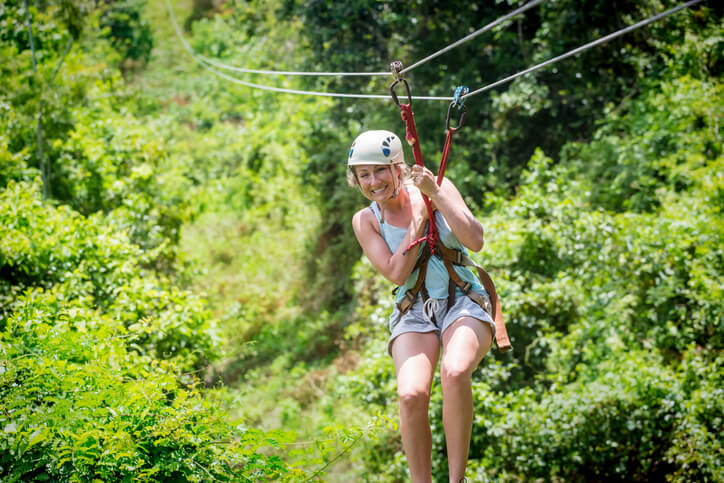 TripAdvisor has always been an important challenge course and zipline marketing channel. And recent indications show that its influence is still growing.
In the summer of 2017, TripAdvisor released its "Seasonal Attractions Trend Index." The exclusive list, which ranks the top 25 summer attractions in the US, featured two aerial adventure operations.
According to Brooke Ferencsik, senior director of communications for TripAdvisor:
"With Americans looking to take advantage of summer weather to explore the great outdoors, TripAdvisor data shows that attractions in nature are climbing to the top of our trend index this [summer] season." (Adventure Park Insider)
As competition continues to rise, it's important that operators focus on optimizing their TripAdvisor presence.
Here are 10 ways ziplines and challenge courses can optimize their TripAdvisor listing for more bookings.
Your Guest Experience
The most important element of success on TripAdvisor is not your listing. It's your guests.
If your guests don't enjoy their experience your reviews will suffer. Simple as that.
Create a Great Experience
The quality of your zipline or challenge course experience can make or break your business, not just your online reviews.
Your zipline tour doesn't have to be the fastest, the highest, or in the most exotic location. But it's important that you are honest when setting expectations. A family-centric challenge course, for example, shouldn't be marketed as a high-thrills adventure. If you over-promise and under-deliver, your chances of receiving negative reviews are sure to increase.
But no matter what kind of activities you offer, providing excellent service is paramount. A sweet experience can turn sour with just one bad customer service moment.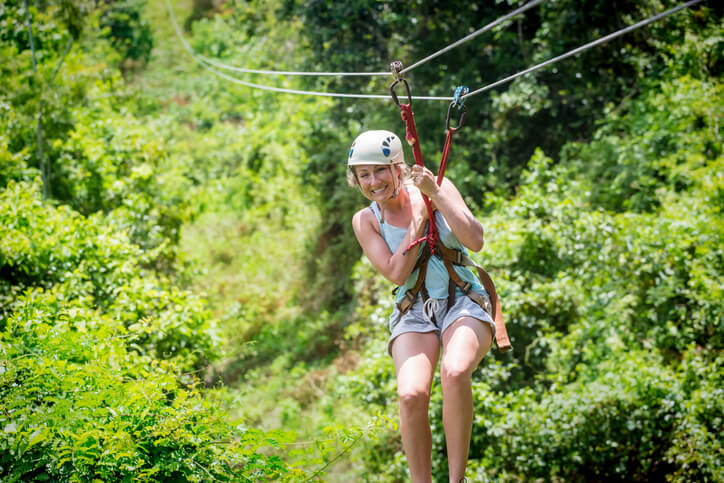 Find staff with strong communication skills and a healthy positive attitude. Train them to smile and address guests by name. Keep the equipment in good condition and always (always!) keep the bathrooms clean.
Attention to detail goes a long way, and your customers will thank you with more positive reviews.
Offer Amazing Value
A common negative theme seen in TripAdvisor reviews is when the activity doesn't offer good value for the price. If this is a recurring feeling among your guests, consider offering generous extras like free photos, swag, or merchandise giveaways.
In one example from Adventure Park Insider, Treeosix Adventure Parks decided to give away photos for free (instead of charging customers for an album). After making the change, satisfaction rates of the tours photos jumped to an impressive 98 percent.
Emphasize Safety As a Priority
One of Xola's zipline customers ranks #1 on TripAdvisor for "things to do" in their area. When we analyzed their TripAdvisor reviews, we noticed that exactly 1,000 of their impressive 8,000+ reviewers included the word "safe" in the review text. The vast majority of these reviews were positive.
It is clear that safety is a concern for their customers. And the feeling of a safe trip was an important factor in the reviews.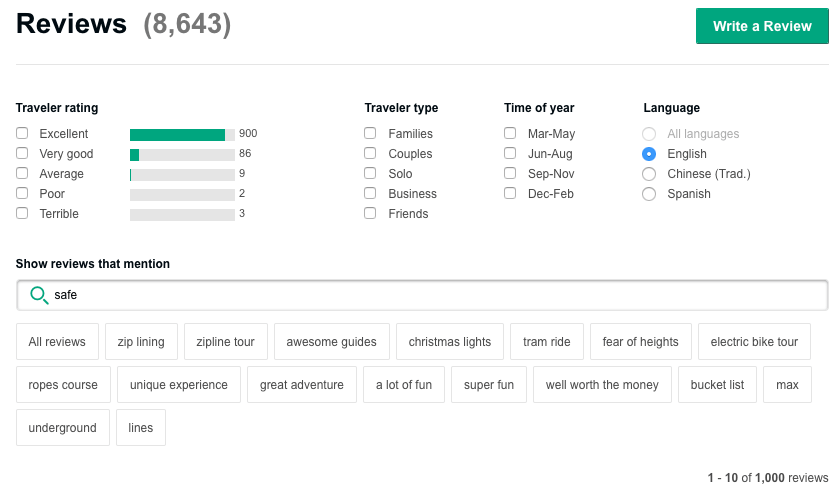 Having clear guidelines, well-trained staff, and top-of-the-line safety equipment will have a positive influence on the quality of your reviews. More positive reviews that address safety concerns will help ease the anxiety of prospective customers and increase the likelihood that they booking with you.
Your TripAdvisor Listing
There is an art to creating and maintaining an effective TripAdvisor listing.
With 88% of people using customer reviews to guide their booking decisions, an optimized TripAdvisor listing will help persuade prospective customers to book with you.
Confirm and Edit Your Business Details
Providing accurate and detailed information helps travelers make booking decisions and gives them a better understanding of what your aerial adventure park has to offer.
Make sure your name, address, and phone number are up-to-date. If you have multiple business locations, TripAdvisor suggests creating separate listings for each one.
Once you have confirmed that your business details are accurate, spend some time writing an informative but engaging unique value proposition for your business and activity descriptions.
Upload Photos
According to TripAdvisor, adding just one photo to your listing lifts traveler engagement levels by 138%, and more than doubles the likelihood of a booking inquiry. And as the number of photos increases, engagement and likelihood of bookings increase as well.
Beautiful photos are a must. Find a high-quality camera and take a variety of different photos to highlight the variety of your offerings. Your photos should accurately reflect the current season too, so it's important to retake photos as the weather and conditions change.

And don't forget to show real customers enjoying your zipline or challenge course experience. Adding guests to your photos helps visitors step into the customer's shoes and begin to feel what it might be like to take part in one of your activities.
User-generated photos are great too. In fact, many potential customers often see them as a more trustworthy representation of your tour. Offering free or paid photo services during the trip is a great way to get photos to your guest that they can eventually upload and share on TripAdvisor.
Add a Check Availability Button
Allow guests to make bookings directly from your TripAdvisor listing with the help of sophisticated zipline software, like Xola. Xola integrates directly with TripAdvisor's marketplace, allowing visitors to see your real-time availability and make bookings without leaving the review site.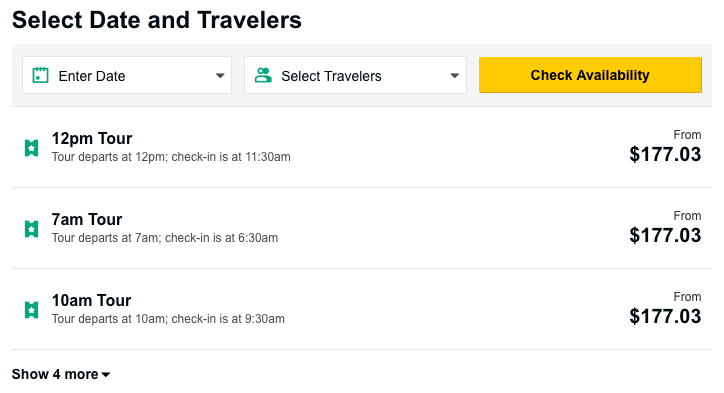 Collect and Manage New Reviews
The key to increasing your ranking on TripAdvisor is your customer reviews. Every zipline and challenge course operator that uses TripAdvisor to generate bookings needs a strong review plan.

A review plan is an important element in your zipline marketing strategy, and addresses the following:
How to get more reviews, more often

– this should include both in-person and online tactics (i.e. sending automated review request emails after the tour)

How to increase the quality of reviews – the quality (or bubble-rating) of TripAdvisor reviews is the most important factor in TripAdvisor's ranking algorithm. If you're consistently receiving 5-bubble reviews, you've got a winning strategy.
How to respond to bad reviews

– Negative reviews happen, no matter how hard we try to prevent it. Luckily, if you handle negative reviews gracefully, they create a great opportunity to increase trust and create a great customer service moment.
For more actionable advice, here are 9 ways to get more high-quality reviews on TripAdvisor.
Beyond Your TripAdvisor Listing
Just because you have a great presence on TripAdvisor doesn't mean you will get more bookings. Many TripAdvisor users will visit your website and/or your physical location before making their final booking decision.
Optimize Your Website and Checkout
More and more customers are discovering, researching, and booking experiences online. According to Xola's own data, online bookings accounted for 41.27% of zipline and challenge course revenue generated from 2015 through 2017.
To take advantage of this trend, it's important that your website and checkout are designed to get more bookings, not less.
There is a science to improving the likelihood that your website visitors book with you. But in general, simple site navigation, clear calls-to-action, and a quick and easy checkout process all make a substantial impact.
For a more information, here are 10 ways to optimize your challenge course or zipline website for more online bookings.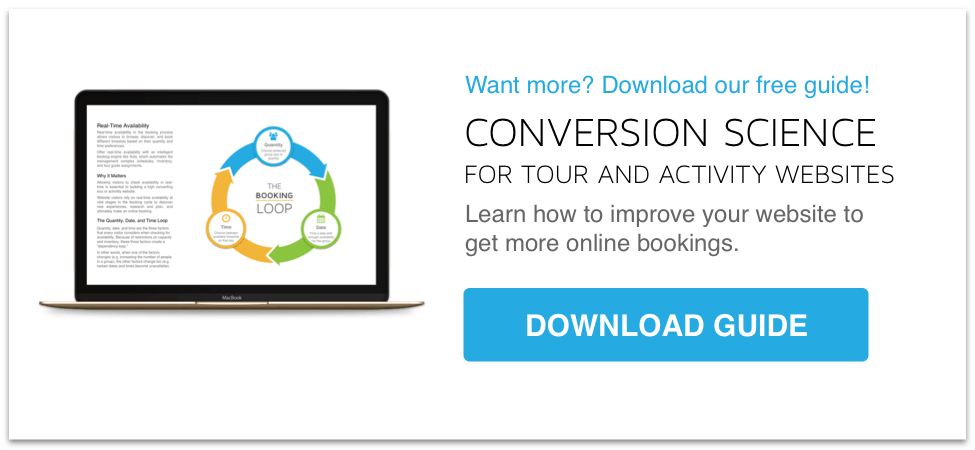 Showcase Reviews and Awards on Your Site
Adding the TripAdvisor widget to your site is a great way to showcase reviews and awards directly on your website. Social proof like this can help increase trust and boost the chances that your website visitors make a booking.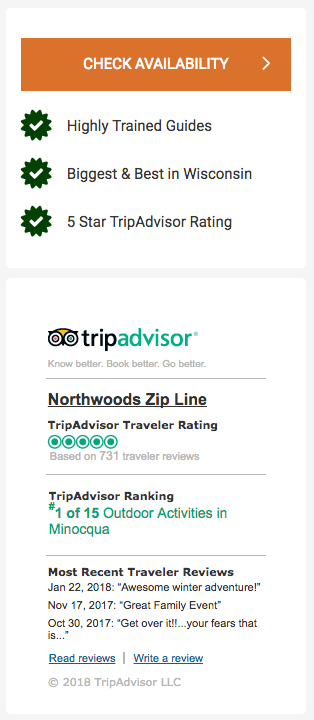 Adding a widget is easy. Simply choose the widget you want to display, then copy and paste the customized code into your website's HTML.
Showcase Your Listing With a TripAdvisor Sticker
According to TripAdvisor, 75% of travelers prefer businesses with a TripAdvisor endorsement. This is simple enough online. But it's important to highlight your endorsements for walk-up visitors too.
Display TripAdvisor stickers at the entrance to your business for a free and effective way to advertise your TripAdvisor presence to visitors walking by, reinforcing trust in your brand and increasing the likelihood that they make a booking.
Conclusion
With increasing competition between pay-to-play ziplines and challenge courses it's important to continue to monitor and improve your rankings, or you risk dropping in the rankings and losing new business to incumbents.
The key to success requires a thoughtful challenge course or zipline marketing strategy that focuses on a great customer experience, an attractive listing, and an optimized website. Above all, operators need a plan to get more high-quality TripAdvisor reviews.
For more information on how to improve your challenge course or zipline marketing strategy, check out the articles below.
More Articles on Challenge Course and Zipline Marketing