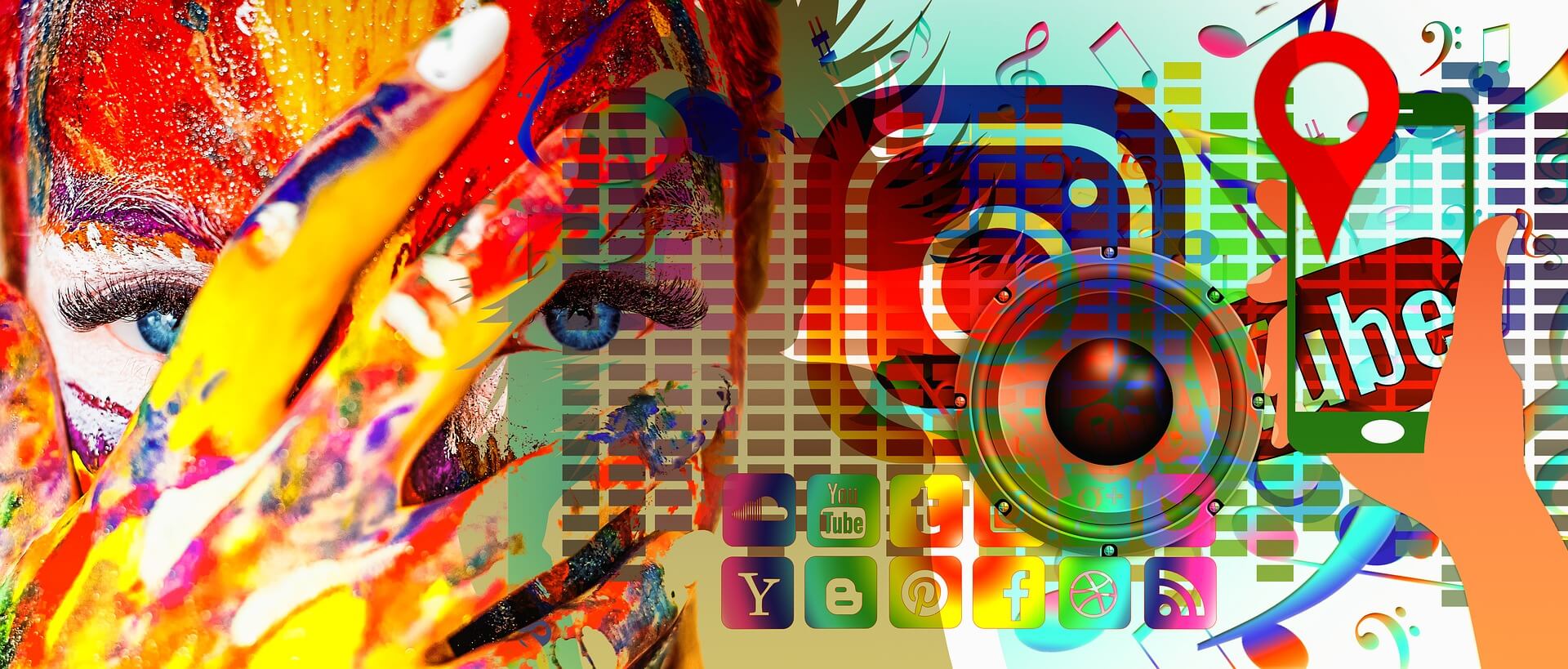 Your customers are browsing, sharing, and finding inspiration on social media — is your company meeting them there?
Tour operators should promote their tours on the platforms their customers already use. Odds are, your guests are using social media to plan and share about their trips.
In this post, you'll learn how to create successful social media campaigns for tours and attractions. Here are nine examples of top travel social media campaigns that inspired travelers on Facebook, Instagram, and more.
What should be included in a social media campaign
Every social media campaign should have a defined target audience and great visuals, among other components. Here are five elements a campaign needs to be successful.
A defined audience
Your social media ad should be tailored to your target audience. Adventure tour operators, for example, should create visually inspiring ads that make adventure travelers want to book a trip. You'll also choose the best platform for your campaign based on where you're target customers are already hanging out.
A hook
You want your ad to catch your audience's attention. Your target customers are constantly bombarded with travel photos and videos while scrolling on social media — make sure your ad pops out at them. Try experimenting with creative short-form videos to hook potential customers in as they're browsing.
Great visuals
Every social media campaign should have a strong visual component. This can include photos, videos, and graphics that persuade the viewer to stop scrolling and look at your ad. Whatever visuals you use, make sure they are high-quality and appeal to your target customer.
A call-to-action
What do you want the viewer to do after they see your ad? You should include a clear call-to-action on every social media campaign that directs the viewer to your website, booking platform, or whatever action you want them to take next.
Measurable goals
Before launching a new campaign, define what you're trying to achieve with it. Tour operators should focus on measurable goals like driving website traffic and bookings. These goals are easy to measure and should be tracked throughout the campaign.
9 examples of great travel social media campaigns
Let's take a look at these strategies in action. Below you'll find nine travel social media campaigns that generated brand awareness, drove customer engagement, and inspired travelers to book.
1. WOW Air offers fans a chance to travel the world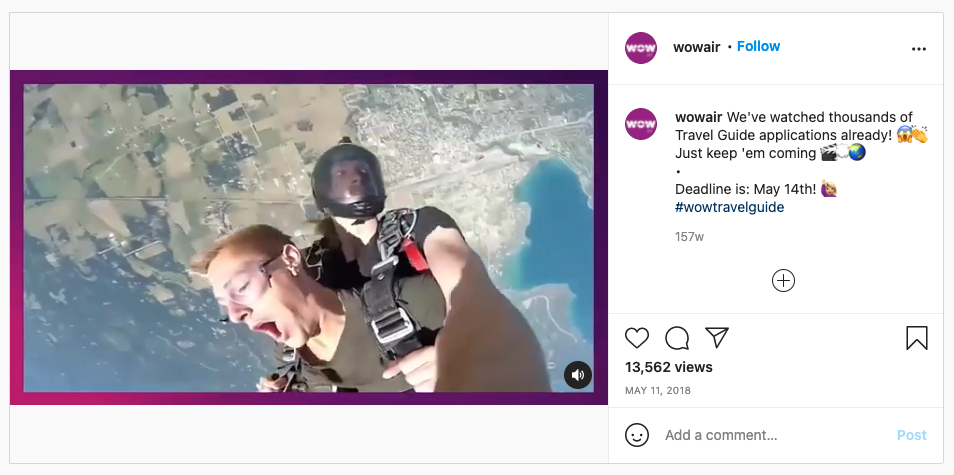 WOW Air offered two travelers a chance to travel the world while creating content for the brand. The airline promoted the campaign on social media, which garnered plenty of media attention. The contest winner and a friend were sent to live in Iceland and traveled to cities that the airline services around the world. The duo created digital travel guides, vlogs, and photos for each destination. They also took over the airline's social accounts to showcase their experiences.
2. Norwegian's Staycation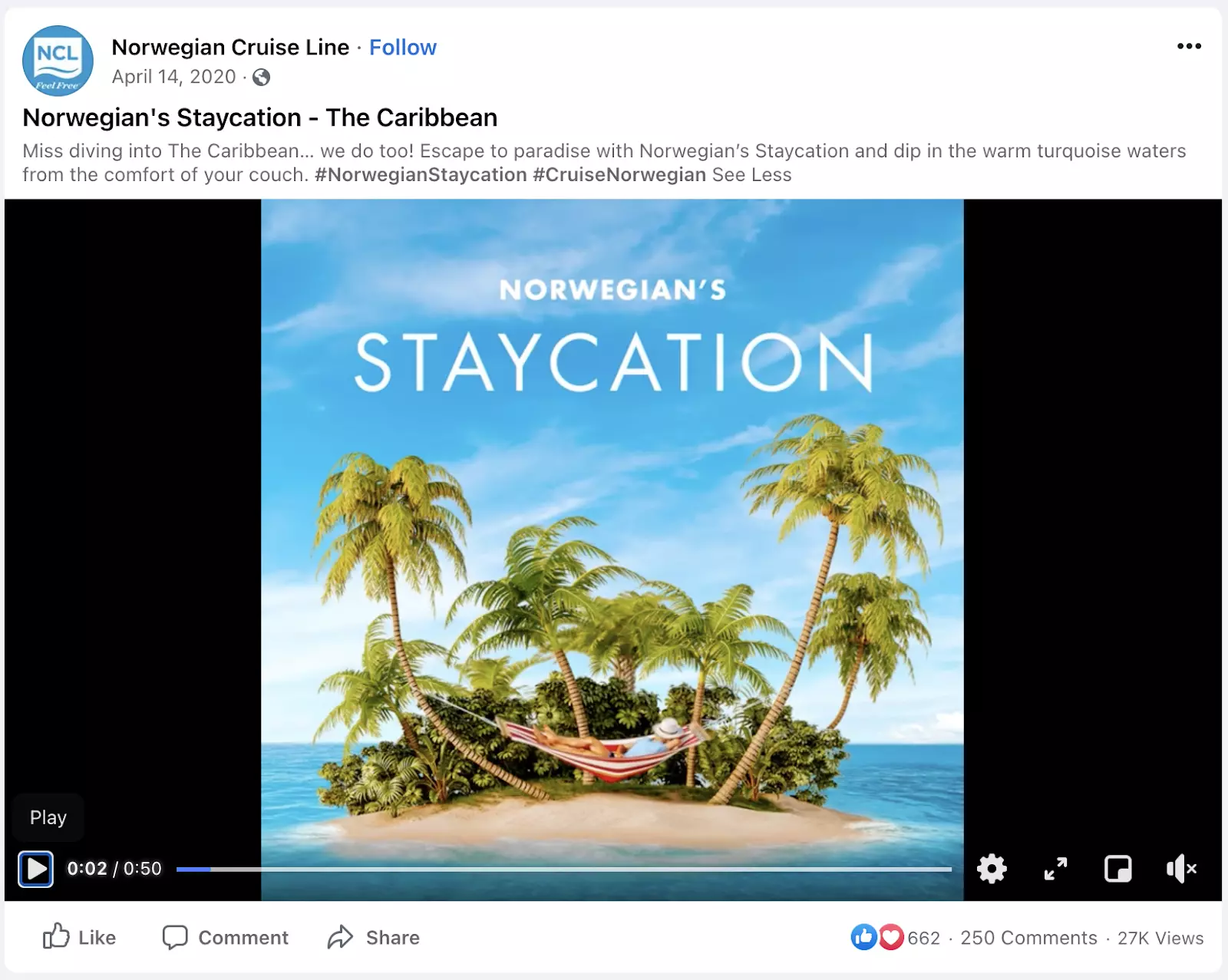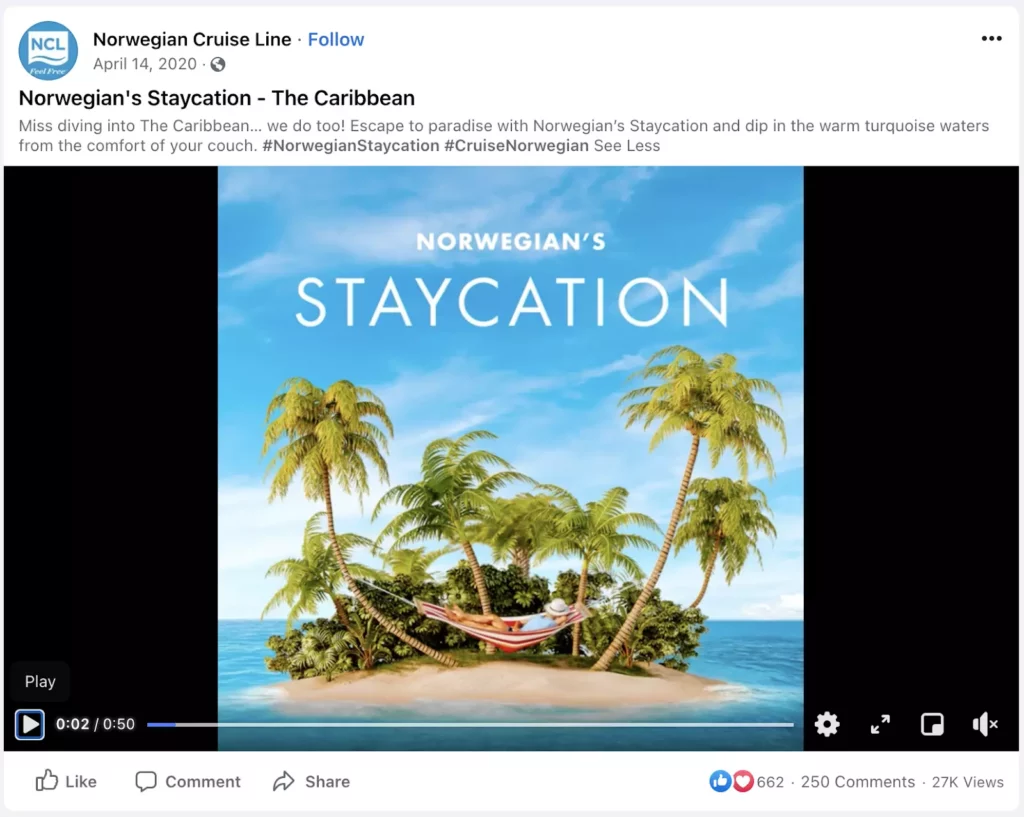 Norwegian Cruise Lines launched a social media campaign encouraging guests to join a virtual staycation from their homes. The campaign was promoted via video across social media, including Facebook and YouTube. The virtual experiences transported guests to popular cruise destinations like Alaska and the Caribbean through high-quality video. Norwegian also offered virtual experiences similar to onboard activities like cooking classes, performances, wine tasting, and curated vacation playlists based on each destination.
3. Alaska Airlines gives free Starbucks to their guests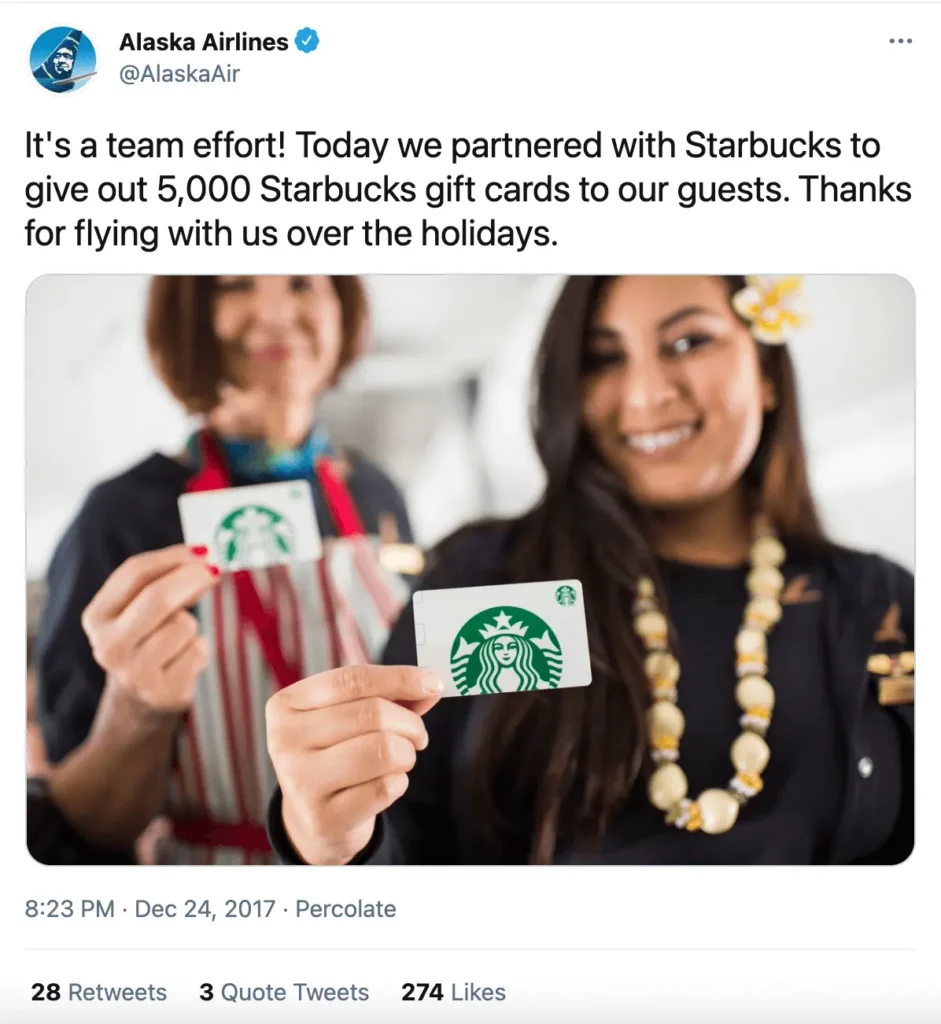 In an effort to increase customer engagement during the holidays, Alaska Airlines took to Twitter to give travelers a special gift. The airline gave 5,000 lucky flyers a free Starbucks gift card to thank them for choosing Alaska for their holiday travels.
4. Hawaii Tourism starts the #LetHawaiiHappen hashtag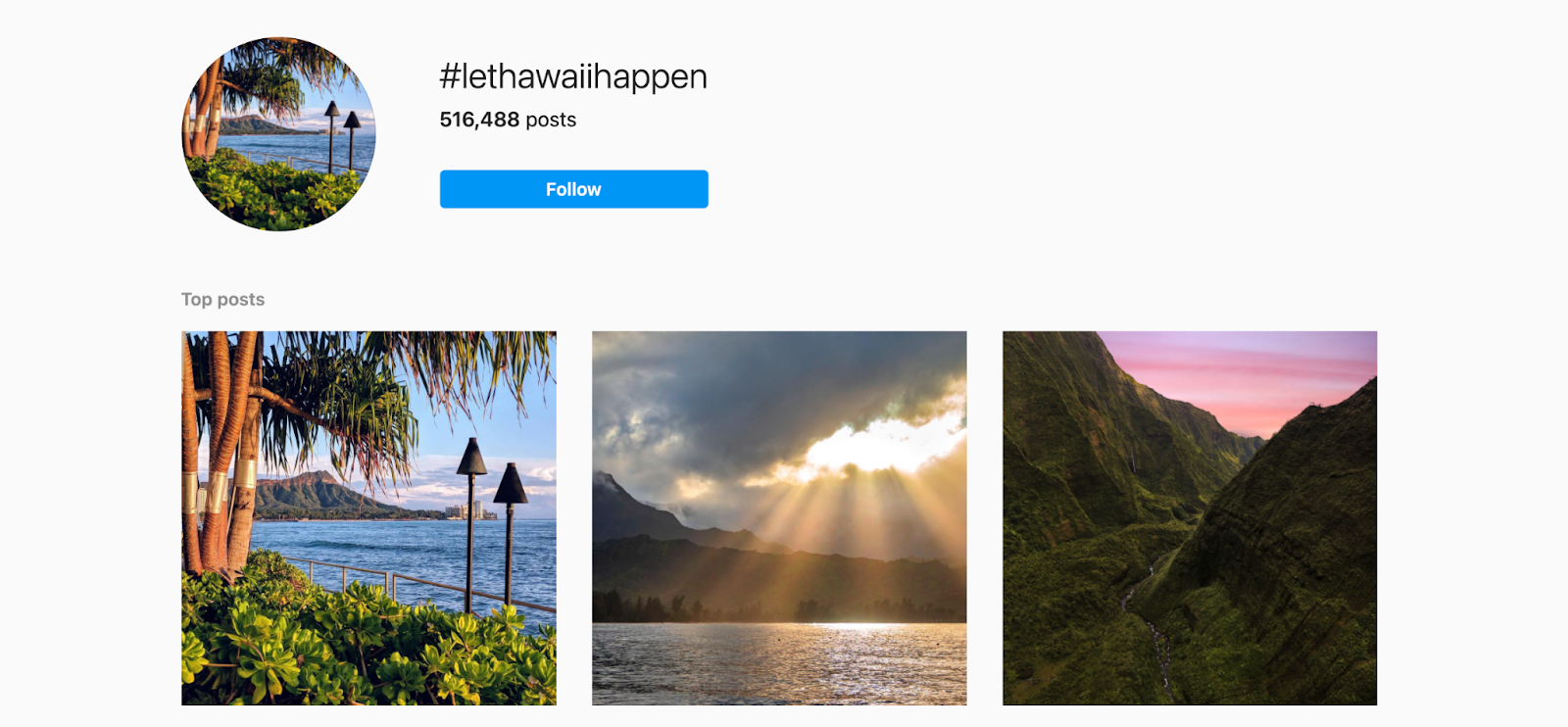 Hawaii's tourism authority launched a low-budget Instagram campaign to generate brand awareness and encourage new and repeat visits to the islands. The tourism board started the hashtag #LetHawaiiHappen and encouraged travelers to share their best travel moments. Hawaii leveraged user-generated content to drive up excitement about visiting the destination. The tourism board often reposts the content on its own pages, too.
5. Airbnb unique homes Instagram ad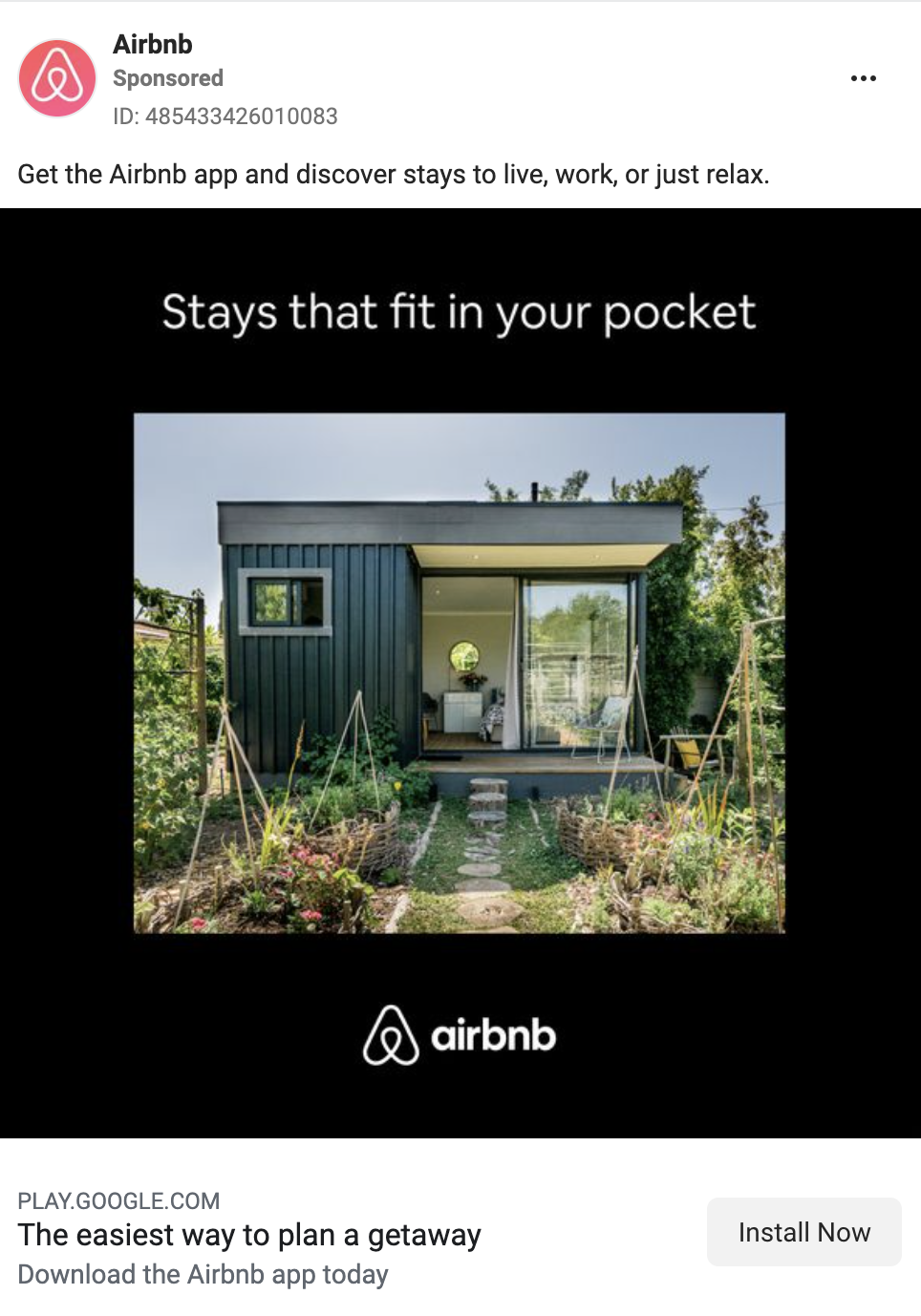 Airbnb launched an ad on Instagram and Facebook encouraging users to download their app. The home-sharing platform specifically chose a unique tiny home to display at the center of the ad. The image aimed to grab the attention of people who like to book unique getaways on the platform. The call-to-action persuades users that the app makes it easy to book cool homes from their mobile phones.
6. Go Lake Havasu partnered with travel filmmakers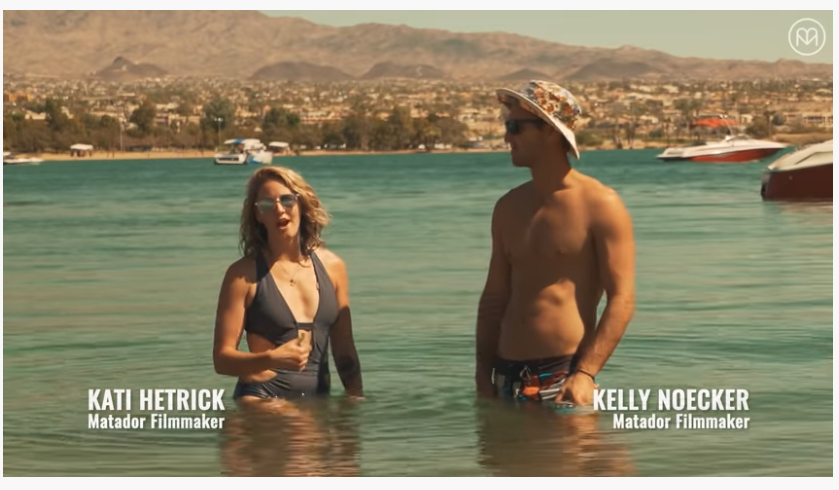 Lake Havasu in Arizona partnered with Matador Network, a travel media company, to produce a video campaign promoting the destination as an adventure getaway. Two filmmakers were sent on a trip and shared their experiences through travel vlogs on YouTube. The campaign received more than 1.8 million impressions and helped establish Lake Havasu as a top adventure destination in the American Southwest.
7. Staunton, Virginia

Staunton, Virginia positioned itself as a summer destination by creating a seasonal bucket list based on user-generated content. The tourism board created a bucket list featuring warm-weather activities in Staunton — such as "chase ghosts" and "explore a cave" — using photos people had shared on social media. The campaign generated a lot of engagement: 21,000 clicks, 850,000 impressions, and over 500 referrals to partner websites. The DMO also generated 1,200 newsletter signups by giving away a free trip to a new newsletter subscriber.
8. Explore BC Later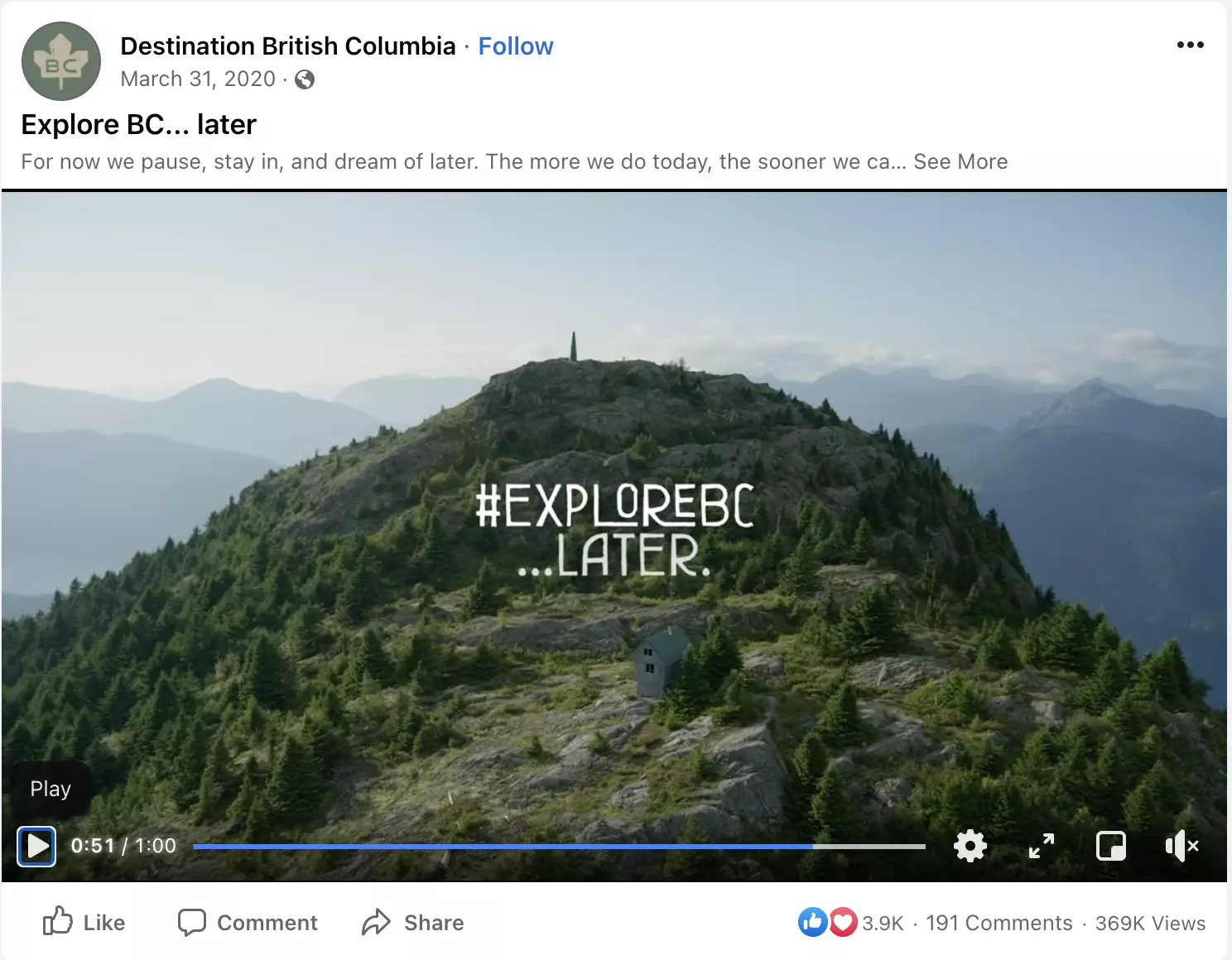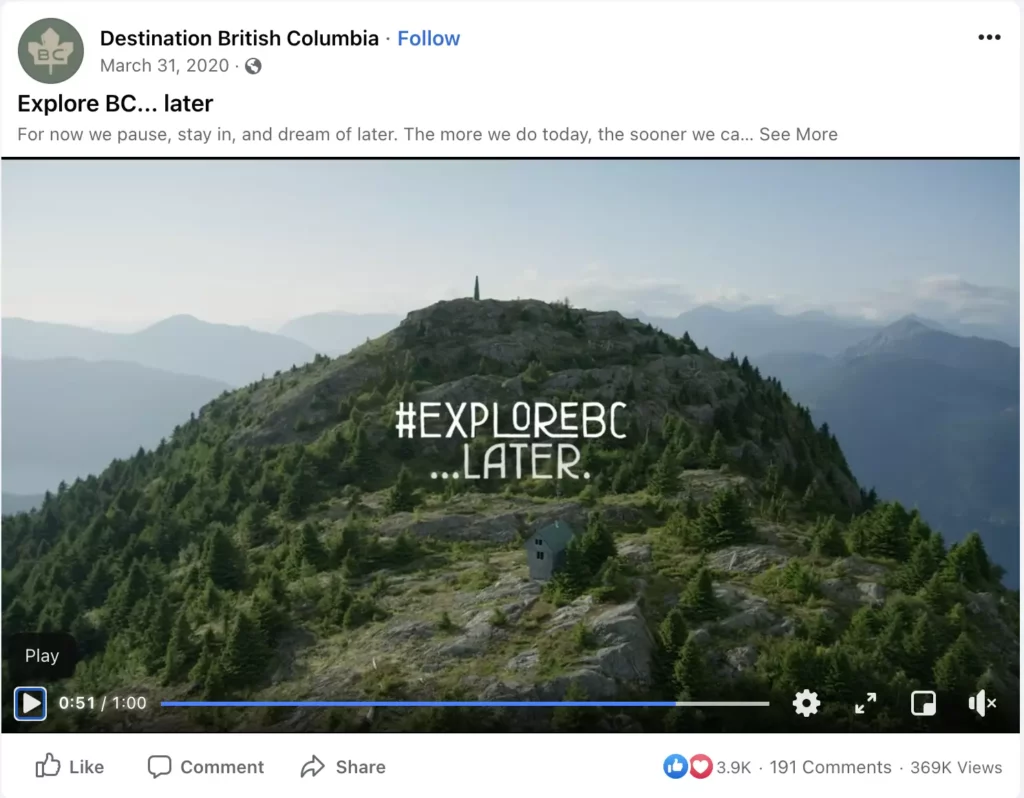 Destination British Colombia put a spin on its original campaign during the pandemic with "Explore BC … Later." On Facebook, the DMO shared a video created from existing footage to encourage social distancing while still keeping travelers inspired to visit once it's safe again. On Instagram, the popular #ExploreBC hashtag evolved into #ExploreBCLater, which garnered over 14,000 photos from travelers reminiscing on their experiences. The destination used this campaign to continue generating awareness and growing its pool of user-generated content even while travel wasn't possible.
9. KLM Royal Dutch Airlines
KLM Royal Dutch Airlines created a heartfelt video campaign to let travelers know it's ready to welcome them again. It's a simple video showcasing airline seats with a powerful message behind it: "If you're up for it, we are ready to get you there. Safely." The video successfully highlights the safety measures the airline is taking to allow people to create travel memories once again.
Each of these nine examples can help you build great social media campaigns for tours.
---
In conclusion, remember that every social media campaign starts with defining your audience and goals. These two factors will determine which platforms to focus on and the visuals to create.
You should use a content calendar to keep your campaigns organized and continuously track them once they're live.
Finally, make sure you've set clear goals for each ad and that you know how to measure the results.