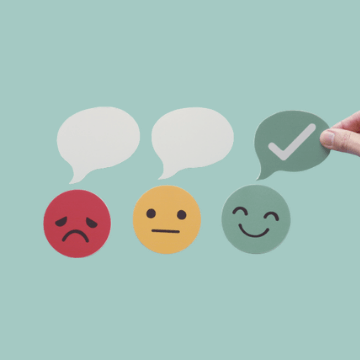 As you send out your customer satisfaction surveys, you're likely wondering how many responses you should get back.
What's a decent response rate, and how can you improve yours?
In this guide, we'll take a look at the average customer satisfaction survey response rates and tips to get back as many responses as possible.
What is a good sample size for a survey?
How do you calculate survey response rate?
What is a good response rate for a customer satisfaction survey?
Should you use incentives or giveaways to increase response rates?
5 actionable tips for increasing your survey response rate
What is a good sample size for a survey?
Sample size refers to a portion of your entire customer base that'll receive the survey you're working on.
You'll choose a random sample of people to represent your audience as a whole. The right sample size will give you the most accurate look into how your guests are feeling about your attraction. Yet determining how big or small your sample size should be is tricky.
If your sample group is too small, you run the risk of receiving skewed results that don't fairly represent the rest of your guests. And if the sample is too big, the survey can become too time-consuming or expensive to run successfully.
To help you find the right sample size for your survey, consider the following:
Population size: How large is the target audience for this particular survey?
Margin of error: This reflects how accurate your survey results will be. Let's say 30% of the respondents say they're "very satisfied" with your service, and your margin of error is 5%. This would mean that if you surveyed all of your guests, you can be sure that between 25% and 35% of them would feel the same way.
Confidence level: Here you'll define how confident you want to be in your margin of error. Most surveys are in the 90% to 99% confidence range.
You can then plug these numbers into a sample size calculator to get an idea of how many responses you'll need for a successful survey campaign.
How do you calculate survey response rate?
A customer satisfaction survey is only as successful as the feedback it receives in return. Your survey response rate will tell you how many guests took the time to complete your survey compared to those who viewed or started it.
Your survey response rate will tell you how well your survey is performing, which is why it's an important metric to keep track of.
You can find it by dividing the number of completed survey responses by the number of guests who received it, then multiplying by 100 to get a percentage.
For example, if you sent a survey to 200 people and 175 of them completed, your survey response rate could be calculated like this: 175/200 = .875 x 100 = 87.5%.
What is a good response rate for a customer satisfaction survey?
While an 87% survey response rate would be considered a fantastic turnout, it can be difficult to reach such high numbers. In fact, the average survey response rate is just 33%.
Here's a look at how response rates differ by survey type, according to SurveyAnyplace:
In-person survey: 57%
Mail survey: 50%
Email survey: 30%
Online survey: 29%
Phone survey: 18%
In-app survey: 13%
The company also found that survey response rates are directly correlated to survey length or duration.
Specifically, there was a 17% drop in response rate noted for surveys with more than 12 questions or that take longer than five minutes to complete.
Should you use incentives or giveaways to increase response rates?
It's understandable why you would want to offer your guests an incentive to encourage them to complete your survey — especially since studies show that it can increase the likelihood of them responding by 30%.
Survey incentives can be a good idea if used in the right context. If you're trying to survey a group that's typically hard to reach, for instance, you may use an incentive to catch their attention. Similarly, survey giveaways can be used to appeal to non-responders, especially when your response rate is too low.
If your survey is long and complex, attaching a reward to it will also make it easier for guests to complete it.
That being said, attractions should exercise caution when it comes to using survey incentives. One reason is that the type of reward you offer can attract the wrong respondents, which would lead to a biased survey sample.
Survey incentives can also attract biased responses since guests who are simply filling out the survey for the reward might not be completely honest in their responses. This would defeat the purpose of a customer satisfaction survey.
5 actionable tips for increasing your survey response rate
If you're looking for completely unbiased survey results, it's best to stay away from incentives. Here are some other tactics you can use to bump up your response rate.
1. Explain your survey purpose
People will be more willing to answer a survey when they understand the goal behind it. Make sure to explain why your company is looking for customer feedback about this particular topic. Tell your guests what you plan to do with their responses so that they feel more comfortable moving forward with the survey.
2. Keep your survey concise
Remember that there's a correlation between survey response rates and the survey length or duration. Surveys with more than 15 questions can scare your guests away. They might even start working on the survey but then leave once they see an overwhelming amount of questions to answer. The amount of time it takes them to complete the survey will also impact their competition rate. Multiple choice questions, for instance, require a lot less effort than open-ended questions.
3. Don't mention the word survey
The word "survey" has a negative stigma: Your guests might feel that surveys are boring or a waste of time. Try to avoid using the word "survey" by framing it the following way:
"Would you mind answering a few questions for us?" or "We would love to hear your opinion!"
If you're sending your survey via email, your message might be labeled as spam just for including the word "survey" in your subject line. Avoiding the word can increase your survey response rate by 10%.
4. Limit the number of surveys you send
Surveying guests regularly does have its benefits. You'll gain valuable feedback that allows you to keep track of customer satisfaction in real-time and determine your attraction's priorities.
Yet sending too many surveys can lead to survey fatigue. Your guests will become uninterested in your surveys and stop participating in them.
A good rule of thumb to follow is to base your survey frequency on how often guests interact with you, then multiply that by two. If your guest interacts with you monthly, you could send them a survey every two months, for example.
5. Write an engaging survey introduction
Your survey introduction should hook the reader and persuade them to continue onto the questions. This is where you'll introduce your company and the purpose behind this survey. You'll also explain to the guest how important their feedback is to your company. Include an example or two of how customer feedback has helped you improve areas of your company in the past. This way, guests know that their feedback can truly make an impact on your business.
***
In conclusion, your survey response rate determines how well your feedback campaign is performing. The point of sending customer satisfaction surveys is to receive valuable unbiased feedback that helps your business identify its priorities.