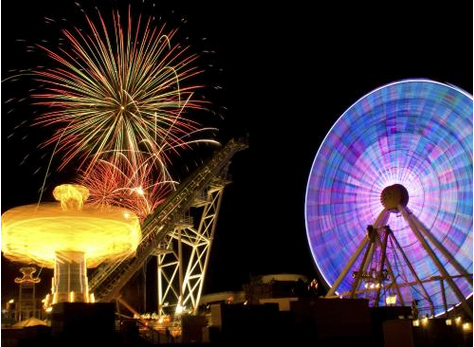 TripAdvisor's Top 10
I don't know about you, but I'm a little bit of a data nerd at times. That's why this time of year gets me pretty excited. Everyone comes out with their year-end figures, statistics, and charts…ah the bliss of it all.
But the giddy schoolgirl in me didn't write this article–the smart marketer did. TripAdvisor has recently released its 2014 data on the top destintations in the U.S. and around the world. As we all know, TripAdvisor review powerhouse, but have you thought about squeezing other marketing juices out of your high ranking?
If your city is on any of TripAdvisor's top ten lists, think of how you might be able to leverage that information when building concierge deals, or other business partnerships. It's easier to enter into sponsorship deals when both sides know that your company is part of a tourism ecosystem that captures the attentions of millions of travelers each year.
Secondly, if your city is on TripAdvisor's radar, it is absolutely time to get a TripAdvisor profile if you haven't already. Remember, this "Top 10" list refers to the top 10 cities with the most reviews on TripAdvisor, which means that not only are plenty of people visiting these places, but they're also writing about them. Make it easy for people to find you in these hotspots by setting up a TripAdvisor page.
If you're already on TripAdvisor and want to know how to stand out in your destination, read our other post, "How to Increase Your Ranking on TripAdvisor."
Now, without further ado, TripAdvisor presents its top destinations of the year!
TripAdvisor's Top 10 Destinations: Global and U.S.
So, how does Xola's top, U.S. cities map out compared to TripAdvisor's list? Turns out that great minds think alike:
Xola's Top 10 U.S. Destinations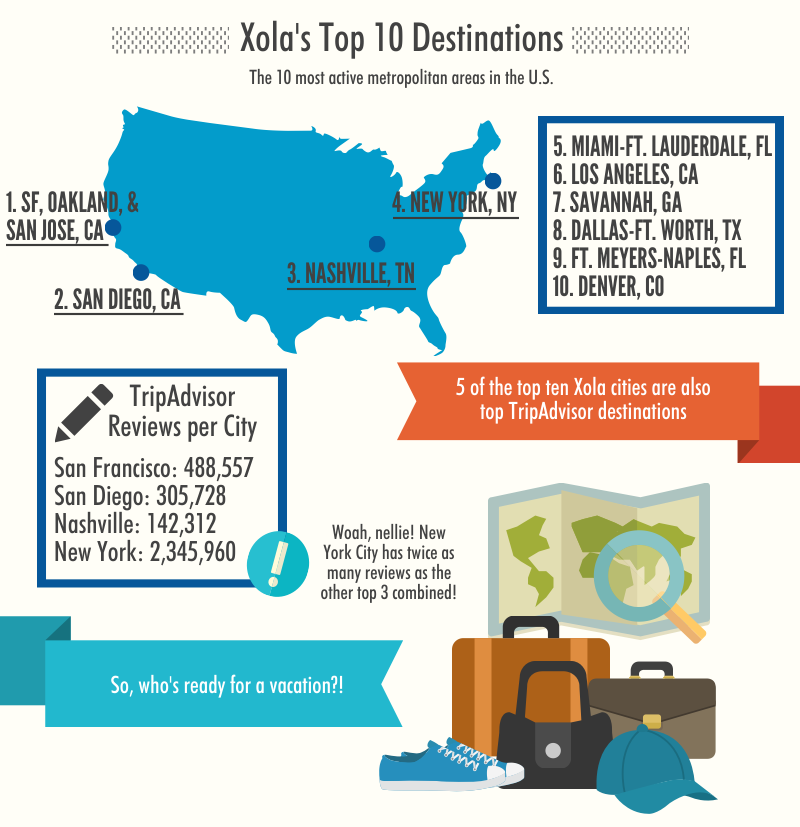 Half of Xola's top 10 matches TripAdvisor's list. Let's see what happens in 2015!
TripAdvisor's "Destinations on the Rise"
Finally, one of the most exciting lists that TripAdvisor released is it's Top 10 "Destinations on the Rise," both for the U.S. and abroad. But before telling you who made the cut, how about a little game?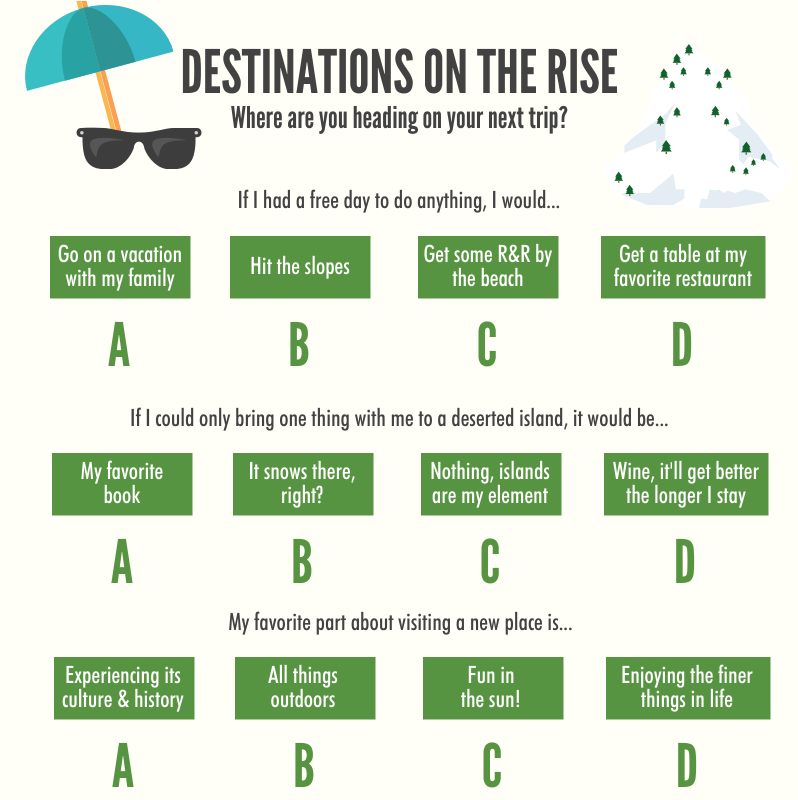 If you answered mostly A's, you should head to: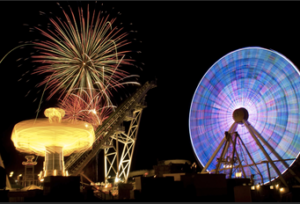 Wildwood, NJ
TripAdvisor Tip: Tour businesses in Wildwood have a fantastic opportunity to rise to #1. There are currently only 50 attractions listed in Wildwood, 27 of which are activities. Amazingly, even the lowest-ranked listings have no less than 3 stars.
Gulf Shores, AL
TripAdvisor Tip: Ziplines like Gulf Adventure Center control the top 2, followed by quite a few golf clubs. Although Gulf Shores, AL is right on the coast, only three of the top ten tours pertain to water or the beach, such as Wild Native. It's also interesting to note that there are quite a few tours in the middle or at the bottom of the list that don't have a profile picture on their accounts. When making an account, it's important to complete all the information fields. This not only makes it easier for people to find you on TripAdvisor, but it also makes your profile more attractive to highlight. (Does TripAdvisor really want a profile without any pictures in the top 10?)
Knoxville, TN
TripAdvisor Tip: The Knoxville landscape shows how TripAdvisor's algorithm not only takes into account positive reviews, but also the number of reviews. The top tour in Knoxville has 87% but 39 reviews, whereas #10 has a perfect score, but only 2 reviews. To do well, tours need a balance of both quality and quantity.
If you answered mostly B's, check out: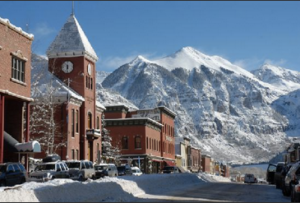 Telluride, CO
TripAdvisor Tip: The competitive landscape in Telluride is a little steeper than those destinations mentioned above with 41 activity listings. But the good news for tour providers is that 6 out of the top 10 activities are tours. All in all, Telluride is an exciting, up-and-coming place as a tour provider.
Prescott, AZ
TripAdvisor Tip: Unlike Telluride, the majority of the top 10 in Prescott are not tours. A couple are actually recreation trails that would probably be better categorized under "attractions." However, this shows that Prescott's visitors like to be outside, and a hiking tour would probably do well in the TripAdvisor rankings.
If you answered mostly C's, book your flight to: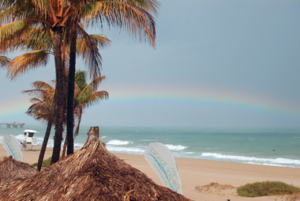 Waikoloa, HI
TripAdvisor Tip: Hawaii and tourism go together like peanut butter and jelly, which is why it's surprising that Waikoloa only has 31 activities listed on TripAdvisor. It's common for other cities in Hawaii to have three, four, or even five times this number of activities! Therefore, tour providers should take advantage of the relatively low competition on this part of the big island and get to the top of the TripAdvisor charts.
Pompano, FL
TripAdvisor Tip: Pompano is first and foremost known for its beautiful, temperate beaches. So what's surprising about the activities landscape there, is that #1 on TripAdvisor is Qquest, a live escape game. This type of tour is becoming more popular around the world. However, the rest of the top 10 speak precisely to Pompano's reputation as a relaxing beach getaway. Dive shops, fishing charters, and spas, all rank highly, as well as air tours like Skymax.
Nags Head, NC
TripAdvisor Tip: Nags Head has a well-developed TripAdvisor presence. The top activity, Kitty Hawk Water Sports, not only has a 98% rating, but also 103 reviews. That's definitely a recipe for success. But there are huge gaps between #1 and the rest of the pack. First Flight Adventure Park comes in at #6, for example, but only has 14 reviews. If you're a tour provider in Nags Head, review volume is going to be your secret weapon.
If you answered mostly D's, your'e on your way to: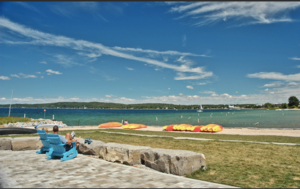 Traverse City, MI
TripAdvisor Tip: Traverse has 78 activities listed, by far the most of TripAdvisor's "Destinations on the Rise." This city's top 10 activities have a rural flair to them. Traverse City caters to outdoorsy types, with its recreational trails and sailing tours, but it also attracts visitors with adventurous tastebuds. There are a number of vineyards and distilleries in the area. As in Nags Head, many of the activities here have quite a few reviews, making it a rather competitive landscape.
Avalon, CA
TripAdvisor Tip: Avalon, located about 22 off the coast of Southern California on Santa Catalina Island, receives close to one million visitors each year. Given that, it's no surprise that there are 60 activities listed in Avalon. Catalina Zip Line Eco Tour, the #1 tour on TripAdvisor has 605 reviews. Yes, you read that right. It's not impossible to break into the top 10 on TripAdvisor for Avalon activities, but it will definitely take some elbow grease. Though it's an island destination, there are plenty of activities in the top 10 that have nothing to do with water either, like Cape Canyon Expedition, which takes people in on off-road rides around Catalina's more rugged terrain.