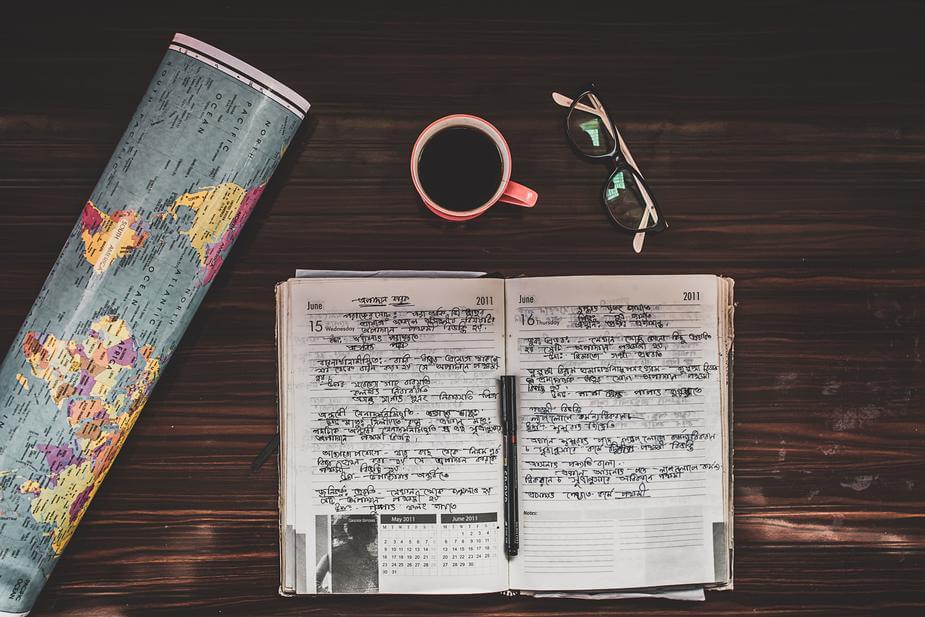 Want to create eye-catching travel ads like Expedia, Southwest Airlines, and KAYAK?
As travel starts to pick up again, it's time to get serious about your advertising. Tour operators can hugely benefit from paid ads — but with so many forms of advertising available across different platforms, you may be wondering where to start.
In this post, we're sharing actionable strategies to build better ad campaigns that appeal to your target audience, plus top-level examples from the brands who do it best.
Top factors to consider for travel advertising campaigns
Want to see more positive results from ads? Keep these strategies in mind when crafting your future marketing campaigns.
1. Define your target customer
Do you know who your customers are? Before you begin crafting an ad campaign, you need to know more about your guests.
Building a buyer persona is a strategic way for tour businesses to get to know their customers. A buyer persona is a visual representation of your ideal customer: Dig into their demographics, study their behaviors on your website, and send surveys to your email list to find out more.
The takeaway? You'll find a much higher ROI with ad campaigns that specifically appeal to your target audience.
2. Understand the travel customer journey
It's difficult to sell a tour to someone who hasn't decided on a destination yet. Ideally, you want to show your ads to people when they're most likely to book.
Understanding the travel customer journey can help you pinpoint when that is. Google defines the travel search process in four stages:
Dreaming: Guests are looking for destination inspiration.
Planning: Guests are researching potential travel dates, hotels, and activities.
Booking: Guests are booking flights, hotels, etc.
Experiencing: Guests have arrived and are searching for activities and attractions to experience.
Tour operators are likely to see more conversions in the "booking" and "experiencing" stages. For example, if you're investing in Google Ads, it's better to target narrow search terms like "best hiking tours in Colorado," which is what someone in the booking or experiencing stage would search for.
People in the dreaming stage, on the other hand, would likely be searching overly broad terms like "best summer destinations."
3. Choose the right platform
There are several different platforms to launch your advertising campaigns, and choosing the right one matters. Where is your audience most likely to see your ad? Where are they already hanging out?
Here are five popular travel advertising outlets:
Google Ads: Show up at the top of Google search results for relevant keywords.
Social media ads: Target specific demographics on Facebook and Instagram.
Yelp ads: Appear to people searching for similar experiences on Yelp.
Tripadvisor ads: Target people planning a trip to your destination.
Email marketing: Offer discounts to your email list, one of the more cost-effective ways to advertise.
4. Pay attention to seasonality
Timing is one of the most important factors in travel advertising. Keep seasonality in mind when crafting your campaigns, and remember to edit previously launched campaigns as needed.
A skiing ad won't make sense at the beginning of summer, so make sure to pause seasonally irrelevant campaigns.
5. Stay true to your brand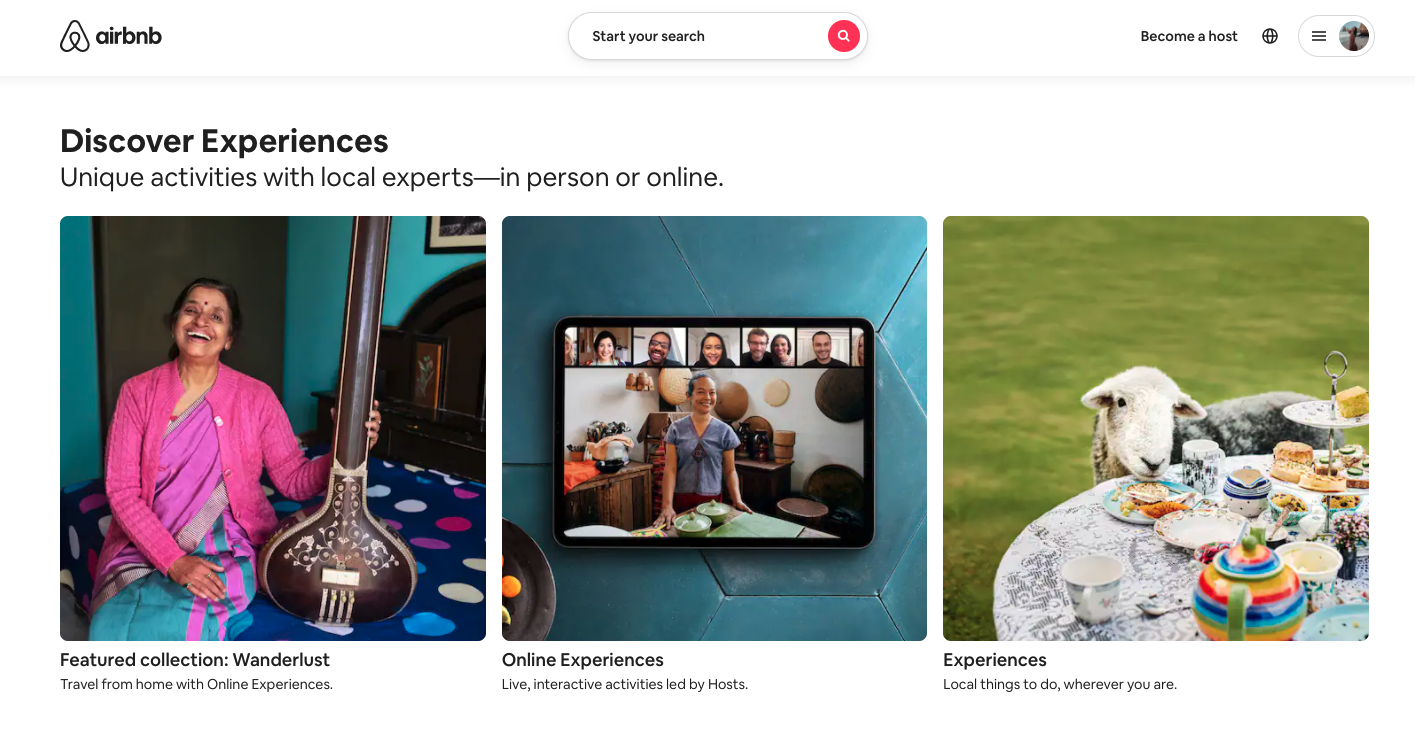 Your ad campaigns should reflect your brand identity. People who click on your advertisements are expecting to find the same tone of voice, visuals, and customer experience on your website.
6. Use geographic targeting
Rather than making your ad visible everywhere on the planet, you can target specific locations your guests are likely to be in. For example, you can target other tourism websites in your state to lure in tourists who are already visiting.
By narrowing down your ad's geographic reach, you can maximize your budget and focus on the areas that'll bring you the most return.
7. Promote your sales and special offers
What better way to entice someone to click on your ad than to present them with an unbeatable offer? Advertisements are an effective way to promote your sales, especially seasonal offers. You can send out an ad offering a great discount during the low season to help replenish your bookings, for example.
Pro Tip: One of the simplest ways to do this is by creating coupon codes. Here is how easy it is to create a new coupon code in Xola.
8. Leverage user-generated content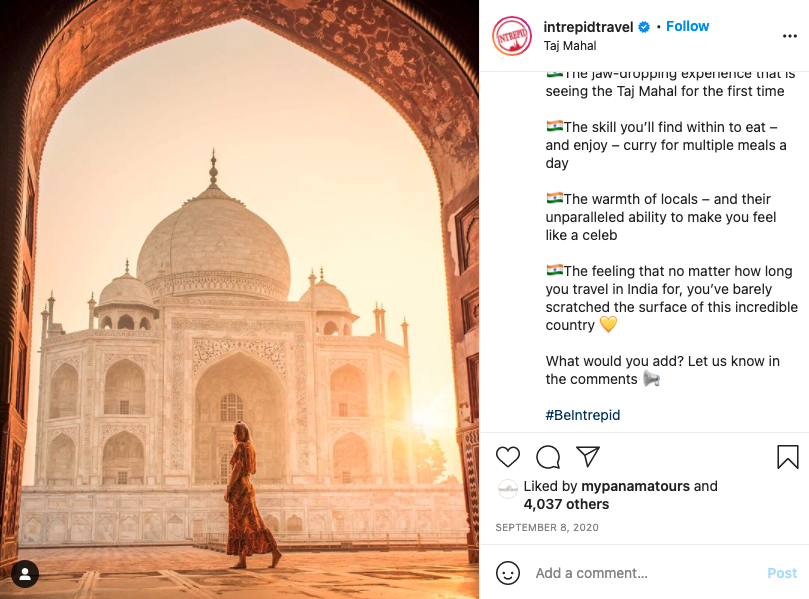 Sometimes you can generate an ad campaign with user-generated content alone. It's another cost-effective way to bring more eyes to your tour company.
You can start by encouraging guests to use your brand's hashtags, share their photos with their own followers, or even submit photos on your website.

Apps, like Fotaflo, which integrates natively with Xola, make the process of curating UGC photos and videos easier.

Tour operators can also offer incentives for anyone who posts on social media about your tours, such as hosting a giveaway for everyone who uses a hashtag related to your brand.
Tour operator Intrepid Travel asks guests to share their experiences on Instagram with the hashtag #BeIntrepid, for example, which has garnered over 50,000 posts.
Guests typically love seeing their content reposted on other accounts. Still, make sure to always credit the original owner. To avoid serious copyright issues, many brands ask followers to agree to a disclaimer about how and where the images will be used before re-posting them.
Reviews can also be considered user-generated content — but tour operators need to be very careful when it comes to encouraging guests to leave positive reviews. Tripadvisor prohibits brands from offering incentives in exchange for testimonials "because they can hinder the validity and accuracy of reviews."
9. Use images and videos
Images and videos are the most powerful form of advertising in the travel industry. High-quality images of your destination and scenes from your tours can entice hundreds of clicks. An expertly crafted video can drive even more engagement.
Instagram and Facebook are great places to start experimenting with image and video ads; see a couple of great examples below.
6 examples of great travel advertising examples
Ready to see these strategies in action? Here are six travel brands that have nailed their travel marketing — including examples of general ad campaigns, paid search ads, and social media ads.
Expedia's campaign: "It matters who you travel with."
This Expedia campaign wants travelers to feel confident booking with the platform in a post-pandemic travel world. The tagline "It matters who you travel with" frames the company as a trusted travel partner rather than just a booking platform.
The company created a playful and very relatable video of a solo traveler who runs into several hiccups on her trip. That is until actress Rashida Jones steps in, embodying Expedia, and makes the trip more memorable.
The company chose a video to expertly convey its marketing message to travelers: Expedia promises a seamless trip and memorable experiences you can't find on your own.
Southwest's Transfarency campaign
Southwest Air Lines' new campaign targets the controversial topic of ticket prices. The company has always billed itself as a transparent brand that cares about employees and customers alike. The new campaign called Transfarency, a play on the words transparency and airfare, builds on that reputation.
The campaign promises customers no unexpected bag fees, change fees, or hidden fees. It's a great advertisement because it fits perfectly within Southwest's brand identity, and the airline delivers on the promise.
TourRadar's travel and destination Facebook ads
Vienna-based TourRadar launched a Facebook campaign to increase bookings from people who had visited its website. The company used visually stunning travel ads to promote relevant tours to people who had browsed the same tours online.
The company also promoted relevant destination offers and tours to people who hadn't visited their website yet but had shown interest in the destination. The campaign focused on the company's core markets, including the U.S., the U.K., Australia, and New Zealand.
It was a success: TourRadar doubled its conversion rate over a year.
KAYAK's video ads on Instagram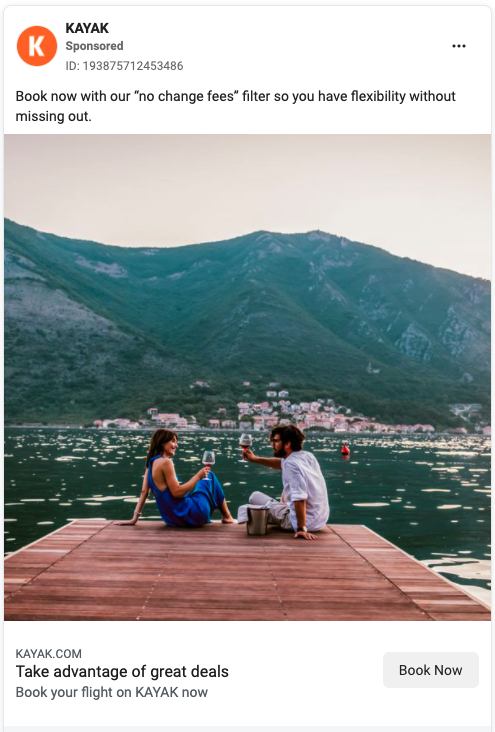 KAYAK ran video ads on Instagram to bring more people to its website, including one that shows how simple it is to filter flights by airline, price, number of stops, and destination.
The company played around with ad placement in both Stories and the News Feed, and each ad had a "book now" or "learn more" call-to-action button that linked back to the KAYAK website.
The ads were shown to a lookalike audience based on the travel search engine's existing audience, which increased the likelihood of clicks. As a result, KAYAK saw a 5x increase in incremental sales conversions.
Airbnb Experiences search ad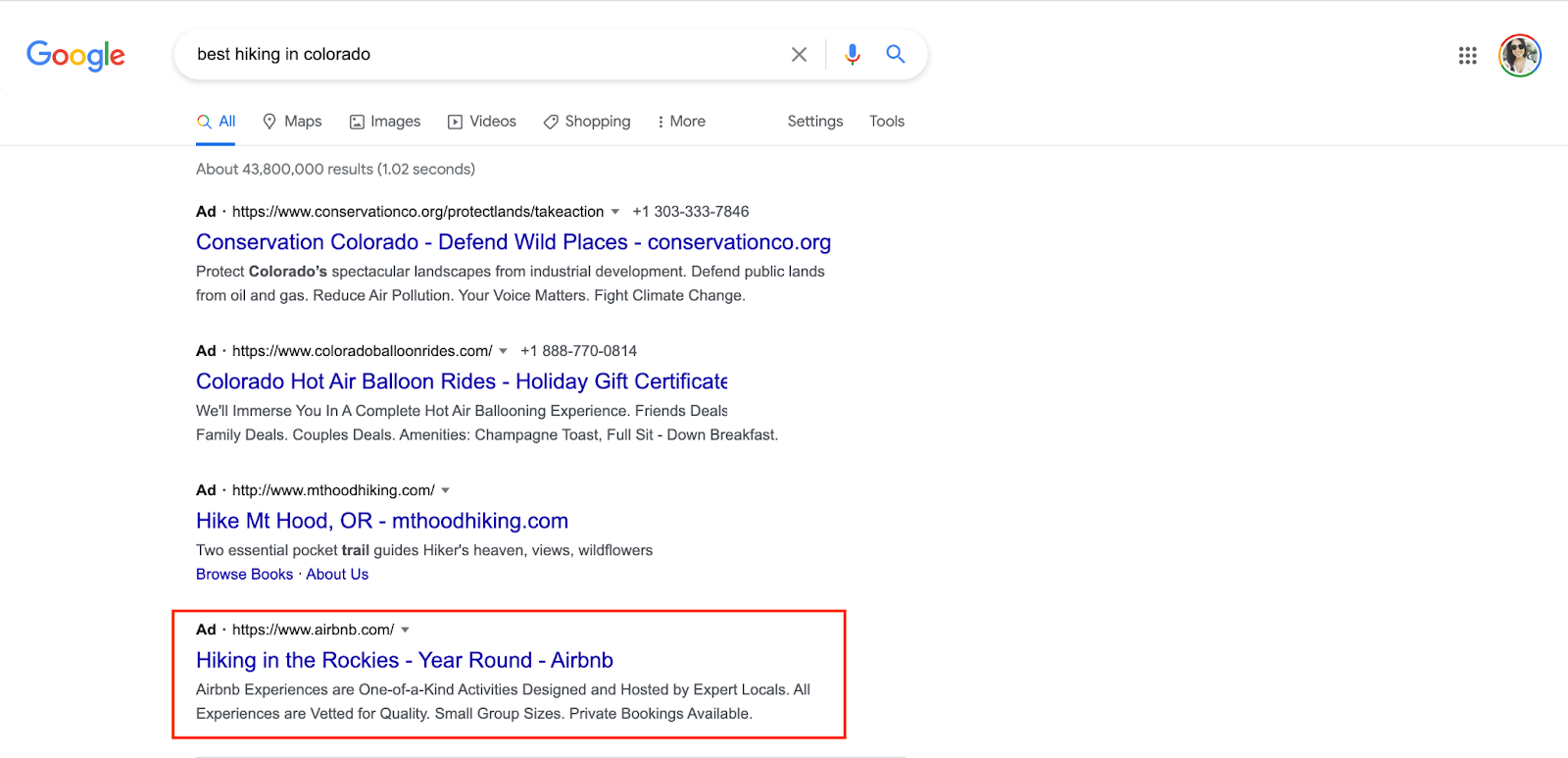 Airbnb is targeting people who search for outdoor activities in Colorado to promote its local-led tours. In this example specifically, Airbnb's paid search ad for a hiking tour shows up under the search for "best hiking in Colorado."
The title "Hiking in the Rockies – Year Round" quickly answers the questions of "where" and "when," two details that directly impact the customer's trip. The wording of the title narrows down the search for the searcher. The description focuses on Airbnb's unique offerings — "hosted by expert locals," "experiences vetted for quality," and "small group sizes — further enticing readers to click.
It's a great example of Airbnb using a feature other than its main accommodation services to bring people into its website.
Viator's Brooklyn food tours search ad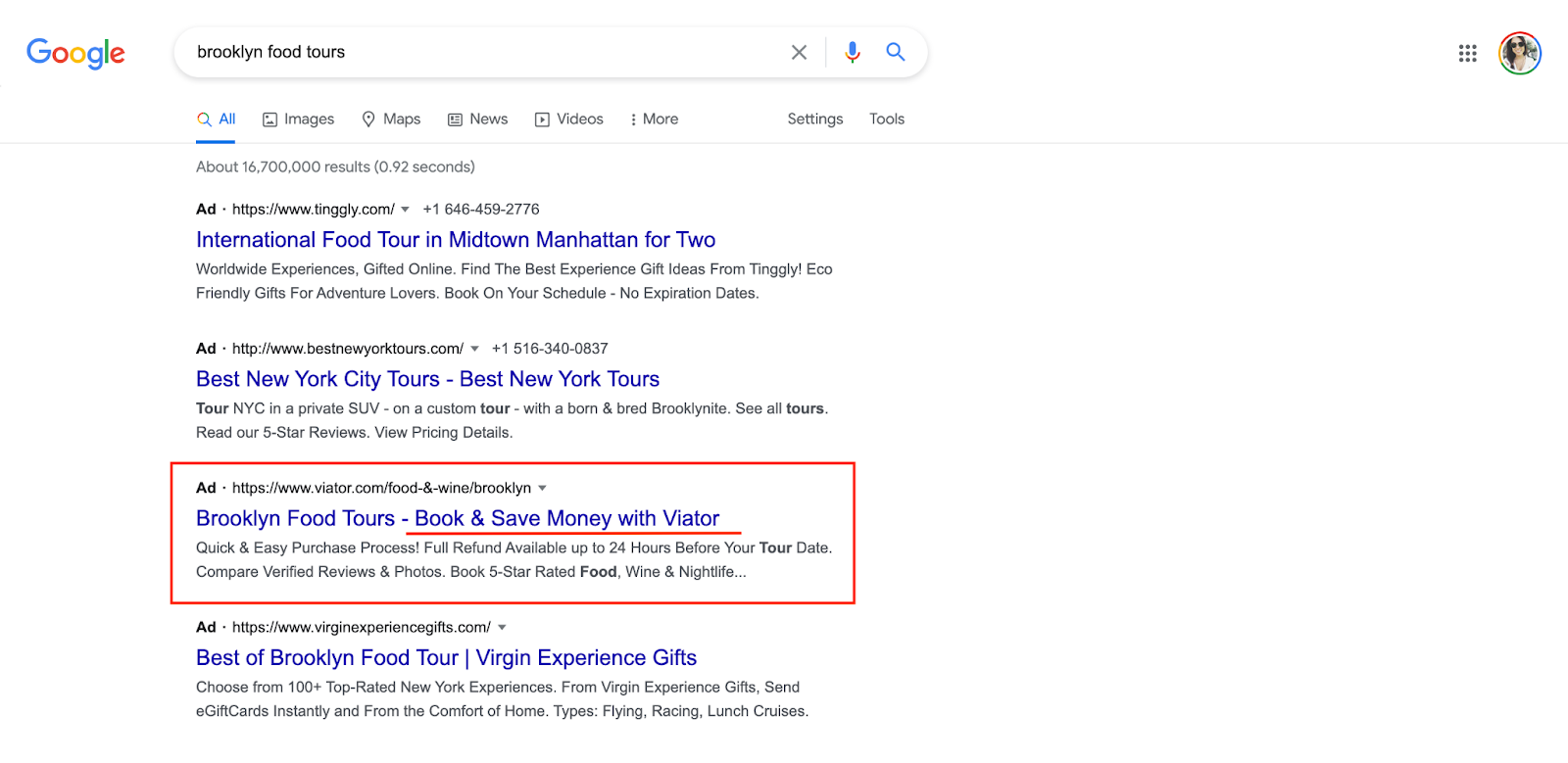 Here's another effective Google Ad example. Viator is promoting its food and wine tours in Brooklyn under the search term "Brooklyn food tours."
Unlike the other search ads that pop up, Viator specifically mentions the keywords that the customer will be skimming the page for and includes another enticing offer.
Viator includes "Book & Save Money" in its title, directly appealing to money-conscious travelers visiting a destination known for being very expensive. Therefore, this ad specifically speaks to budget or mid-range travelers who appreciate a good deal.
---
As you can tell from these examples, an effective ad campaign is crafted around your ideal audience. Top travel companies like Viator and Southwest use words, images, and videos to appeal to their target customers, and your campaigns should follow suit.
Now it's time to implement these strategies into your own campaigns. Then sit back, relax, and watch those bookings soar.