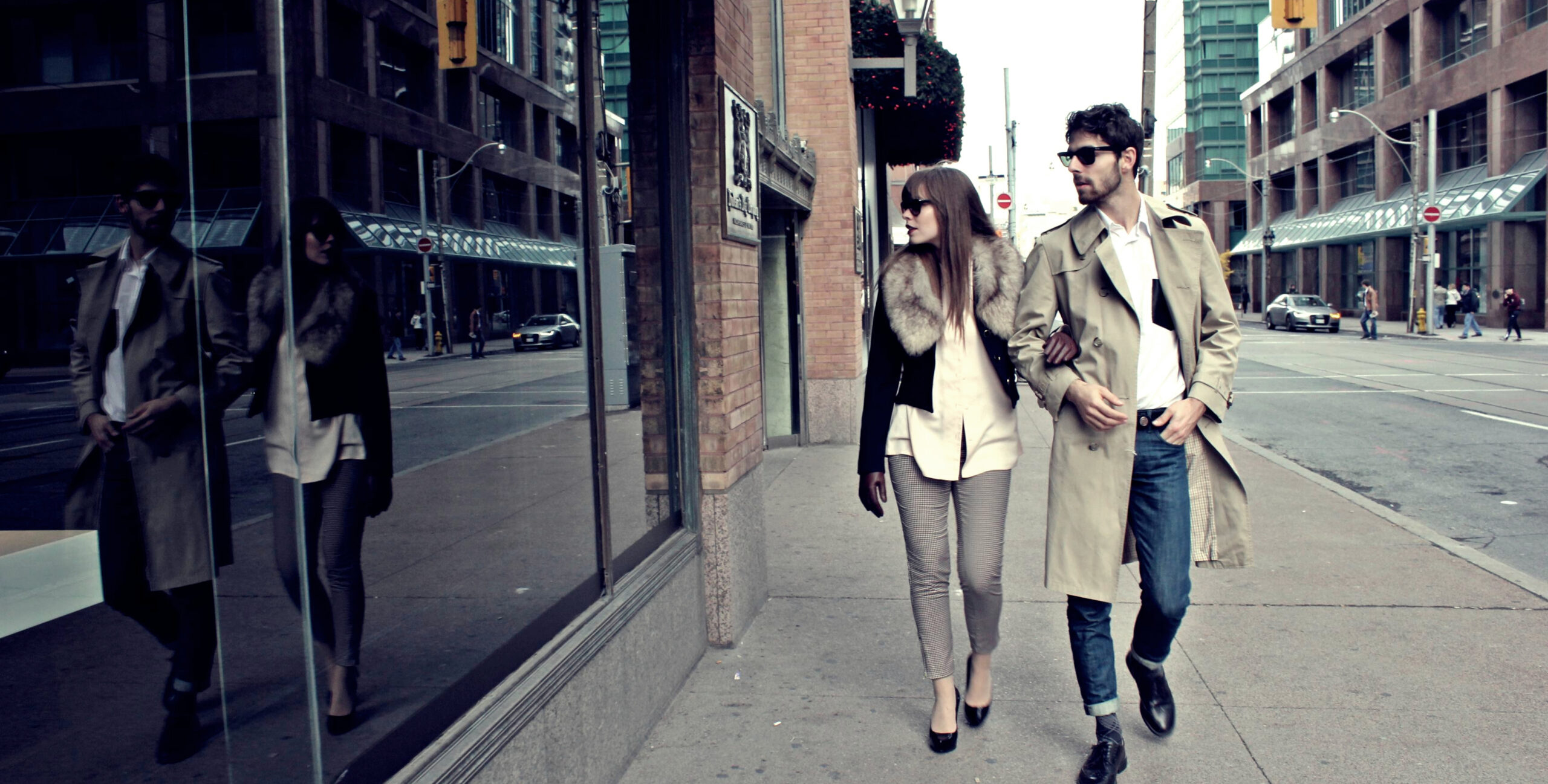 The three types of people that visit your website
Rule #1 of writing: know your audience.
It also happens to be the first rule in marketing too. But here's the thing, between all the demographic data that Google and others collect about us at every second of every day, selling is still a mystery. If it weren't we'd all be on beaches in the Caribbean right about now.
Knowing the percentage of women that buy your tour, the average age of your customers, or where they're from–these are all important characteristics to keep in mind when growing your business.
But there are certain customer profiles that you can't pick up on with Google Analytics, but you can pick up on them from talking to lots and lots of tour providers, which is exactly how I'm able to write this article right now.
So, here it is, the three types of customers that analytics can't (yet) analyze for you.
The Window Shopper
More often than not, window shoppers are locals. They know about your business and have been somehow convinced that they want to try your tour. The problem is that they're not acting on it.
A window shopper's attitude is: "I'd love to try that pedal tavern tour eventually…"
That means there's good news, and there's bad news.
On the one hand, if you're dealing with a lot of "window shopper" types, then you've likely succeeded at building a brand and word of mouth to go along with it. But that only takes you so far if these potential customers never become customers.
Because they're most often locals, window shoppers have all the time in the world. Somehow, you have to establish a sense of urgency. Perhaps you run a buy one get one free promotion for new customers. Get that window shopper to finally take the plunge by being able to bring a friend along for the ride.
The Comparison Shopper
Quite on the other side of the spectrum from window shoppers, comparison shoppers know they want to do something, but don't yet know what that something is. This largely applies to tourists that have a limited amount of time in a location and want to make the most of it.
Even though you haven't fully engaged this type of customer, on the bright side, comparison shoppers' psychology can be easier to understand than the window shoppers'.
Comparison shoppers are pressed for time, so your job is to convince them that your business is the best option out there. Start with your website.
In the tours and activities space, there's still such a variety when it comes to clean website design. That means that its usually easy to distinguish yourself from a competitor that hasn't focused on their site in several years.
Fly Bay Area aces it with its website.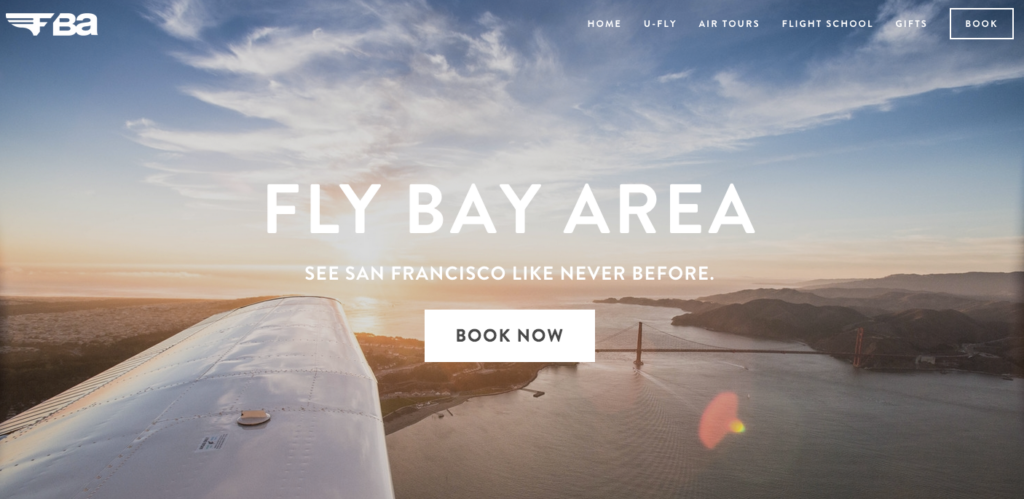 It's a modern, clean homepage with an inspirational value proposition and a clear call-to-action: "Book Now."
Moreover, Fly Bay Area highlights its excellent reviews on Yelp to bolster its credibility even more in the comparison shoppers' eyes.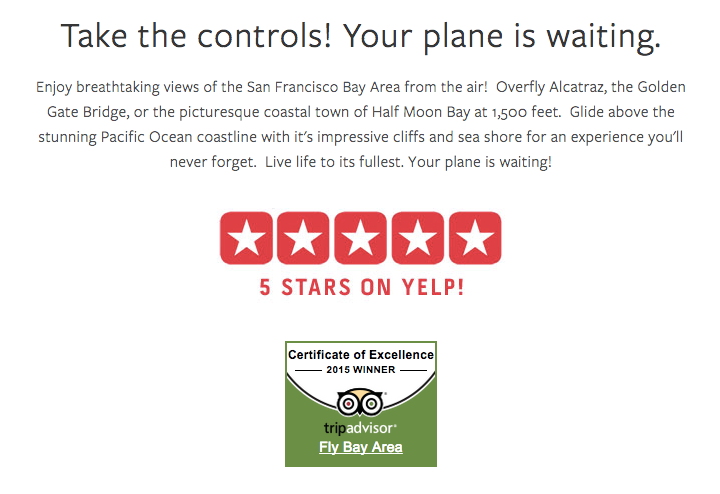 You obviously don't have to showcase Yelp if you'd rather point to TripAdvisor or Google+. (In fact, since comparison shoppers might skew more toward out-of-town visitors, they might favor TripAdvisor ratings over Yelp, which appeals to a more local crowd.)
Considering that many San Francisco-based air tours have more outdated websites, Fly Bay Area does a great job of standing out to comparison shoppers.
The last hurdle for comparison shoppers
Just remember that along with price, comparison shoppers looking for reputability, quality, and one more thing: ease. How easy it is to book your tour could sway someone that's considering a multitude of options.
Let's put Fly Bay Area to the test again. This time, let's compare it to another website that has an updated feel.
With a similar style and comparable value propositions, these two sites have one major difference: their online booking.
To book a tour with San Francisco Helicopters, a customer has to pass through eight different screens before actually completing the purchase. It's a pretty arduous process, riddled with redundancies and irrelevant fields, like the customer's "shipping address." That offers plenty of opportunities for someone–especially a comparison shopper–to fall off.
In contrast, it takes half as many screens to book a tour through Fly Bay Area. Their checkout is streamlined and only asks for essential information: number of guests, date, time, name, email, and the customer's credit card.
First impressions, like your website and your online checkout, matter. In the eyes of someone considering various options, any misstep could cost you a sale. Having a fast and easy online checkout goes a long way toward maximizing your bookings. If you've already gone through the effort of updating your website, don't let all of that go to waste with a clunky checkout.
The Card-in-Hand Shopper
The last type of potential customer coming to your website is a blend of the window shopper and the comparison shopper. The card-in-hand shopper knows that she wants to buy your tour, and knows when she wants to go. You've successfully engaged her and given her a reason to buy, congrats!
But she has two options for making her purchase, one of which taxes your staff and resources, and the other costs you virtually nothing. I'm talking about booking over the phone versus booking online.
The card-in-hand shopper, like the comparison shopper, really emphasizes the importance of having a streamlined website and checkout. Ideally, your business wants to expend as little time and energy booking these customers as possible, because they're already sold!
But if your website is too confusing, or if you don't have an easy way to let these customers book online, now they're giving you a call and hopefully not getting your voicemail. There's nothing worse than a customer with her card-in-hand not being able to use it.
Applying buyer psychology
While there are some overlaps to these three types of customers, selling to one might require a different strategy than selling to another. If you have questions about your website, or your online checkout, feel free to send me an email for a free consultation!