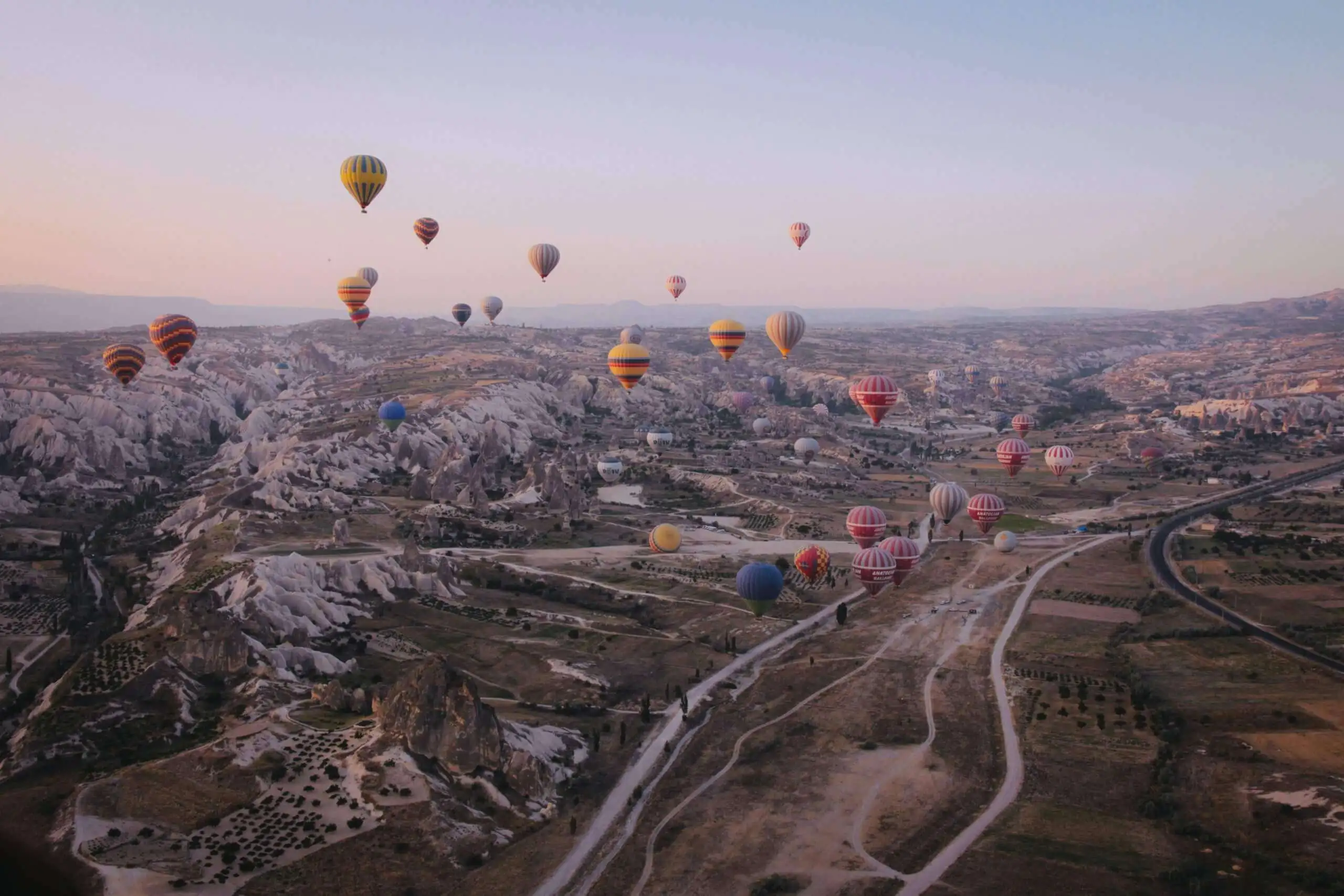 Tripadvisor found that outdoor activities, nature, and parks made up 34% of all attraction age views between May and September 2020.
Travelers today are more likely to book an outdoor adventure trip than before the pandemic — meaning adventure tour operators are in a unique position to reach new customers.
Let's make sure your company is ready for the new wave of travel. Here is everything you need to know to build a solid marketing plan for adventure tourism in 2021 and beyond.
What do adventure seekers expect from outdoor brands, tour operators, and adventure travel companies today?
The pandemic further digitized the travel industry, and travelers today are expecting an automated and contactless booking process.
At the minimum, your website should be optimized for online bookings and have a responsive design that works across all platforms. Travelers are also increasingly using mobile phones to book experiences and activities, especially when they're already at their destination. Make sure your website is ready to capture those bookings.
With hygiene top-of-mind, travelers are also expecting everything from payment to check-in to be contactless.
All tourists, including adventure travelers, are putting a lot more emphasis on health and safety. In an ongoing survey by Destination Analysts, 58% of respondents say they have an elevated concern that "something could go wrong" on their upcoming trips.
Adventure travel companies are anticipating the change in traveler behavior by adopting heightened safety measures like pre-trip health screenings and contact-less check-ins.
Expedition company Backpack Alaska, for example, plans to offer single tents and individually packaged meals for its camping trips, the company founder told Outside Magazine.
Intrepid Travel CEO James Thornton told Outside Magazine that North American customers are showing elevated interest in outdoor experiences like hiking and cycling — which indicates that adventure travel will be the first to return to "normal."
Adventure tourism operators should keep in mind that domestic travel will bounce back before international. Many travelers are still hesitant to get on a plane and are predominantly traveling by car.
It's time to brainstorm ways you can cater to local tourists, such as incorporating local hidden gems in your tours.
Another important factor to consider is that there may be more first-time adventure travelers joining your tours. Tour operators should consider creating new tours or activities that appeal to travelers trying them for the very first time, such as offering a shortened version of a long hiking trip or activities tailored to beginners.
What are the micro-moments in the adventure seeker's consumer decision journey?
An adventure traveler likely starts planning a trip by searching a broad topic like "best hiking destinations in August" on Google.
The series of micro-moments that follow the initial search makes up the traveler's consumer decision journey. Tour operators should understand the customer's buying journey and identify when to target them.
Google has broken down the traveler's buying journey into four stages:
Dreaming
Planning
Booking
Experiencing
The first step is "dreaming," when adventure travelers are looking at Instagram and Google for trip inspiration. Their searches are likely broad and not specific to a single destination, like the "hiking destinations in August" example.
The next stage is the planning phase. Travelers have now chosen a destination and are researching dates, flights, and hotels. After that comes the booking stage, when guests are ready to book their tickets and reserve their hotel rooms.
The final moment is when travelers are experiencing the trip itself. They're sharing about it with friends and family on social media, and more often than not, they're booking in-destination tours and activities.
Google found that nearly half of experiences bookings happen once travelers have already arrived at their destination. This tells us that tour operators should tailor their content marketing to consumers in the "booking" and "experiencing" stages of their journey.
How to create a marketing plan for an adventure tourism brand?
Is your current marketing plan not bringing in results? Perhaps there's a key piece missing.
Here are 8 tactics to help you build the best marketing plan for adventure tourism.
Optimize your website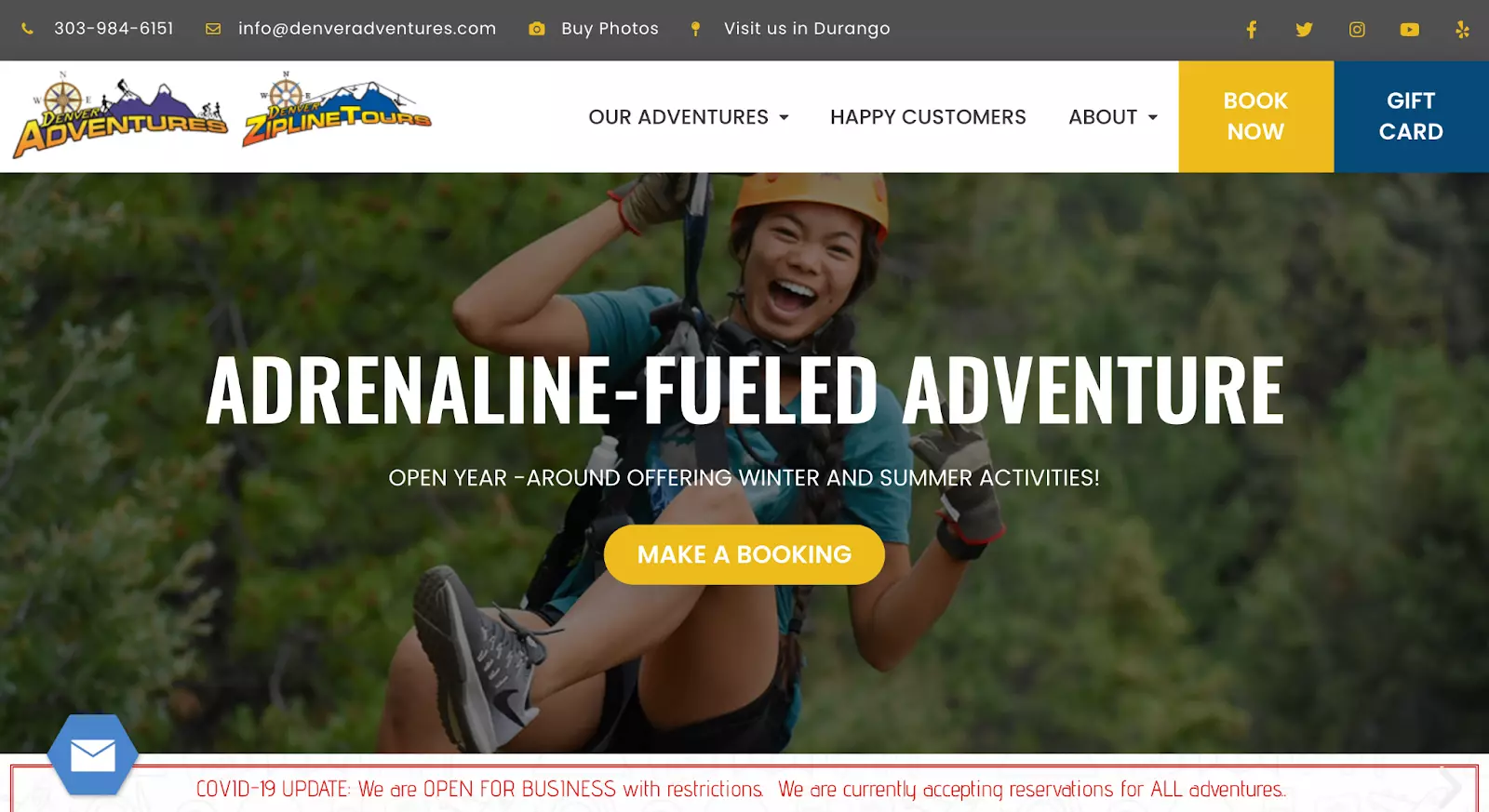 Before you get serious about your marketing plan, make sure your website is optimized for bookings.
When a potential customer lands on your site, they should instantly be aware of your tours and activities. Make your message clear on your homepage, and use images to give travelers a feel for your experiences.
Your website should also have a responsive design so that the booking experience is the same across all devices, including mobile phones.
Add a call-to-action like a "Book Now" button where it makes sense as Denver Adventures does on its homepage above. Finally, you can also display guest reviews to give potential customers an extra confidence boost to book.
Know your target customer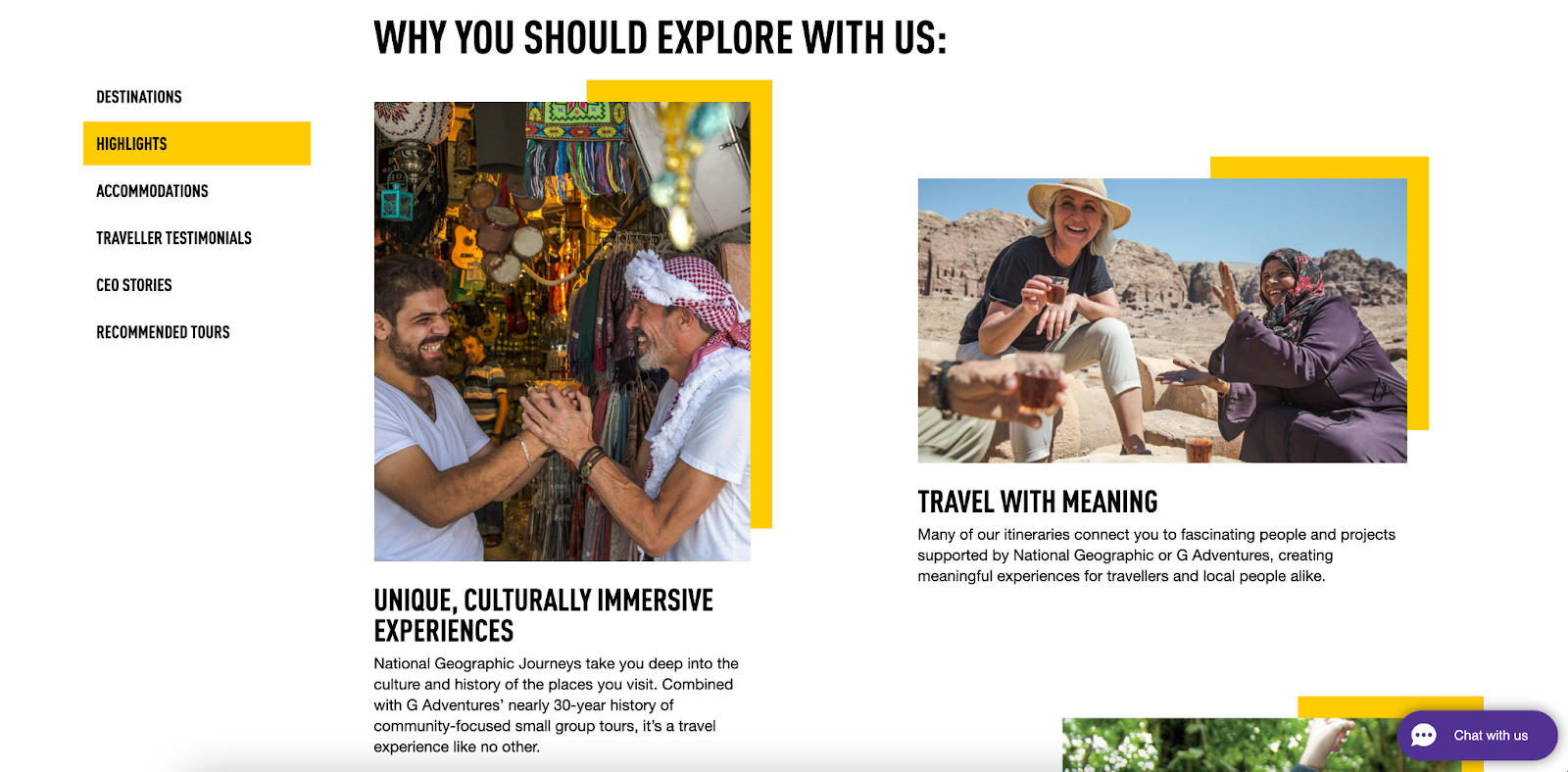 Understanding the needs and wants of your customer is key to developing a solid marketing strategy. Everything from your brand to the content you write for your website will depend on the tourists you're trying to attract.
National Geographic launched guided trips with adventure tour operator G Adventures, and the brand markets the experiences in a way that appeals to its existing customers — "unique, culturally immersive experiences' and "travel with meaning."
It helps to map out your customer's characteristics, including their demographic information, interests, doubts, and concerns. It's also helpful to find out what platforms they use to research travel so that you can double down on those in your marketing strategy.
If you don't have enough data to paint a picture of your customer, you should reach out to them with questions or a survey.
Develop a brand

Your brand identity will determine how you show up across social media and other marketing channels. Fonts, a logo, and tone of voice are three key components to define as you're developing your company's unique brand.
Look how well adventure travel operator G Adventures promotes its brand identity on Instagram in the example above. Its website, shown below, perfectly aligns with that brand.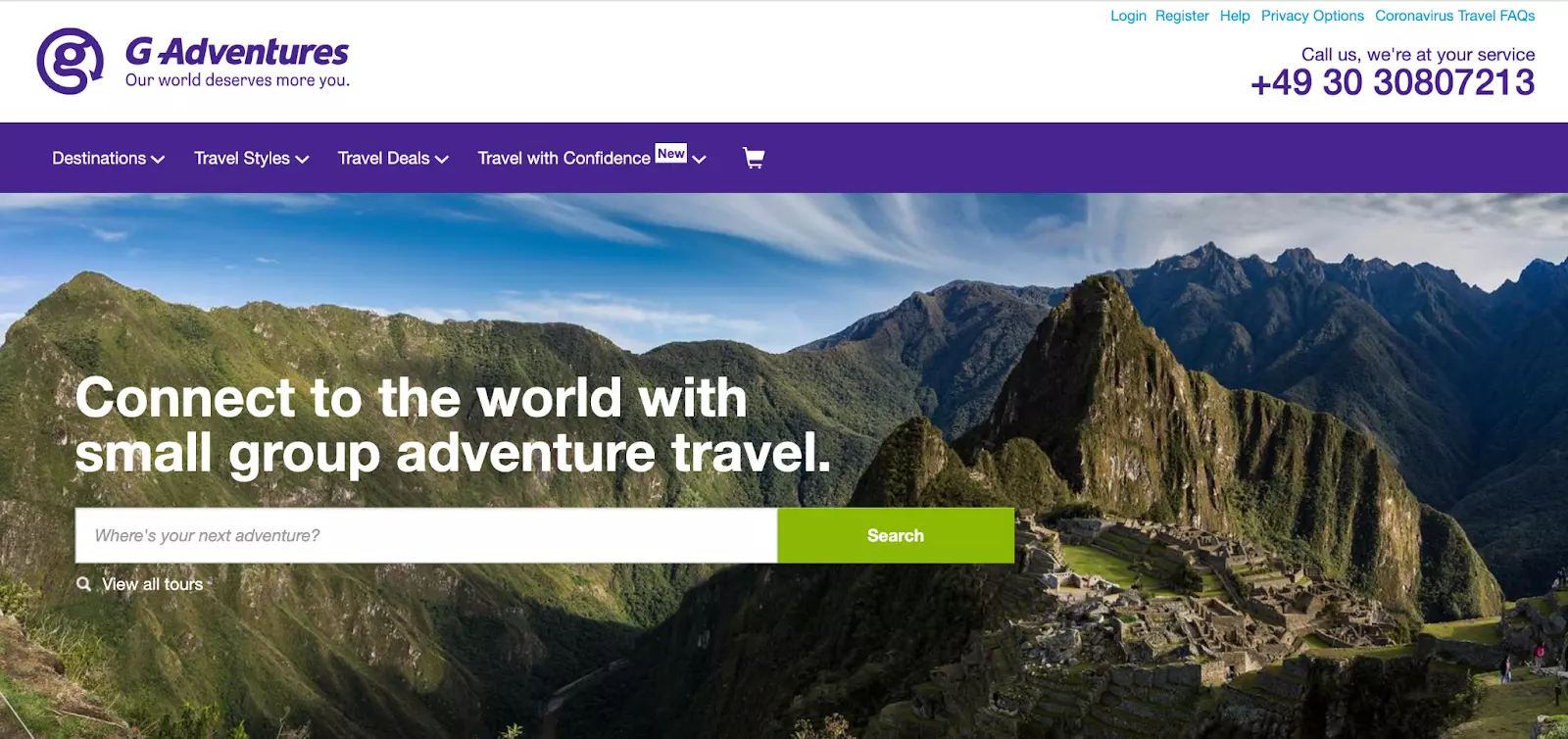 Remember to consider your target customer during brand development: What images and messages most appeal to adventure travelers? Your tone of voice and overall aesthetic, for example, might learn toward inspiring.
Your website, social media profiles, and customer interactions should inspire customers to book the adventure of a lifetime.
Focus on SEO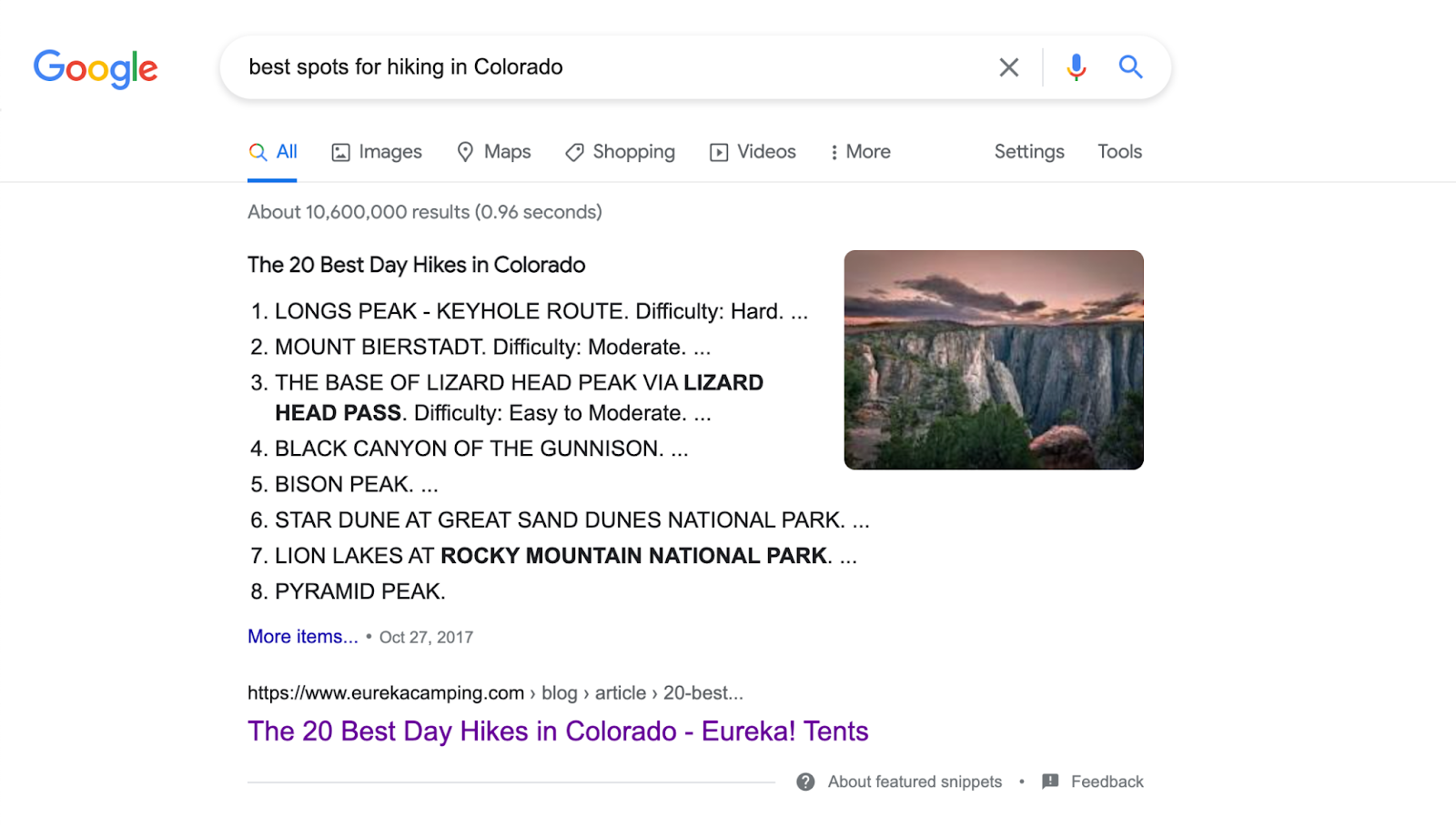 Search engine optimization (SEO) is one of the most effective digital marketing strategies. SEO refers to the process of targeting specific keywords across your website so that you appear on the first page of Google for those search terms.
You can build up your SEO strategy by blogging about topics your guests are interested in.
Let's say you're a hiking trip operator in Colorado. You might target the keywords "best spots for hiking in Colorado" among similar search terms. You'd then write a series of blog posts about hiking in Colorado so that when a potential customer searches for it, your website comes up — similar to how Eureka! Tents now show up in the example above.
SEO is a powerful tool to drive more traffic and bookings through your website: Search engines account for about 55% of all traffic for travel and tourism websites, more than any other marketing channel.
Experiment with paid search marketing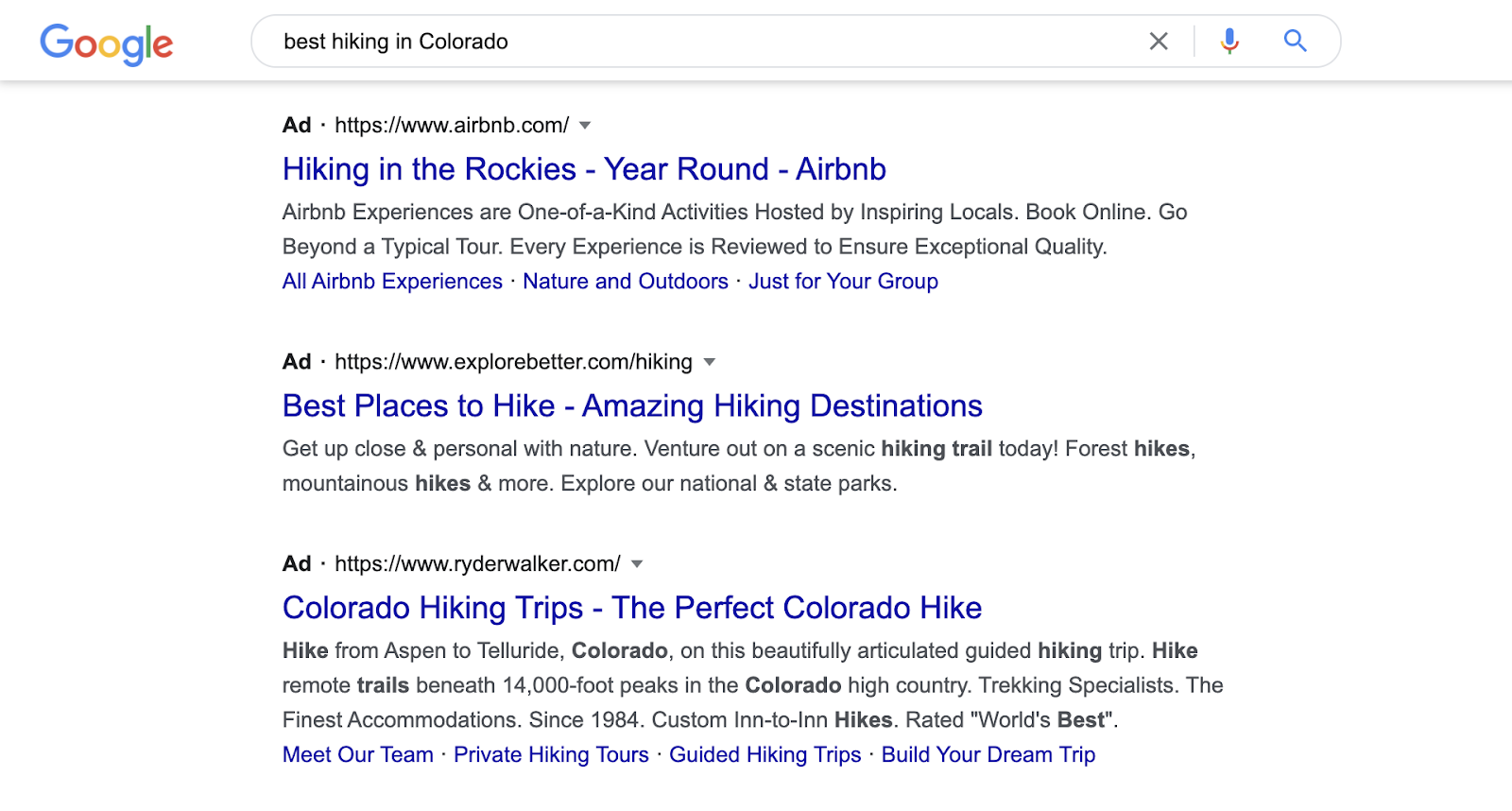 SEM, or search engine marketing, is a paid approach to appearing on the first page of Google. Also known as "pay per click" — every time a user clicks on your ad link, you pay — the strategy takes less time and effort than organic SEO.
SEM functions similarly to SEO in that you can target specific customers that are actively seeking the experiences you're selling. There's a high conversion rate with search marketing.
As you can see in the example above, Airbnb and Ryder Walker have invested in Google Ads so that their links show up on the first page of Google whenever anyone searches for "best hiking in Colorado."
The benefit of leveraging SEM over SEO is that it allows adventure tourism companies to increase visibility right away.
Understand the customer journey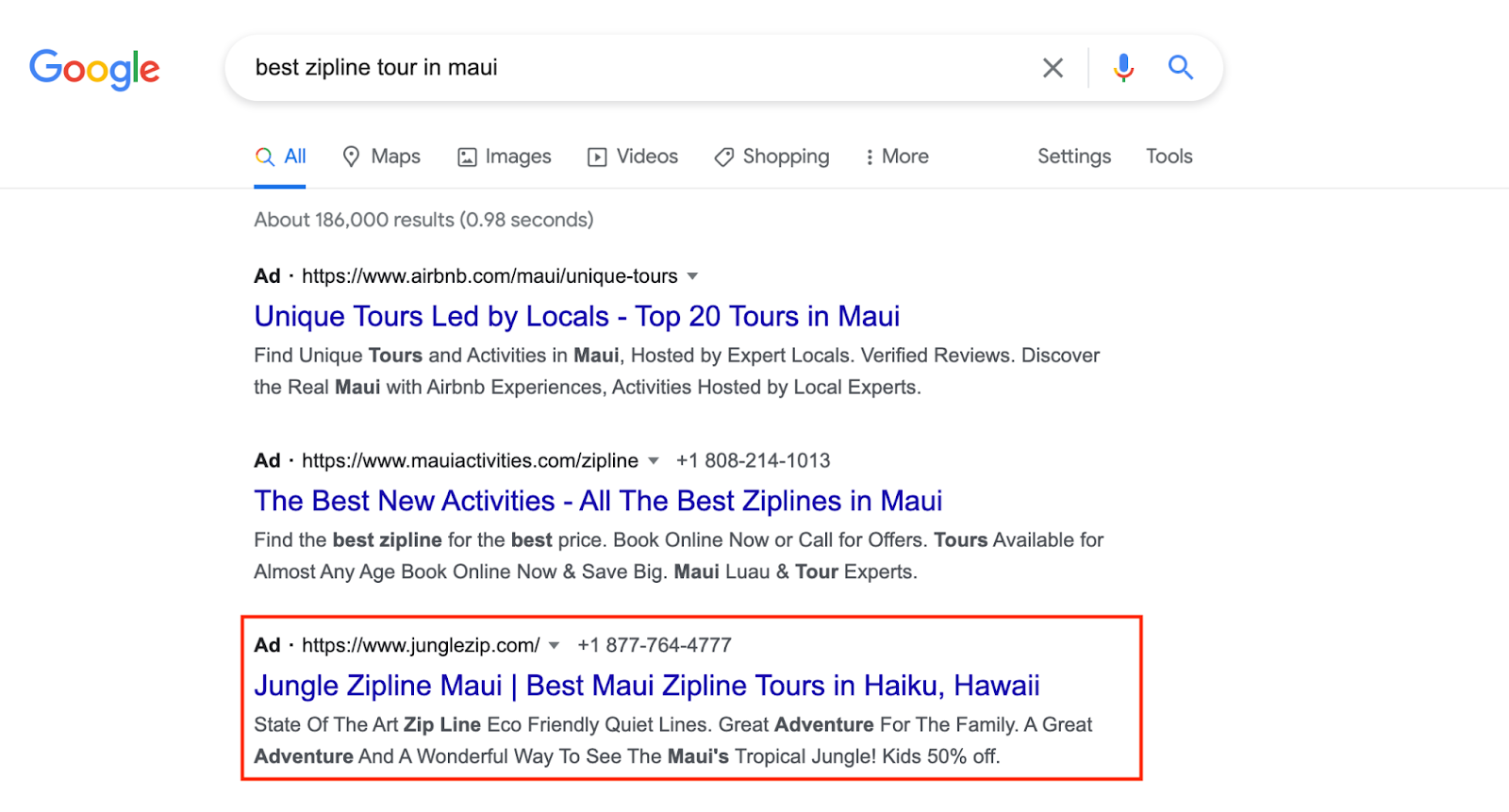 Your SEO or paid search strategy won't bring you results if you're ignoring your customer's journey. What's your customer journey? It helps to think about the four stages travelers go through when booking a trip: dreaming, planning, booking, and experiencing.
Adventure tour operators want to target customers in the "booking" and "experiencing" stages when travelers are most likely to book an experience.
For example, Jungle Zip is promoting its zipline tours in Maui to people who search for the "best zipline tour in Maui. " It's a narrow search that indicates a traveler is in the booking or experiencing stage of their customer journey.
Social media marketing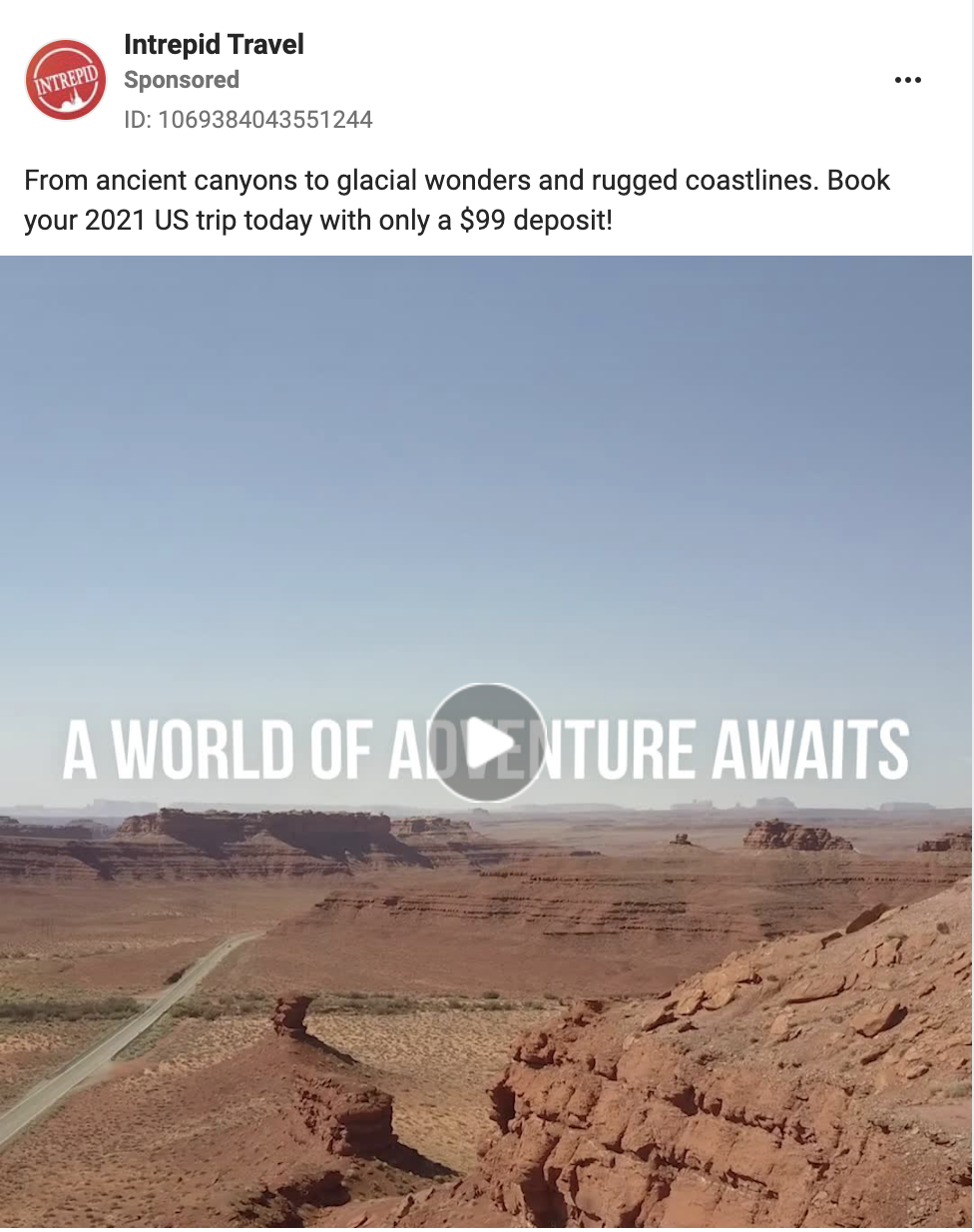 Travel brands are allocating a bigger chunk of their digital marketing budgets to social media in recent years.
Facebook and Instagram have launched advertising products specifically tailored to travel marketers, such as the ability to advertise on Facebook Stories and new audience targeting options.
Social media marketing is a great way to connect with your customers on a more personalized level. You can use video features like Instagram Stories and Reels to make your brand feel relatable and develop more authentic relationships with your customers.
Adventure tour operator Intrepid Travel uses video to boost engagement on its social media ads, as shown above.
Leverage email marketing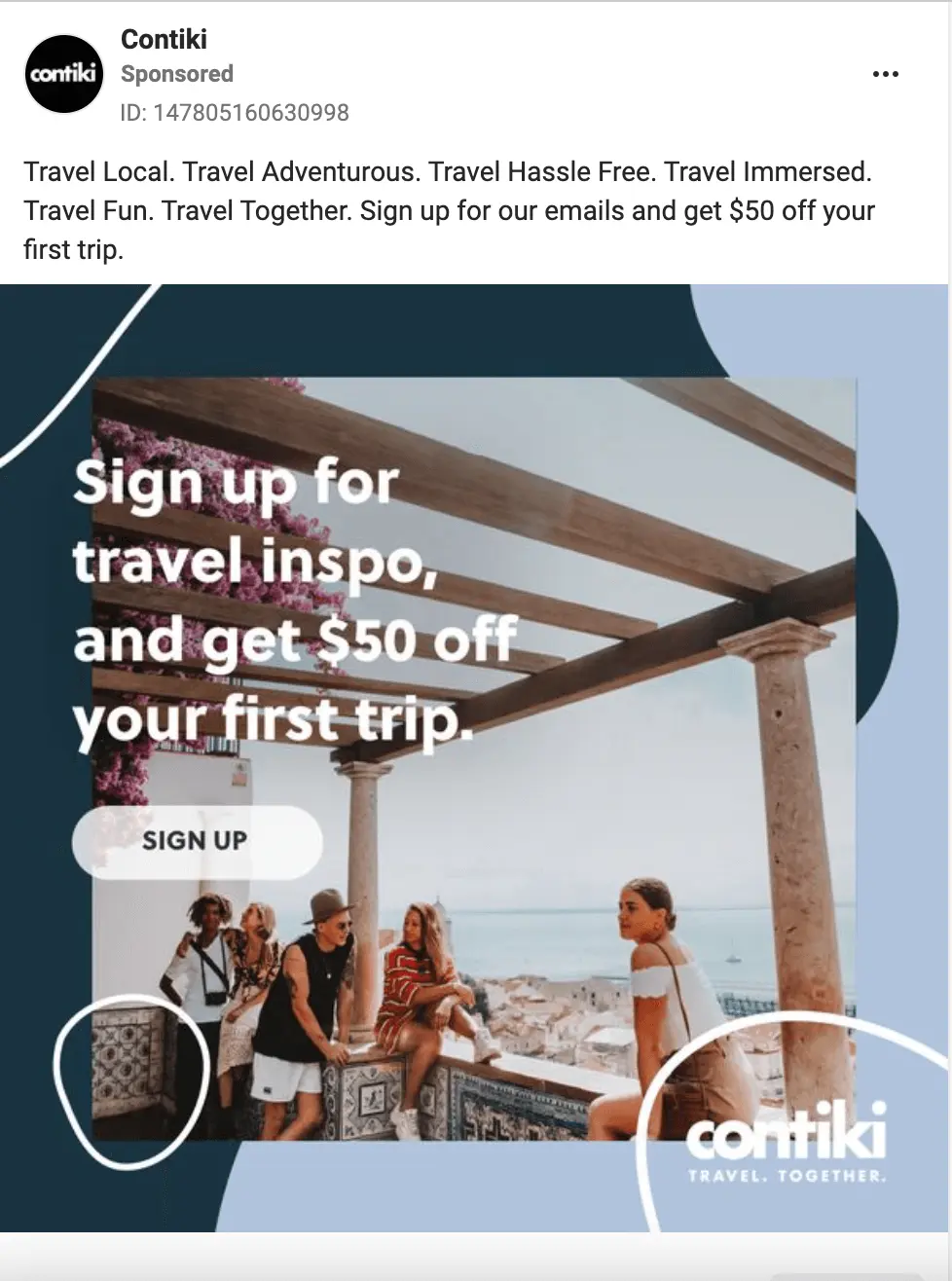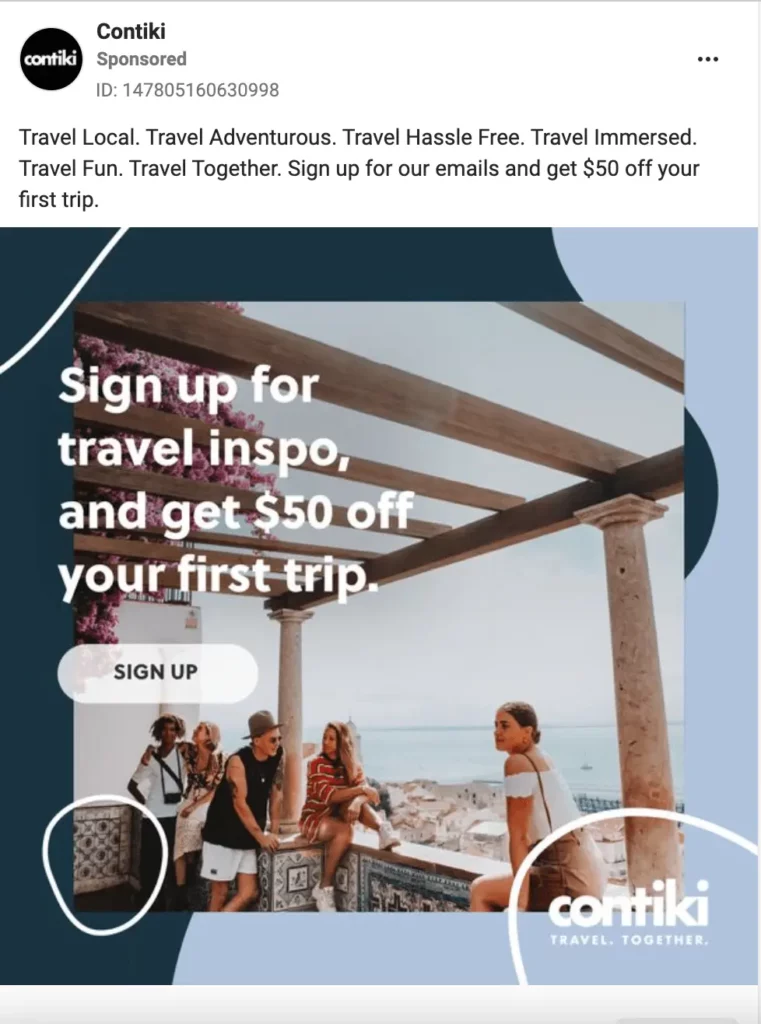 Email marketing is a great tool to keep your audience up to date with special offers and new tours and activities.
The first step is to choose an email service provider like ConvertKit or Mailchimp that will allow you to set up welcome emails for new contacts, newsletters, and promotional offers. Next, you need to build your contact list.
Trip operator Contiki offers a $50 incentive for guests to subscribe to their email list, as you can see in the ad above.
The purpose of email marketing is to move your guest along their buying journey through automated emails. Email marketing helps build customer loyalty and turn one-time guests into repeat customers.
There you have it: Eight key tactics to build a marketing plan for your adventure tour business.
In sum, travelers are expecting a seamless online booking experience, and they're keeping safety top of mind. Travel companies around the world are adapting to meet traveler's new needs, particularly in the health and hygiene departments.
The good news is that more travelers are seeking outdoor experiences than before the pandemic, so your adventure tour company has the opportunity to attract a slate of new customers. This could mean launching new tours to accommodate domestic tourism, which will bounce back first.
As people start venturing out of their homes, make sure your company has a solid marketing plan and is ready to receive them.