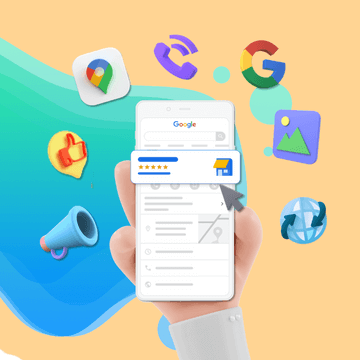 Did you know that businesses that respond to Google reviews are seen as 1.7X more trustworthy than businesses that don't?
Today, most travel planning starts with a simple search on Google: "Best places to visit in the summer."
As the traveler gets further into their research, they'll start to plan their in-destination activities. That's when your tour company or attraction appears in their search results, along with your Google Business Profile and the reviews that previous guests have left you.
When you reply to reviews, it shows that you value your customers and their feedback — and other customers notice. Even Google says so. Keep in mind that your responses are public for everyone to read, which is why it's important to know how to reply to a review on Google.
In this post, you'll learn how to reply to all kinds of Google reviews, including helpful examples of companies that do it right.
How do you claim your GMB listing?
Why do you need to claim your GMB listing?
Actionable strategies for replying to positive Google reviews
Actionable strategies for replying to neutral Google reviews
Actionable strategies for replying to negative Google reviews
How do you claim your GMB listing?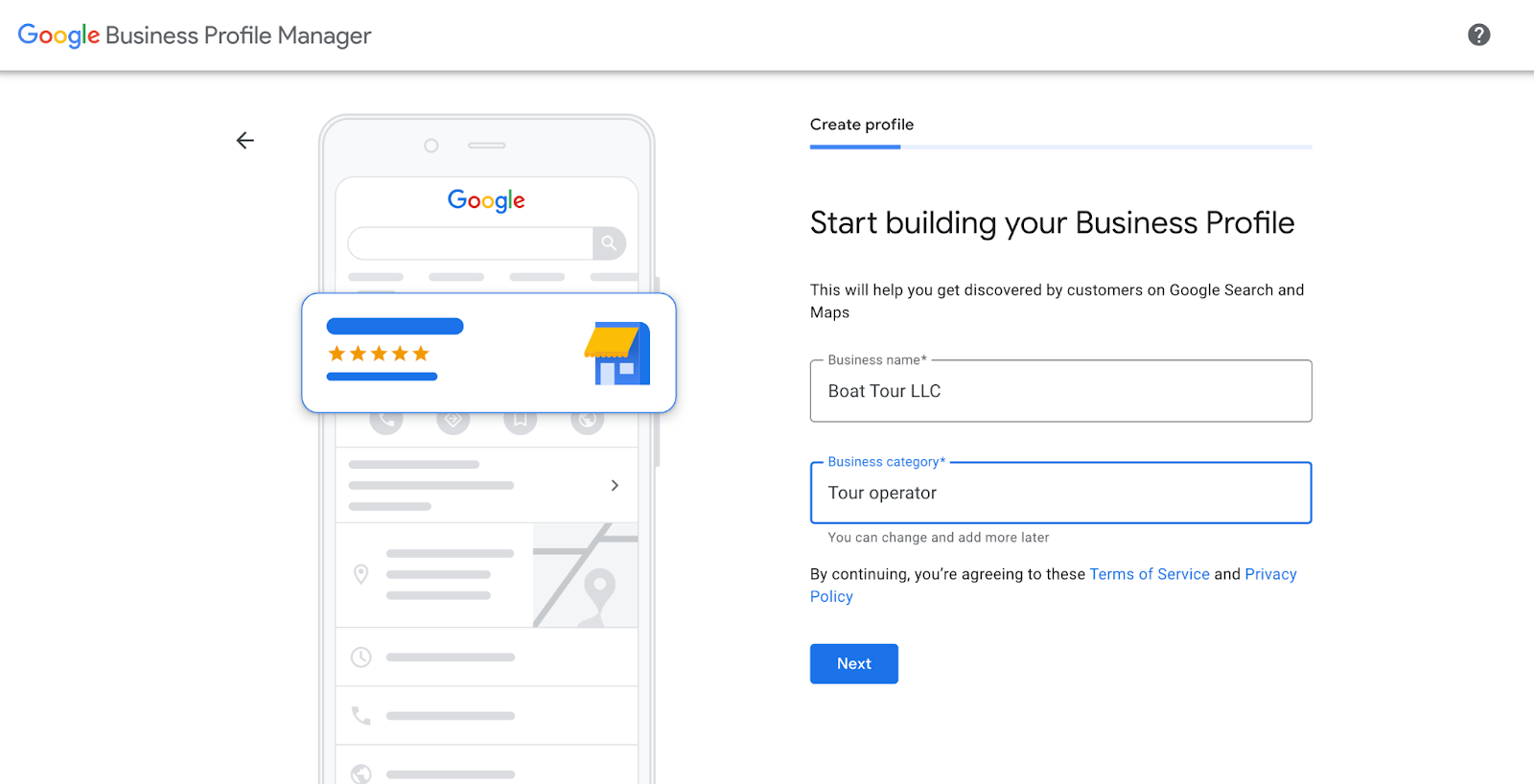 Step 1: Find your business on Google by typing the name into the search bar on this page. If the business doesn't exist on Google yet, you'll be prompted to start building your business profile.
Another way to claim your Google listing is to type the address into the Google Maps search bar.

Step 2: Click "Add your business" on the left.
Step 3: Follow the prompts to create a profile for your business, including the business name and category. "Tour operator" and "tourist attraction" are available as categories.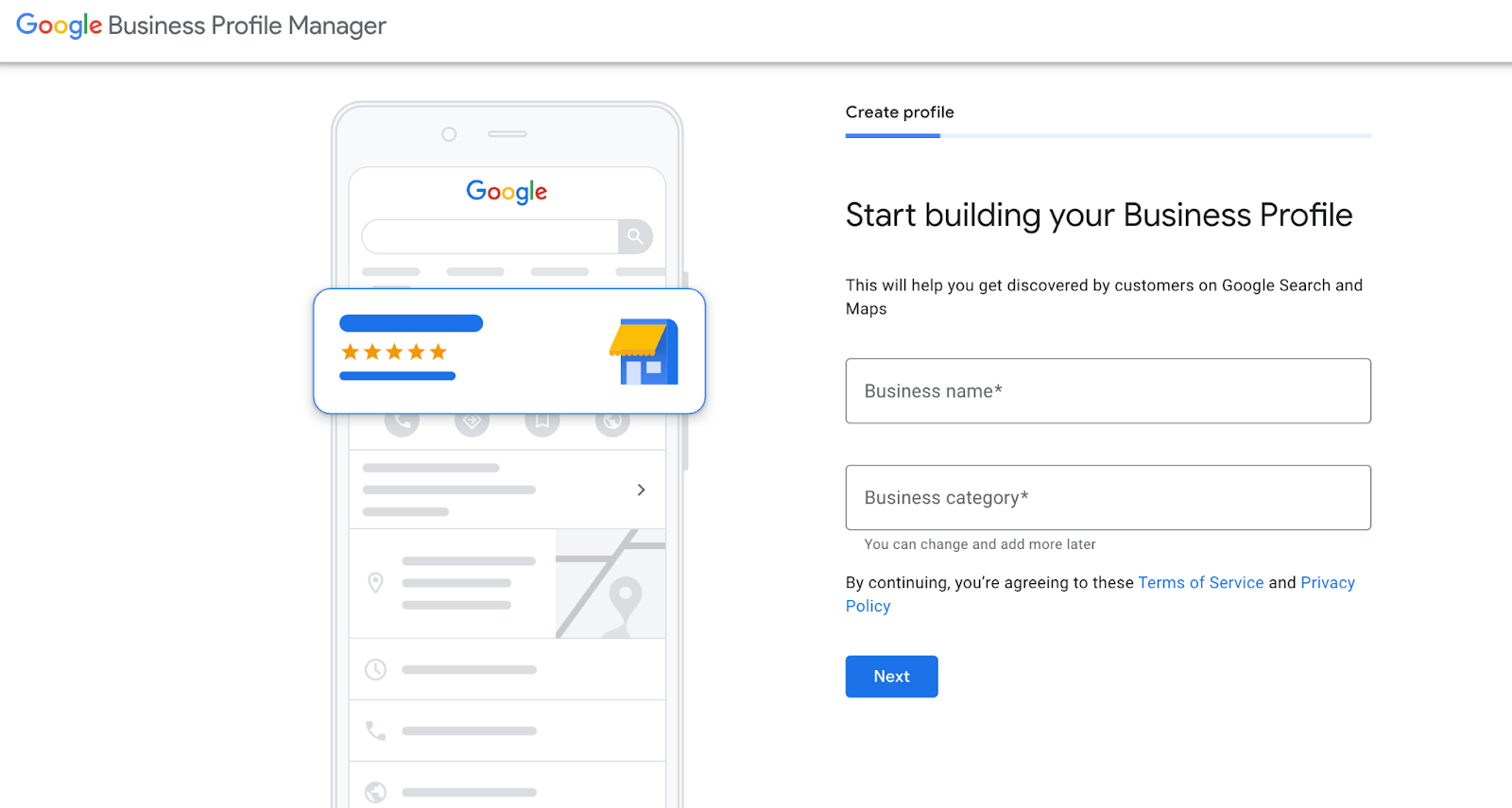 Step 4: Google will then verify whether you're the actual owner of the business. While the verification is taking place, you can continue to add your services, business hours, description, photos
of your company.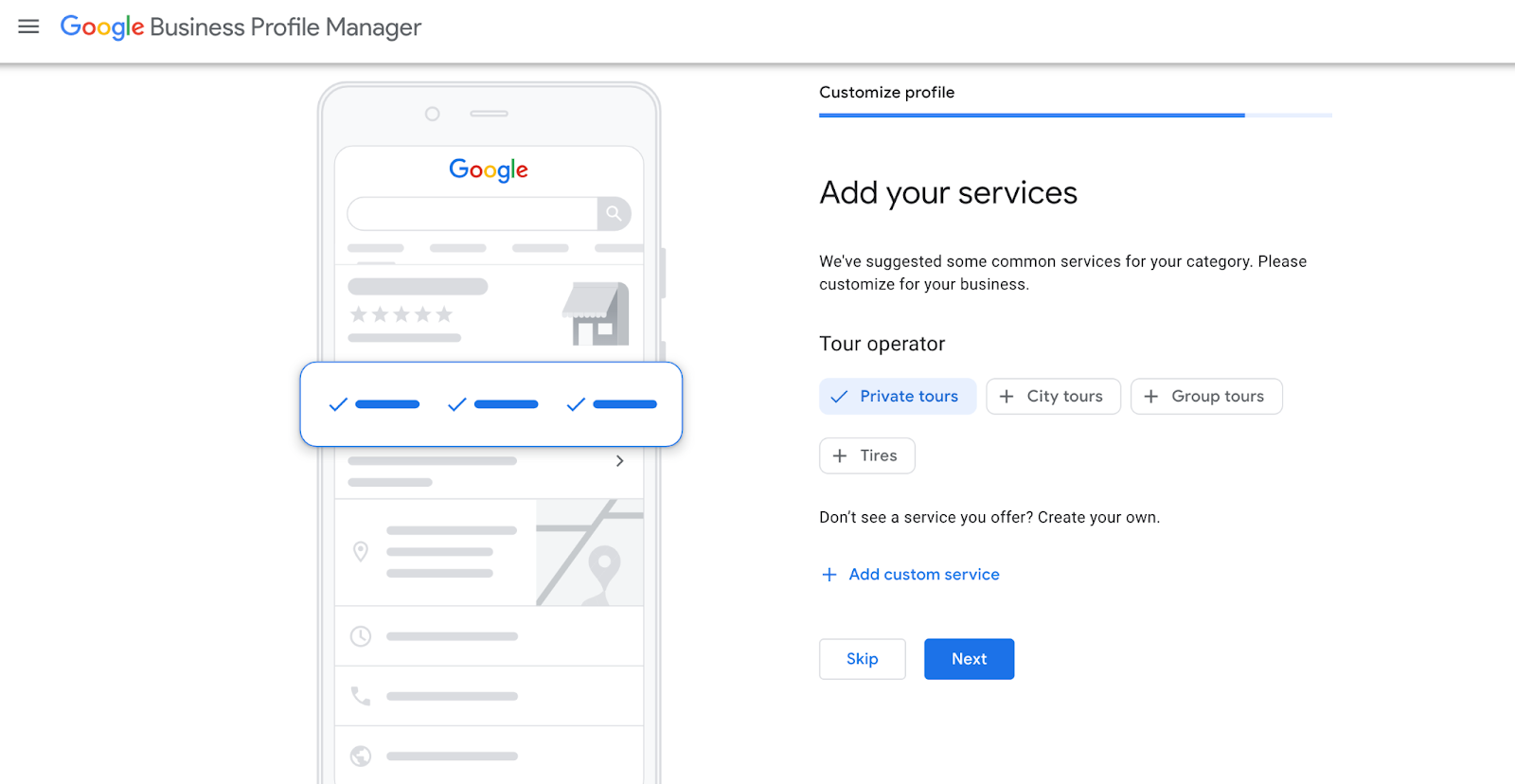 Step 5: Finish creating your listing and double-check to ensure the information is correct. The final product should look something like this: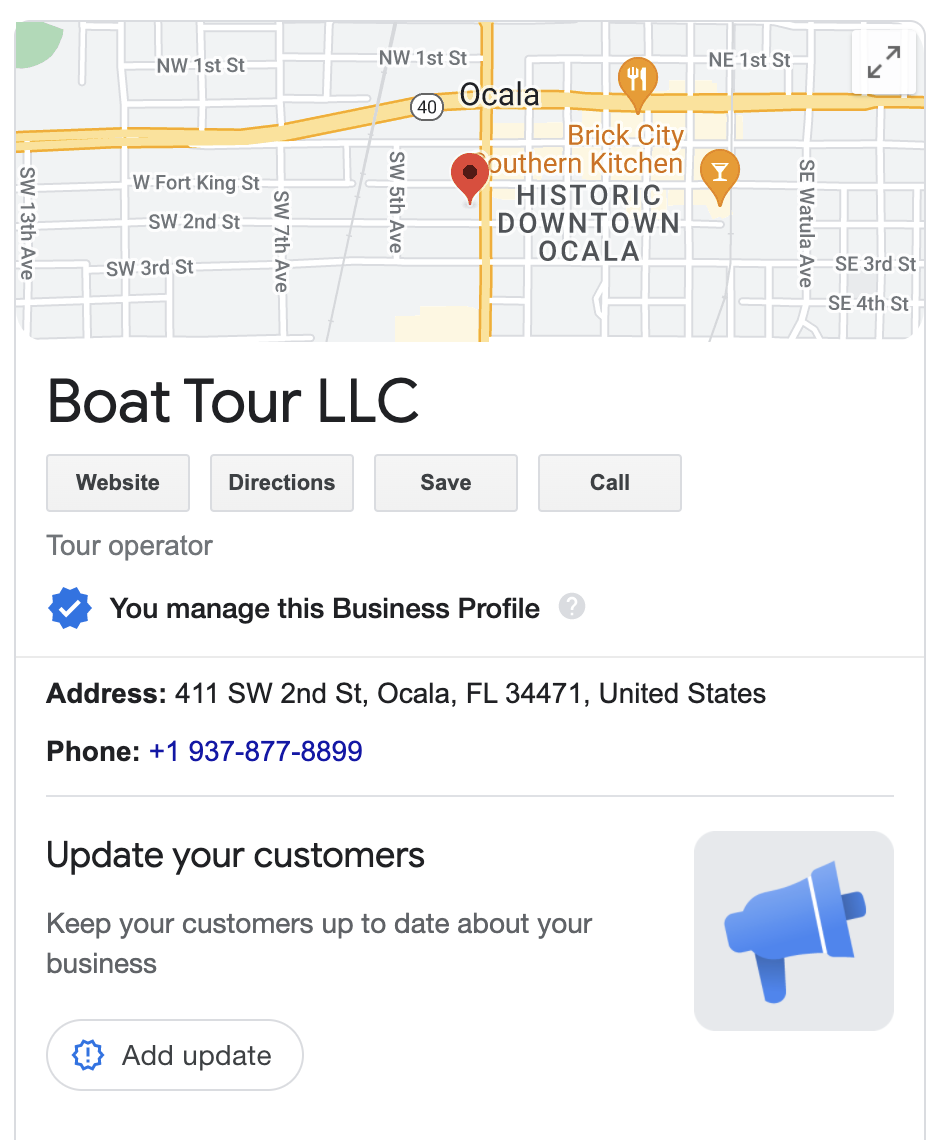 If your business is already on Google Maps, you can type its name in the search bar and then click "Claim this business." Then, you'll be prompted to verify ownership of this business through a phone call or email.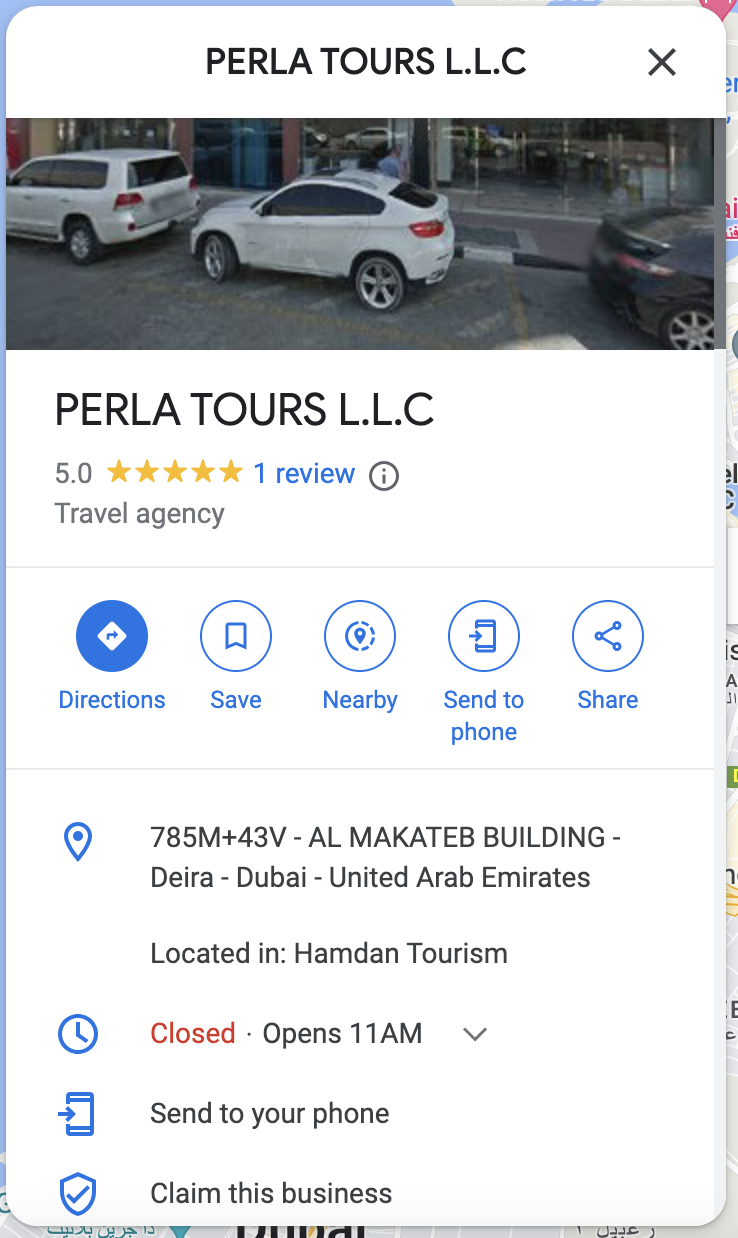 Pro tip: If a business profile has already been verified and you're authorized to manage the profile, you can request ownership from the current profile owner. If you can't find a "Claim this business" or "Own this business" link on the business profile, you're likely already an owner of the business. On your profile, search for a "You manage this business profile" badge.
Why do you need to claim your GMB listing?
Your Google Business Profile contains information about your company, including a description of your services, hours of operations, and contact info.
Google will try to provide the most accurate information, but there's always room for error in an unclaimed profile.
When you claim your business, you can ensure the information about your business is correct. Claiming your business profile gives you control over how your business appears in Google searches, including on Google Maps.
It also allows you to manage your customer reviews. Google is one of the most popular online review platforms, and your customers are likely looking over the reviews that appear on your business profile.
You won't be notified of new reviews or be able to respond as the owner of the business without claiming your profile. Once claimed, you can publicly reply as your business.
Reviewers will receive a notification when you reply to their review, and they can even update their review after reading your response.
Actionable strategies for replying to positive Google reviews
Positive reviews indicate that your company is meeting guest expectations. Guests that feel strongly enough about their experience to leave you a 5-star review deserve to hear back from you. Here are a few tips to help you respond to positive Google reviews.
Thank them

You can start every review response by thanking the guest for their feedback. This shows your guests that you value their comments and concerns. If a guest has taken the time to leave a positive review, you can at least respond with a courteous "Thank you," as shown in the example above.
Respond in a conversational tone

Respond in a conversational tone so that guests feel like they're hearing from a real human, as opposed to a faceless company. Don't be afraid to add some personality to your responses, too. In the example above, owner Jim Miles even includes an emoticon to make his response appear more friendly.
Personalize the response

Refrain from copying and pasting the same generic response to every review. This can give off the impression that you're not putting in the effort to read each review. It may seem as though you're quickly glossing over them and responding in the easiest manner possible.
There are many ways to personalize your response:
Refer to the reviewer by their first name
Relate to specific points in their review
Mention something you learned about the guest during their visit (i.e. in the review above, owner Laurel says the team was happy to be a part of the guest's birthday celebration, which isn't mentioned in the review.)
Respond to specific points mentioned in the review

If a guest complimented a specific employee or feature of your tour, mention it in your response. This is an easy way to personalize your message. In the example above, the guest mentions that they enjoyed being able to visit a few buildings during the tour. The guest also uploaded a few photos taken in those buildings. In response, the tour operator refers back to the buildings the guest is speaking about.
Reinforce the positive

Remember that future guests will read your responses, so this is a great time to reinforce the positives points in your guest reviews. In the example above, the tour operator reinforces the complement given to the staff. "They are clearly the best in Maui…in our humble opinion." The operator responds playfully, showing the guest that it is proud of its current crew.
Actionable strategies for replying to neutral Google reviews
A neutral review isn't necessarily a bad thing, but it's also not the 5-star feedback you're aiming for. Neutral reviews typically have a 3-star rating. Guests will often mention what they liked about the experience, as well as what didn't meet their expectations.
Nevertheless, it's good practice to respond to neutral reviews. Here are a few tips to help you do so.
Thank them

Whether the review is positive, negative, or neutral, the best way to start a response is by thanking the guest for their feedback. You can make the response short and sweet, as long as it shows that you're thankful for their review.
Repeat the positive and apologize for the negatives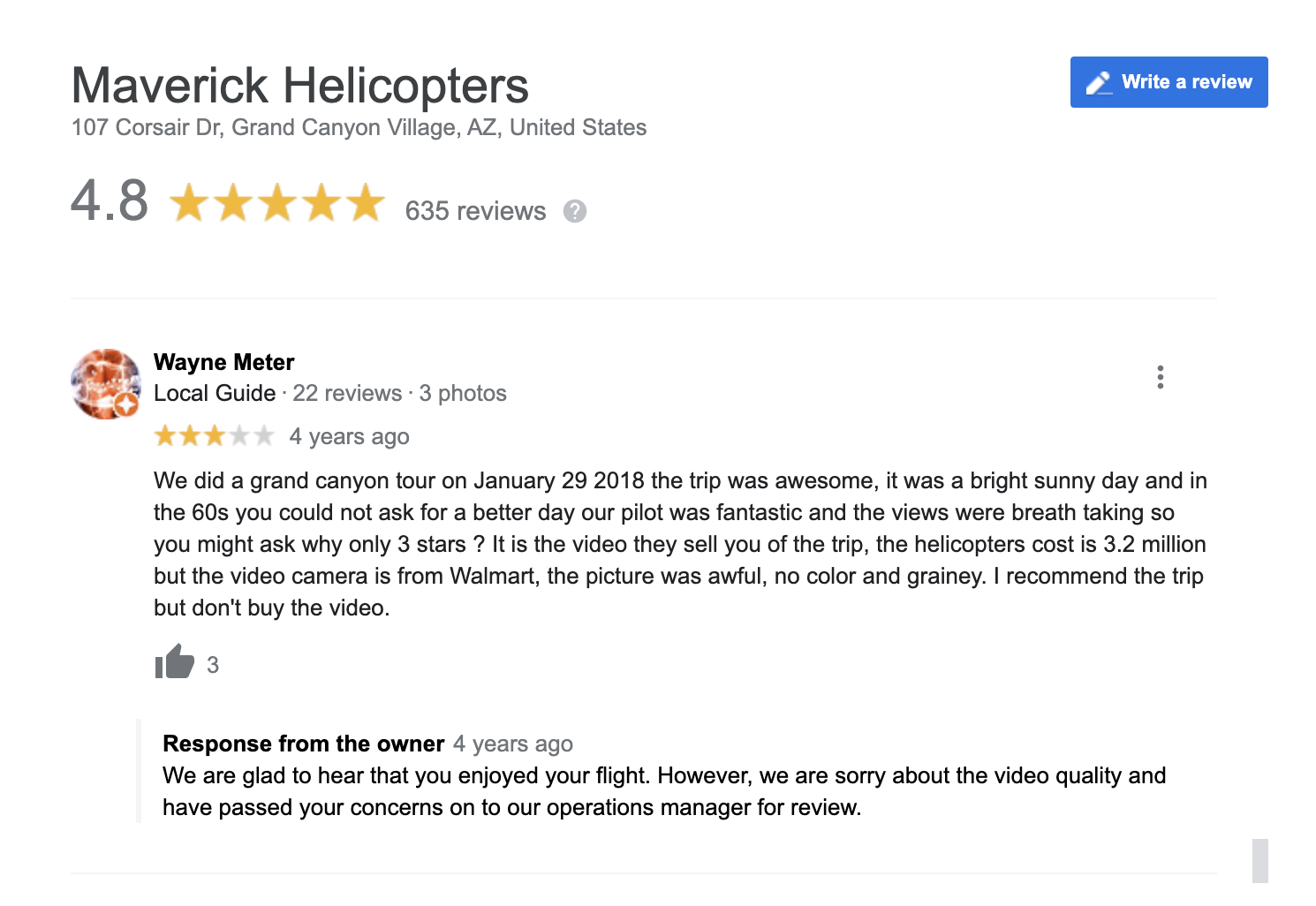 A neutral review typically mentions both positive and negative aspects of an experience. In your response, make sure to apologize for the negatives. In the example above, Maverick Helicopters apologizes for the video quality of the tour. Yet you'll notice that the operator still starts the review on a positive note. This shows the reader that the guest also had nice things to say about the experience.
Encourage them to return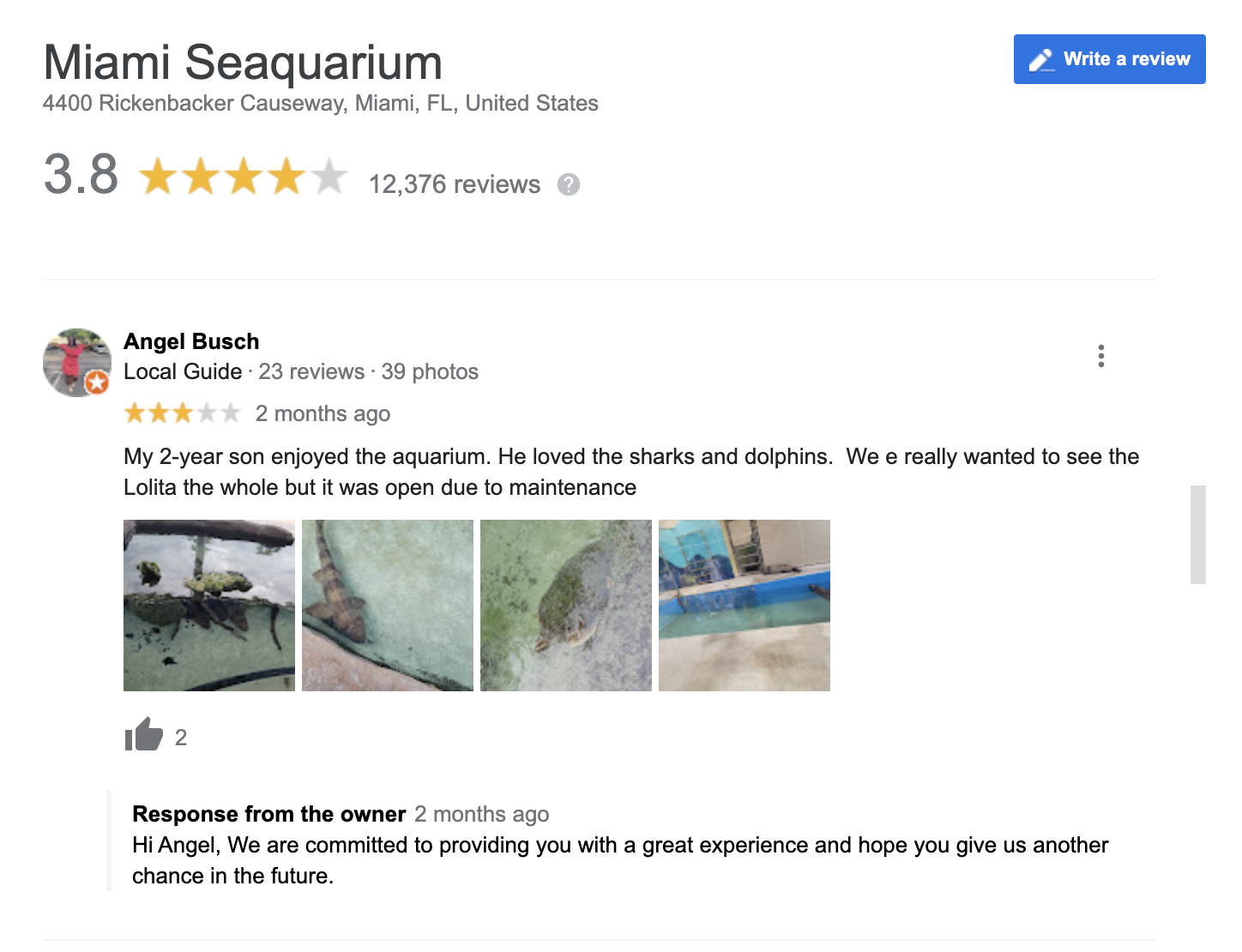 Someone who leaves a neutral review may be willing to give your company another chance. This time around, you'll know how to best meet this guest's expectations. This is why you should encourage neutral reviewers to return for a second visit.
Actionable strategies for replying to negative Google reviews
Negative reviews aren't something to run away from. Instead, consider a negative review as an opportunity to regain an unhappy customer's trust and improve your customer service.
Yet the only way to learn more about what went wrong is to continue the conversation. Here are a few strategies to help you reply to negative replies on Google.
Be professional and courteous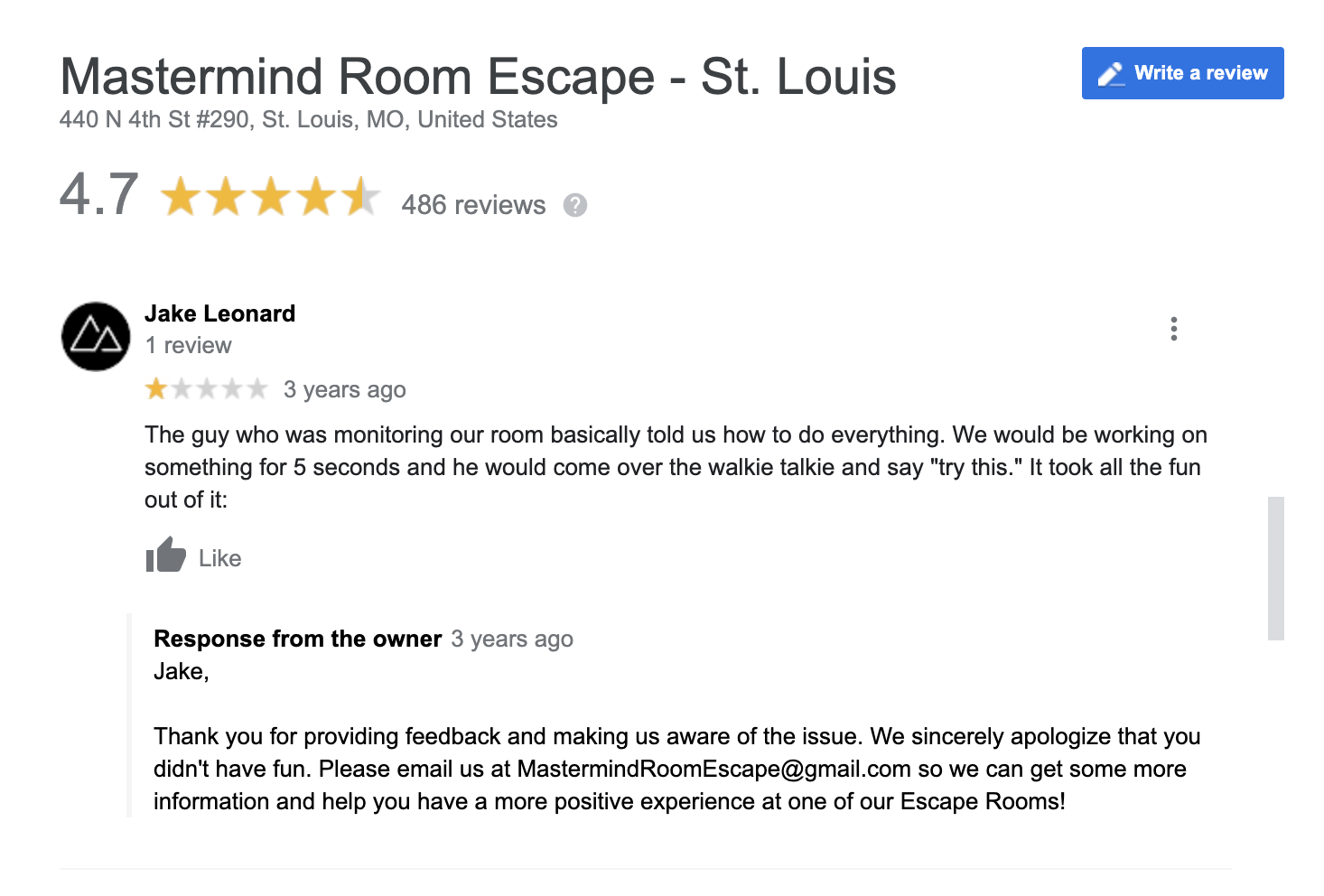 It's key to answer the negative review in a neutral and professional manner. You may feel personally offended by a negative review, but you shouldn't let that show through your response. Be careful not to respond defensively or sarcastically. Remember that future guests will see this, and a poor response may steer them away.
Respond in a timely manner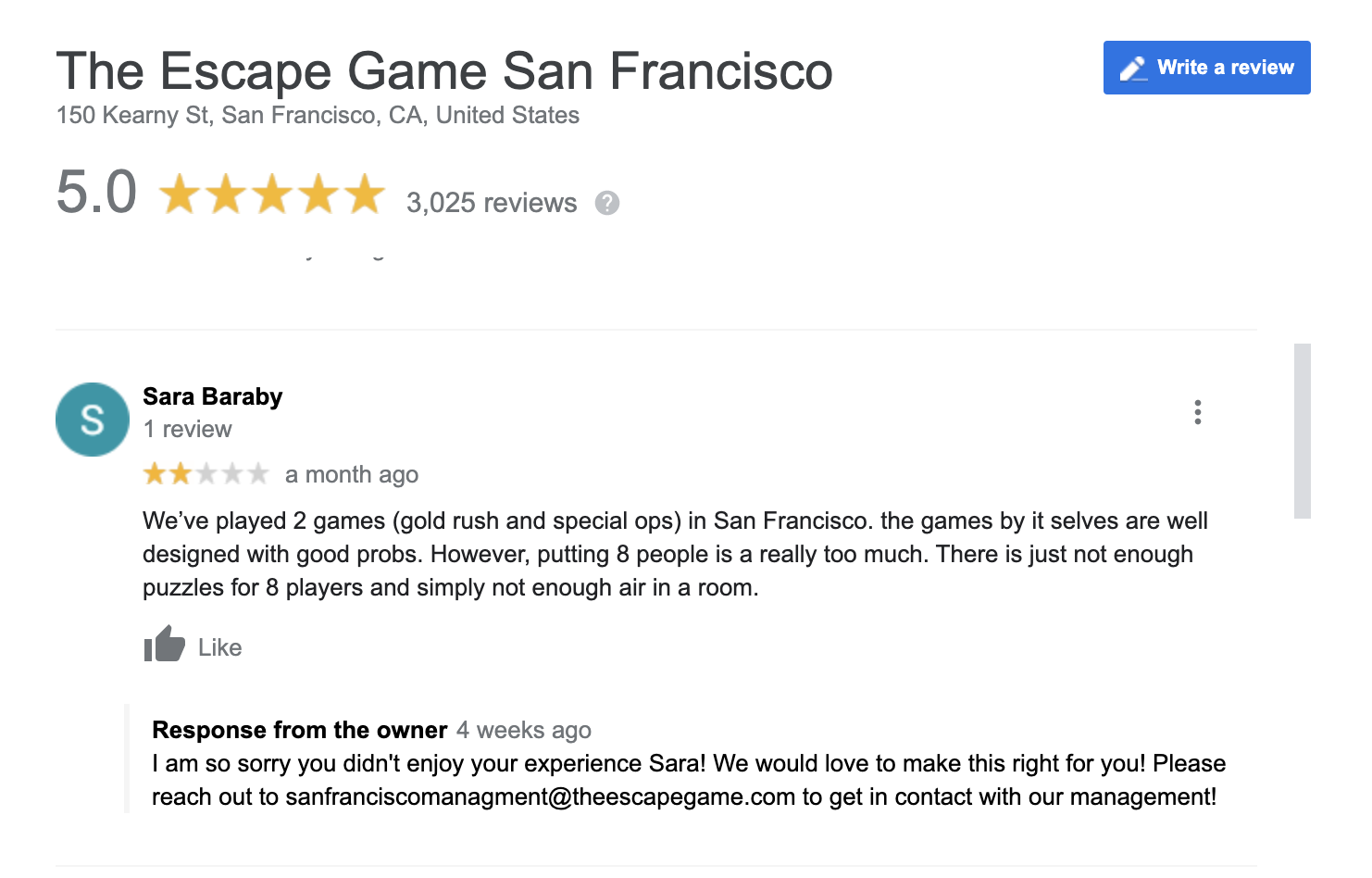 Industry best practices say to respond to reviews within 24 to 48 hours, especially when it involves a complaint. If you take too long to respond, you may miss your chance to make things right with the customer. The guest may then abandon your company altogether, as well as speak poorly about your brand to others.
Consider that the longer you take to respond, the more people will see the negative review. If there's no response, people will make up their own minds about what happened. Yet if you respond professionally, guests will see that you care about the customer experience and are willing to make things right.
Be apologetic

Apologize to the guest for their frustration. You can express an apology without taking full responsibility for things that weren't your fault (i.e. the weather). You can do so by saying something like, "I'm so sorry to learn that [our tour/attraction] did not live up to your expectations." Then, the rest of your review can focus on a solution.
Suggest a 1:1 conversation.

While you can start addressing a negative review in your response, it's best to continue the conversation elsewhere, especially if you want to better understand their dissatisfaction. A phone or email conversation is more personal than a review response and shows guests that you're making an extra effort to find out what went wrong. When you're speaking to the guest directly, you can better offer solutions that can change their perspective about your company.
Ask them to elaborate

If you don't fully understand a review, you can ask the guest to elaborate. In this example, a guest left a poor review for an escape game due to a mishap with solving the puzzles. The operator was confused by the feedback but recognized it as a potential issue. To remedy the situation, the operator asks the guest for more information.
Offer a solution

Before responding to a review, brainstorm ways in which you can offer a solution. When possible, ensure your guest that you're going to help solve the problem right away. In this example, Charleston Outdoor Adventures explains to the guest how she can receive a refund for the missed experience.
Sign your name at the end
Signing off with your name or initials makes the response feel more personal and genuine. The guest will see that a real person read the review and took time out of their day to respond. It's an easy addition to any review response and one that can go a long way.
***
Tour and attraction operators should consider replying to all reviews, whether they're positive, negative, or neutral. Each review provides invaluable insight into your guest experience and whether you're meeting guest expectations.
We hope this guide makes it easier for you to respond to your Google reviews.