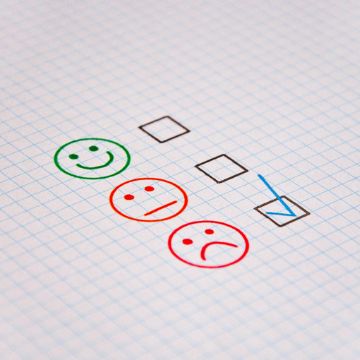 It's hard to escape negative reviews when you work in the travel and tourism business. While you may be tempted to ignore it in hopes that it'll get buried within all your positive reviews, you can gain more by doing just the opposite.
Responding is the best way to counteract the impact of a bad review.
Nearly 90% of customers will give a business a second chance before they finally abandon the brand. This means that your response can turn an unhappy customer into a repeat customer.
In this post, we're sharing real-life examples of how to reply to a negative review.
Why should you respond to every review?
What are the main reasons why someone writes a negative review?
5 most common mistakes that businesses make responding to negative reviews
Why should you respond to every review?
It's a common mistake to ignore customer reviews, especially the positive ones. Many tourism companies focus solely on negative reviews, while some don't answer at all.
Yet there's a lot to gain from answering all of your customer reviews. Did you know that 55% of consumers feel that a response from the business owner makes them feel positive about that business?
When a customer leaves you a positive review, for instance, they're taking the time out of their day to compliment your company. Replying shows them that you're grateful for their feedback. More importantly, it'll show future customers that read your reviews that you care about what your customers have to say about the experience.
Negative reviews may be harder to respond to, but that doesn't mean they should be ignored. It helps to view negative feedback as an opportunity to improve your business rather than a personal attack on your company.
The quicker you respond to negative reviews, the sooner you can patch things up with an upset customer.
It's key to remember that your review responses are public and available for everyone to read. When future customers see your responses, you want to ensure you're representing your brand in the best way possible.
Responding in a courteous and professional manner will show customers you care about your guest experience.
Overall, responding to negative reviews helps you protect your reputation and counteract the negative impact of bad reviews.
What are the main reasons why someone writes a negative review?
People leave negative reviews for a variety of reasons, but the two most common are:
Poor customer service
A specific company policy they don't agree with
Both of these reviews require special attention. Sometimes, though, there are negative reviews that don't have anything to do with your guest experience, such as an unhappy customer that's looking to get revenge on your company for personal reasons or someone who was never your customer in the first place.
Let's take a look at how to respond to the different types of negative reviews your company may receive.
How to respond to the bad customer service type of negative review?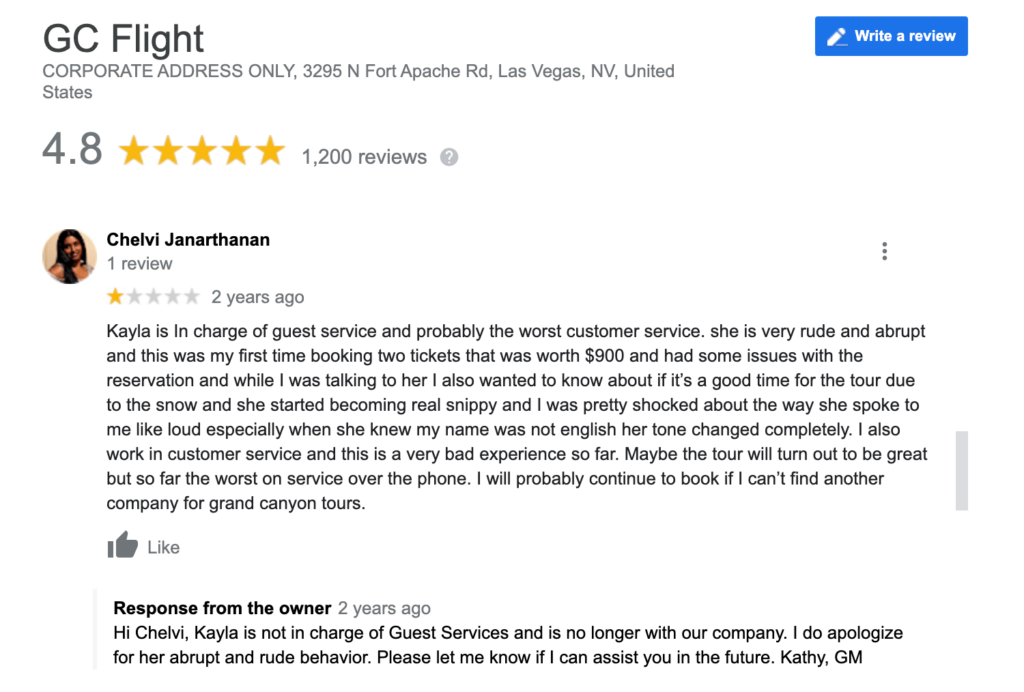 Complaints about your customer service can shed light on potential internal issues. It's best to take them seriously and identify whether you have a customer service problem that you weren't aware of.
In this case, you can respond in a courteous and respectful manner. Apologize for the negative experience and thank them for letting you know what happened. If necessary, offer them something to make up for the bad experience.
In the example above, the tour operator apologizes for an employee's rude behavior and assures the guest that the employee is no longer with the company. This shows future guests that the tour operator values guest feedback and makes the necessary changes to improve its services.
How to respond to a customer upset with a specific policy?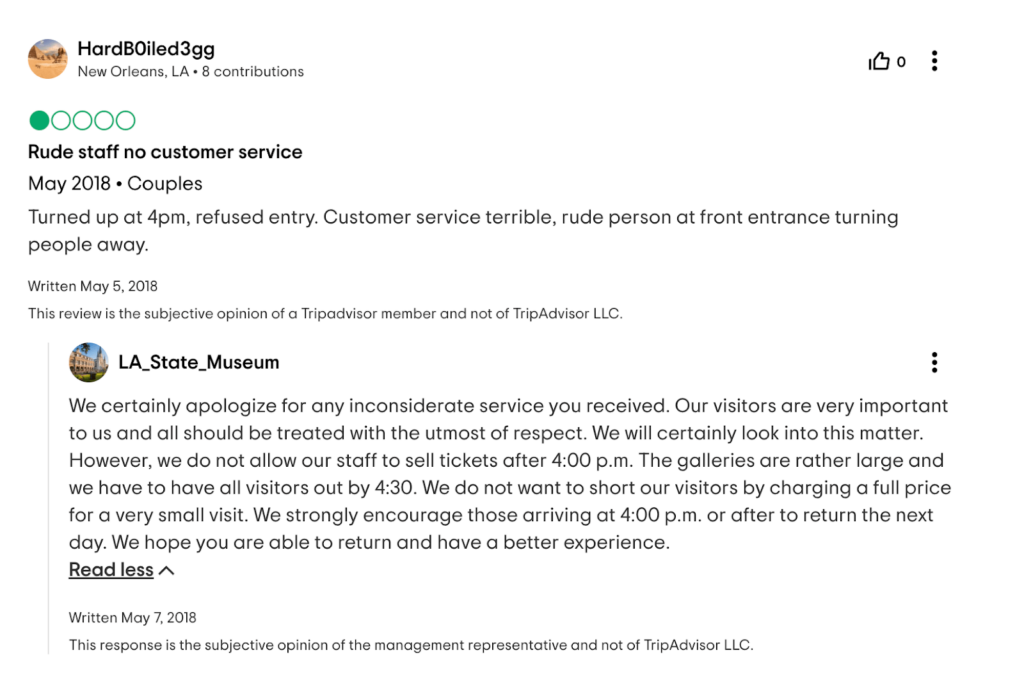 Sometimes, a customer won't agree with a specific business policy. That'll lead them to form a negative opinion about your brand as a whole, which they'll express in their review.
In this case, the best way to respond is to thank them for their feedback and highlight the reason behind the policy.
For example, a New Orleans museum received a negative Tripadvisor review from a guest complaining about being refused entry at 4 p.m. In its response, the operator explains why the staff doesn't sell tickets so late in the day.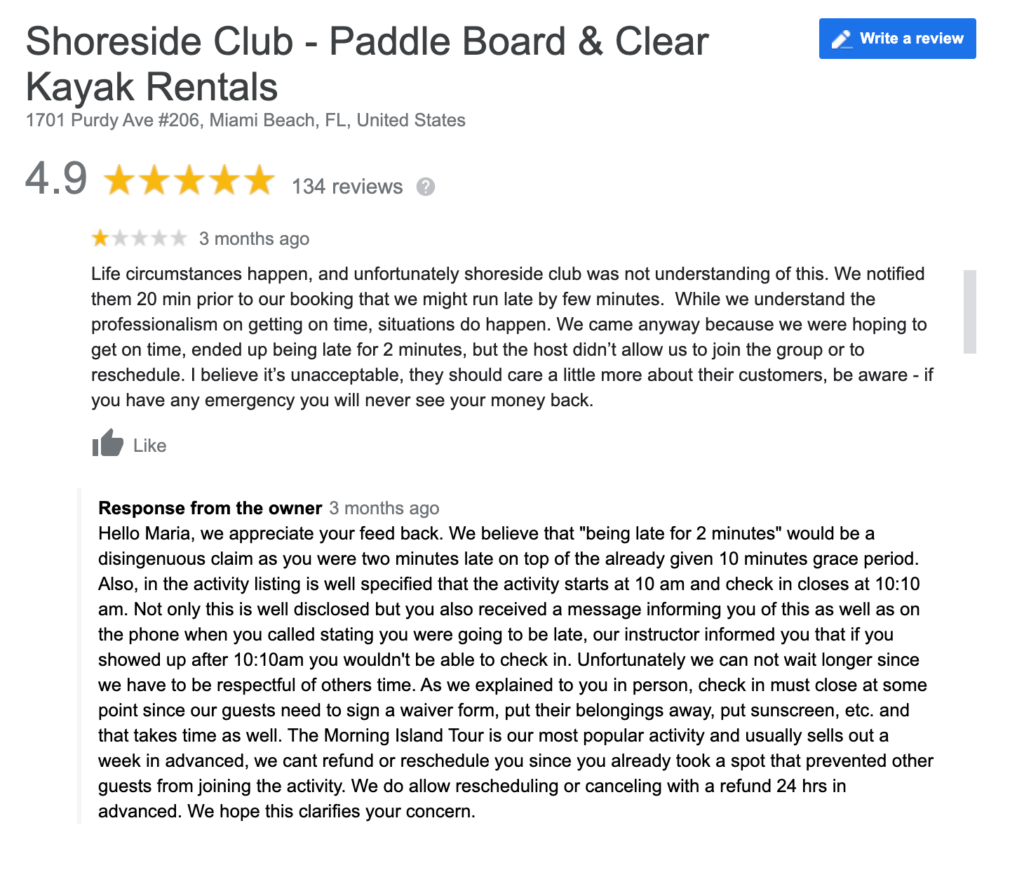 In the example above, the guest did not agree with the grace period for checking in to a tour. The review claims that the tour operator refused to wait an extra "2 minutes" to start the tour, and as a result, the guest missed the tour. Yet the tour operator takes this opportunity to clarify the situation: The guest actually arrived 2 minutes after the initial 10-minute grace period.
This helps illustrate the true events that took place that day. The guest was later than they make it seem in their review and shows future guests that the operator isn't as unreasonable as the commenter claims.
The operator then goes on to explain the policy: It would be unfair to make the guests that arrived on time wait more than 10 minutes to start their tour.
How to respond to a negative review when there's more to the story?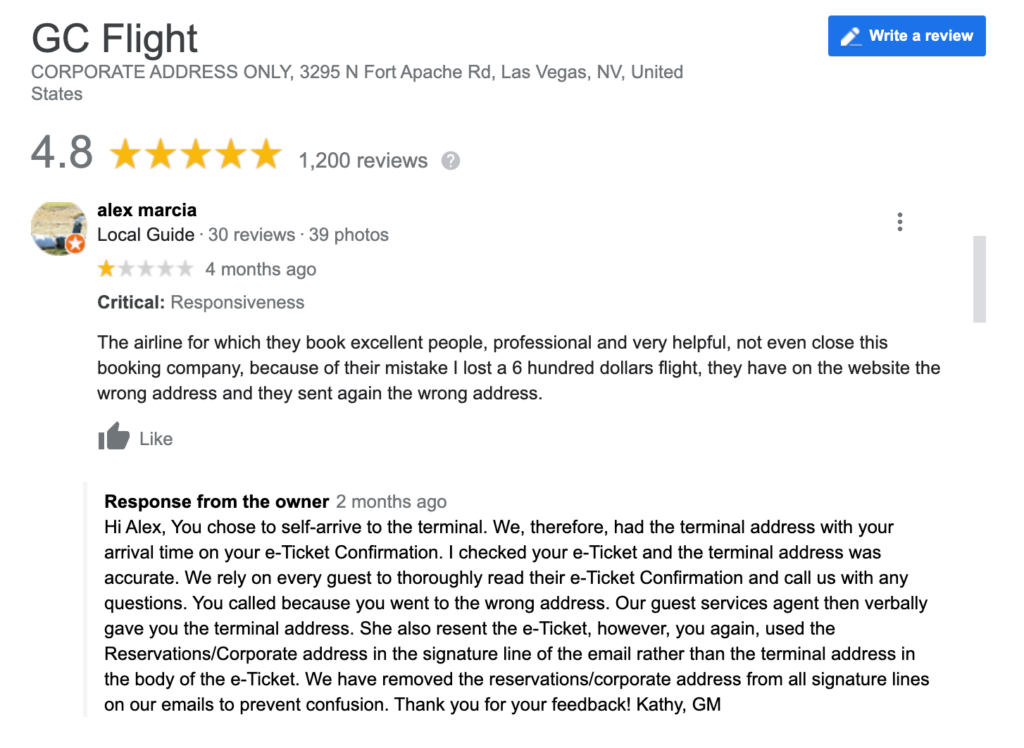 Many times a negative review won't accurately portray what happened. These types of reviews require careful attention. While you don't want to sound bitter and standoffish, you do want to clarify what actually happened. Your response will ensure that future guests aren't turned away by the inaccurate negative review.
In this case, you'll clear up the misunderstanding by stating the facts.
For example, Kathy of GC Flight responds to the upset customer that the terminal address was made available on more than one occasion. She further explains that the guest used the wrong address shown in the email. While this isn't the company's fault, they were proactive and made changes to their emails to prevent confusion in the future.
How to respond to the mistaken customer type of negative review?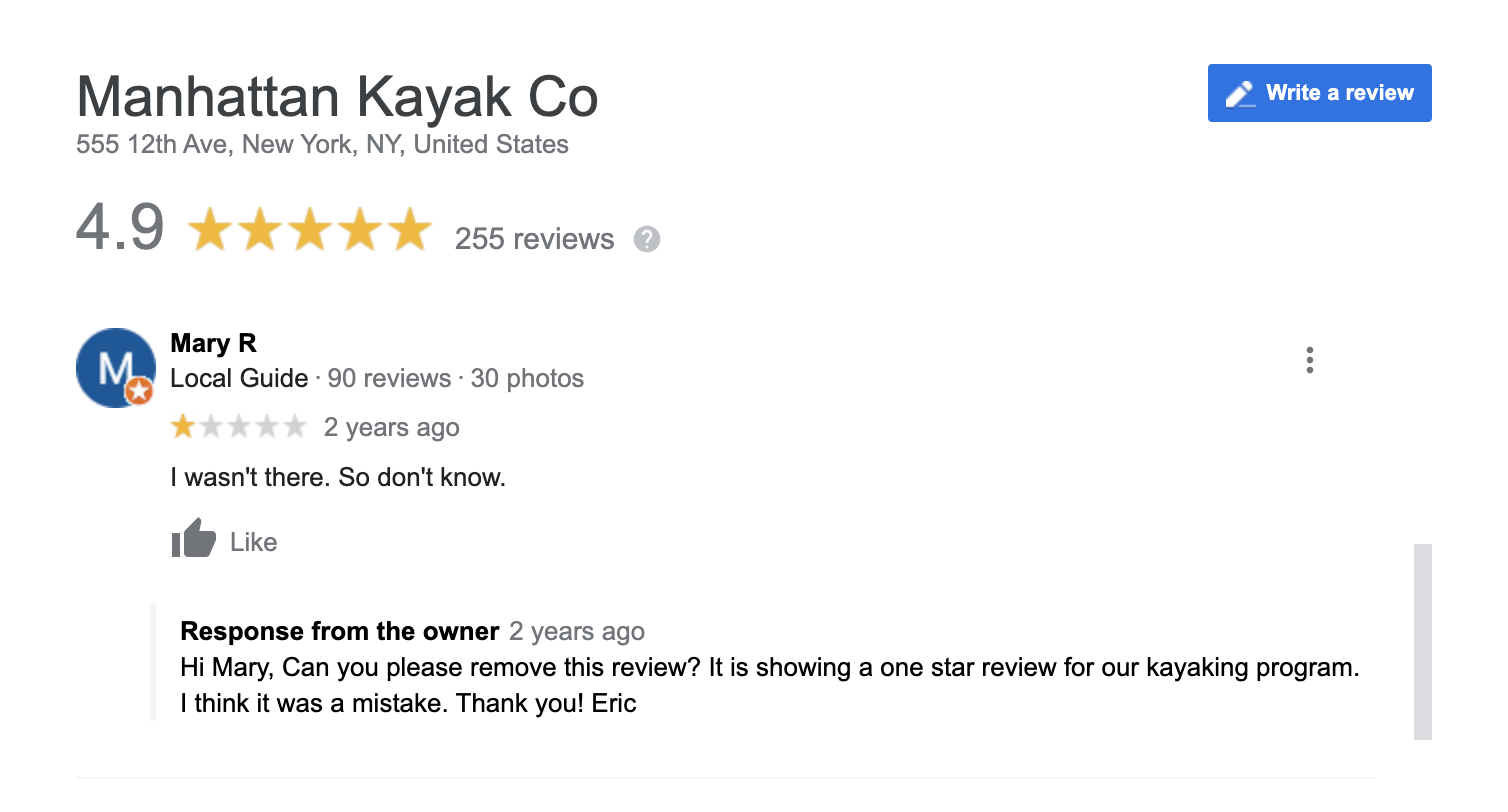 Let's say you receive a negative review from someone who was never your customer in the first place. You don't find their name in your guest database and realize they've never booked one of your tours or visited your attraction.
In this case, you should respond by clarifying that this person was never a customer, as Eric from Manhattan Kayak Co. did in the example above. You can ask the person to remove their comment as well as report the review to Google for content violations. Hopefully, this will help the review get taken down.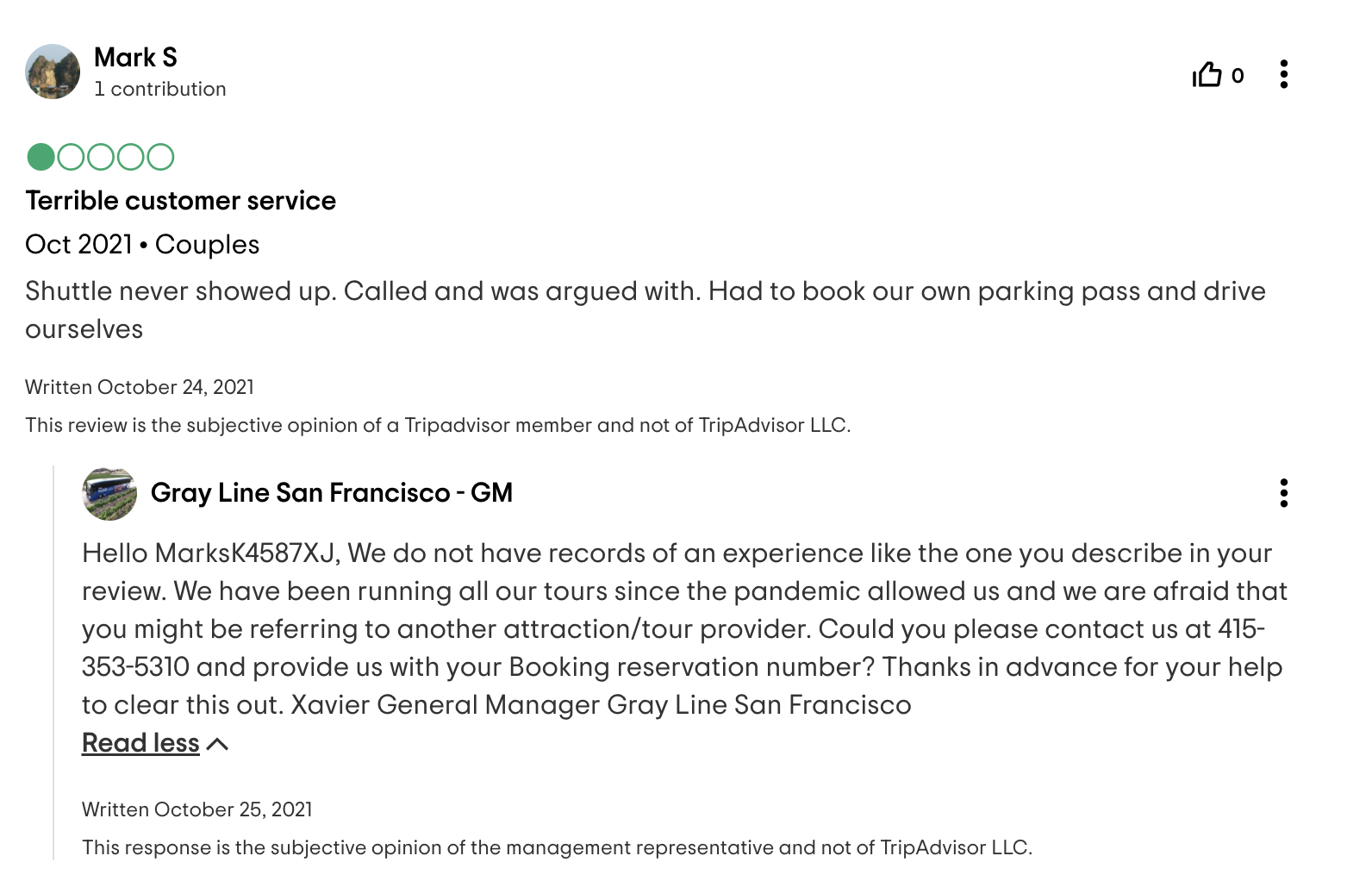 Or perhaps the customer is describing a situation that never occurred. This is what happened with the San Francisco tour in the example above. You can then take the conversation offline to ask the guest for more information while making it clear that the reviewer is mistaken.
How to respond to the almost happy but disappointed customer?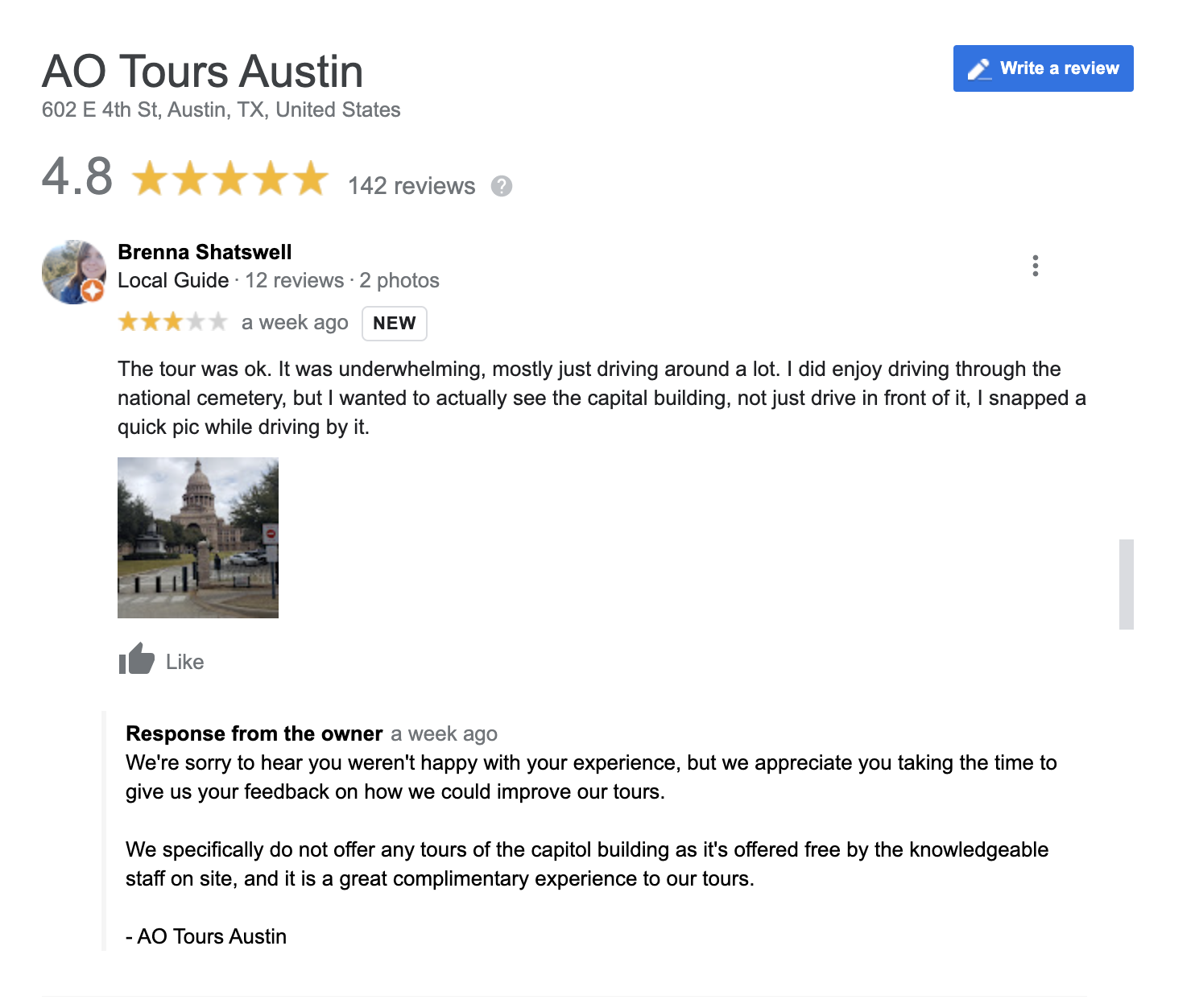 Neutral reviews can provide powerful insight into what your company is doing well and the areas that need improvement. The customer might have given you a four- or five-star review, yet there was something off about the experience.
In this case, you can kindly thank them for their feedback and genuinely consider their critique. The tour operator above also offers a quick explanation as to why the experience doesn't involve a visit to the capitol building, as the guest mentions in her review.
How to respond to the confused and angry customer or the "revenge" type of negative customer review?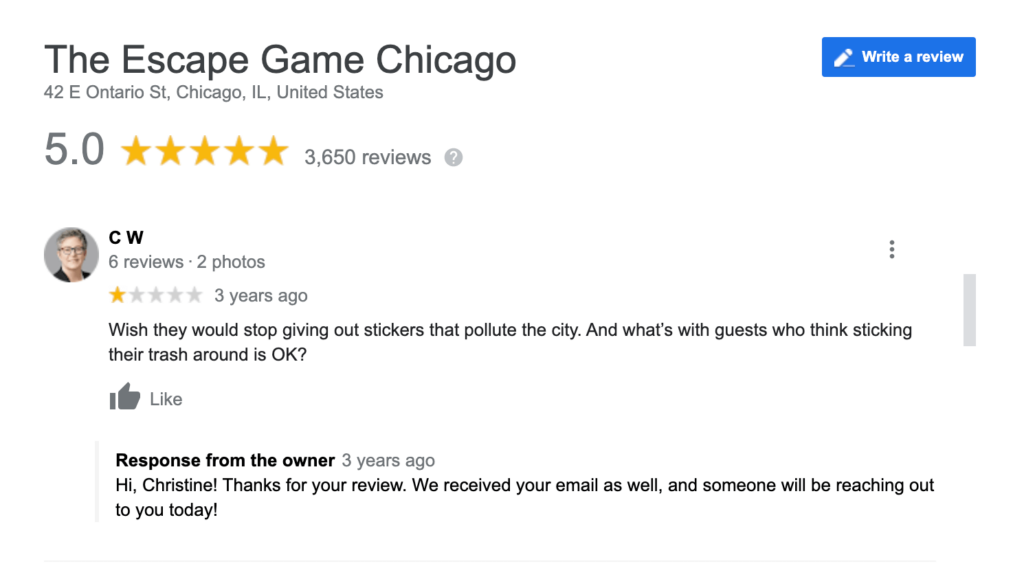 Sometimes, negative reviews may come from a feeling of vengeance. These reviewers are unhappy with your company or one of your employees for personal reasons. They purposely write sensational or inaccurate reviews to make your company look bad.
You can ignore these reviews and report them to Google, or reply in a way that shows you won't tolerate online trolling or cyberbullying.
Other times, confused and angry customers may leave a negative review that doesn't have anything to do with your guest experience, such as the example shown above. In this case, the escape room operator replied courteously and reminded the customer that they were already working to address her complaints.
5 most common mistakes that businesses make responding to negative reviews
You've now seen several examples of review responses that work. As you begin responding to negative reviews, here are a few common mistakes to avoid.
1. Losing your temper
No one enjoys receiving a negative review, especially when you feel the customer is being unfair.
Yet it's important to keep your cool when responding to even the most unreasonable customers. Remember that everyone can see your responses. If you lose your temper and respond in an unprofessional way, others will likely make their own opinions of you based on your response.
2. Not saying sorry
The saying "The customer is always right" exists for a reason. This customer-first mentality is often at the center of a great guest experience.
With that in mind, the first reaction to most negative reviews should be an apology. When a customer is upset enough to share their frustrations publicly, something likely went wrong.
Even if you don't yet fully understand what happened, an apology is a good way to start a productive conversation with an upset guest. Saying something along the lines of "I'm sorry we didn't meet your expectations" shows that you empathize with the customer.
3. Arguing with the customer
A review board is not the place to argue with a customer. Your future guests likely won't enjoy seeing your company publicly argue with another guest.
It's easier for them to relate to the upset guest than the company owner. The argument may give them the impression that you rather argue with guests instead of having an adult conversation off the platform.
4. Waiting too long to reply
If you wait too long to respond to your negative reviews, you risk others seeing the review with no response from the company owner. This might lead them to believe that you don't care and/or aren't on top of your business.
The sooner you address a guest's complaints, however, the better the chance you have of patching things up with them and showing anyone else who reads this review that you do care about providing a high-quality customer experience. You can take the conversation offline and offer a viable solution while the experience is still fresh in the guest's mind. You may even convince the guest to edit their review rating.
Responding in a timely fashion allows you to minimize the negative impact of the bad review.
5. Not offering a solution where possible
The best response to a review is one that offers a solution. Whether it's a refund or a voucher for their next visit, always offer a solution where it makes sense. This will show the guest that you want a second chance. Meanwhile, other people that read your review responses will notice that you're making an effort to make things right with an upset guest.
***
There are many reasons why a guest might leave you a negative review. At the end of the day, every review you receive has the potential to provide you and your team with valuable insight into your guest experience.
Whether you're dealing with a customer service complaint or a mistaken guest, remember to avoid common mistakes like losing your temper or waiting too long to reply.