This Week is Small Business Saturday!
We've all heard of Black Friday, but did you know there's also a Small Business Saturday? Back in 2010, American Express helped establish this day to encourage people to do their holiday shopping at local stores. Mark your calendars, this year it falls on November 29th. It's not too late to get set up. Here's what you need to know:
How to Register
There are two ways to get started. One is for merchants that do accept American Express cards, and the other option is for businesses that don't. For AMEX-o-philes, you do enjoy a few more benefits. If you don't accept American Express credit cards, though, keep reading. American Express will give you free materials that could still boost awareness on November 29th. We'll get to that in the next section though.
You can get up and running in three steps. For merchants that don't accept AMEX, the registration process looks like this: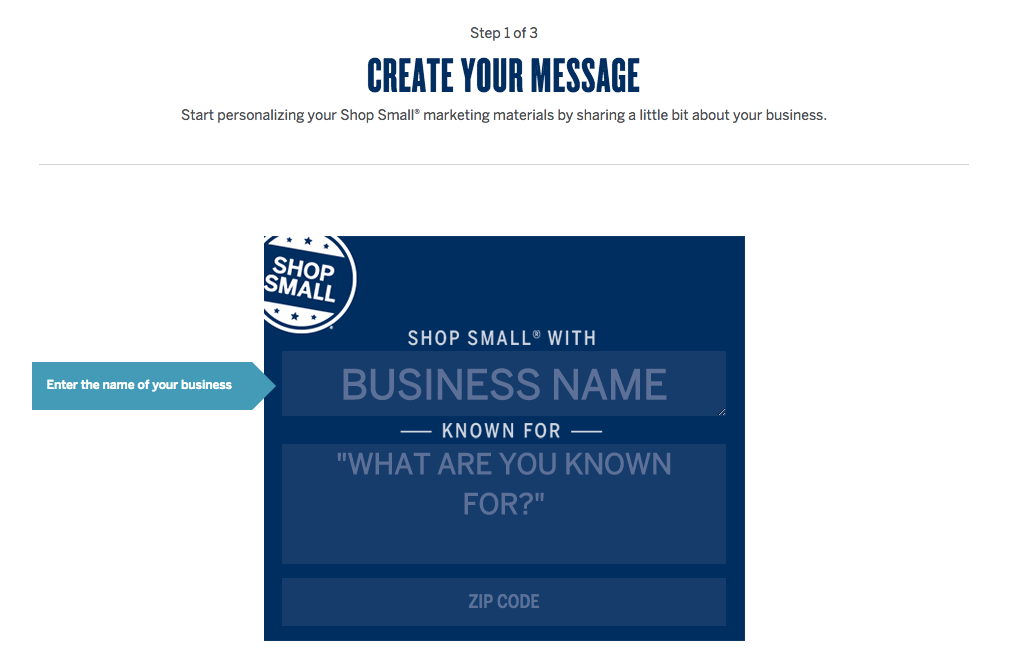 AMEX advises not to use superlatives or any misleading content in this section. I know you're the best, but look for other words to describe your value, like "unforgettable," "quality," "one-of-a-kind," "top-notch," etc.
After this step, simply update your profile with your business's URL and address, and accept the Terms & Conditions. Then you're all set!
Unfortunately, registration for free ads ended on November 14th, but you can still take advantage of Small Business Saturday's other promotional materials.
What You Get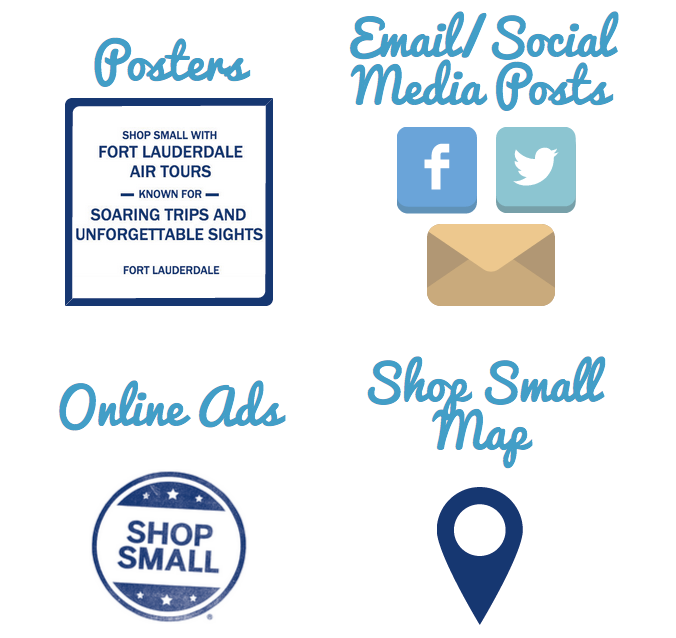 Even though you can no longer apply for online ads, there are still other promotional materials at your disposal.
Both businesses that accept AMEX as well as those that do not receive these free marketing resources:
"Shop Small" Logos and Infographic

Email Templates and Sample Social Media Posts

Printable Postcard

Digital Banner
For businesses accepting American Express cards, you'll also get these benefits:
Free Online Ads Throughout the Year (registration closed)

Inclusion on the American Express Card Member Offer for Small Business Saturday
All-in-all, there are plenty of free marketing materials to help your business attract more visibility as the holiday shopping season kicks off.
Rally Your Neighborhood
American Express has also partnered with Eventbrite to help small businesses spread the word about November 29th. You can create an event, like an in-store celebration or a block party, by signing up with Eventbrite. American Express even has marketing materials for things like a family day or a fun run. These might be hard to organize before the week is over, but you can download them here. Even if you don't sign up with Small Business Saturday, you can still use Eventbrite as a free resource to build awareness this weekend. Simply create an account and design your event. Publicize it through your email lists or on social media and presto!
Brick and Mortar vs. Digital Storefront
Now that the digital ad registration period has closed, many of the program's benefits cater to businesses that have a permanent storefront. For those of you without a brick and mortar location, perhaps you don't need to spend time getting formally set up with Small Business Saturday. Instead, simply use the existence of this shopping holiday to your advantage. Engage your customers on social media by using the hashtag, #ShopSmall, and encourage them to stop by this Saturday.
---
Whether you choose to formally sign up or not, take advantage of Small Business Saturday this holiday season!