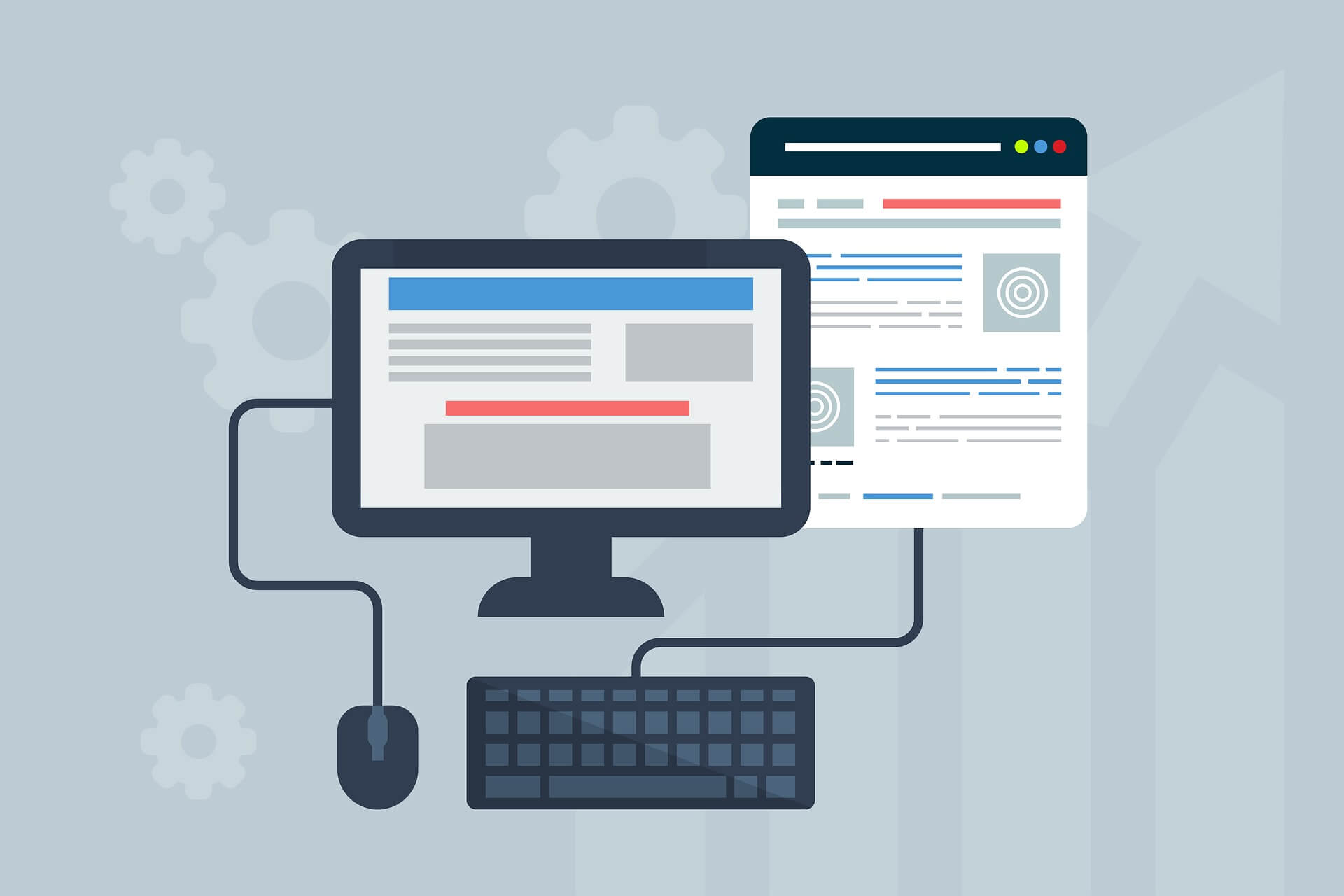 Thinking about launching a tour business — or perhaps you recently started one? A great first step is to create your website.
If you aren't tech savvy, this can seem intimidating, but it doesn't have to be.
In this post, we'll share how you can launch your own website (often in a few hours!) along with some simple web design best practices to help you get more bookings, including:
1. Why do you need a website for your tour business?
If you aren't tech savvy, you might be tempted to treat your Facebook page , Instagram profile, or OTA listings as your online hub. While all of these places can be key distribution channels, you are renting space there. You have limited control over your brand and are subjective to the platform's rules. So, if Facebook changes their algorithm and buries your page, you are in trouble.
On the flip side, a website is an online asset that you own and control. You aren't at the mercy of social media algorithms.
In addition, here are more reasons to have your own website.
Control over your business's branding and narrative
Having your own website gives you control over your branding and how you share your story. This is also how prospective and current guests can learn more about your tours and experiences as well as book them.
Plus, it is easy to make updates. Changing your tour schedule? Adding a new experience? Having a website means you can add new tours, services, and items to your business with the click of a button.
Available to customers 24/7
Unlike brick-and-mortar locations, your website never closes. It is like having a 24/7 reservationist, where visitors can do their own research and make bookings even when you sleep. .
Build trust and credibility
Your website is an additional tool — aside from social media, ads, personal recommendations, etc. — that visitors can use to learn more about your tours and experiences.
For example, you can start a blog, answer common questions you receive, and share helpful content that builds trust with potential customers, plus it's an excellent way to boost your search rankings.
Gain insights into who is browsing your site
Websites have the capability to capture information on everyone that visits. The more knowledge you have on who looks at your site and how they interact with your content, the more you'll be able to use that data to create a great customer experience.
You can also catch visitors who left your site and haven't returned using retargeting pixels — this code shows relevant ads where the potential customer is — on various social media channels.
Pro Tip: Apple is soon releasing a beta version of the software that features Identifier for Advertisers (IDFA), giving users a choice to have their information shared and tracked across platforms. Many industry experts say Google will follow with its own privacy policy. IDFA would prioritize privacy and change how businesses market to customers – meaning collecting guest information – through digital waivers – becomes even more important.
2. 4 tools for building your website
There is an endless amount of tools to help you create your own website. Depending on your skillset — or that of your team — you can choose a platform that fits your needs in terms of coding, design, and third-party integrations.
Here are some popular tools for building a website:
WordPress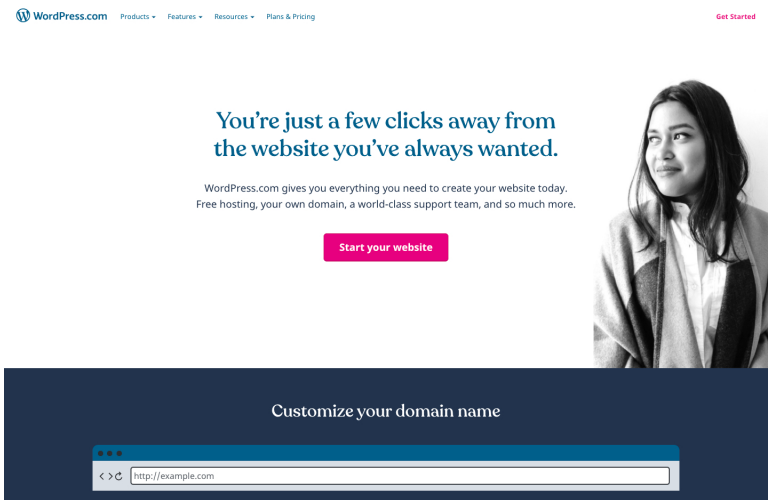 WordPress.com offers hosting and domains, blog functionality, and a user-friendly dashboard with no need for HTML knowledge. Choose from several responsive site designs and use the app to edit your content from anywhere. Link your site to your social media channels to automatically publish posts and take advantage of the platform's in-depth stats to learn more about website visitors.
While WordPress.com has several out-of-the-box options, WordPress.org is for those interested in self-hosting a site or an app and building it from scratch. The advantage to self-hosting your site is having more control, especially when it comes to design and content customizations. You can create your own website theme with custom style sheets (CSS) or edit the in-house options.
WordPress.org is home to more than 55,000 plugins for creating the site you need. If you have a developer, this is a trusted platform that provides SEO tools, tight security, and responsive site templates. With a self-hosted site, you'd be responsible for installing updates and managing a different set of costs but for many users, the custom options are worth it.
Squarespace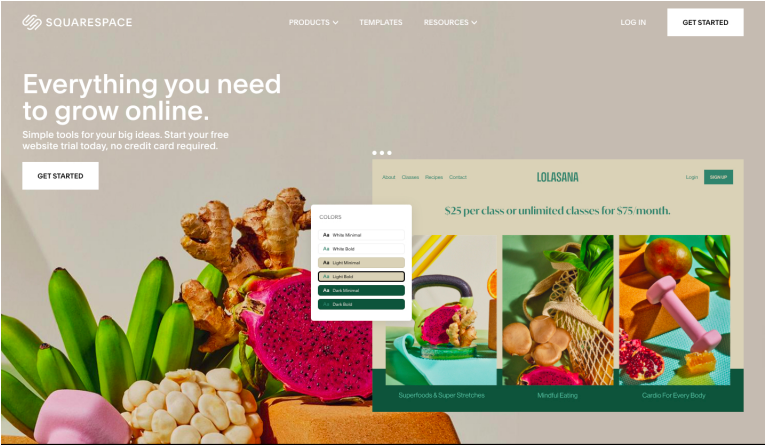 With Squarespace, choose and customize a design template for the look you want and utilize its built-in marketing tools. Squarespace is known for having tools to build a website and its ecommerce capabilities, including scheduling and checkout.
You can also integrate third-party vendors and take advantage of the platform's marketing and SEO tools to improve organic traffic. If you're starting from scratch, use the platform to create a professional email address and build a custom logo.
Webflow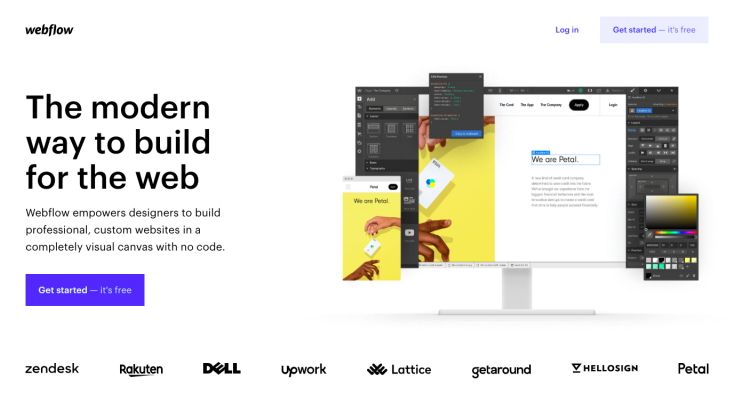 Build, launch, and grow your site with Webflow's platform tools. Known for its responsive design without code, Webflow has a wide variety of options. You can also take your time to test it for yourself since Webflow doesn't require a payment until you launch your site.
Webflow offers hosting along with its content management system, plus there are built-in tools (AWS, Fastly, and HTTP/2) to ensure your site loads quickly, which is excellent for SEO. SSL certificates come free with every site, so security is covered.
Wix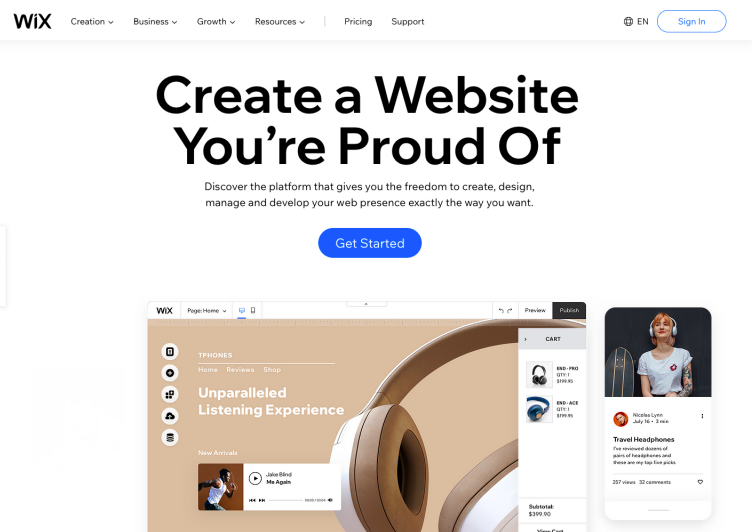 Create a site that's as simple or as complex as you need with Wix. Add a blog, get an SEO plan, and personalize your site's mobile version all within the platform. Wix has all of the elements you'll need for an online store, including point-of-sale and dropshipping tools, plus the capability to manage memberships.
With Wix, you can access its full-stack development platform, Velo, to create and manage your own web apps. Utilize built-in A/B testing tools to create targeted social media ads. Wix also has a video maker to help create promotional content for social media.
Pro Tip: While this can act as your marketing site and an online home for your business, you also want to make sure to use online booking software- like Xola – so that people can make bookings directly on your website.
3. 6 tips to optimize your website for more bookings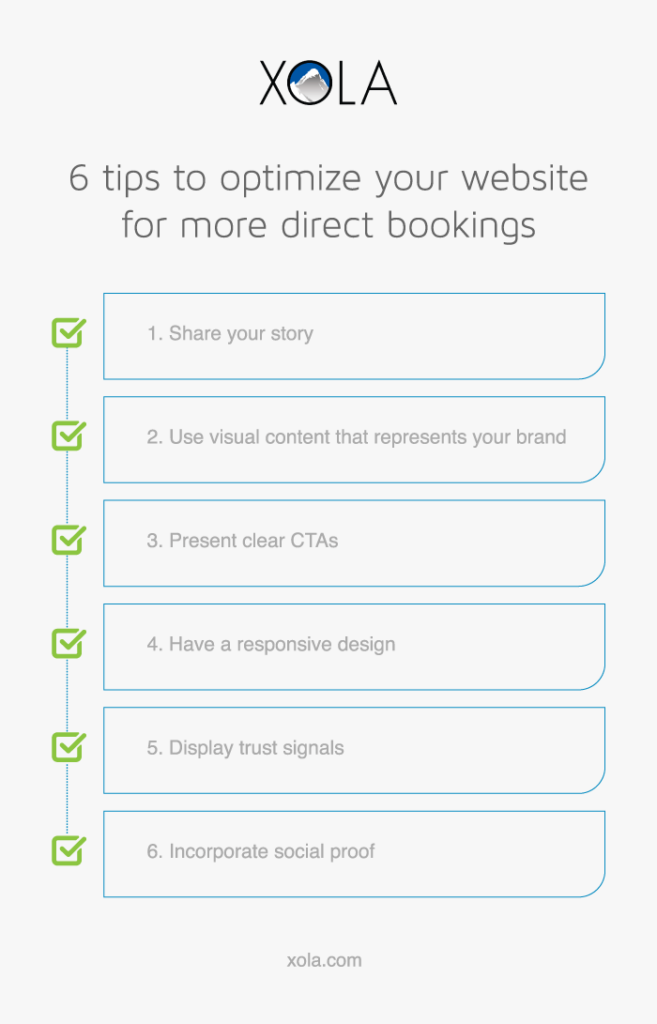 As you're building a website, there are several things you can do to increase your conversions.
Share your story – Website visitors should know what your business is all about just by glancing at the homepage. Make your message clear.
Use visual content that represents your brand – The internet is a visual place, so show potential customers what they'll experience when they book with you. Powerful images create lasting memories, so invest in high-quality pictures for your website.
Present clear calls-to-action (CTAs) – Tell website visitors what to do next using action verbs, such as "Book Now" or "Register today." You can also direct customers to your book now buttons using visual cues, including colors, shape, and placement.
Have a responsive design – Your website should look stellar no matter what device a potential customer uses (desktop, smartphone, tablet, etc.). A responsive design automatically adapts to any device.
Display security trust signals – Having a secure site (using HTTPS and SSL certificates) is vital for a great first impression all the way through conversion. Show visitors their data and payment information is safe via badges and seals on your website.
Incorporate social proof from guests – Testimonials, social media mentions, and reviews are resources potential customers look for to make a booking decision. As a new business, generate social proof by encouraging reviews and referrals from customers via a rewards program. Encourage website visitors to follow you on social media by prominently displaying links to your profiles or even integrating your feed into your website.
Pro Tip: Looking for more web design tips? Check out this post with actionable examples.
---
In summary, building a website is an important first step. However, it doesn't need to take days or weeks to perfect.
Often times, you can get something up that's good enough in a few hours. This creates a space for potential customers to discover your company, learn about your offerings, and even book a tour.
Not a customer but interested in checking out Xola to launch your new tour business? Get started for free.