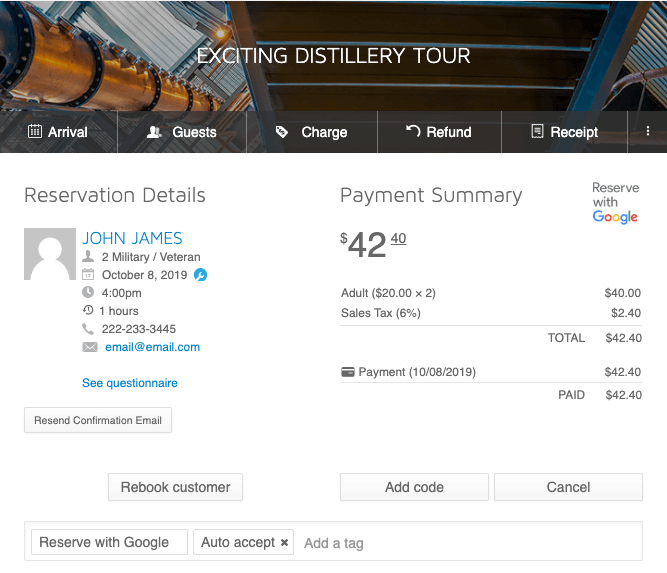 What if there was a way for your customers to make bookings without ever leaving Google?
You can do this with Reserve with Google.

In this post, we're going to share how you can get started using Reserve with Google.
Why should you use Reserve with Google?
From increased brand awareness to making it easier for guests to buy from you, there is no shortage of benefits to using Reserve with Google.
After all, Reserve with Google allows your guests to make bookings from Google Search, Google Assistant, and Google Maps.

A good rule of thumb – The easier you make it for someone to make a booking, the more likely they will follow through and do it.
Getting Started with Reserve with Google
It is almost as easy for you – as a tour or activity operator – to get set up on Reserve with Google. Here's the Cliff Notes version.
Create your Google My Business Profile
If you don't have a Google My Business listing already, you'll need to create one. It is free to set up and takes about 10 minutes to complete fully.

Plus, in addition to being able to take bookings on Google, Google My Business Profile also has a ton of local SEO benefits. <add link>
Pro Tip: Even if you have had your Google My Business account for ages, it is a good idea to verify your Google Maps address and any custom form fields to make sure they are accurate.
How to set up Reserve with Google in Xola
Once you have your Google My Business Profile, it is time to sync it with Xola. This allows you to see and manage all of your bookings – across all sources – in one place.

To do this, all you need to do is log into your Xola account, go to the App Store, and install the Reserve with Google App.
Once you have enabled it, any of your eligible bookings will show up in Google within 24 hours.

Pro Tip: Looking for a step-by-step guide? Check out our Reserve with Google Help Center Article.
Keep track of all of your bookings from Google
As we mentioned earlier in this post, one of the biggest advantages of setting up Reserve with Google within your booking platform is that all of your bookings show up in one place.

For example, in Xola, all bookings made through Reserve with Google are automatically tagged and show the Reserve the Google logo.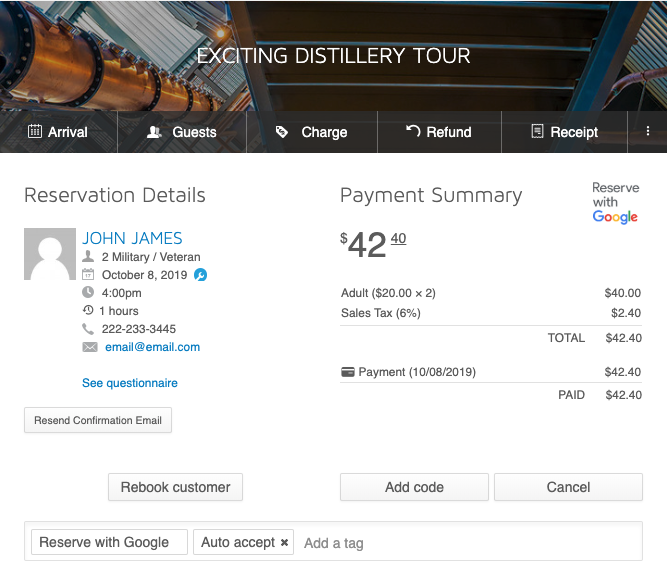 Analyze bookings from Google compared to other referral sources
What percentage of bookings are coming from Google vs. direct on your site?

How many bookings are you getting from Google each month?

Do people who book on Google have a higher average order value than other referral sources?

These are just a handful of questions you can find out when you view the reports within your Xola dashboard. 

***

In sum, Reserve with Google is simple to set up and allows guests to make bookings without even leaving Google. 

Interested in using Reserve with Google but not a Xola customer? Click here to watch a demo.