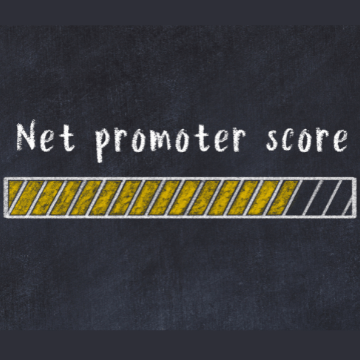 Wouldn't you like to know how your brand loyalty matches up to your competitors?
Your Net Promoter Score (NPS) measures customer loyalty and is a key indicator of overall customer satisfaction. You can find your NPS by sending your guests a single-question survey asking them how likely they are to recommend your brand to their friends and family.
Satisfied customers are likely to give you a high rating. The higher their rating, the more loyal they tend to be. And the more loyal your guests become, the higher your revenue goes.
This is why your most loyal customers are considered promoters of your brand. They tend to spend more, recommend your company to others, and churn less.
A customer base that's rich in promoters can drive real growth for your company. To achieve that, you must ensure that your customer experience is consistently exceeding customer expectations.
Now, determining whether your NPS is good or bad depends on the overall average score in your industry. In this post, you'll find out what is a good NPS score — including industry benchmarks to help put your particular score in perspective.
How do Net Promoter Scores work?
When should you run an NPS survey?
How do Net Promoter Scores work?
Your Net Promoter Score is a number from -100 to 100 that tells you how loyal guests are to your brand. The higher the score, the more satisfied your guests are with your service.
NPS scores are typically measured with a single-question survey that asks, "On a scale of 1 to 10, how likely are you to recommend our attraction to a friend or colleague?"
Guests respond with a score between 1 (not at all likely) to 10 (extremely likely).
You can categorize your guests into three groups depending on their responses. Your happiest guests, or those who respond with a positive score of 9 or 10, are known as "promoters." Customers that respond with a lower score are considered "passives" and "detractors."
Passive guests are those that didn't love or hate your customer experience — but detractors are unhappy customers that may even discourage others from doing business with you.
When should you run an NPS survey?
Timing has a big impact on customer feedback.
Consider your customer journey: You want to send a survey while the experience is still fresh in their minds. This ensures that the feedback from customers is based on real details that they recall from their experiences.
A good time to send out an NPS survey is right after a guest has a meaningful interaction with your company. This can be after they visit your venue, or after they reach out to your customer service team for help. The survey would be sent shortly after the interaction to gauge the customer's satisfaction with your service.
This survey would lead with a simple question like, "How likely are you to recommend [Attraction] based on your most recent interaction with us?" Their response will depend on whether they had a good or bad time and can bring you valuable insights about your overall customer experience.
You could also send a recurring survey every quarter or so to measure customer loyalty over time.
A great rule of thumb is to only send surveys as frequently as you can track the customer feedback. If you don't have time to respond to your customers and create an action plan in between surveys, they're likely not doing you any good.
What is a good NPS score?
You're likely wondering what is a good NPS score.
Bain & Company, Inc., the creators of NPS, suggest that a promoter score above 0 is "good." A positive score indicates that your brand has more promoters than detractors. If you want to have a world-class score, though, you'll need to aim a bit higher:
>0 is good
>20 is favorable
>50 is excellent
>80 is world-class
NPS scores vary a lot from industry to industry. Before you make a conclusion about your score, you should compare it to your industry average. For example, Qualtrics found that hotels and airlines had scores of 3.1 and 1.2, respectively, in 2020, while retail had a higher score of 25.5.
While a perfect score is nearly impossible, the greater goal is to have a higher percentage of promoters than the percentage of detractors.
What is a bad NPS score?
A negative score below 0 means you have more passives and detractors than promoters. In other words, you likely have more unhappy customers than happy ones. This is a clear indication that your business has a lot of issues to address.
For example, United Airlines is known for having a notoriously low NPS. In 2018, it was among the lowest-scored airlines with a score of 10.
The airline began placing more emphasis on its NPS and decided to invest in the areas that matter most to its fliers. In 2019, the airline reported the largest year-over-year increase in its overall NPS by focusing on key drivers of customer satisfaction.
Its NPS initiative led to a new ConnectionSaver program, which automatically informs travelers about connecting flights that can be held without significantly delaying anyone's travel plans. The program uses AI technology to hold flights for a few minutes to ensure connecting passengers can make it on.
During a recent winter storm, United used this technology to minimize travel disruptions. It gave passengers the option to rebook ahead of time and added more flights to accommodate them. The airline reported that it received very positive feedback after the storm, with NPS scores about 50% higher than normal.
NPS industry benchmarks
A 2021 report by NICE Satmetrix breaks down average NPS scores per industry. You can find the industry benchmark for travel websites below, as well as other several other industries. These benchmarks may be helpful in comparing your score to the score of your competitors.
Dept & specialty stores: 56
Hotels: 49
Brokerage/investments: 49
Credit cards: 45
Airlines: 45
Drug stores/pharmacies: 43
Smartphones: 43
Computers and tablets: 43
Online entertainment: 42
Auto insurance: 41
Software & apps: 41
Online shopping: 40
Life insurance: 39
Grocery/supermarkets: 36
Home insurance: 35
Banking: 34
Travel websites: 32
Rideshare & food delivery: 31
Shipping services: 27
Health insurance: 27
Cable & satellite TV: -2
Internet service: -3
Meanwhile, CustomerGauge shows that the travel industry's average NPS score was 54 in 2018.
The more recent report by NICE Satmetrix revealed that hotels are leading the travel sector with an average NPS of 49. Airlines followed with a score of 45, and travel websites with an average of 32.
Airbnb has the highest score among travel websites at 43. As unconventional as the idea of sharing a home once was, Airbnb has gained travelers' trust with its simple interface and reliable service. Travelers can easily message hosts before booking a stay to learn more about the property. Plus, having access to in-depth reviews helps them make informed decisions.
It also offers quick and responsive omnichannel support, meaning guests can seamlessly communicate with hosts and the company itself on its website, app, or via phone.
Airbnb's emails do a great job of engaging guests, too. The company sends personalized travel recommendations based on the accommodation booked, which helps guests plan their itineraries.
***
So, how does your NPS score match up to the industry standard?
If your score isn't up to your expectations, a deeper analysis of your responses might be necessary. You can reach out to customers to find out more about their ratings through phone calls or follow-up emails.