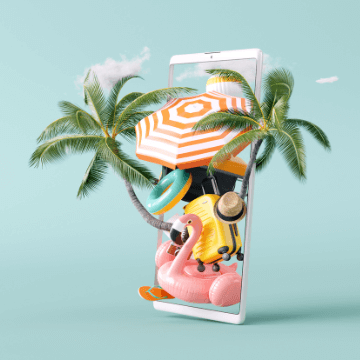 While hotel stays and home rentals account for the majority of OTA bookings, more and more websites are now catering to the tours, activities, and attractions sector.
Tripadvisor's purchase of Viator, an experience booking platform, meant that tours and activities could be offered alongside hotels on the platform. And more recently, home-sharing giant Airbnb launched both in-person and online experiences for everyone, whether they're staying in an Airbnb or not.
Let's delve into the latest OTA industry stats and trends shaping the online booking market in 2022.
OTA overview stats
There are over 400 OTAs today, including all global OTAs, metasearch engines, hostel websites, vacation home rentals, and tour and activity resellers.
There are hundreds of small OTAs that cater to specific regions, travel niches, and activity types:
However, there's a total of 10 companies that dominate most of the market. The top two OTAs — Expedia Group and Booking Holdings — control a large portion of the market. Both Expedia and Booking own a number of smaller, yet well-known OTAs and metasearch engines:
Expedia —
Expedia.com
Hotels.com
Vrbo
Egencia
Travelocity
Trivago
HomeAway
Orbitz
Hotwire
Wotif
Ebookers
Cheaptickets
CarRentals.com
Classic Vacations
Traveldoo
Silverrail
Tripadvisor
Booking Holdings:
Priceline.com
Agoda.com
Booking.com
KAYAK
Rentalcars.com
Cheapflights
Momondo
Opentable.com
But all OTAs, especially the major players, were negatively impacted by the COVID-19 pandemic.
Overall, OTAs suffered a steep 59% drop in gross bookings in 2020, when gross bookings fell to $32 billion from $79 billion the previous year.
While OTAs are predicted to gain an additional share of the market as travel recovers, that recovery itself will be slow, according to PhocusWright.
The online booking industry has mostly maintained commission levels, and now, gross bookings are starting to pick back up. OTA revenue may recover faster than most other travel sectors, but profitability was so deeply hurt during the pandemic that it'll take some time to rebound.
Most popular OTAs by size and market share
Booking.com topped the list of OTAs in terms of revenue in 2020. The booking engine recorded $6.8 billion that year, according to Statista. Expedia followed with $5.2 billion. Rounding out the top five was Airbnb with $3.38 billion, Trip.com with $2.8 billion, and Tripadvisor with $600 million.
However, Booking.com's revenue more than halved over the previous year due to the COVID-19 pandemic. It dropped from about $15 billion in 2019 to $6.8 billion in 2020. Expedia also took a big hit, falling from about $12 billion to $5.2 billion over the same period.
Here's a look at the top 10 OTAs revenue (in billions) in 2020:
| | | | | | | | | | |
| --- | --- | --- | --- | --- | --- | --- | --- | --- | --- |
| Booking | Expedia | Airbnb | Trip.com | Tripadvisor | Trivago | eDreams | MakeMyTrip | Despegar | Lastminute |
| $6.8 | $5.2 | $3.38 | $2.8 | $0.60 | €0.25 | €0.20 | $0.19 | $0.13 | $0.11 |
In 2021, most of the major global OTAs kept their market positions. Booking.com remained the leading OTA for travel bookings, followed by Tripadvisor and Airbnb. Some OTAs like Expedia Group, though, slipped down in the rankings due to the pandemic.
Still, Expedia and Tripadvisor are now worth 58% and 52% more, respectively, than they were in January 2020, despite a steep decline in revenue brought on by the pandemic.
What percentage of bookings are made through OTAs vs. direct bookings?
Estimates show that 39% of travel bookings were made through an OTA in 2019.
Looking specifically at attractions and experiences, three out of five travelers purchased tickets through a digital distributor such as GetYourGuide, TripAdvisor, Klook, and others that same year.
When Arival surveyed 1,000 U.S. travelers, it found that OTAs were the preferred platform for purchasing attraction tickets, except when it came to amusement or theme parks. About 52% of travelers who visited a park said they booked directly through the operator's website.
The report also shows how big of a role search engine optimization (SEO) plays in securing direct bookings.
More than one in three travelers who bought directly from an operator's website did so because it was the first option they found. Travelers also feel that attraction websites offer the best ticket options — like skip-the-line access — which also motivates them to buy direct.
From the guest's perspective, though, OTAs also play a crucial role in their travel planning process.
OTAs help guests navigate the hundreds of options available, from hotels to tours and attractions. Travelers like the ability to compare multiple brands at once, including customer reviews and prices.
Price is one of the biggest motivators: Notably, 45% of U.S. travelers who purchased an attraction ticket through an OTA did so because they thought that the platform offered the best ticket price available.
Meanwhile, PhocusWright predicts that travel suppliers will increasingly turn to OTAs to reach these travelers. Tour operators and attractions say that reach, visibility, and increased booking volume are the main reasons they work with third-party resellers.
The pandemic squeezed marketing budgets, and many businesses might not have the resources to compete with OTAs. Small players especially will likely turn to these platforms for their online marketing solutions, booking technology, and greater reach.
OTA 2022 trends
Here are four trends shaping the OTA landscape in 2022:
OTAs are evolving as the most preferred medium for travel bookings in the world, Meanwhile, hotels and larger travel brands are investing in marketing campaigns to drive more direct bookings.
Desktop bookings are continuously dropping as mobile bookings rise. The increase in mobile/tablet and desktop bookings is fueled by young travelers that prefer the ease and comfort of making a reservation any time, anywhere.
***
Now that you have a better idea of where the OTA industry is headed, you can decide on whether to join one or not.
Most tour and attraction operators use several different distribution channels to boost their bookings — and OTAs are one of the most common. As travel picks back up, make sure your business is ready to reach your customers where they're looking first.