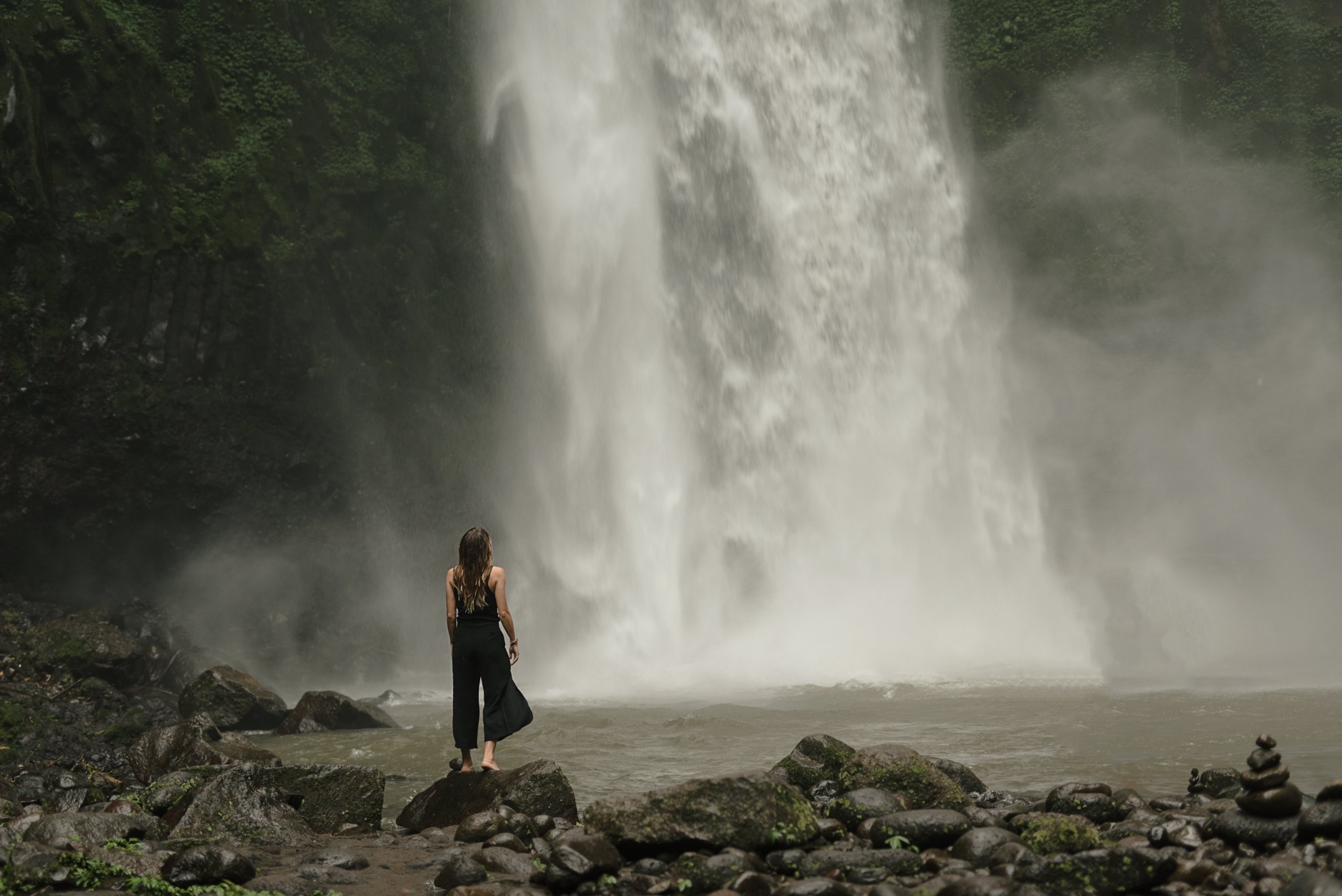 Think about how your guests would describe your company to their friends and family.
Would they rave about how passionate their tour guide was? The attentive customer service? The well-thought user experience on your website? The overall experience as a whole? The way your customers perceive your company makes up your brand identity.
Tourism branding isn't just for big airlines and destinations. Every tour operator can benefit from having a clear and engaging brand.
Ready to create an awesome travel brand that will help you attract more customers? In this post, you'll learn the basics of tourism branding and top strategies to improve your own.
What is branding in travel and tourism?
Branding is one of the strongest marketing tools in the tourism industry.
Travel companies with distinct brand identities attract more customers than those who lack one. Why? Because customers remember a good brand, and they recommend it to their friends and family.
Creating a brand helps you build customer loyalty and differentiate your company from your competitors.
As a tour operator, your brand identity begins with the basics: a distinct logo, color palette, and set of fonts. But it also encompasses your company's tone of voice and the way you interact with customers on and offline.
Overall, your brand identity should align with the nature of your activities or tours.
Travel & Tourism Branding 101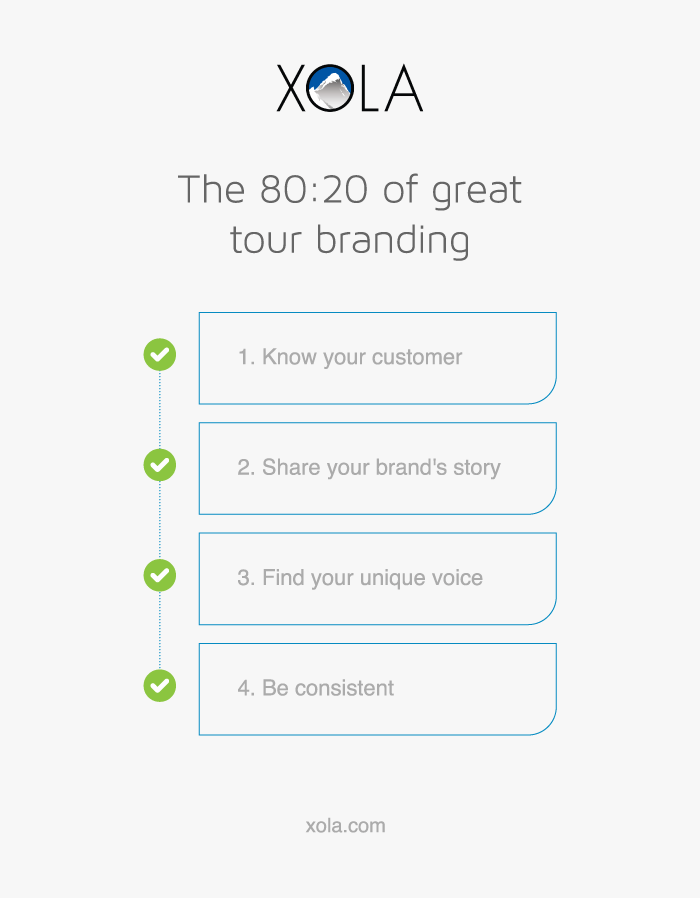 Several components make up a great tourism brand, from your logo to the way your tour guides interact with your customer. Let's walk through the different stages of brand development below.
The lowdown on branding for small-medium size tourism businesses
It can take some time to develop a recognizable brand, but here's a good place to start: Identify your target customer.
Your brand identity should be tailored to your ideal audience.
Paint a clear picture in your mind of your ideal guest and begin brainstorming ways your brand can appeal to them.
If you're a paragliding company, for example, you know your customers are brave, adventurous, and curious to try new experiences. Now you can begin to craft a brand that reflects that.
Always make sure your brand aligns with your company's principles and values. It helps to jot down a mission statement and return back to it as you develop your brand.
There are several components that will make up your unique brand identity; we break down two of them below.
Brand personality & tone of voice
Your brand's tone of voice can help give your company a personality. As a tour operator, you'll likely be aiming for a friendly and joyful personality. Your tone of voice on your website, social media, advertisements, and in-person should reflect that.
It can be friendly, joyful, playful, helpful, sassy, and so on. A distinct tone of voice helps humanize your brand and makes it easier for guests to connect with your company on a more personable level.
A distinct tone of voice can make your company stand out just as much as a logo — but only if you're consistent. Your tone of voice should be the same across all of your communication, both on and offline.
This includes every sentence written on your website, your tour descriptions, social media captions, and back-and-forth communication with guests. If you employ tour guides, the way they interact with guests should reflect your company's personality, too,
Pro Tip: Look at how your customers communicate on and offline. Does your tone of voice match that? It can also help to study your destination's marketing tone of voice.
Logo, colors & fonts
The logo, colors, and fonts you use across your marketing channels will often be a guest's first impression of your company.
Your logo could be an image, a specific font, or a combination of both — and guests should see it everywhere, including your website, emails, advertisements, Facebook, Instagram, brochures, etc.
Your logo should align with the fonts and colors you choose for your website and vice versa. Consider using a combination of two to three fonts that are easy to read and pair well together. You can use a tool like Font Joy to play around with different font pairings.
Note that different fonts and colors can give off very different impressions. A luxury cruise operator might use an elevated script font and muted colors, while a party boat might have bolded letters in playful colors.
Colors, too, can have a powerful impact on the recognition of your brand.
Take Southwest Air Lines, for example. The first thing that comes to mind is the airline's blue, red and yellow planes. The brand's bright colors are easily recognized from the sky, and its loyal customers will say they match the airline's friendly reputation.
What are the best tourism branding strategies?
If you've already found your tone of voice and created a logo, here are seven more branding strategies to further improve your brand.
Know your customer – Your brand should appeal to the audience you want to attract. It's easier to define your tone of voice and mission statement when you know what your customers are looking for.
Tell your brand story – Every business has a story. You can incorporate your story into your brand identity to make it more personable. Your customers will love hearing about why you started your tour business and will be happy to support the people behind the brand.
Find your unique voice – Your voice is a big part of your brand, especially online. Use it to make your company stand out from the rest.
Come up with a catchy slogan – A slogan is a great way to make your company more memorable. Think about Nike's "Just Do It." Consumers will always associate the phrase with the Nike brand, and that's a powerful marketing tool.
Leverage social media – You can use visual social platforms like Instagram to further establish your brand identity. You can set your logo as your profile photo so that guests begin associating it with your company, and captions are a great place to work on your tone of voice.
Fit into your destination's branding – Every destination has its own brand identity. A big outdoor destination like Arizona, for example, has an inspirational tone of voice and promotes outdoor exploration. Visitors are likely expecting that kind of interaction with tour operators in the state. While you don't have to match your destination's branding exactly, it helps to think about where your company fits within it.
Be consistent – Stay true to your brand both on and offline. Make sure your brand is consistent across all your marketing outlets, including your website, social profiles, and advertisements. And remember that your actual experiences should also reflect your brand.
Branding is a powerful marketing tool, and there's no reason why your tour business shouldn't benefit from it.
Whether you're just starting your tour brand or looking to improve it, these branding strategies will help you nail it down once and for all.