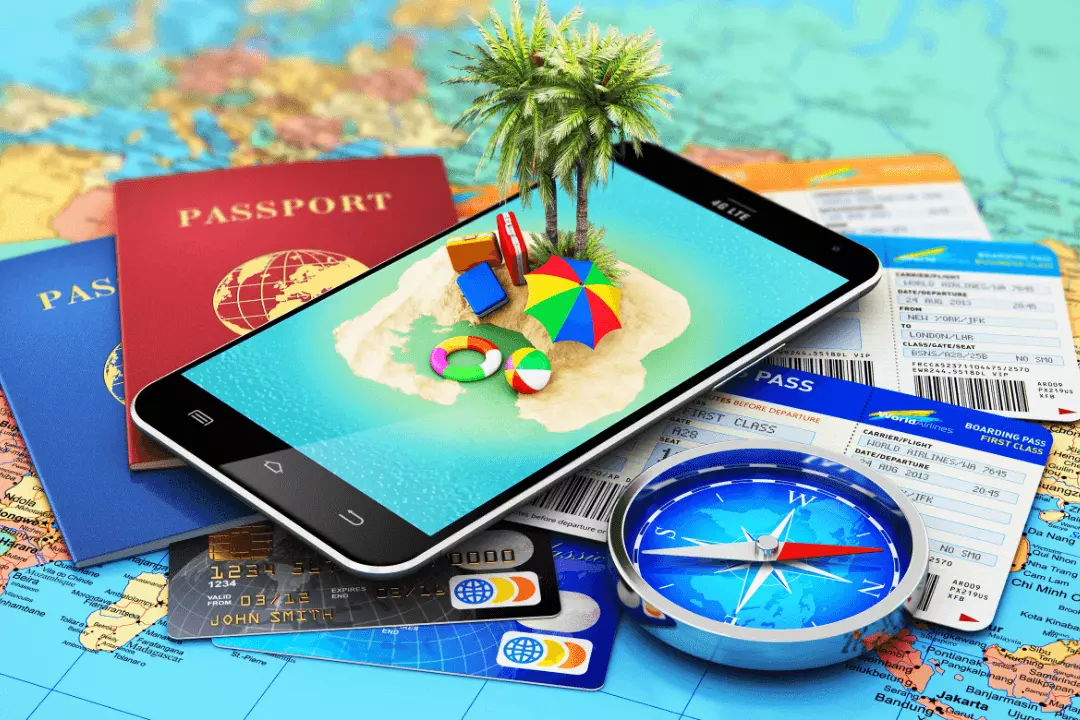 The U.S. has been named the world's largest travel and tourism economy — making it a great place to own an attraction or tour business.
Cities like Orlando and New York easily top the charts of most-visited in the country. Meanwhile, smaller cities like Boise and Savannah are quickly rising in the rankings as domestic travelers hit the road.
In this post, you'll find the most up-to-date U.S. tourism statistics by city.
What percentage of the US economy is tourism?
Travel and tourism's share of GDP fell from 2.9% in 2019 to a historic low of 1.7% in 2020.
In 2021, the total tourism GDP amounted to nearly 1.3 trillion U.S. dollars, which was 22% higher than the previous year but still below pre-pandemic levels.
How much do Americans spend on travel and tourism each year?
In 2019, both domestic and international travelers spent $1.1 trillion in the U.S.
Domestic travelers alone spent $972 billion in 2019, which represented a 4.4% increase from 2018.
Domestic travel spending fell to $642 billion in 2020 as a result of travel restrictions caused by the pandemic.
In 2021, domestic travel spending shot back up to $838 billion.
What is the number one tourist destination in the US?
While NYC is often named the No. 1 tourist destination in the U.SOrlando has been smashing records with its 75 million visitors.
The Central Florida destination home to world-famous Disney theme parks has become the most-visited in America. Orlando became the first destination in the country to surpass 70 million visitors in 2017.
In 2018, Orlando welcomed a record-breaking 75 million visitors, securing a spot among the most popular cities around the world. That number rose to 75.8 million in 2019, until plunging to around 35 million in 2020.
The city's tourism industry started to pick back up in 2021 as Covid restrictions began to ease. Orlando drew 59 million visitors in 2021, with international visitors still lagging behind pre-pandemic norms.
What US city spends the most on tourism?
Las Vegas, for instance, is fueling hundreds of millions of dollars into tourism marketing for the 2022-2023 fiscal year. The city's tourism authority has a $398 million budget to promote the destination and reel in visitors, its biggest budget yet.
Meanwhile, New York City launched its largest-ever campaign in 2021, valued at $30 million. Orlando has followed suit with a new $28.5 million global campaign to bring both tourists and business owners back to the city.
What are the top 20 US cities with the most tourists?
These are the top 20 most-visited U.S. cities, according to pre-pandemic visitor numbers.
Top 20 fastest-growing US cities for tourism
From Georgia to Montana, these are the fastest-growing tourism destinations in the U.S.
1. Boise, Idaho
In 2018, Boise was named the fastest-growing city in the country. People continued flocking to the destination even during the pandemic, mainly for outdoor travel. A record 7.6 million people visited Idaho's state parks in 2020. Lucky Peak State Park, which is located just outside of Boise, was the most-visited; the park welcomed over 1 million visitors for the first time.
2. Myrtle Beach, South Carolina
The popular beach destination in South Carolina welcomes 19 million visitors annually. The Myrtle Beach area's population is expected to grow exponentially — over 80% — over the next four decades.
3. Providence, Rhode Island
Providence is the fastest-growing city in Rhode Island. The state welcomed 21.6 million visitors in 2020, a 17.5% decline from 2019.
4. Milwaukee County, Wisconsin
The Greater Milwaukee area represents 26% of the state of Wisconsin's tourism economy. In 2019, tourism was up in Milwaukee, with over 29 million visitors traveling to the destination.
5. Philadelphia, Pennsylvania
Philadelphia set a record in 2019 with 46 million visitors, representing 10 consecutive years of growth. The city is well on its way to recovery from the pandemic. About 36 million people visited in 2021, a 21% increase from 2020.
6. San Diego, California
Before Covid, the sunny California city of San Diego hosted about 35 million visitors each year. In 2021, the city welcomed 24 million people and held the fourth-highest hotel occupancy rate (74%) in the nation.
7. Bozeman, Montana
Visitors are flocking to Bozeman to visit the nearby Yellowstone National Park: The Bozeman Yellowstone International Airport welcomed a record 1.94 million passengers in 2021.
8. Dallas, Texas
Over 27 million people visit Dallas each year. Meanwhile, DFW International Airport already surpassed pre-Covid passenger numbers in May 2022.
9. Las Vegas, Nevada
In 2019, Las Vegas welcomed 42.5 million visitors, up from 42.1 million in 2018. Las Vegas has the most hotel rooms than any city in the U.S., and there are thousands more in the pipeline.
10. Savannah, Georgia
In 2019, an estimated 14.8 million visitors spent $3 billion in Savannah. The city's tourism industry is beginning to rebound from the aftermath of the pandemic, with a big boost in visitor spending in 2021. That year, visitors funneled $3.3 billion into the local economy.
11. Bend, Oregon
Bend is a big summer destination in Central Oregon, which welcomes about 4.5 million visitors each year.
12. New Orleans, Louisiana
In 2018, New Orleans welcomed 18.5 million visitors, a 4% increase from the previous year. The destination's visitor numbers doubled from 2014 to 2018. In 2019, the city welcomed 19.75 million visitors. The state of Louisiana is rebounding quicker than expected, with events like the Jazz and Heritage Festivals in New Orleans welcoming record numbers.
13. Vail, Colorado
An average of 1.2 million people visit Vail in the summer, compared to about 1.7 million in the winter. As pandemic restrictions ease, more and more people are hitting the slopes, which is great for big ski destinations like Vail. The 2020-2021 winter season was the fifth best ski season on record, with 59 million skiers flocking to ski resorts.
14. Memphis, Tennessee
About 10.7 million visitors traveled to Memphis, Tennessee in 2021. Hotels were nearly as full as pre-pandemic times during the first three months of 2022, proving that the destination is quickly bouncing back.
15. Greenville, South Carolina
Greenville welcomes an estimated 5.5 million visitors every year. Hotel occupancy in the South Carolina destination was up 32.8% in 2021, compared to 2020, and down only 5.3% compared to 2019.
16. Orlando, Florida
Orlando is one of Florida's most popular destinations. The city welcomed 59.3 million visitors in 2021, compared to just 35 million the year prior. During the first quarter of 2022, Florida's total visitor numbers were up 38% from the same period in 2021
17. Key West, Florida
About 5 million visitors traveled to the Keys in 2018. In 2019, Key West welcomed about 1 million cruise passengers and just over 2 million land-based visitors. In May 2021, the Keys experienced a record-setting 84% hotel occupancy rate. Meanwhile, the occupancy rate in Key West alone hit 91% — with a whopping daily hotel rate of $412.
Nearly 66,000 arrived in January of this year at Key West Airport, more than ever before during the month of January.
18. St. Louis, Missouri
Before the pandemic, St. Louis attracted about 25 million visitors per year. About 7.6 million people visited the city's top museums and tourist attractions in 2021. That's a big improvement from the mere 3 million that visited in 2020.
19. Scottsdale, Arizona
Over 11 million people visit Scottsdale, Arizona annually. The destination attracted 4.7 million domestic overnight visitors; 1.7 million international overnight visitors; and 4.6 million domestic day trip visitors in 2019.
20. Austin, Texas
Austin, known as the live music capital of the world, attracts over 30 million domestic visitors every year. The city's hotel revenue is expected to exceed 2019 numbers, with over $620 million already generated this summer.
What are the top 20 least-visited cities in the US?
1. Boise, Idaho: While the 7.6 million people that visited Idaho's state parks in 2020 is remarkably less than the numbers seen in more popular places like NYC, they did set a new record for the city.
2. Charleston, South Carolina: About 7 million tourists a year visit Charleston, which is repeatedly ranked as the No. 1 city in the U.S.
3. Portland, Maine: About 5.4 million people visit the Greater Portland region each year.
4. Sioux Falls, South Dakota: About 1.3 million people visited in 2021.
5. Flagstaff, Arizona: Flagstaff welcomes nearly 6 million visitors every year.
6. St. Augustine, Florida: About 2.5 million people visit St. Augustine.
7. Asheville, North Carolina: About 10 million people visit Asheville annually.
8. Santa Fe, New Mexico: In recent years, an average of 2 million overnight visitors have visited Santa Fe each year.
9. Salem, Massachusetts: An estimated 500,000 people visit Salem every October for the destination's Halloween events.
10 . Beaufort, South Carolina: Nearly 2 million visitors arrive in Beaufort each year.
11. Salem, Oregon: About 2.5 million people visited in 2019.
12. Duluth, Minnesota: About 6.7 million people visit Duluth every year.
13. Knoxville, Tennessee: Over 5 million visitors stayed overnight in 2020.
14. Columbus, Ohio: The Greater Columbus region welcomed 43 million day and overnight leisure visitors in 2019.
15. Twin Falls, Idaho: Shoshone Falls and Dierkes Lake attract over 300,000 visitors each year. From March to May 2021, the visitor center recorded 24,800 visitors, which surpassed 2019's visitor numbers.
16. Louisville, Kentucky: Louisville attracts 16.4 million visitors annually.
17. Baltimore, Maryland: In 2019, 27 million people visited Baltimore.
18. Greenville, South Carolina: Greenville welcomes an estimated 5. 5 million visitors every year.
19. Tacoma, Washington: Tacoma draws over 3 million visitors each year.
20. Bend, Oregon: Bend and the surrounding Central Oregon region welcome about 4.5 million visitors each year. It's one of the fastest-growing tourism destinations in the state.
***
Whether you're already running a tourism business or just starting one, you're in the right place at the right time.