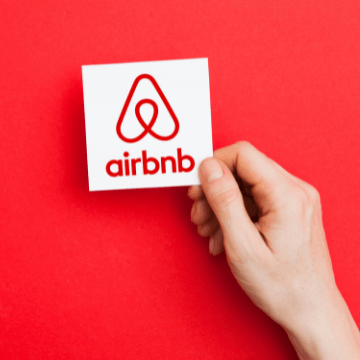 What do travelers like to do when they're on vacation? Experience the food, culture, and sights of their destination. Airbnb created a platform that would allow travelers to do just that.
Airbnb experiences were launched to connect travelers to unique experiences led by locals in the destinations they're visiting. Meanwhile, they paved the way for hosts to earn extra income by leading activities in their hometowns.
In this post, we'll answer two very important questions for tour operators and attractions: What are Airbnb experiences? And how can they benefit your tour business?
When did Airbnb launch experiences?
How do I create an Airbnb experience?
What makes a good Airbnb experience?
Can you make money hosting Airbnb experiences?
Pros of hosting Airbnb experiences
Cons of hosting Airbnb experiences
What are Airbnb Experiences?
An Airbnb experience is an in-person activity hosted by a local expert. Anyone can host an experience, as long as they have something unique to share with their guests.
Hosts are often tour guides, chefs, or destination experts that introduce travelers to a city's culture and cuisine, such as through a walking tour or cooking class.
The program first launched with 500 experiences but quickly grew to 30,000 activities around the world by 2019. As of 2020, there were more than 40,000 experiences in more than 1,000 cities.
The key to Airbnb experiences is that they're always led by locals. This allows guests to experience a destination from the perspective of someone who lives there.
In return, hosts are given a platform to earn money while sharing their hobbies and skills. Meanwhile, Airbnb profits off commission fees. The platform charges a 20% commission on every activity booking.
When did Airbnb launch experiences?
Airbnb launched experiences in 2016 in an effort to expand beyond the short-term rental business. It first started with 500 experiences in 12 cities, including Los Angeles, Miami, London, Cape Town, and Tokyo.
The activities were always led by a local and could last anywhere from a few hours to several days. One of the first experiences offered was a two-day art tour in Miami, where visitors could meet with local artists and create their own pieces.
These experiences could be booked by anyone, regardless of whether they were staying in an Airbnb or not. This allowed Airbnb to reach a wider audience, including travelers who weren't comfortable with swapping a hotel for someone else's home.
The launch of experiences brought both Airbnb and its hosts a new revenue stream.
How do I create an Airbnb experience?
For those interested in creating an Airbnb experience, the process is quite simple. First, you'll want to gather the following information:
A catchy title for your experience
A detailed description of what you'll do with guests
The location(s) of your activity
Details about what guests should bring
7 high-quality photos of people engaging in the activity
The minimum age for guests
The expected level of skill required to participate
The maximum group size
The start time and length of experiences
The price per guest
Now, you can go ahead and create your listing at: https://www.airbnb.com/experience-hosting/become-a-host/intro.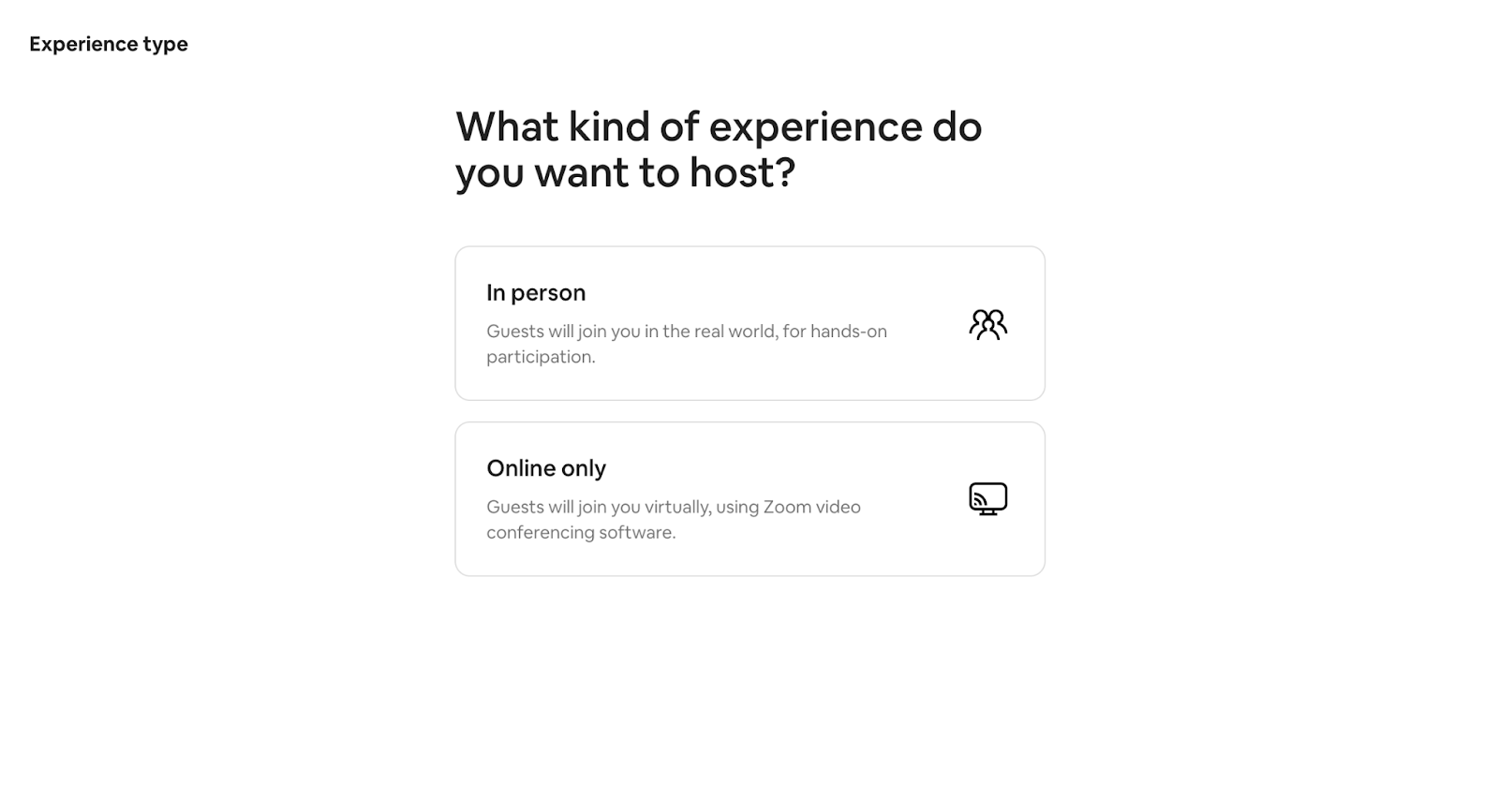 Airbnb will first ask you whether you're creating an in-person or online-only experience.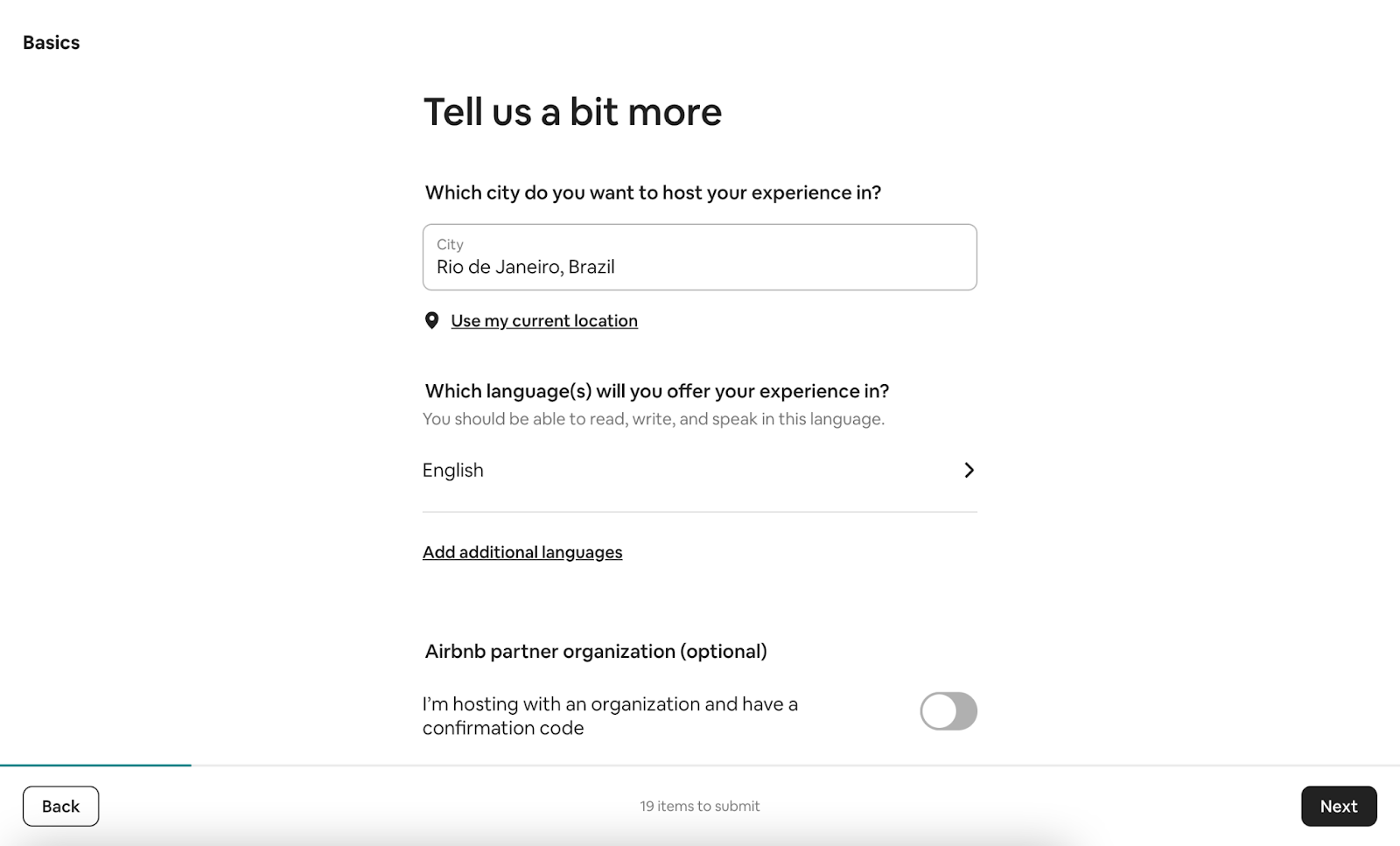 Next, you'll share the location and language of your experience.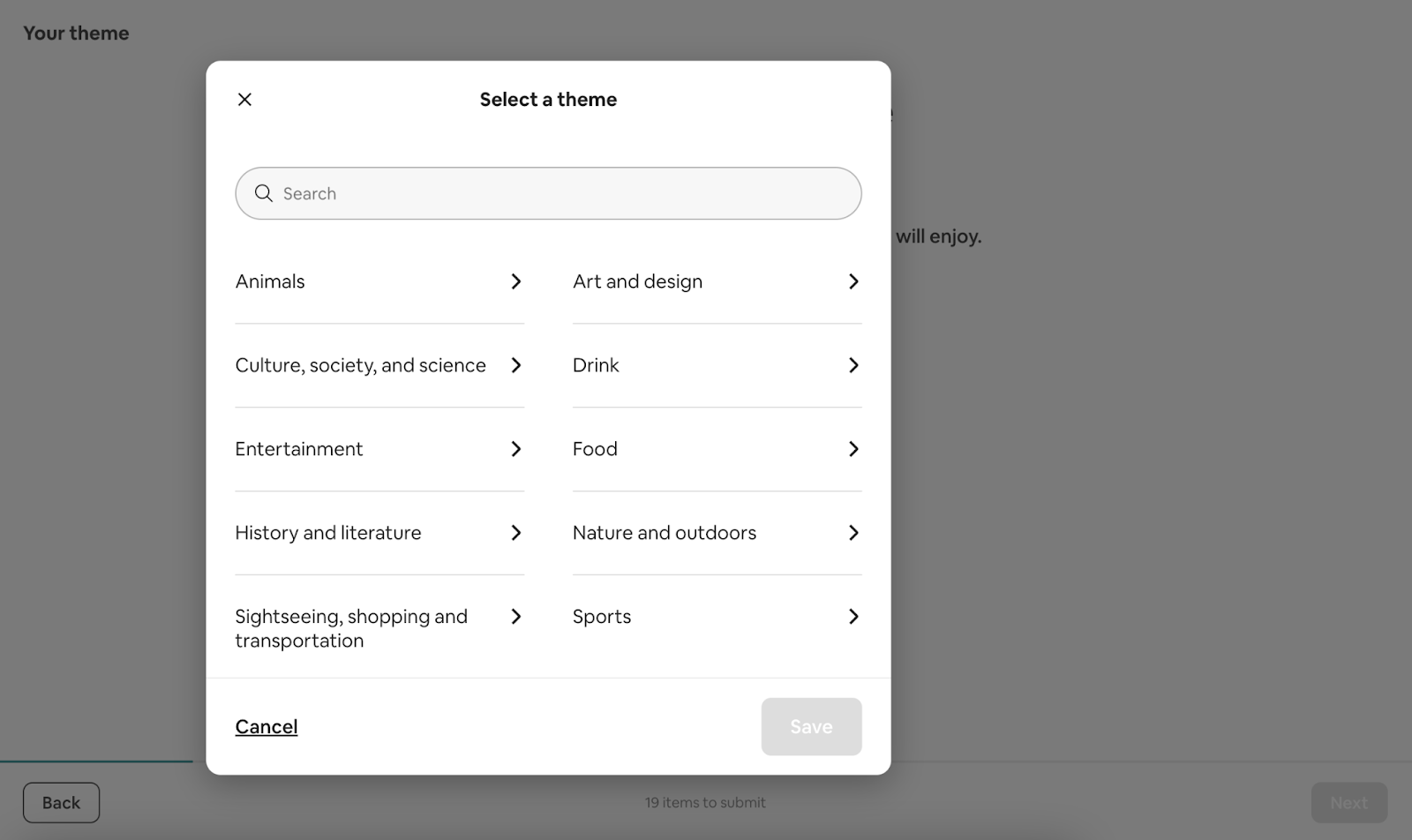 Choose the theme — like "Entertainment" or "Drink" — that best categorizes your activity offering.
Airbnb will then begin to ask you about your expertise. Your experience will have to meet the following standards:
Expertise: Having exceptional skill, ability, or background
Insider Access: Giving guests something they couldn't do on their own
Connection: Making meaningful interactions happen

The next few slides will ask you 1) if you've hosted the experience before 2) whether guests can do this on their own 3) what the level of interaction between you and the guests will be.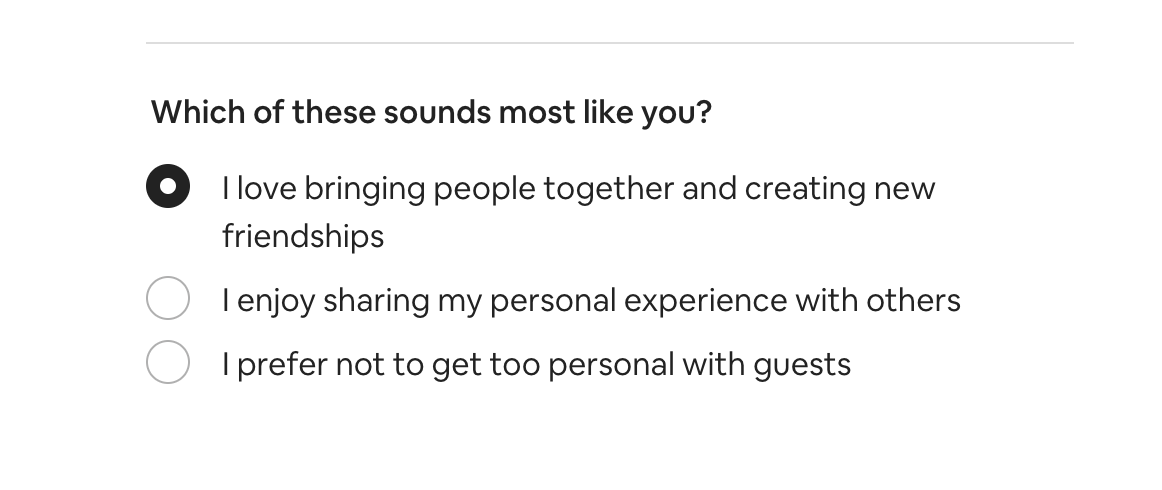 Now refer back to the information you set aside at the start of your application. In the next few pages, you'll describe your experience, share a bit about yourself, list what you'll provide and what guests should bring, as well as any additional requirements.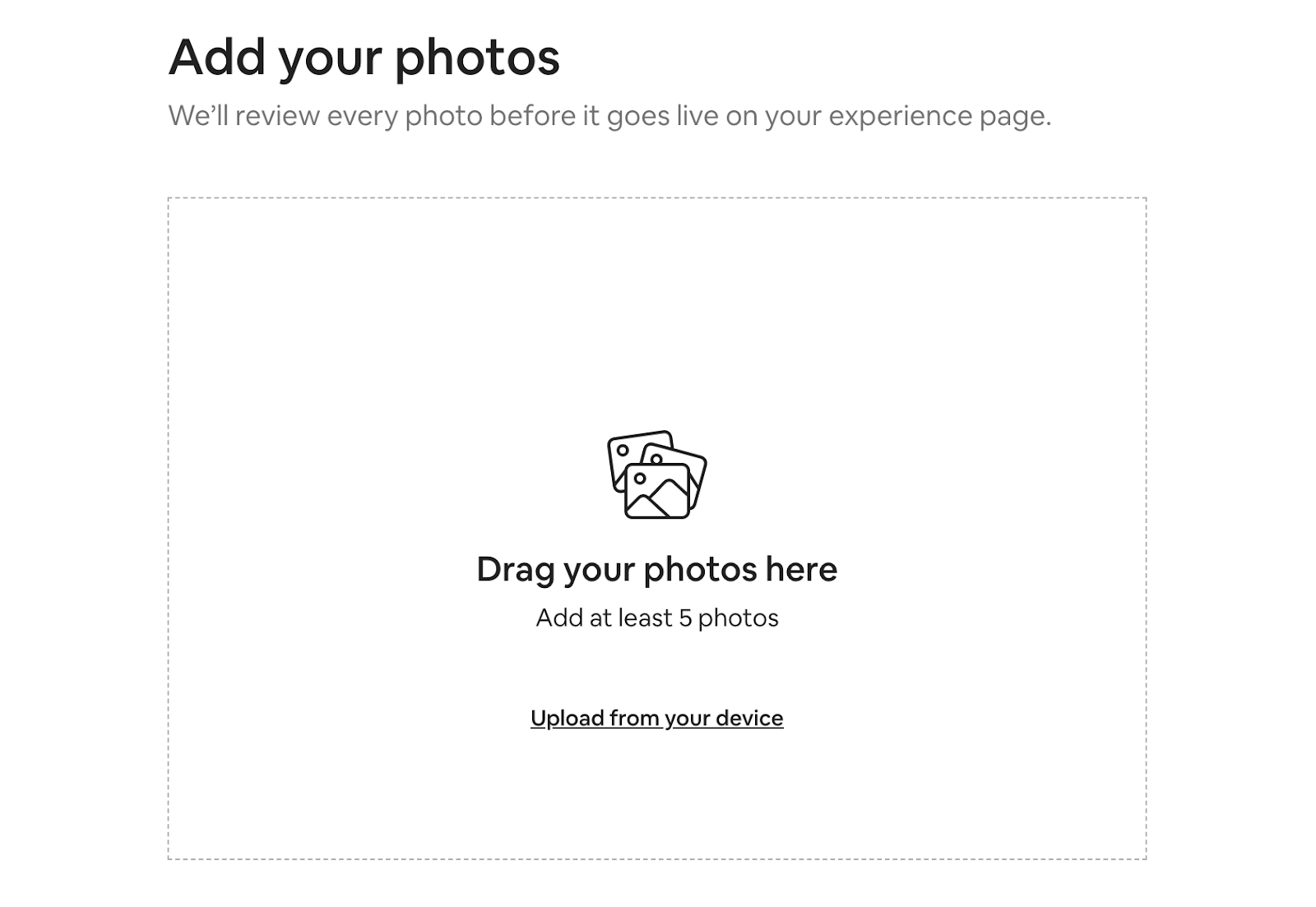 At the end of the application, you'll be prompted to add photos. Airbnb has the following photo requirements:
Photos should have a variety of details and angles, including people in action
Show candid moments that accurately illustrate the experience
Good image quality with no heavy filters, distortions, overlaid text, or watermarks
Your very first photo is called your cover photo, and that's the image that will appear in your Airbnb search results.
Airbnb Experience Guidelines
Airbnb wants every host to provide guests with expertise, insider access, and personal connection on each experience. In addition to that, there are several guidelines hosts must follow to have their experience approved.
Here's a quick rundown of those guidelines:
Guests should always know exactly who will be hosting them.
Hosts should not hand guests off to another tour operator, or leave guests on their own without a host.
Hosts cannot mix guests from Airbnb and another platform for the same experience.
There is no minimum group size.
Hosts must honor all booked reservations.
Experiences must have a high overall rating and guest engagement.
Activities cannot include accommodations or lodging of any kind.
Experiences cannot cross country borders.
Payment may not be solicited outside of Airbnb's system.
Experiences must have a clear, pre-defined itinerary.
Insurance Requirements
When you host an experience, you'll automatically receive liability insurance from Airbnb. Hosts will receive $1 million in coverage if a guest gets hurt or their belongings are damaged or stolen. If you have a business partner that helps you host the experience, they'll be covered too.
There is no opt-in or fee required. Everyone who agrees to host an experience on Airbnb is eligible for the insurance.
Airbnb's liability insurance covers you if you're found legally responsible for bodily injury to a guest and damage to or theft of property belonging to a guest.
It doesn't, however, cover damage or injury resulting from something that was done intentionally, certain types of extreme activities (like bungee jumping), and damage or loss to your personal property.
Payouts
Airbnb charges a 20% commission fee for every experience booked through the platform. The fee is calculated from the price that hosts set for the experience. Guests are shown the total price that they'll pay to book.
Hosts are paid 24 hours after a completed experience. Airbnb will automatically withhold service fees from the payout.
When hosts receive their earnings, the fees are already removed.
What makes a good Airbnb experience?
The three pillars of a good Airbnb experience are expertise, insider access, and connection.
Airbnb asks that hosts consider not only the expertise they have in a particular subject matter or activity but also the unique perspective they can bring to their guests.
For example, hosts Eleonora and Achref teach an immersive art and cooking class in Florence, Italy. To show guests their expertise, their bio describes Eleonora as a chef with over 16 years of international experience and Achref as one of the best Oud players.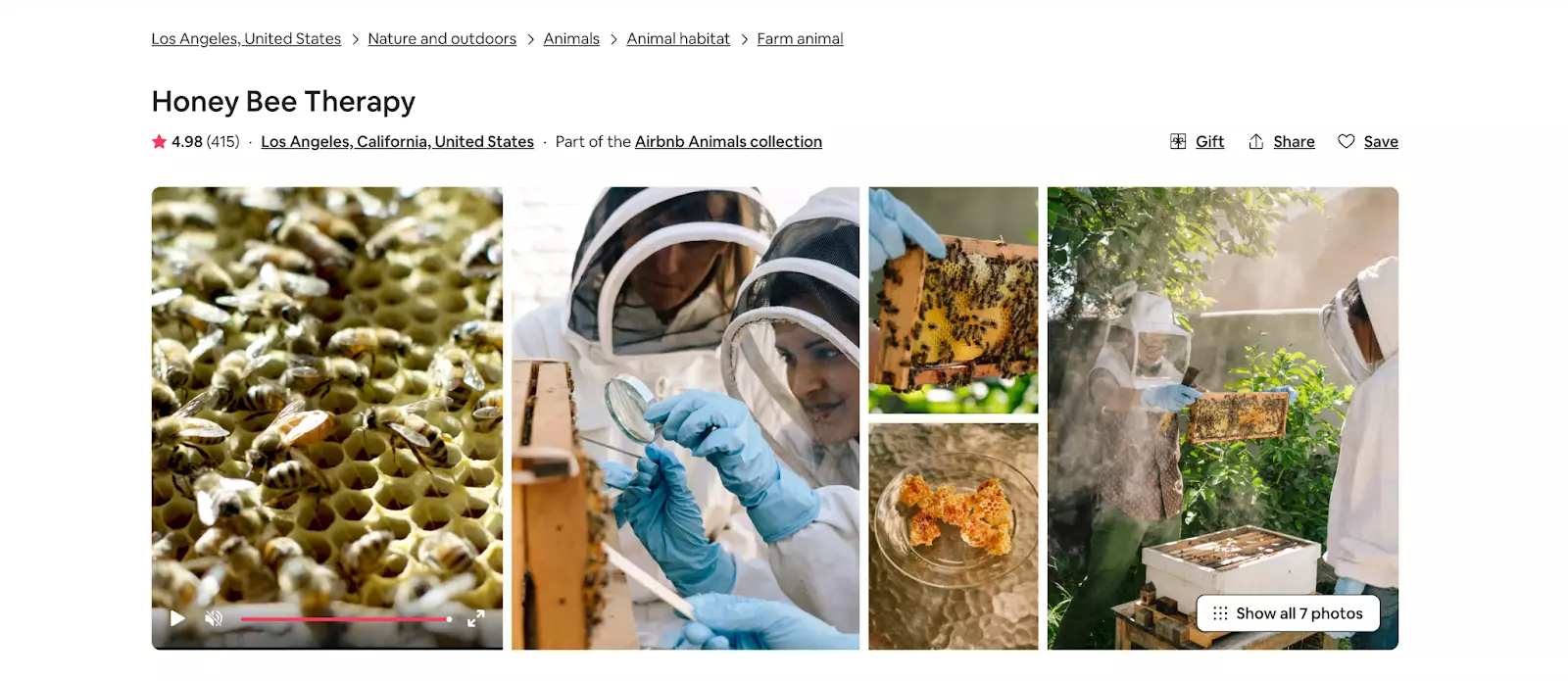 The experience itself should also feature something that guests can't easily do, learn, or find on their own. This is what Airbnb refers to as "insider access." For example, the host of a beekeeping experience in Los Angeles welcomes guests to his own backyard and local community gardens to tour the beehives.
In other words, Airbnb wants hosts to think out-of-box and create experiences that guests can't find anywhere else. Ideally, this would be something that your competitors aren't offering.
The third and final pillar is about human connection, a prevalent theme for the home-sharing platform. Airbnb particularly wants to know, "How will you make sure your guests feel like they belong?"
From a logistics standpoint, most experiences are under three hours and open for groups of less than 10 people. There are also a series of guidelines that every experience should follow.
Can you make money hosting Airbnb experiences?
In 2019, the average host earned $2,500 per experience listed in 2018. Meanwhile, some of the top hosts on the platform earned more than $300,000 in a year from their experiences, according to Airbnb.
A year later, with the introduction of online experiences, the platform reported that hosts earned more than $2 million in 2020. When in-person experiences were paused due to the pandemic, Airbnb gave hosts the ability to convert their experiences to virtual events.
Still, the success of an experience varies widely from host to host. Overall, DPGO found that hosts make anywhere from $0 to nearly $80,000 from both their in-person and online experiences.
Certain destinations and activities are also more popular than others. The top categories for experiences are food and drink, culture and history, and wellness. A food tour or yoga class is likely to perform well since both fall within those popular themes.
Pros of hosting Airbnb experiences
Whether you're thinking about creating an in-person or online activity, there could be many benefits to tapping into Airbnb experiences:
Reach a new audience: Airbnb is one of the largest online travel agencies in the world. It reaches millions of travelers from in and outside the U.S., meaning your tours will become visible to a very large audience.
Test out a new tour: Tour operators could introduce a new tour via Airbnb experiences before adding it to their official schedule. This way, they'll gather feedback from guests and be able to tweak the tour before selling it on their website.
Flexible scheduling: You can choose to offer Airbnb tours on the days when your tour company or attraction isn't operating. If you're creating an online experience, you can even schedule the activity at the end of the day when you've completed your in-person tours.
Supplement your income:Your Airbnb experience will reach a wide audience of travelers and has the potential to bring you more bookings. The extra earnings can supplement the income you make from your current tours or attraction.
Cons of hosting Airbnb experiences
Here are a few cons to consider before making your final decision:
You have to come up with a unique idea: Airbnb wants its experiences to be something that travelers won't experience anywhere else. This means you'll have to think outside the box and find something that your competitors aren't offering.
There are a lot of guidelines: Your experience will only be approved if it follows all of Airbnb's guidelines, and there are quite a few of them. One of the most prominent is that your tour must provide guests with some sort of insider access, meaning it should teach or show them something they can't do on their own.
Steep commission fees: Airbnb takes a 20% commission fee from every completed booking. You'll need to keep that fee in mind when you price your experiences.
You'll need to manually keep track of bookings: Airbnb doesn't integrate with your booking software, so you'll need to keep track of new bookings on your own.
No guest minimums: There are no guest minimums, meaning that if only one person books an experience meant for 8 people, you must honor the booking.
Platform risk: Airbnb can be a great platform for new tours, activities, and experiences. Yet if something were to happen to the Airbnb platform, you could lose your entire business. Airbnb help pave the way to reaching your first 6-figures, but you should seek a more balanced distribution strategy in the future. Ideally, you'll begin driving bookings from your own website as well as other OTA marketplaces.
***
Now that you have a better grasp of how Airbnb experiences work, you can decide if the platform is right for you.
Hosting a tour on Airbnb will put your brand in front of a wider audience. As you weigh the pros and cons, consider looking up experiences in your area to see what's already out there.You might just find a gap that your company can step into.