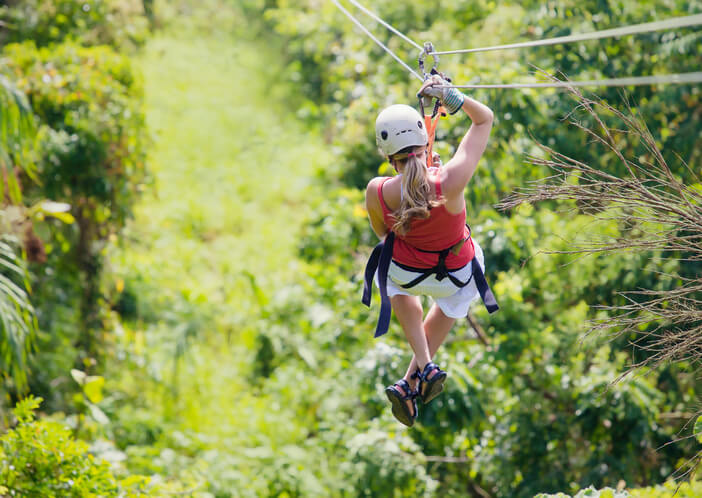 There are limitations to running ziplines and challenge courses that make it hard to grow revenue, especially during the high season.
Certain days, like summer weekends and holidays, tend to sell out quickly. There are very few ways to increase capacity on sold out days without substantial capital investments, like building new courses or offering new activities.
On the other hand, slower days (like weekdays) are often slow for a reason. Locals are busy at work, school, or with extra curriculars. Tourists tend to make travel plans early, and are often inflexible about when they make bookings. Lowering prices or offering discounts often doesn't do enough to convince locals to drop their jobs and other obligations, or persuade tourists to change their travel plans.
With these limitations in mind, challenge course and zipline marketing plans should consider new ways to get current customers to buy more during their visit.
Here are four ways challenge course and zipline marketers can generate more revenue by increasing the value of every booking.
1. Upsell Customers with Booking Add-On Items
Add-on items help increase the value of every order by upselling guests on products and services that complement the activity they are already booking. For example, renting helmet cams to guests on a zipline puts more money in the operator's pocket and makes guests happier by letting them capture and keep their own photos and videos.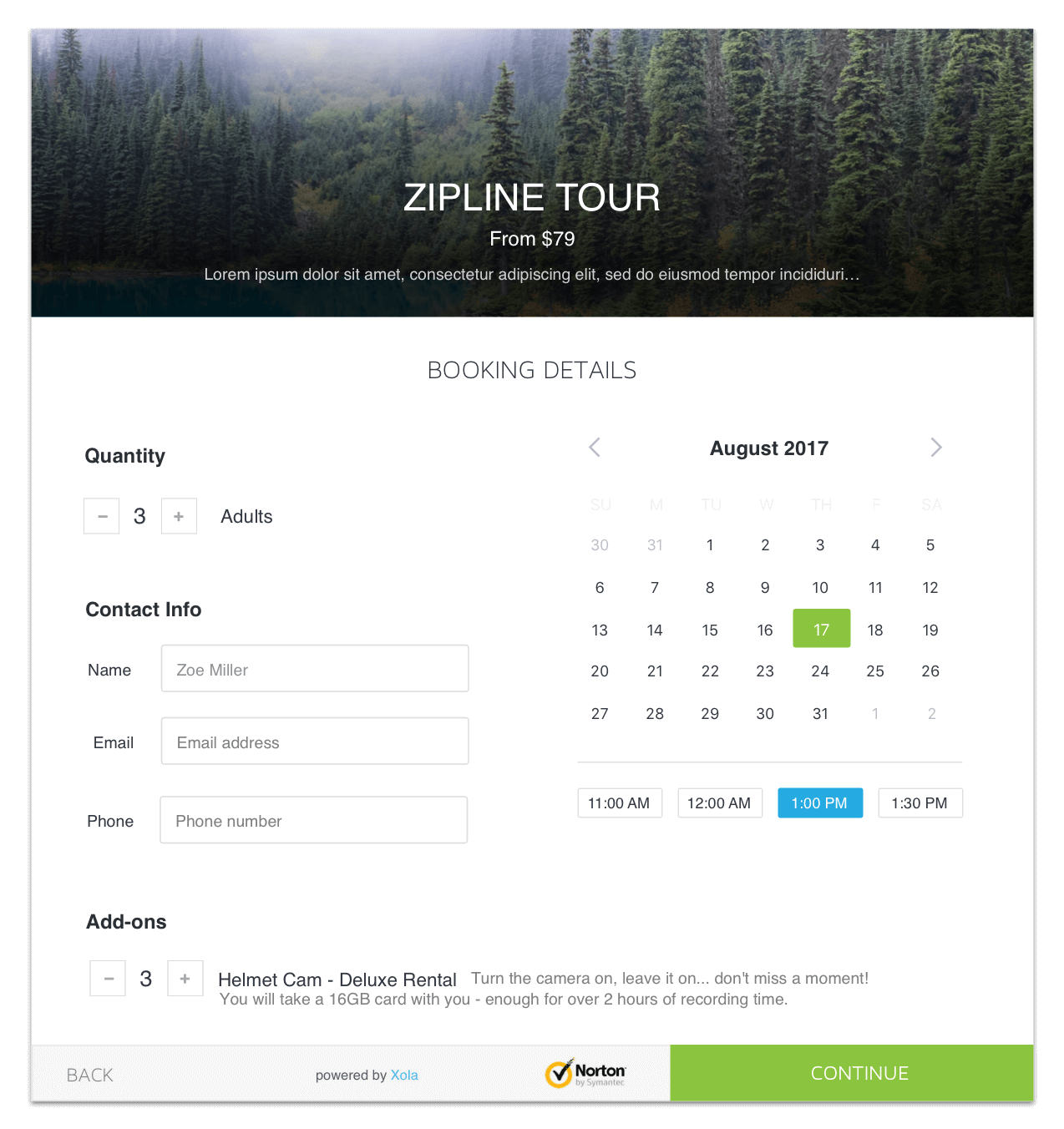 Sophisticated zipline booking software, like Xola, displays add-ons during the checkout process, increasing the likelihood that they are seen and selected by customers.
Common booking add-on items offered by zipline and challenge course operators include:
Helmet cam rentals

Photos

Videos

Boxed lunches

Bottled water

Storage locker rentals

Cell phone holder rentals

Eyeglass straps

Branded retail

Tips/gratuity for guides

Observer fees

Charitable donations

Option to "do the tour again"
2. Incentivize Larger Group Bookings
Zipline and challenge course operators can incentivize larger group bookings by offering "BOGO" discounts.
BOGO discounts, also known as "buy one get one" deals, offer discounts or free tickets to extra guests once a booking reaches a specific size. This allows operators to incentivize groups to increase group sizes in exchange for a free or discounted ticket.
BOGO discounts are especially beneficial to operators who are struggling to increase group sizes during the shoulder season, or days/times with low demand.
For example, a zipline operator with an average of three guests per booking could promote a "buy four, get one free" discount. The discount incentivizes groups to invite an additional guest (who must pay the full ticket price) in exchange for a fifth ticket (which is free).

For days and times when it's difficult to get new customers, zipline and challenge course marketers can use BOGO discounts to convince current customers to invite more of their friends.
3. Take More Bookings Online
Add-ons and BOGO deals are good ways to convince the same customers to buy more. Another way to increase your average order value is to sell to different customers, who are more inclined to spend more.
One way to do this is to take more bookings online.
In our 2018 Zipline and Challenge Course Industry Report: Online vs Back-Office Trends, we found that from 2015 through 2017 the average order value of online bookings was 30.64% higher than that of walk-in and call-in bookings.

In other words, online bookings are more valuable.
Allowing guests to make reservations online, by adding an online checkout widget to your site, gives you access to a market of customers who tend to spend more on every purchase.
If your zipline or challenge course already takes reservations online, you can continue to take advantage of this phenomenon by making sure that your website is optimized to generate more online bookings.
4. Recover Abandoned Bookings
Among online bookings, "recovered" bookings are the most valuable, collecting more revenue per booking than both back-office and non-recovered online bookings.
More specifically, from 2015 through 2017 we found that for ziplines and challenge course operators recovered bookings were 34.14% more valuable than back-office bookings and 14% more valuable than non-recovered online bookings.

When someone begins to book on your site but leaves during the checkout process without buying, they have abandoned their booking. Recovered bookings are bookings that are later won back by marketing efforts that convinced the abandoner to return to your website and complete their purchase.
It may come as a surprise, but booking abandonment is a natural part of the process. More than half of the website visitors to initiate checkout will leave without completing it. There are a few reasons people abandon bookings. Some consumers want to compare prices, some need to coordinate with a larger group before booking, with some simply aren't ready to buy.
One of the most effective ways to recover abandoned bookings is with an abandoned booking email which provides the customer with an extra nudge, motivating them to return to your website to complete their booking.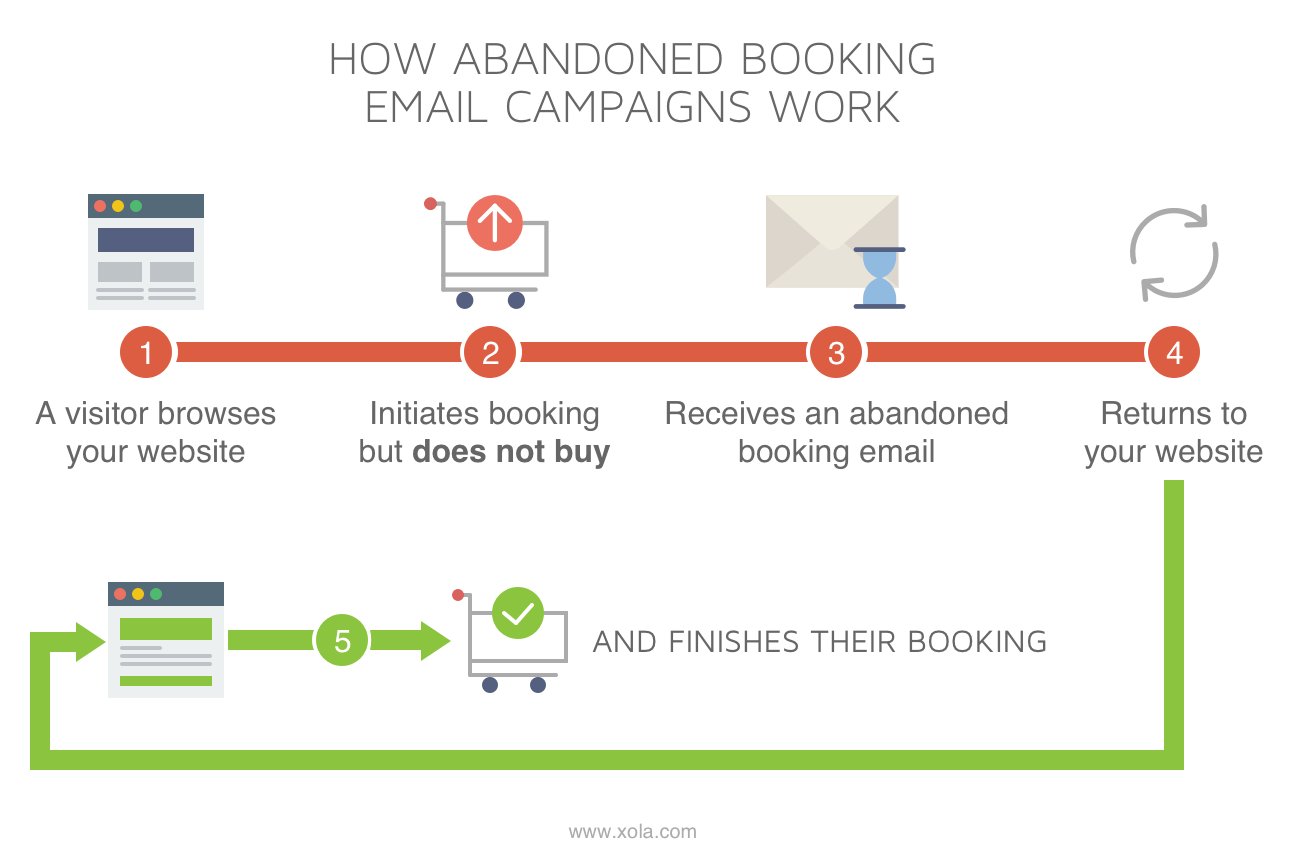 Intelligent online booking software, like Xola, automate the recovery process. Xola automatically collects abandoned booking data and sends recovery emails so you don't have to. On average, our zipline and challenge course customers have collectively generated more than $2,000,000 worth of bookings a year from this feature alone.
Why are recovered bookings so valuable?
While there are a number of reasons that website visitors abandon their bookings, one reason in particular stands out: consumers often compare high-ticket items before making a purchase.
Activities like ziplines and challenge courses, which can cost more than $100 per ticket, are likely to be compared to multiple different activities in the nearby area before being purchased. Comparison shoppers will often visit the provider's website, and the websites of competing activity providers, to compare offerings, availability, and pricing.
As the group size gets larger, and the total booking value increases, the likelihood that consumers abandon their booking to compare offerings increases too.
Challenge course and zipline marketers are at risk of losing high-value "almost customers" to competing activity operators. But, by sending an abandoned booking email to abandoners after they leave, operators keep their offering top-of-mind, compelling high-value consumers to return and complete their booking.
Conclusion
Growing revenue isn't always about getting new customers. Sometimes the opportunities are sitting right in front of you.
Zipline and challenge course operators can take advantage of the needs and behavior of their current customers to get more out of every booking.
Offering upsells (like camera rentals and photo packages) during the booking process can add incremental revenue to every purchase. And clever discounts, like BOGO deals, incentivize groups to invite more friends.
Challenge course and zipline marketers can also increase their order values by focusing on the channels that produce more revenue per bookings. For example, the average online booking produces more revenue than the average back-office booking. And recovered bookings produce even more.
To learn more about how Xola's zipline booking software can help operators increase revenue with add-on items, increase group sizes, and generate more high-value bookings, email us at join@xola.com, or click below to talk to a product specialist.