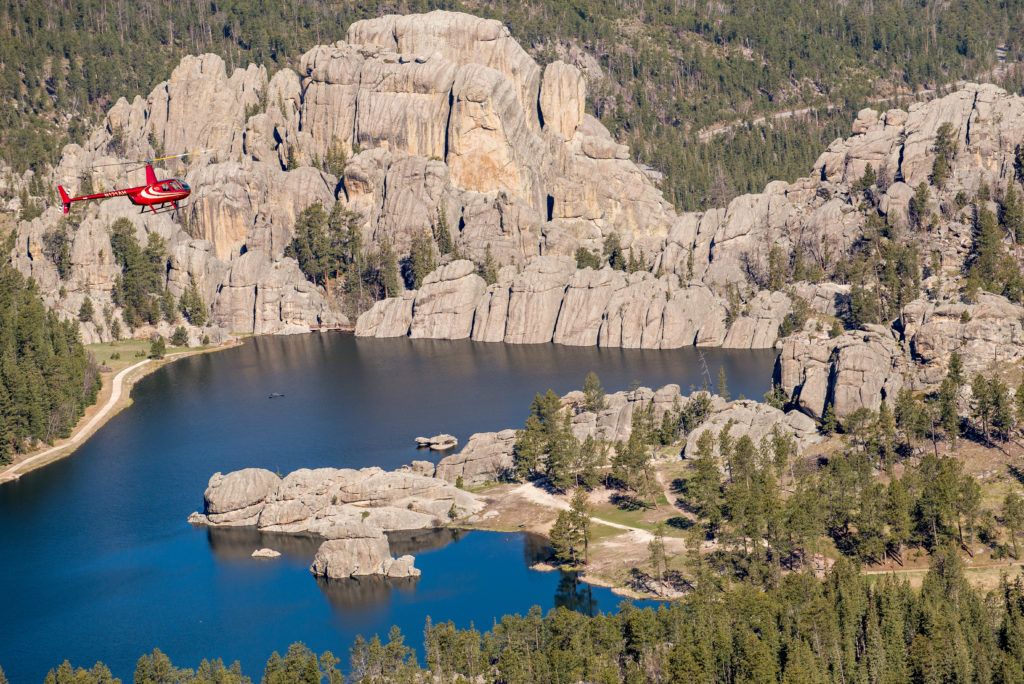 How Black Hills Aerial Adventures Increased Revenue Per Flight by 40% With a Lean Team
Switching to Xola 

Decreasing no-show bookings by 90% 

Increasing revenue per flight by 40% 

How John runs four helicopter tour companies in Xola with a lean team
John Wells has his hands full running five helicopter tour companies across Yellowstone, Mt. Rushmore, Crazy Horse, the Badlands, and Grand Tetons.

Their old workaround solution, which was actually a modified golf tee time system, was holding them back.

"Our modified system did not have a web-facing booking solution," says John. "So we couldn't take payments. I mean, we had a booking form. All it did was email you a potential reservation, but there was no payment processing piece on the other side of it." 
They needed a modern booking system that could handle the intricate complexities of running five helicopter tour companies. 

Switching to Xola 
They were able to go live in Xola in 2 weeks, which included brand new websites powered through Xola Websites. 
"Xola took our primary site and had us up and running and functional and usable with web and back of house within two weeks," says John. "I was just really impressed. And ever since then, anything that I call asking for, you say, 'Hey, thanks. You know, I know this is the last minute, but what can you do for me? It is such a quick turnaround, and the truth is told, I'm typically the one who is holding up whatever process you guys have going."

The impact was immediate. 
"Truthfully, it's the booking engine. Being able to have a single reference point between web and walk-in and everything going into the same system is the biggest benefit for us," says John. "I mean, we were basically in the stone ages when it came to having customer data that we get out of the system." 
And since they can now process all direct booking payments, this meant a 25% increase in direct bookings and a 90% reduction in no-shows. 
"That's helped tremendously in weeding out the no-shows because we used to get a lot of reservations, but we'd have a lot of no-shows because with no payment there's nothing on the line for a no loss. No problem for them. They just walked away from it. So that's really helped on our scheduling side. And understanding what's truly going to show up that day."  
Customers love how easy it is to book a tour online. 
"We've actually had a number of folks, you know, comment to us how easy the booking process is," says John.
They are able to offer features that most small businesses can't, like split-pay. 
"The split payment option is another thing that people have said, 'Hey, that's actually really cool. So it's features that I think they're actually impressed that a small company like us is able to provide, and that's because Xola makes that available to us." 
Increasing revenue per flight by 40% 
With a helicopter tour company, their north star metric is revenue per flight, and that's continuing to move up and to the right.  
"The revenue per flight, which is what we would look at there as opposed to revenue per seat, because if we have four seats available and we're only flying two at a time. Not as effective as if we can fly four, because I just cut one entire flight out, which is fuel, and hobbs (aircraft flight time), time that I can go fly another, you know? So I would say that that's probably about a 40 percent improvement in revenue per flight for us." 
This is only possible since they've been able to streamline their booking efforts.  
"It is a huge benefit to be able to do that and be able to very quickly get in contact with those customers and move them around. Then, being able to very clearly look at what's coming in that day and what I can group together. Which couple of flights can I do? We go as far as to, in some cases, say, well, this person purchased a number three tour, and I've got two passengers, and this other group purchased a number four tour, you know, what? We're just gonna roll those number three into that number four. We're flying that anyway. And now, I've only flown one flight. So being able to very quickly look at that through the dashboard view and understand where we can group people is a big deal." 
On top of increasing revenue per flight, they've been able to increase overall revenue by adding a "private your tour" option.
"People will pay a little bit extra to not be with anybody else. It's been a significant revenue increase. We don't want to get excessive in that particular area of all these extra add-ons. But these things that are actually a value add and actually benefit the customer are a huge deal. And, we've seen a significant spike in folks booking since we've added that." 
This is also leading to more positive customer reviews. 
"Reviews have definitely gone up," says John. "We get a lot of positive reviews. . . I have to attribute it to the automated communications that are sent out (in Xola) and, then again, the ease of use, you know, the tags that are in everything. We didn't have anything like that before." 
Running four helicopter tour companies with a lean team  
Having a centralized booking engine through Xola means that they've improved their back-office processes, streamlined walk-ups, and been able to do more with less without sacrificing customer experience. 
"It's definitely helped us grow with the employees that we have. And the communication between the different locations and being able to jump between the different tour company accounts very quickly on the screen." 
For starters, by allowing customers to modify and cancel their bookings on their website, it has decreased customer service calls by 25%. 
When they need to communicate quickly with customers, they can do that without leaving the Xola dashboard whenever they need any extra information or to make a change to a booking.  
For instance, if they have any customers that weigh more than 300 pounds, they need to have a specific aircraft which currently moves between locations.

In Xola, they now have a  report that flags any customer that weighs over 300 pounds. So, they can make these arrangements on the fly and communicate quickly with customers by text all without leaving the Xola dashboard.
Xola as a growth partner 
However, the thing that John and his team appreciate the most is Xola's support. 
"A lot of times when I'm doing the backend work, or I'm way after hours, and being able to hit that support button and get somebody who knows what they're talking about at any time has been really helpful because a lot of times I'm contacting people well after your normal business hours to say, 'Hey, I'm running into this problem where I can't find this or why isn't this showing up on a report that I need? And I needed it at that time because that's when I have time to do that kind of work. And that's a big deal for me to have that 24-hour support, and have those folks available as a big deal."

It is all of this combined that makes it easy for John to recommend Xola to other tour operators.
"The way that you guys take care of your customers is above and beyond, and that's the single biggest selling point to me. You deliver a great platform that does what I need, and you're there to support it whenever I need it."