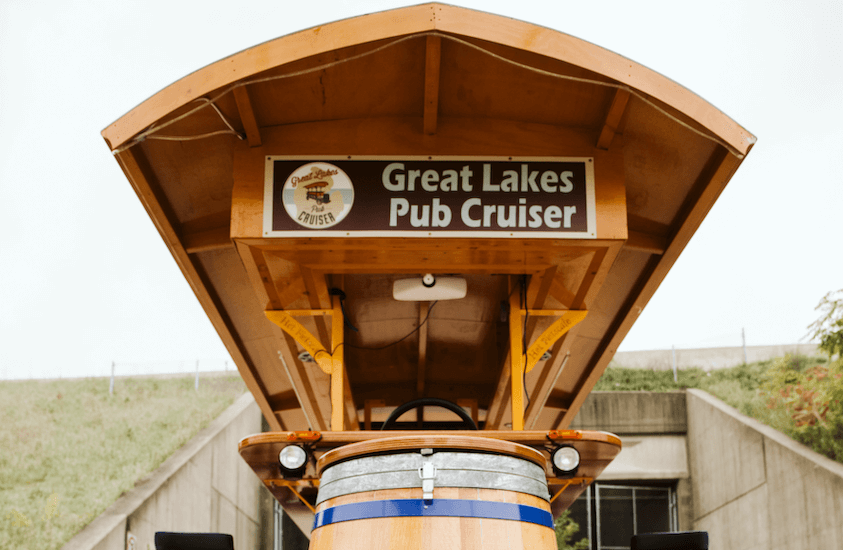 HOW A HIGH SCHOOL TEACHER STARTED GRAND RAPIDS' LARGEST PEDAL TAVERN
KEY TAKEAWAYS
How a high school teacher turned an $80k investment into one of Grand Rapids' largest women-owned businesses
How Xola helps her save time and streamline her business
How switching to Flex helped her to reinvest in the business
FROM HIGH SCHOOL TEACHER TO SUCCESSFUL PEDAL TAVERN OPERATOR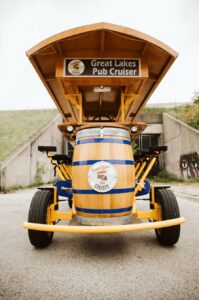 Laurie Ryan describes the day that she got the idea for her business, Great Lakes Pub Cruiser. She was in Minneapolis for an athletic trainers convention.
"I saw these bikes, and people were laughing, having fun and were happy," said Laurie. "I saw these and fell in love."
She added it must have been 3 degrees outside, and they were having the time of their lives  riding outside in the freezing weather.
"I came home and couldn't stop thinking about it," Laurie recalled. "And someone later asked me, what would I do to make my first million and I said, 'I'm going to buy a pedal pub.'"
So, she reached out to her best friend and fellow teacher with the idea.
Laurie said, "Hey, I got a no-fail business for you. It combines alcohol and fun."
Between the two of them and three other partners, they invested about $80,000 to buy their first party bike and get the business off the ground in 2011.
The business grew fast, and at year four, she bought out one of her partners. And last year, she bought out two more partners.
So, it is now just her and her best friend running a business they love day in and day out.
Today eight years in, Great Lakes Pub Cruiser is one of the largest woman-owned businesses in all of Grand Rapids.
HOW XOLA HELPS THEM STREAMLINE THE BUSINESS
Laurie juggles working full-time as a teacher while running every aspect of the company. She loves how simple, intuitive, and easy to use Xola is.
"I'm up at 4 a.m. every day working the bike, teaching all day, coming home and working the bike. So it can be pretty chaotic," she continued, "The fact that you know I can do things on my phone. I mean I literally go in the bathroom sometimes at work, and confirm bookings, send text messages and reply to customer emails."
Laurie continued, "As someone who is busy, it is nice having something simple. I change things every season a little bit, and I just sit and plug it in. And, it is just not earth-shattering to do."
She added that the abandoned booking recovery feature has helped her increase sales.
In fact, from April 2018 to April 2019, Great Lakes Pub Cruiser recovered more than $30k in revenue from the abandoned booking email.
She also likes Xola's reporting features. This helps her to forecast her numbers for the year ahead and plan out strategic investments.
One of the adjustments she made was opting to switch from a subscription plan to the Flex pricing model back in January. This allowed her to invest more money into the business.
Laurie said, "So far, we have done about $20k in upgrades."
This included putting pedal assist, a much requested feature, on their party bikes.
Laurie recalls being nervous about charging consumers a 6% fee.
"I thought I would get people rebelling and snarkiness about it," she continued, "It hasn't been an issue at all. I've been really pleased about that."
She is also thrilled with some of the new features that she now has access to including Lightning Deals and TripAdvisor Review Express, which she has already started using.
WHAT'S AHEAD?
Great Lakes Pub Cruiser is on track to have their best year yet.
"Our bikes are off to the best start ever," said Laurie.
She has big dreams for expanding her business.
For now, even on the rough days, she is content with her business's trajectory.
"It doesn't feel like work to me even 8 years later with all the stuff that I do," said Laurie. "All it takes is a good tour where people laugh and feel good. You know there is so much awful in our world. They get on these bikes for 2 or 3 hours and they forget all of that. And, I forget it all too."