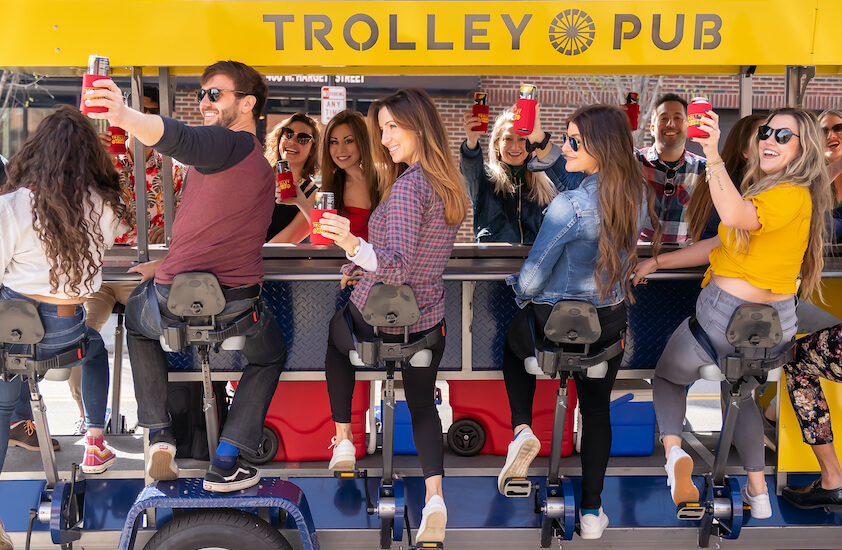 GROWING FROM A SINGLE TROLLEY PUB TO NEARLY 20 TROLLEY PUB AND PADDLE PUB FRANCHISES
KEY TAKEAWAYS:
Growing from a single location to nearly 20 franchise locations
Streamlining day-to-day operations
Xola as a growth partner
"Xola is the best tour and activity software that you can find. And, I've used a lot of the other ones. The onboarding process is easy. The integrations they have with other software are essential. And, the Xola team is very responsive. They're always available to chat and to work out any needs you have."
Kai Kaapro got the idea for his business while he was still in law school.
"I saw this niche (party bikes), and within hours, I was like, 'This is a great business," says Kai. " It's hardly anywhere in the United States and it looked like a blast. This is back in 2009, 2010. And I had the confidence, probably through working with the startup community in State College, that I can do something like this, which was supposed to be a side business at the time. So, I started it with my partner Andrew Cole. Some of it was probably some naivete on my part. I didn't know how hard running and owning a business was. If I had known that, I would've thought twice about it. But at the time, being a young man in his mid-twenties, I just went all-in right away."
The business took off. Within 5 years, they opened trolley pub locations in 10 cities across the U.S.
Kai explains, "After I made it my full-time job, I was very ambitious, and I knew the business's worth, and I saw the sort of explosive response in the market from our service. So, we ended up opening in a lot of locations pretty quickly, all directly owned. I think, all in all, we opened up ten cities within the first five years.
Many tour operators would be content there.  But, Kai saw an opportunity in a related vertical – paddle pubs (a.k.a. cycle boats)
"We became very interested in the cycle boat industry because it was a similar business model , and we thought it fulfilled a similar need in the market, and there's a lot more green grass for growth," he said.
It was also around that time that they embarked on a multi-year move to a more scalable franchise model.
Kai says, "We realized the limitations of scaling a business while being directly operated. At a certain point, it was going to require middle management. And at the same time, we were the largest operator out there for trolley pubs and cycle boats. We were constantly getting messages from people, and I was constantly helping people get started. So at a certain point, we realized that we could create a lot of value as a franchisor and that there was a need in the market for it."
STREAMLINING DAY-TO-DAY TOUR OPERATIONS
With both their own operations as well as their franchisees', it was imperative that they have a booking software that is intuitive to use and can scale with them.
"The bottom line is that after we switched to Xola from the other booking systems we were using, our business became easier to run," says Kai. "It helped us increase our sales, and it allowed us to scale our business.
Since 2014, our business has grown phenomenally, and I attribute some of that success definitely to our partnership with Xola. I think if we had been using our other booking systems, it would have been more difficult and slower, and we would have been slower to take advantage of the trends in the market over the last seven years."
It goes without saying the key to their growth is the tours.
"As a tour and activity operator, the lifeblood of our business is tours," says Kai. "So, the fact that we can assign drivers to tours right from Xola, which will notify the drivers and sync with their calendar, the features involved with easily and efficiently changing booking types or changing time slots, things like that. To be able to ad hoc, add a schedule on a particular day that might not mesh with the schedule we set up with the listing, but right there on the booking screen, you can add that extra time slot to make it fit if it's something custom. All these little features add up to make it really easy for our managers to run an efficient tour and activity business. And the service speed is really fast too."
For example, when Xola Waivers was first launched, it was a game-changer for their businesses.
"One of the biggest issues we've seen in the past is getting the drivers to consistently check the waivers for the customers," says Kai. "And that can typically be a pretty long process because you're using a third-party waiver system. You're having to check each person's email and then use the third-party software to verify that they actually signed the waiver.
Once Xola introduced the waiver integration, it's easy for the drivers to see who has signed their waiver, and it makes it really quick for them to check-in and get going on the tour.
Another thing we use a lot is just the add-on feature is very helpful. We're able to generate extra sales by being able to add that to the listing. It's really easy for the driver once they're assigned to the tour ahead of time to see the book notes and see that there were particular add-ons they need to have ready for that tour."
As a franchisor, the other key to growth is how easy it is to get new franchisees all set up and up and running.
"The setup process is seamless and easy to get started with," says Kai. "So just the training and setting up the listings and time schedule, it's intuitive and doesn't take long. The merchant payment processor is built-in, so there are not separate accounts to set up. And then once you use it, I think the interface is really good. It makes it easy to organize our tours. The views are easy to access. All the little features put together and make it really easy to run your business."
XOLA AS A GROWTH PARTNER
"I always tell people, who want to find the remaining legacy booking systems that will do the flat-fee rate," says Kai.  "And, I understand that because that was our first instinct too. But I tell them if they want to go with (another booking company) like that is the problem is you need to be invested with the booking system that's going to be around five to 10 years from now. And that they need the resources to develop all the features you need as the marketplace is changing.
So, as the market has shifted, Xola has always been in development to add these features you need to continue to run your business at the top-level you can. And that's really important because you don't want to build your business on a booking platform that's going to be behind or not invest money in time for the way that the market changes. And for me, that's really the bottom line.  I trust that Xola is going to be around. I know that they are going to constantly develop the features you need as the marketplace changes. And you're going to get the support and customer service you need along the way to maximize revenue for your business."
For example, Kai and Brett, who is the director of marketing, both appreciate Xola's approach to new feature development.
"I like the way that Xola perfectly rolls things out and beta tests things and gives clients individual attention," says Kai. "With a bigger company, you're not going to get that individualized attention in my experience."
And, on more than one occasion, they even got features – like waitlist – that they didn't even know they needed until they started using it.
"What was surprising to me is that it's very useful for our franchisees and for understanding what they need to add assets," says Kai.  "A big part of growing your business is deciding when to invest more, and maybe this isn't the intended use, but with the waitlist feature, it became very easy for us to understand how much excess demand there was in the market and in a particular location, in a way that I can quantify. Before, we were reliant on managers, just kind of orally recounting to us how many tourists they think they turned down, and now we have a way of actually quantifying it in a more precise way, which is very useful and surprising."
It is the combination of ease of use, world-class support, and a steady stream of new features that made Kai and his team not hesitate when choosing Xola as their booking software as they rapidly expand their franchise.
"I would say the thing I value most in our partnership has been the development and executive team at Xola willing to work with us and to be a true partner," says Kai. "I think most booking platforms like to say that they're partners with their operators. And I don't really think that's the case.
My experience with Xola and why we've been with them so long, and why we're building our franchise off of it has been the team has been very responsive to our needs, their willingness to hear feedback, to share the development cycle, to create the features that we need in a way that makes it work for us to run a franchise off Xola."