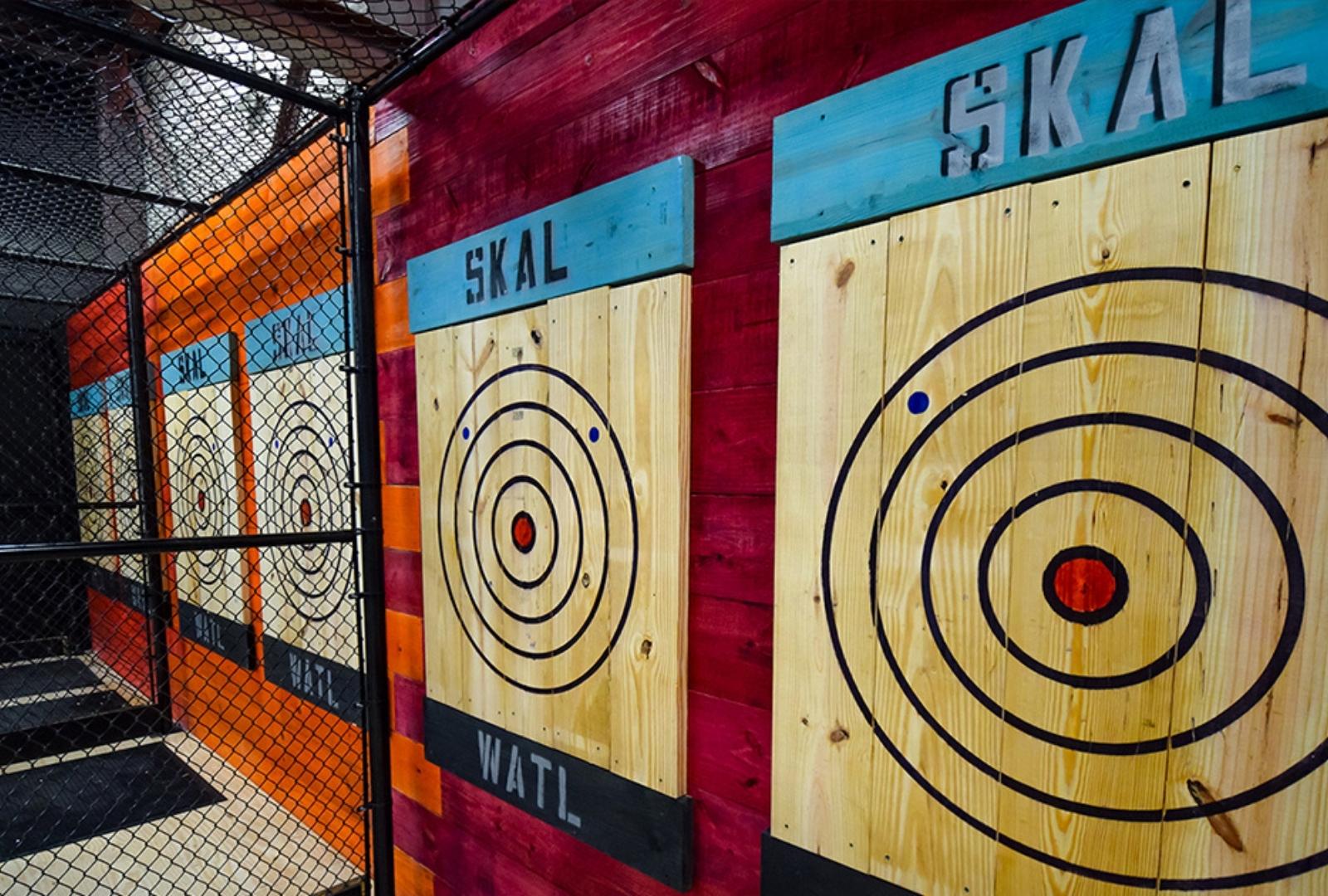 GROWING THE FIRST AXE-THROWING BUSINESS IN SOUTHERN MISSISSIPPI
KEY TAKEAWAYS
Why Skal Axe Throwing thinks Xola is the best option for axe-throwing businesses
How he uses Xola Waivers to streamline guest experience
How Xola helps him with day-to-day operations
FROM CORPORATE EMPLOYEE TO AXE-THROWING BUSINESS OWNER
Daniel McNatt got the idea for Skal Axe Throwing while on vacation in St. Louis. After getting laid off from his corporate job, he went all-in on building his company.
One of the biggest challenges McNatt had early on was finding the right booking software. He knew how important it would be to take bookings online.
"I was about to the point of building my own and having it custom coded at the tune of tens of thousands of dollars, but Xola showed up and hit every button I was needing," says McNatt. "And, hit and a few that I did not know could be a hit. So it definitely has been part and parcel to our success."
In fact, he went as far as to say,
"There is absolutely no better option available." 
With five axe-throwing lanes, it is crucial that Skal Axe stays as full as possible throughout the week.
"We have five lanes, so we have to make sure that it stays as full as possible," says McNatt. "If it is going to work, we can not just pass up guaranteed money of people reserving. We'd rather turn away walk-ins because we are booked to capacity than not be able to reserve people."
To keep the venue full, sales come from a mix of general admission, private lanes and private events (such as birthday parties and team-building activities).
"I've been very pleased and impressed with the robustness and functionality capabilities in Xola," McNatt said. "It is intuitive for my registration team to understand how to implement it. And it's been terrific. We have had no complaints or questions from any customers regarding, 'how do I book a private lane.' Once they understand that it's right there on the website, they can access it. I have not had to go in and, and go behind them and hold their hand through it because Xola makes it work."
When it comes to groups booking private lanes, he appreciates how easy it is to do split-payments in Xola.
"The split pay options are huge for that because if we have 15 people that want to reserve a lane, but that one person that's the catalyst for the group does not want to pay for all of them," says McNatt. "So sometimes, we give them the heads up that that split pay option is there and then it reserves the space and everybody pays their piece, signs their waivers and it just works beautifully."
STREAMLINE GUESTS' EXPERIENCES WITH XOLA WAIVERS
When you run an axe-throwing establishment, having guests sign a waiver is a necessity. It protects the business from any legal or liability issues if someone were to get seriously injured in the venue.
McNatt uses our built-in Xola Waivers to send and manage all digital waivers.
"It works perfectly and expedites our process so much during the check-in and getting all of the crowds of people on Friday and Saturday nights throwing as fast as possible," says McNatt. "Having that waiver and the proactiveness that Xola provides, you know, as much as we say it, Xola (automatically) emails them when they register. Majority of people get it (signed waivers) done before they show up. And that is huge because it makes our process so much more smooth."
HANDLING DAY-TO-DAY OPERATIONS
One thing that's unique to McNatt's business is the venue itself.  Skal Axe is located in a one-hundred-year-old warehouse in the heart of downtown Biloxi, Mississippi.
"The building itself is a hundred-year-old building, and hasn't been occupied since Hurricane Katrina in 2005," says McNatt. So, just getting into this space, and then getting it up to code and everything where the city is okay with us operating a business here. That's been a big challenge for me."
In addition, Skal Axe is the only axe-throwing business in Southern Mississippi.
Nearly 80% of their bookings are pre-booked either on their website or over the phone.
"We open at 11 am, seven days a week. We're there till 9:00 PM Sunday through Thursday and midnight on Friday and Saturday," says McNatt.
Since most people in the Biloxi metro area have never gone axe-throwing before, they frequently run lunch-time specials to increase awareness among locals and generate more sales at off-peak times.
"We run a lunch special from 11:00 to 1:00 just to see if we can drum up a good lunch crowd," says McNatt.
They also increase revenue by selling beer, soda, and a limited bar menu on-site, leading to higher tabs (and tips!).
"We started out with just beer,  a soda fountain and then a real limited bar food menu where we have got both pulled pork and chicken. And, we do sliders, full sandwiches, and nachos."
The future for Skal Axe looks bright.
McNatt exclaimed, "The best thing that ever happened to me is getting axed."