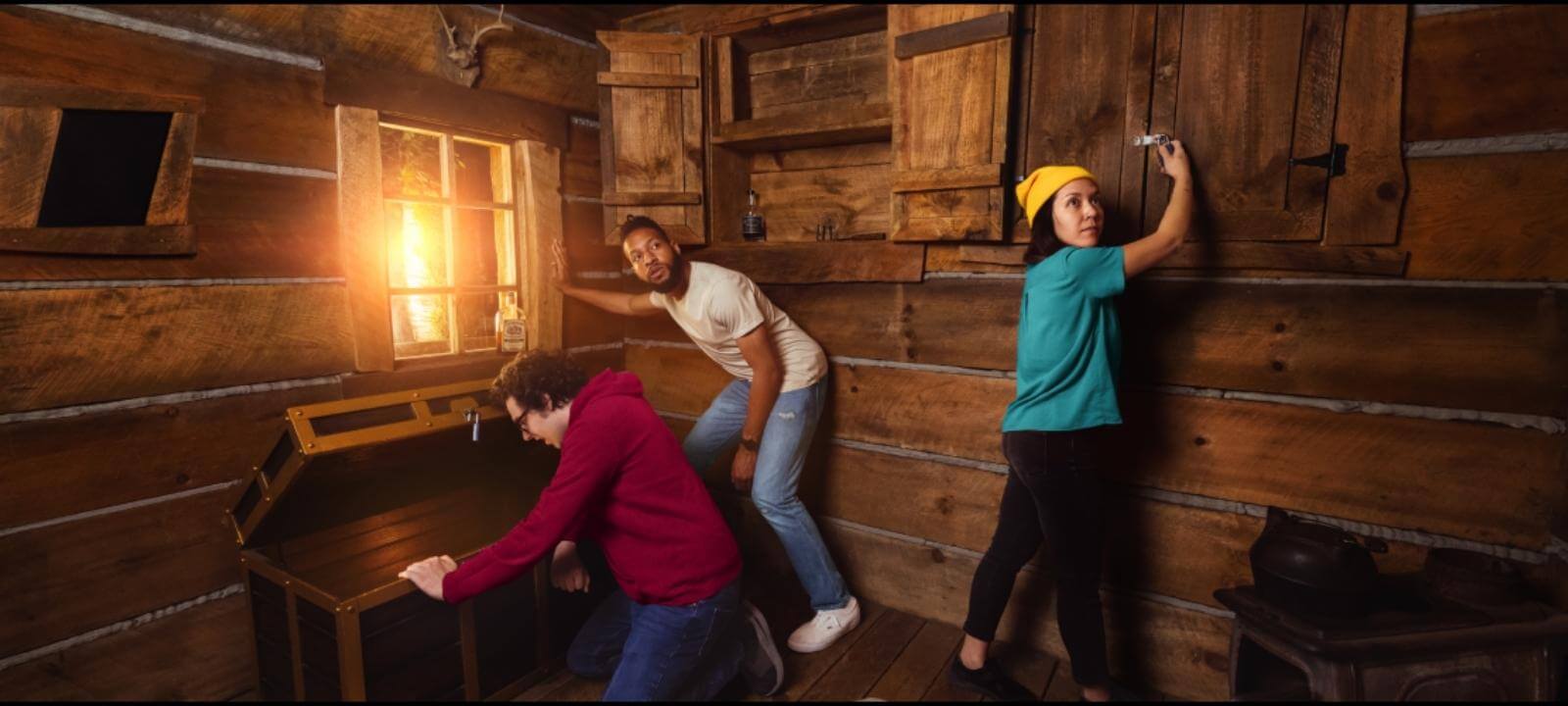 GROWING TO 22 ESCAPE ROOM LOCATIONS AND SEVERAL VIRTUAL GAMES
KEY TAKEAWAYS
Reducing friction for booking in-person and remote games
Why they switched to Xola from their previous booking solution
How they successfully pivoted to virtual games in the spring of 2020
Xola as a growth partner
The Escape Game has come a long way since its humble beginnings in Nashville in 2014.
Seven years later, The Escape Game employs about 500 employees in more than 22 locations across the U.S. from NYC and Atlanta to Austin, Las Vegas, and San Francisco. They've also expanded and released several virtual games in the process.
In this success story, we're sharing their growth journey along with how they were able to pivot successfully into virtual games in 2020.
MASTERING BRANDING AND STORYTELLING TO GROW THE BUSINESS
When many escape rooms were afraid to share photos of their rooms for fear of giving away "their secrets," The Escape Game took the opposite approach with savvy branding and excellent storytelling.
Daniel Daher, the Senior Manager of Retail Marketing of The Escape Game, says, "I think we were one of the first ones in the industry that actually showed pictures of our games, which sounds crazy now, but back a few years ago, it was like, 'Do we show actual pictures of inside the rooms?' And there's a lot of escape rooms that still don't do that.
We gladly show off rooms and do game previews where someone walks into our locations, and we show them the room like, 'Hey, just walk in. Take a look around. What do you think?' So just doing more to show off the games, so people understand what the experience is."
They doubled down on this approach to share their story and behind-the-scenes content through content marketing, social media, and partnering with influencers.
"I think for us as a company, it's way more of a focus on content, where we've invested more and more into showing off our games," says Daher. "We've invested in telling people about the experience, showing off what our games are about, behind the scenes of how we create them, and giving people more of an idea of what the experience is going to be like before they step into it. That meant a bigger focus on content distribution and organic traffic versus paid, and creating more awareness of the category and more excitement for it as an option as out-of-home entertainment."
SWITCHING TO XOLA
As the business expanded into more locations and their needs became more complex, it became apparent that they had outgrown their original booking software.
"I think the biggest thing for us was that we had so many blind spots since we didn't know where bookings were coming from," says Daher. "We couldn't track advertising spends. It was just a mess. We were flying blind, just throwing stuff at a wall and not knowing exactly what was working for us."
Enter Xola.
"We were really just excited by the capabilities that Xola had, everything from the ability for how it would look on our website to the backend being so pretty and functional," says Daher. "I know that another issue with our previous provider was that the reporting was not really working or consistent. Trying to even navigate the backend of it was so hard.

And Xola solved all that for us, where the backend is laid out so well. It's so easy to create coupons and run reports. I know those were all things that drew us to Xola."
This also means they can spend more time on growing and managing the business instead of having to train the team on how to use Xola.
For example, when Dylan Ward joined the team as Digital Marketing Coordinator, he was able to learn how to use Xola on his first day.
"It makes it so easy that from the first day that I had access to Xola when I started, I had no questions of figuring out the platform because it is very intuitive and made complete sense from the get-go."
They are also now able to track where they are getting customers from.
"The main thing for me, at least as a marketer, is the tracking, to know, are my ads working," says Daher. "Where are people coming from? To be able to look in Google analytics and see where bookings are coming from, instead of it being 95% just direct traffic, that's great.
Plus, anybody in our company can go into Xola, pull reports, create coupons, and know what's happening with the business. That wasn't always the case. The data being so accessible is a big game-changer for us, because before it was just our guest experience team, the people that are on the phones and that are in the booking platform day in and day out, they were the only ones that really had access to that information."
PIVOTING TO VIRTUAL GAMES IN THE SPRING OF 2020
The COVID-19 pandemic dealt a massive blow to the escape room industry. It is not an understatement to say that most people didn't want to solve puzzles in a locked room with a bunch of people they may or may not know so well.
The Escape Game was thrown into "survival mode" in March 2020.
"Every location was shut down, and we had $0 in revenue, literally $0 in revenue in April 2020," says Daher. "For the number of team members that we had, it is a very scary thing. You don't know how long it's going to last. You don't know what's going to happen. And so, we immediately started talking about how to pivot.
We did have a product called Unlocked, which is not really related to Xola, but it was a physical box that you would take home, and it had clues in it, and it was like this little mystery box, and you would solve puzzles, go through this mission, and it was related to our games in real life. It was like a continuation. There was some online aspect to it as well. And immediately, we just started digitizing those physical clues and selling Unlocked digitally. And then once we saw that happen, it was exciting to get any win at that time."
While Unlocked wasn't a significant revenue driver, it showed the team what was possible, which opened the door to much more successful, immersive virtual games.
"I think it was our marketing director's idea originally who said, 'Man, what if, what if somebody could play our games in a Zoom call?' And I was skeptical," says Daher. "I was like, 'Teddy, that's never going to work.' From my perspective, my favorite part is the immersion.
Remote Adventures just felt like our games minus immersion, and it was like it would be this lesser experience.
Our game and product development teams went to work. We built online dashboards where you're able to watch your mission video, have 3D scans of the room, see your time, clues, and all of your puzzles are in there. And once we started seeing people being able to interact and have that experience, it blew up. It's amazing to see guests loving that. And, it's still a big part of our business now, and I think it will continue to be moving forward. So it was all COVID-related, but something that we're still developing now. It's not going away."
When they launched these games, the team was thinking about how to bring in revenue again. The result has been far greater than they originally anticipated. They are not only bringing in significant revenue from their virtual games but also opened up an entirely new audience.
Guests can experience the magic of their games in any of their 22 locations as well as all over the world online, including large corporate groups.
"It's a completely different audience for us," says Daher. "There are a lot of corporate groups for remote workers and for companies that may be back in the office, but they're big companies with multiple locations across the US or across the globe. And so we'll have a team who are in a location in Singapore play with teams that are working for the same company in LA, and they get to have the same experience together at the same time. Being able to facilitate that is a real joy.
And the same thing for family members that maybe don't get to see each other as much and they live in different parts of the country. They get to have an experience together. Or just escape room enthusiasts who may have heard of The Escape Game but haven't made the trip to the States, but they're in Europe and Egypt and Australia and all these places where we've had people play. We're able to reach enthusiasts across the globe."
Because of this, they've not only been able to get bookings all over the world, but they've also had successful partnerships with massive brands, like Amazon and Nickelodeon.
REDUCING FRICTION FOR BOOKING IN-PERSON AND REMOTE GAMES
"We never want to make the process harder," says Daher. "Us and Xola are aligned on that in trying to make the booking process simpler and easier for the guest, and so that has helped us just be better and have higher conversion rates and be able to serve more guests."
As they scale both in-person and remote games, the team is focused on streamlining marketing and operations.
"It's a whole new set of opportunities and things that we have to do from both a marketing and operations perspective," says Daher. "How do we manage having remote adventures or virtual escape rooms that are tied to physical spaces? "How to book those? How to use Xola to be able to book those and know what location is going to serve those guests. Time zones and all the challenges that come with that. And then how to reach all of those people and meet them where they're looking for virtual entertainment or team-building."
One thing that's stayed at the forefront for The Escape Game is an obsessive focus on guest experience.
"Epic hospitality is what is most important to us," says Daher. "We are as guest-centric as it gets for a company. Our company mission is to design and deliver epic interactive experiences for every single guest. Every single guest being the most important part. We don't let that drop, and that means for virtual as well."
XOLA AS A GROWTH PARTNER
This obsession with customer experience is something that the team also looks for in the software that they partner with.
"Xola being very responsive to us has been a huge benefit," says Daher. "It makes what could easily be the most complicated part of the business much easier. And, it's a company that we enjoy working with."