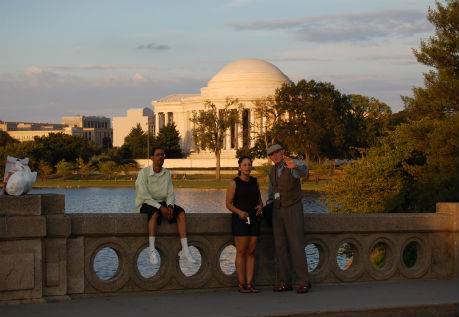 WALKING TOUR RACES UP THE RANKINGS AFTER SWITCHING TO XOLA
ORIGINS
Carolyn Crouch did not always believe she would be leading tours through the streets of Washington D.C. She moved to the city over twenty years ago to pursue a graduate degree in acting. A honeymoon in London, however, changed her fate.
Within her first walking tour of London, she was hooked. She thought it would be a great filler job to do in between acting auditions back in the Nation's Capital. But upon her return to the States, she noticed there were no walking tours to be found.
That didn't last long. Soon after, Crouch dedicated her full attention to filling this void, and in 1999, Washington Walks was born.
Washington Walks proved the perfect way to spread Crouch's love of the city she called home. "I started with the aim to show that the Nation's Capital is a hometown, with beautiful and historic neighborhoods across the city," Crouch says.
"There is much more to D.C. than just the famous monuments and the National Mall. With a walking tour, people get to see that."
CHALLENGES
"In our early years, we got really lucky," Crouch says.
Initially, Washington Walks found customers with the help of Cultural Tourism D.C., which featured Crouch's tour in a weekly newsletter sent to thousands and thousands of people.
With an exponential increase in exposure and more people wanting to book tours online, Crouch decided it was time to let a booking software handle the Washington Walk's reservations. However, she faced three critical issues with the new software.
Firstly, she could not access the email addresses of anyone on her tours.  Crouch found this issue bothersome, as she felt herself losing personal contact with many of her customers.
Secondly, the reviews customers were leaving failed to reach the most popular review websites. They lived only in the closed ecosystem of her former software provider, not on important websites such as TripAdvisor, Yelp, or Google+. "We had all these really positive reviews. But no one could see them," Crouch says.
Lastly, her online booking software made it difficult to actually book online. Potential customers were forced to set up an account to complete their purchase. Without any option for a guest checkout, customers complained that this process was a major nuisance.
Although these issues seemed trivial initially, they ultimately became major impediments to the growth of Washington Walks.
"We started getting bookings and new reviews immediately. And these reviews were going out to the nicest and biggest site in the industry."
THE BIGGER PICTURE
These problems started to negatively affect Washington Walks' customer base. Not only was Crouch losing personal touch, but, more importantly, the loss of the specific email addresses of her customers hurt her marketing campaigns. Without these contacts, Washington Walks was losing many of its repeat customers, a key component to its success.
As the tourism scene became more crowded in the nation's capital, Crouch realized maintaining a strong online presence was essential bringing in new customers. Washington Walks' reviews have always been overwhelmingly positive. However, trapped in a the closed world of her former software provider, she found that people were not reading them. Washington Walks was stuck in the high 70's out of 108 rated activities in the Washington D.C. area on TripAdvisor.
Forcing customers to create an account proved to be the final breaking point for Crouch and her guides at Washington Walks. This portion of the checkout was not only a nuisance, but also huge deterrent to business. Online shopping cart abandonment rates are already exceptionally high in the travel and tourism industry; forcing consumers to create a login adds valuable time to the checkout process, resulting in more abandonments and less customers. Crouch's experience with her former software reflected this fact. "We saw our customers drop significantly," Crouch says, "We needed to make a change."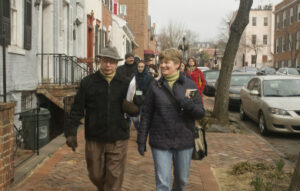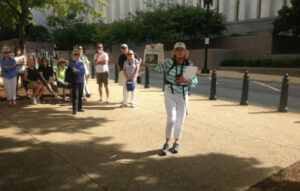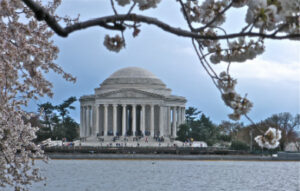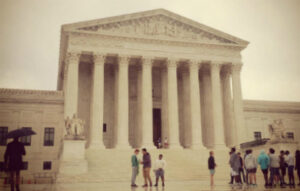 A NEW WAY
Crouch needed an unobtrusive booking system–one that would streamline the online checkout process with as few distractions as possible. She also needed a system that would capitalize on the broad potential of online review websites. In essence, Crouch needed a way to keep her old customers coming back all while reaching new ones.
Seth Kamil from Big Onion Tours in New York thought he had just the thing for Crouch: a booking and marketing system that offered a solution to these persistent challenges.
SUCCESS WITH XOLA
Upon signing up with Xola, Crouch was elated. "It was exactly what we were looking for," she says. The process of switching over from Washington Walk's old booking software "was very easy. No big deal at all," according to Crouch.
The ease that Xola provides has allowed the expansion of Washington Walks. With Xola, Washington Walks has capacity to retain old customers and reach new ones with expansive and innovative marketing tactics.
Since the switch the Xola, Washington Walk's presence on TripAdvisor has improved drastically. Carolyn says, "We started getting bookings and new reviews immediately. And these reviews were going out to the nicest and biggest site in the industry."
After changing its reservation software to Xola a little over a year ago, Washington Walks has seen a 270% increase in TripAdvisor reviews. Washington Walks has jumped from its position in the high 70's to the 32nd rated activity in Washington D.C. "Being higher up in the TripAdvisor ranking has helped us gain a wider audience," Crouch says. And with more time using Xola, she is confident this ranking will continue to skyrocket.  
"What I really love," Carolyn says, "is as my business evolves, Xola grows with me." The future for Washington Walks is bright. With strong reviews and an ever-expanding audience, Crouch can continue to share her love of Washington D.C.