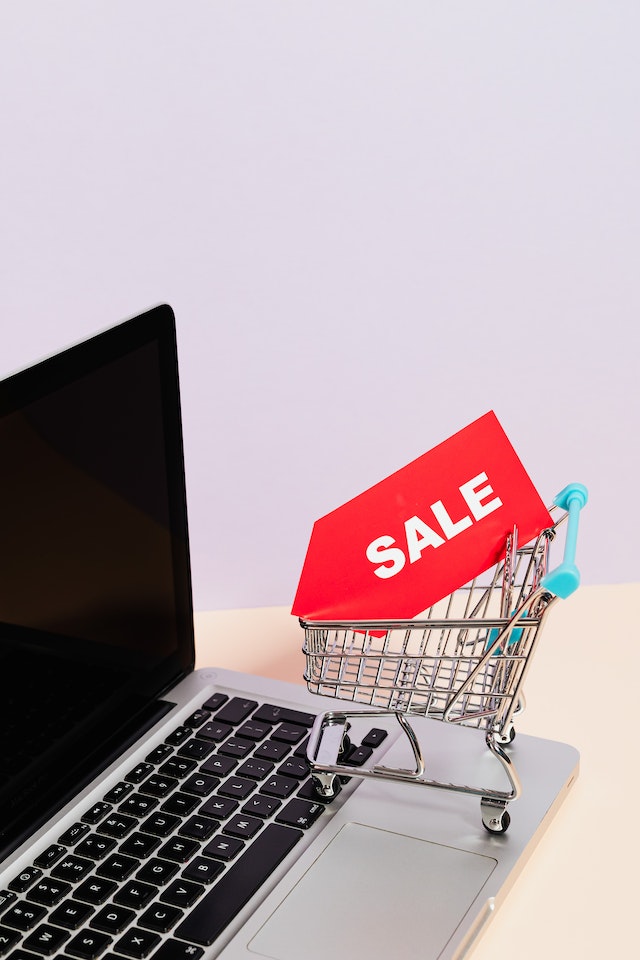 In today's competitive travel industry, tour operators need to find effective ways to attract new customers and retain existing ones.
Gift cards are an excellent tool for you to promote your business to new customers and encourage repeat visits from past guests. They not only provide a convenient and flexible way for customers to purchase tours but also offer an opportunity to increase your revenue and build brand loyalty.
In this post, we will explore 20 creative gift card promotion ideas for tour operators that will help boost sales, attract new customers, and keep existing ones coming back for more.
1. Buy One, Get One sale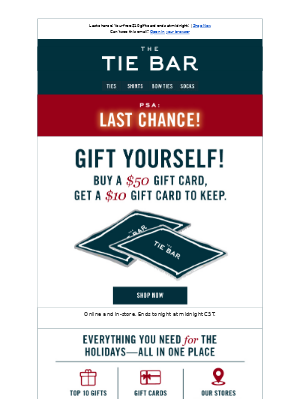 Everyone loves a BOGO sale. In this case, you'd offer customers a free gift card for one they purchase. While this isn't a promotion you would run every single day, it could be useful in driving sales during your slow season. A ski resort, for example, could run a BOGO sale during the summer, when its slopes are making any revenue.
As we can see in the example above, BOGO promotions encourage customers to make a purchase by offering them something extra. The Tie Bar spins the deal as a way to buy a gift card for a friend and receive something back for themselves, too. The business couples the deal with a feeling of urgency by telling customers it's their "last chance" to snag one, giving them an extra push to buy one.
2. Limited-time offer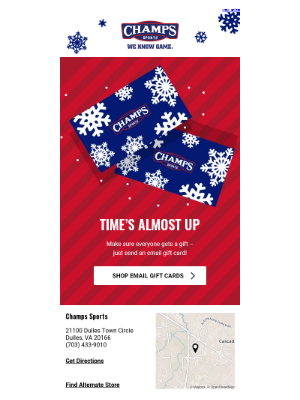 Run a time-limited promotion offering customers a discount or bonus gift card with their booking. Limited-time offers create a sense of urgency, making the customer feel like they need to act sooner rather than later to take advantage of a good deal. This could also be a great tactic during the slow season, when operators want to boost sales to make up for the lack of bookings.
3. Sell a gift card bundle
Offer customers a bundle of gift cards at a discounted price. For example, you may offer a bundle of two gift cards for 10% off. This encourages a bigger purchase and drives up your average order value, bringing your business more gift card revenue. This could be a great campaign to run during the holidays when your customers are looking for unique gift ideas for their loved ones.
4. Offer a tour discount when customers purchase gift cards
Drive more sales by offering a discounted tour or entrance ticket with the purchase of a gift card. For example, when customers purchase a gift card, they'll get 10% off their next booking. Again, this could be a great tactic to drive sales during your low season. You can promote the campaign via email or social media by encouraging customers to buy a gift card now and use their discount at a later date when it makes the most sense for them.
5. Partner with local businesses
Reach out to local businesses like a cafe, museum, or another tour operator to see if they're interested in selling a gift card bundle. Let's say you have a cafe that you refer guests to before or after your tour. Together, the two of you could offer a bundle of gift cards to both establishments. You could even offer this bundle at a discount to encourage more sales. Now, you'll not only be promoting your gift cards to your own customers but also to the cafe's customers — it's a win-win situation.
6. Work with influencers to showcase your gift cards
Partnering with an influencer in your niche can expose your company to a slew of new customers. Influencers have engaged audiences that trust their recommendations. You could invite an influencer on one of your tours and then have them promote the gift card after they showcase their experience on social media. You could even have them host a giveaway, in which they ask their followers to follow you to enter a raffle to win a gift card for your business.
7. Host a special sale to promote gift cards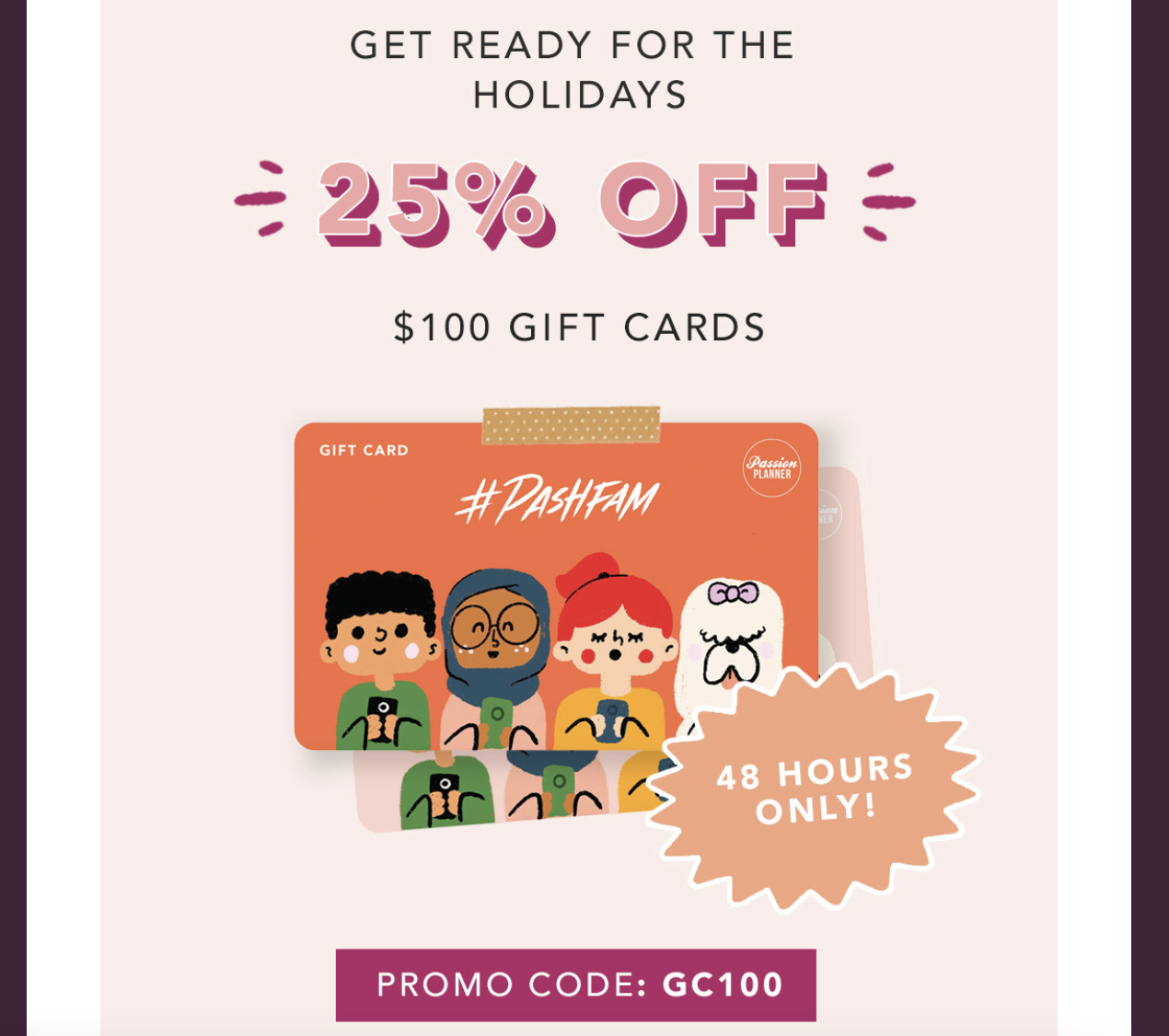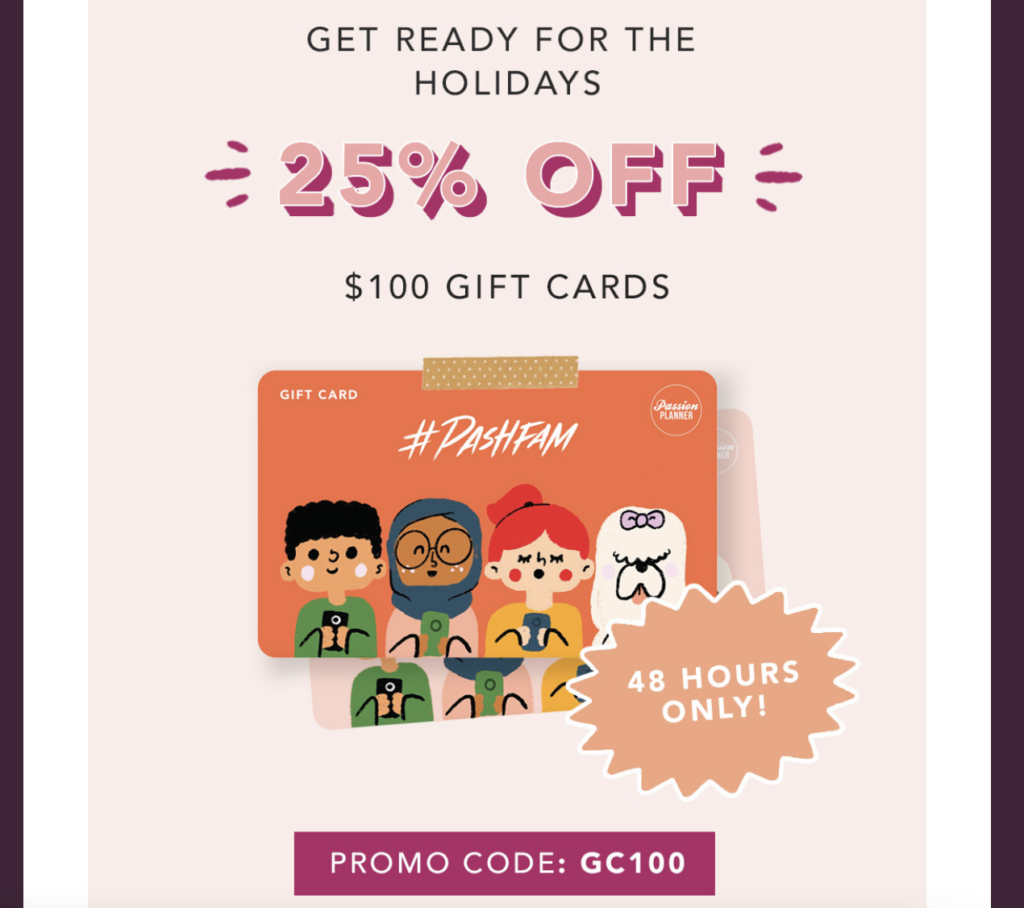 If sales are particularly slow, you can generate some excitement around gift cards with a special event or sale. The sale would be centered on the gift cards themselves. You could tease it on social media and via email a couple of weeks before launching your gift cards at a discounted price — such as a Buy One, Get One kind of deal.
In the example above, a business offers 25% off a $100 gift card, meaning the customer can buy $100 worth of products for just $75. Even if a customer has no one to gift it to, they might take advantage of the deal and buy it for themselves.
8. Reward customers for referring a friend
Reward customers with a gift card for referring new customers to your business. Not only will this drive loyalty among existing customers — who will now use their gift card for a repeat visit — but it will also bring you new customers.
9. Run a holiday-themed promotion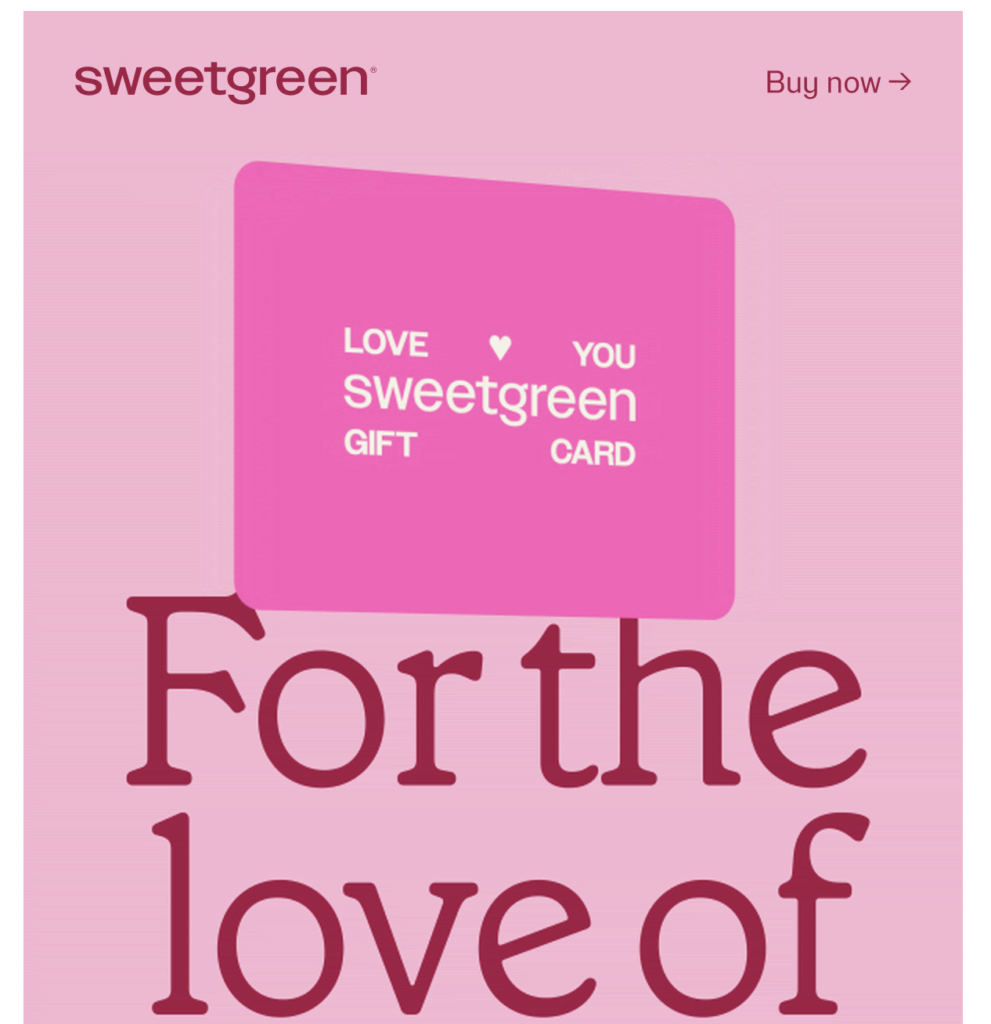 Run a promotion around specific holidays, such as Valentine's Day, Mother's Day, or Christmas. You can also get creative with national "themed" days, such as "National Ice Skating Day" on January 1st. Jot down all the ones that make sense for your niche and plan promotions around them.
Sweetgreen, for example, created a gift card campaign for Valentine's Day. The pink colors and love-themed messaging makes it clear that this is a holiday-specific deal, which makes it an appealing purchase for someone who's partner is a fan of the brand.
10. Send customers a birthday discount
There's no better way to show a customer you appreciate them than sending them a special gift on their birthday. In this case, you can send a gift card, or offer them a discount when they purchase one during their birthday month. This is a personalized promotion that will win your customers' hearts and make them more loyal to your brand.
11. Celebrate your business anniversary
Every business anniversary calls for a celebration. Why not get your customers involved? This year, celebrate your business's anniversary by offering customers a discounted gift card. For example, if your business is turning 7 years old, you can offer a 7% discount on your gift cards.
12. Run a social media giveaway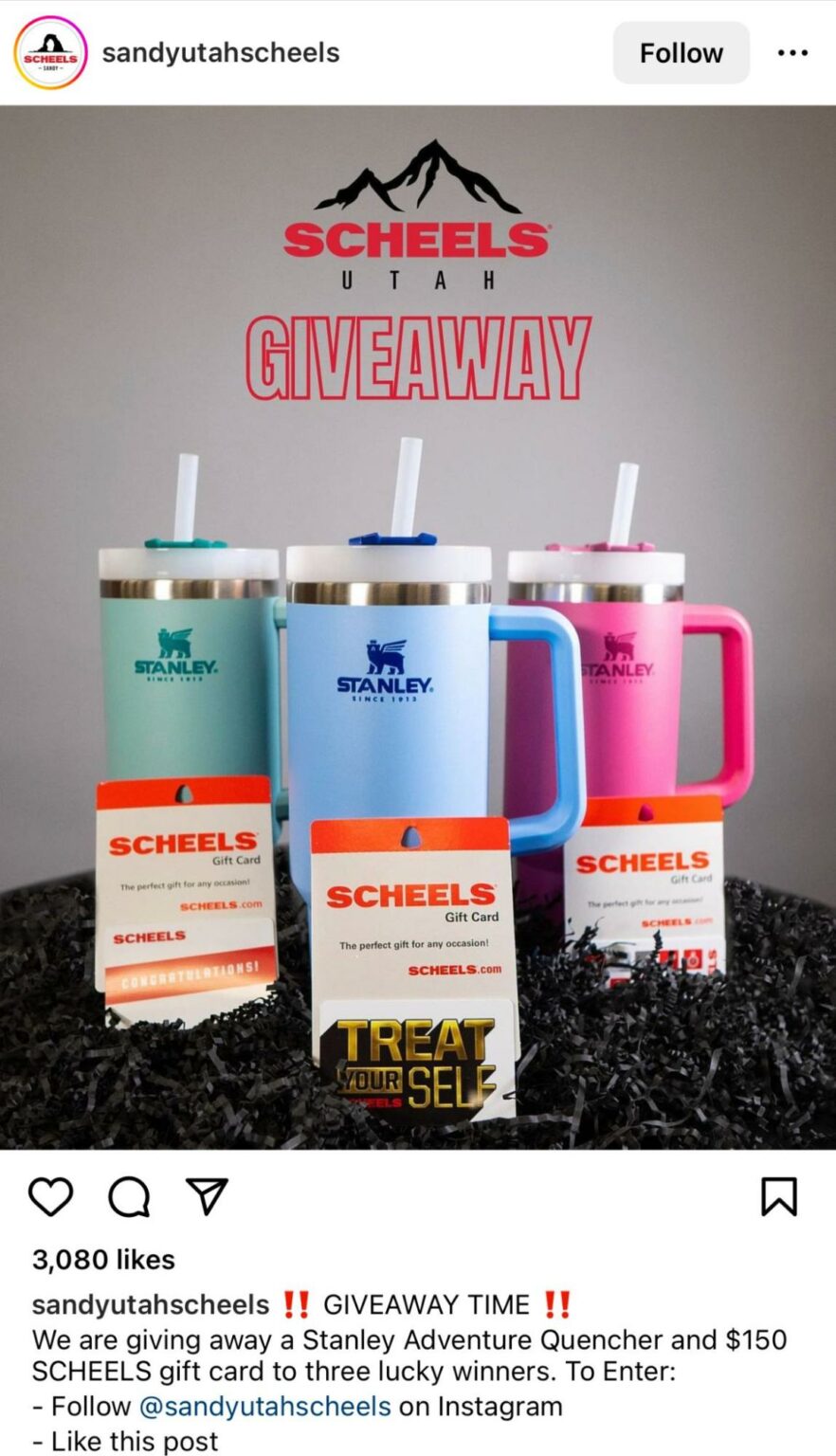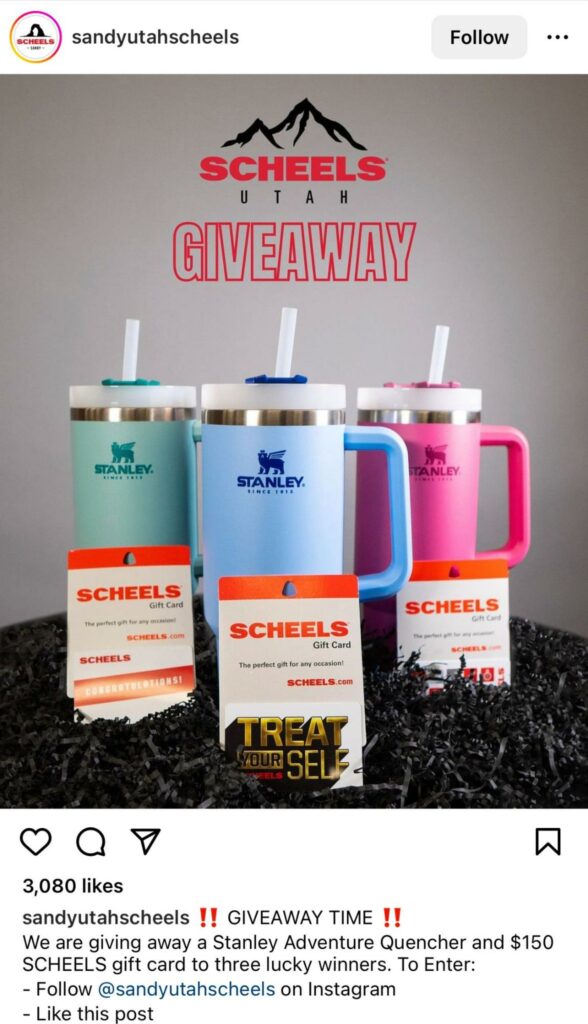 A giveaway is a great way to generate excitement around your gift cards. Giveaways generate a lot of engagement with your followers because they require them to complete a certain number of steps to enter.
For example, you'll post a graphic announcing the giveaway on social media and ask followers to follow your profile, like the photo, and tag who they would like to share the experience with. Every time someone tags a friend, you're gaining additional exposure. So a giveaway is a great way to not only generate buzz around your gift cards but can also help you engage a new audience.
Scheels promoted its gift cards through an Instagram giveaway in which the winner could win a gift card and a Stanley mug. The graphic has the words "Giveaway" right at the top so that viewers instantly know that this isn't a typical Instagram post. The brand also does a great job explaining the instructions to enter, which are quite easy: Follow them and like the post.
13. Promote them in your newsletter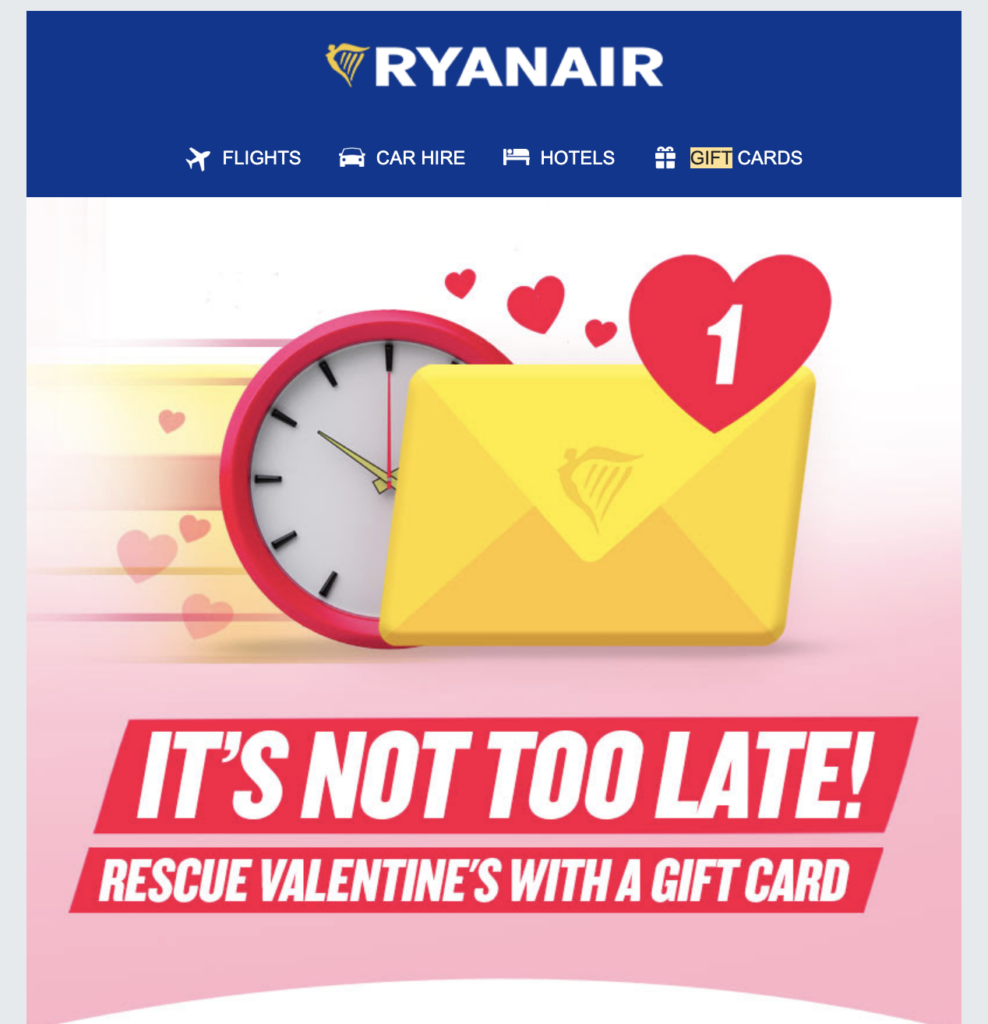 Add a call-to-action to buy a gift card in your next newsletter. Your newsletter subscribers are already familiar with your brand, and many of them may have already visited you. If they enjoyed the experience, they'll be more inclined to purchase a gift card than someone who's never heard of your company before. Now and then, don't forget to promote your gift cards to your email list.
Ryanair sent its email list a Valentine's Day-themed promotion that was geared toward last-minute shoppers. "It's not too late to rescue Valentine's" the brand says, appealing to customers that have yet to buy their significant others a gift. Ryanair knows that buying a flight is too much of a commitment. A gift card, however, can be the perfect gift for travel-lovers.
14. Personalize the experience of buying a gift card
Many times, someone buys a gift card because they're not sure what else to get someone. And they might feel a bit guilty about this. However, if you personalize the gift-buying experience, you can help alleviate some of that guilt. For example, you can allow the buyer to add the recipient's name and a short description in the gift card delivery email to make the gift feel more personal.
15. Early Bird special
For attractions and tour operators, the early bird pricing strategy can be the secret to selling out a tour or event. It can work just as well for gift cards, too. To implement this, you can offer a discount on gift cards purchased before a certain date. For example, "Buy a gift card for a river rafting tour before May 1st and receive 10% off!"
16. A package deal
When you first start selling gift cards, you'll need to generate some buzz around them to get the news out. Offering a gift card when customers purchase a package deal that includes multiple tours is a great way to do that. For example, if a customer purchases a package that includes both a whale-watching tour and a kayaking tour, they'll receive a $100 gift card for their next adventure.
17. Encourage social media sharing
Gift cards can also be used to encourage customers to talk about your brand. For example, you can offer a gift card for customers who share a photo or review of their tour on social media. You might say something like, "Share a photo of your experience on Instagram and tag us to receive a $25 gift card!" This will generate buzz around your tours and your gift cards.
18. Encourage repeat visits
Create a special gift card sale for customers who have booked a tour with your company in the past. For example, you can encourage them to book their second tour with you and receive a $25 gift card for their next tour.
19. A group discount
If your company hosts big private parties, family events, or corporate gatherings, you can create a group-specific gift card campaign. For example, you can offer a $50 gift card to customers who book a tour of five or more people.
20. Offer a gift card bonus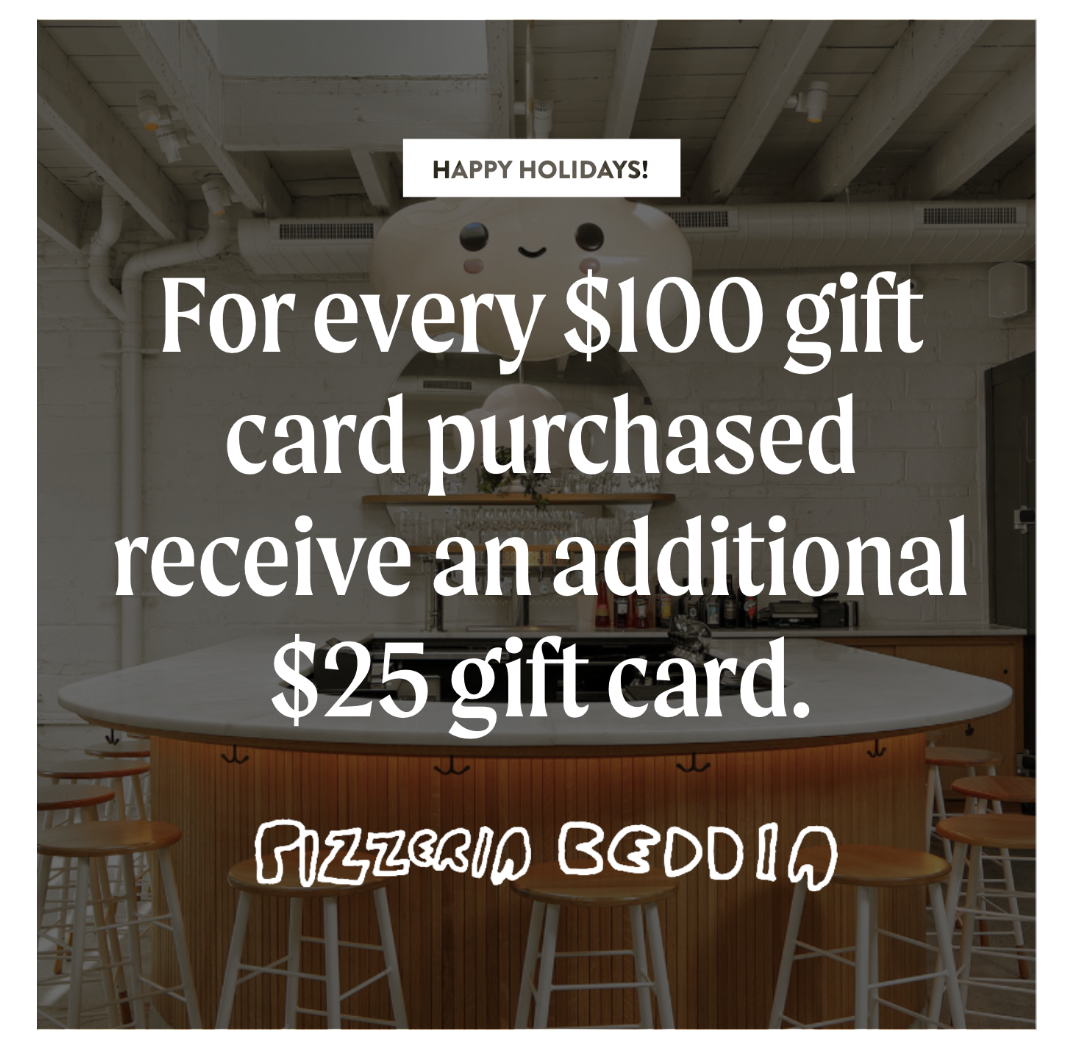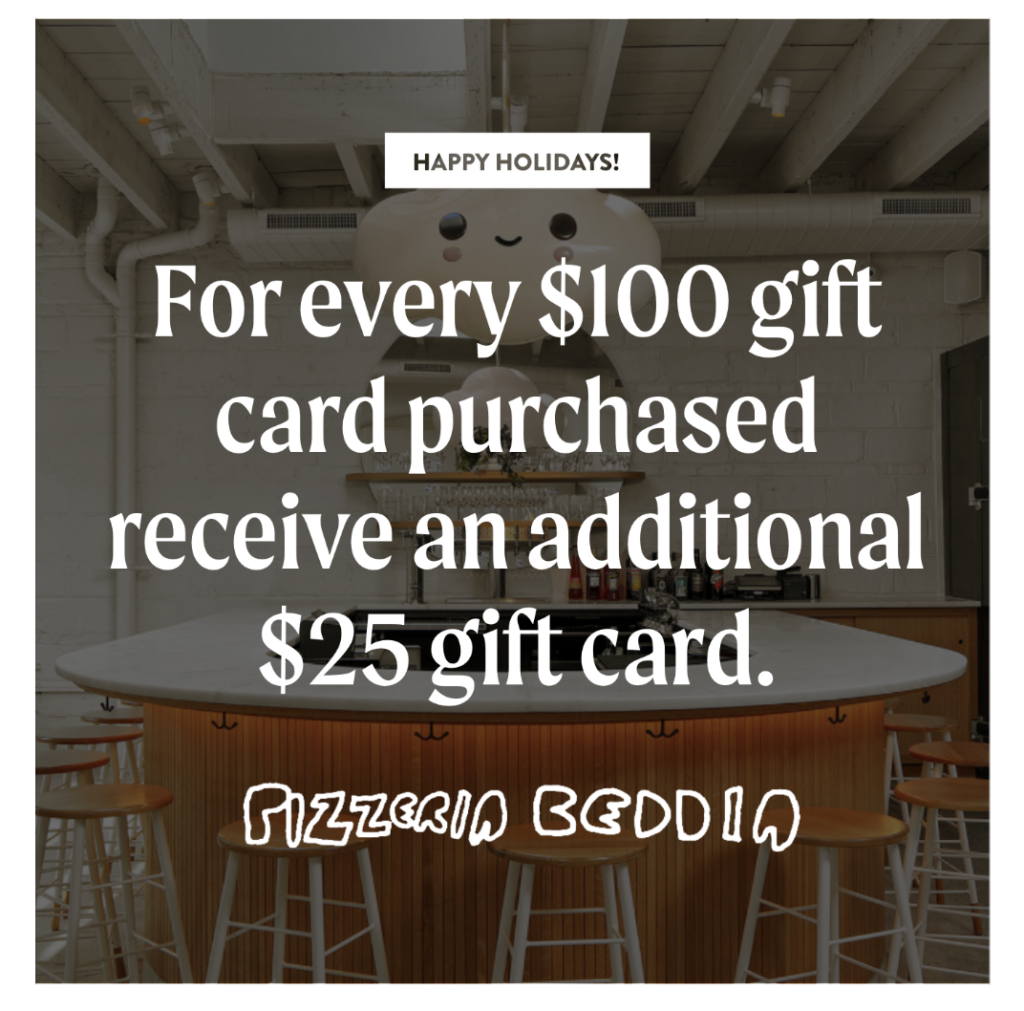 Encourage bigger gift card purchases by offering a bonus for customers who purchase one above a certain amount. For example, if a customer buys a gift card for $500 or more, they'll receive a bonus $100 gift card.
Over the holidays, Pizzeria Beddia ran a gift card sale offering an extra $25 on $100 gift cards. This is a very appealing deal for the pizzeria's fans, even if they're buying a gift card for themselves. Who wouldn't want $125 worth of their favorite pizza restaurant? The pizzeria successfully communicated the deal in a clean and simple email campaign that targeted customers that have visited the restaurant in the past.
***
By implementing creative gift card promotions — such as buy-one-get-one-free specials, package deals, or personalized birthday discounts — tour operators can differentiate themselves from their competitors and generate brand loyalty with their customers.
As you're going through this list, think about your target market and which tactic would appeal to their interests and needs. For example, if your audience is very social media savvy, you can focus on giveaways and social sharing.