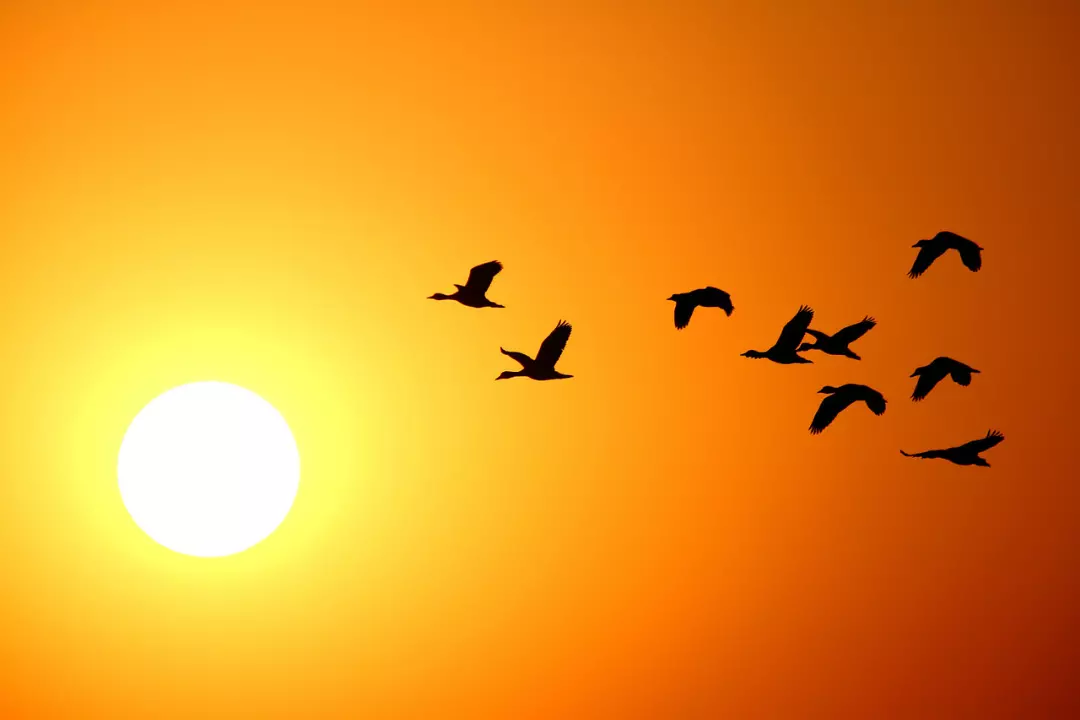 Nothing makes a tour or attraction ticket sell faster than a discount with a deadline.
For attractions and tour operators, an early bird pricing strategy can be the secret to selling out a tour or event. Whether you want to drive more direct bookings through your website or max out your capacity, early-bird discounts can help on both ends.
When this deal comes with a limited quantity and a real deadline, then your guests will really feel the urge to book sooner rather than later.
In this post, we'll share the blueprint for early bird pricing — including how tour businesses and attractions can use this pricing strategy to boost your booking volume.
What is an early bird pricing strategy?
An early bird pricing strategy offers a discounted rate to encourage customers to book or purchase tickets well in advance of the actual experience. It's a strategic marketing strategy meant to drive sales weeks or months before an event or tour.
The discount typically falls between 10% to 20% and can be shared as early as six months in advance. Typically for events, though, they're shared 10 to 15 weeks ahead of time.
They're only offered for a specific period of time before the regular pricing kicks in. Early bird deals are typically limited in quantity, too, which makes guests feel a sense of urgency to snag the deal before it's gone.
If attendees or guests feel that they have a limited amount of time to receive the discount, they'll feel more inclined to book now rather than later. Also, if they see that there's a limited number of bookings, reservations, or tickets available, they'll want to act quickly to snag one.
It acts as a special perk for customers who are committed to attending your event, tour, or attraction, and helps push those who are still on the fence.
Early bird deals can also help your company better plan for the future since it gives you an idea of the volume of guests to expect.
When to implement an early bird offer
If your business isn't operating at full capacity and has room to grow, early bird offers are a great tool to boost your booking volume.
So when should you set an early bird offer? You can start promoting one as soon as possible.
As soon as you've set a date for your event or tour, you can start offering early bird specials up to 6 months before the experience. And if you're an attraction operator, you can offer early bird deals for anyone who wants to purchase tickets well in advance of their visit.
Early bird offers can be especially useful during your slow season. You can use them to increase interest for your peak season early on, while bringing in revenue at a time when sales are typically slower.
As an added benefit, you'll also have a better idea of how many people are expected to show up during your busy season. This will let you better manage your capacity, like hiring additional staff or investing in new equipment.
While the end date for the special can vary, they usually run until 2 to 3.5 months before the tour or event. At that point, the regular price kicks in.
When you shouldn't implement early bird pricing
Companies that are operating at or near 100% capacity won't benefit much from early bird pricing. If your tours or tickets are selling out at full price, it wouldn't make much sense to offer them at a discount.
Early bird specials tend to drive more bookings, which could put an at-capacity tour operator or attraction over the edge.
Perhaps your business is routinely booked during specific times of the year. Then, you'd wait to launch your early bird special for the slower months, aiming to drive more bookings when you can accommodate the extra volume.
You should also be mindful of the dangers of fake scarcity deals.
Using the illusion of scarcity can accelerate demand and convince your guests to buy sooner than usual. Yet false scarcity can hurt your credibility or make your guests search for alternative options where more tours or tickets are available.
How to create an early bird offer
Before creating an early bird offer, you should dig into your financial reports to find out what's possible for your business.
The goal of an early bird offer is to drive more direct bookings and bring you more revenue — but if you cut too deep into your margins, you might not make a profit.
Your early bird strategy should be a balance between what makes sense for your company and what convinces your guests to book in advance.
After you've settled on a discount plan, you can follow these steps to create your early bird offer:
Launch a limited number of early bird tickets: Decide how many tickets you can sell at the discounted rate. Then, promote the limited number available.
Set a deadline. Decide for how long you'll run the early bird special, and inform your customers of the deadline.
Create a landing page on your website. Every time a potential customer clicks on an ad or banner about the deal, they'll be taken to this page. There, you'll display the details about the offer, including the number of tickets or bookings available and the deadline. The page should have an eye-catching call to action that persuades guests to make a booking or purchase on that page.
Pro tip: Use a countdown timer on your landing page or email blasts to create a sense of urgency and give your guests the feeling that time is running out. Be careful not to use these timers all over your website because your customers can get annoyed or no longer believe them. They can work, if you use them honestly.
Send an email blast about your offer. In fact, you can exclusively open up the deal to your email subscribers before offering if to the public. By giving them first dibs on the special, you're showing them that you value their loyalty. This can also help you gain more subscribers in the future.
Track your results. Your website analytics will show how much traffic you've driven to the landing page for your early bird offer. And your booking software can break down the sales you've made with the offer.
8 strategies to launch your early bird pricing
Follow these eight strategies to ensure your early bird special is successful.
Offer the discount to your email subscribers first
Your email list subscribers are more familiar with — and loyal to — your brand than the general public. It's a great place to start promoting your early bird offer.
Not only can this strategy help you drive more conversions at the start of your early bird campaign, but it also makes your contacts feel special. By offering them first dibs on the offer, you're showing them you value their loyalty.
If you're planning on launching an early bird special for an event or tour you're currently running, you can start offering it during the event. Before the experience is over, give your current attendees the chance to re-book the experience for the following year or season — at the early bird price.
Your guests will be living in the moment and still feeling the excitement of the event, tour, or attraction they just experienced. If they loved it, it won't take much to get them to book it again, especially at an early bird rate.
Promote your flexible cancellation policy
Making big travel plans in advance can be uncomfortable, especially during a pandemic. Your guests will likely want to know their options if they can no longer make it to your event, tour, or attraction.
This is why flexible cancellation policies have become a big selling point. Guests will be more inclined to book in advance if they know that they'll get a refund or a credit if plans change.
As you promote your early bird offer, make sure to include information on how late guests can cancel, whether they can receive a refund, and how easy the process will be.
Make sure your landing page has compelling visuals and a clear call-to-action
Show your visitors what they're missing out on if they don't purchase the early bird special. Display photos of past events or tours on the landing page, including ones that show people having a great time.
Your landing page should also feature a clear call-to-action, such as a big and colorful "Book Now" button that guests can easily locate.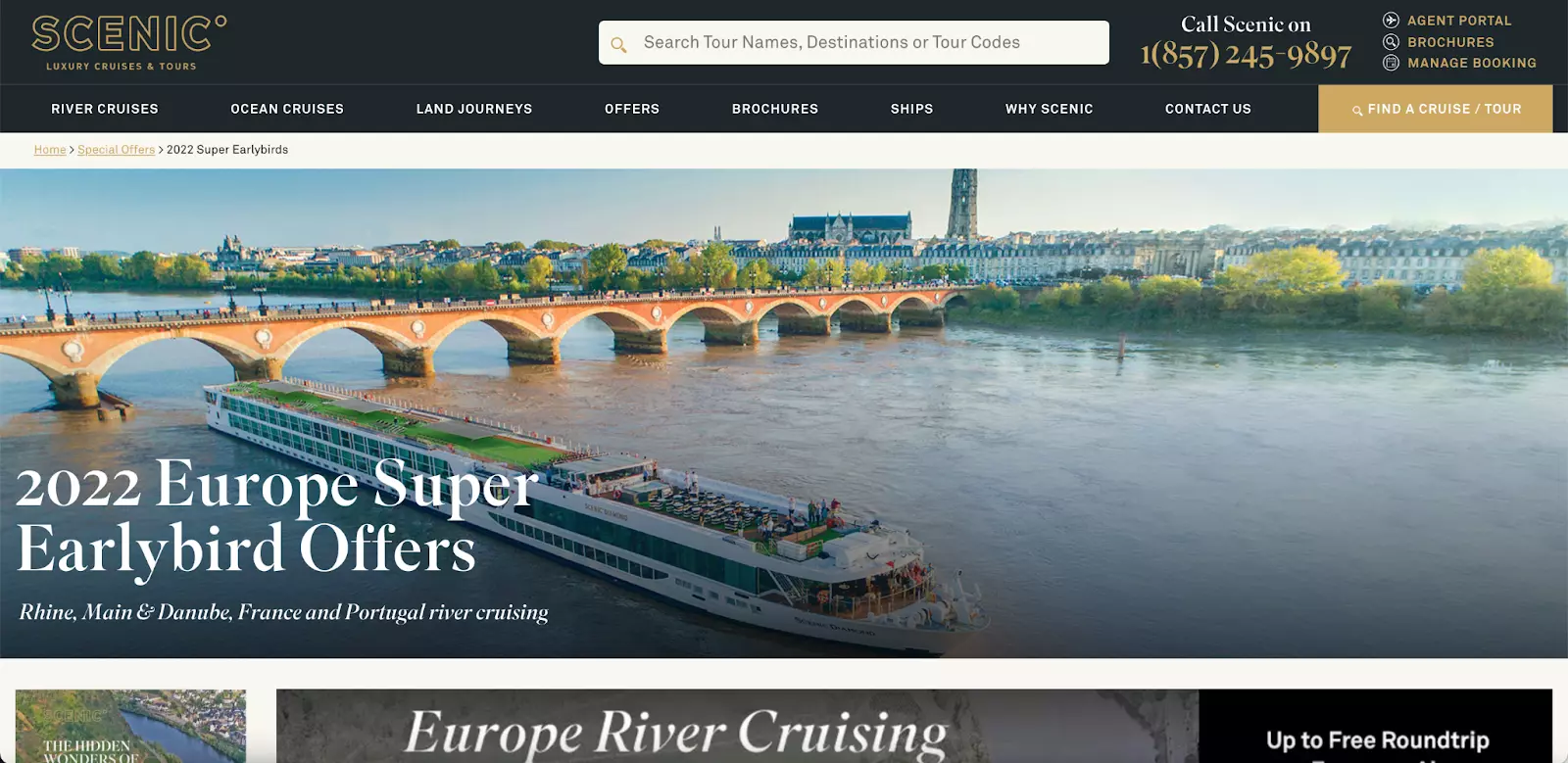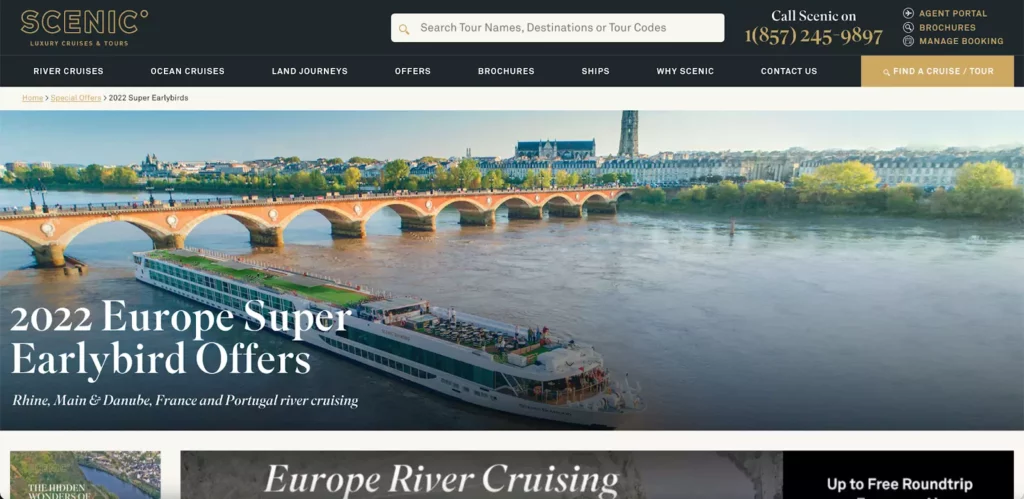 Scenic Luxury Courses & Tours is driving early cruise bookings by offering steep discounts on its European voyages. For 2022, current early bird offers include $3,000 off per couple for cruises in Bordeaux, France, and Porto, Portugal.
This early bird special drives not one but two bookings since it's sold as a package deal.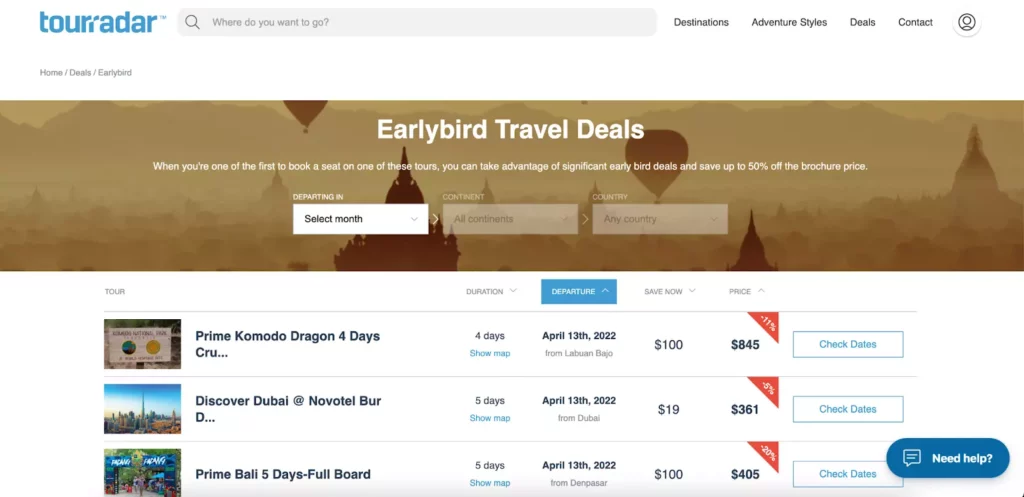 TourRadar, an adventure tour booking platform, groups its early bird travel deals on the landing page shown above.
Travelers can clearly see that they'll get up to 50% off the regular price if they book early. Several deals to places like Dubai and Peru are shown with discounts ranging from 5% up to 50% off, with the call-to-action prompting guests to "check dates" for their trip.
Promote it on social media
After promoting your early bird special to your email list, it's time to announce it to a wider audience. You'll want to choose a relevant photo or create a graphic with the words "early bird deal" on them. Your posts should communicate the details of your special, including the discount, the number of tickets or time slots available, and when it ends.
For example, Roger Williams Park Zoo in Rhode Island advertised its early bird special for an event with the Facebook post shown above.
Facebook and Instagram are wonderful choices to promote deals like this, especially since your followers are already familiar with — and hopefully love — your brand.
Creating urgency around your deals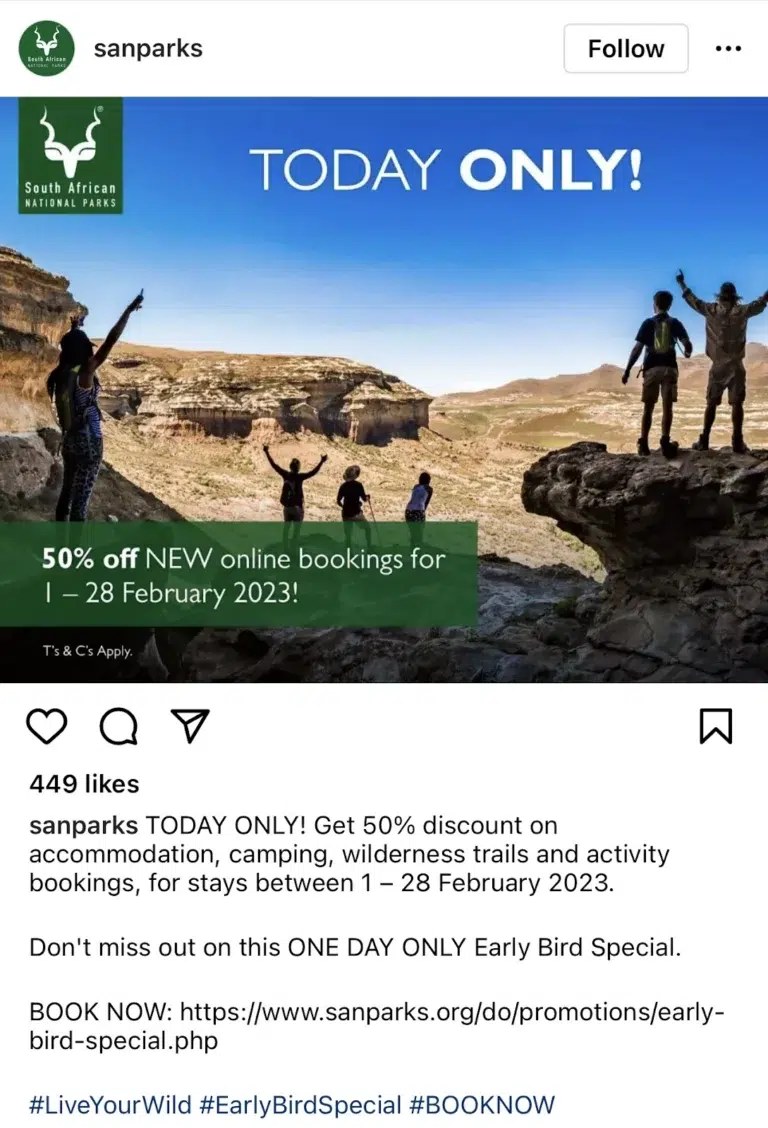 You can create a sense of urgency by publicizing the limited time and number of tickets available in your early bird offer. This will make guests think twice about passing up the deal.
For example, South Africa National Parks created a real sense of urgency by promoting a one-day only early bird deal on Instagram. Guests who booked their camping trip on that day received a massive 50% discount.
When customers know there's only a limited opportunity to get a discount, they'll be more inclined to book sooner.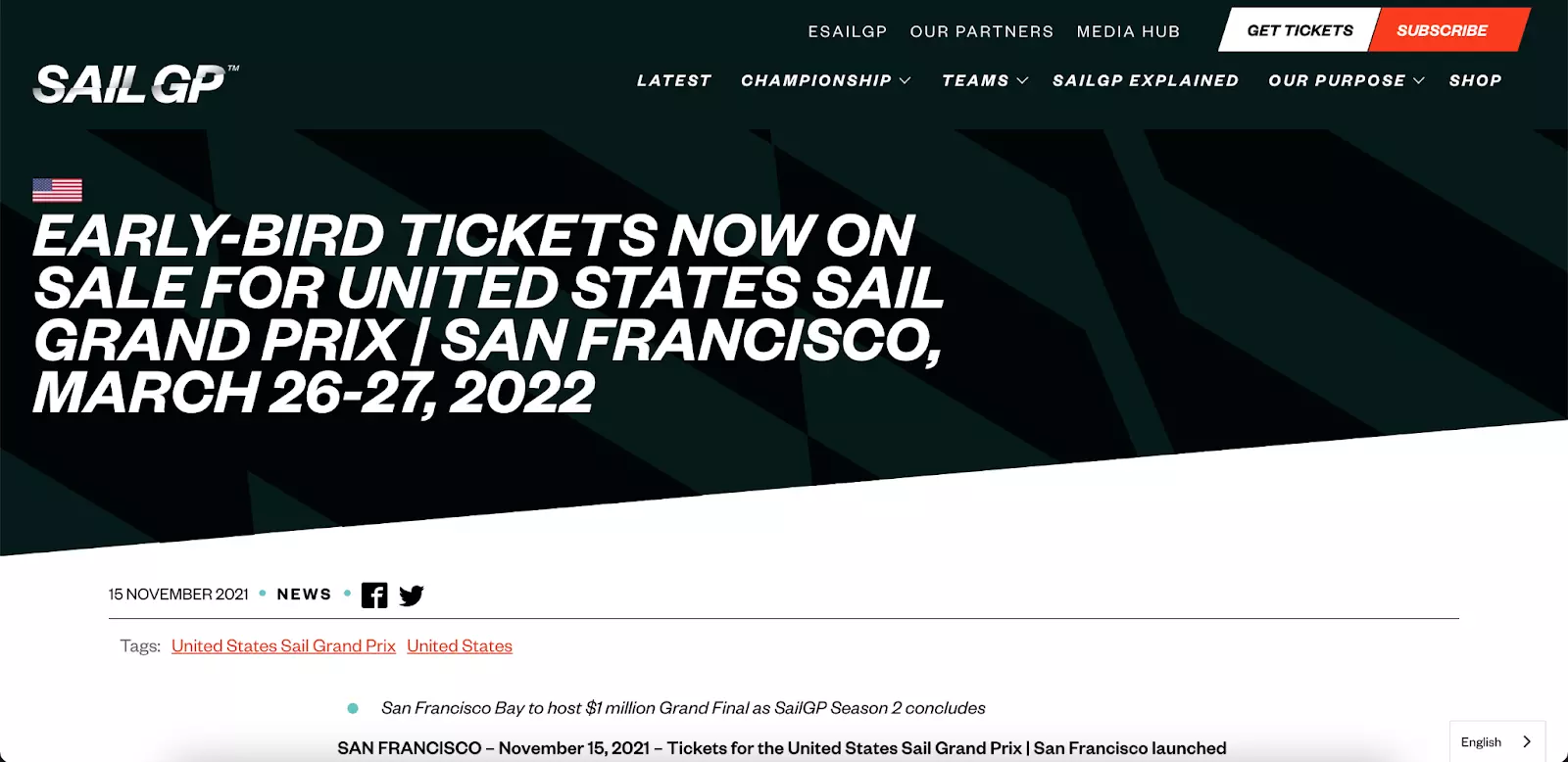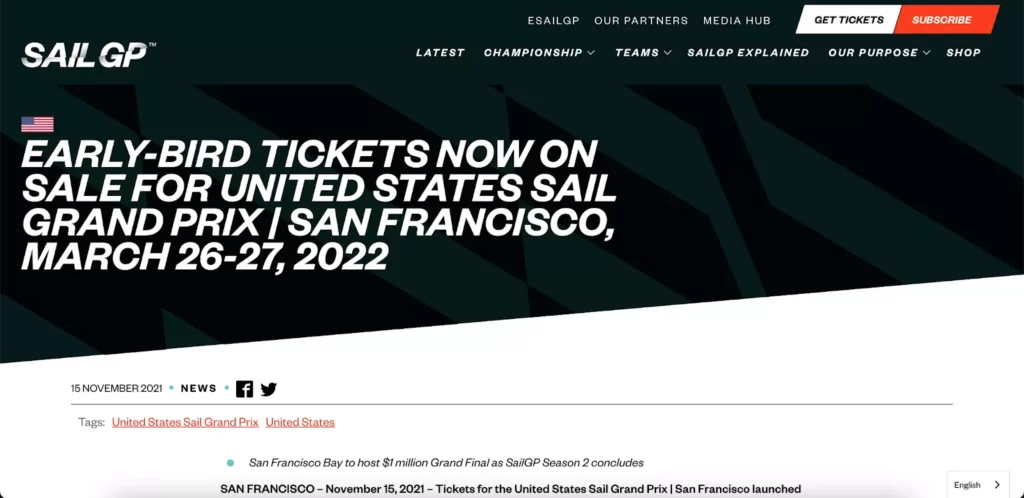 Similarly, Sail GP, which hosts a major sailing competition in San Francisco, sells tickets at a 15% discount if purchased ahead of time. The early bird special ended on January 17, which helped create a sense of urgency for guests to book before the deadline.
Don't extend the early bird deadline
You might feel tempted to extend your early bird deadline, but it may not be the best idea. If you extend your deadline this time around, your guests will likely not take your deadline seriously the next time.
They won't feel the urgency to book anymore because they'll be expecting another extension. This could hurt your future early bird strategies and considerably slow down future early bookings.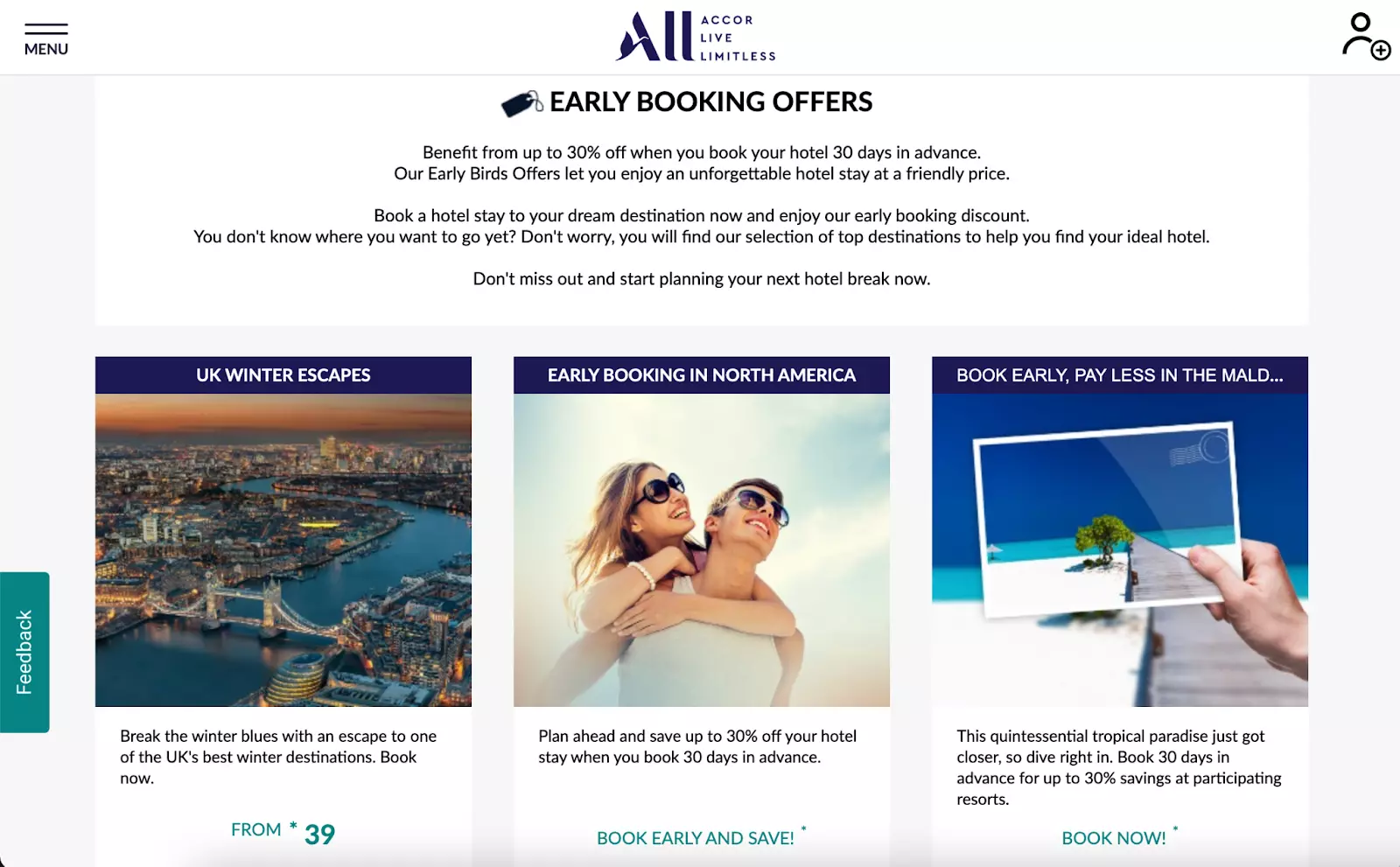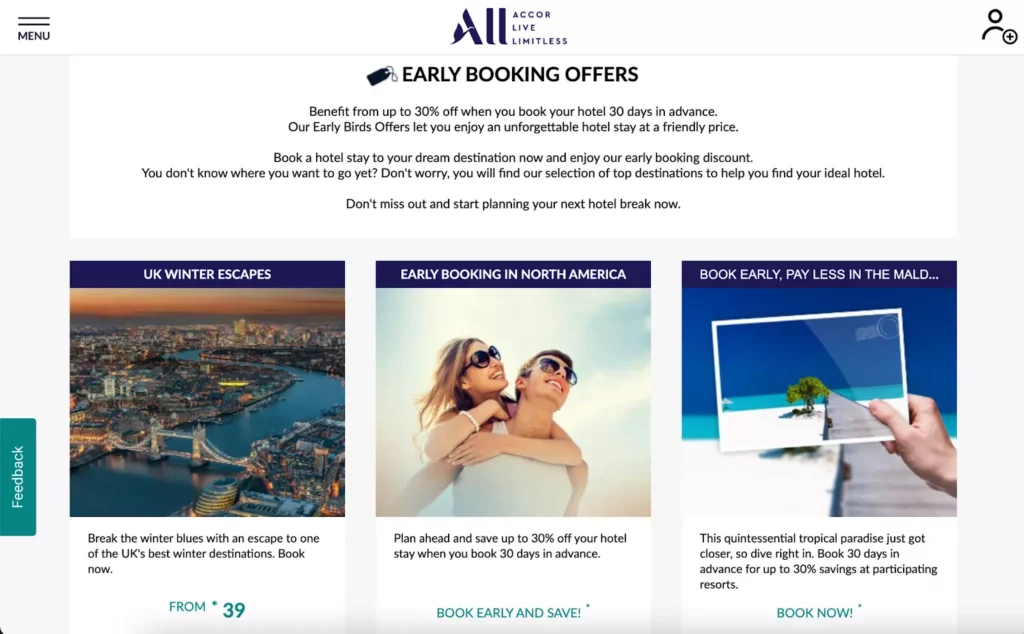 Hotel brand Accor offers guests up to 30% off their stay if they book 30 days in advance. Guests know that if their trip isn't at least 30 days out, they won't get the deal.
This is a smart way to fill their room capacity in advance through direct bookings, rather than third-party reservations.
***
As you've seen from these examples, travel companies of all kinds use early bird pricing to drive direct bookings well in advance of an experience.
Each structures the campaign based on what works best for the brand: While a hotel might offer a discounted price for guests who book a month in advance, a cruise might aim to double its capacity by offering a rate exclusively for couples.
Now, you can use this guide to early bird pricing to create the best campaign for your business.